Poetry Month: A Reader of Poems Confesses
There are many poets in the world. Poetry readers? Not so plentiful, and much easier to discourage when young. Although I've been a reader of poems for a long time, I still nurse a grudge regarding an incident that could have stopped me before I'd really begun.

Four decades ago, in an undergrad creative writing course, we were asked to bring in collections by our three favorite poets. I opted for books by Theodore Roethke and John Berryman that I'd been assigned for another English class that term.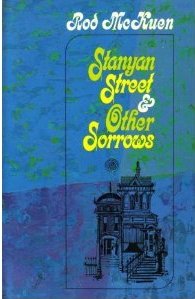 My third choice, Stanyan Street and Other Sorrows, turned out to be more problematic. At the time, Rod McKuen was the best selling and--though I didn't know it until I was caught in deadly academic crossfire--least respected poet in the U.S.

Since he'd been the first poet I ever wanted to read, I arrived completely unarmed for a classroom poetry battle. The encounter was swift, derisive and one-sided--a critical assault by my instructor and classmates that could easily have rendered my subsequent life as a reader of poetry mere collateral damage.

But it didn't. I continued to read poetry in spite of, rather than because of, my "lesson." I sometimes wonder how many of my classmates still do. Recently I purchased Collected Poems by Jack Gilbert, Ghost in a Red Hat by Rosanna Warren, Head Off & Split by Nikky Finney and Selected Poems by Adonis.

Happy Poetry Month to me.

As it turned out, McKuen was my gateway drug to a life of reading poetry. Although Roethke and Berryman are still in my bookcase, McKuen is long gone. I regret this fact as a betrayal of my roots. So, for what it's worth, consider this both an apology and a thank you note, Mr. McKuen. And Happy Poetry Month to you, too. --Robert Gray, contributing editor