Board Books: Making Things that Go
Tractors, jets, space shuttles... all come from engineers. And where do engineers come from? Babies, of course!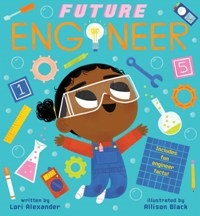 In Lori Alexander and Allison Black's Future Engineer (Cartwheel Books, $8.99), pre-readers ages 0-3 are told to "Flip a switch. Turn a gear" then asked, "could Baby be an engineer?" Engineers ask questions, want to know how things work and search for answers--so do babies! Adults of varying races and genders complete engineer-type tasks on the left-hand pages and babies of different genders and races take part in corresponding activities on the right: building blocks, asking questions (with a sock as a hat) and drawing on paper "and other places, too."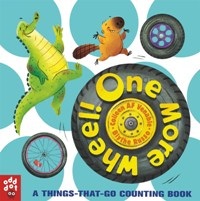 Some vehicles baby might someday help make are shown in One More Wheel! (Macmillan, $12.99) by Colleen AF Venable and Blythe Russo. To get babies into a wheel state of mind, the cover offers three wheels for baby to spin. Inside, a crocodile and a beaver begin to one-up one another, each riding out a vehicle that has "One MORE wheel" than the last. Eventually, the book displays a unicycle (1), racecar (6) and jet (7), it ends with "ALL THE WHEELS": a final page with a pull tab that extends to show a train carrying every vehicle previously displayed (roller skates and wheeled office chair included).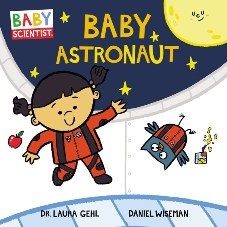 What else can engineers do? Create space shuttles and even go into space themselves. In Baby Astronaut by Laura Gehl and Daniel Wiseman (Harper Festival, $8.99), the title hero "flies way up high, above the clouds and into space." Once in space, she checks on science experiments, goes on space walks and sleeps strapped to a wall. "Night night, Baby Astronaut!"
--Siân Gaetano, children's and YA editor, Shelf Awareness