The Beat Generation: Off the Road
You'll be hearing "Beat Generation" a lot this year as publicity wheels turn for the film version of Jack Kerouac's On the Road. One name that probably won't come up often, however, is 82-year-old "poet, bioregionalist, teacher" (as Iain Sinclair recently described him) Gary Snyder.
Although I read On the Road when I was 20, it was Kerouac's Dharma Bums that had a more profound impact. I was hooked by an early scene in which Ray Smith (Kerouac) visits his friend Japhy Ryder (Snyder) at a 12-by-12-foot Berkeley shack, which is filled with "typical Japhy appurtenances that showed his belief in the simple monastic life."
The Zen-inspired room is spare, excepting "a slew of orange crates all filled with beautiful scholarly books," including the complete works of D.T. Suzuki, a four-volume edition of Japanese haikus and "an immense collection of valuable general poetry.... if a thief should have broken in there the only things of real value were the books."
How could I resist? From that moment, I didn't want to be on the road; I wanted to be in that room, where a cup of tea was steaming "as he bent his serious head to the Chinese signs of the poet Han Shan."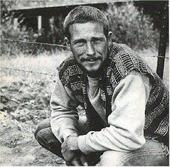 Kerouac may be a rite of passage when we're young, but Snyder and I are growing old together. My collection of his works is bookended by a copy of Riprap, & Cold Mountain Poems I bought in 1970 and a new edition of The Practice of the Wild, published by Counterpoint in 2010.
No Beat Generation writer has had more influence on me than Snyder, though I suspect he won't mind being neglected by On the Road's publicity machine this year. Read him. He's off the road, and worth the trip. --Robert Gray, contributing editor, Shelf Awareness