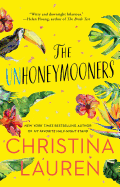 Christina Lauren (My Favorite Half-Night Stand, Josh and Hazel's Guide to Not Dating) is the combined pen name of best friends and writing partners Christina Hobbs and Lauren Billings. And they nail the complicated but sweet sisterly relationship between twins Ami and Olive Torres in The Unhoneymooners.
Ami has been lucky her whole life and has won everything, from the buffet at her wedding reception to a fabulous 10-day Maui honeymoon, all for free. Olive, Ami's maid of honor, has always been unlucky, including being laid off from her job. This is their pattern--until the shellfish at the buffet turns out to have been contaminated, leaving only Olive and Ethan, the best man, standing. From her sickbed, Ami insists that Olive take the honeymoon trip with Ethan; since it was free, it can't be rescheduled. The lure of a no-cost vacation is tempting, but Olive has always disliked stuck-up Ethan, and isn't sure if she wants to spend that much time with her nemesis. Ethan and Olive decide to make the attempt, however, and head off to Maui, where the island aura--and being thrown out of their regular lives--makes the two realize that maybe they have more in common than they'd thought.
Lighthearted, laugh-out-loud funny and all too accessible (as the many Torres aunts and cousins keep butting into Ami's and Olive's lives), The Unhoneymooners is delightful. Olive's initial dislike of Ethan, tempered by her slow realization of his good qualities, makes for a charming and enjoyable romance. --Jessica Howard, bookseller at Bookmans, Tucson, Ariz.