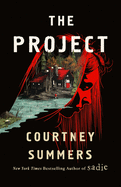 Courtney Summers (Sadie) wants to break your heart. She has said as much of her captivating and harrowing seventh YA book, The Project: it's "just going to ruin your day." She's right. This gripping depiction of love, abuse, control and loss will steal your time--there is simply no putting it down--and Summers doesn't coddle feelings.
Nineteen-year-old Bea's parents died when a semi crashed into their SUV; the EMTs were able to pull Lo, her 13-year-old sister, from the wreckage. At the hospital, Bea discovered Lo near death. Desperate, she went to the chapel: "God, she whispers... over and over and over again. God, I'll do anything. Please, God.... And then He appears."
Six years later, Lo is alive, mostly well and pursuing a career in journalism. She has spent the past half decade cut off from Bea--while Lo was still recovering, her older sister joined the Unity Project, a group run by the enigmatic Lev Warren that aims to "bring salvation to the ends of the earth." Lo, certain the Unity Project is holding her sister against her will, decides to prove her journalism chops and get her sister back by taking down the cult. But the group--and Lev--are significantly more powerful than she could have imagined.
Books about cults are popular in contemporary YA, but few have done what Summers does here: create ambiguity, humanize those involved in the group and painstakingly blur the line between loving care and abusive control. Both Bea and Lo tell their stories linearly, but the time difference between them--both young women are 19 when they begin--builds the mystery and creates intense suspense. Yes, The Project will ruin your day. Yes, you want it to. --Siân Gaetano, children's and YA editor, Shelf Awareness