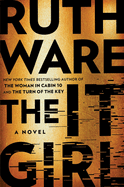 Ruth Ware (One by One; The Turn of the Key; The Death of Mrs. Westaway) brings readers another gripping first-class psychological thriller in her seventh novel, The It Girl. Set in Oxford University's "famous" Pelham College, The It Girl delves into class differences, friendship and the pleasures and perils of trusting others and even yourself--all packed in a tense, character-driven plot.
Because she has "everything--looks, money, brains," sophistication and a love for playing pranks--April Clarke-Cliveden is the "It Girl." She can be cruel, entitled and condescending--but also generous. It's April's spirit of generosity and, in her own way, her unassuming manner that her roommate, Hannah Jones, appreciates. Hannah comes from a middle-class family that struggles financially. The two become best friends.
Astoundingly, April is murdered in their suite. College porter John Neville is convicted, based on Hannah's testimony that she saw him leaving their residence just before she found April's body. The creepy Neville has a history of stalking the girls. A decade later, pregnant Hannah is living in Edinburgh, happily married to Will de Chastaigne, April's ex-boyfriend. A journalist approaches Hannah soon after Neville dies in prison, expressing doubt that he is guilty and spurring Hannah to reexamine the past, their friends and her memory.
The It Girl smoothly moves from the past to the present as Hannah reevaluates what she knew about old friends and April. She must come to terms with unresolved issues and with "the Hannah of now... the Hannah of then." Ware's believable twists further elevate The It Girl. --Oline H. Cogdill, freelance reviewer