Week of Friday, October 6, 2023
We have some star-worthy fiction that defy genres this week: in the "charming and humorous fantasy-mystery" The Hexologists by Josiah Bancroft, a married couple uses investigative skills, arcane arts, and a magic carpetbag to solve a case that threatens a kingdom; and Mohawk author Alicia Elliott spotlights mental health, new motherhood, and family resilience in And Then She Fell, her "bitingly hilarious, spine-tingling, genre-blurring" fiction debut. Plus, three creators--Jason Reynolds, Jerome Pumphrey and Jarrett Pumphrey "at the toe-tapping tip-toppest of their game"--deliver a "soulful tribute to a beloved poet, essayist, and cultural leader in the melodic" There Was a Party for Langston. And so many more!
In "From Page to (Small) Screen," we have a preview of two favorite books making their move to limited series this season: Lessons in Chemistry and All the Light We Cannot See.
--Jennifer M. Brown, senior editor, Shelf Awareness
The Best Books This Week
Fiction
Science Fiction & Fantasy
The Hexologists
by Josiah Bancroft
A married couple uses a combination of investigative skills, arcane arts, and a magic carpetbag to solve a case that threatens a kingdom in the charming and humorous fantasy-mystery The Hexologists by Josiah Bancroft (Senlin Ascends), the first novel in a series with the same name. Isolde Ann Always Wilby, a woman "often described as imposing... because she had a way of imposing her will upon others," and her gregarious "garden wall" of a husband, Warren, make up the sleuthing duo of the novel's title; they practice hexegy, a "shallow rill" of practical magic in a world that has all but banned magicians and necromancers, and reveres alchemists. The hexologists fall into a royal muddle when the king's secretary confides to them that His Majesty wishes to be baked into a cake, possibly due to a claim that the king fathered an illegitimate child in his youth. Iz is reluctant to work for the monarchy until Warren reminds her that suffering on high will trickle down to the poor. The ensuing investigation brings the Wilby pair up against a seven-foot-tall mandrake, a gang of spectral parasites in the form of disembodied limbs, and a loquacious dragon with a discerning palate. They will need all their wits, spellcraft, and love for each other to survive this case.
Bancroft's nimbly narrated and sesquipedalian fantasy has an emotional core as solid as its detailed magical system. Fans of steampunk and other Victoriana will rejoice at this promise of an expansive world and a lovable couple with many adventures ahead of them. --Jaclyn Fulwood, blogger at Infinite Reads
Orbit, $18.99, paperback, 336p., 9780316443302
The Takedown
by Carlie Walker
The Takedown, the first novel for adult readers by Carlie Walker, is as much a Christmas romance as it is an action-packed comedy. Sydney ran away from her life to join the CIA, never expecting to land right back in idyllic Maine where "[h]ip-tall, light-up candy canes line the sidewalks." Her new directive is to gather intel on the head of a crime family--who is engaged to her little sister. And if stopping the wedding, reconnecting with family, and staying undercover isn't enough, there's also Nick the bodyguard, who Sydney has to seduce for reasons of covert operations only--certainly not because he charms in his holiday sweater, sings Mariah Carey at karaoke, and is particular about his floss brand.
Walker captures moments of tense missions as easily as she does those of sweet family dynamics (Grandma Ruby roping Sydney into reprising her role as a donkey in the local Christmas pageant), along with the hilarity of two operatives conversing earnestly in a local Moose Lodge. As Sydney notes, "underneath it all I'm terrified. I'm just terrified that by wanting to be unknowable, I'll actually become unknowable, to everyone." This double-agent caper with a sizzling undercurrent of attraction culminates in a frenetic holiday dinner that feels both excessive and oddly relatable. The Takedown, delightfully comical with an emotional punch, will leave readers merry and grateful for their own family's holiday chaos--because at least they're not sitting at the Christmas dinner table trying to salvage a CIA operation, repair a sisterhood, and figure out whether the guy they're falling for can be trusted. --Kristen Coates, editor and freelance reviewer
Berkley, $18, paperback, 352p., 9780593640395
Glass Half Empty
by Rachael Smith
British comics artist Rachael Smith's third graphic memoir, Glass Half Empty, is a refreshingly candid account of her recovery from alcoholism after her father's death. Smith (Quarantine Comix) traces how her father's alcohol addiction affected her childhood. She remembers "writing to God to ask him to stop Daddy from drinking." From age 10 she attended Alateen, and her mother left instructions for what to do if she found her father passed out when she got home from school. Smith never knew if her father would be attentive or angry. "My sense of self-worth was always tangled up in how much I thought my dad loved me," she writes; in some of these panes, her adult self appears alongside her younger self, offering advice.
In the memoir's second half, she realizes alcohol has become problematic for her. She depicts her epiphany, "alcoholism is hereditary," as a literal bomb drop. Drinking is unhelpfully romanticized in writers, Smith remarks, whereas when she gives it up, she experiences greater creativity (and waking up without a hangover is nice). Abstinence is feasible for her, though moderation is not. Moving to a new town and seeing a therapist are positive developments.
Barky and Friendly, the imaginary canine pair from Smith's earlier work, appear here. Barky, the black dog, represents depression, and Friendly is an embodiment of self-compassion; they symbolize her mood swings and the opposing pulls of self-harm and healthy habits. The full-color illustrations are invigorating, and the memoir ends with a valuable list of resources. The self-deprecating humor and psychological understanding make this a brave accomplishment. --Rebecca Foster, freelance reviewer, proofreader, and blogger at Bookish Beck
Icon Books, $19.95, paperback, 144p., 9781785788970
Zingerman's Bakehouse Celebrate Every Day: A Year's Worth of Favorite Recipes for Festive Occasions, Big & Small
by Amy Emberling, Lindsay-Jean Hard, Lee Vedder, and Corynn Coscia, photos by E.E. Berger
Aspirational cooks and experienced chefs alike will delight in the edible abundance featured in Zingerman's Bakehouse Celebrate Every Day by Amy Emberling, Lindsay-Jean Hard, Lee Vedder, and Corynn Coscia. This second offering from the Ann Arbor, Mich.-based Zingerman's Bakehouse (Zingerman's Bakehouse) speaks to the seasons--Easter, Passover, Mother's Day, New Year's Eve, and beyond--with 80 recipes specially crafted for the joyful moments that elevate our days. The flavor and nutritional benefits of using freshly milled whole grains inspires such baked treats as Zinglish Muffins, a Memorial Day Blueberry Buckle, and Juneteenth Spider Bread, a delicious melding of New England flavors and Southern-style cornbread. The tasty selection of savory dishes includes a summer Chicken and Chorizo Paella perfect for the grill, with a stovetop version adapted for indoor cooking. The delightful 5 O'Clock Cheddar Ale Soup, inspired by Oktoberfest, and a hearty Beef and Guinness Stew embrace the shorter days and cooler weather. The authors encourage readers who don't see their particular holiday celebrated in the book to reach out via e-mail or Zingerman's website. After 30 years of remarkable growth, Zingerman's Bakehouse is still expanding its delicious repertoire of holiday recipes.
The authors capture the essence of each season's most beloved culinary traditions with stories and historical anecdotes highlighting the creative path that shaped Zingerman's Bakehouse into the cherished institution it is today, while the book's vibrant color photos by E.E. Berger are a testament to the emotional power of food. --Shahina Piyarali, reviewer
Chronicle, $29.95, hardcover, 256p., 9781797216577
In the Form of a Question: The Joys and Rewards of a Curious Life
by Amy Schneider
"How Did You Get So Smart?" and "When Did You Know You Were Trans?" In her debut memoir, In the Form of a Question: The Joys and Rewards of a Curious Life, Amy Schneider uses questions as a framework for recounting a life dedicated to learning. Presenting more of an essay collection than a linear memoir, Schneider isn't interested in baring it all for readers--that is, behind-the-scenes Jeopardy! gossip or earth-shattering insights. Instead, she reveals the concerns of a normal life changed by sudden notoriety, and she does so with self-awareness and a hefty dose of humorous footnotes: "The Google auto-complete suggestions for searching my name can be depressing at times. Not that I'm going to stop Googling myself."
Schneider's journey to being the most successful woman to compete on Jeopardy! includes memories from a childhood during the heyday of the war on drugs to becoming a tarot-obsessed atheist as an adult. There's another layer to it all: the difficulty of writing a memoir as a trans author who came into her identity later in life. She describes her point of view as "the double-exposure way that trans people see the past, the way I can look back at a child who would say, 'I am definitely a boy,' and believe that child to be both wrong and right." With recognition of the privileges she's had as well as difficulties endured, Schneider's memoir fully commits to her own voice with unapologetic honesty. She grants grace to herself and others for what they know and don't know, emphasizing how personal evolution is always possible if someone, above all else, keeps learning. --Kristen Coates, editor and freelance reviewer
Avid Reader Press/Simon & Schuster, $28, hardcover, 272p., 9781668013304
A.K.A. Lucy: The Dynamic and Determined Life of Lucille Ball
by Sarah Royal
In her introduction, Sarah Royal (Creative Cursing) forewarns the Queen of Comedy's fans that A.K.A. Lucy: The Dynamic and Determined Life of Lucille Ball isn't a straight-up biographical treatment. Instead, the book is "a vignette-style exploration of Lucy's life and career"--or, to put it another way, a biographically rich scrapbook-cum-fan journal offering much to mull over. In the space around the photos, pull quotes, and themed lists, Royal tells the abridged story of Lucille Ball (1911-1989), the product of a rough-and-tumble childhood in Jamestown, N.Y. Ball was no instant sensation--I Love Lucy debuted in 1951, when she was 40--and Royal makes much of the actress's unsinkability during her many career setbacks on the road to the star-making TV smash.
A.K.A. Lucy may hold no fresh revelations, but what's here is expertly chosen. There's loads on Ball's work ethic, her overall menschiness, and the vexing question of whether she was a feminist. Although she rejected the label, Ball sure acted like a feminist: she was a glamour gal willing to look clownish--largely the province of male comedians in her day--and she created an indelible TV character whose defining attribute was her longing to be more than a housewife. A.K.A. Lucy would be a fine introduction for readers curious about TV's pioneering comedienne; those already besotted with Lucy will want to pull up a glass of Vitameatavegamin before tucking into delicious esoterica, like the chapter "Most Famous Episodes and Sketches of I Love Lucy, Dissected." --Nell Beram, author and freelance writer
Running Press, $29, hardcover, 240p., 9780762484263
A Fine Line: Searching for Balance Among Mountains
by Graham Zimmerman
Graham Zimmerman felt strongly about climbing from his earliest experiences growing up in the Pacific Northwest, and by age 25 was an avid and accomplished international alpinist with his dreams focused on nothing else. But injury, loss, climate change, and a yearning for connection have forced him to consider how to combine his love for alpine ascents with social and environmental pursuits. A Fine Line: Searching for Balance Among Mountains is his thoughtful story of climbing communities in broader context, and his philosophies for a life well lived.
Not yet 40 at its writing, Zimmerman acknowledges "this is not a complete work," calling his book "a signpost along the way." It is still dense with lessons learned and offered, however. At just over 200 pages, A Fine Line reads quickly, many of its action sequences adrenaline-filled as Zimmerman recounts climbs with varying levels of success. It is also a neatly organized memoir, with the tensions between climbing and everything else appearing early. Following a major award, he experiences a significant fall, injury, and lengthy recovery, emphasizing the dangerous nature of his passion and his financial insecurity. The women he attempts to date react poorly to months-long absences on risky expeditions. Frequently climbing at high altitudes amid shrinking glaciers also alerts Zimmerman (trained in geology and glaciology) to the impacts of human-caused climate change.
As its subtitle forecasts, A Fine Line is about finding balance between an extreme sport in remote natural settings and "actual life in the lower regions." Obviously for fans of extreme outdoor sports, Zimmerman's debut is also recommended for readers seeking wisdom and balance in any pursuit. --Julia Kastner, librarian and blogger at pagesofjulia
Mountaineers Books, $19.95, paperback, 9781680515909
Gentle Chaos: Poems, Tales, and Magic
by Tyler Gaca
Tyler Gaca, who has attracted millions of followers online as Ghosthoney, celebrates self-discovery in Gentle Chaos, an ethereal collection of revelatory essays, expressive poems, and stunning artwork. "I've always been a sensitive child," Gaca, now 27, reveals. This fragility resonates within the tiny moments recalled from his childhood: searching under grocery store shelves for something magical, crying on his 10th birthday about growing old, becoming petrified by ghost hunters on television. "I was caught in this push and pull of being both fascinated and terrorized by horror." The macabre won, death and the unknown spurring Gaca into an adulthood marked by magic.
The pressed flowers, disembodied teeth, and snapshots of strangers immortalized in this collection carry a paranormal whimsy, as do his vulnerable musings: "I want to know how it feels to be a plant photosynthesizing" and "In a past life/ I was a garden snake./ That glowed/ like a violent beacon." He talks openly of being late to accept his queer identity yet always wanting love; of losing his artistic drive and the spark that brought it back; of early days with his husband, JiaHao. Stories behind several of his TikTok characters reveal how his "imagination run[s] rampant" to produce off-putting and gently mysterious creations. Threading together the tenderly meandering pieces--a painting of a Moon Pie; a full spread of his shorn hair; a handwritten recipe for raw apple cake from his great-grandmother; a "guide to dressing like a love-stricken Victorian dandy"--is a patient joy and willingness to dream. Gentle Chaos is sure to inspire reflection and cultivate an adventurous spirit in readers. --Samantha Zaboski, freelance editor and reviewer
Running Press, $23, hardcover, 240p., 9780762482047
What to Watch
From Page to (Small) Screen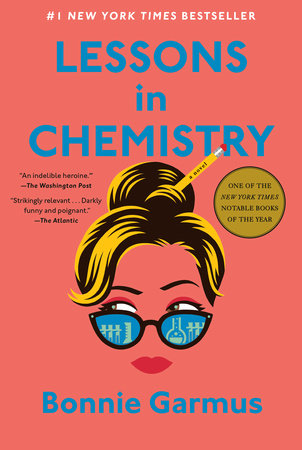 Authors use words to paint a scene on the page; filmmakers use lighting and costumes and color to create cinematic moments. Two beloved books will soon come to television: Lessons in Chemistry by Bonnie Garmus (Doubleday, $29) is the basis for an eight-part series for Apple TV+, directed by Sarah Adina Smith. The first two episodes premiere October 13, and the rest drop through November 24. All the Light We Cannot See by Anthony Doerr (Scribner, paperback $18.99), forms the foundation of a four-part Netflix limited series, directed by Shawn Levy, premiering November 2.
The opening episode of Lessons in Chemistry starts as the book does, in the sense that it reveals Elizabeth Zott (Brie Larson) as the star of the TV series Supper at Six. But television affords viewers the chance to fully take in Zott's glamour as she steps out of her car at the studio to greet her line of fans, dressed in an unmistakable early-1960s palette of olive greens, creamy yellows, powder blues, and rosy reds. Next, we travel back seven years, to when Zott was intent and masterful in her work at a chemistry lab, but where her beauty and gender overpowered her intelligence in the perception of her coworkers. Everyone but Calvin Evans (Lewis Pullman), that is, who recognizes her brilliance and invites her to be his lab partner, as a peer.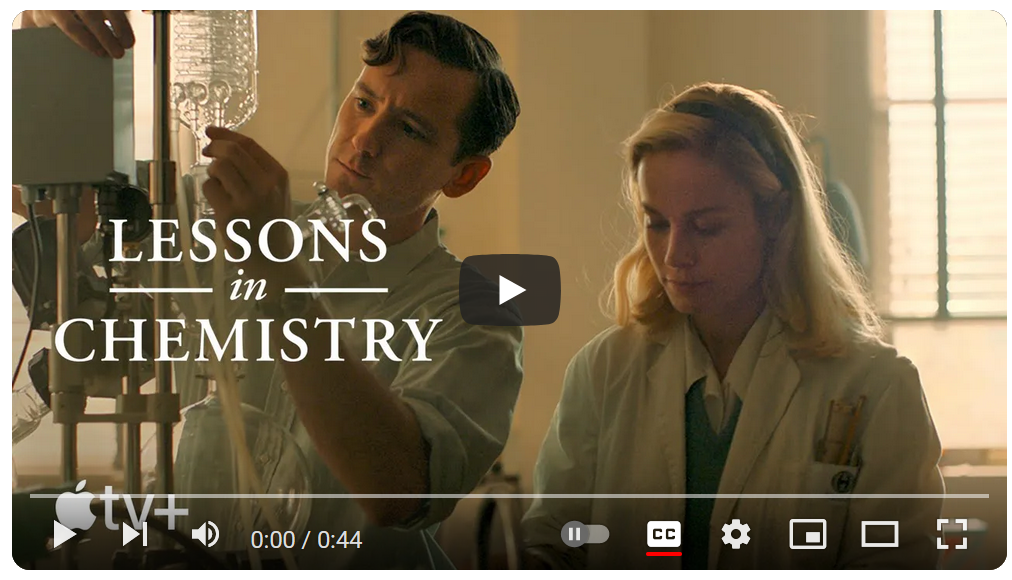 Larson does a stunning job of conveying Zott's tunnel vision when it comes to her desire to figure out a scientific puzzle, with no care for others' view of her or how her filterless comments might come across. Her insistence upon an open door in the lab room foreshadows a traumatic episode that cost her a masters degree because she refused to "apologize" to the adviser who sexually assaulted her (revealed at the start of Episode 2). Madeline (played perfectly by Alice Halsey), the product of Zott's and Evans's other partnership, starts off Garmus's novel; in Lee Eisenberg's teleplay, viewers don't learn of Zott's pregnancy until the third episode. But, oh, the onscreen rapport Mad and Zott develop! It makes one imagine how different Zott's life might have been if her parents had supported her the way Zott encourages and challenges and loves Mad. The chemistry between Larson and Halsey is heaven, and the twist that reveals Mad's identity to viewers adds layers to later plot developments.
Another smart move casts Aja Naomi King as Zott's neighbor Harriet Sloane. In Eisenberg's version, Sloane, like Zott, has had her career thwarted: Sloane dropped out of law school when she became pregnant so her husband could continue his medical residency. But she puts her talent and intelligence to work leading the charge to protest plans to run a freeway through their predominantly Black neighborhood in Commons, Calif., just outside Los Angeles. The way that first Evans, then Zott, connect with the Sloane family develops organically and credibly--not without missteps--and King's performance is a standout, especially as she navigates her husband's return from serving with the medical corps in Korea.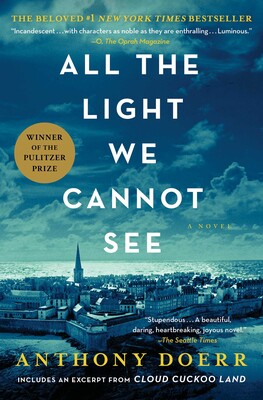 While the Korean War is a specter in the background of Lessons in Chemistry, World War II envelops All the Light We Cannot See. A background of shadows and darkness, muted browns, and midnight blues shrouds Marie-Laur LeBlanc as she reads in Braille 20,000 Leagues Under the Sea over the radio. With barely enough illumination for viewers to see her face, we get a hint of what it must be like for Marie-Laur, blind from age six. Director Levy cast his net wide in searching for someone with the lived experience to play Marie-Laur, and his extraordinary discovery was Aria Mia Loberti, a Fulbright scholar, academic, and advocate for the blind, making her debut as an actress in this series.
Steven Knight, who adapted the teleplay from Doerr's Pulitzer Prize-winning novel, smoothly works in the relevant details: the way Marie-Laur's father (Mark Ruffalo) taught his blind daughter to navigate the streets of Paris (using an exquisite miniature wooden model of the city, set out on a table at her waist height); the storied diamond Sea of Flames, the other precious treasure he must protect, through his work at Paris's Muséum National d'Histoire Naturelle--a gem revealed to be coveted by a Nazi jeweler--and the leaflets dropped by U.S. warplanes, warning the citizens of Saint-Malo, France, to evacuate. We also learn from Marie-Laur's uncle Etienne (Hugh Laurie) that her radio broadcasts carry more than Verne's words; they are messages to the Resistance.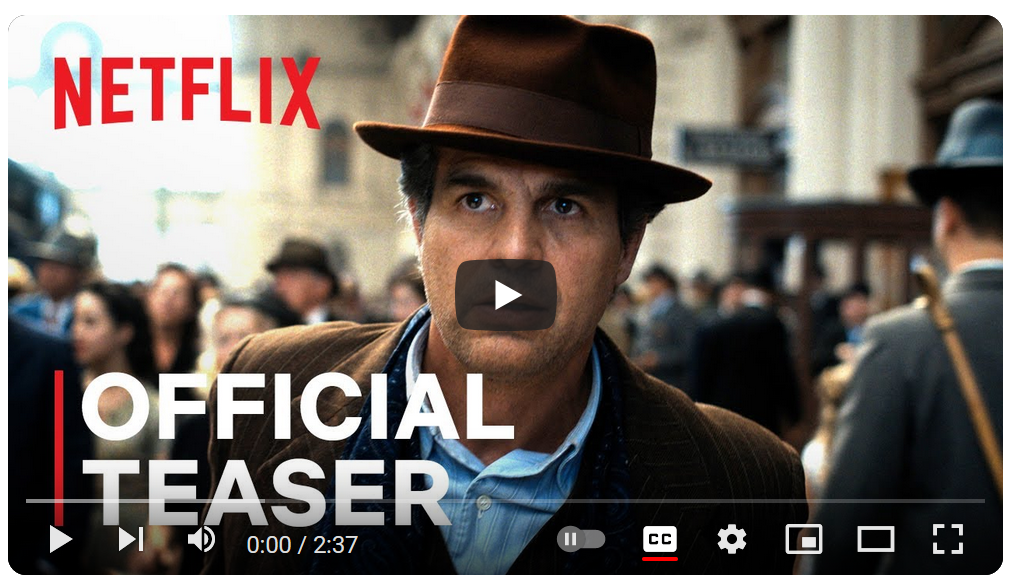 And then there's the young Nazi soldier, Werner Pfennig (Louis Hofmann), in another part of Saint-Malo, who hears Marie-Laur's radio broadcast. Enemies by definition, they are nonetheless souls united by their love of a French professor who broadcast during their childhoods on the same French shortwave radio station that Marie-Laur now does. Viewers see flashbacks of Werner in an orphanage, constructing a radio, and his willingness to do what's forbidden by the German government--to listen to foreign broadcasts--and even now, in uniform, listening to a young woman reading Jules Verne in the present. The initial episode ends with a cliffhanger: the Nazi jeweler has tracked down Marie-Laur, sure that she knows where to find the Sea of Flames. There is no question that these two stories' televised versions will send viewers scrambling for the books that seeded them. --Jennifer M. Brown, senior editor, Shelf Awareness

Death Valley
by Melissa Broder
In Death Valley, Melissa Broder (Milk Fed; The Pisces) brilliantly dissects the intersections of grief, loss, and depression (heavy topics, all approached with an unexpected sense of humor) through her protagonist, an author ostensibly seeking inspiration for her next novel. The unnamed woman flees to a desert motel in hopes of finding not just a story, but an escape from her own life--only to learn that escape in the desert can prove more dangerous than she ever might have imagined.
Pulling into a Best Western well outside of Los Angeles, the woman reflects on the weight of the emptiness she carries around inside. In desperation, she reminds herself that her "doominess isn't baseless," but borne of a life in L.A. that feels unmanageable (as though that reminder might somehow make it feel more manageable). "There's something to be said for manufacturing a crisis (a crisis can be simpler than just living)," she reflects, though she has no need to manufacture crises when life has offered her plenty of them. Her father has been in and out of intensive-care units and on the brink of death for five months, following a tragic accident, alternating between prolonged bouts of unconsciousness and surprising revivals. Her husband has spent nine long years with a debilitating and seemingly undiagnosable illness that leaves him bedridden for months on end. It seems her whole life has been about taking on other people's feelings as hers to manage, as the eldest daughter of a depressed father and a mother unwilling to acknowledge--let alone speak about--emotions of any sort: "I came to escape a feeling--an attempt that's already going poorly, because unfortunately I've brought myself with me, and I see, as the last pink light creeps out to infinity, that I am still the kind of person who makes another person's coma all about me."
The Best Western receptionist encourages the woman to order the blueberry muffin for breakfast (and definitely not the breakfast sandwich), and then to visit a local hiking trail. There, she finds huge cactuses--one so enormous she believes she can enter its cavity through a splice in its side, and so much larger-than-life that, once inside, she sees within it her father as a guitar-playing boy in his prime. She is entirely sober (refusing even cough syrup after struggling with addiction and recovery), and the image is clear enough to present as reality. "Does having visions inside a cactus count as a relapse?" she ponders to the sand and rocks. With the discovery of the revelatory cactus--which the staff of the Best Western insist cannot and does not exist--Death Valley slips out of reality and into something akin to a fever dream, with the boundaries between what is real and what is imagined (and what, perhaps, is a mirage) ever blurring along the way.
Self-described as a sober woman of many years, struggling with depression, the heroine is overly prone to "trying to solve a problem, the problem of me and my mood, rather than just experiencing it. But how do you just experience things?" This question, so pivotal to her desert flight to begin with, becomes moot when she takes a wrong turn on the trail, and finds herself thoroughly and completely lost in the wilderness: alone, unprepared, with limited water and just a bag of motel to-go breakfast for sustenance. Her only conversation partners are the rocks she's found and named (and granted personalities: The Egg, Grey, Door, etc.). And thus, her experience is reduced to just that: an experience, devoid of emotion, empty of the things that used to scare her. Instead of obsessing about "doom, mood, magic daughter, anticipatory grief, husband illness, bed-vortex, Montezuma Cypress, not good enough, the sky," she is--and must be--focused on survival: sips of water, shade in the daytime, warmth at nightfall, the limited battery in her phone, and continued lack of signal to call for help.
Within this desperate (if unanticipated) desire to simply survive, she finds a kind of presence she's not known before, one brought to life in Broder's elegant descriptions of the unexpectedly beautiful details of desert wilderness that appears barren from afar: "The crystallized beavertails. The rising sandstone wall and the steepening drop. Pistachio moss, chartreuse moss. Yellow flowers. Eroded ghost emoji log." (The latter representative of her enduring sense of humor, even in the darkest of moments.)
Ultimately, Death Valley is a story centered on survival: what it means to survive in a landscape not primed for human thriving, be it the literal desert or the more emotional world of anticipatory grief and loss, and what it means to survive a deep, unfathomable sense of loneliness while craving aloneness with a kind of wild desperation. In Broder's skilled hands, a story that could read as hopeless and desperate proves heartfelt and tender, moving seamlessly between the surreal and the all-too-real and back again. At times disorienting, at times familiar, and beautiful throughout, Death Valley is a smart, darkly comedic novel that reimagines the experience of grief in inspired and unexpected ways. --Kerry McHugh
Scribner, $27, hardcover, 240p., 9781668024843
Seeking as a Form of Escape
An Interview With Melissa Broder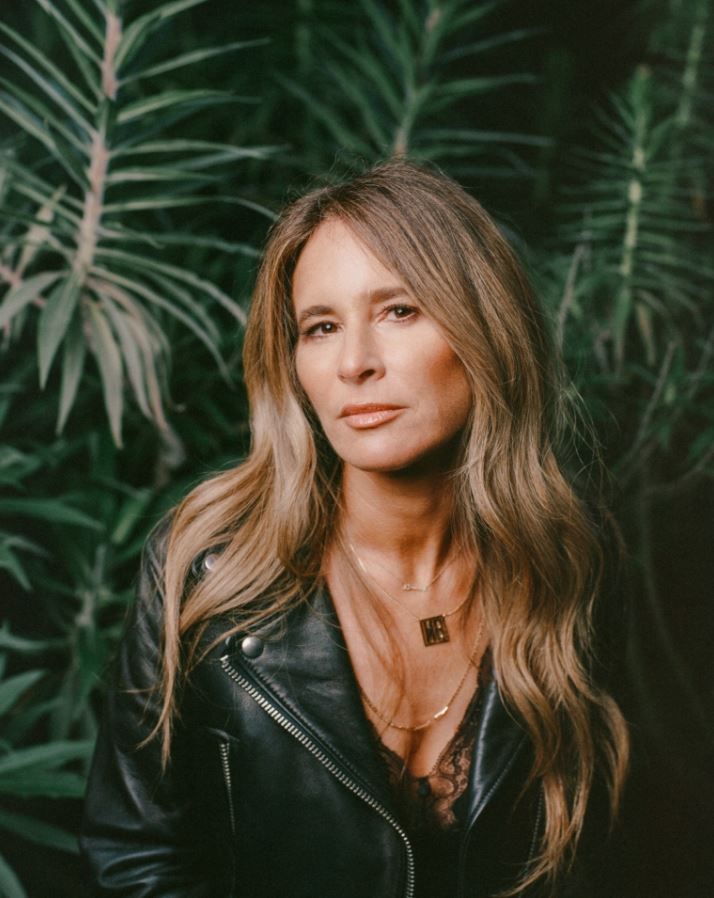 (photo: Ryan Pfluger)
Melissa Broder is the author of the novels Milk Fed and The Pisces; the essay collection So Sad Today; and five poetry collections, including Superdoom and Last Sext. She has written for the New York Times, Elle.com, VICE, Vogue Italia, and New York Magazine's "The Cut." A Pushcart Prize-winning poet, Broder has published poems in Poetry, the Iowa Review, Guernica, and Fence, among others. She lives in Los Angeles. Her third novel, the darkly comic Death Valley, about a woman writer who goes to the desert to escape the tragic developments in her life, will be published by Scribner on October 24.
This book is, in a word, unique! (I loved it!) Where did this project originate for you?
In 2020, my father was in a car accident that put him in the ICU for six months before he died. He was on the East Coast, I was on the West, and no one was allowed in to see him for the first months because of Covid. I was powerless--and I needed to escape a feeling. But you can't escape a feeling because a feeling is inside you. Still, I tried, driving back and forth through the desert between my home in L.A. and my sister's in Las Vegas. I was driving through Baker, Calif., home of the world's largest thermometer, when the first two sentences of the novel came to me.
Does your work start with a kernel and evolve as you write? Or did you outline and plan this book in some way?
Always a kernel first: a magic cactus; a merman; two women in love--one zaftig, one eating-disordered--and a pile of frozen yogurt. Then comes an outline. But my outlines are like the ship of Theseus. Piece by piece, they change as I move through the draft. By the end, it's a different ship. And yet the same ship.
This book's outline changed when I did a "desert recon" trip midway through the first draft. I took a little hike in a touristy area of Death Valley where nobody gets lost. Well, I got lost. My phone had no service. I had no water. Only Coke Zero like a fool. I was crying. "How long have I been out here?" Half an hour. I panicked after half an hour of being lost. And in my panic, I scraped myself up getting back.
But once I made it back, I was very pleased despite my injuries. Now I knew what had to happen. My protagonist was going to get lost in the desert. And she would get lost for longer than half an hour.
Can you talk a bit about the parallels you see between grief and wilderness survival? That connection feels very present in the novel in imaginative and unexpected ways.
Grief is so physical. It's shockingly physical. The heaviness, the ache, the exhaustion. As I write this, it's the two-year anniversary of my dad's passing, and the aftermath of a friend's death by suicide, and I'm wrecked. And I want to not be wrecked. I'm frightened by the wreckedness. But wanting to not be wrecked, or judging ourselves for being wrecked, doesn't make us less wrecked. Similarly, wanting to not be lost in the desert doesn't make us any less lost. Grief is a force. Nature is a force. In both cases--grief and desert lostness--we keep walking. But we can't see, and we're scared, and we wonder: Will this ever end? Will I be okay? Will I survive this?
The main character here is fleeing: her life, her dying father, her ailing husband, her grief and her depression. But in the process of fleeing, she also seems to be seeking something. Do you see fleeing from and seeking something to be related to one another? Two sides of the same coin?
In my experience, fleeing and seeking can be two sides of the same coin, because seeking is often a form of escape: seeking to be other than we are; seeking for reality to be different than it is; seeking refuge. Also, both actions always lead me back to a fundamental, if annoying truth, which is that acceptance is the only answer.
She is also deeply alone, and yet very linked to others, both in person (the hotel reception staff people) and electronically (her sister, mother, father, ICU nurses). What might you say about that tension between solitude and interconnectedness, especially as it relates to depression and sadness?
It can be challenging when a person has depression and anxiety--or is in a state of grief, which resembles many of the symptoms of depression and anxiety--to be with people. There's the fear of judgment, the heightened nervous sensitivity, the constant checking of one's mood against one's performance. But at the same time, depression feeds on isolation, and genuine human connection is healing. So, the question is: What do we do when we need people but are kind of scared to be with people? I'm still figuring this one out.
Did the pandemic in any way shape the role of technological communication in this novel?
Absolutely. The first two months my father was in the ICU, when we weren't allowed in, my sister and I FaceTimed with him every single day. Sometimes he was unconscious, and the nurse put the phone on his pillow, and we just talked to him. Sometimes he was fully lucid and cracking dry jokes. The day before he died, I was there with him, and I made sure to FaceTime in my sister. He really felt like she was in the room, too. When I was leaving, he said, "Melissa, take your sister with you."
I loved the ways that the visions she sees in the cactus are directly connected to old family photographs, and the stories told about them across the years. How do you see photographic moments shaping memory and recollection, in this novel and/or in your own experience?
I'm not a very visual person. My melatonin-dreams are the most imagistic I get. In fact, I often create word banks of nouns--lists and lists of juicy nouns scattered all over my house--and weave them into my texts when I'm editing. With this book, I took a lot of gorgeous nouns from vintage copies of Desert magazine that I bought on eBay, just to make sure the text was steeped in that specificity of imagery. So, I don't personally use photographs when I write. But I grounded a lot of the fantastical elements of the novel in photographs, Reddit posts, and images that the protagonist had seen, because I felt it was important to "earn" the fantastical, archetypal elements of the book. This comes from having a poetry background, I think, in which a teacher once said to me, "You have to teach the reader how to live in the world of the poem and then you can do whatever you want." It's like Chekhov's gun but in reverse. Chekhov's cactus.
While I've not spent time in the desert myself, the concept of a mirage is closely linked in desert stories. Do you consider Death Valley to be a "mirage novel," to make up a new genre of sorts?
I think the line between reality and mirage is so blurry to begin with, which is why I'm always confused by the term "unreliable narrator." Like, aren't we all unreliable narrators? People often ask me if the merman in my novel The Pisces was "real" and I don't know how to respond, other than to say, "He's real to the protagonist." But I do like the term "mirage novel!" Now I'm thinking of a number of mirage novels, which, although not set in the desert, weave the subjectivity of the human psyche into physical wilderness: The Ice Palace by Tarjei Vesaas. Down Below by Leonora Carrington. Thomas Mann's The Magic Mountain... now that's a mirage novel! --Kerry McHugh
Shelf vetted, publisher supported.
Great Reads
Rediscover: Jon Fosse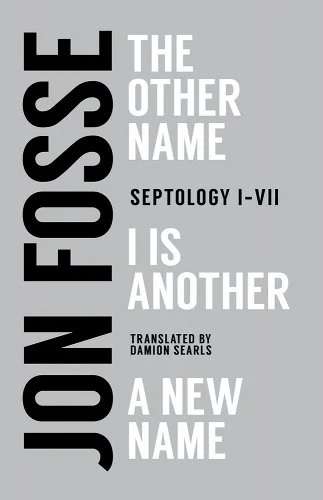 The 2023 Nobel Prize for Literature was awarded this week to Norwegian author Jon Fosse for his "innovative plays and prose which give voice to the unsayable," the Swedish Academy announced. Fosse has written more than 40 plays, novels, short stories, children's books, poetry, and essays. The Academy said that Fosse's "magnum opus in prose" is Septology, which he completed in 2021 and was published in several volumes. A New Name: Septology VI-VII was a finalist last year for the National Book Awards, the National Book Critics Circle Awards, and the International Booker Prize.

Fosse's debut novel Red, Black (1983) is, the Academy said, "as rebellious as it was emotionally raw, broached the theme of suicide and, in many ways, set the tone for his later work." Another key work is Trilogy (2016), "a cruel saga of love and violence with strong Biblical allusions, [which] is set in the barren coastal landscape where almost all of Fosse's fiction takes place." It was published in the U.S. by Dalkey Archive Press.

"In common with his great precursor in Nynorsk literature Tarjei Vesaas, Fosse combines strong local ties, both linguistic and geographic, with modernist artistic techniques," the Academy said. "While Fosse shares the negative outlook of his predecessors, his particular gnostic vision cannot be said to result in a nihilistic contempt of the world. Indeed, there is great warmth and humour in his work, and a naïve vulnerability to his stark images of human experience."

"Extending to 1,250 pages, [Septology] is written in the form of a monologue in which an elderly artist speaks to himself as another person. The work progresses seemingly endlessly and without sentence breaks, but is formally held together by repetitions, recurring themes and a fixed time span of seven days. Each of its parts opens with the same phrase and concludes with the same prayer to God." It was published in the U.S. by Transit Books. They will also publish Fosse's A Shining later this month.