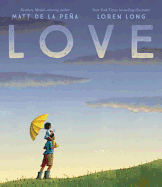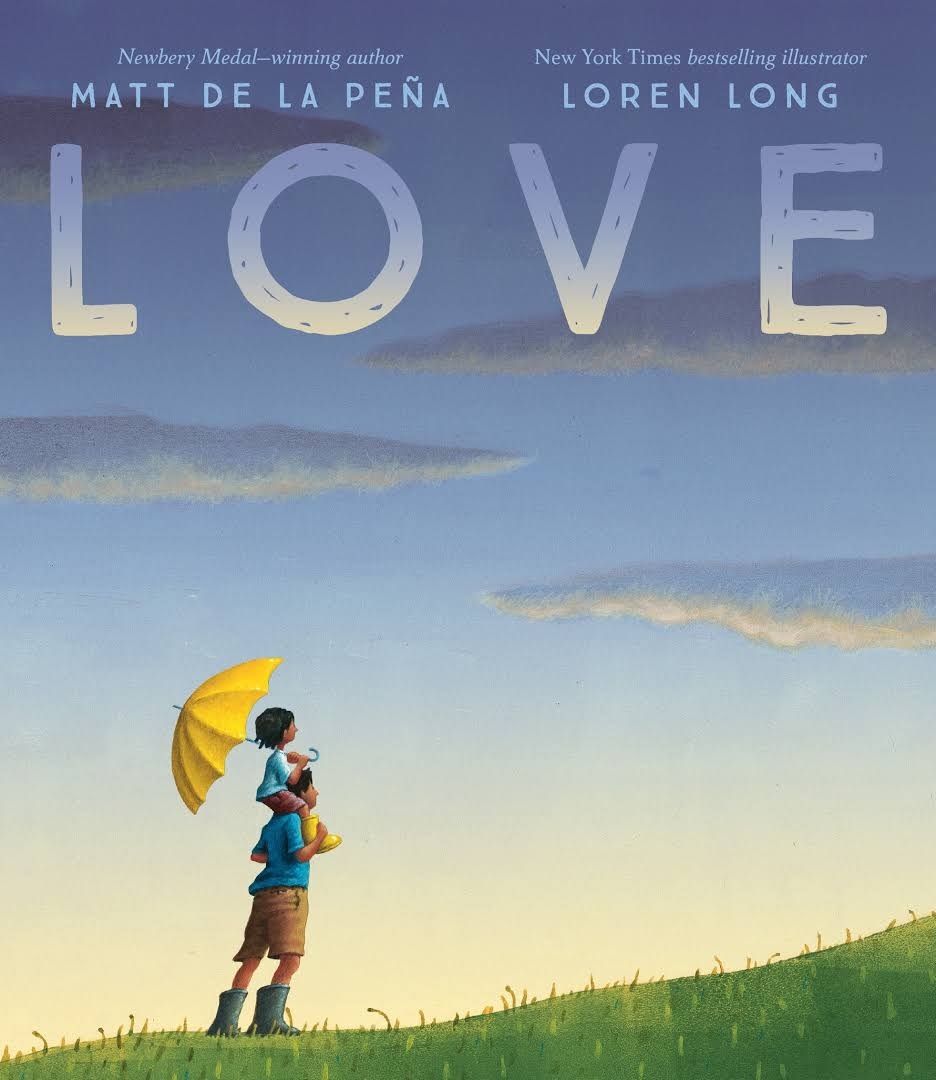 Matt de la Peña started writing Love as an uplifting poem for children, but he soon felt that something was missing. He had, in his words, failed to "acknowledge the other side." What he decided he wanted was to share with children an honest picture of love: even those who are well loved will eventually learn that the world holds sadness and loss in addition to comfort and sweetness. And there are stories behind every love. So Love became the moving book that it is today, in which a different child on each spread, in all colors of the human rainbow, learns about love in its multifarious forms. "In the beginning there is light/ and two wide-eyed figures standing/ near the foot of your bed,/ and the sound of their voices is love."

After the tender, quiet beginning in which a "cabdriver plays love softy on his radio/ while you bounce in back with the bumps of the city" and "you" (de la Peña uses second person throughout) play in summer sprinklers with the big kids and "the echo of your laughter is love," things turn a bit darker. On one spread, smoke pours from an apartment building's windows and "you're pulled from sleep and whisked/ into the street, where a quiet old/ lady is pointing to the sky./ 'Stars shine long after they've flamed/ out,' she tells you, 'and the shine they/ shine with is love.'" In subsequent pages, you discover--gently, always gently--that "it's not only stars that flame out..../ It's summers, too./ And friendships./ And people."

Kindness and warmth suffuse every page, so readers never doubt that love is ever-present, even in sorrow and confusion. Ample positive examples pack the pages, whether it's uncles goofing around and telling stories or an awakening recognition that parents do difficult things because they love you: "A love that wakes at dawn and/ rides to work on the bus./ A slice of burned toast that tastes like love." The poignant illustration accompanying these lines shows a small boy watching out the window as an adult (presumably his dad) slogs through the snow on his way to catch the bus while an older brother offers the boy juice and toast.

Beautiful illustrations by Loren Long (Good Day, Good Night; Nightsong; the Otis series) are made using an unusual process of collaged monotypes overlaid with acrylic paint. With its textures and irregularities, the artwork is, as Long says, "a bit raw, a bit vulnerable, a bit messy. It's unfinished in some places, overworked in others, flawed here and beautiful there. Kind of like love itself." True words.

Long and Matt de la Peña, whose Last Stop on Market Street (illustrated by Christian Robinson) garnered a Newbery Medal and a Caldecott Honor, hit the mark with Love, eschewing sentimentality and banalities for a portrait of love framed in honesty. --Emilie Coulter, freelance writer and editor

Shelf Talker: Matt de la Peña and Loren Long offer the world Love, a gentle, poetic picture book about love in all circumstances, even the tough ones.