This year's Heartland Fall Forum in Cleveland, Ohio, represented the "first year of taking the show on the road," said Larry Law, executive director of the Great Lakes Independent Booksellers Association, in his opening remarks last week at the book awards celebration. "Some of our goals for moving the show around were to get new booksellers to attend, and to shine a spotlight on different literary cities in our region. It seems to be working."
Midwest Independent Booksellers Association executive director Carrie Obry announced that HFF 2020 will be held at the Hyatt Regency St. Louis at The Arch, which she described as "almost under the arch; it's a really fun place to be."
By the numbers, HFF 2019 drew 216 booksellers and miscellaneous attendees and 186 exhibitor attendees, with 78 booksellers and 27 of the 105 participating bookstores attending for the first time. GLIBA members represented 64.5% of the attendees and 58.1% of the stores, while MIBA had 35.5% of the attendees and 41.9% of the stores.
"I'm so excited about the strides we made in taking our well-developed show into new environs," Obry noted after the show. "We've proven that the show exists of its own industry and literary merits, bringing in a wide array of new booksellers and new voices overall. I'm extremely excited about what lies ahead for us all."
Law added: "We were excited to come to Cleveland but also a little nervous because it was a new city and a big change. That being said, as soon as the show started it felt electric and alive. The show floor was packed and energized. We are receiving glowing remarks about author events and education. This show felt like taking a big leap and booksellers were excited about that. This ended up being the highest attended Heartland Fall Forum ever of GLIBA bookstores. We can't wait for St. Louis."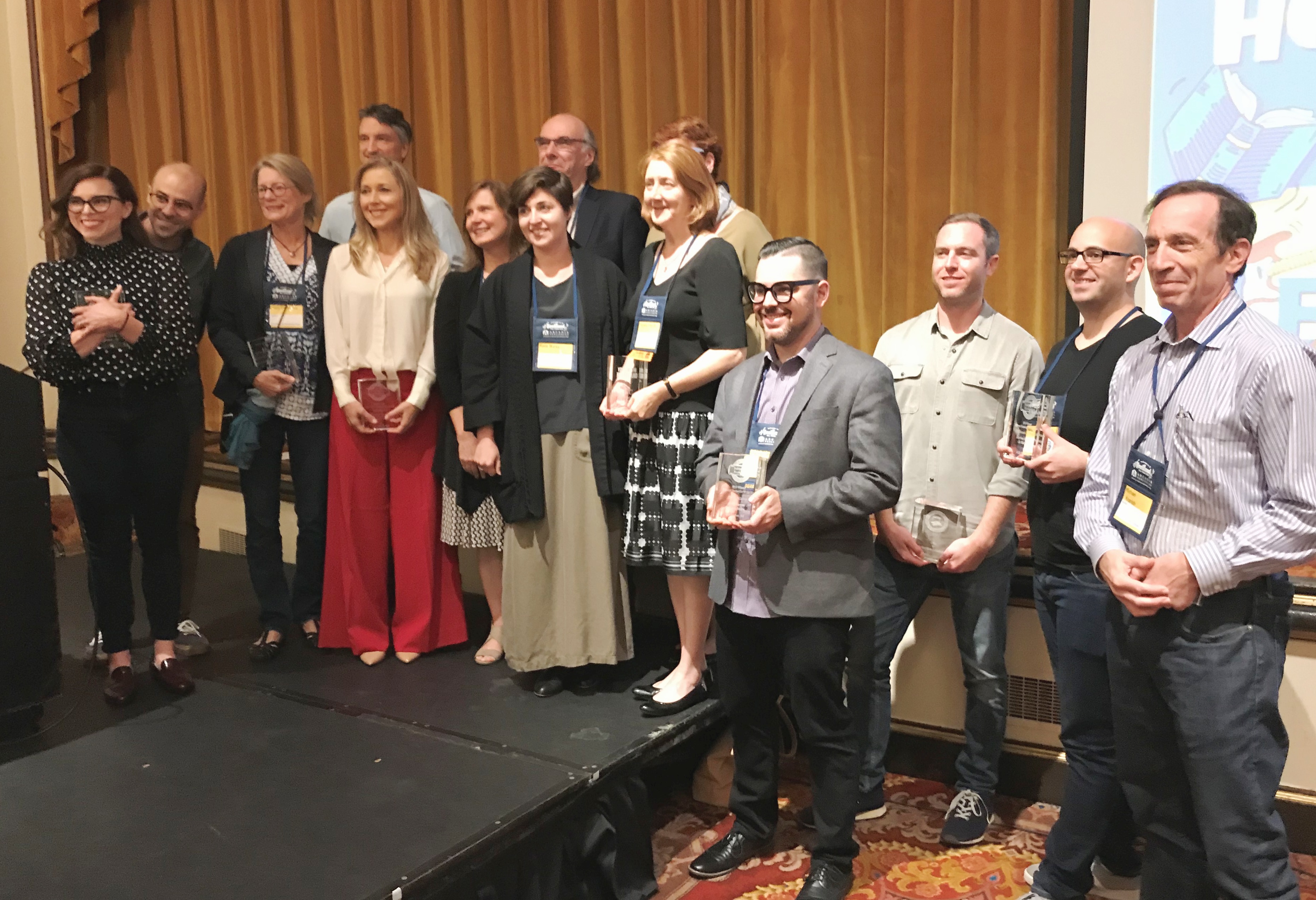 Happy honorees at the Heartland Fall Forum's book awards celebration.
Before the awards presentations began on opening night, retiring American Booksellers Association CEO Oren Teicher was honored. "Personally, I've looked up to Oren ever since I've been a bookseller," said Law. "With Oren at the helm, he tackled everything gracefully and thoughtfully, and you knew every issue would be examined from all sides."
Teicher observed: "I've often said there are a lot of cool things about my job, but for sure getting to know and to work with so many of you booksellers all across the United States has been extraordinary. You are a unique community of incredibly engaging people and to consider and have so many of you as my friends is extraordinary.... The one thing I know that I have every degree of confidence in is that whoever is standing here 30 years from now will have an opportunity to look out at another group of incredible independent booksellers. We're not going anywhere. We're going to be here and all of you are continuing to contribute to creating a far better place for all of us. So, I thank you."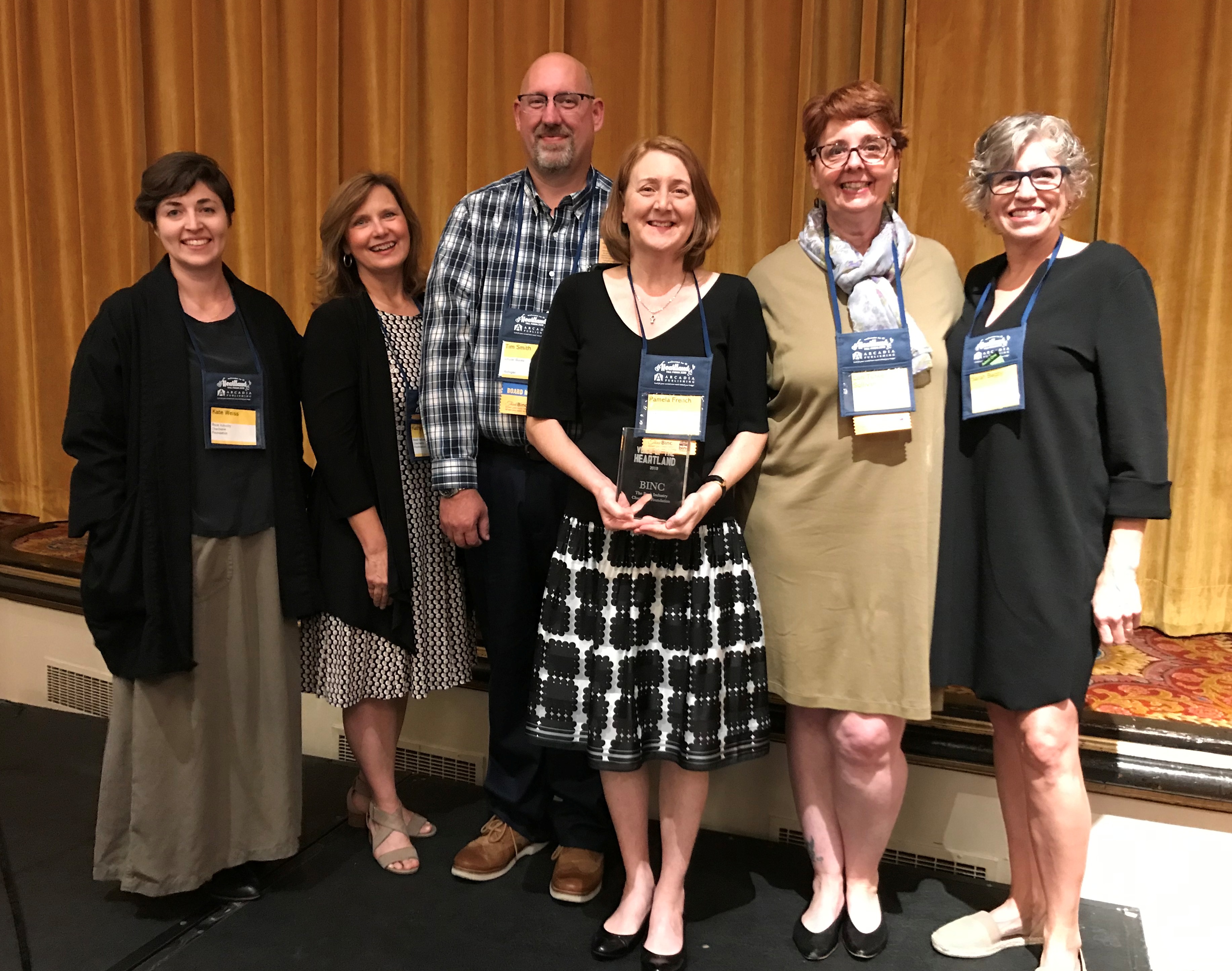 Voice of the Heartland Award winner Binc Foundation, represented by (l.-r.) Kate Weiss, Kathy Bartson, Schuler Books' Tim Smith (presenter), Pam French, Lori Tucker-Sullivan & Sarah Bagby.
Danny Caine, owner of the Raven Book Store, Lawrence, Kan., was honored as Midwest Bookseller of the Year and the Book Industry Charitable Foundation received the Voice of the Heartland Award. The celebration also showcased the authors who won GLIBA's Great Lakes, Great Reads awards and MIBA's Midwest Booksellers Choice Awards.
The event was emceed by charismatic author and book personality Isaac Fitzgerald, whose upcoming book is How to Be a Pirate (Bloomsbury Children's Books, March 2020). "I'm not here as an author," he said. "I'm not here to push my book. I am here to celebrate the other authors in the room tonight. But the most important thing to me about being here is I'm here as a fan of all of you. So, I just want to give you guys a round of applause and I want to hear you give yourselves a round of applause because thank you for the hard work that you do as independent booksellers. Without you, stories wouldn't exist."
Note: More coverage of this year's Heartland Fall Forum will follow in upcoming columns. --Robert Gray