AAP Sales First Half of 2019: Total Up 6.9%; Trade Up 3.8%
Total net book sales for the first half of 2019 in the U.S. rose 6.9%, to $5.987 billion, compared to January-June 2018, representing sales of 1,360 publishers and distributed clients as reported to the Association of American Publishers. In June, total net book sales rose 12.1%, to $1.4 billion.
In the first six months of the year, total trade net revenue rose 3.8%, to $3.453 billion, with the biggest increase coming, as usual, from downloaded audio, which rose 33.8%, to $278.6 million. Children's/YA also had a strong six months, with sales rising 7.4%, to $918.8 million.
In trade books, net revenue for printed books, including hardcover, paperback, mass market and board books, grew 2.5%, to $2.5 billion. Paper formats accounted for 72.1% of all reported sales during the first six months of 2019.
In non-trade areas, K-12 materials had the best sales of the six-month period, rising 31.4%, to $1.3 billion. Professional books inched up 1.1%, to $273.9 million, and higher ed was down 5.3%, to $918.3 million.
Sales by category in the first six months of 2019 compared to the first six months of 2018: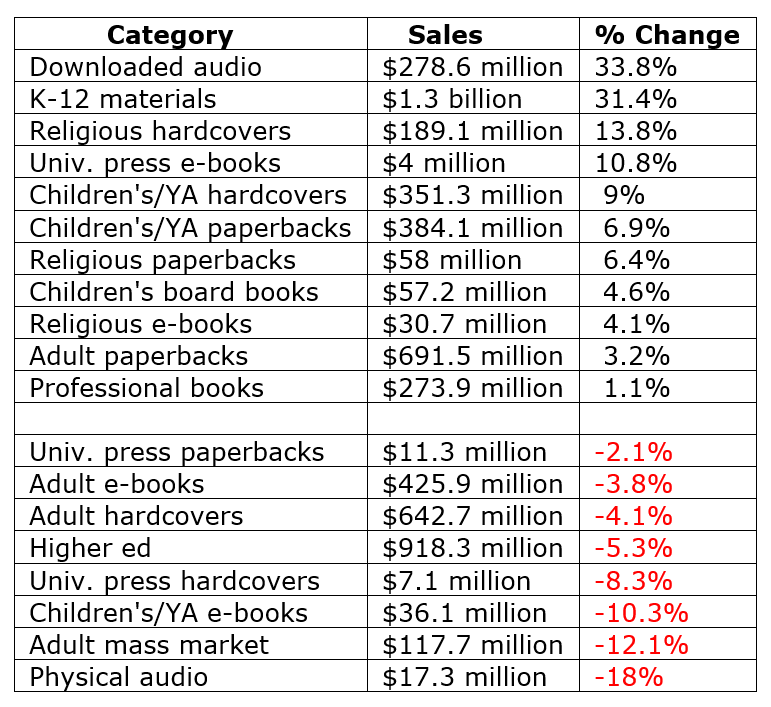 ---

---