Picture Books Celebrating the Moon Landing
Fifty years ago today, Neil Armstrong, Buzz Aldrin and Michael Collins were en route to the moon; on July 20, 1969, Armstrong and Aldrin became the first people to walk on its surface. Here are a few of the excellent, recently published picture books about those who have been to the moon.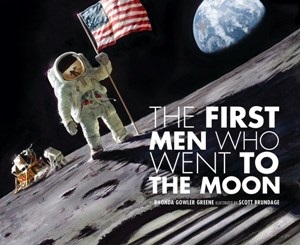 Rhonda Gowler Greene and Scott Brundage's The First Men Who Went to the Moon ($16.99, Sleeping Bear Press) is a poetic, step-by-step recounting of Armstrong, Aldrin and Collins's trip to the moon, beginning with boarding Apollo 11 and ending with "the splashdown that brought them home." Scattered throughout, blended into Brundage's stirring illustrations, are additional facts for older readers.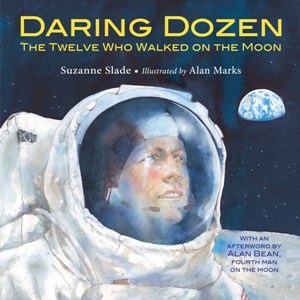 The Daring Dozen: The Twelve Who Walked on the Moon by Suzanne Slade, illus. by Alan Marks ($17.99, Charlesbridge) takes the Apollo 11 trip and builds upon it, showing how each subsequent mission to the moon used the lessons from the one before to expand our knowledge. Marks's illustrated double-page spreads are awe-inspiring, each depicting, in their own way, the expanse that is space. Slade's text is lyrical and full of information for young moon enthusiasts.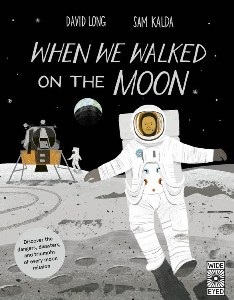 David Long and Sam Kalda's When We Walked on the Moon ($17.99, Wide Eyed Editions) takes a similar approach to The Daring Dozen but for a slightly older age range. With detailed chapters and bold, stylized illustrations, this title focuses on making the astronauts fully rounded people.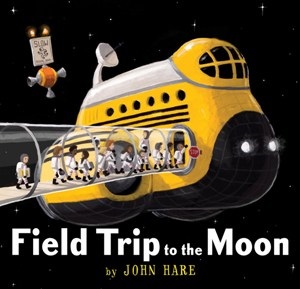 Special mention goes to John Hare's Field Trip to the Moon ($17.99, Holiday House), which features an imagined elementary school trip to the moon in which one little astronaut displays their artistic talents and meets some new, moon-abiding friends. Who knows what the next 50 years hold?