Kwame Alexander
(Portia Wiggins Photography)
Shelf Awareness recently caught up via Zoom with Kwame Alexander, author of the 2015 Newbery Medal-winning novel-in-verse The Crossover and the 2020 Newbery Honor picture book The Undefeated (for which illustrator Kadir Nelson won the 2020 Caldecott Medal). The Undefeated was published by Versify, the imprint Alexander founded at Houghton Mifflin Harcourt in 2018.
In the three years that Alexander helmed Versify, he also published the 2021 Pura Belpré winner (¡Vamos! Let's Go Eat, illustrated and written by Raúl the Third) and a 2021 Sydney Taylor Honor Book (Anya and the Nightingale by Sofiya Pasternak). But Alexander and Houghton couldn't come to terms while renegotiating his contract, which expired in October 2020. "At first I thought of it as a divorce," Alexander reflected, "but then, in true poet fashion, I realized it was more like a child leaving home for college. It just so happened that Versify was that incredible prodigy who was ready to leave early." (In March of this year, HarperCollins purchased Houghton Mifflin Harcourt.)
"I'm proud of the work that we did, Margaret [Raymo, senior editorial director] and I, working together to bring Raul's ¡Vamos! series and Lamar's [Giles] series into the world, and Nikki Giovanni's A Library [to be published in fall 2021, illustrated by Erin Robinson] and all the beautiful books. It was a special experience for me."
Alexander discussed his life in London during the past year and a half. "The pandemic did a couple of things that I wasn't expecting," he said. "Number one, I wrote way more than I've ever written because I couldn't really do anything else. It was a writer's dream in the midst of a nightmare. And I discovered the parks in London." As an author who'd done some 200 school visits a year, he'd mostly traveled London by Tube and taxi; now he could enjoy its green spaces.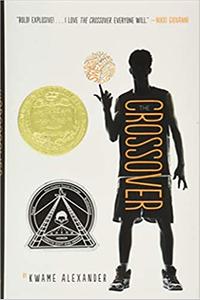 These days, he's working on a script for the pilot of The Crossover with Hollywood over Zoom. The book's move to the screen has been a long time coming. The author received his first inquiries about film rights about a week after he won the Newbery, six years ago. "And then, as each thing sort of fell through, Disney+ decided they were interested in a TV show. So for the past two years, we've been working on the treatment, the outline, and writing the pilot episode." In February, it was greenlit, and Alexander, who serves as executive producer as well as writer, will head to New Orleans for the filming in June. "I've seen the positive impact that my books have on kids and adults," Alexander said. "So conventional wisdom would say, if we take those books and we translate them onto the small and the big screen, it could potentially have the same impact on a much larger sort of landscape."
Asked how film work is different from publishing, Alexander said that there are hundreds of people involved with a film, rather than the author-editor primary relationship in book publishing (plus designers and art directors and copyeditors, sales and marketing, of course). But that collaborative nature of filmmaking is not the biggest difference between publishing and Hollywood. When We Need Diverse Books was created in July 2014, "we began to have a little bit of reckoning in book publishing, and I want to say it's gotten better and better each year since then," Alexander said. "I think Hollywood is still trying to catch up." Even though he describes it as a struggle, he has a voice: "I'm pretty loud and I say what I need to say, you know? I probably challenge the status quo a lot more than Hollywood is used to. They listen, so I'm not going to stop talking."
Alexander is also writing and producing a cartoon based on his picture book Acoustic Rooster and His Barnyard Band, and a puppet show starring a band of poets that he will also appear in. And just to bring this circle of poetry 360 degrees, the show's producer is Sidney Clifton, daughter of legendary poet Lucille Clifton. These projects come under the umbrella of Big Sea Entertainment, which Alexander co-founded with his longtime agent and business partner Arielle Eckstut. It's named for Langston Hughes's autobiography and its epitaph, "Life is a big sea/ full of many fish./ I let down my nets/ and pull."
But do not fear, readers, Kwame Alexander is still writing! In fact, he believes he's rediscovered his muse in London and is doing his best writing yet, "the books that I was born to write." He's working on a trilogy called The Door of No Return. "It's about a 12-year-old boy who's a swimmer; he has a crush and also a cousin who likes the same girl, who bullies him," says Alexander. He pauses, "And it's set in 1859. It's a beautiful tragedy with a twist."
Alexander exudes gratitude. He speaks of being given books by his parents, reading Lucille Clifton before he even started kindergarten, being mentored by Nikki Giovanni, "for the sole purpose of being able to uplift the community, to make the world a better place." But after the death of George Floyd on May 25, 2020, Alexander stopped writing. He kept thinking, "What was the point of all this stuff I've done? What is that going to offer? How is that going to change anything? Black boys and men and people are being blown away, like sand in a windstorm and what is a poem going to do?" But then two things happened. First, a friend called him and said, "What are you going to do about what's happening? You have a voice. You know a lot of people, and kids need to hear from you. They need to hear your voice." And then Alexander saw this quote by Toni Morrison: "There is no time for despair, no place for self-pity, no need for silence, no room for fear. We speak, we write, we do language. That is how civilizations heal."
At this time, Alexander was having weekly happy hours via Zoom with Jacqueline Woodson and Jason Reynolds, and he asked them if they'd be a part of a virtual rally. They agreed, as long as the audience was young people. Alexander wanted the majority to be Black speakers but felt it was also important to model what an ally is: "I'm a big proponent of the books that we publish and the movies that we produce, the friends that we have, they should reflect the kind of world we claim we want for our kids." They came together to create the KitLit4BlackLives rally on June 4, 2020.
"I'm in Hollywood for the same reason I'm in books--I want to help kids imagine a better world. I'm trying to help kids make this place better... one word at a time." --Jennifer M. Brown