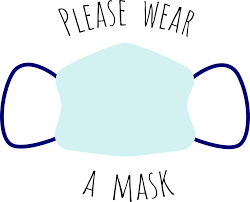 Remembering May 2020, when I wrote about my first Covid-inspired mask dream. Remembering July last year, when I celebrated our freedom to wear a face mask. Remembering May 2021, when Literati Bookstore, Ann Arbor, Mich., announced it was "back open, 14 months later. Masks and kindness required for entry." Remembering this past June, when booksellers were "still having to deal with a certain kind of customer who finds the mild inconvenience of wearing a face mask infuriating." Remembering July 2021, when I wrote the last word (probably not) on face masks."
I have adjusted surprisingly well to being a masked man. The process of putting a mask in my pocket when I leave the house, slipping it on and off as the occasion calls for in public spaces, has become a simple ritual for me. That hasn't, as we know, been the case for some folks in our "curiouser & curiouser" world, with all its annoying variants, viral as well as behavioral.
In early August, Sandra Dear, co-owner of the Little Boho Bookshop, Bayonne, N.J., offered a summary of the store's mask policy under the heading "MASK ON PLEASE," noting: "From the outset of this pandemic the health and safety of every person entering The Little Boho Bookshop, our team members, our customers (especially our littlest ones), and our friends, was the top priority and that remains so today. So, this grateful small business owner kindly ask that EVERYONE entering The Little Boho Bookshop WEAR A MASK. We thank you for your continued support of us! Let's all work together to keep each other safe, as we cautiously move forward."
Just last week, the Detroit News (via the Columbus Dispatch) reported that as Covid-19 vaccinations increased and mask guidelines were loosened earlier this summer, Janet Webster Jones "took down the 'masks required' sign at her business, Source Booksellers in Detroit's Midtown. However, she changed her mind when infection rates began to rise again because of the delta variant."
"Then things started getting dicey for me, so we put signs up on the door again," she said. "And the orders came behind that masks should be encouraged.... If they come in without a mask, I point to our sanitization station. They always put them on. If they don't, they leave. That's okay with me."
Sailing upwind against viral waves has become part of a bookseller's job description now. Bob's Bookstore, Charleston, Ill., posted: "We are exhausted from having to argue with people about wearing a mask in our store, having to ask people to leave and them saying that they 'don't care' that we have a child that can not be vaccinated, providing masks and people pretending they don't know how to wear them, people sneaking past 3 signs and then walking around with their mask pulled down because they have a drink with a straw in their hand, idiots standing outside giving us the finger because they can't have their way. All while having a vaccination rate of 36%...."
In Portland, Ore., Third Eye Books Accessories & Gifts brought a reality check to the face mask "debate" and noted: "Yep, Get ready for sign on OUR door. When at Third Eye Books. Please wear your mask properly at all times."
Portkey Books in Safety Harbor, Fla., has recently "modified our mask policy and currently ask that all customers wear masks while shopping at Portkey Books. We also offer virtual browsing for customers who are unable to wear a mask or who need to remain extra cautious. Thank you for your support and understanding."
Vaccinations are a whole other topic of concern for booksellers. The message from Epilogue Books Chocolate Brews, Chapel Hill, N.C., is similar to others I've seen elsewhere: "Just a reminder that our entire staff has been fully vaccinated with their complete doses! Our priority is the safety of our customers and staff and with the delta variant looming, we want you to feel good about visiting Epilogue."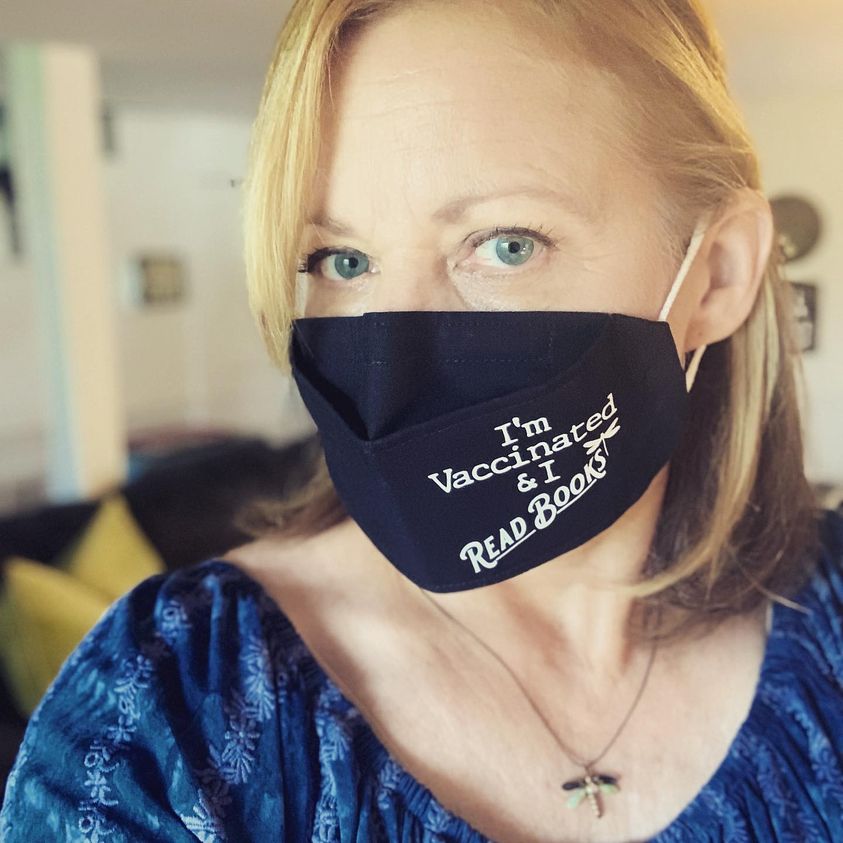 Read Books, Virginia Beach, Va., is getting the news out about face masks and vaccinations with "some fun facts about our #readbooks family. We are #vaccinated and we do in fact read a lot of #books ! So I (Kristin) designed a new mask with that message and had a super talented #localcreator make them. We are wearing masks in the shop again and strongly encourage you to do so when you visit us, no matter your #vaccinationstatus. Thanks for understanding!"
Another bookseller embracing the fashion mask approach is Whistlestop Bookshop, Carlisle, Pa.: "Unfortunately, masks are an ongoing need. But you don't have to be dowdy about it. New masks from the Ethos Fitness supporters arrived today!"
And the Village Bookstore, Pleasantville, N.Y., is offering a student option: "Fun masks for kids are back in the store! Pick one up for back-to-school."
"Friends. Epidemics are hard. Epidemics of pandemic proportions are hard," Rofhiwa Book Café, Durham, N.C., advised in early August. "We've been through and lost many loved ones in epidemics, unfortunately. It has been our particular experience that getting through them is a many times frustrating iterative process of information gathering and assessments, implementing best practices given available information, trying together, and sometimes failing together. But we have to try folks. We hope you'll try with us. We'll have disposable masks behind the counter for those who need them. Please ask a team member. Please be kind to our team members."