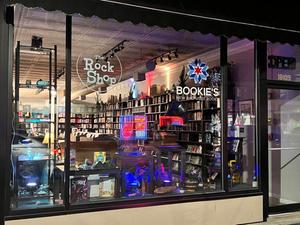 Bookie's New and Used Books, Chicago, Ill., will close its second store, in Homewood, on May 11. The original Bookie's in the Beverly neighborhood at 10324 S. Western Ave. will remain open. Owner Keith Lewis shared the news in a recent Facebook post, noting that the decision had been made "for a multitude of reasons."
The Homewood store, which opened in 2018, was in danger of closing last September due to an "exorbitant rent increase," but was able to reopen in November at a new location, where Lewis partnered with the Rock Shop co-owner Laura Bruni to share the space.
Lewis told the Homewood/Flossmoor Chronicle that even though he loves the space and went into the arrangement with high hopes, the businesses turned out to be incompatible. "An extreme difference in personality and business style made it impossible for this partnership to work," he said. "It was a very hard decision, but it is what's best for Bookie's and its employees."
Noting the decision was difficult, Lewis said that he has no plans to try a third Homewood store, but did not rule out the possibility: "I'll never say never. It's disappointing to leave, but I will never completely close the door on Homewood." Lewis and Rich Wojcikowski, Bookie's Homewood manager, have looked at other locations but haven't found one that works.