Starred Review
by Arna Bontemps Hemenway

Elegy on Kinderklavier, a debut collection of stories from Arna Bontemps Hemenway, marks the beginning of a promising career for a gifted young writer whose work has been included in both the Best American Short Stories and Best American Nonrequired Reading anthologies.

These remarkable tales circle around absence and loss, often using the Iraq War as a catalyst. In "The Half-Moon Martyrs' Brigade of New Jerusalem, Kansas," a young woman examines her culpability in a long-since-passed act of cruelty as she

by Sylvia Sumira

Globes, by professional globe-restorer Sylvia Sumira, is a history of globe-making from the late-15th through the late-19th centuries, when globes were used as educational tools, scientific instruments and status symbols. It is also breathtakingly beautiful.

The first two sections of the book are scholarly articles in which Sumira considers not only who made globes, but why and how. The first piece, "A Brief History of Globes," is clearly for specialists. The second will fascinate anyone who has wondered how

by Keith Baker, illus. by Keith Baker

After teaching youngest readers how to navigate the alphabet (LMNO Peas) and to count (1-2-3 Peas), Keith Baker's little green heroes now introduce them to colors.

A summery spread of "BLUE" kicks off the proceedings, with each letter in a slightly different texture or pattern, as well as a slightly different hue. One letter looks as if it were sponged in an aqua tone, another in an indigo shade shows subtly mazelike patterns. The text--"Blue boats, blue seas, blue flags, and..."--in thick black letters, introduces
Welcome
Shelf Awareness is a free e-newsletter about books and the book industry. We have two separate versions:
For Readers: Discover the 25 best books coming out this week as selected by our industry insiders. (Tuesdays and Fridays.) Sign up now.
For Book Trade Professionals: Receive daily enlightenment with our FREE weekday trade newsletter. Sign up now.
Learn more about Shelf Awareness.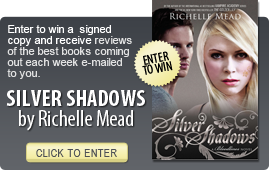 Media Heat
Thursday, July 24, 2014
On NPR's
Diane Rehm Show
:
Miles J. Unger
, author of
Michelangelo: A Life in Six Masterpieces
(Simon & Schuster, $29.95, 9781451678741).
---
Wednesday, July 23, 2014
On NPR's
Diane Rehm Show
:
readers review
Americanah
by Chimamanda Ngozi Adichie (Anchor, $15.95, 9780307455925).
On
Fresh Air
:
Vint Virga
, author of
The Soul of All Living Creatures: What Animals Can Teach Us About Being Human
(Broadway, $14.99, 9780307718877).
---
Tuesday, July 22, 2014
On
Fresh Air
:
Arthur Allen
, author of
The Fantastic Laboratory of Dr. Weigl: How Two Brave Scientists Battled Typhus and Sabotaged the Nazis
(Norton, $26.95, 9780393081015).
---
Monday, July 21, 2014
On
Fresh Air
:
Chris Tomlinson
, author of
Tomlinson Hill: The Remarkable Story of Two Families Who Share the Tomlinson Name--One White, One Black
(Thomas Dunne Books, $26.99, 9781250005472).
---
Thursday, July 17, 2014
On
Fresh Air
:
Laura Erickson-Schroth
, editor of
Trans Bodies, Trans Selves: A Resource for the Transgender Community
(Oxford University Press, $39.95, 9780199325351).