Starred Review
by Nicholas Wapshott

Franklin D. Roosevelt faced one of the greatest political challenges in United States history: steering a stringently antiwar nation toward armed intervention against the Nazi conflagration sweeping Europe. Neutrality Acts of the 1930s, passed by isolationists horrified by the costs of American entanglement in World War I, kept the president from outright aiding any "belligerent" nations--including Britain, the last major democracy standing in Europe by 1940 (an obstacle eventually circumvented by the Lend-Lease

by Jules Howard

Jules Howard is a well-established zoologist, but you wouldn't know it from the self-deprecatingly droll tone he takes in his first book, Sex on Earth: A Celebration of Animal Reproduction. The subtitle is slightly misleading; far beyond simple reproduction, Howard is intrigued by sex in all its forms and purposes. Inspired by captive pandas saddled with a reputation for sexual failure (unfairly, he thinks), he pursues diverse and myriad questions. He is specifically interested in getting beyond issues of

by Mark Newgarden, Megan Montague Cash

The team behind Bow-Wow Bugs a Bug brings back their hero in a wordless adventure that's equal parts mystery and farce.

Attentive readers' first clue to the identity of the title's "Nightmare Neighbors" may be found (if not on the endpapers) on the jet-black page facing a peacefully slumbering Bow Wow: three white, sausage-like hooks move across its expanse. Three sets of ears peering over a windowsill into the full-page image of the room where the golden pup naps provide the next hint. Then pandemonium strikes
Welcome
Shelf Awareness is a free e-newsletter about books and the book industry. We have two separate versions:
For Readers: Discover the 25 best books coming out this week as selected by our industry insiders. (Tuesdays and Fridays.) Sign up now.
For Book Trade Professionals: Receive daily enlightenment with our FREE weekday trade newsletter. Sign up now.
Learn more about Shelf Awareness.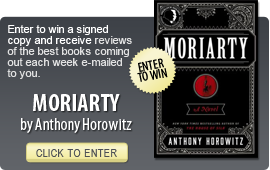 Media Heat
Tuesday, November 25, 2014
On
Fresh Air
: National Book Award–winner
Phil Klay
, author of
Redeployment
(Penguin Press, $26.95, 9781594204999).
On the
Diane Rehm Show
:
Brooke Shields
, author of
There Was a Little Girl: The Real Story of My Mother and Me
(Dutton, $26.95, 9780525954842).
---
Monday, November 24, 2014
On
Fresh Air
:
Richard Zoglin
, author of
Hope: Entertainer of the Century
(Simon & Schuster, $30, 9781439140277).
On the
Diane Rehm Show
:
Dr. Robert L. Okin
, author of
Silent Voices: People with Mental Disorders on the Street
(Golden Pines Press, $19.95, 9780996077705).
---
Thursday, November 20, 2014
On KCRW's
Bookworm
:
Neil Gaiman
,
Ian Falconer
and
Françoise Mouly
discuss children's books and
Hansel and Gretel Standard Edition
(Toon Books, $16.95, 9781935179627).
---
Wednesday, November 19, 2014
On the
Diane Rehm Show
:
Joel Klein
, author of
Lessons of Hope: How to Fix Our Schools
(Harper, $27.99, 9780062268648).
---
Tuesday, November 18, 2014
On
Fresh Air
:
Brian Krebs
, author of
Spam Nation: The Inside Story of Organized Cybercrime-from Global Epidemic to Your Front Door
(Sourcebooks, $24.99, 9781402295614).