Starred Review
by Jerry Pinkney

With a playful buoyancy and minimal words, Caldecott Medalist Jerry Pinkney (The Lion and the Mouse) here tells of another triumphant underdog, this time in the American Southwest.

A dapper hare in a burgundy vest removes a black-and-white checked kerchief to serve as the flag indicating the start and finish lines. (In a clever touch, the final image shows the hare fastening that same scarf around the tortoise's neck, like a good sport.) "On your marks," says the fox, holding the flag. With the word "Go!" the

by Janis Ian, Ingrid & Dieter Schubert

Janis Ian's lyrics (commissioned for an album called Harbour of Songs for the 2012 Olympics) make an ideal debut picture book and cautionary tale upon which to build illustrations by Ingrid and Dieter Schubert (The Umbrella).

Ian's story of a tiny mouse who pines for adventure brims with his overlooked treasures, such as "a jack-in-the-box who popped every Sunday at five o'clock" (imagined as a cat's head in the Schuberts's illustration) and a clown with "a frown that was deafening," pictured on a bicycle.
Welcome
Shelf Awareness is a free e-newsletter about books and the book industry. We have two separate versions:
For Readers: Discover the 25 best books coming out this week as selected by our industry insiders. (Tuesdays and Fridays.) Sign up now.
For Book Trade Professionals: Receive daily enlightenment with our FREE weekday trade newsletter. Sign up now.
Learn more about Shelf Awareness.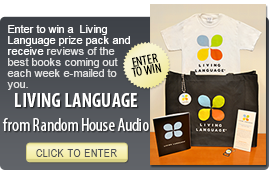 Media Heat
Tuesday, December 3, 2013
On NPR's
Fresh Air
:
Ben Bradlee, Jr.
, author of
The Kid: The Immortal Life of Ted Williams
(Little, Brown, $35, 9780316614351).
---
Monday, December 2, 2013
On the
Colbert Report
:
Daniel Goleman
, author of
Focus: The Hidden Driver of Excellence
(Harper, $28.99, 9780062114860).
---
Wednesday, November 27, 2013
On NPR's
On Point
:
Doris Kearns Goodwin
, author of
The Bully Pulpit: Theodore Roosevelt, William Howard Taft, and the Golden Age of Journalism
(Simon & Schuster, $40, 9781416547860).
---
Tuesday, November 26, 2013
On NPR's
Diane Rehm Show
:
Susan Katz Miller
, author of
Being Both: Embracing Two Religions in One Interfaith Family
(Beacon Press, $25.95, 9780807013199), and
Naomi Schaefer Riley
, author of
'Til Faith Do Us Part: How Interfaith Marriage Is Transforming America
(Oxford University Press, $24.95, 9780199873746).
---
Monday, November 25, 2013
On NPR's
Diane Rehm Show
:
Thomas E. Patterson
, author of
Informing the News: The Need for Knowledge-Based Journalism
(Vintage, $15, 9780345806604).
On NPR's
Fresh Air
:
James Tobin
, author of
The Man He Became: How FDR Defied Polio to Win the Presidency
(Simon & Schuster, $30, 9780743265157).