Starred Review
by Anchee Min

From the labor camps of Mao's China to the streets of Chicago and California, Anchee Min's The Cooked Seed offers readers a rare, honest account of being a poor, non-English-speaking immigrant in the U.S. Constantly fearing deportation, Min worked five jobs to pay for her schooling, rent and food. She learned English by watching Sesame Street and reading Gone with the Wind, lived in run-down storage spaces and cold apartments for the cheap rent and suffered a rape in silence, all the while struggling to grasp the American dream and the longed-for...

by Margalit Fox

In 1900, archeologist Arthur Evans uncovered a cache of clay tablets in an unknown script on Crete. For 50 years, scholars across the world struggled to decipher that script--Linear B--without knowing what language it encoded. In 1952, an amateur named Michael Ventris solved the puzzle with what is often presented as a single stroke of inspiration. Margalit Fox's The Riddle of the Labyrinth adds a new layer to this story.

Ventris's inspiration, it turns out, was based on the work of another, largely forgotten, scholar--classicist Alice Kober. Working...

by Paul Rudnick

Paul Rudnick (I Shudder) makes a smashing YA debut with this novel about what truly makes someone beautiful, the doors that beauty opens and the responsibility that comes with opportunity.

On Becky Randle's 18th birthday, her 400-pound mother dies. Before Becky left the house that morning, her mother told her, "Something is going to happen to you, and it's going to be magical." That magical something is a phone number for Tom Kelly, a world-famous designer. He offers Becky $1,000 and a plane ticket to New York, and she leaves behind her trailer park in...
Welcome
Shelf Awareness is a free e-newsletter about books and the book industry. We have two separate versions:
For Readers: Discover the 25 best books coming out this week as selected by our industry insiders. (Tuesdays and Fridays.) Sign up now.
For Book Trade Professionals: Receive daily enlightenment with our FREE weekday trade newsletter. Sign up now.
Learn more about Shelf Awareness.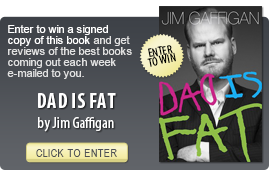 Media Heat
Tuesday, May 21, 2013
On the
Colbert Report
:
Noah Feldman
, author of
Cool War: The Future of Global Competition
(Random House, $26, 9780812992748).
---
Monday, May 20, 2013
On NPR's
Diane Rehm Show
:
Jessica Buchanan and Erik Landemalm
, co-authors of
Impossible Odds: The Kidnapping of Jessica Buchanan and Her Dramatic Rescue by SEAL Team Six
(Atria, $26, 9781476725161).
---
Thursday, May 16, 2013
On KCRW's
Bookworm
:
Aleksandar Hemon
, author of
The Book of My Lives
(Farrar, Straus & Giroux, $25, 9780374115739).
On the
Daily Show
:
George Packer
, author of
The Unwinding: An Inner History of the New America
(Farrar, Straus & Giroux, $27, 9780374102418).
---
Wednesday, May 15, 2013
On NPR's
Diane Rehm Show
:
Qais Akbar Omar
, author of
A Fort of Nine Towers: An Afghan Family Story
(Farrar, Straus & Giroux, $27, 9780374157647).
---
Tuesday, May 14, 2013
On NPR's
Tell Me More
:
Kim Wong Keltner
, author of
Tiger Babies Strike Back: How I Was Raised by a Tiger Mom but Could Not Be Turned to the Dark Side
(Morrow, $13.99, 9780062229298).
On NPR's
Diane Rehm Show
:
Allen Frances
, author of
Saving Normal: An Insider's Revolt Against Out-of-Control Psychiatric Diagnosis, DSM-5, Big Pharma, and the Medicalization of Ordinary
Life
(Morrow, $27.99, 9780062229250).
On the
Colbert Report
:
Dan Brown
, author of
Inferno: A Novel
(Doubleday, $29.95, 9780385537858).