Starred Review
by Paul Bailey

In 1927, 19-year-old Dinu Grigorescu arrives in Paris from Bucharest, sent by his father to spend a summer adventuring in the City of Light and recovering from the unexpected death of his mother. In the late 1960s, an elderly Dinu sits down in London to write the story of that summer in Paris, recalling with tenderness his first visit to a whorehouse known to offer men the services of men; the lover he found at that establishment and kept for a lifetime; and the unexpected ways that a forbidden affair could

by Eliza Granville

Eliza Granville's debut novel, Gretel and the Dark, is a grim, spooky fairy tale, but it boasts another layer: it is also a meditation on historical good and evil, set both in Nazi Germany and fin-de-siècle Austria.

In 1899, a shockingly beautiful young woman is rescued off the street and delivered to the home of celebrated Viennese psychoanalyst Josef Breuer. She is emaciated, beaten, shorn, with numbers inked on her arm; she claims to have no identity, so the besotted Josef calls her Lilie. Her story

by Marie Lu

A Game of Thrones meets X-Men in this 14th-century fantasy from Marie Lu (the Legend trilogy), in a world where "fear is power."

Sixteen-year-old Adelina Amouteru is a malfetto, one whose appearance is "marked" by the blood fever that crippled the country of Kenettra and claimed her mother's life. The blood fever took Adelina's left eye, turned her hair silver and gave her a power that's remained dormant--until the fateful night her merchant father agrees to trade her to a suitor in exchange for cleared debts.
Welcome
Shelf Awareness is a free e-newsletter about books and the book industry. We have two separate versions:
For Readers: Discover the 25 best books coming out this week as selected by our industry insiders. (Tuesdays and Fridays.) Sign up now.
For Book Trade Professionals: Receive daily enlightenment with our FREE weekday trade newsletter. Sign up now.
Learn more about Shelf Awareness.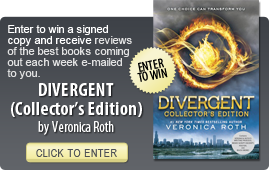 Media Heat
Thursday, October 16, 2014
On KCRW's
Bookworm
:
David Mitchell
, author of
The Bone Clocks
(Random House, $30, 9781400065677).
On the
Diane Rehm Show
:
Colm Toibin
, author of
Nora Webster: A Novel
(Scribner, $27, 9781439138335).
On the
Daily Show
:
Bryan Stevenson
, author of
Just Mercy: A Story of Justice and Redemption
(Spiegel & Grau, $28, 9780812994520).
On the
Colbert Report
:
William Deresiewicz
, author of
Excellent Sheep: The Miseducation of the American Elite and the Way to a Meaningful Life
(Free Press, $26, 9781476702711).
---
Wednesday, October 15, 2014
On
Diane Rehm
:
Suki Kim
, author of
Without You, There Is No Us: My Time with the Sons of North Korea's Elite
(Crown, $24, 9780307720658).
On the
Daily Show
:
Bill O'Reilly
, co-author of
Killing Patton: The Strange Death of World War II's Most Audacious General
(Holt, $30, 9780805096682).
---
Tuesday, October 14, 2014
On
Fresh Air
:
James Risen
, author of
Pay Any Price: Greed, Power, and Endless War
(Houghton Mifflin Harcourt, $28, 9780544341418).
On the
Diane Rehm Show
:
Leon Panetta
, co-author of
Worthy Fights: A Memoir of Leadership in War and Peace
(Penguin Press, $36, 9781594205965).
On the
Colbert Report
:
Neil Young
, author of
Special Deluxe: A Memoir of Life & Cars
(Blue Rider, $32, 9780399172083).
---
Monday, October 13, 2014
On NPR's
Morning Edition
:
Dan Pashman
, author of
Eat More Better: How to Make Every Bite More Delicious
(Simon & Schuster, $24.99, 9781451689730).
On the
Diane Rehm Show
:
Danny Aiello
, author of
I Only Know Who I Am When I Am Somebody Else: My Life on the Street, On the Stage, and in the Movies
(Gallery Books, $26, 9781476751900).
---
Thursday, October 9, 2014
On the
Diane Rehm Show
:
Yochi Dreazen
, author of
The Invisible Front: Love and Loss in an Era of Endless War
(Crown, $26, 9780385347839).
On
Fresh Air:
Jake Halpern
, author of
Bad Paper: Chasing Debt from Wall Street to the Underworld
(Farrar, Straus & Giroux, $25, 9780374108236).