Starred Review
by Aline Ohanesian

Aline Ohanesian's debut novel, Orhan's Inheritance, is a stunning exploration of how choosing to remember--and to forget--can shape an individual, a family and an entire people. The story opens on Kemal, an aging tailor found dead in a vat of cloth dye. His death is strange, but his will is even stranger: he has defied Turkish tradition and left his business to his grandson Orhan and his house to Seda, a stranger to the family living in an Armenian nursing home in Los Angeles.

Intending to recover his grandfather's

by Shanna Mahin

Jess Dunne, the protagonist of Shanna Mahin's Oh! You Pretty Things, is 29 years old, recently divorced, third-generation Hollywood and not sure what to do with her life. The story opens with her quitting a barista job at a hipster café because she's not hip enough to get the desirable morning shifts.

One thing she can do is cook, and the guy who takes her coveted shifts at the café refers her to his former boss, an Oscar-winning film composer who might be agoraphobic. Jess becomes the composer's

by Rita Williams-Garcia

Rita Williams-Garcia takes the three sisters introduced in her Newbery Honor book, One Crazy Summer, to their paternal grandmother's childhood home in Alabama, and digs deeply into the complexities of race and societal hierarchy during the summer of 1969.

Delphine, Vonetta and Fern are 12, 10 and eight, and they are processing what they are learning at different rates. Delphine knows that what's usual at home in Brooklyn is not so easily tolerated in the Deep South where Big Ma and her mother, Ma Charles, live.
Welcome
Shelf Awareness is a free e-newsletter about books and the book industry. We have two separate versions:
For Readers: Discover the 25 best books coming out this week as selected by our industry insiders. (Tuesdays and Fridays.) Sign up now.
For Book Trade Professionals: Receive daily enlightenment with our FREE weekday trade newsletter. Sign up now.
Learn more about Shelf Awareness.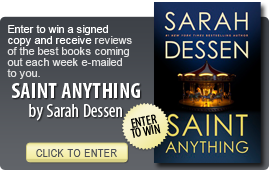 Media Heat
Thursday, April 23, 2015
On KCRW's
Bookworm
:
Luis Alberto Urrea
, author of
Tijuana Book of the Dead
(Soft Skull Press, $15.95, 9781619024823) and
The Water Museum: Stories
(Little, Brown, $25, 9780316334372).
On
Diane Rehm
:
Jon Krakauer
, author of
Missoula: Rape and the Justice System in a College Town
(Doubleday, $28.95, 9780385538732).
---
Wednesday, April 22, 2015
On
Diane Rehm
:
Jane Smiley
, author of
Early Warning: A Novel
(Knopf, $26.95, 9780307700322).
On the
Daily Show
:
Dana Perino
, author of
And the Good News Is...: Lessons and Advice from the Bright Side
(Twelve, $26, 9781455584901).
---
Tuesday, April 21, 2015
On
Diane Rehm
:
Nora Pouillon
, author of
My Organic Life: How a Pioneering Chef Helped Shape the Way We Eat Today
(Knopf, $26.95, 9780385350754).
On NPR's
On Point
:
Kate Bolick
, author of
Spinster: Making a Life of One's Own
(Crown, $26, 9780385347136).
---
Monday, April 20, 2015
On
Fresh Air
:
Toni Morrison
, author of
God Help the Child: A Novel
(Knopf, $24.95, 9780307594174).
On
Diane Rehm
:
Joseph Stiglitz
, author of
The Great Divide: Unequal Societies and What We Can Do About Them
(Norton, $28.95, 9780393248579).
On the
Daily Show
:
Gayle Tzemach Lemmon
, author of
Ashley's War: The Untold Story of a Team of Women Soldiers on the Special Ops Battlefield
(Harper, $26.99, 9780062333810).
---
Thursday, April 16, 2015
On KCRW's
Bookworm
:
David Vann
, author of
Aquarium
(Atlantic Monthly Press, $24, 9780802123527).
On
Diane Rehm
:
David Brooks
, author of
The Road to Character
(Random House, $28, 9780812993257).
On the
Daily Show
:
Eric Greitens
, author of
Resilience: Hard-Won Wisdom for Living a Better Life
(Houghton Mifflin Harcourt, $26, 9780544323988).