Shelf Awareness for Thursday, January 13, 2011

Quotation of the Day
The Ideal Reader: 'She's a Tough Cookie!'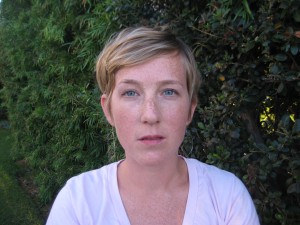 "An ideal reader, thankfully, is interested in what you're interested in, delights in what you delight in, and thus reads your work eagerly, and with compassion. That's not to say they're your mindless yes-man, either... As much as my ideal reader inspires and motivates me, she also keeps me honest. That woman, she's a tough cookie! I want to entertain, beguile, discomfit and move her. I'm beholden to her."
--Edan Lepucki in her essay "Writing from the Garret: The Joys and Dangers of Readership," which was published in the
Millions
.


News
SinC Survey: Clues to the Mystery/Crime Fiction Market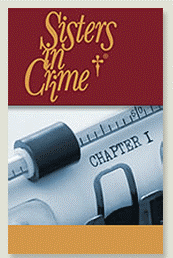 Bricks-and-mortar stores still lead the way in mystery/crime fiction sales, and women over 45 constitute the majority of buyers in the genre, according to a collaborative study, "The Mystery Book Consumer in the Digital Age," released this week by Sisters in Crime. The survey was designed to offer an overview of the mystery/crime fiction book-buying landscape, using research based on publishing industry data gathered and interpreted by Bowker's PubTrack division.

"The mystery reader survey was created initially to help SinC members make good business decisions when crafting their own business strategies," said author Cathy Pickens, the organization's president. The 47-page report is now available at www.sistersincrime.org.

The study found that the majority of mystery/crime fiction buyers are women (68%) over the age of 45 (66% ). Buyers in the 18-to-44 demographic purchase 31% of the mysteries sold.

Some 48% live in the suburbs, 27% in rural areas and 25% in urban areas. The South accounts for 35% of sales, followed by the West (26%), Midwest (20%) and Northeast (19%).

Bricks-and-mortar stores sell 39% of all mysteries, with library borrowing accounting for approximately 20% and online purchases 17%.

The number one factor that determined how mystery readers became aware of books was found to be knowing/liking an author. The next four factors were: the book was part of a series; an in-store display/on shelf/spinning rack; a book-buying club such as the Book-of-the-Month Club or the Mystery Guild; and the recommendation of a friend or relative.

Many buyers apparently still judge books by their covers, since 57% of respondents said the cover had "some influence" on their decision, while 18% said the cover had a "high influence."





Notes: Borders Plan 'Disappointing'; Calif. Libraries Threatened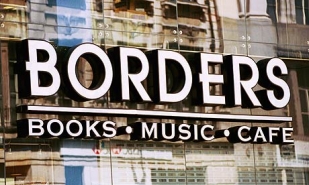 Some major publishers have characterized the initial round of meetings with Borders Group "disappointing" mainly because "Borders has failed to provide details on its refinancing efforts and its strategy," the Wall Street Journal reported.

Borders is seeking to refinance debt with GE Capital, which has asked the struggling retailer to talk with publishers about delaying payments and accepting notes in lieu of payment. Some publishers told the Journal they doubt they will go along with such a plan.

Borders will likely meet with some publishers again today.

---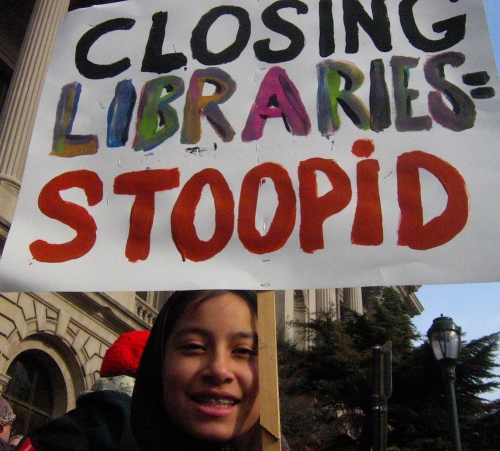 California Governor Jerry Brown's proposed budget for fiscal year 2011-2012 eliminates state funding for public libraries, a loss of $30.4 million for the Public Library Fund, Transaction Based Reimbursement and the California Library Literacy & English Acquisition Service.

In a formal response, Paymaneh Maghsoudi, California Library Association president--and director of the Whittier Public Library--contended that Brown's proposal "is both disastrous and disheartening. Since the early 2000s, public libraries have been one of the hardest hit segments of local government, with deep reductions totaling more than 75% made to these programs by the previous two governors combined. We understand fully California's dire budget situation and the challenges of the recessionary economy, but the public libraries have done more than their share to assist with the Budget deficit over the years by absorbing painful cuts. The time has come to stop the bleeding and CLA respectfully asks the members of the legislature to oppose these proposed cuts to our valuable programs."

---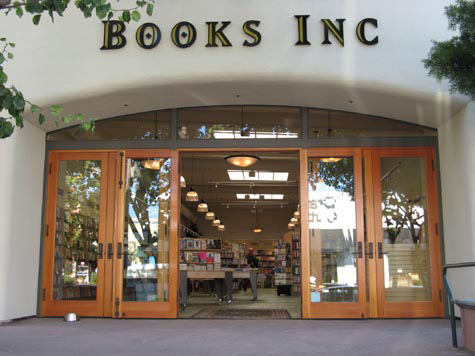 Congratulations to Books Inc., which this year is celebrating the 160th anniversary of its founding by Anton Roman! Books Inc., which has 11 stores in California, most of which are in the Bay Area, is also celebrating the 65th anniversary of operating as Books Inc.

For a company with nearly a dozen stores and 160 years of experience, it's no surprise that there are some other anniversaries to celebrate: this year marks the 35th anniversary of the opening of the Laurel Village store in San Francisco and the 10th anniversary of the openings of the Mountain View and Disneyland stores.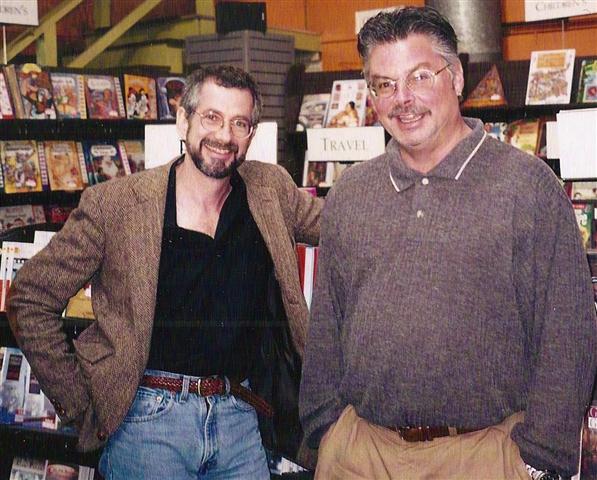 In 1995, Books Inc. president Michael Tucker (l.) and the late Michael Grant, former co-owner of the company.
And last year, the company celebrated the 15th anniversaries of the opening of the Market Street store in the Castro in San Francisco and the Compass store at San Francisco International Airport as well as the 10th anniversary of the opening of the store in Burlingame.

So how's the store celebrating all these milestones? Books Inc. president Michael Tucker laughed and said, "By opening another store!" The new store, which is being built out at the moment, will be in the airport's new Terminal 2, the former Central Terminal that opens this spring and will be the home of Virgin America and American Airlines. Tucker called it "a fantastic location in a beautiful new terminal." In a most modern setting, the store will feature a throwback to old times: a reconstructed letterpress.

---

Google has acquired eBook Technologies. Anticipating your next question--"So what exactly is eBook Technologies?"--TechCrunch noted that specific details on the company's homepage are "scant--the site just has a banner that says, 'eBook Technologies supplies a family of intelligent reading devices and licenses technologies that enable automated publishing and control over content distribution.' Most links on the site, including the Product page, just redirect to this homepage. However, a little digging through Google's Cache reveals more details. Note that it's unclear which of these technologies Google intends to use, but it could clearly take advantage of them to bolster its Google Books product, which recently launched its eBook store."

"We are happy to welcome eBook Technologies' team to Google," a spokesperson for Google told TechCrunch. "Together, we hope to deliver richer reading experiences on tablets, electronic readers and other portable devices."

---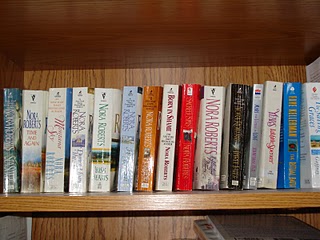 Nora Roberts is the latest author to enter the Kindle Million Club, joining Stieg Larsson and James Patterson as the third writer to surpass a million paid copies in Amazon's Kindle Store.

---

In a TechCrunch piece headlined "First Amazon Took Down Booksellers.... Are Publishers Next?" Sarah Lacy, author of the upcoming book Brilliant, Crazy, Cocky: How the Top 1% of Entrepreneurs Profit from Global Chaos, wrote: "It's not that Amazon set out to destroy small book stores. They just offered a better option for a large number of people. Now, Amazon is increasingly offering small features here and there that taken together may start to make a traditional publisher a lot less necessary for authors."

"No one is more shocked by that sentence than I am," she added.

---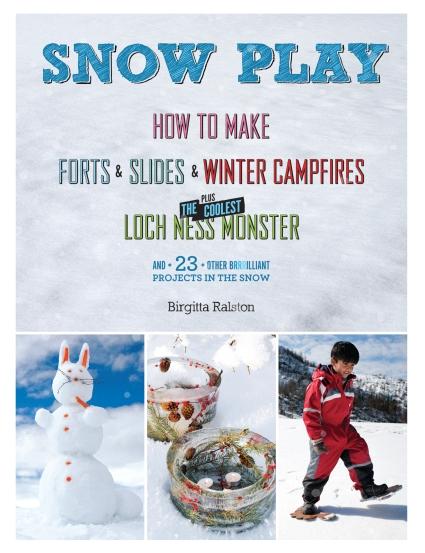 We heard this week that 49 of the 50 states have at least some snow cover, making the publication of a new Artisan book particularly well-timed. Snow Play: How to Make Forts & Slides & Winter Campfires Plus the Coolest Loch Ness Monster and 23 Other Brrrilliant Projects in the Snow by Birgitta Ralston should have a wide market.

Ralston undoubtedly adds some elegance to snow play: she is head of the creative team of Ralston & Bau, an interior, furniture and product design firm with headquarters in Norway. Clients include Fauchon, Lancôme and Maison de Van Gogh.

---

Sad news about Pierre Vos-Camy, a bookseller at Schuler Books and Music, Grand Rapids, Mich. While vacationing with his family and wife's extended family in Puerto Rico, thugs broke into his rental home. Responding to cries for help from family members, he was shot and is now paralyzed from the chest down.

Last week he was transferred to a hospital in Miami, where his wife, Jolene, has stayed. The children have returned to Grand Rapids. He will soon transfer to a rehabilitation hospital in Grand Rapids. His church, Church of the Servant, has begun to set up a fund to help the family meet unexpected expenses, including alterations to their home. Please send any contribution--made out to COS-Benevolent Fund with Vos-Camy Family on the memo line--to Church of the Servant, 3835 Burton St. S.E., Grand Rapids, Mich. 49546. The church will also deliver any mail messages to the family. The church may be reached at 616-956-7611.

---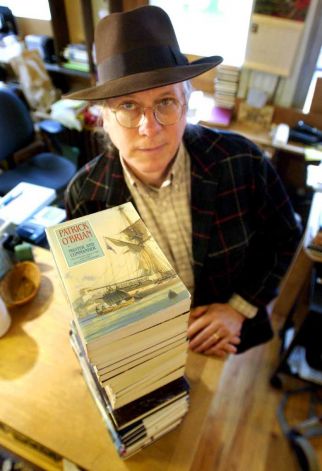 Dan Wedge, owner of Dove & Hudson used bookstore, Albany, N.Y., "still enjoys his work," but he told the Times Union that it may be time to "kick back a bit."

"I've always said that I like everything about what I do, except for the fact that I don't do anything else," said Wedge, who has decided to close his shop during the first week of each month. The Times Union noted that he has no intention of shuttering the bookshop permanently: "And why would he? He likes the work and enjoys his customers. Plus, Dove & Hudson is profitable."

---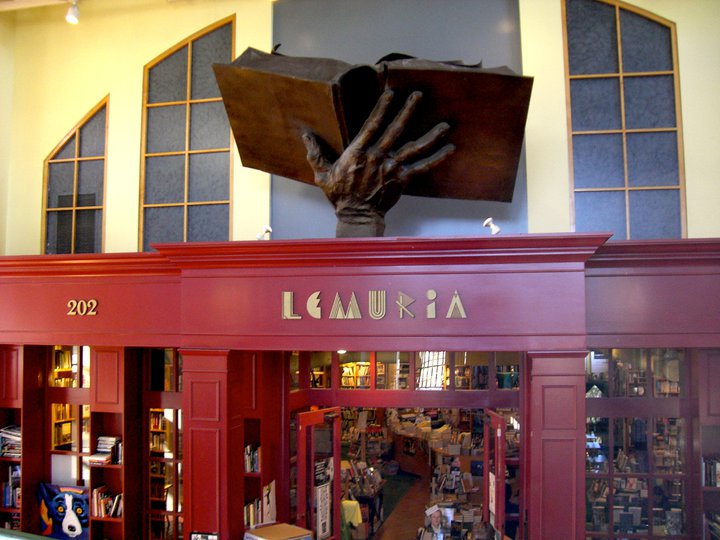 On its bookstore blog, Lemuria Books, Jackson, Miss., posed some relevant questions regarding paradigm shifts in the book industry: "Will publishers give bookstores the information and tools to help preserve the hardback read? Will publisher sales reps go to bat to preserve their stores and keep reading vital? Will marketing become more credible and more important to the independent bookseller? Will the publishers recognize a need for real bookselling, word of mouth in our stores and on our web presence? Will all these changes make readership grow? As the demand of maximizing our reading time increases, will these changes add more value to our lives?"

---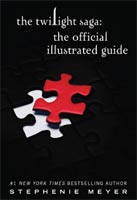 Little, Brown Books for Young Readers will host a special International Fan Event to coincide with the April release of The Twilight Saga: The Official Illustrated Guide. Little, Brown will select one fan from the U.S. and one from Canada, and is partnering with the Twilight Saga publishers in Brazil, China, France, Germany, Italy, Mexico, Taiwan and the U.K. to find each country's lucky Twilight fan. The 10 winners will receive an advance copy of The Official Illustrated Guide and have the opportunity to talk extensively with Meyer.

The official rules for the sweepstakes to select a fan from the U.S., as well as one from Canada, can be found here.

---

For every challenge, there can be an unanticipated solution. Concerned about the future of the book, artist Veronika Teuber "spends her days on the Lower East Side preserving her library in beeswax," the Wall Street Journal reported. Teuber has preserved more than 600 books, and has sold 80 volumes at prices ranging from $600 to $800.

"I was at a lecture in early '97," she said. "They were talking about publishing books in the past, present and how it will be in the future. It will be a very sad day for me if books are not published any more. The electronic format isn't interesting to me. The electronic book is always the same.... On the one hand, technology is fantastic. On the other hand, if you have an apartment and the book shelves are empty and there's one Kindle standing there, that's depressing."

---

The Independent featured the "Greatest Literary Moments in Film," noting that the "fear that a film will butcher a beloved book is so widespread that you sometimes wonder how people gave vent to their feelings before online film forums existed.... Film and literature are the two great storytelling forms of our times. If there is sibling rivalry between them, then there is also love. Films can introduce us to writers for the first time; they can remind us of the power of reading; they can even bring into being books that didn't exist before."

---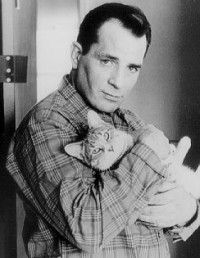 Boing Boing showcased a 1957 letter from Jack Kerouac to Marlon Brando, which included the proposition: "I'm praying that you'll buy ON THE ROAD and make a movie of it.... I visualize the beautiful shots could be made with the camera on the front seat of the car showing the road (day and night) unwinding into the windshield, as Sal and Dean yak.... You play Dean and I'll play Sal."

---

Author Edmund White chose his top 10 New York books for the Guardian. While writing City Boy, he "immersed myself in books about New York, partly to remind myself of its past and partly to enhance my ability to see the cityscape around me."

---

"Celebrities may live glamorous lives, but at the end of the day, we'd like to think that a good number of them curl up at home with a good book," Flavorwire observed regarding its "Libraries of the Rich and Famous" photo tour.

---

Book trailer of the day: The Poison Tree by Erin Kelly (Pamela Dorman Books/Penguin).

---

Ingram Content Group will provide e-content management through CoreSource, Ingram's digital asset management program, for the University of Michigan Press and the University Press of Kentucky. Ingram will archive and distribute material worldwide. In the case of the University of Michigan Press, Ingram will handle digital file management and distribution of both frontlist and backlist titles. For the University Press of Kentucky, Ingram will handle all frontlist and select backlist tiles; the press currently uses Ingram's Lightning Source for POD.

Marcus Woodburn, v-p of digital products, Ingram Content Group, commented: "The book industry is in the midst of transformation, and publishers need innovative and flexible digital title management solutions to respond to an evolving market."

---

Effective February 9, Andi Sporkin is joining the Association of American Publishers as v-p, communications, a new position.

She was formerly v-p, communications, of National Public Radio from 2005-2008 and earlier held executive communications positions at CBS, Disney and Sony Pictures Entertainment.

She will be based at the association's headquarters in Washington, D.C., and may be reached at asporkin@publishers.org.


Media and Movies
Media Heat: Bob Greene on the Today Show
Tomorrow morning on the Today Show: Bob Greene, author of The Life You Want: Get Motivated, Lose Weight, and Be Happy (Simon & Schuster, $25, 9781416588368).
---
Today on NPR's On Point: Isa Chandra Moskowitz, author of Appetite for Reduction: 125 Fast & Filling Low-Fat Vegan Recipes (Da Capo Lifelong Books, $19.95, 9781600940491).

---

For those of you who missed it, click here to see Shelf Awareness's own Jenn Risko on BookTV talking about major trends and big books of 2010!


Author Solutions Partners with Principal Entertainment
Self-publishing company Author Solutions has entered a first-look partnership with management/production firm Principal Entertainment. Deadline.com reported that the deal's primary goal is to turn books into films and TV projects. ASI "has about 120,000 untapped titles in its library, and recently made a deal with Harold Robbins' widow to re-release 12 of the late author's steamy titles."

Author Solutions is creating a film and new media department, run by Marcus Chait, who partners with Patrick Wilson in Lost Rhino Films. Liz Robinson, Danny Sherman and Jen Weinbaum will oversee the arrangement for Principal.

"Several of our titles, including Legally Blonde and September Dawn, have found success and we hope through this partnership to provide more of our authors these opportunities," said ASI president/CEO Kevin Weiss.


This Weekend on Book TV: The Master Switch
Book TV airs on C-Span 2 from 8 a.m. Saturday to 8 a.m. Monday and focuses on political and historical books as well as the book industry. The following are highlights for this coming weekend. For more information, go to Book TV's website.

Saturday, January 15

8 a.m. H.W. Brands, author of American Colossus: The Triumph of Capitalism 1865-1900 (Doubleday, $35, 9780385523332), explores America's economic transformation between the Civil War and the end of the 19th century. (Re-airs Sunday at 4 p.m.)

9:30 a.m. Irina Borogan and Andrei Soldatov, authors of The New Nobility: The Restoration of Russia's Security State and the Enduring Legacy of the KGB (PublicAffairs, $26.95, 9781586488024), talk about the reinvention of the KGB during the rule of Vladimir Putin. (Re-airs Sunday at 3 a.m.)

12 p.m. Steven Weisman, editor of Daniel Patrick Moynihan: A Portrait in Letters of an American Visionary (PublicAffairs, $35, 9781586488017), presents the letters of the former Senator from New York. (Re-airs Sunday at 9 a.m.)

1:45 p.m. Lawrence Kaplan, author of Homer Lea: American Soldier of Fortune (University Press of Kentucky, $40, 9780813126166), recounts the life of an American geopolitics scholar and his experiences in China. (Re-airs Sunday at 8:30 a.m.)

2:15 p.m. Abraham Foxman discusses his book Jews & Money: The Story of a Stereotype (Palgrave Macmillan, $26, 9780230623859). (Re-airs Sunday at 8 p.m. and Monday at 6 a.m.)

3:30 p.m. Supreme Court Justice Stephen Breyer, author of Making Our Democracy Work: A Judge's View (Knopf, $26.95, 9780307269911), presents a history of the Supreme Court. (Re-airs Sunday at 7 a.m.)

5 p.m. Barnet Schecter, author of George Washington's America: A Biography Through His Maps (Walker, $67.50, 9780802717481), talks about the maps Washington drafted, collected and used, beginning with his early career as a surveyor. (Re-airs Sunday at 10 p.m.)

7 p.m. Tim Wu, author of The Master Switch: The Rise and Fall of Information Empires (Knopf, $27.95, 9780307269935), offers a history of media consolidation. (Re-airs Sunday at 11 p.m.)

10 p.m. After Words. Herb Boyd interviews Clarence Jones, author of Behind the Dream: The Making of the Speech that Transformed a Nation (Palgrave Macmillan, $22, 9780230103689). Jones presents a behind the scenes picture of the weeks leading up to the March on Washington, as well as the writing and delivery of the "I Have a Dream" speech. (Re-airs Sunday at 9 p.m., and Monday at 12 a.m. and 3 a.m.)

11 p.m. Mark Pendergrast, author of Inside the Outbreaks: The Elite Medical Detectives of the Epidemic Intelligence Service (Houghton Mifflin Harcourt, $28, 9780151011209), examines the Center for Disease Control's EIS. (Re-airs Sunday at 3 p.m. and Monday at 1 a.m.)

Sunday, January 16

5:30 p.m. C-Span visits the new Kurt Vonnegut Memorial Library in Indianapolis, Ind.


Movies: Rooney's Lisbeth Salander vs. Noomi's
This month's W magazine features an on-the-set profile of director David Fincher--in which he discusses his work on The Girl With the Dragon Tattoo--but the media's focus has been on a cover photo of Rooney Mara as Lisbeth Salander. Entertainment Weekly described her as "an androgynous, post-goth poster girl, slightly more high-fashion than one might expect, though that could be W's influence. It's not a big departure from the version of Salander played by Noomi Rapace in the Swedish-language movie trilogy--maybe a little less Edward Scissorhands, a little more Gareth Pugh. But the message is clear: Fincher and Mara aren't making a 'Hollywood' version of Salander. They're sticking close to Stieg Larsson's description of the character in his books, rough edges, razored hair and all."


Books & Authors
Awards: NAACP Image Nominees
Nominations for the NAACP Image Awards have been announced: the literature nominees include titles in the categories of fiction, nonfiction, debut author, biography/autobiography, instructional, poetry, children's and youth/teens. See the full list here.
Winners will be honored live on Fox on Friday, March 4.


A Great Day for Erin Stead, Caldecott Medalist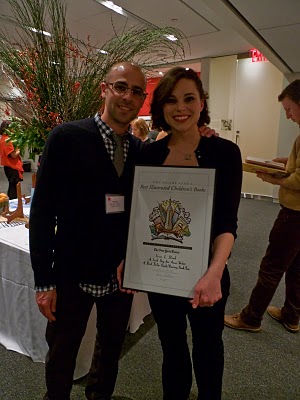 A Sick Day for Amos McGee, winner of the 2011 Caldecott Medal, is the story of a zookeeper who tends to the animals in his care in unorthodox ways; when he stays home sick, the animals come to his house and tend to him. Erin Stead illustrated it. Philip Stead, her husband, wrote the manuscript for her. Recently, they moved from a cozy space in Brooklyn, N.Y., to a 100-year-old farmhouse in their native Michigan. But their studio is still a cozy place. Here Erin Stead talks about how she works with Philip and how she approaches her art.
Where did this idea come from? Did it begin with one of you and spill over to the other?
Phil wrote the story for me, unbeknownst to me at the time. Usually I won't necessarily hear about his stories until he feels like they're a little less abstract. I'm usually the first to see them. He wrote it knowing better than I did what I draw well. He thought I could do the relationship between animals and people.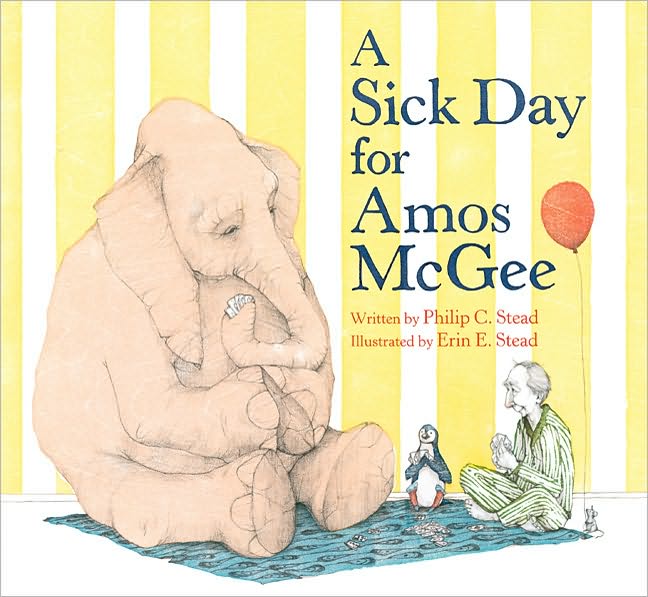 Since you and Philip are both artists, do you confer on what the illustration might look like? Or is it more like traditional writer-artist situations, and Philip gave you the manuscript and said, "Go!"?
He definitely gave me the manuscript and said, "Go," and I was the one who walked around with the characters in my head for a long time, and got to know who they were and what they looked like, and put them through my first character sketches. He's my first critic, and nothing goes out without his approval. He definitely let me do whatever I wanted and didn't art direct me in any way. Because he's a visual person, he could see what I would maybe illustrate. The only time we passed things back and forth was when I was struggling, like when I did the rhinoceros. It was probably fine, but I kept drawing something that I thought leaned more toward cow. So he drew a little rhinoceros for me. That's when it broke through for me. We're able to do things like that for each other. We share work space so we're constantly looking over each others' shoulders, so it's like a constant dialogue throughout the day or year--however long it takes to get the picture right.
From the picture on your blog, it looks like you have easels right next to each other. So you do have a constant dialogue throughout the day?
We do chat throughout the day, and sometimes it's silly. If things are going well, it's like two kids in a treehouse, and if things aren't going well, then it's different. But usually if one of us is having a bad day, the other isn't. When I was making Amos, we were sitting in a really tiny room together [in Brooklyn], and if I didn't straighten my elbow, I'd touch Phil.
We know from Philip's book Creamed Tuna Fish and Peas on Toast that his family hails from the Dearborn area, a stone's throw from Ann Arbor. Do you also have ties to Michigan?
I grew up there, and then we lived in New York for a while. Phil was working at the Brooklyn Children's Museum. We met in high school in Dearborn. I feel like everyone in children's books is from Michigan. Where is everybody else going? [Full disclosure: this editor grew up in Kalamazoo, Mich., as did Betsy Bird, Fuse #8.]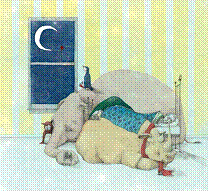 Can you describe your process of working with woodcuts? Your line is so delicate!
The line is pencil, so don't be impressed. If you really go back in my blog, the first post is about the process. There are multiple steps. All of the color is applied with woodblock. I sketch out the illustrations beforehand, apply the color, wait for it to dry, and then draw the picture. The woodblock is all flat color and then I draw on top of the color.
What are you working on now?
I just finished a fall book that Phil didn't write, which will be out next winter. Right now I'm working on a book that Phil did write, which is due in fall 2012.


Ooops
Delirium
Due to some technical difficulties, our corrections didn't make the final cut for yesterday's review of Delirium by Lauren Oliver. The novel takes place in Portland, Maine. And the read-alikes are Scott Westerfeld's Uglies and Matched by Ally Condie. We'll chalk it up to a post-ALA case of amor deliria nervosa.