Shelf Awareness for Tuesday, January 18, 2011

News
Image of the Day: Smart E-Readers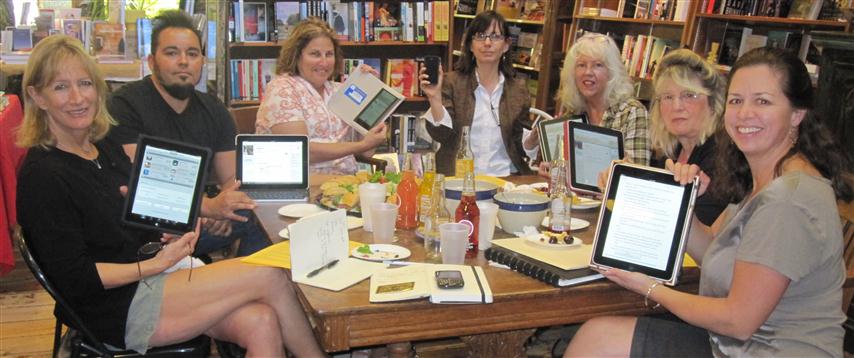 This past weekend at the Book Works in Del Mar, Calif., users of various e-reading devices gathered for a Google Editions tutorial by store manager Jennifer de la Fuente (far right). Over sandwiches and homemade non-digital cookies, de la Fuente took customers step by step through the process of purchasing Google e-books for their iPads and other devices. Participants represented a range of experience, and some of the more experienced helped frustrated novices, and there were many purchases of Google Edition titles. De la Fuente is offering walk-in tutorials for customers interested in buying e-books from the Book Works.


Notes: Presidential Recording Series; Borders Sets Deadline
In honor of Martin Luther King Day, the first installment of the new Presidential Recordings Series, a collaboration of the University of Virginia Press, its e-imprint, Rotunda, and the University's Miller Center of Public Affairs is the Lyndon B. Johnson Digital Edition that includes several conversations with and about King. The title includes hundreds of hours of presidential tapes covering everything from the War on Poverty to the Civil Rights Movement to the Vietnam War.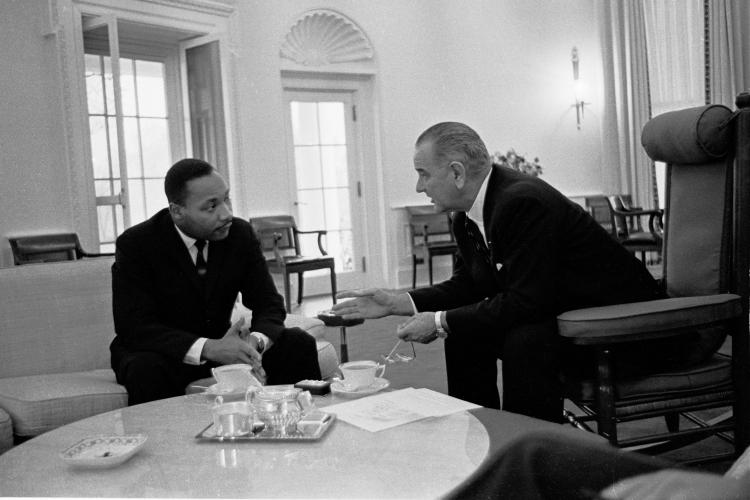 Each conversation is fully transcribed and annotated and accompanied by its audio file. The edition includes photos and video galleries, a linked timeline, and searching ability. Miller Center scholars are in the process of transcribing and annotating the secret White House tapes recorded by every president from Franklin Roosevelt to Richard Nixon. The press is offering a free trial of the edition through January 27. After that, users can sign up on the site for a free 48-hour trial.

As part of the University of Virginia's week-long commemoration of the life and legacy of Martin Luther King, the Miller Center is hosting a program exploring King's private conversations and public communications tomorrow, Wednesday, at 11 a.m. The program will highlight the relationship between King and President Lyndon B. Johnson that emerges in secret tapes recorded by Johnson. This event takes place at the Miller Center and will be webcast live at millercenter.org.

---



Borders Group is giving publishers a deadline of February 1 for accepting up to a third of the ailing retailer's reorganized debt in lieu of payment, according to the New York Times. In negotiations last week, Borders said that its plan for the future was "to cut costs and improve its financial situation," an approach one publisher found less than convincing. The Times said that "many" publishers have stopped shipping titles to Borders.

Yesterday the retailer laid off another 45 people, most at its Ann Arbor, Mich., headquarters and five at distribution centers, the Detroit Free Press reported. A Borders spokesperson said in a statement: "The realignment at the store support center encompasses nearly all business areas, including IT, human resources, finance and merchandising. This decision is a result of Borders' focus on reducing costs and readjusting its business model to improve profitability and cash flow."

---

This is not a good week for the book trade in Ann Arbor. In addition to the Borders job cuts, a Five Guys Burgers and Fries chain restaurant opened at 311 S. State Street, the space formerly occupied by Shaman Drum Bookshop, AnnArbor.com reported.

---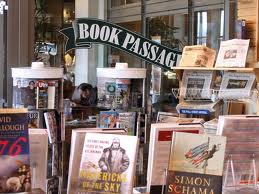 Algonquin's latest entry in the Booksellers Rock! series highlights Sheryl Cotleur, head buyer of the Book Passage stores in Corte Madera and San Francisco, Calif. Our favorite question (with two answers):

Strangest question a customer has ever asked:

While holding a small child, "Do you have a copy of Clan of the Care Bear?"

Then, just two weeks ago: Customer: "Do you have that calendar you're out of?" Staff: "Sorry, no. We're out of it." (Waiting for Godot anyone???)

---


Eso Won Bookstore, Los Angeles, Calif., was Jacket Copy's bookstore of the week. James Fulgate and Thomas Hamilton opened Eso Won in 1990. The store was in danger of closing in 2007, but "friends rallied, including Pastor John J. Hunter of the First African Methodist Episcopal Church, who called the bookstore 'a treasure in the African American community.' Eso Won pulled through," Jacket Copy wrote.

---

The next NAIBAhood Gathering, sponsored by the New Atlantic Independent Booksellers Association, will take place 11 a.m.-2 p.m., Thursday, February 3, at Monkey See, Monkey Do Children's Bookstore, Clarence, N.Y. The event includes lunch, a store tour and conversation that will focus on store promotions and publicity geared to consumers as well as publishers.

The group will be joined by local author and publisher, Maria DiVencenzo, author of The Scariest Dream (Winterlake Press).

RSVP to Veronica at 516-333-0681 or e-mail NAIBA at readingent@aol.com.

---

Gothamist featured missives taped to the window of the former Barnes & Noble store near Lincoln Center in Manhattan, which closed January 2. In addition to a thank-you note from the staff, customers expressed their "appreciation and good wishes to the 200-some workers, many of whom are out of work."

---

Last week, Kodak hosted "The Future of Book Publishing," a roundtable discussion held at the New York Public Library, where panelists "seemed most hopeful when discussing social networking, apps, and enhanced e-books--advances that multiply the ways in which books become 'discoverable' to the public, the Wall Street Journal reported.

"What is a book? That's the $64 million question," said Jeffrey Matthews, v-p for corporate strategy at Scholastic, after the discussion. He told the Journal he "wished the group had had more time to 'deconstruct the reading process.' "

---


Jeffery Deaver's James Bond novel, scheduled to be published later this year, will be called Carte Blanche. BBC News reported that the title and cover were unveiled in Dubai, where portions of the story are set.

Deaver said the novel poses "the looming question of what is acceptable" in security matters, adding that giving an agent carte blanche on a mission "comes with an enormous amount of trust and constantly tests both personal and professional judgement. Are there lines that even James Bond should not cross?"

A new Sherlock Holmes novel is also on tap. According to BBC News, Anthony Horowitz (Foyle's War) "has been chosen by the Conan Doyle Estate to write a new full-length Sherlock Holmes novel. The book marks the first time the estate has given its seal of approval for a new Holmes work. The title and content of the book, which will be published in September, have not been revealed."

"I fell in love with Sherlock Holmes when I was 16," Horowitz said. "My aim is to produce a first rate mystery for a modern audience while remaining absolutely true to the spirit of the original."

---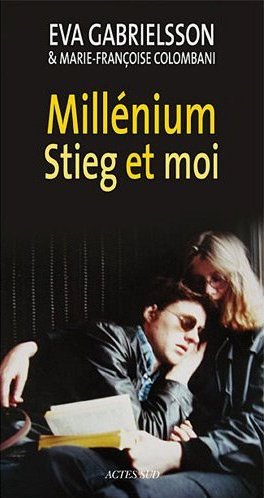 Eva Gabrielsson, partner of the late Stieg Larsson, plans to finish the fourth novel of the Millennium series. The Guardian reported that Gabrielsson claims in her upcoming memoir--Millennium, Stieg and Me, which will be released in France and Scandinavia this week--that she "wants to complete it because, she says, 'Stieg and I often wrote together.' " She also noted she will only finish the book "when she gets undisputed rights to Larsson's work from his family, who inherited the author's assets when he died intestate."

---

Authors "are becoming more and more involved in the nitty-gritty of moving the merch," the Wall Street Journal reported, citing the efforts--online through social networking sites as well as offline--of several authors to draw attention to their work.

"It's no longer a top-down media culture," said Knopf's Paul Bogaards. "There is still value and import in having authors appear in traditional media venues like the Today show or the Wall Street Journal. But what's changed is that they no longer need the intermediary to reach the reader."

---

Attention children's book fans and amateur filmmakers: Can you make a video that compresses the story of a Newbery Award-winning book into 90 seconds or less?

Author James Kennedy and the New York Public Library are co-sponsoring the 90-Second Newbery Video Contest, which will culminate in "a star-studded 90-Second Newbery Film Festival at the New York Public Library in Fall of 2011," Kennedy wrote on his website. For an entertaining sample, check out the 90-second version of Madeline L'Engle's A Wrinkle in Time.

---

Screamin' Jay Hawkins's "I Put a Spell on You" is on Harry Potter's literary mixtape. Of the latest entry latest entry in its ongoing series, Flavorwire noted that Harry "would definitely be playing some sad teenager music while sitting in his room staring mournfully at the Snitch, but maybe he'd also be giving himself a little bit of a hero soundtrack too. Here's what we think Harry would be moping about, Wronski Feinting, and saving the world to."

---

Book trailer of the day: How to Woo a Reluctant Lady by Sabrina Jeffries (Pocket Star), the third novel in the Hellions of Hallstead Hall series.

---

Effective July 1, Diamond Book Distributors will sell and distribute Tokyopop and will focus on consolidating efforts to build out the manga graphic novel segment across both comic book and bookselling retailers. As part of the change, Tokyopop president and COO John Parker is joining Diamond as v-p of business development, a new position.

Tokyopop founder and CEO Stu Levy commented: "John has been my right-hand partner at Tokyopop for nearly 12 years, and I am thrilled to have him be the one helming our critical new business partnership with Diamond Book Distributors."

Tokyopop has been distributed by HarperCollins since 2006.


November Sales: Bookstores Rise 5.3%; AAP Up 5.1%
November bookstore sales rose 5.3%, to $1.09 billion, compared to November 2009, according to preliminary estimates from the Census Bureau. For the year to date, total bookstore sales have slipped 1.9%, to $14.4 billion.

The gain reverses a slide in sales compared to 2009 for the past half year: November marked the first time since April that bookstore sales were up compared to the same period a year earlier.

Total retail sales in November rose 8.9%, to $376.5 billion, compared to the same period a year ago. For the year, total retail sales were up 6.5%, to $3,962.9 billion.

Note: under Census Bureau definitions, bookstore sales are of new books and do not include "electronic home shopping, mail-order, or direct sale" or used book sales.
---
Net book sales in November rose 5.1%, to $852 million, and net book sales for 2010 through November were up 3.5%, to $9.96 billion, as reported by 88 publishers to the Association of American Publishers. E-books continued to be the strongest category, with sales up 129.7%, to $46.6 million, in November, compared to the same period in 2009, and sales up 165.6%, to $391.9 million, for the year to date.
| | | |
| --- | --- | --- |
| CATEGORY | SALES | % CHANGE |
| E-books | $46.6 million | 129.7% |
| Downloaded audiobooks | $6.1 million | 34.3% |
| Higher education | $232.8 million | 29.4% |
| Religious books | $51.1 million | 5.4% |
| Adult hardcover | $219.9 million | 4.3% |
| Physical audiobooks | $16.7 million | 1.3% |
| | | |
| K-12/ el-hi | $115.9 million | -0.3% |
| Children's/YA hardcover | $63 million | -2.7% |
| Children's/YA paperback | $41.3 million | -5.5% |
| Univ. press hardcovers | $4.9 million | -8.3% |
| Adult mass market | $47.7 million | -9.5% |
| Professional books | $49.8 million | -13.6% |
| Adult paperback | $80.8 million | -19% |
| Univ. press paperbacks | $3.2 million | -20% |


Media and Movies
Media Heat: Surviving a Shark Attack (on Land)
This morning on the Today Show: Laura Schlessinger, author of Surviving a Shark Attack (on Land) (Harper, $25.99, 9780061992124).
Also on Today: Tony and Lauren Dungy, authors of You Can Be a Friend, illustrated by Ton Mazellan (Little Simon Inspirations/Simon & Schuster, $16.99, 9781416997719). They will also appear tomorrow on Fox & Friends.

---

This morning on Imus in the Morning: Lorraine Wallace, author of Mr. Sunday's Soups (Wiley, $19.95, 9780470640227).

---

Today on NPR's the Takeaway: Tamara Chalabi, author of Late for Tea at the Deer Palace: The Lost Dreams of My Iraqi Family (Harper, $27.99, 9780061240393).

---

Today on NPR's Diane Rehm Show: Father Albert Cutie, author of Dilemma: A Priest's Struggle with Faith and Love (Celebra, $25.95, 9780451232014).

---

Today on OWN's Gayle King Show: Johnny Weir, author of Welcome to My World (Gallery, $26, 9781451610284).

---

Tonight on the Late Show with David Letterman: Kourtney, Kim and Khloe Kardashian, authors of Kardashian Konfidential (St. Martin's, $25.99, 9780312628079). They will appear tomorrow on the Today Show, Regis and Kelly and Wendy Williams.

---

Tonight on the Colbert Report: Cornel West, author of Hope on a Tightrope: Words and Wisdom (Hay House, $19.95, 9781401921866).

---

Tomorrow morning on CNN's American Morning: Peter Bergen, author of The Longest War: The Enduring Conflict between America and Al-Qaeda (Free Press, $28, 9780743278935). He will also appear today on CNN's Parker/Spitzer.

---

Tomorrow on NPR's Diane Rehm Show, the readers' reviews focuses on The Imperfectionists by Tom Rachman (Dial, $15, 9780385343671).

---

Tomorrow on the Alan Colmes Show: Matthew Moten, author of Between War and Peace: How America Ends Its Wars (Free Press, $27.99, 9781439194614).

---

Tomorrow night on the Colbert Report: Ron Reagan, Jr., author of My Father at 100 (Viking, $25.95, 9780670022595).


Neil Gaiman on The Simpsons
On his blog, Neil Gaiman wrote about his work for an upcoming episode of FOX's The Simpsons series: "I went to L.A., and recorded my part in an episode called 'The Book Job.' It was written by Dan Vebber (and the many Simpsons writers, some of whom I met, and one of whom stage-whispered 'So that was Banksy!' as I left) and masterminded by Matt Selman, who is the most nervous person I know. Matt was my director, and was terrific and reassuring (Him: 'Can you do an American accent that would sound to Americans like Dick Van Dyke's English accent sounded to you?' Me: 'Er...')"


Movie: The Way Back
The Way Back, based on The Long Walk: The True Story of a Trek to Freedom by Slavomir Rawicz, will open in limited release this Friday, January 21. Colin Farrell, Ed Harris, Saoirse Ronan and Jim Sturgess star as prisoners who during World War II escape a Siberian gulag camp and travel 4,000 miles to India. Directed by Peter Weir. A movie tie-in edition is now available (Lyons Press, $14.95, 9781599219752).
Note: there is much debate about the veracity of the book, but we're sure that in Weir's hands, the story makes a great movie.


Books & Authors
Winter Institute Book Buzz, Part 1
While a few literary and commercial star authors will be on hand at the American Booksellers Association's sixth Winter Institute this week in Arlington, Va., much of the roster is filled with authors publishers hope independent booksellers will make into stars.

"We really appreciate that they hand pick the authors," said Cathy Langer, head book buyer at the Tattered Cover in Denver, Colo. "Because of that, I am especially interested in the authors I have never heard of. Every year it's better and better."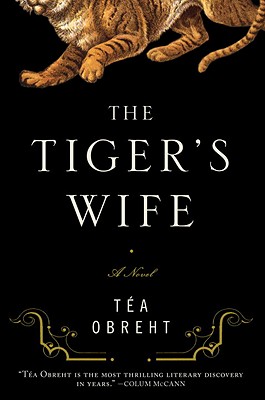 The book getting the most buzz in advance of the conference is a first novel: The Tiger's Wife by Téa Obreht (Random House, March). At Politics and Prose--the Washington, D.C., unofficial "hometown bookstore" of WI6--buyer Mark LaFramboise said practically the whole staff was "blown away by it," beginning with the 2009 New Yorker excerpt in its "20 Best Writers Under 40" issue. Obreht, who was born in the former Yugoslavia and lived there until her family emigrated to the U.S. when she was 12, offers a novel in which stories are layered upon stories. A young doctor serving in a conflict-weary Balkan country confronts the secret stories of the people around her; then the troubling and sudden death of her grandfather prompts her to recall the many tales he told her, including those about an escaped tiger in his boyhood village that was cut off by snowfall during World War II.

"It's an expertly done book," said LaFramboise. "At no point did you ever think you were in the hands of the first time novelist. You forget you were even reading--only the best books can do that."

Another Tiger's Wife fan, Robert Sindelar, managing partner of Third Place Books, with stores in Lake Forest Park and Ravenna, Wash., added: "It has such wide appeal."

Jenn Northington at WORD in Brooklyn, N.Y., , who happily received the first ARC Obreht signed at the NAIBA fall trade show, concurred with LaFramboise and Sindelar, saying that the book "just doesn't read like a debut. It has such polish."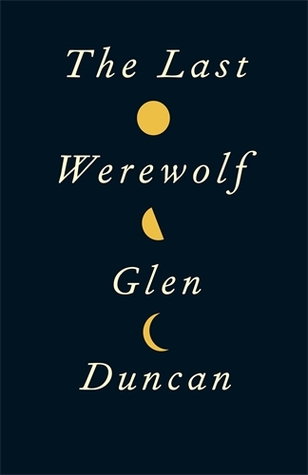 While USA Today recently declared that the vampire and paranormal trend waned last year, you wouldnt know it from all the indie book buyer buzz surrounding The Last Werewolf by Glen Duncan (Knopf, July). Sheryl Cotleur, head buyer at Book Passage in Corte Madera and San Francisco, Calif., described herself as the "least likely person" to enjoy a werewolf book, but said she loved it. "It's going to be wildly talked about because it's erotic and philosophical in a way that's got a lot of punch," she said. "And it's pretty classy writing--with tons of sex."

Duncan, who wrote I, Lucifer, is no Stephenie Meyer when it comes to the paranormal; in fact, some say he delivers a werewolf story with a new take on the genre, not unlike the way Anne Rice reinvented the vampire story in Interview with the Vampire. But Geoffrey Jennings at Rainy Day Books in Fairway, Kan., could not resist putting The Last Werewolf into a Twilight context: "It is for those who felt really, really bad about Team Jacob losing out to Team Edward, so much so that they'd let Team Jacob do anything to them in bed."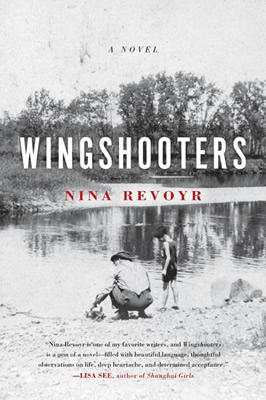 Jennings also praised Wingshooters by Nina Revoyr (Akashic, March). "It's a helluva book," he said. Set in rural Wisconsin in the 1970s during the great African-American migration north, it centers on a girl of mixed white and Asian race, her devoted but racist grandfather and a community facing huge changes. Jennings likened the girl's voice to Scout's from To Kill a Mockingbird.

Paul Yamazaki, head book buyer at City Lights, San Francisco, Calif., is another early enthusiast for Wingshooters. He said he has observed Revoyr's career grow during the last 10 years as she has written about the intersection of race and culture with "all the complexity and great storytelling I have come to expect from her." He noted that Wingshooters is the third title Revoyr published with Akashic's Johnny Temple, in one of those classic publisher/author relationships that nurtures a writer's talents.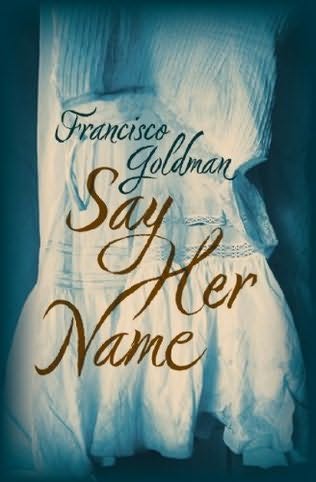 A similar relationship is said to exist between Morgan Entrekin, publisher of Grove/Atlantic, and Francisco Goldman, bestselling author of The Divine Husband. His new novel, Say Her Name, is based on the true story of the tragic death of his wife, Aura Estrada, in a body-surfing accident that happened while they were in Mexico just one month shy of their second anniversary. "It's a book about grief, but also a book about creativity and love," said Cotleur. "It does not leave you in grief, but in appreciation for who Aura was."

"It took my breath away," Jennings said of Say Her Name.

Another past bestseller who will be promoted at the Winter Institute is Mark Kurlansky, whose new book is World Without Fish (Workman, April). An illustrated book for a younger audience, the buzz is that this will have great crossover appeal.

Check back tomorrow for buzz on some first novels, new work from familiar voices and maybe even a few dark horses.--Bridget Kinsella


IndieBound: Other Indie Favorites
From last week's Indie bestseller lists, available at IndieBound.org, here are the recommended titles, which are also Indie Next Great Reads:

Hardcover

The Janus Stone: A Ruth Galloway Mystery by Elly Griffiths (Houghton Mifflin Harcourt, $26, 9780547237442). "Fans of character-driven suspense and atmospheric writing are sure to enjoy this new mystery series. Forensic anthropologist Ruth Galloway discovers ominous links to ancient sacrificial rites when a child's headless skeleton turns up in the foundation of an old house. Detective Chief Inspector Harry Nelson, the married father of Galloway's unborn child, becomes the investigating officer, and the murderer sees a chance for blackmail. I look forward to reading more in this series!"--Carol Schneck, Schuler Books & Music, Okemos, Mich.

American Rose: A Nation Laid Bare: The Life and Times of Gypsy Rose Lee by Karen Abbott (Random House, $26, 9781400066919). "Reading American Rose, you can almost hear the clink of champagne glasses and the excited buzz of a full house at the Minsky brothers' famous burlesque club--the place where the shy Rose Louise Hovick evolved into enigmatic burlesque star Gypsy Rose Lee. Abbott uncovers tales of her famously manipulative mother and a childhood lost to vaudeville before she becomes the 'most private public figure' in America. This is a compelling, vivid homage to the Roaring Twenties."--Beth Champion, The Velveteen Rabbit Bookshop, Fort Atkinson, Wis.

Paperback

Precious and Fragile Things by Megan Hart (Mira, $13.95, 9780778329244). "You will never forget the story of Gilly and Todd, who are brought together during a car-jacking-turned-kidnapping and are forced to remain together in a snowed-in cabin in the wilderness for months on end. Their relationship becomes more complex than you would expect, as they reluctantly get to know each other's secrets under the harshest of circumstances. Book club members be warned: Your meeting is going to run long this month!"--Lori-Jo Scott, Island Bookstore, Kitty Hawk, N.C.

For Ages 9 to 12

Sugar and Ice by Kate Messner (Walker Books for Young Readers, $16.99, 9780802720818). "When country girl Claire is scouted by a charismatic Russian skating coach, she goes from cow pond to Lake Placid, and from hicksville to potential stardom. But can Claire survive not just the hard work, but also the ultra-competitive 'mean girls on ice' she's suddenly up against? This one is for anyone who likes 'fish out of water' stories, 'a star is born' stories, or just plain fun stories."--Jennifer Laughran, Books Inc., San Francisco, Calif.

[Many thanks to IndieBound and the ABA!]


Book Review
Book Review: Among Others
Among Others by Jo Walton (Tor Books, $24.99 Hardcover, 9780765321534, January 2011)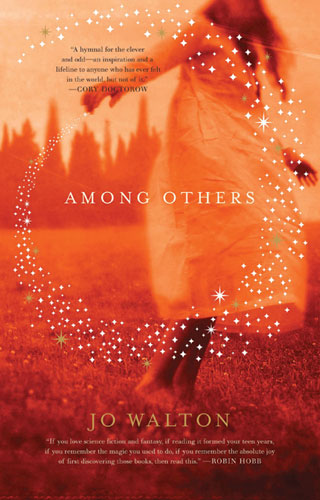 Morwenna Phelps is a 15-year-old Welsh girl at an English boarding school at the tail end of the 1970s. She reads science fiction and fantasy voraciously, and she has firm opinions on what she's read: "I love Heinlein but he clearly doesn't get fantasy," she tells her diary, and when she finds out that Aslan is supposed to be a allegorical figure of Jesus, it's as if C.S. Lewis has betrayed her personally (although she's totally prepared to read Mere Christianity to learn more about his beliefs). It's not just an intellectual curiosity for Mori: she communicated regularly with the fairies back in Wales--although they weren't quite like the fairies you read about in novels--and practiced magic. In fact, "I saved the world," she reports, "or I think I did."
One of the wonderful things about Among Others is that you're never entirely sure what to make of Mori's self-presentation: Was the accident that maimed her and killed her twin sister really a magical attack by their mother in retaliation for their attempts to thwart her schemes, or just an ordinary, unfortunate car crash? Is she continuing to talk with unworldly beings in the forests, or do she and her mother both suffering from mental illness? Walton doesn't tip the scales in either direction; even Mori concedes that the magic she works looks like nothing more than a chain of coincidences to non-believers. But, inspired by writers like Samuel R. Delany and Ursula K. Le Guin, she's earnestly concerned with the ethics of her spellcasting. Feeling alone at her new school, she wishes for a "karass" (a cohort of like-minded people, a term she gleans from Kurt Vonnegut's Cat's Cradle), then, when she learns about a reading group at the town library, worries about whether her new friends share her love for fantasy only because her spell made them that way.
Whatever you believe about Mori's mental state, however, Among Others is a captivating story about a young woman trying to make sense of her life after devastating tragedy, sifting through both her experiences and her vast reading to make sense of her life. It certainly enhances one's appreciation of the novel to be as passionate about science fiction as she is, but even if names like Roger Zelazny and H. Beam Piper are completely unfamiliar, it doesn't take any great leap of faith to get her enthusiasm and be willing to see her through.--Ron Hogan
Shelf Talker: Among Others has all sorts of crossover possibilities: Is it fantasy or mainstream fiction? Is it for adults or YA readers? Tor invokes a comparison to Jonathan Lethem's The Fortress of Solitude; another excellent reference point is Frank Portman's Andromeda Klein.