Shelf Awareness for Thursday, May 12, 2011

News
Image of the Day: Surrounding Chelsea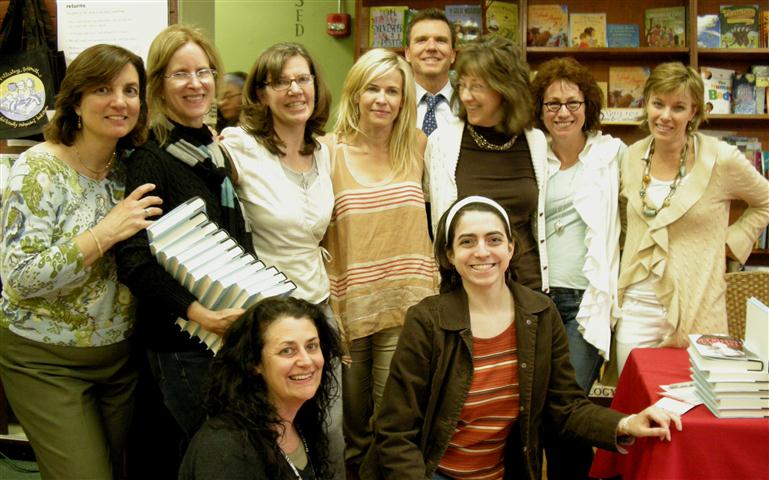 On Tuesday, Chelsea Handler kicked off the tour for Lies That Chelsea Handler Told Me (Grand Central) with a signing at Wellesley Books, Wellesley, Mass. A line wrapped around the store, which was all the more impressive because Wellesley Books found out Handler was visiting only last Friday. Here, Handler is surrounded by staff members (top row, from l.): manager Deb Sundin; Lee Van Kirk; Lorna Ruby; Handler; co-owner Bill Kohli; Marilyn Lustig, Kym Havens; and co-owner Gillian Kohli. Front row: Mayre Plunkett and Allison Pottern-Hoch.


Notes: World Book Night in U.S.; Bezos on Sales Tax Fray
Could World Book Night be coming to the U.S.? The Bookseller reported that the American Booksellers Association is exploring the possibility of replicating a version of the event, "which saw 20,000 people give away one million books from 25 selected titles on March 5 this year. It is thought the U.S. will hold the event on April 23, 2012, along with the U.K. and other countries yet to confirm their collaboration."

Julia Kingsford, WBN CEO, said foreign involvement would encourage an international dialogue about books and help "close the gap" between different cultures and nationalities, the Bookseller wrote. "America will be a wonderful partner to have and we are looking forward to the prospect of working with them and developing that partnership," Kingsford observed.

ABA CEO Oren Teicher told the Bookseller that adopting World Book Night for the U.S was one of a number of transatlantic projects under consideration that are designed to increase cooperation between the U.K. and American book industries: "We are convinced that booksellers from around the world have much to learn from one another... and [we are] also exploring whether we can replicate some version of your World Book Night on our side of the Atlantic."

---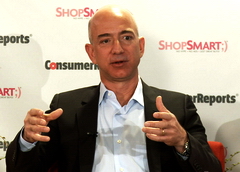 "Our point of view on this is that we should simplify the sales tax system, and we've been insisting on this for 10 years," Amazon CEO Jeff Bezos said in an interview yesterday at Consumer Reports' headquarters in New York City. "We support the streamlined sales tax initiative, and 22 states have signed on. The right way to fix this is with federal legislation. Sales tax is very complicated. We're no different from big chains of retailers. They don't collect sales tax in states where they don't have nexus either. So everyone is following the same rules."

Bezos also noted that Amazon will continue to drop affiliates in states that require the company to collect sales taxes from their local marketing partners. "The big affiliates will pick up and move, which we're grateful for," he said, adding that the tax laws don't just affect Amazon. "People who make money through affiliate programs, usually Amazon's just a piece of their business and they all get affected by these new laws. It makes sense for them to do something different."

---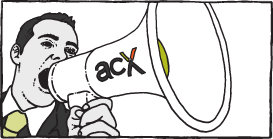 Audible has launched ACX, the Audiobook Creation Exchange, that allows "any professionally published book, new or old, to become a professionally produced audiobook." The site links authors, publishers and agents with narrators and studios who work in a variety of ways: deals and contracts have several structures. Audio titles that evolve from ACX are distributed by Audible (including Amazon and iTunes) for at least seven years, either exclusively or nonexclusively. Authors can also narrate their own works. (Check out a video about this audio venture here.)

ACX was launched in part because of "the tremendous demand for audiobooks created by the growth of the digital audiobook sector," which is regularly the second-fastest-growing category next to e-books in the Association of American Publisher monthly sales reports. Noting that the average Audible members listens to close to 17 audiobooks a year, Donald Katz, founder and CEO of Audible, said, "Close to 95% of new, professionally published books do not become audiobooks. Most authors and millions of avid listeners are disenfranchised from this important market. ACX was created to change this."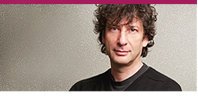 ACX launches with more than 1,000 titles listed. ACX also includes some 100 audiobook narrators and producers, including Dick Hill, Bill Dufris, Tavia Gilbert and Paul Boehmer. In addition, author Neil Gaiman is using ACX to create his own line, called Neil Gaiman Presents, consisting of titles by other authors never before available in unabridged audio. "I'm constantly astonished at how many great books, beloved books and books that have a special place in my heart are not and mostly never have been available as audiobooks," he said. "ACX seems a brilliant way to change that."

---

Laredo, Tex., ends a year-long bookstore drought--as well as the dubious distinction of being the largest city in the U.S. without a single bookseller--today by celebrating the opening of a new Books-a-Million location. The Associated Press (via the Houston Chronicle) reported that a spokeswoman for the city said the new store occupies a former B.Dalton space that was closed by Barnes & Noble.

---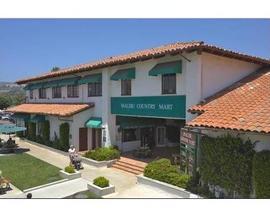 Diesel, A Bookstore's return to Malibu may be sooner than anticipated. When the indie bookseller announced this winter it was closing the Malibu location because of landlord and construction issues (Shelf Awareness, February 10, 2011), co-owners John Evans and Alison Reid said they hoped "to open a new iteration" of the shop before the end of the year.

The Malibu Patch reported that at Monday's City Council meeting, Malibu Country Mart owner Michael Koss said he has a "lease out for signature with DIESEL." In an e-mail, Evans confirmed: "We are in negotiation on a lease and hope to work something out within the next few weeks."

---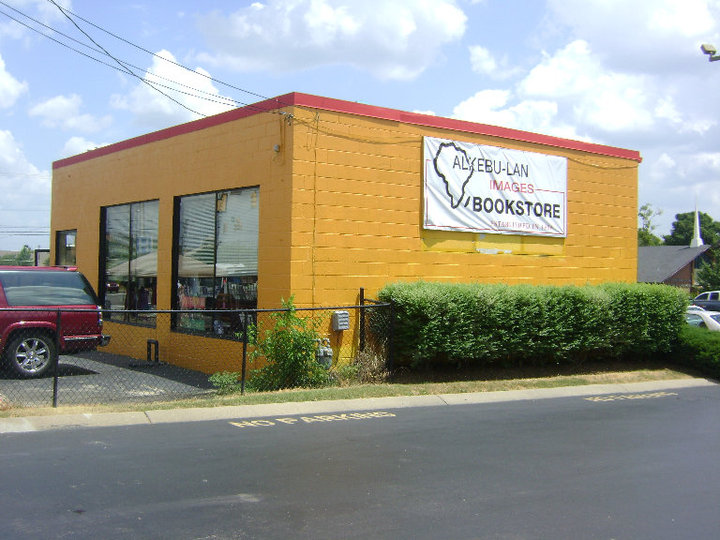 Alkebu-Lan Images Bookstore, Nashville, Tenn., is celebrating its 25th anniversary this year. Owner Yusef Harris told the Tennessean that when he launched the store in 1986, "I wanted products that reflect African-American heritage and culture and improve one's self-esteem. At the time, there were no resources for black art and black books. People would come in and say, 'I want that Cosby art,' because there was an awakening and awareness in the black community."


Harris said his bookshop "works because I am selling niche products that could not be found in other stores. It is my business to know what book Tom Joyner is talking about on his radio show or what books are props in black films for when people come in and say, 'Do you know that book? I can't remember the title but I heard (about) it on the radio.' "

He also travels frequently to promote his bookstore, and these "ventures have helped Alkebu-Lan Images become a destination for African-American tourists in Nashville and for people on college tours," the Tennessean wrote.

"That national base has become a big part of my success," he said. "About 10% of the business comes from colleges and education centers. Another 30% comes from conventions and festivals."

---

Confession is good for a bookseller's soul. The staff at Village Books, Bellingham, Wash., compiled a list of "books that some of us at VB have never read... and never plan on reading," noting that "even though we love to read, we don't love to read everything. We're not just referring to the schlock that's out there. We're talking classics. Bestsellers. Books that everyone in the world has read (except us). The books that when they come up in conversation, we leave the room, or manage to weed through the discussion based on the CliffsNotes that we read."

---



"What your literary tote bag says about you." Vol. 1 Brooklyn's sociological and psychological analysis of the not-always-so-humble tote offered some revealing insights, including:

"The Strand Bookstore tote: You probably don't really live in New York. Either that or you're a freshman at NYU.

"The Barnes & Noble tote: You really enjoy that copy of Freedom you bought last week. Have fun reading it on your way back to Westchester."

---

Booksellers in rebel-held regions of Libya are benefiting from the freedom to stock titles long banned by the Gaddafi regime. Reuters reported that "newly uncensored works on history and religion and books by opposition exiles are most popular, say booksellers in the eastern rebel stronghold of Benghazi."

"People are thirsty for knowledge, to know about their history," said bookseller Yusuf al-Muahaishi of the al Tamour bookshop in central Benghazi. "Books about the history of Libya were banned or censored. They mostly had to be about Gaddafi."

---

Charlaine Harris is the fourth member--joining Stieg Larsson, James Patterson and Nora Roberts--of the Kindle Million Club, having sold more than one million paid units in the Kindle Store.

---

Time to hit the beach reads again. The Telegraph opened the season with "Summer fiction: around the world in 24 books."

---

In the Guardian, Sam Leith, author of The Coincidence Engine, chose his top 10 novels "in which reality gets just a little bit bendy."

---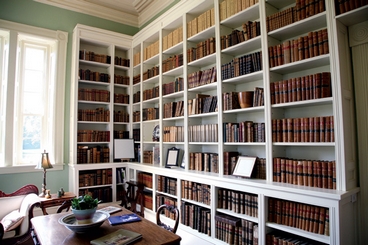 You know those built-in bookshelves you've always dreamed of having in your house or apartment? Apparently there fewer people like you than there used to be. Crain's Chicago Business reported that "with sales of e-book titles surpassing those of paper-and-ink volumes, homeowners are moving on."

Re/Max broker associate Lynn Fairfield said clients are drywalling over bookcases to make room for flat-screen televisions: "When I show houses, I never see books lined up on shelves anymore. If there are shelves, they're usually filled with sports trophies or photos or knickknacks."

---

"History's Most Distinguished Literary Hair." Flavorwire noted that in preparing for the New York Public Library's centennial exhibition, library curators found "some unexpected bounty in the stacks, a lock of Frankenstein creator Mary Shelley's hair. Macabre as it seems, bestowing locks of hair on friends, family members, and lovers was common practice in the 19th century, and locks of hair from many renowned writers accompany the NYPL's vast collections of manuscripts, notebooks, and letters."

---

Book trailer of the day: Janitors by Tyler Whitesides, illustrated by Brandon Dorman (Shadow Mountain Publishing), the first title in a new series.


In Remembrance: Nancy Landon
Hilary Emerson Lay, manager of the Spirit of '76 Bookstore, Marblehead, Mass., remembers Nancy Landon, owner of the Brewster Bookstore, Brewster, Mass., and children's book buyer for two Maryland toy stores, who died March 9 (Shelf Awareness, March 14, 2011).


John and Nancy Landon have been our next-door neighbors for my entire life. We always knew when they had arrived from Maryland for the summer because we could hear their goldens barking through the woods.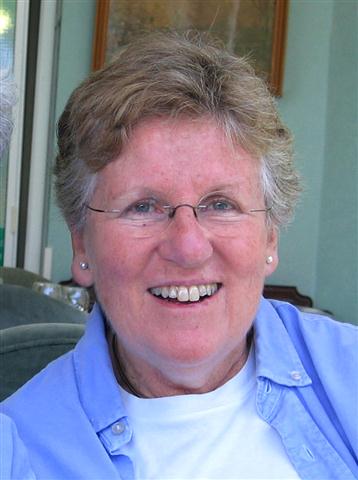 When my sister Gillian and I each turned 13 years old (or was it 12½?), Nancy offered us jobs working summers at the Brewster Bookstore. I remember sitting in the blazingly hot back room stripping covers off the mass markets. I remember climbing in and out of children's book character costumes on 100-degree August days (Angelina Ballerina was the worst--no visibility + huge feet = trampled children). I remember the old-fashioned cash register with the free-standing number keys; I admit to sometimes having made up prices for the greeting cards if they weren't printed on the back. I remember the summer I worked with that handsome older kid who carved "WEEN" into the microfiche tray. I remember working there the summer the book Alive came out, the one about the plane crash in the Andes, and I flipped through the book until I found the part where they started eating each other. I remember the day I biked to work and a bee flew into my eye and stung me, and by the time I walked in the back door of the store my eye was swollen shut. Nancy offered me medical attention, took pity on me, and let me sit on the back floor and unpack boxes all day. I remember how exciting it was when I was allowed to put together the "grab bag" envelopes of loose stickers, since my sister and I used to love buying them so much. I remember the doors being open all summer, and having to chase hopping escapee wind-up toys into the parking lot, and rewind (for the thousandth time) the rolls of stickers lining the front of the counter when the wind wreaked havoc upon them. I remember OD'ing, again and again, on the ginger candy samples on the counter. I remember meeting our favorite authors and illustrators, the ones we loved so much that simply bringing them a cup of water while they signed books was like having the privilege of waiting on royalty. I remember the day Edward Gorey came into the store, tall and foreboding in his yellow fisherman's get-up, and I remember that he barely seemed to notice me as I was standing there frozen in awe, hoping he somehow could feel how much I loved his books.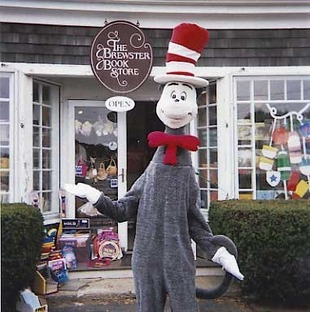 Nancy introduced my family to dozens and dozens of extraordinary books that never made the bestseller list: Harvey Potter's Balloon Farm, Amos: The Story of an Old Dog and His Couch, Animals Should Definitely Not Wear Clothing, A House Is a House for Me... all of our favorite books came from the shelves of the Brewster Bookstore, and they were all thanks to Nancy's unrivaled talents as a book buyer.

My sister and I now both work in the book industry. I manage the Spirit of '76 Bookstore in Marblehead and Gillian is the Workman Publishing rep out of New York City. We both owe our career choices to the fact that, some 20-odd years ago, Nancy decided to take her two little neighbors under her wing and give them jobs at her bookstore. She instilled in us a deep love of an appreciation for books, and inadvertently put both of us onto our future career paths (which I always made a point to tell her when I saw her). She created a lifetime's worth of memories for me. Her effect on our lives has been immeasurable.

My family will miss Nancy very, very much, and we will forever be grateful for the enormous way in which she changed our lives.


Lonely Planet on BEA: 10 Ways Not to Be a New Yorker
There is no right way to see New York. Want to see the Statue of Liberty, Empire State Building, a Broadway play? Fine, so do many locals. But some things are separate the visitors from the natives. Here Lonely Planet author Robert Reid delineates 10 of them.
Spend at least 20 seconds at South Street Seaport. This commercialized strip of shops and that confounded "Bodies" exhibit has never attracted a single New Yorker who wasn't with out-of-town guests. Not one.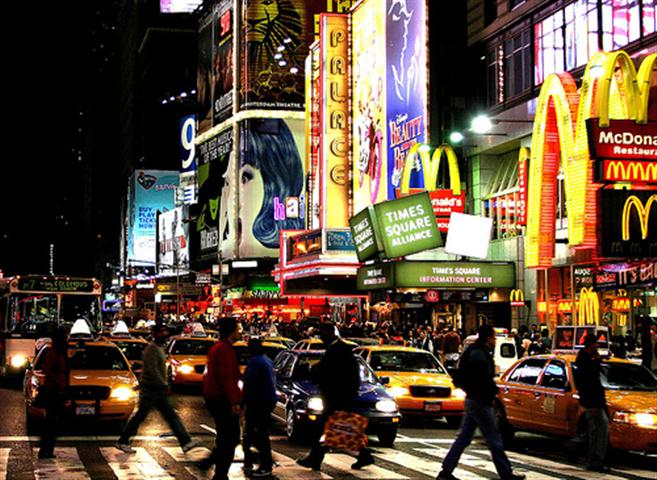 Walk around Times Square, a lot. Even hardened locals pause a second to admire the lights of Times Square on occasion. But few ever spend more than 10 minutes there, and zero would consider going more than once in a month, much less on a three-day weekend.
Be scared of East Village's St. Marks Place. And its punks, tattoo parlors, "New York F***ing City" T-shirts, plus the Chipotle Mexican-food chain in the building where Andy Warhol once staged his wild "Exploding Plastic Inevitable" events. It's not remotely dangerous. Just go, be a bit intrepid, then brag about it afterward.
Skip hip Brooklyn. Locals know you get more space, less stress and pressure--and frequently better-value meals--at Brooklyn restaurants in Boerum Hill, Park Slope, Prospect Heights, Fort Greene, Ditmas Park or Williamsburg.
Take a double-decker bus tour. If you want to see New York by one, go ahead. But don't expect any street-cred points looking down from the open top. New Yorkers prefer buying an all-day subway/bus pass, getting a free bus map and crisscrossing Manhattan on their own. It's much, much cheaper and you don't have to listen to the guide the whole way.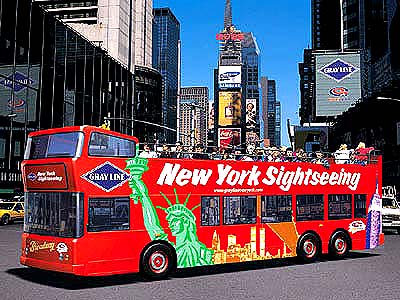 Order a "piece of cheese pizza." Locals call it a slice here. You can just say, "Gimme a slice, guy." And you'll get that piece of cheese, nice and toasty.
Go to Wall Street or Midtown on weekends. It's deserted. The areas are alive Monday to Friday.
Eat in Little Italy. And debate in whispers whether the waiter and people at next table are goodfellas. (The diners are from Houston, though we're not so sure about the waiter....) As dining goes, Little Italy is wayyy past its prime. Go to Roberto's in the Belmont section of the Bronx for the real(er) thing.
Point at the rats. They say there's always a rat within five feet of you at any time in New York. You're most likely to see them around garbage after dark or on the subway tracks at any hour. Locals take it easy, and don't point or squeal. Unless the rat's on the subway platform. Then it's prison rules for all. (By the way, rat rules apply to celebrities, too.)
Exhibit any geographical knowledge the U.S. Other than New York, New Jersey, Florida and California. Every other state could be confused for North Dakota. (Little known fact: New Yorkers have the world's worst sense of geography.)


Media and Movies
Media Heat: Chaz Bono on the Joy Behar Show
Tomorrow on OWN's Gayle King Show: Tina Fey, author of Bossypants (Reagan Arthur, $26.99, 9780316056861).

---

Tomorrow on the Joy Behar Show: Chaz Bono, author of Transition: The Story of How I Became a Man (Dutton, $25.95, 9780525952145). Bono is also CBS's The Insider tomorrow.


This Weekend on Book TV: Money and Power
Book TV airs on C-Span 2 this weekend from 8 a.m. Saturday to 8 a.m. Monday and focuses on political and historical books as well as the book industry. The following are highlights for this coming weekend. For more information, go to Book TV's website.

Saturday, May 14

8 a.m. Joshua Kendall discusses his book The Forgotten Founding Father: Noah Webster's Obsession and the Creation of an American Culture (Putnam, $26.95, 9780399156991). (Re-airs Sunday at 4 p.m.)

1:30 p.m. At an event hosted by Busboys & Poets, Washington, D.C., Antonia Juhasz, author of Black Tide: The Devastating Impact of the Gulf Oil Spill (Wiley, $25.95, 9780470943373), talks about the 2010 Deepwater Horizon oil rig explosion. (Re-airs Sunday at 7:30 p.m.)

5 p.m. Jennifer Griffin and Greg Myre, co-authors of This Burning Land: Lessons from the Front Lines of the Transformed Israeli-Palestinian Conflict (Wiley, $25.95, 9780470550908), take questions from viewers on C-SPAN's Washington Journal. (Re-airs Sunday at 9 a.m. and Monday at 2 a.m.)

7 p.m. Deval Patrick, author of A Reason to Believe: Lessons From An Improbable Life (Broadway, $21.99, 9780767931120), chronicles the path that led him to the Governor's office in Massachusetts. (Re-airs Sunday at 2 a.m.)

8 p.m. At an event hosted by Books & Books, Coral Gables, Fla., Jim Rasenberger discusses his book Brilliant Disaster: JFK, Castro, and America's Doomed Invasion of Cuba's Bay of Pigs (Scribner, $32, 9781416596509). (Re-airs Sunday at 7 a.m.)

10 p.m. After Words. Patrice Hill interviews William Cohan, author of Money and Power: How Goldman Sachs Came to Rule the World (Doubleday, $30.50, 9780385523844). (Re-airs Sunday at 9 p.m. and Monday at 12 a.m. and 3 a.m.)

Sunday, May 15

10 a.m. Anatol Lieven, author of Pakistan: A Hard Country (PublicAffairs, $35, 9781610390217), and a panel of commentators look at the internal and external problems facing Pakistan. (Re-airs Sunday at 10 p.m.)


Television: Villains of All Nations
British television writer and producer Lynda La Plante (Prime Suspect) will develop Villains of All Nations, a drama series for Lionsgate TV based on Marcus Rediker's book Villains of All Nations: Atlantic Pirates in the Golden Age. Deadline.com described the project "as a 'modern, bold and gritty interpretation of the genre,' using Rediker's book as a springboard."

Kevin Beggs, Lionsgate TV Group president, praised La Plante: "Not only is she a brilliant writer, she happens to have a longtime love and knowledge of the subject matter, and we believe she can achieve exactly the kind of 'Deadwood on the high seas' sensibility we're looking for."


Books & Authors
Awards: Anthony Nominees
Finalists for this year's Anthony Awards, which are given at the annual Bouchercon World Mystery Convention, have been announced. Shortlisted for best novel are Bury Your Dead by Louise Penny (Minotaur), Crooked Letter, Crooked Letter by Tom Franklin (Morrow), Faithful Place by Tana French (Viking), I'd Know You Anywhere by Laura Lippman (Morrow) and The Lock Artist by Steve Hamilton (Minotaur). You can view the complete list of nominees here. Winners will be announced September 18 at Bouchercon in St. Louis.


Shelf Starter: Solace in So Many Words
Solace in So Many Words, edited by Ellen Wade Beals (Weighed Words, $20 trade paper, 9780972525466, May 12, 2011)
An excerpt from a book we want to read--poems and prose offer words of solace for problems ranging from the global to the personal. Here, a poem to bring warmth into dark days: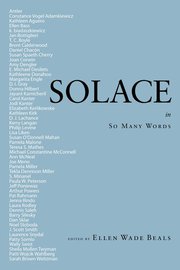 "Portuguese Sweet Bread" by Amy Dengler
Sweetness comes from the baker's hands,
the art of rising from generations
making their way in the world. The making
begins with breaking the egg,
releasing the small sun within, stirring
and blending, capturing in a bowl, flour and air
to imbue the bread with tenderness,
little grottoes of light.
Let it rise in a buttered bowl.
Let it come up like crocuses from bare earth.
Let the air fill with the exuberance of yeast.
Let it rise the way the sun comes up
over Pico. Let it shape itself like the cobbles
in the streets. Let it be as gold as Pico's sun,
as sweet on the tongue, as filling
to the soul, buttering the heart
even as we begin to eat.
--selected by Marilyn Dahl


The Bestsellers
Top-Selling Titles in Chicagoland and Milwaukee Last Week
The following were the bestselling books at independent bookstores in the Chicago and Milwaukee areas during the week ended Sunday, May 8:

1. Bossypants by Tina Fey
2. The Help by Kathryn Stockett
3. She Walks in Beauty by Caroline Kennedy
4. A Visit From Goon Squad by Jennifer Egan
5. Dead Reckoning by Charlaine Harris
6. The Immortal Life of Henrietta Lacks by Rebecca Skloot
7. The Kane Chronicles, Book Two: The Throne of Fire by Rick Riordan
8. Heaven Is For Real by Todd Burpo
9. The Bird Sisters by Rebecca Rasmussen
10. Wingshooters by Nina Revoyr

The reporting bookstores and their handselling favorites:

Anderson's, Naperville and Downers Grove: In the Garden of Beasts by Erik Larson
Bookstall at Chestnut Court, Winnetka
Book Cellar, Lincoln Square
Book Table, Oak Park: In the Garden of Beasts by Erik Larson
Books & Co., Oconomowoc: The Lonely Polygamist by Brady Udall
Boswell Book Company, Milwaukee: The Sisters Brothers by Patrick DeWitt
57th St. Books, Chicago
Lake Forest Books
Next Chapter, Mequon: 22 Britannia Road by Amanda Hodgkinson
Read Between the Lynes, Woodstock: Seeds by Richard Horan
Seminary Co-op
Women and Children First, Chicago: The Love of My Youth by Mary Gordon

[Many thanks to the booksellers and Carl Lennertz!]