Shelf Awareness for Friday, May 13, 2011

Quotation of the Day
'Exciting Period to Be a Bookseller'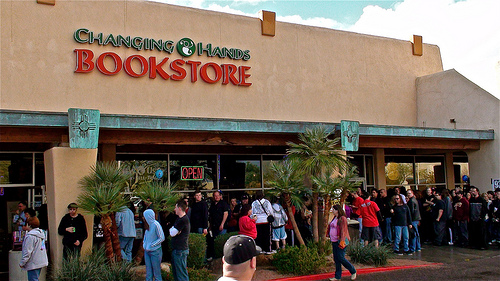 "Right now is the most exciting period in history to be a bookseller.... It's all changing so fast, and yet by working hard, being creative, and by loving books, authors and readers infinitely more than chain stores do, or any online algorithm that 'recommends' your next read, indies remain a vibrant part of their communities."
--Changing Hands bookseller Brandon Stout, quoted in author Dave Wheeler's blog
Dave Writes Right


News
Image of the Day: Tome Rangers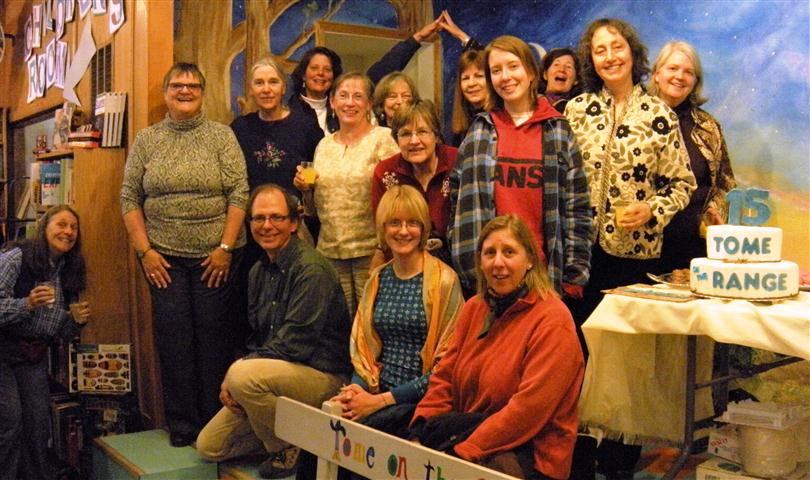 On May Day, Tome on the Range, Las Vegas, N.Mex., began celebrating its 15th anniversary with a party that was catered by the culinary arts students of the local community college. Six inches of snow in the morning led store owner Nancy Colalillo to comment, "Well, it's springtime in the Rockies. So much for the garden party I planned." During the month, the store is running 15%-off sales in categories that will change weekly. Tome on the Range will have another cake on May 24, the actual anniversary of the store's founding. Here various Tome Rangers past and present celebrate, including owner Nancy Colalillo (second from left) and manager Michael Siewert (kneeling--and the only man in the photo).


Sales: Bookstores Down in March; General Retail Up in April
March bookstore sales fell 5.8%, to $962 million, compared to March 2010, according to preliminary estimates from the Census Bureau. For the year to date, bookstore sales have slipped 1.8%, to $4.029 billion.

Total retail sales in March rose 8%, to $394.6 billion, compared to the same period a year ago. For the year to date, total retail sales have risen 8.2%, to $1,080 billion.

So far this year, bookstore sales have been erratic, falling 4.6% in January, rising 9.3% in February and now falling again.

Note: under Census Bureau definitions, bookstore sales are of new books and do not include "electronic home shopping, mail-order, or direct sale" or used book sales.

---

As gasoline and food prices continued to rise, retail sales in April rose 0.5%, to $389.4 billion, according to the Commerce Department. When the 2.7% jump in gas prices is excluded, retail sales rose just 0.2%.

"Consumers are feeling a little stretched," Michelle Girard, an RBS Securities analyst told the Wall Street Journal. "I think it is all kind of consistent with this theme that the conditions still are somewhat subdued in the second quarter."


Notes: POD, People; Mermaids Swim Ahead of Vampires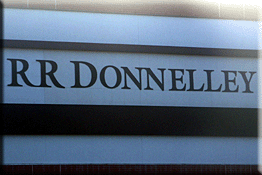 Beginning in November, R.R. Donnelley will handle fulfillment of all HarperCollins new releases in the U.S. and provide print on demand services globally for the company. In addition, beginning in July 2010 Donnelley will handle fulfillment of all frontlist and backlist titles for Zondervan.

HarperCollins and Zondervan will continue to handle credit, collection and customer service internally for its businesses, and reorders will continue to be shipped from the Scranton, Pa., distribution center. Donnelley has printed "the vast majority" of HarperCollins and Zondervan titles for more than 20 years.

"Our vision is to have the entire HarperCollins book catalog available for customers in all major territories and ready for delivery in minutes," HarperCollins president and CEO Brian Murray said. "In the U.S., time and money are saved by co-locating printing and fulfillment for fast moving titles. In the U.K. and Australia, POD technology will enable us to competitively offer the entire HarperCollins catalog to customers without expensive freight costs and long lead times."

Besides increasing operating efficiency and lowering costs, the changes will improve the company's environmental impact, particularly through more efficient shipping and paper use, Murray said.

The move resembles in some ways last fall's agreements between Ingram and Macmillan, under which Ingram began providing POD and fulfillment for Macmillan's slower-moving titles (Shelf Awareness, September 22, 2010), and Ingram and Springer (Shelf Awareness, October 12, 2010), under which Ingram began handling all warehousing, fulfillment and POD for Springer and did POD-only printing on some titles.
---
Under a new agreement, the American Booksellers Association will market On Demand Books' Espresso Book Machine to member bookstores and help promote the sales potential of the POD machines in indies to more trade and independent publishers.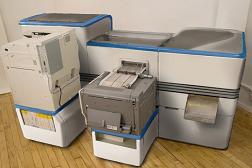 "The Espresso Book Machine provides a unique opportunity to help our members differentiate themselves from their competitors," said ABA COO Len Vlahos. "By offering retail-level on-demand printing, indie bookstores can explore new custom publishing business models, and more quickly and efficiently meet consumer demand for books. This new relationship between ABA and ODB helps lower the barrier to entry for our members to participate."
Under the agreement, On Demand will offer a 10% discount on the current $25,000 up-front software license fee to ABA members who purchase or lease an Espresso Book Machine before April 5, 2012. For lease agreements, the discount will be folded into the overall lease price.
Dane Neller, On Demand's CEO, called indie booksellers "among our earliest and most successful customers" and said that the machines help bookstores in part "position themselves as community-based self-publishing centers for local authors, driving customer traffic and higher sales with no extra inventory."

There are currently nearly 50 Espresso Book Machines in operation around the world, many of them in trade and college bookstores, including Village Books, Bellingham, Wash.; McNally Jackson Bookstore, New York City; Harvard Bookstore, Cambridge, Mass.; Northshire Bookstore, Manchester Center, Vt.; Third Place Books, Seattle, Wash.; Schuler Books, Grand Rapids, Mich.; Boxcar and Caboose Bookshop, Saint Johnsbury, Vt.; and Flintridge Bookstore and Café, La Cañada Flintridge, Calif.

On Demand said it plans to have more than 150 Espresso Book Machines altogether installed by the end of the year.
---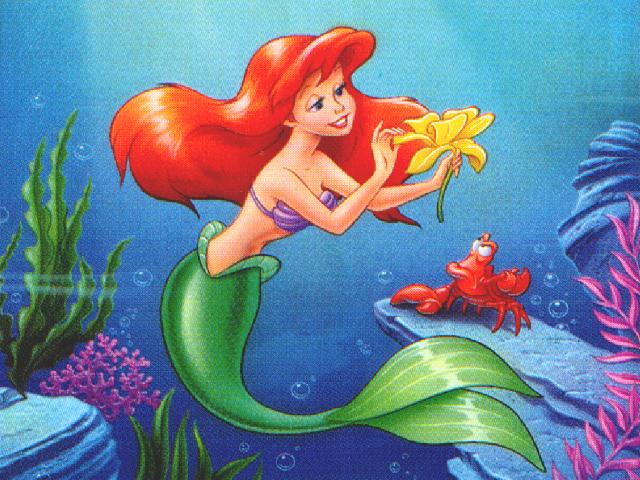 Forget vampires. Mermaids are surfacing as the next big thing, according to USA Today, which noted that "publishers are releasing a school of mermaid novels. And MerCon 2011, the first mermaid convention, will be held at the Mirage Resort and Casino in Las Vegas Aug. 12-13. Even Stephenie Meyer, who made her fame and fortune writing about vampires, told USA Today in March that she's writing about mermaids. (And, yes, she was wearing a silver mermaid necklace when she said it.)."

"Publishers and readers are looking for the next big thing in the paranormal genre," said Mandy Hubbard, author of the upcoming YA novel Ripple. "We've already done vampires and werewolves and angels. Mermaids feel a little more fresh and interesting."

---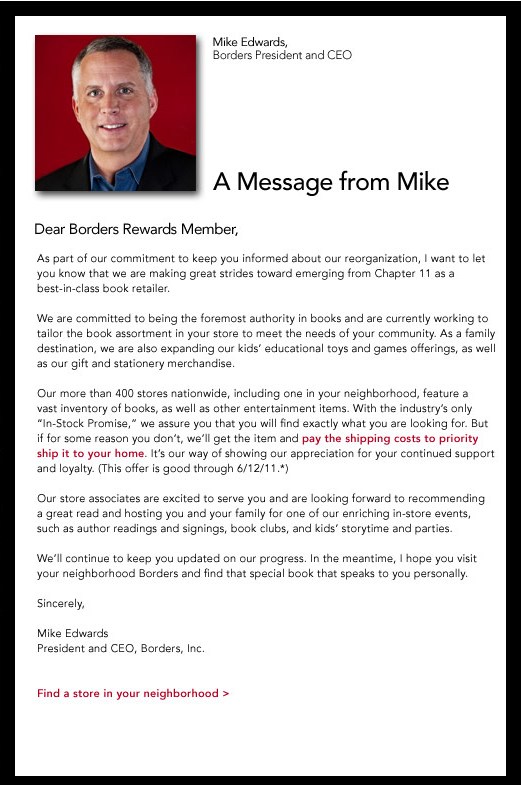 Borders is offering to obtain and ship on a priority basis for free to customers' homes books that they want but can't find in Borders stores. In an e-mail to Borders Rewards members, president and CEO Mike Edwards called the offer Borders' "in-stock promise" aimed to "assure you that you will find exactly what you are looking for." The offer ends June 12.
Perhaps with an eye on the many in the business who say Borders has no strategy for emerging from bankruptcy, he also said, "We are committed to being the foremost authority in books and are currently working to tailor the book assortment in your store to meet the needs of your community. As a family destination, we are also expanding our kids' educational toys and games offerings, as well as our gift and stationery merchandise."
---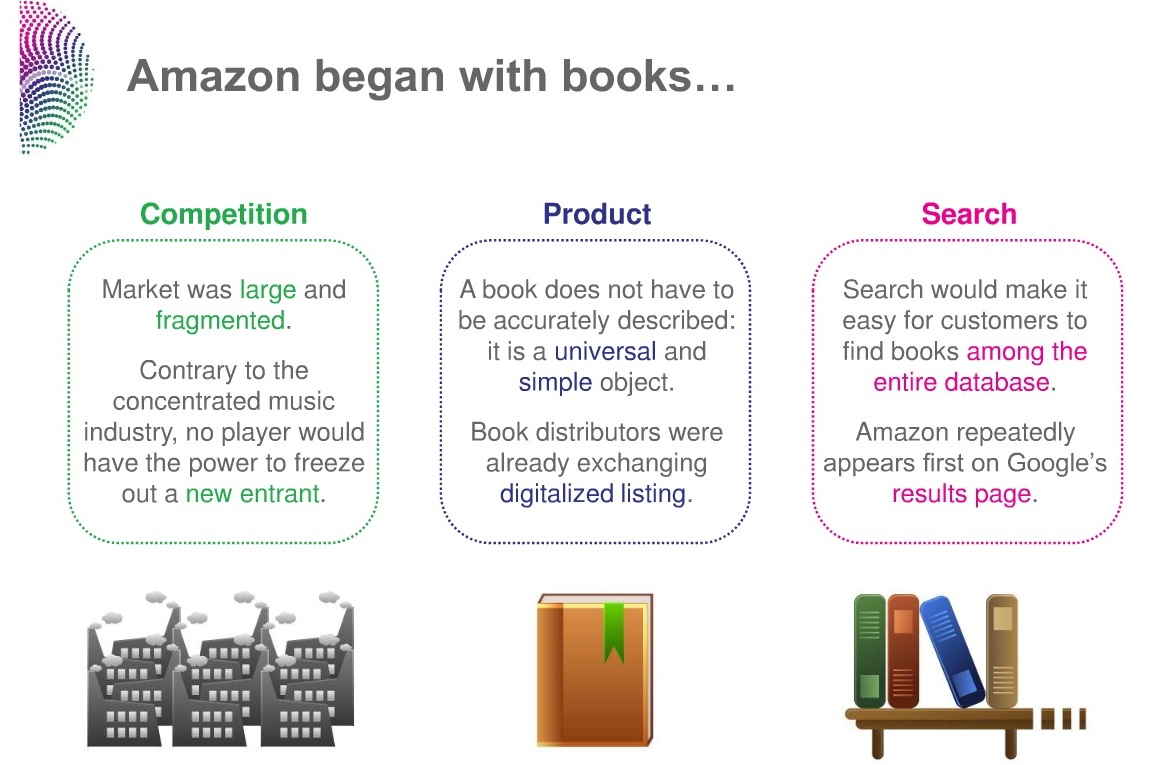 Show and tell. In 72 slides, faberNovel attempted to answer the question: "How did a company that started with online books come to dominate an estimated one third of ecommerce in the U.S.?" TechCrunch noted that it is "instructive to see how Amazon has expanded over the years and moved away from its reliance on books, music and movies. You also forget that along the way, Amazon piled up $3 billion in losses between 1995 and 2003. Now it's got $34 billion in annual revenue, and is spitting out $1 billion a year on profits. Who says you can't spend your way to profitability?"

---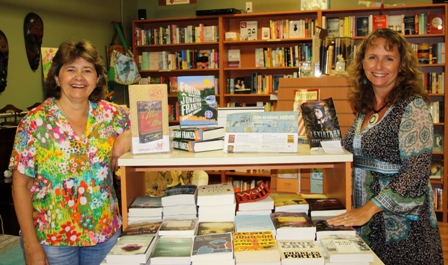 Bookselling This Week profiled Kona Stories in Kailuna-Kona, Hawaii, which Brenda Eng and Joy Vogelgesang founded in 2006. The 1,500-sq.-ft. general store sells new and used books, specializing in Hawaiiana. Popular sidelines are locally made, particularly greeting cards. In a recent survey, customers expressed an interest in the store stocking more used books as well as mystery, biography, science, and other nonfiction titles, and the pair are working on meeting that interest.

"We think what makes us unique is our ability to tailor our selections to the local interests, and our personal service," Vogelgesang said. "And our cats." Much-beloved Noble and Shadow are "in the marketing budget, and they definitely earn their keep," she added.

Last month the nearby Borders closed, making Kona Stories the only bookstore in town.
---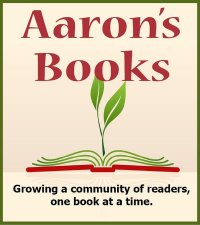 Congratulations to Aaron's Books, Lititz, Pa., which won the 2011 Celebrate Literacy Award from the Lancaster-Lebanon Reading Council. The Celebrate Literacy Award is given each year to a person, business, or organization for "exemplary service in the promotion of literacy." Aaron's Books and owners Todd Dickinson and Sam Droke-Dickinson were cited for their efforts to promote reading and a love of books to all ages through their book clubs, author events, children's activities, community outreach, support of Lancaster Reach Out and Read and Lancaster Public Libraries, and most notably producing the Lititz Kid-Lit Festival, now in its third year. The award was presented at Reading Council's annual spring banquet on April 26. (Many thanks to NAIBA for the information!)
---
A reminder: polling e-booths are open another week for voting on the finalists of the Booksellers Choice Awards, sponsored by Melville House and Shelf Awareness and honoring independent booksellers' favorite titles published by independent houses. The five grand prize winners will be honored on Monday, May 23, 7-8 p.m., at a party at the Housing Works Bookstore in New York City. All are invited!
---
Book trailer of the day: Wire to Wire by Scott Sparling (Tin House Books), in which the authors takes his editor, Tony Perez, on a tour of the book, including train hopping, strip clubs and drinking Mad Dog 20-20.

---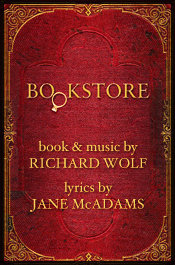 Bookstore: the musical. Tonight is opening night for the Atlantic Beach (Fla.) Experimental Theatre's production of Bookstore, an original musical comedy by Richard Wolf (book and music) and Jane McAdams (lyrics). The show "is set in a small independent New York City bookstore run by Tony Gambini (David Jon Davis), who has a demanding ex-wife and is struggling to compete with the mega-stores and online retailers," the Florida Times-Union wrote.

Wolf said that even though the musical was written six years ago, it is still timely: "Certainly with the way the economy has gone and the way book publishing has changed and now with Kindle. When you are an independent bookstore trying to compete, it is a tough thing."

The Bookmark bookstore is partnering with ABET for this production and has donated nine $20 gift certificates, to be given away to an audience member at every performance. "I don't plan on breaking out in song at my store anytime soon," said Rona Brinlee, owner of the Bookmark. "But anything that creates an awareness about independent bookstores is a good thing."

---

"Science fiction facts" is the latest Guardian quiz, which tests "how far have you travelled in the many worlds of SF."

The Guardian also featured a slide show from a new exhibition at the British Library, "Science fiction: Images from other worlds--in pictures," which "presents the rich history of SF down the ages, from Lucian of Samosata in the second century to the Russian novel that inspired 1984."

---

Flavorwire showcased "10 Devastatingly Sad Books," noting that "sometimes, the best cure for a hard week, a long day or just a rainy weekend is a really sad book."

---
At the American Booksellers Association, Mark Nichols's title has changed to development officer, to better reflect his role in the association. He has been industry relations officer. Nichols will continue to work with publishers on the Indie Next lists, the Indies Choice Book Awards, the Winter Institute, the Celebration of Bookselling Author Awards Luncheon and BEA. Congrats, Mark!
---
Effective immediately, Kevin Smokler has joined Byliner.com as v-p of marketing. He was formerly CEO of BookTour.com, which he founded with Chris Anderson of Wired.
Byliner.com, which formally launches later this month, offers archives of nonfiction writers' work that can be found, shared and discussed by readers, and distributes Byliner Originals, featuring nonfiction stories by established writers. The first Byliner Originals title was Three Cups of Deceit by Jon Krakauer, which detailed allegations of waste, fraud and abuse against author Greg Mortenson, and Into the Forbidden Zone by William T. Vollman.


BEA Previews: New York Book Week

This year's second annual New York Book Week, which takes place Monday, May 23-Saturday, May 28, features events at a range of bookstores, libraries--and even the Apple Store in SoHo.

The Apple Store is hosting "Meet the Author" events all week. Barnes & Noble is tying in its regular events and autographings to New York Book Week. In conjunction with several publishers, the New York Public Library is hosting a series of events, including a science fiction and fantasy evening. Other events will be held at the Borders at Columbus Circle, the Brooklyn Public Library, the Bryant Park Reading Room, the Center for Fiction, Greenlight Bookstore, McNally Jackson Bookstore, powerHouse Arena, Symphony Space and WORD.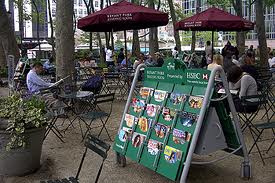 Noting that New York Book Week has "evolved and taken on a life of its own," Steve Rosato, BEA show manager, said, "Now that BEA is committed to remaining in New York City it seems only natural to bring all of the energy, excitement and enthusiasm of New York's literary community together for a week-long celebration."

He added: "Bookstores, libraries, and other literary hotspots and emporiums throughout New York City have proved incredibly eager to capitalize on their shared interest in books and authors. At the same time, publishers have indicated that they are keen to have the additional opportunity to promote the hundreds of authors who are in attendance at BEA by making them available for public events."

Full details and listings for New York Book Week are listed at bookexpoamerica.com (click on the New York Book Week icon on the homepage). In addition, BEA is printing a brochure with listings and a letter from Mayor Bloomberg welcoming BEA attendees to New York City. In his letter, the mayor wrote in part, "Publishing is one of New York's signature industries, and we are proud to be the home of the many authors, editors, educators, and tastemakers who make our city such a dynamic and exciting place in which to live, work, and discover new ideas."


Media and Movies
Media Heat: Jesse James, Bill James
Today on the Dr. Oz Show: Keri Gans, author of The Small Change Diet: 10 Steps to a Thinner, Healthier You (Gallery, $15, 9781451608885).

---

Tonight on CNN's Piers Morgan Tonight: Jesse James, author of American Outlaw (Gallery, $26, 9781451627855).

Also on Piers Morgan Tonight: Anthony Youn, author of In Stitches (Gallery, $25, 9781451608441).

---

Tomorrow on Fox & Friends: Jeffry S. Life, author of The Life Plan: How Any Man Can Achieve Lasting Health, Great Sex, and a Stronger, Leaner Body (Atria, $26, 9781439194584).
---

Tomorrow on the John Batchelor Show: Bob Drury and Tom Clavin, authors of Last Men Out: The True Story of America's Heroic Final Hours in Vietnam (Free Press, $26, 9781439161012).
---
Tomorrow on NPR's Weekend Edition: Bill James, author of Popular Crime: Reflections on the Celebration of Violence (Scribner, $30, 9781416552734).
---
Sunday on CBS's Sunday Morning: Rob Lowe, author of Stories I Only Tell My Friends: An Autobiography (Holt, $26, 9780805093292).


Movies: Bailout
Shooting will begin in August on Bailout, a comedy directed by Michael Winterbottom and starring Jack Black that is based on Jess Walter's novel The Financial Lives of the Poets. Winterbottom said Walter's screenplay, "which details the story of one man's attempt to come back from the brink of financial ruin after meeting a couple of losers in a late night supermarket," achieves the "rare feat of being funny and true at the same time," the Hollywood Reporter wrote.


Literary Roundup from the Cannes Film Festival
Word & Film called programmers of the 2011 Cannes Film Festival "clearly a bookish bunch.... Many of the films currently cresting in the Cannes zeitgeist also happen to be literary adaptations." A capsule description was offered of "some of the most noteworthy early Cannes standouts to have originally sprung from the mind of an author, not auteur," including We Need to Talk About Kevin, The Killer Elite, The Skin I Live In and Drive.


Books & Authors
Awards: BOMC First Fiction
Stephen M. Irwin won the Book-of-the-Month Club First Fiction Award for his novel The Dead Path (Doubleday). Previous winners of the prize include Push by Sapphire and Justin Cronin's Mary and O'Neil.

"Discovering and promoting new authors is something we've been doing for 85 years here at the club," said Deborah Sinclaire, BOMC editor-in-chief. "This award is our way of recognizing authors whose debut novels have had a powerful impact on our editorial team as well as our readers."


Book Brahmin: Pat MacEnulty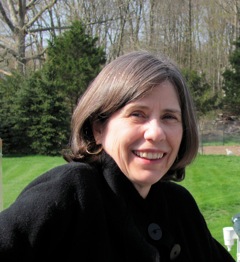 Pat MacEnulty has written four novels (Sweet Fire, Time to Say Goodbye, From May to December and Picara) and the story collection The Language of Sharks. Wait Until Tomorrow: A Daughter's Memoir (May, Feminist Press) focuses on MacEnulty's struggles to care for her aging mother, a renowned musician, and to raise her teen daughter, who is at the age the author was when drugs and addiction changed her life. MacEnulty lives in Charlotte, N.C., and teaches at Johnson & Wales University.
On your nightstand now:
The Blue Hammer by Ross MacDonald (a writer's mystery writer); Cookie and Me, a delightful book by my friend Mary Jane Ryals; the Audubon Field Guide (Eastern Edition); and my journal.
Favorite book when you were a child:
So many! But let's go with The Jungle Book by Rudyard Kipling (not the Disney version) because it enveloped me in a hermetic seal and taught my mind how to see something that existed only in imagination.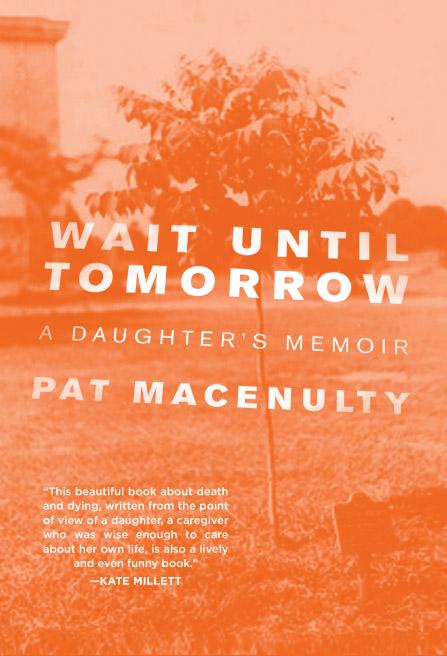 Your top five authors:
These are five that I love and that come to mind right now: Harry Crews for his inimitable voice, Toni Morrison for her lyricism and evocation of pain, Jane Austen for her wit, Leo Tolstoy for his passion, Alan Furst for giving me insight into life during World War II and entertaining the hell out me at the same time.
Book you've faked reading:
A Bend in the River by V.S. Naipaul. I was in graduate school, I had a baby, and I was teaching classes. I just didn't have the time. Maybe I'll get around to it some day.
Book you're an evangelist for:
A Fan's Notes by Frederick Exley. Also Eats, Shoots & Leaves by Lynne Truss.
Book you've bought for the cover:
I didn't buy this book. I picked it up from a friend's bookshelf the night she died. It was the title that drew me. The title was Kitty, which was the name of my friend. I read that book, which was a tawdry piece of work, in order not to have to go to sleep that night.
Book that changed your life:
On the Road. I wanted to be a writer, but didn't know how. Kerouac showed me that "it" was all worth writing about. Siddhartha also changed my life in some ineffable way. Oh, and Crime and Punishment. I was in prison when I read it so the topic was appropriate; that book taught me about redemption.
Favorite line from a book:
"Frederick J. Frenger. Jr., a blithe psychopath from California, asked the flight attendant in first class for another glass of champagne and some writing materials." From Miami Blues by Charles Willeford. Who could not keep reading after that?
Book you most want to read again for the first time:
The way my brain works (or doesn't work) these days, just about any of them I re-read will be like the first time. But let's say The Unbearable Lightness of Being by Milan Kundera. Just because.


Book Review
Book Review: They Fight Like Soldiers, They Die Like Children
They Fight Like Soldiers, They Die Like Children: The Global Quest to Eradicate the Use of Child Soldiers by Romeo Dallaire; foreword by Ishmael Beah (Walker & Co., $26 hardcover, 9780802779564, May 24, 2011)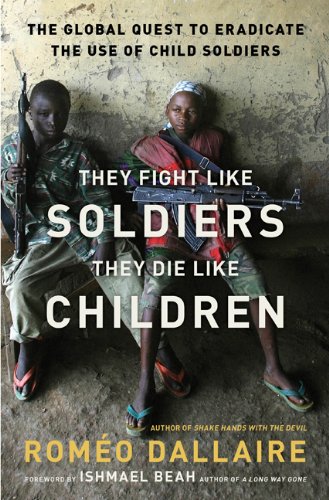 Roméo Dallaire (Shake Hands with the Devil: The Failure of Humanity in Rwanda) led the international peacekeeping mission in Rwanda after the Arusha Peace Agreement was brokered to end civil war in that tortured country in 1993. "I was given strict orders from the highest commanders of the UN not to act, merely to observe," he writes about his assignment. As a career Canadian Armed Forces officer, Dallaire knew about the chain of command and obeying orders. When confronted with the massacre of Tutsis and Hutus in April 1994, however, he disobeyed his orders and saved the lives of approximately 30,000 people. He knew the order not to act was immoral in that case; 800,000 died in that genocide as others stood by, following orders. From that experience, a new, extremely challenging journey began for him.
The horrors of Rwanda expanded in Dallaire's mind far beyond those statistics of slaughter as he considered that children, some very young, had been used as soldiers in the civil war and the genocide. Attempts to reconcile his sense of childhood with the hate and violence he saw in the eyes and actions of those children led him to ask questions he felt others were avoiding: "How child soldiers are made, how they are being used, and how they are being disarmed, demobilized and reintegrated" into post-war/post-genocide society. Wrestling with those questions has obsessed him for 15 years. His findings are as important and morally central to our age as they are profoundly disturbing. In Dallaire's tough, pragmatic language, children as soldiers "have military capabilities, net operational advantage and tactical effectiveness" that make them attractive to the adults commanding operations. And he makes clear that we need to "understand how they operate as a weapon system... so that we can successfully neutralize their effect."
Dallaire has discovered that discussing children in terms of being a "weapons platform" (in his military parlance) can itself lead to a complete shutdown of dialogue about avenues to neutralize and eliminate the recruitment and use of children as soldiers. To counter such sensitivities and to build bridges to keep all parties working for effective solutions, he has spearheaded the Child Soldiers Initiative (currently based at Dalhousie University in Halifax, Nova Scotia); their daunting task and the progress made so far are awe-inspiring.--John McFarland
Shelf Talker: A profoundly important survey of efforts to eradicate the use of children as soldiers in armed conflicts around the world.


Deeper Understanding
Robert Gray: Authors & Readers 'Help a Hurting Community'
"When I was no more than nine years old, a tornado tore right close to my house," wrote Susan Gregg Gilmore--author most recently of The Improper Life of Bezellia Grove--in the opening chapter of her first novel, Looking for Salvation at the Dairy Queen, which is set in Ringgold, Ga. "I remember yelling at my little sister to run and hide in the basement. 'Martha Ann,' I warned her, 'if that twister hits this town, nobody's even going to notice it's gone.' "

Of course, people do notice and care when tragedy strikes any town. The devastating tornadoes that raked across the South two weeks ago caused major damage in Ringgold, and Gilmore wanted to do something to help. Fortunately, the seeds of an idea had already been sown. She was planning a supper and book talk at her home in Chattanooga, Tenn., to celebrate the paperback release of The Lost Summer of Louisa May Alcott by Kelly O'Connor McNees, "with one of my favorite indies [FoxTale Book Shoppe, Woodstock, Ga.] coming to sell the books."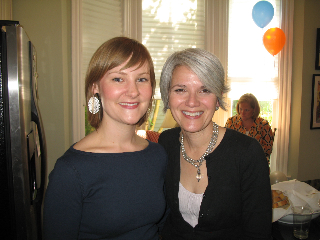 Kelly O'Connor McNees (l.) and Susan Gregg Gilmore
Although she had met McNees on Twitter, this would be their first meeting in person. "The Lost Summer of Louisa May Alcott was one of my favorite reads of 2010," said Gilmore. "I encouraged her to come South and introduce herself to some of the wonderful independent booksellers below the Mason-Dixon Line. I am a big believer in building community to get anything of any importance done--it does seem to take a village to introduce great books to readers." The dinner would be "an evening about building community, about thinking of new ways to introduce readers to great books even while Amazon is building a warehouse in my backyard." In addition, several of her guests were coming from Ringgold, and she hoped that they could brainstorm "about the best way for two authors and a bunch of readers to help a hurting community."

McNees recalled that Gilmore had helped her connect with FoxTale Book Shoppe in February to schedule a mother-daughter tea event for Mother's Day weekend. "My mom and I decided to drive to Georgia from Chicago for the event, passing through Chattanooga. Since Chattanooga does not have an indie, Susan offered to host a book party at her house a few days before the tea. I honestly couldn't believe she was willing to do this for someone she had never met. But I am coming to realize that is just the sort of person Susan is. All the plans seemed to be coming together until about a week before I was supposed to leave, when those devastating tornadoes swept through Tennessee and Georgia. I thought for certain we would cancel the event, but Susan insisted on forging ahead, even though during those first days she had no electricity and couldn't get in touch with some of the guests to make sure they were okay."

Despite all the obstacles, the event last week turned out to be "a wonderful success," Gilmore said. "Kelly and her mother could not have been more gracious. Heck, you'd think they were both from the South." More than 30 people attended, "including most of the members of my beloved Ringgold book club, the Not So Rapid Readers. Amazingly, every member survived the tornadoes with no injury or damage to their property. A few downed trees in the yard, but that was it. I will say that they all seemed to thoroughly enjoy an evening of wine, food and book talk--a bit of normal during a difficult time."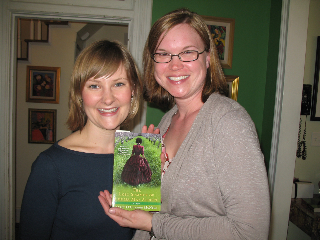 Kelly and Nashville-based blogger Becky Brothers.
What emerged from the discussion was an agreement that "we would band together--members of the Not So Rapid Readers, Chattanooga YA author Allison Foster, Kelly, myself, Rebecca Brothers (a Nashville blogger who started a similar campaign called A Dry Read after last year's devastating floods in Nashville), Ringgold blogger Julie Golden, as well as other members of the Chattanooga and Ringgold communities including Meg Patton and Bonnie Moses--and launch a long-term project to restock the shelves of the Ringgold Middle and High School libraries," Gilmore said. "Both schools were destroyed in the 195-mile-per-hour winds. I personally feel a responsibility to help this community that I love so much. And I am thrilled to report that Crown will be supporting us in this effort."

McNees, who "had seen Ringgold on the national news a few days before and was stunned to see how much damage that town suffered," said the event "gave us a chance to begin a conversation about how we can help Ringgold rebuild its school libraries, and I plan to be part of that effort from afar."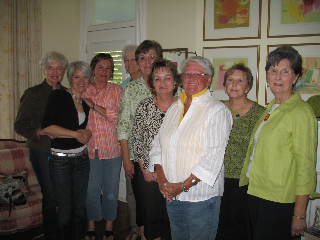 Susan and the Not So Rapid Readers.
She also noted that Gilmore's "community-building approach is an example of one way book lovers are trying to stay connected when they lose a great independent bookstore from their community. Readers and writers want to come together to share the books they love--the gloomy economy doesn't change that fact one bit. It's fantastic when those gatherings can happen in our neighborhood stores, but many book-loving towns have lost their stores. Perhaps we will be seeing more events of this kind in the future. I hope I have the chance to pay the generosity forward down the line back home in Chicago. And the event at FoxTale was a big success, too. The owners even dressed in Victorian costume."

FoxTale Book Shoppe co-owner Ellen Ward agreed, and observed that "one of the joys of being a bookseller is really getting to know authors and their readers, so the Gilmore/McNees event at Susan's lovely home was great fun in all respects. The kind of support between the authors and the enthusiasm for literature evidenced there is what keeps our indie bookstore alive and well in Woodstock. We followed the Chattanooga event with a Louisa May Alcott Tea Party for Kelly at FoxTale, complete with period dress. A lot of work? Of course; but unique events sell books and distinguish us as booksellers with passion, a niche that we embrace wholeheartedly."--Robert Gray (column archives available at Fresh Eyes Now)