Shelf Awareness for Tuesday, June 7, 2011

News
Image of the Day: Beacon's Special Delivery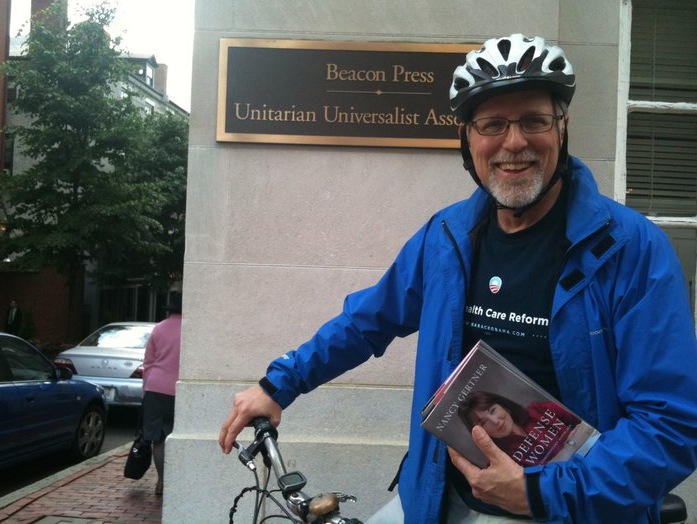 Beacon Press associate publisher Tom Hallock about to deliver via bicycle a few more copies Nancy Gertner's memoir, In Defense of Women, to Brookline Booksmith, Brookline, Mass. The moral of this revolutionary ride, as the press put it: "Beacon Press will go the extra mile for indie bookstores... on a bike!"


Notes: Apple Peels; Bookstore News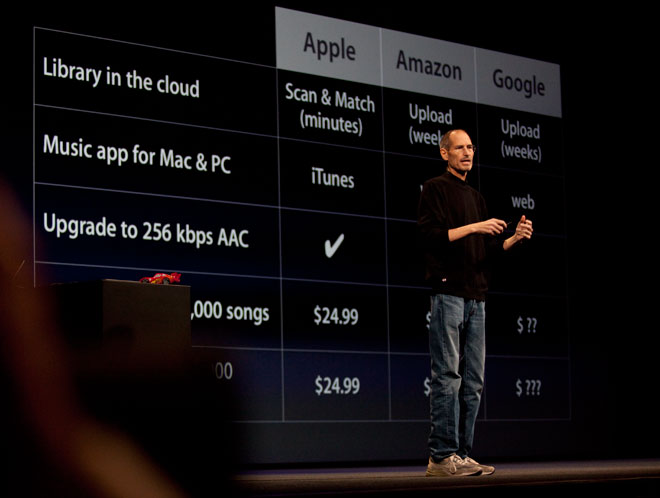 During Apple Corp.'s Worldwide Developer Conference (WWDC) in San Francisco yesterday, the company reported that approximately 130 million books have been downloaded from the iBookstore "and all major publishers are on board," TechCrunch wrote.

The big news at WWDC was the official announcement of Apple's iCloud, "a free new service available that will synch content on Apple devices with servers in Apple's data centers, where it can be pushed to all a user's devices," Forbes reported. For e-book fans, this means that books from iBookstore "can be purchased downloaded to all of a user's Apple devices. Get to a page, bookmark it, and the bookmark is pushed to of all a user's other devices."

"We're going to demote the PC and the Mac to just be a device, just like an iPhone, an iPad an iPod touch, and we're going to move your digital life into the cloud," Jobs said.
---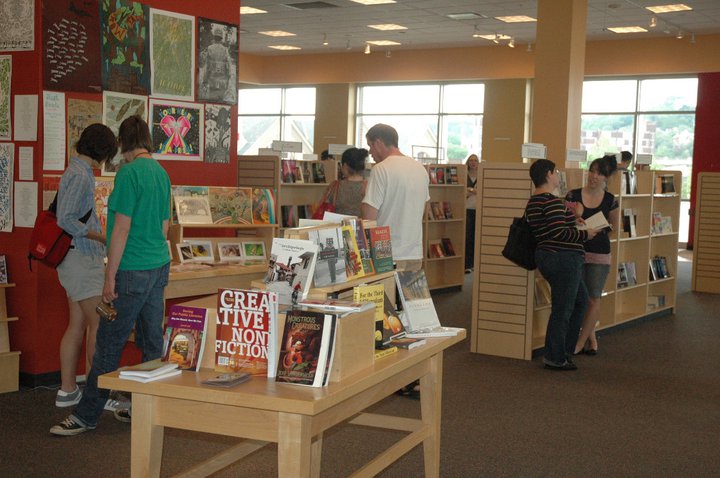 Word Up, a pop-up bookstore, is opening for a month on June 14 in the Washington Heights area of northern Manhattan. Like the Fleeting Pages pop-up bookstore in Pittsburgh, Pa., which opened for a month and closed June 4, Word Up will offer many reading and writing events, with a focus on small presses, micros presses and 'zine publishers. The store will carry books in English and Spanish, intended to serve the large Dominican population in Washington Heights. Word Up will be located at 4157 Broadway, at 175th St. (the site of a former pharmacy).

Word Up's organizer is Veronica Liu, managing editor of Seven Stories Press and publisher of Fractious Press. Liu was inspired in part by the work of the Seven Stories Institute, which aims to make the press's work available to the communities it intends to help, and inspired also by Rebel Bookseller by Andrew Laties, which she is editing. (This is an updated version of the book, which was originally published in 2005 by Vox Pop.)

Word Up's inventory will be sold on consignment. Interested small press publishers and authors should contact her at info@fractiouspress.com to receive a consignment form and shipping address, or to propose a small press reading, workshop or event.

The store will be open during the Northern Manhattan Arts Alliance's Uptown Arts Stroll, an annual month-long event that includes artist exhibits, dance performances, readings, and other creative events.

(Again we thank Karen Lillis, aka Karen the Small Press Librarian, who has written about Word Up and Fleeting Pages!)

---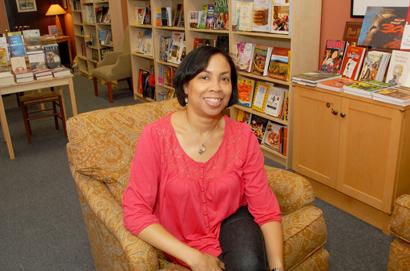 Metropolis Books, which opened in downtown Los Angeles, Calif., in 2006, is up for sale because owner Julie Swayze needs to care for an ailing relative who lives out of state, Los Angeles Downtown News reported.

"The economy is tough, but we have our base," Swayze told the paper. "I didn't want to be that bookstore that quietly went up for sale. I wanted to say, 'Listen, we've had some success. We've done 134 on-site events and it's something where it should continue. It's very viable.' "

Metropolis's lease expires in October 2012; the landlord has pledged to work with potential buyers.
---
The Sunrise Bookshop, Berkeley, Calif., which sells new and used books in the fields of metaphysics, spirituality and Eastern and Western philosophy, is closing this month after 37 years in business. The store is owned by Richard Cook aka "the Cosmic Bartender." He will continue to sell antiquarian books online.
---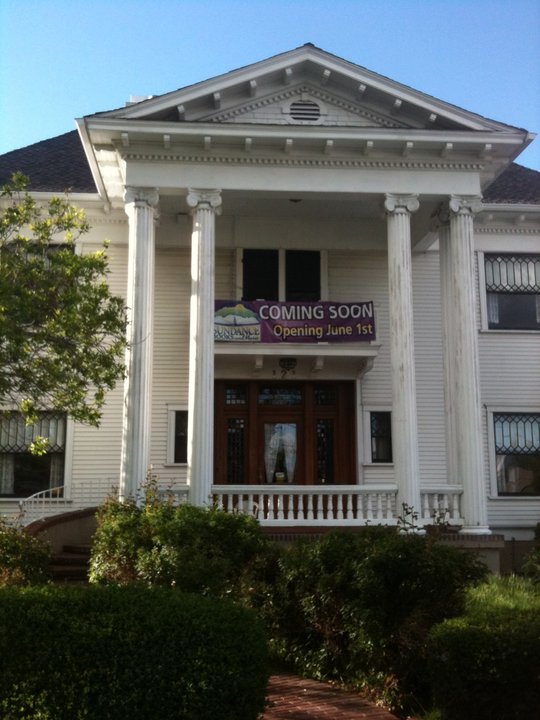 Sundance Bookstore, Reno, Nev., has moved to and reopened in the historic Levy House and will hold its grand opening party and 25th anniversary celebration on Sunday, June 26, Reno Gazette-Journal reported. Sundance had been in the Keystone Shopping Center.

The Levy House is owned by the Nevada Museum of Art. The store will be on the first floor; the second and third floors are being used for office space and the home of Baobab Press, which Sundance owners Christine Kelly and Dan Earl started two years ago.
---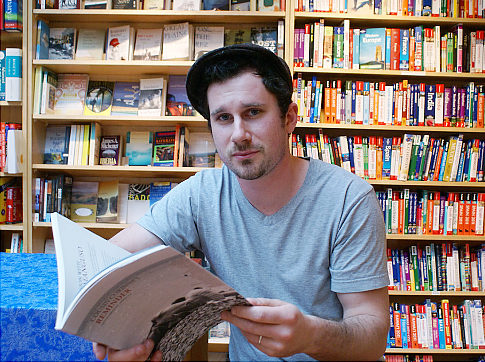 More ink for Brooklyn bookstores!

The New York Daily News profiled BookCourt and general manager Zachary Zook, who describes business as "really great" despite Amazon and e-books and the threats before them. "New Yorkers still want to by a physical book from a family-run store." He noted that the younger generation is reading, too. "There are so many young kids in here reading it's insane," he said. "It's a great way for parents to entertain the kids and there's always a line of strollers outside the door. I don't really see kids reading on their iPads yet."

The store has benefited by Zook's parents' decision long ago to buy the building in which BookCourt is located, and it's holding more author events than ever. To "enhance the readings," the store is installing a coffee and wine bar in the basement.

---
Book trailer of the day: Fringe-ology: How I Tried to Explain Away the Unexplainable--And Couldn't by Steve Volk (HarperOne).
---
Flavorwire.com offers a link to Plausible-Seeming but Tonally Inappropriate Book Covers, in which "a mystery artist (artists?) imagines possible bad book covers for some of our modern classics, complete with brilliant (and consistent, and upsetting) accolades from modern American hero Jonathan Franzen."
---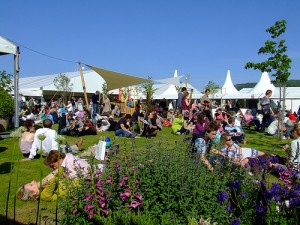 The Telegraph's Sarah Crompton reflected upon her experiences at the recently concluded Hay Festival: "I am writing this from a tent in the middle of a field in Wales. It is a rather grand tent, with carpet and armchairs, and it is a big field, but there is no mistaking the temporary nature of the structure. Yet for the past 11 days, the Telegraph Hay Festival, a tent city built on a 17-acre site in the literary town of Hay-on-Wye has not only been my home, but the centre of a cyclone of thoughts and ideas, which have been shared by tens of thousands of visitors. I've been here before, but when you just pop in to the festival, you tend to gravitate towards the events that interest you. What has been eye-opening about staying here is the sheer range of stimulation on offer....

"It is this hunger to learn, this interest in extending knowledge, that is the single most inspiring quality of this festival. At the start of the week, Henning Mankell suggested to members of the audience that they should try to learn something new every day. But that is a lesson that no one here seems to need to absorb."

---

Among the Telegraph's notable Hay Festival one-liners was this from author Edward Docx (The Devil's Garden): "Writing a novel is like filling a swimming pool with a syringe."

---

Be afraid. Be very afraid. Artist Mike Bukowski has visualized some of H.P. Lovecraft's "creepiest monsters" in drawings that were showcased by Flavorwire, which noted: "Of all the classic horror writers out there, perhaps none created as many memorable monsters as H.P. Lovecraft."

---

Bookcase of the day: Laughing Squid featured the Libreria ABC modular bookcase system, which "consists of shelving cubes that are cleverly shaped like letters and numbers. Libreria ABC is the work of Italian design firm Saporiti."





Obituary Note: Zev Birger

Zev Birger, the longtime director of the Jerusalem International Book Fair, died yesterday of injuries when he was hit by a motorcycle after a concert at the Jerusalem Theater on Saturday, May 28.
Before heading the book fair, Birger held several positions in the Israeli government and was head of the Paris office of ICM/Film Marketing. His memoir, No Time for Patience: My Road from Kaunas to Jerusalem: A Memoir of a Holocaust Survivor, was published here by Newmarket Press.


Media and Movies
Media Heat: Stan Musial in Charlie Rose's Lineup
This morning on Imus in the Morning: Rick Harrison, author of License to Pawn: Deals, Steals, and My Life at the Gold & Silver (Hyperion, $23.99, 9781401324308).
---
Tomorrow on Fox & Friends: Michelle and Jim Bob Duggar, authors of A Love That Multiplies: An Up-Close View of How They Make it Work (Howard, $19.99, 9781439183816). The Duggars will also appear on the Joy Behar Show tomorrow.

---

Tomorrow on the View: Ann Coulter, author of Demonic: How the Liberal Mob Is Endangering America (Crown, $28.99, 9780307353481).

---

Tomorrow on NPR's On Point: Mara Hvistendahl, author of Unnatural Selection: Choosing Boys Over Girls, and the Consequences of a World Full of Men (PublicAffairs, $26.99, 9781586488505).

---

Tomorrow on Tavis Smiley: David Ignatius, author of Bloodmoney: A Novel of Espionage (Norton, $25.95, 9780393078114).

---

Tomorrow on Charlie Rose: George Vecsey, author of Stan Musial: An American Life (ESPN, $26, 9780345517067).

---

Tomorrow on the Daily Show: Larry King, author of Truth Be Told: Off the Record about Favorite Guests, Memorable Moments, Funniest Jokes, and a Half Century of Asking Questions (Weinstein, $25, 9781602861305).

---

Tomorrow on the Colbert Report: Michael Shermer, author of The Believing Brain: From Ghosts and Gods to Politics and Conspiracies---How We Construct Beliefs and Reinforce Them as Truths (Times, $28, 9780805091250).

---

Tomorrow on ABC's 20/20: Bethenny Frankel, author of A Place of Yes: 10 Rules for Getting Everything You Want Out of Life (Touchstone, $24.99, 9781439186909).


Twilight Saga: Breaking Dawn, Part 1 Trailer
Summit debuted the first official trailer for The Twilight Saga: Breaking Dawn, Part 1, based on the series by Stephenie Meyer, at last Sunday's MTV Movie Awards.
The Wrap reported that "eagle-eyed Twi-hards noted Meyer's presence" in the wedding scene shown in the trailer--"but don't blink, or you'll miss Meyer."


Television: Comic Book Store Reality Series
Cable network AMC is developing a reality show set in the New Jersey comic book shop owned by filmmaker Kevin Smith (Clerks, Dogma). According to the Hollywood Reporter, Smith, "an avid comic fan and writer who continued his big-screen features Jay and Silent Bob and Clerks in comic form," is executive producer for the project, which will focus on the two guys who run Jay & Silent Bob's Secret Stash, Red Bank, N.J.

A Facebook casting call noted that Smith is "not looking for actors, he's looking for real people who live and breath the comic book lifestyle. Must be funny outgoing and have a knowledge and passion for comics, superheroes, movie memorabilia and everything that goes with it."


Books & Authors
Awards: Pratchett's Anywhere but Here, Anywhen but Now Prize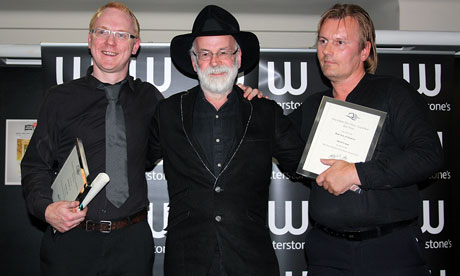 David Logan's Half Sick of Shadows and Michael Logan's Apocalypse Cow were named joint winners of Terry Pratchett's inaugural £20,000 Anywhere but Here, Anywhen but Now prize, the Guardian reported. More than 500 writers submitted entries. The winners, who are not related, will receive publishing contracts from Pratchett's publisher Transworld and split the prize money.

Pratchett created the award to recognize previously unpublished novelists of "stories set on Earth, although it may be an Earth that might have been, or might yet be, one that has gone down a different leg of the famous trousers of time. The possibilities are literally endless, but remember, it's all on Earth. Maybe the continents will be different and the climate unfamiliar, but the physics will be the same as ours. What goes up must come down, ants are ant-sized because if they were any bigger their legs wouldn't carry them. In short, the story must be theoretically possible on some version of the past, present or future of a planet Earth."

After judging the prize with Tony Robinson and experts from Transworld and Waterstone's, Pratchett noted that both books "stood out in their different ways and I wish their creators the best of luck in their writing careers."


Attainment: New Titles Out Next Week
Selected new titles appearing next Tuesday, June 14:

Sisterhood Everlasting by Ann Brashares (Random House, $25, 9780385521222) is the newest Sisterhood of the Traveling Pants novel.

One Summer by David Baldacci (Grand Central, $25.99, 9780446583145) follows a terminally ill widower fighting for custody of his children.

Carte Blanche by Jeffery Deaver (Simon & Schuster, $26.99, 9781451620696) recreates secret agent James Bond in the modern world.

When Passion Rules by Johanna Lindsey (Gallery, $25.99, 9781451628371) is a historical romance set amidst the turmoil of the Napoleonic Wars.

Found: A Daughter's Journey Home by Tatum O'Neal and Hilary Liftin (Morrow, $25.99, 9780062066565) chronicles the personal and family struggles of the actress.

Smart Parenting, Smarter Kids: The One Brain Book You Need to Help Your Child Grow Brighter, Healthier, and Happier by David Walsh (Free Press, $25, 9781439121177) translates the latest understanding of behavioral science into practical parenting advice.





Book Review
Book Review: The Uncertain Places
The Uncertain Places by Lisa Goldstein (Tachyon, $14.95 trade paper, 9781616960148, June 15, 2011)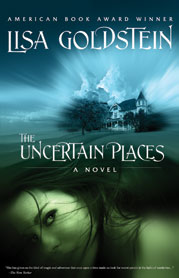 Will Taylor is a student at Berkeley in the early 1970s when his best friend, Ben, introduces him to the Feierabends, the family of the young woman he's dating. Will becomes infatuated with Livvy, one of the younger sisters, but is puzzled by some of the family's behavior and by the mysterious helpers he comes across in and around their home. When Livvy falls into an irreversible sleep, it's Ben who leads Will to the improbable truth: there's a fairy tale written by the Brothers Grimm, lost before they could publish it, about a man who makes a bargain with a supernatural creature--his family would have great prosperity, as long as one daughter from every generation endures a seven-year magical nap while her spirit is enslaved in a magical war. The deal is real... and it's been in place for three centuries.
Will impulsively decides to rescue Livvy from the spell--never mind that her sisters aren't entirely on board with the idea of losing their good fortunes--but that's only the first half of what Lisa Goldstein has in store for readers. Livvy's freedom comes with a price: for years, Will wonders if there will be greater consequences for cheating the magical beings. Then, when she's in the hospital with a mysterious illness, he desperately re-invokes the bargain. This time, the other realm takes their young son, and the entire family must rally together to win him back.
The Uncertain Places benefits greatly from Goldstein's meticulous combination of fairy tale logic and modern characterizations, as in a scene where Will confronts Livvy's father, who, hoping to escape the deal, abandoned his wife and daughters, but now accepts his continued good fortune fatalistically. Goldstein also creates a detailed backstory for the Feierabends' bargain, which includes not just the suppressed Grimm tale but the (historically accurate) misplacement by the Oxford English Dictionary's compilers of the documentation for the word "bondmaid." The incursions of the magical realm into the "real world" are always unnerving, but once the family invades the fairy tale kingdom, there's room for a bit of humor in their dealings with the weird creatures. And though the outcome of Will's effort to outsmart his magical foes is never really in doubt, Goldstein is still able, right up to the final lines, to keep us wondering whether there might have been one last catch to the deal. --Ron Hogan
Shelf Talker: After publishing two fantasy novels under the pseudonym "Isabel Glass," Lisa Goldstein is back and at the top of her game. Fans of Neil Gaiman and Lev Grossman would do well to check her out.


The Bestsellers
Top Book Club Books in May
The following are the most popular book club books during May based on votes from readers and leaders of more than 30,000 book clubs registered at Bookmovement.com:

1. Room: A Novel by Emma Donoghue
2. The Immortal Life of Henrietta Lacks by Rebecca Skloot
3. Water for Elephants: A Novel by Sara Gruen
4. Unbroken: A World War II Story of Survival, Resilience and Redemption by Laura Hillenbrand
5. The Art of Racing in the Rain by Garth Stein
6. Hotel on the Corner of Bitter and Sweet: A Novel by Jamie Ford
7. Little Bee: A Novel by Chris Cleave
8. Cutting for Stone: A Novel by Abraham Verghese
9. Major Pettigrew's Last Stand by Helen Simonson
10. The Hunger Games by Suzanne Collins

Top two risers:

Bossypants by Tina Fey (New at #29)
Heaven Is for Real by Todd Burpo (#30, up from #68 in April)

[Many thanks to Bookmovement.com!]