Shelf Awareness for Monday, July 18, 2011

Quotation of the Day
Sales Tax, an Amazon Investment

"I hope California will take Amazon's $200 million and put it back into the educational system of the state. An educated population is a book buying population. In the long run, it will prove a good investment for Amazon and all of us."
--Bill Petrocelli of Book Passage, Corte Madera and San Francisco, Calif., in
an essay on Book Passage's blog
about the new law requiring Amazon to collect sales tax--and the state's bill for unpaid back sales tax.


News
Image of the Day: Not Bored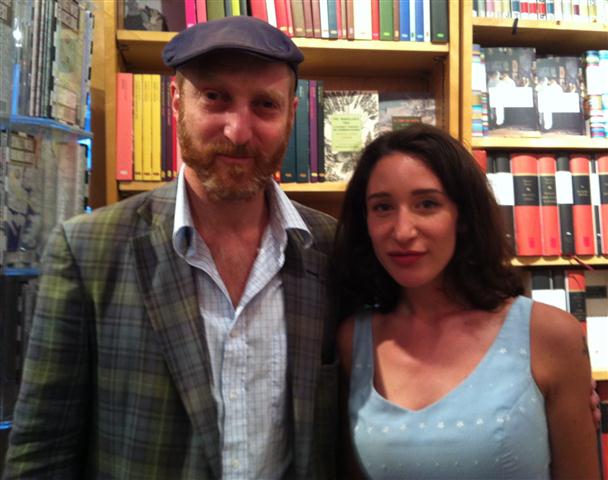 After she read recently from her memoir, Your Voice in My Head (Other Press), at BookCourt, Brooklyn, N.Y., Emma Forrest posed with Jonathan Ames, author and creator of HBO's Bored to Death.
Photo: Sarah Reidy


Notes: Borders 'Going Once...' ; HP 7.5, the Recordbreaker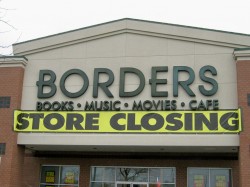 Borders Group is moving closer to liquidation after a Sunday deadline passed with no new bids and after Najafi Cos. said it will not participate in tomorrow's auction, meaning that the only solid bid is from liquidators who intend to shut all of Borders's remaining 400 stores, about two-thirds of them superstores.

A last-minute offer for Borders can still be made and, according to the Wall Street Journal, Borders is talking with several potential buyers, including Books-A-Million. BAM has some 230 stores and has slowly expanded outside its Southern base.

Borders received "some inquiries over the weekend," the Journal stated, and president Mike Edwards said, "Hopefully we'll see a positive outcome."

Jahm Najafi, head of Najafi Cos., which had made an offer to buy the company for $215 million and the assumption of $220 million in debt, told the Journal that he had offered to change the part of the deal the unsecured creditors committee didn't like--his option to shut down as many stores as he wanted--in exchange for being able to buy books from publishers under normal terms. One major publisher insisted on continuing to sell on a COD basis, and the deal collapsed.

---



Follett Corp., which manages more than 850 college bookstores and provides services to some 1,800 independently run college stores, has put itself up for sale, according to dealReporter (via the Financial Times). Follett is also a major educational and software publisher and has annual sales of $2.7 billion.

Two bankers told dealReporter that Credit Suisse is advising Follett on a sale, which may be for the entire company or any of its six divisions. The company is meeting with potential buyers at the end of the month.

The bankers said that potential buyers include Pearson, McGraw-Hill, News Corp. and private equity firms.
---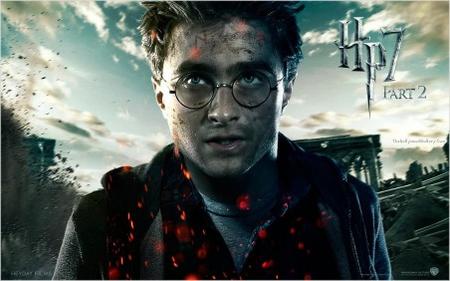 Harry Potter and the Deathly Hallows: Part 2, which opened Friday, broke all kinds of records over the weekend, in a magical tale told by the New York Times.

The box office in North America was $168.6 million, a weekend record that broke the old record set by The Dark Knight. Friday's take of $92 million in North America--which included $43.5 million at midnight screenings--was a new one-day record, beating The Twilight Saga: New Moon.

Worldwide weekend sales were $476 million, and the eight Harry Potter movies have now sold more than $7 billion in tickets.

---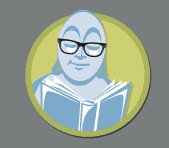 We've had a great response from booksellers, librarians and bloggers who embedded our widget on their sites. The widget asks readers to sign up for the new Shelf Awareness for Readers and then enters them to win a signed first edition of a handpicked book. This week, the widget automatically updates with a staff fave, Tom Perotta's The Leftovers (St. Martin's), "where suburban angst meets the Rapture." To download the widget, go here.
---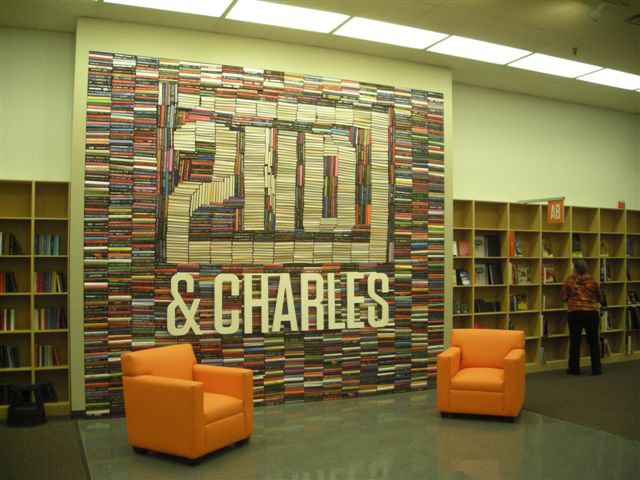 Books-A-Million is converting one of its Books & Co. stores into a 2nd & Charles branch, the Dayton Daily News reported.

This will be BAM's third 2nd & Charles store; the brand specializes in used and bargain books, CDs, DVDs, videogames, electronic devices and more. The Books & Co. store at the Town & Country Shopping Center in Kettering, Ohio, near Dayton, closed yesterday and will reopen as a 2nd & Charles early next month. The Books & Co. at the Greene in Beavercreek, also near Dayton, remains a bookstore.

In 1992, BAM bought Books & Co., then a highly regarded independent, in one of the few cases of a chain buying an independent.
---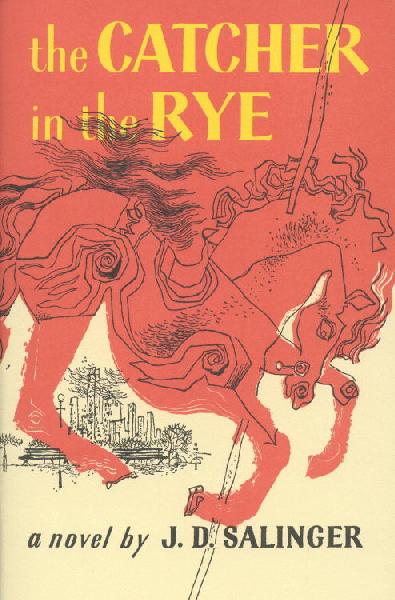 To mark the 60th anniversary of the publication of J.D. Salinger's The Catcher in the Rye, Larry Hughes has reposted on his blog--Classics Rock! Books Shelved in Songs--a list of songs inspired by the novel, with additional Salinger-related songs suggested by readers. (For example, how do the song titles "Rollerskate Skinny" and "The Secret Goldfish," or the band name Pencey Prep, derive from The Catcher in the Rye?)

---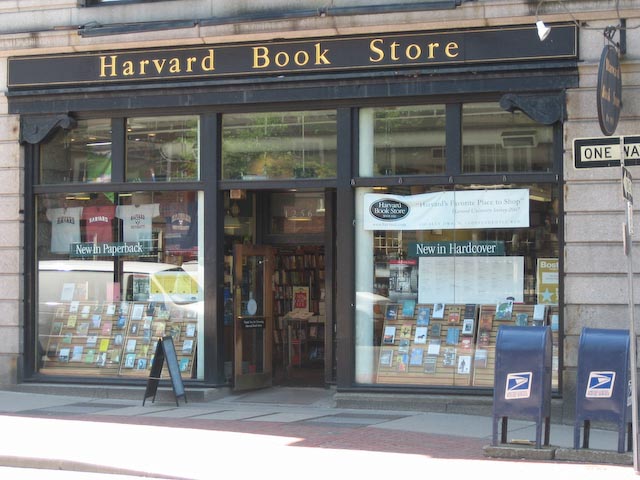 Congratulations to the Harvard Book Store, Cambridge, Mass., named Boston's best bookstore by the Improper Bostonian. The magazine said that the store is "a prime people-watching spot, sure, but the real fun to be had at this Harvard Square favorite is on the shelves. While so many other bookstores have yielded up the ghost, this indie institution keeps up a spirited defense against obsolescence, not by selling Blu-rays and toys, but through an astounding selection of titles, impressive guest speakers and a used section that's second-to-none."
---
Book trailer of the day: Bright's Passage by Josh Ritter (Dial Press), in which the singer rounded up friends, family and fans to do a reading of the first chapter of the novel.
---

Flavorwire showcased "10 unconventional bookstores for your browsing pleasure."

---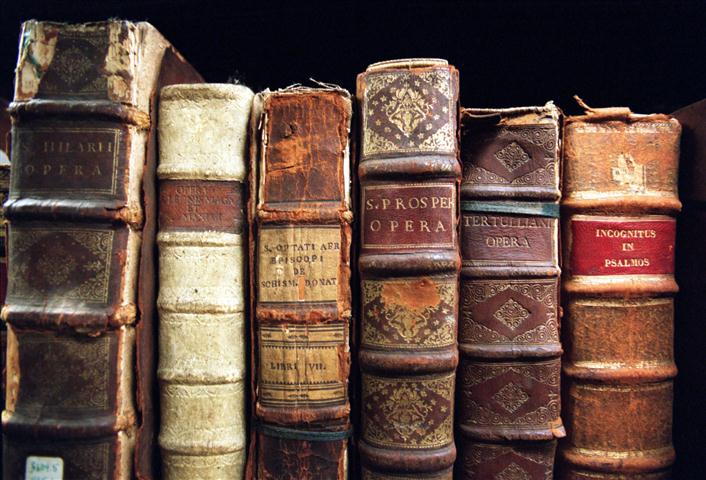 NPR's Weekend Edition profiled the University of Virginia's Rare Book School, which owns "about 80,000 publications and print-related materials. And while some of those items are quite valuable, Michael Suarez--director of the Rare Book School--wants students to be able to handle them so they can better appreciate the history of paper, binding, typography and illustration."

"We insist that students touch and smell and shine light through items, and investigate them to understand the book in history, and understand the book as history," said Suarez.

After a week of intensive studies, students emerge "with a wealth of information and confirmed in their passion for books," Weekend Edition noted. "One of the most valuable things about this program is who you meet, and it's really nice to kind of have raw, distilled bookishness," said Eric Johnson, a curator of books at Ohio State University.

---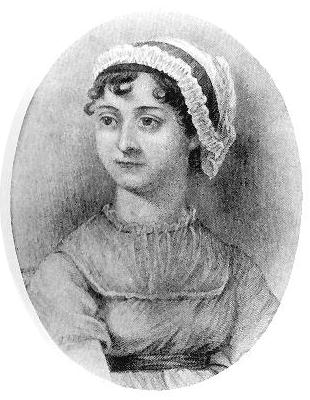 Jane Austen's bestseller. You only have to sell one copy of a book to make a million... if it's the right book. The Watsons, an unfinished manuscript by Jane Austen (Shelf Awareness, July 13, 2011), sold at auction last week for more than £990,000 (US$1.6 million). BBC News reported that the privately owned manuscript, which Sotheby's had valued at less than £300,000, was purchased by the Bodleian Libraries of Oxford.

---

The Guardian featured a list of the "best summer reads--and where to read them," in which a "panel of experts picks the perfect books to read in the top 10 holiday destinations for Brits."

Also getting into the spirit of the season was the Independent, which offered a "guide to holiday novels that work as well on the seafront as they do back at home. Just don't call them guilty pleasures, okay?"

---

Canine bookends of the day: Buzzfeed noted that it's "always nice to include your pets in household duties."

---
Allison Elsby has joined Chronicle Books as director of distribution client services. She was formerly director of merchandising at Borders Group.


Greenlight Goes Ahead with Expansion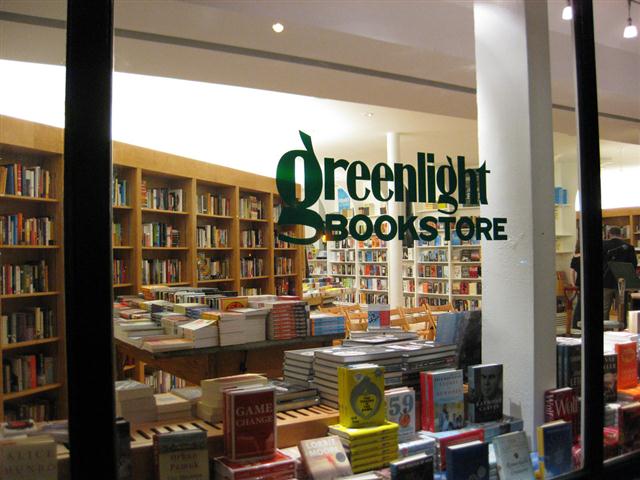 Greenlight Bookstore, Brooklyn, N.Y., is leasing space next to the store that formerly housed a patisserie; it plans to use some of the space for offices as well as collaborate with the Greene Grape, which will open a coffee bar and a full professional kitchen in the space. The Green Grape has a wine store and a gourmet grocery store called Provisions across the street. The company will use the new kitchen to make food that will be sold in Provisions as well as for catered events. The Greene Grape Annex is scheduled to open in early August.

Greenlight will shift buying, receiving, bookkeeping, shipping and other functions to the new office space, which will make the sales floor less cluttered. The additional room will also help Greenlight handle large-scale projects better. As the store has grown since its October 2009 opening, an expansion of its workspace has become "increasingly necessary," the store said.

Greenlight and the Greene Grape plan to collaborate on joint events in the new space, from book group meetings to cookbook events and other food- and book-related happenings.

"It's a sign of how both of our businesses are growing, and that growth is thanks to the support from our Brooklyn neighbors," said Jessica Stockton Bagnulo, who owns Greenlight with Rebecca Fitting. "We think this will be a great resource for our customers, and make the neighborhood of Fort Greene an even more wonderful place to spend time."




Media and Movies
Media Heat: Roseannearchy!
This morning on the Today Show: Hoda Kotb, author of Hoda: How I Survived War Zones, Bad Hair, Cancer, and Kathie Lee (Simon & Schuster, $15, 9781439189498).

---

Today on NPR's Diane Rehm Show: Cameron McWhirter, author of Red Summer: The Summer of 1919 and the Awakening of Black America (Holt, $32.50, 9780805089066).

---

Today on CNN's John King, USA: Nicolle Wallace, author of Eighteen Acres (Washington Square Press, $15, 9781439195932).

---

Today on the Rachael Ray Show: Katie Lee, author of Groundswell (Gallery, $25, 9781439183595).

---

Tonight on Jimmy Kimmel Live: Roseanne Barr, author of Roseannearchy: Dispatches from the Nut Farm (Gallery, $26, 9781439154823). She will also appear on the View and E!'s Chelsea Lately.

---

Tomorrow on NPR's Diane Rehm Show: Pamela Constable, author of Playing with Fire: Pakistan at War with Itself (Random House, $28, 9781400069118).

---

Tomorrow on NPR's Fresh Air: Joby Warrick, author of The Triple Agent: The al-Qaeda Mole who Infiltrated the CIA (Doubleday, $26.95, 9780385534185).

---

Tomorrow on ESPN's First Take: Colt McCoy, co-author of Growing Up Colt: A Father, a Son, a Life in Football (Barbour Books, $24.99, 9781616266592).




Movie: Sarah's Key
Sarah's Key, based on the book by Tatiana de Rosnay, opens this Friday, July 22. Kristin Scott Thomas stars as an American who discovers her husband's family received their Paris apartment after the former owners were captured in a notorious roundup of Jews in 1942. The movie tie-in edition of the book is published by (St. Martin's Griffin, $13.99, 9781250004345).


Book Review
Book Review: You
You by Joanna Briscoe (Bloomsbury, $15 trade paper, 9781608194834, August 2, 2011)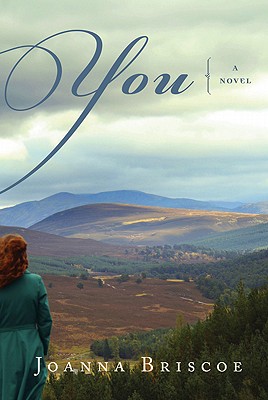 Betrayal, obsession and the rituals of seduction are familiar territory for British writer Briscoe, who mined all three successfully in Sleep with Me. Here, she ups the ante considerably by making one of the seducers a 17-year-old girl whose object of obsession is her married teacher, James Dahl.
At first Cecilia giggles about him with her schoolgirl friends, who also pine for him. Then, her focus narrows, and she somehow meets him when he's walking, runs in to him here and there and, eventually, her dreams come true when the affair begins.
This takes place in a progressive school, Haye House in Dartmoor, where children are allowed to make their own choices--and mistakes. The tale is reminiscent of A.S. Byatt's The Children's Book, with an author-mother, a potter-father and a gaggle of wild children. Cecilia's parents, hardworking Dora and feckless Patrick, who putters about making pots but no money, have moved there to live the countryside idyll. They end up taking in hippie boarders to make ends meet and Dora, frazzled and unhappy, makes her own unfortunate alliance with the last person she ever expected to care for: the cool and elegant Elisabeth Dahl, wife of James. Dora has no prior record of lesbian attachment but tumbles into a physical relationship with Elisabeth, with whom she is absolutely besotted.
There are predicable consequences to Cecilia's actions, which haunt her through the years. Twenty years later, Cecelia, now in her 40s and a children's writer (more Byatt?), returns to Devon with her partner, Ari, and their three daughters, ostensibly to care for Dora, now ill with cancer. Cecilia, always obsessive, gives in to her need to find answers about the past--to the point where she almost loses one of her children through neglect and inattention. She also reconnects with James Dahl, still teaching in the area, and the stability of her present life is threatened.
The resolutions of these highly charged affairs take a good deal of hand-wringing angst to accomplish, and while the answers may not be entirely satisfactory, they are altogether believable. --Valerie Ryan
Shelf Talker: The actions, reactions and consequences for a mother and her daughter are explored, explained and lamented.


The Bestsellers
Top-Selling Titles in St. Louis
The following were the bestselling books at independent bookstores in and around St. Louis, Mo., during the week ended Sunday, July 10:

Winners

1. Go the F**k to Sleep by Adam Mansbach
2. The Help by Kathryn Stockett
3. State of Wonder by Ann Patchett
4. Stan Musial: An American Life by George Vecsey
5. The Greater Journey by David McCullough
6. The Elements of F**king Style: A Helpful Parody by Chris Baker and Jacob Hansen
7. The Making of an All American City: East St. Louis at 150 by Mark Abbott
8. The Light Bringer by Chris DiGiuseppe and Mike Force
9. Before I Go to Sleep by S.J. Watson
10. Images of America: East St. Louis by Bill Nunes

Children's

1. The Hunger Games by Suzanne Collins
2. The Wimpy Kid Do-It-Yourself Book (Revised and Expanded Edition) by Jeff Kinney
3. Time for Bed by Mem Fox and Jane Dyer
4. Princess Peepers Picks a Pet by Pam Calvert
5. Super Diaper Baby #2: The Invasion of the Potty Snatchers by Dav Pilkey
6. The Book Thief by Marcus Zusak
7. Passion by Lauren Kate
8. The Penderwicks at Point Mouette by Jeanne Birdsall
9. The Diary of a Wimpy Kid by Jeff Kinney
10. I Am Number Four by Pitticus Lore

Reporting bookstores, all of which are members of the St. Louis Independent Bookstore Alliance: Left Bank Books, Main Street Books, Pudd'nhead Books, Subterranean Books, Sue's News.

[Many thanks to the booksellers!]