Shelf Awareness for Monday, August 29, 2011

Quotation of the Day
This Land of Booksellers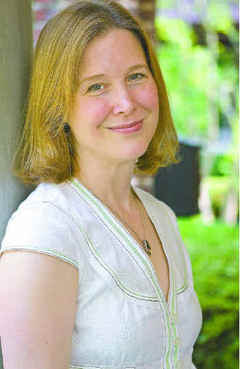 "The following is to be sung to the tune of any Pete Seeger song:

"From Porter Square Books outside of Boston and River Run Bookstore in Portsmouth, N.H., to Politics and Prose in Washington and the fabulous Powell's of Portland. From Birchbark Books in Minneapolis, to my most beloved McLean & Eakin in Petoskey, Mich., the house was packed. Boswell Book Company in Milwaukee, what a bookstore that is! And the Book Stall near Chicago. (I hit them both in a single day.) Book Passage and Kepler's and Bookshop West Portal, all in the Bay Area, and on down to the legendary Square Books in Oxford, Miss. (which, 20 years before, filled its entire window with my first novel at a time when I could not draw more than three people who were not related to me). The book, I am here to tell you, is not dead, and neither is the bookstore."


News
Notes: Vermont Bookstore Wrecked in Irene Flooding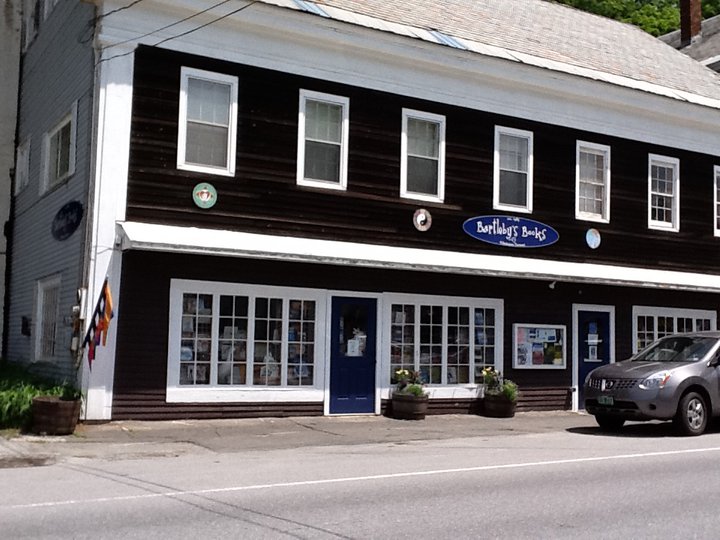 Very sad news from Vermont, which is suffering some of the worst flooding in its history as a result of Hurricane Irene: Bartleby's Books in Wilmington is ruined, according to owner Lisa Sullivan. The building was flooded but is still standing. In an e-mail, she wrote, "We plan to rebuild as soon as possible." For now, she is awaiting FEMA and will then need help removing the contents of the store.

This is the second disaster of 2011 for Sullivan, treasurer of the New England Independent Booksellers Associations. She also owns the Book Cellar in Brattleboro, which closed indefinitely after a fire in its building, the historic Brooks House, four months ago (Shelf Awareness, April 19, 2011).

---
Luckily other booksellers on the East Coast survived the storm with little or no damage. Some booksellers used the hurricane to remind people of the value of reading and bookstores, as evidenced by our images of the day (below). Others did so online, and our favorite Hurricane Irene-related bookstore post, from Saturday morning:

"We opened a little bit earlier so you can get a head start on your day! You'll definitely need books to get you and your family through this storm...and if the power goes out, you'll need booklights. We have both! Come on by and pick up the essentials! (We have candles, too). Stay safe." --Boulevard Books & Café, Brooklyn, N.Y.
---

If living through Hurricane Irene just whetted your appetite, check out "Books about hurricanes for adults, children" in the International Business Times.

---
The Wall Street Journal outlines changes in the economics of the book business from the publishers' point of view, mainly because of the growth of e-books and the closing of Borders.

Even though 80% of all books sold are traditional printed books, publishers are "reducing advances, slimming print runs and cutting fixed costs to reflect the new economics."

One unintended consequence of lower print runs is the higher expense of reprints as well as problems for booksellers finding enough copies of popular titles.

Carole Horne, general manager of the Harvard Book Store, Cambridge, Mass., commented: "What we're seeing is that big books come into the store, and then they are out of stock almost immediately."
---

The tablet rumor mill grinds on. Amazon will introduce an Android-powered tablet in late September or October that will "sell for hundreds less than the entry-point $499 iPad," an unnamed source "with knowledge of the plans" told the New York Post, which noted that the recent HP TouchPad fire sale (Shelf Awareness, August 24, 2011) "proved that the market is hungry for tablets outside of Apple's iPad--if the price is right."

The cheap tablet arena probably won't be Amazon's alone, however. "We expect to see more and more lower-end, more-affordable Android devices enter the marketplace, which should further allow Android to increase its share," said Tony Berkman, CEO of ITG Investment Research.

PC World's Garett Sloane observed that Amazon's "loss leader" approach to marketing tablets may foster a price war that "will benefit everybody. I'm willing to bet that Apple will even join in and possibly bring the cost of the iPad down a bit, too. Let's remember the company had about a year head start on everybody, so its manufacturing costs have likely fallen to a point where it could drop the price and still make a hefty profit. I think it's a perfect time for an iPad price drop. Just in time for the holiday season. That could make things very interesting."
---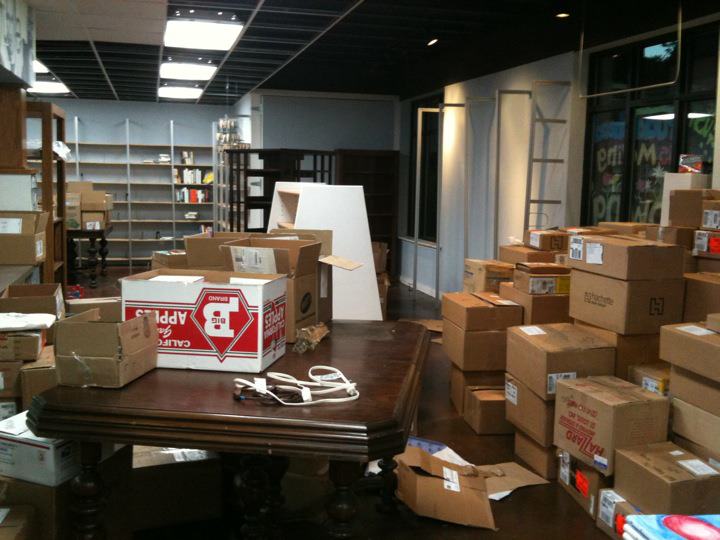 Congratulations to Pudd'nhead Books, which moved over the weekend to 8157 Big Bend Road, Webster Groves, Mo. On Saturday, some 115 people showed up to make a human chain to pass books to the new location. The two sites are about 600 ft. apart.
---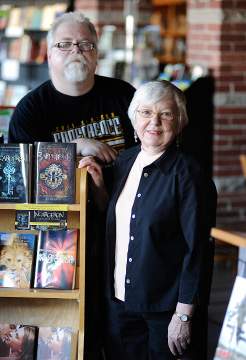 Bookstore not closing! Last month, Kathleen Cantrell, owner of Erie Book Store, Erie, Pa., announced that she would be closing the 90-year-old business at the end of August (Shelf Awareness, July 11, 2011).

But last Friday Cantrell signed the papers to sell the bookshop to Erie native Eric Turowski, who had dreamed of moving from California back to Erie to run a bookstore. The Times-News reported that a call from his sister about the bookshop's imminent closure "sent him scrambling to read the story online. It was just what he had been looking for."

"I am most pleased to see the buyer continue the tradition," said Cantrell, who will continue to work part-time at the shop. "It is a joy to find someone who is simply interested in running a bookstore."

Turowski must move the shop from its Lovell Place location, and plans to reopen at the Palace Business Centre within a few weeks. His fiancé, Mimi Marte, worked in California bookstores and expressed excitement about the new location. "It has a wow factor when you walk in," she said. "It's clean and it's move-in ready."

---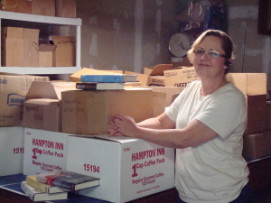 All on the Same Page Bookstore, Creve Coeur, Mo.--which will open October 1--"is not aiming to be all things for all people. The bookstore will primarily feature used books but will also include newly published books, however not necessarily the New York Times bestseller types of books," the Creve Coeur Patch reported.

"We're going to be a small, old-time, comfortable place where you can come in, look for books, sit down, read for a bit and if we don't have the book you're looking for, we'll find it for you," said owner Robin Tidwell, adding, "I want to focus on local writers and publishers."

---
Operating on the theory that a "man's character lives in the books he loves," the Washington Post analyzed former U.S. Vice-President Dick Cheney's reading list, as culled from books he mentions in his new memoir In My Time: A Personal and Political Memoir, which will be released tomorrow.
---
Tasty book trailer of the day: Spork-Fed: Super Fun and Flavorful Vegan Recipes from the Sisters of Spork Foods by Jenny Engel and Heather Goldberg (St. Lynn's Press/IPS), which will be served October 1.
---
Heidi Sachner is joining Perseus Distribution as director of client services, replacing Sarah Coglianese, who has left the company to have more time with her daughter.
Sachner was formerly associate publisher, sales and marketing, at Newmarket Press for nine years, and before that was v-p, director of sales, at Random House for six years.


Images of the Day: Hurricane Prep
As Hurricane Irene headed up the East Coast, booksellers battened down the hatches, but retained their sense of humor.
At Books & Books in Westhampton, N.Y., the boarded-up storefront displayed literary quotations.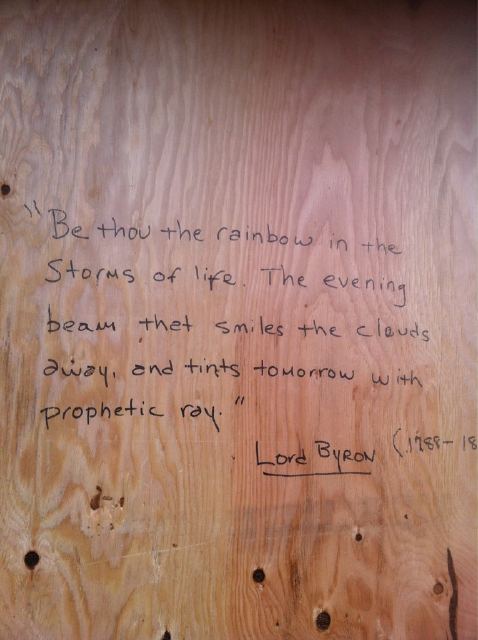 And at WORD, Brooklyn, N.Y., taped-up windows offered some good advice.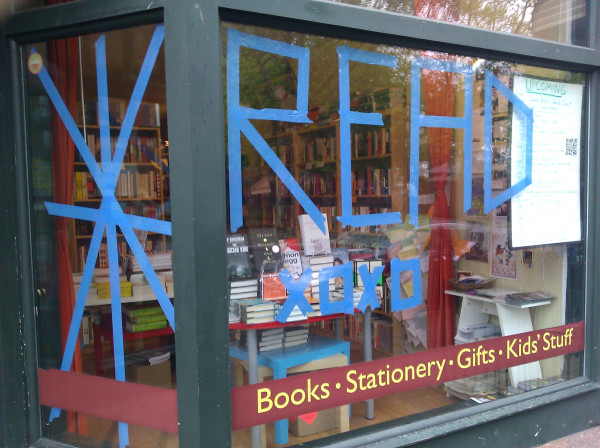 Media and Movies
Hunger Games Teaser Makes Debut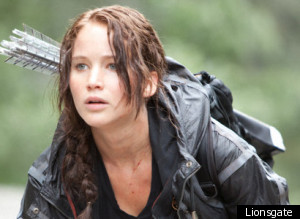 Many fans considered the premiere of The Hunger Games trailer to be a highlight of last night's MTV Video Music Awards. Introduced by Jennifer Lawrence, who plays Katniss, the brief clip shows her running through the forest and firing an arrow at the Hunger Games logo. The movie, based on the book by Suzanne Collins, will be released March 23, 2012.


Media Heat: Dick Cheney Talks About In My Time
Tonight on NBC's Dateline and tomorrow morning on the Today Show: Dick Cheney, author of In My Time: A Personal and Political Memoir (Threshold, $35, 9781439176191).
---
Tomorrow on NPR's Diane Rehm Show: Justin Torres, author of We the Animals (Houghton Mifflin, $18, 9780547576725).
---
Tomorrow on NPR's Marketplace: Thomas Keneally, author of Three Famines: Starvation and Politics (PublicAffairs, $27.99, 9781610390651).


Television: Longmire
A&E has given Longmire, based on Craig Johnson's Walt Longmire Mystery series of novels, a 10-episode order, Deadline.com reported. The pilot, which was directed by Chris Chulack, stars Katee Sackhoff, Lou Diamond Phillips, Bailey Chase and Cassidy Freeman.



Movie Trailer: The Rum Diary
FilmDistrict released a new trailer for The Rum Diary, a film adaptation of Hunter Thompson's first novel. The movie, which stars Johnny Depp, will be released October 28.



Books & Authors
Awards: Canadian ReLit Indie Press Shortlist
Finalists for the 2011 ReLit Awards, which celebrate novels, poetry, and short fiction titles published by Canadian independent presses, have been announced, Quillblog reported. Winners will be honored at the Ottawa International Writers' Festival in October.



Book Review
Book Review: Moffie
Moffie by Andre Carl Van Der Merwe (Europa Editions, $15 trade paper, 9781609450502, August 30, 2011)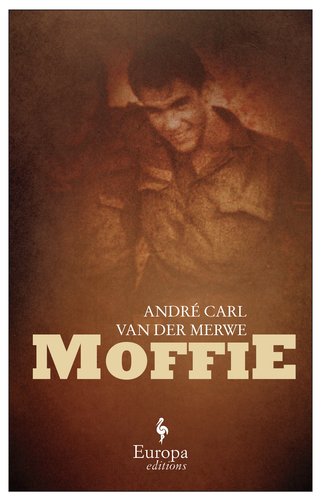 Nicholas van der Swart is 19 years old when he's drafted into the Apartheid-era South African army to serve his two years' mandatory military service. So was Andre Carl van der Merwe, the first-time author of Moffie, a harrowing military nightmare and painful coming-of-age story. Conscripted to fight for and serve a country that degrades gay men like himself as "moffies," where a kiss between men is violently punished, Nicholas lives in terror of being exposed.
Brutalized by his father for being too gentle and sensitive, Nicholas has lost the anchor he once clung to: his beloved, affectionate older brother, killed in a car accident. He's forbidden to seek emotional shelter in the warmer company of blacks, bullied by uncles and cousins who respect only the harsh masculine code of aggression and dominance, unable to prove himself in killing springboks and baboons. Nicholas dares not reveal his secret to anyone, knowing that the thing his parents most despise is what he is.
Moffie is van der Merwe's fictionalization of his two years in the infantry during the Angola Bush War, "forced to kill people I don't know, for a cause I don't believe in." It's a survival story and though we know that Nicholas, our narrator, lives to tell the tale, not all the characters you grow to love in this electrifying debut are as lucky. From the sadistic fury of vengeful officers and body-crippling exercise drills to the spirit-breaking final physical tests and the terrors of combat, Nicholas somehow manages to survive, clinging to sanity one day at a time with the help of his best friend, Malcolm; Ethan, the boy he adores; and Dylan, the lovely young poet from a wealthy family who falls in love with Nicholas.
Van der Merwe skillfully re-creates the emotional gauntlet Nicholas has to endure in his search to find himself, going back to the boy's first sexual awakening, his poignant encounter on the beach with a handsome philosopher hippie. In his passage to adulthood, Nicholas experiences the pathos of the "outed" biology teacher, Mr. Davids; the seething brutality of Sergeant Dorman; sparring and shared humor with his friend Malcolm; the hesitation and lost chances with Dylan. In an insane military world stretching from beds so immaculately made that no one dares to sleep in them to the bloody atrocities of the battlefield, Nicholas is tested to his limits and emerges the strong and honest man telling you the story. His ordeal makes compelling, first-rate reading. --Nick DiMartino
Shelf-Talker: A 19-year-old gay man in the South African military endures brutality and repression in his courageous journey toward self-acceptance.


The Bestsellers
Top-Selling Titles in St. Louis
The following were the bestselling books at independent bookstores in and around St. Louis, Mo. During the week ended Sunday, August 21:

Adult

1. The Help by Kathryn Stockett
2. Girl in Hyacinth Blue by Susan Vreeland
3. Noir at the Bar edited by Scott Phillips and Jedediah Ayers
4. One Day by David Nicholls
5. Water for Elephants by Sara Gruen
6. Go the F**k to Sleep by Adam Mansbach
7. I'll Mature When I'm Dead by Dave Barry
8. The Adjustment by Scott Phillips
9. A Stolen Life by Jaycee Dugard
10. How to Keep Your Volkswagen Alive by Christopher Boucher

Children's/YA

1. The Bridge to Neverland by Ridley Pearson and Dave Barry
2. In the Garden With Dr. Carver by Susan Grigsby
3. The Smurfs by Simon Spotlight
4. Super Diaper Baby 2 by Dav Pilkey
5. Peter and the Starcatchers by Ridley Pearson and Dave Barry
6. Indestructibles: Hey Diddle Diddle by Jonas Sickler
7. The Hunger Games by Suzanne Collins
8. Mockingjay by Suzanne Collins
9. No Such Things as Ghosts (Dragonbreath 5) by Ursula Vernon
10. My Princess Boy by Cheryl Kilodavis

Reporting bookstores, all of which are members of the St. Louis Independent Bookstore Alliance: Left Bank Books, Main Street Books, Pudd'nhead Books, Subterranean Books, Sue's News.

[Many thanks to the booksellers!]