Shelf Awareness for Wednesday, September 14, 2011

News
Image of the Day: Picture Taker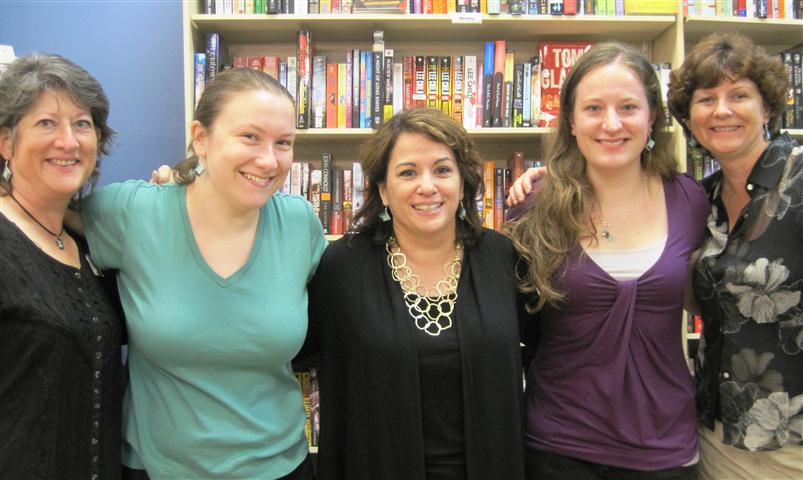 Last week, One More Page Books, Arlington, Va., hosted the launch party for The Taker by Alma Katsu (Gallery Books), a work of historical fiction with a supernatural element--and Gallery's lead title for the fall. Here with One More Page staff (from l.): Terry Nebeker, Katie Fransen, Katsu, Lelia Nebeker and store owner Eileen McGervey.


Notes: Starbucks' e-Book Shot; Bookseller to Head New Imprint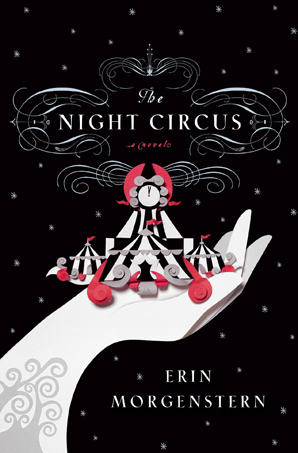 Starbucks has chosen The Night Circus by Erin Morgenstern as its pick of the week and is offering a sample of the book in digital form, "our first digital book featured as the pick of the week." The sample is available through next Monday, September 19.

Last month Starbucks revamped its pick of the week program to include apps, TV shows--and samples of books from the iBookstore. Books seem to be the only pick that aren't complete.
---
Prometheus Books has founded a new mystery and thriller imprint called Seventh Street Books that will begin issuing its first titles in a year. Dan Mayer, former mystery buyer for Barnes & Noble, has joined the imprint as editorial director. He held several positions at B&N and earlier was mystery and thriller buyer at Borders and mystery and fiction buyer at Waldenbooks.
Mayer called the position "a dream job. A new imprint devoted to mystery and thriller fiction is ripe with possibilities." He pointed to Prometheus's Pry imprint for science fiction and fantasy, founded in 2005, as showing that "there is a growing market for genre fiction, particularly in the age of the e-book."
---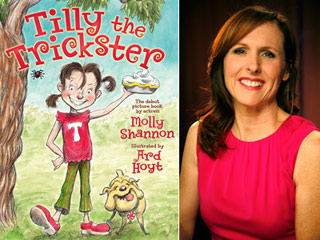 "Can Celebrities Write Good Children's Books?" asked the Atlantic's Betsy Morais, recalling her recent trip to New York City's Books of Wonder for an author event featuring former Saturday Night Live cast member Molly Shannon promoting her book Tilly the Trickster. Shannon has joined "an ever-expanding group of celebrities who write children's books. This fall, supermodel Tyra Banks and The Decemberists' lead singer Colin Meloy also have books for young readers coming out."

Marilyn Courtot, a trained librarian and founder of Children's Literature, said that "obviously the publishers are out to make a little money," but added: "I mean, how many 4-year-olds know who Madonna is?"

Books of Wonder staff member Kayla agreed: "It's more for the parents. The kids don't know who these celebrities are."

Morais suggested that, ultimately, "kids know what they like, which usually has little to do with what they are supposed to like."

---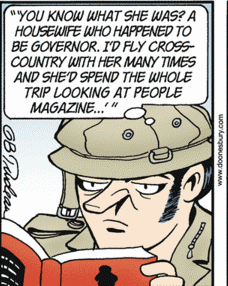 Leaking passages to the media from upcoming controversial books isn't new, but Joe McGinniss is exploring new promotional ground for his next book. The Christian Science Monitor reported that the author distributed several copies of his unreleased biography The Rogue: Searching for Sarah Palin, including one to Doonesbury cartoonist Garry Trudeau, who previewed the book in his comic strip yesterday. As fictional Fox News reporter Roland Hedley "reads the book in the comic strip, we the reader, are treated to actual excerpts from McGinniss's actual book."

---

Even though it's the day after Roald Dahl Day, you can still take the Guardian's "How well do you know Roald Dahl?" quiz.
---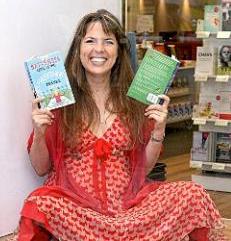 Novelist Isabel Losada will be working on her next book in a Waterstone's window display "all day, every day," for the first week of this year's SW11 Literary Festival, which starts on September 17. The Guardian reported that the public "will be able to see her writing her new book, reading, tweeting and meditating" in a display "specially designed to look like Losada's home in Battersea Park Road."

"As this is a literary festival I just wanted to make fun of authors a bit, as we have a reputation for being a bit stuffy. And obviously we don't get out much," she said. "I'll be doing everything I normally do at home--only in Waterstones's window."

---

Book typo of the day: In the e-book edition of Susan Anderson's novel Baby, I'm Yours, bounty hunter Sam McKade "is the new breed of hero. Tall? Undoubtedly. Handsome and chiselled? For sure. Incontinent? Erm--possibly," the Guardian reported.

---

Author's head for sale: $170,000. Jonathan Fields, whose latest book Uncertainty: Turning Fear and Doubt into Fuel for Brilliance (Portfolio), will be released September 29, has offered to shave his head with the logo of whatever company will order 10,000 copies of his books. He will also dye his hair to match the company's brand. "I'm only doing it once, for obvious reasons," Fields observed. "And only for the right partner."
---
Book trailer of the day: Scars by Cheryl Rainfield (WestSide Books), in which the author talks about why it's important to consider reading banned books.
---
Shannon O'Connor has joined the American Booksellers Association as the ABC Children's Group at ABA manager. She has been a teacher and worked as the children's book buyer at the Doylestown Bookshop, Doylestown, Pa., for three years.


A Wonderstruck Week
Brian Selznick kicked off Wonderstruck week at the American Museum of Natural History in New York City, the setting central to his book Wonderstruck, which was released yesterday. As Selznick stood at the podium, he said he had just learned that Taylor Swift will be introducing a new perfume in October called "Wonderstruck." Selznick flashed an image of the advertisement, which he noted "uses pretty much the same typeface." He added, "I just want to make sure everybody is at the right party."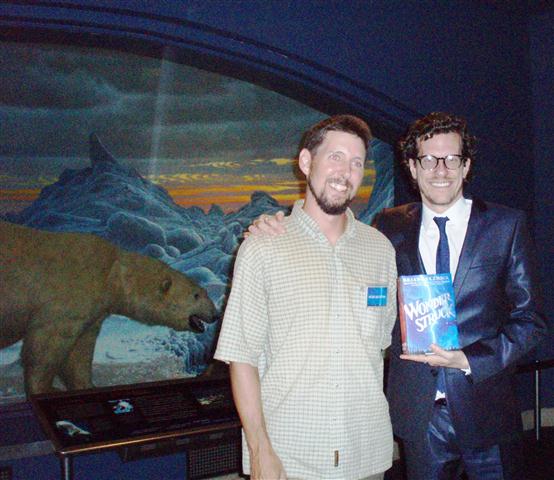 There was little doubt, however, as Selznick stood beneath the great blue whale in the Milstein Hall of Ocean Life--with the cover art of Wonderstruck, Ursa Major, Ursa Minor and the North Star projected onto the ceiling above it--what the focus of the evening would be. Selznick introduced his friend Sean Murtha, who worked at the museum in the 1990s (and painted the backdrop for the polar bear dioramas under the whale) and who gave Selznick his first "backstage" tour. He credits Murtha with planting the seed for Wonderstruck. The book's protagonists, 12-year-old Ben in 1977 and 12-year-old Rose in 1927, both wind up at the American Museum of Natural History.
Among the other guests at the event were Amara Engel, who had spoken with the author-artist at length about "being a deaf kid who signs, lip-reads and speaks" during the creation of the book. While Selznick was still working on The Invention of Hugo Cabret in 2006, he saw a documentary called Through Deaf Eyes, and was intrigued by the idea of "finding a culture outside one's biological family," since most deaf children grow up with hearing parents. He also remembered the quotation, "The Deaf were the people of the eye," which led to the wordless narrative for Rose's story.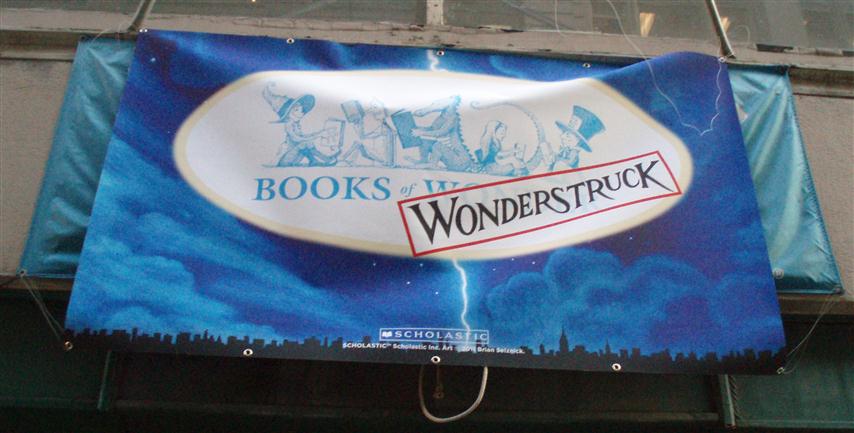 Last night, Selznick kicked off the opening of Books of Wonderstruck (usually known as Books of Wonder), the children's bookstore in New York City. And tonight he'll be speaking at his publisher Scholastic's auditorium, followed by an autographing at the Scholastic Store in SoHo. To RSVP, call 212-389-3800 or email TheScholasticStore@scholastic.com. This week kicks off a coast-to-coast tour for Selznick that runs through the end of October. The book tour winds down just before the opening on November 23 of Hugo, Martin Scorcese's 3-D motion picture based on The Invention of Hugo Cabret, Selznick's Caldecott Medal–winning first genre-bending book. --Jennifer M. Brown


Media and Movies
Media Heat: David Copperfield on Brainworks
This morning on Imus in the Morning: Jim Lehrer, author of Tension City: Inside the Presidential Debates, from Kennedy-Nixon to Obama-McCain (Random House, $26, 9781400069170).
---
Tomorrow on Access Hollywood: Jermaine Jackson, author of You Are Not Alone: Michael, Through a Brother's Eyes (Touchstone, $26, 9781451651560). He will also appear on CNN's Piers Morgan Tonight.

---

Tomorrow on NPR's Diane Rehm Show: Diana Reiss, author of The Dolphin in the Mirror: Exploring Dolphin Minds and Saving Dolphin Lives (Houghton Mifflin Harcourt, $27, 9780547445724).

---

Tomorrow on the View: Kurt and Brenda Warner, authors of One Call Away: Answering Life's Challenges with Unshakable Faith (Thomas Nelson, $16.99, 9780849947193).

---

Tomorrow night on the Daily Show: Caroline Kennedy, co-author of Jacqueline Kennedy: Historic Conversations on Life with John F. Kennedy (Hyperion, $60, 9781401324254). She will also appear on the View.

---

Tomorrow on the Colbert Report: David Copperfield, who wrote the foreword to Brainworks: The Mind-bending Science of How You See, What You Think, and Who You Are by Michael S. Sweeney (National Geographic, $27, 9781426207570).




New Twilight Trailer
The full theatrical trailer for Summit Entertainment's The Twilight Saga: Breaking Dawn Part 1, which hits theaters November 18, has been released. No spoilers: a wedding, a pregnancy, vampires, werewolves and some very pretty scenery.


Television: Red on Red; Where's My Wand
Greg Walker (Without a Trace; The Defenders) has sold a drama project to CBS that will be adapted from Edward Conlon's Red on Red. Deadline.com reported that this is the first novel by Conlon, "a detective with the NYPD who chronicled his experience of a fourth-generation NYPD cop in the memoir Blue Blood." Walker is writing the script and Richard Shepard will direct.

---

Carter Covington, creator/executive producer of ABC Family's series version of 10 Things I Hate About You, has sold a comedy project to ABC based on Eric Poole's comedic memoir Where's My Wand?: One Boy's Magical Triumph over Alienation and Shag Carpeting, "about a boy growing up with his long-suffering father, his older sister, and his cleanliness-obsessed mother," Deadline.com reported.



Movie Casting: Cloud Atlas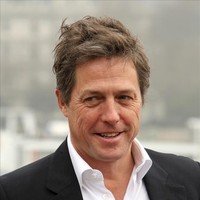 Hugh Grant has joined the cast of Cloud Atlas, the film adaptation of David Mitchell's novel that is being co-written and co-directed by Tom Tykwer with Andy Wachowski and Lana Wachowski. The movie "features six interlocking storylines, each set in a different location and a different era, spanning from the 19th century to a post-apocalyptic future," the Hollywood Reporter wrote.

The Cloud Atlas cast also includes Tom Hanks, Halle Berry, Ben Whishaw, Susan Sarandon, Hugo Weaving, Jim Broadbent and Jim Sturgess. Shooting will take place in Glasgow, Scotland.

Word & Film noted that the Wachowski brothers "dodged a major bullet--slow-motion Matrix-style, even--by ultimately asking Korean movie star Doona Bae to play the part of Sonmi-450. When it was reported last year that the role had been offered to Natalie Portman, the Internet hummed with the sound of thousands of fans riffling through their paperbacks to confirm that Sonmi-450 was definitely, definitely a Korean character. The role had been, in Hollywood terms, whitewashed."



Books & Authors
Awards: New England Book Winners
The winners of the 2011 New England Book Awards, sponsored by the New England Independent Booksellers Association, are:
Fiction:
Caleb's Crossing
by Geraldine Brooks
Nonfiction:
The Warmth of Other Suns
by Isabel Wilkerson
Children's:
Penderwicks at Point Mouette
by Jeanne Birdsall
The winners will be honored at NEIBA's Awards Luncheon Wednesday, October 12, during its Fall Conference in Providence, R.I. All the authors will be in attendance to accept their awards.
The luncheon will also honor the winner of the President's Award, Howard Frank Mosher, and Ann Wachur of Penguin, winner of the Saul Gilman Award for outstanding service as a sales representative to New England independent bookstores.
In related news,
Bank Square Books
of Mystic, Conn., has won the 2011 Book Publishers Representatives of New England Independent Spirit Award, the annual award recognizing excellence in a bookstore member of the New England Independent Booksellers Association. The award to Bank Square Books, owned by Annie Philbrick, will be celebrated at NEIBA, too.


Book Brahmin: Gina Holmes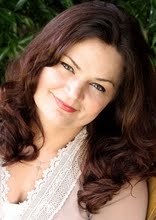 In 1998, Gina Holmes (Crossing Oceans) began writing articles and short stories. In 2005 she founded the literary blog Novel Journey. She holds degrees in science and nursing and currently resides with her husband and children in southern Virginia. Her second novel is Dry as Rain (Tyndale House, August 17, 2011).
On your nightstand now:
This used to be a fairly easy question to answer but with e-readers, well, I have a lot more than I used to and have become more ADD when it comes to books. A few minutes of a finance book, a few minutes of a devotional, a few pages from the free download with the pretty woman picking flowers under the watchful eye of her evil guardia... but for real-live paper books (which I still strongly, passionately prefer for fiction): Gilead by Marilynne Robinson, The Mountain Between Us by Charles Martin, the Bible, Treasure Island and The Curse of Captain LaFoote by Eddie Jones (which I'm reading with my two boys).
Favorite book when you were a child:
A Wrinkle in Time by Madeleine L'Engle. That book opened a new world to me that was so different from the one I knew. I felt sure in those pages I could find the meaning of life and I guess it turned me on to books and the ideas they could contain. I need to reread it.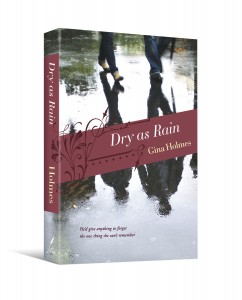 Your top five authors:
Charles Martin, Tosca Lee, Francine Rivers, Arthur Golden, Geraldine Brooks (the list, of course, is always changing).
Book you've faked reading:
LOL. I'm sure plenty in high school. As an adult, I read what I please and make no apologies for my tastes. No more Cliffs Notes or movie versions for me. Well, no more Cliffs Notes anyway.
Book you're an evangelist for:
Tosca Lee's Havah: The Story of Eve. I thought I'd hate it because it is a retelling of the story of Adam and Eve, which had to take great liberties obviously. Putting words in their mouths I thought would feel sacrilegious, but I think she probably hit the nail on the head. Such a great book that gives such incredible insight not only to the fall of man, but the likely reasons why love relationships are so difficult.
Book you've bought for the cover:
Anything by Karen White. I love her covers!
Book that changed your life:
Hmm... Francine River's Redeeming Love. Not a particularly literary novel but the subject matter is so naked and honest, the characters so flawed. I finished reading that book and hugged it. It was then I knew I could write for the Christian market. Before that story, I thought I was too soiled, too imperfect to fit in with Christian readers. After reading that novel, I knew that no one is too far from God, therefore someone needs to reach them. Why not me if Ms. Rivers could go there?
Favorite line from a book:
From The Town That Forgot How to Breathe by Kenneth J. Harvey:
"Low fat milk was disgusting. Low fat anything was an outright pox on the creamy white epidermis of pleasure."
Book you most want to read again for the first time:
What a great question. Peace Like a River by Leif Enger. I loved that book but refuse to reread it until enough time has passed. I want it to feel new again. Oh, and nearly all the classics, especially The Catcher in the Rye. I remember loving that book, but it's been too long.


Book Review
Children's Review: Nursery Rhyme Comics
Nursery Rhyme Comics: 50 Timeless Rhymes from 50 Celebrated Cartoonists by Chris Duffy, editor (First Second, $18.99 hardcover, 128p., ages 3-up, 9781596436008, October 11, 2011)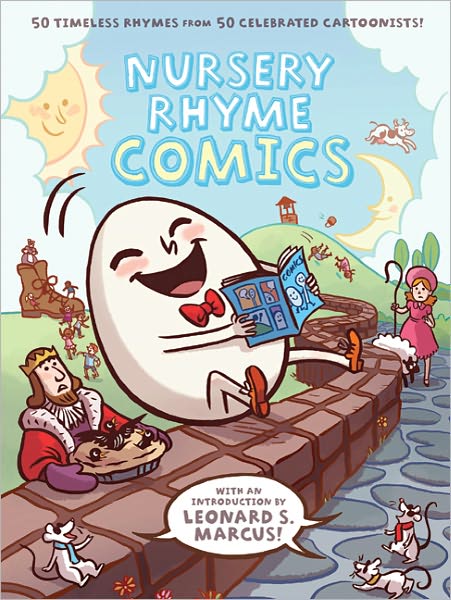 The 50 contributors to this inventive volume of comics-style nursery rhymes reads like a who's who of the graphic novel kingdom.
Events that might not have made sense to many of us in those nursery classics finally do! Stephanie Yue reveals that it's not that the mouse was afraid of the clock in "Hickory, Dickory, Dock." Instead, the furry creature is nearly late for work in the bell tower. So the mouse, awakening from a nap, runs "up the clock" to strike it once with a mallet ("bong"), then runs down to resume its siesta. Why do the "Three Blind Mice" chase after the farmer's wife? Richard Sala suggests it's because they smell the freshly made cake she carries. Once she sets the cake down, she metes out their punishment ("with a carving knife"), and the now short-tailed trio heads for the exit. Perhaps one of the enduring puzzles in the nursery rhyme world is the narrative for "Rock-a-Bye Baby," with its suggestion of a hard fall "when the bough breaks." Tao Nyeu's interpretation gives us a self-sufficient "baby," a lamb that takes a tumble but lands on its hooves. When a wolf villain "breaks" the bough with a chain saw, the cradle crashes onto the wolf's back and the lamb takes possession of the saw.
The volume presents a cornucopia of approaches to visual storytelling. Some offer commentary via speech balloons separate from the rhyme, as with James Sturm's hilarious "Jack Be Nimble." The nonplussed fellow announces in a speech balloon, "I don't even know what 'nimble' means" and later, "Why don't you jump over a candlestick! Like I would do such a thing!" Yet when the fellow turns to leave, a bare behind showing through the seared seat of his pants proves otherwise. On the other hand, Sara Varon incorporates speech balloons to deliver the part of "Mary Had a Little Lamb" that calls for conversation. While many of the comics move left to right and down the page via panels, the clever sequences for Marc Rosenthal's overeager hero "Yon Yonson" who "come[s] from Wisconsin" move left to right across the entire spread to visually emphasize a sense of escalating urgency through the thrice-repeated text. Hellboy fans must see what Mike Mignola imagines for the short life of "Solomon Grundy," and the casting of David Macaulay for "London Bridge Is Falling Down" is a stroke of genius. It's impossible to do justice to the originality and creativity contained in this volume; you simply must page through it. The introduction by Leonard S. Marcus is icing on this Pat-a-Cake. Hats off to editor Chris Duffy. --Jennifer M. Brown