Shelf Awareness for Wednesday, November 16, 2011

News
Bookstore Sales Jump 7% in September
September bookstore sales jumped 7%, to $1.55 billion, compared to September 2010, according to preliminary estimates from the Census Bureau. For the year to date, bookstore sales have risen 2.8%, to $12.024 billion.

Total retail sales in September rose 8.6%, to $381.8 billion, compared to the same period a year ago. For the year to date, total retail sales have risen 8%, to $3,444 billion.

So far this year, bookstore sales have been erratic, falling in January, but then rising from February through May, and falling in June and July before rebounding in August and September.

Note: under Census Bureau definitions, bookstore sales are of new books and do not include "electronic home shopping, mail-order, or direct sale" or used book sales.




Authors Guild Criticizes Kindle Library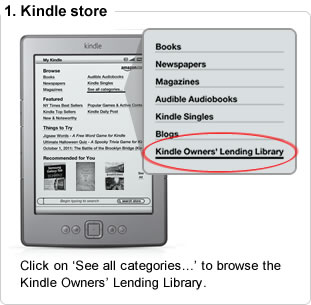 In a post headlined "Contracts on Fire: Amazon's Lending Library Mess," the Authors Guild expressed its displeasure ("Are any of the books in Amazon's new e-book subscription/lending program properly there?") with the Kindle Owners' Lending Library, which launched last month as a perk for Amazon Prime members (Shelf Awareness, November 3, 2011).

Although most publishers are not participating in the Kindle lending program, the Authors Guild claimed that, in some cases, "Amazon simply disregarded these publishers' wishes, and enrolled many of their titles in the program anyway. Some of these publishers learned of Amazon's unilateral decision as the first news stories about the program appeared.

"Amazon has decided that it doesn't need the publishers' permission, because, as Amazon apparently sees it, its contracts with these publishers merely require it to pay publishers the wholesale price of the books that Amazon Prime customers download. By reasoning this way, Amazon claims it can sell e-books at any price, even giving them away, so long as the publishers are paid."

The Authors Guild is encouraging its members whose titles might be among the 5,000 available in the Kindle Lending Library without their approval to get in touch with their publishers, express their objections and ask why the books are listed.



Posman Books Opens Third Store, in Rockefeller Center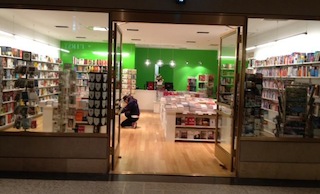 Congratulations to Posman Books, which has opened its third New York City store, in Rockefeller Center, in the concourse/shopping center of 30 Rockefeller Plaza.
The 1,400-sq.-ft. store will cater to "the local office population and to tourists," Posman buyer Robert Fader told Crain's New York Business. The stock will emphasize business and children's titles, fiction, as well as guides and other books about New York City. "I think of it as a quality airport bookstore," Fader said.
Posman's main store is in Grand Central Terminal. It opened a store in the Chelsea Market two years ago.


NBF Innovations in Reading Winners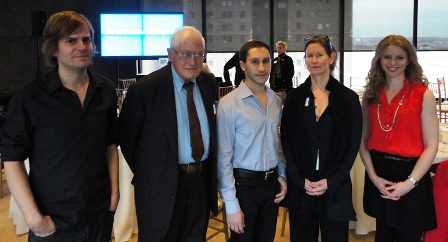 L-r: Andy Hunter, Electric Literature; Burton Freeman, My Own Book Fund; Scott Lindenbaum, Electric Literature; Lisa Bowden, Kore Press; Kerri Smith Majors, Young Adult Review Network.
During a lunchtime ceremony yesterday afternoon at the Ford Foundation headquarters in Manhattan, the National Book Foundation presented four Innovations in Reading prizes, which are awarded annually to individuals and institutions that are working to develop a lifelong love of reading. This year's recipients were the co-founders of Electric Literature, for its use of online tools to promote its literary magazine; Kore Press, for producing literary activist workshops and other creative events to serve the Tucson community; My Own Book Fund, for providing thousands of New York City third-graders with $50 to buy books (in some cases the first they've ever owned); and Young Adult Review Network, for publishing an independent online literary magazine that includes fiction, reviews, and other features by both teen and adult contributors.


B&N Update: Nook Tablet Ads; In-Store Holiday E-Promotion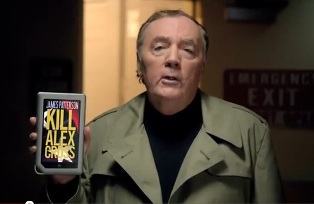 The new commercials for Barnes & Noble's Nook Tablet feature thriller author James Patterson in a trench coat lauding the device for its "killer entertainment" and Glee's Jane Lynch singing its praises--"This hot thing's the brand new Nook Tablet"--during a mini-musical salute in a B&N cafe.

---

Patterson's relationship with B&N also includes a new holiday promotion that "hints at Barnes & Noble's future plans for bundling e-books with print books. And it's an instance where Barnes & Noble's good author relations benefit it over Amazon," paidContent.org noted.

Under the promotion's terms, customers in a physical B&N store who purchase Patterson's Kill Alex Cross in hardcover, along with any other Patterson title for children or adults in any format, will receive a digital version of a B&N exclusive novella, Merry Christmas, Alex Cross. The promotion is not available online, and paidContent offered three reasons why it is an important development:
B&N is using its physical stores to facilitate online transactions.
B&N has an exclusive with one of the most popular (and highest-paid) fiction authors in the United States.
The stores and the physical book are a big component of the deal.


Penguin Launches Self-Publishing Service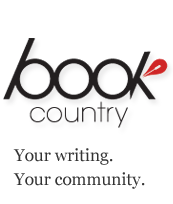 Penguin Group has launched a self-publishing service through its Book Country subsidiary that will allow writers to publish their own work via digital book outlets and print-on-demand. The Wall Street Journal reported that fees for the service range between $99 and $549, with authors receiving "70% of revenue for titles sold directly from Book Country that are priced at $2.99 or more, and 30% on books priced from 99 cents to $2.98. Book Country also will take a fee for each sale on other online retailers, which also will take a percentage of each sale."

David Shanks, CEO of Penguin Group (USA), said the publisher has invested "a substantial amount of money" in technology to launch the new service. "If some of these books hit the bestseller lists, it could be very successful."

Writers already post manuscripts to Book Country, an online community for genre fiction fans that Penguin launched last spring (Shelf Awareness, April 26, 2011); it "has attracted about 4,000 members who have posted an estimated 500 manuscripts, some finished, some not, with at least three authors finding agents to represent them," the Journal wrote.

"Our proposition is that this is the best place to self-publish genre fiction because that's what we're focused on," said Molly Barton, Penguin's global digital director. "Everything we do in self-publishing is tailored to genre fiction, including formatting and design, as well as how to describe your book, position it, and discover it."



Notes
Image of the Day: Kiki & Coco in Paris in Petaluma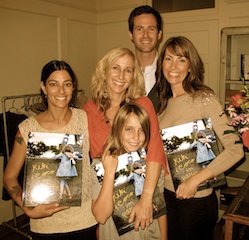 On Sunday, Cameron + Company held a launch party for Kiki & Coco in Paris at Maude, a children's boutique in Petaluma, Calif. French music played, a slideshow of photos from the book were projected on the walls and little girls (and a few boys) sat at a craft table and designed dresses with fabric and paper dolls. Celebrating (in the middle, from l.): Jess Brown, owner of Maude and doll maker who makes Coco dolls from the book; photographer Stephanie Rausser; and author Nina Gruener; (in back) Cameron head Chris Gruener; and in front, Kiki, Rausser's daughter, star of the book and three to four years older than she was in the book.


Writers Talk YA Fantasy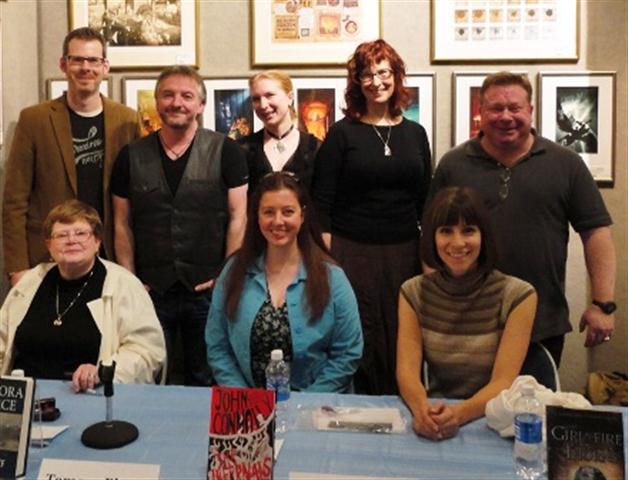 Front row, l-r: Tamora Pierce (Mastiff), Rae Carson (The Girl of Fire and Thorns), Lauren McLaughlin (Scored); back row, l-r: Matthew Cody (The Dead Gentleman), John Connolly (The Infernals), Leanna Renee Hieber (Darker Still), Delia Sherman (The Freedom Maze), Books of Wonder founder Peter Glassman.
One of the first questions asked Sunday afternoon during a panel of YA fantasy writers at Manhattan's Books of Wonders was from an aspiring writer wondering how much detail she should go into about her fictional world. "Get it all down on paper in the first draft," said Tamora Pierce; John Connolly agreed, adding, "Then throw out about 99% of it." Lauren McLaughlin recommended keeping a separate file for everything that gets cut from the manuscript, in case you need to refer to it again later, but as a general rule, she advised, "tell your readers only what they need to know right then." And Leanna Renee Hieber shared a suggestion from her experience writing historical fiction: choose details that can serve a storytelling function, like revealing some aspect of a character's personality by how he or she interacts with the small things in their world. "But if they're just details for the sake of details," she said, "cut them."
The assembled authors also discussed the long-term impact of the boom in YA fantasy fiction in the last decade. Rae Carson talked about having to get books from the regular fantasy section of her bookstore as a teenager because everything geared to readers her age was too easy, and Hieber said she had the same experience growing up: "I went from A Wrinkle in Time to Pet Sematary." On a practical note, Pierce told a reader who asked why her latest series was a trilogy rather than her usual quartet that thanks to the genre's commercial success, she was no longer bound by a requirement to keep books down to 200 manuscript pages, even when she needed 800 pages to tell a story. "The quartet thing is over," she declared. "I'm done with them." --Ron Hogan


Salman Rushdie Is His Virtual Self Again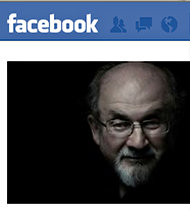 Salman Rushdie made the mighty Facebook back down in a confrontation over his name. The author objected vehemently when Facebook "deactivated his account, demanded proof of identity and then turned him into Ahmed Rushdie, which is how he is identified on his passport," the New York Times reported.

Rushdie took the disagreement to his Twitter account, where he wrote directly to Facebook's founder, Mark Zuckerberg: "Where are you hiding, Mark? Come out here and give me back my name!" Twitter being Twitter, the battle was soon joined enthusiastically by his fans and within two hours, Rushdie posted: "Facebook has buckled! I'm Salman Rushdie again. I feel SO much better. An identity crisis at my age is no fun."

In a statement, Facebook said: "We apologize for the inconvenience this caused him."




Bon Appétit's Best Culinary Bookstores in U.S.
Bon Appétit
featured its choices for the "
7 best culinary bookstores in America
," noting: "Think your bookshelves are well stocked? Think again. These seven dedicated cookbook stores have the goods you never knew you always wanted. Go on, geek out."


Media and Movies
Media Heat: Diane Keaton on NPR's Diane Rehm Show
Tomorrow on MSNBC's Morning Joe: Glenn Stout, author of Fenway 1912: The Birth of a Ballpark, a Championship Season, and Fenway's Remarkable First Year (Houghton Mifflin Harcourt, $26, 9780547195629).

---

Tomorrow on KCRW's Bookworm: Ann Beattie, author of Mrs. Nixon: A Novelist Imagines a Life (Scribner, $26, 9781439168714). As the show put it: "Little is known about Pat Nixon, she was so private and discreet. When Ann Beattie decided to write a novel in the form of a writer's manual, she used Mrs. Nixon as a model of how to create a character. The ironies mount. The result is a peculiar pathos. We talk about the unusual form of this novel and its special brand of compassion."

---

Tomorrow on NPR's Diane Rehm Show: Diane Keaton, author of Then Again (Random House, $26, 9781400068784).

---

Tomorrow on the View: Regis Philbin, author of How I Got This Way (It Books, $25.99, 9780062109750). He will also appear on the Late Show with David Letterman.

---

Tomorrow on CNN's Piers Morgan Tonight: Jamie Oliver, author of Jamie Oliver's Meals in Minutes: A Revolutionary Approach to Cooking Good Food Fast (Hyperion, $35, 9781401324421).

---

Tomorrow night on the Colbert Report: Susan Orlean, author of Rin Tin Tin: The Life and the Legend (Simon & Schuster, $26.99, 9781439190135).




Movies: Breaking Dawn; The Heir Apparent; The Lie
The Twilight Saga: Breaking Dawn--Part 1, based on the book by Stephenie Meyer, opens this Friday, November 18. Kristen Stewart and Robert Pattinson star in the first of two films adapted from the final Twilight novel.
The Heir Apparent: Largo Winch, based on the Largo Winch graphic novel series by Van Jean Hamme and Phillipe Franq, has a limited release on Friday. Tomer Sisley stars as the imperiled adopted heir to a murdered billionaire's corporate empire.
The Lie, based on a short story by T.C. Boyle, also opens on Friday. Joshua Leonard, Mark Webber and Jess Weixler star in this story of a man who lies about his infant child's death so he can skip work.


Movie Trailer: Being Flynn
Focus Features released a trailer for Being Flynn, adapted from Nick Flynn's memoir Another Bullshit Night In Suck City. A spring 2012 release is planned for writer-director Paul Weitz's (About a Boy) project, which stars Paul Dano and Robert De Niro, Deadline.com wrote.



Books & Authors
Awards: Guardian Children's Fiction; Evergreen
Andy Mulligan won the Guardian Children's Fiction Prize for his novel Return To Ribblestrop, the second volume of a planned trilogy," BBC News reported. Judges praised the story as "just the right combination of warmth, originality and, above all, hilarity to give it the edge."

Mulligan said he "never expected the Guardian to award such a stonker of a prize to a book that is dangerous, violent, irreverent, politically incorrect, joyously sentimental, anti-adult, pro-child and sometimes bizarre--but I'm very glad they have."

---

Emma Donoghue's novel Room won the 2011 Evergreen Award, which is administered by the Ontario Library Association as part of the Forest of Reading program to introduce adult library users to Canadian fiction and nonfiction, Quillblog reported. She will be honored February 3 in Toronto.



Attainment: New Titles Out Next Week
Selected new titles appearing next Tuesday and Wednesday, November 22 and 23.

Micro: A Novel by Michael Crichton and Richard Preston (Harper, $28.99, 9780060873028) is a posthumous Crichton title, completed by the author of The Hot Zone, about a group of graduate students facing dangerous nanotechnology in the jungles of Oahu.

LADY GAGA x TERRY RICHARDSON by Lady Gaga and Terry Richardson (Grand Central, $50, 9781455513895) chronicles a year of the star's concert tours through photographs.

Warriors: Omen of the Stars #5: The Forgotten Warrior by Erin Hunter (HarperCollins, $16.99, 9780061555220) continues the young adult feline fantasy series.

Come a Little Closer by Dorothy Garlock (Grand Central, $14.99, 9780446540155) follows a military nurse's transition to peacetime in rural 1946 Wisconsin.

Being George Washington: The Indispensable Man, as You've Never Seen Him by Glenn Beck (Threshold Editions, $26, 9781451659269) gives a conservative commentator's opinions on the first president.




Book Brahmin: Jacqueline Carey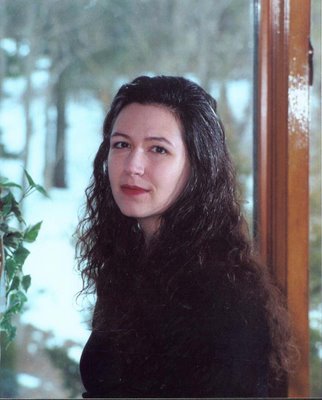 After receiving B.A. degrees in psychology and English literature from Lake Forest College, Jacqueline Carey took part in a work exchange program and spent six months working in a bookstore in London. When she returned, she began her writing career and is the author of the Kushiel's Legacy series of historical fantasy novels, The Sundering epic fantasy duology and the postmodern fables Santa Olivia and the new Saints Astray (Grand Central, November 22, 2011). Carey lives in western Michigan.
On your nightstand now:
Once Upon a River by fellow Michigander Bonnie Jo Campbell. Yes, we really do call ourselves Michiganders.
Favorite book when you were a child:
Watership Down. It was the last book my mother read aloud to my brothers and me when we were kids. It took weeks, and as soon as she finished, I snatched it from her hands so I could read it over for myself. I spent a lot of time trying in vain to communicate with wild rabbits that year.
Your top five authors:
I tend to have top books rather than authors, but to choose across a wide spectrum, Mary Renault and Robert Graves for historical fiction, John Steinbeck for modern literature, Guy Gavriel Kay for fantasy and Dennis Lehane for gritty contemporary novels.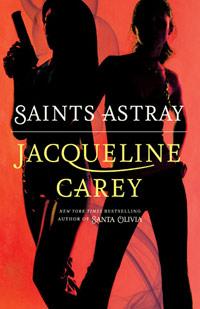 Book you've faked reading:
Everything by Jane Austen. It's embarrassing to admit it, but try as I might, I just don't enjoy her work.
Book you're an evangelist for:
One of my favorite books, The Horse of Selene by Irish gypsy author Juanita Casey. It's lyrical, mythopoetic, gorgeous, tragic and undeservedly obscure.
Book you've bought for the cover:
None! But if library books count, I checked out Uwem Akpan's Say You're One of Them for the cover. The image of a little girl in a white dress running pell-mell down a sunlit road could be charming in another context, but knowing that this is a collection of harrowing stories about children in war-torn regions of Africa imbues it with horror.
Book that changed your life:
It would have to be my debut novel, Kushiel's Dart. I'd been an unpublished struggling writer for 10 years and had written several "practice novels." In creative and professional terms, this was my breakthrough book, and it quite literally changed my life. I may have felt that way about, say, Zen and the Art of Motorcycle Maintenance at the time (I was a teenager, okay?), but this change is concrete and, I hope, lasting.
Favorite line from a book:
Since evangelizing was mentioned, here's one from The Horse of Selene describing the braying, crowing cacophony that greets the dawn on a fictional Irish island:
"Cockerels, waiting until the ass competition was ended, saluted the dawn, the island, their wives and particularly themselves, and like the rest of the inhabitants, went back to sleep again."
Book you most want to read again for the first time:
Little, Big by John Crowley. It's a multigenerational deconstructed fairy tale, and part of the pleasure is the gradual reveal of how the disparate pieces of the literary puzzle come together to form the story's gestalt.


Book Review
Children's Reviews: 'Tis the Season Round-Up
It's time to make merry with a few of our favorite selections.
And the Soldiers Sang by J. Patrick Lewis, illustrated by Gary Kelley (Creative Editions, $17.99 hardcover, 9781568462202, 32p., ages 9-12, August 2011)
This emotionally haunting story of the Christmas truce held in 1914 across enemy lines is a powerful reminder that many soldiers will not be celebrating Christmas this year. Poet J. Patrick Lewis adopts a prose style that pulls no punches: "Over the humps of the dead and wounded, he spotted small, candlelit pines ghosting the German line." Gary Kelley's (Eleanor, Quiet No More) panel and full-page illustrations in dark, somber tones similarly do not shy away from images of the fallen. But when the two sides come together, the mood feels almost hopeful as a result. The faces of the soldiers singing Christmas carols seem to be lit from within. Although the book ends on a realistically tragic note, it also provides a strong example of the hopelessness of war, even as its soldiers hold out hope.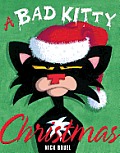 A Bad Kitty Christmas by Nick Bruel (Neal Porter/Roaring Brook, $15.99 hardcover, 9781596436688, 40p., ages 4-up, September 2011)
With a tip of the hat to Clement C. Moore, Nick Bruel depicts Bad Kitty in full mischievous force Christmas morning, as her owner ticks off her misdeeds, A to Z. "The eggnog was ended./ The fruitcake was flung./ The gifts were all gutted./ The holly un-hung." Each warrants one of Bruel's trademark cartoon panels with the highlighted letter capitalized in festive red. But when Bad Kitty escapes the family car en route to Uncle Murray's, she is taken in by a lonely, elderly woman, and the feline finds a way to return her good deed. Like Scrooge, even Bad Kitty can redeem herself on Christmas--but not before plenty of comical antics.

Christmas Eve at the Mellops by Tomi Ungerer (Phaidon, $12.95 hardcover, 9780714862507, 32p., ages 3-7, October 2011)
Here's a holiday classic from Tomi Ungerer (Crictor), first published in 1960 and newly reissued, that we couldn't resist. When Mr. Mellops enthusiastically shares with his four boys an article about Christmas tree decorations, each in turn decides to "surprise his father" and chop down a tree. "What a to-do when they got them home! The Mellops' hall was filled with trees and tears." That is, until Santa suggests they give away their trees to those in need. In tones of peach and melon green within a fine black outline, Ungerer gently delivers a message of making gifts count. The boys' mission to deliver their trees leads to more good deeds, and a feeling of teamwork pervades the tale. One word of caution: if you still have believers in the house, they may be confused by Mr. Mellops dressed as Santa. Other Mellops books back at last: The Mellops Go Diving for Treasure (9780714862484); The Mellops Strike Oil (9780714862491).

A Christmas Goodnight by Nola Buck, illustrated by Sarah Jane Wright (Katherine Tegen/HarperCollins, $12.99 hardcover, 9780061664915, 24p., ages 2-5, October 2011)
Nola Buck's (Christmas in the Manger) bedtime book begins with "Goodnight to the baby in the hay," the one at the center of the Christmas holiday, dressed in swaddling clothes and surrounded by animals in the manger. She then shifts to a different climate with "frosty air," falling snow and a "leaping hare," and brings the story home to a modern child on Christmas Eve. Sarah Jane Wright, in a remarkable debut, seamlessly connects the two children at the center of Buck's narrative by focusing on the Holy family at close range, then depicting the departure of the Wise Men in an aerial view ("Goodnight to their camels tall./ Goodnight to the shepherds and their sheep./ Goodnight, goodnight to them all!"). A turn of the page shows the snowy landscape with a warm light from a window that turns out to be the modern child's bedroom where he's laid out his miniature Nativity set (it bears a striking resemblance to the book's opening scene). Buck and Wright create both a soothing and expectant tone just right for nighttime reading during Advent.

A Christmas Tree for Pyn by Olivier Dunrea (Philomel/Penguin, $16.99, 9780399245060, 32p., ages 3-8, October 2011)
Olivier Dunrea's (Gossie) book quietly builds to an emotional climax that may well take you by surprise. Young Pyn lives with her "bearlike mountain man" father who barely says a word, though he "loved his daughter very much." When she calls him Papa, he says, "My name is Oother." Pyn makes her father's bed and his dinner, and though he barely responds ("Umphf") Dunrea also suggests a smile in the corner of the man's eyes. When Pyn has her heart set on a tree, the man gives in, and we begin to see why he'd been so resistant. Dunrea's strong horizontal lines and geometric shapes in the interiors reinforce the modest living quarters yet also keep a cozy feeling. Once father and daughter venture outside, the spreads become airy, with sloping hills and pine trees you can almost touch. A mastery of understatement.

Duke Ellington's Nutcracker Suite by Anna Harwell Celenza, illustrated by Don Tate (Charlesbridge, $19.95 hardcover with CD, 9781570917004, 32p., ages 6-9, November 2011)
Anna Harwell Celenza, a musicologist, gives young readers the background to the jazz great's take on the holiday ballet classic by Tchaikovsky. She describes the year 1960 when Duke Ellington's band was all the rage in Las Vegas, and Billy Strayhorn, was his co-composer. A record producer's invitation inspires Ellington and Strayhorn to interpret Tchaikovsky with a jazz beat. In Strayhorn's words, "You couldn't ask for better dance music." Don Tate's (Black All Around) stylized illustrations depict Strayhorn's sugar plum visions (literally), which seem to float on air, while the band musicians swing to the beat. Best of all, a CD of their recording is tucked into the back cover so youngsters can hear what Celenza describes as Aaron's "deep, bluesy bass line" on the overture, and the entrance of the toy pipes on "Toot Toot Tootie Toot" (otherwise known as "Dance of the Reed Pipes").

The Flying Canoe: A Christmas Story by Eric A. Kimmel, illustrated by Daniel San Souci and Justin San Souci (Holiday House, $16.95, 9780823417308, 32p., ages 4-8, August 2011)
What would you promise in order to be home with your family on Christmas Eve? Six French fur traders vow to a stranger that they will not speak a word until they reach their homes in Montreal, if he will follow through on his claim that he can get them there by Christmas in their canoe. Old Armand has his doubts, but he is outnumbered, so he goes along with the bargain. Kimmel, a skilled reteller of folktales, gets the pacing just right, with a narrative ideal for reading aloud. The father-and-son artist team (with son Justin making his debut) creates predominately dark, mysterious compositions with the characters lit by candlelight; their elongated faces resemble magical elfin creatures.

The Money We'll Save by Brock Cole (Margaret Ferguson/Farrar, Straus & Giroux, $16.99 hardcover, 9780374350116, 40p., ages 4-up, October 11, 2011)
Brock Cole's (Good Enough to Eat) comical take on holiday preparations conveys a moral that family matters most. With all the children involved in chores, Ma sends Pa to buy two eggs and a half pound of flour. "Remember, Christmas is not far off, and we must save every penny," she warns him. "I'll remember," he says. And he does. At first. But the chicken man is a wheeler dealer who talks Pa into buying a turkey poult that will "fatten up into a fine bird" for Christmas dinner. The children name him Alfred, and the bird eats everything in sight. Though the family must scrimp and save, Cole's loose line and ruddy-cheeked characters keep the tone light, and the love among the family members in the foreground. The twist ending cleverly conveys a true message of giving and forgiveness.

One Starry Night by Lauren Thompson, illustrated by Jonathan Bean (McElderry/S&S, $16.99 hardcover, 9780689828515, 32p., ages 2-6, October 4, 2011)
Lauren Thompson's (Polar Bear Night) lilting text coupled with Jonathan Bean's (At Night) soothing illustrations in midnight blues and sand-colored tones works on two levels that combine to create the feeling of a lullaby for youngest readers. As "a sheep watche[s] over her lamb" and "a cow watche[s] over her calf," another thread (in italics) may be read alongside the animals' narrative or independently ("I am here/ always near..."). Bean uses pencil, and colors his drawings digitally, yet the texture evokes pastels, and the dramatic landscape of jagged rock formations and desert plains seem to glow in the moonlight. Thompson's rhythmic refrain concludes with "Mary and Joseph watch[ing] over their newborn babe," as all of the animals mentioned begin to gather 'round them. The poetic secondary narrative becomes a prayer ("God's will be done") that young readers will feel is directed just as much to them ("beloved one") as it is to the Christ child.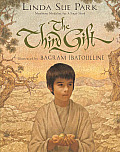 The Third Gift by Linda Sue Park, illustrated by Bagram Ibatoulline (Clarion/Houghton Mifflin Harcourt, $16.99 hardcover, 9780547201955, 32p., ages 6-9, November 15, 2011)
Linda Sue Park (A Single Shard) takes a fresh and moving approach to the story of the magi by telling it from the viewpoint of a child whose father harvests the myrrh that will serve as one of their three gifts. Everything about Park's narrative ties into the larger Christ story without ever mentioning Jesus' name. The boy's father teaches him how to harvest the "tears," the name for the pearls of sap from the tree that bring forth the myrrh. Myrrh may be used as a medicine and to flavor wine, but the most expensive tears are burned at funerals, with a scent "both bitter and sweet." The properties of myrrh evoke Christ's miracle of healing, the communion and his bittersweet mission. Bagram Ibatoulline's textured earth-toned landscapes stand in stark contrast to the abundance of the spice trader's tent and the regal dress of the magi. Author and artist's juxtaposition of the practical and the mysterious gets to the heart of the holiday's complexity in a way that children can tap into and grasp more of each time they read it. --Jennifer M. Brown