Shelf Awareness for Monday, November 21, 2011

Quotation of the Day
Rites of Passage: Reading, Eating and Potty-Training

"I know I'm a Luddite on this, but there's something very personal about a book and not one of one thousand files on an iPad, something that's connected and emotional, something I grew up with and that I want them to grow up with.... I feel that learning with books is as important a rite of passage as learning to eat with utensils and being potty-trained."


News
'Come Hell or High Water': Bartleby's Reopening in Vermont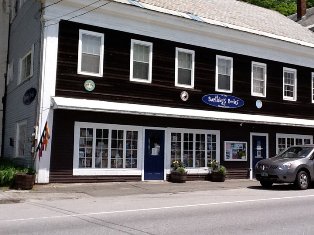 Good news from Bartleby's Books. The Wilmington, Vt., store, which was severely damaged in Hurricane Irene, is reopening this week. The store said that with the help of volunteers and "the tireless efforts" of its carpenter (owner Lisa Sullivan's husband, Philip Taylor), Bartleby's is "newly refurbished." Sullivan has taken advantage of the situation to make some changes at the store, including an expanded second floor.

Sullivan is also the owner of the Book Cellar in Brattleboro, Vt., which closed indefinitely after a six-alarm fire in its building, the historic Brooks House, earlier this year (Shelf Awareness, April 19, 2011).

Bartleby's has made light of the misfortune that hit it and the Book Cellar, launching a marketing campaign with the theme, "Come hell or high water, Bartleby's is my Vermont bookstore." The effort includes a Facebook page, T-shirts, print advertising and a new website, myvermontbookstore.com.




Last Wave of Closings at Atlantic Books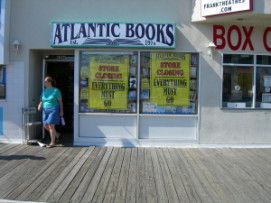 Atlantic Books is closing its remaining stores because of "the rapidly changing landscape of retail bookselling," president Mark I. Simon and v-p Ross Laufgraben wrote on the company's website. The company will have going out of business sales through December.

At the end of this past summer, Atlantic Books announced that it was closing seven stores in shore resort towns in New Jersey and Delaware that were no longer profitable (Shelf Awareness, September 2, 2011).

In their message to customers, Simon and Laufgraben also wrote: "For almost 37 years it has been our pleasure to serve you in both our resort and yearround stores. We've enjoyed watching many of our long time customers who shopped Atlantic Book with their parents and grandparents bring their own families in for a few books to read. Without exception we have always put forth our best effort to satisfy your needs. Bookselling for us has been the noblest of professions."




Image of the Day: Occupy McNally Jackson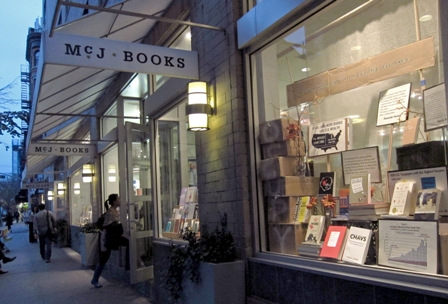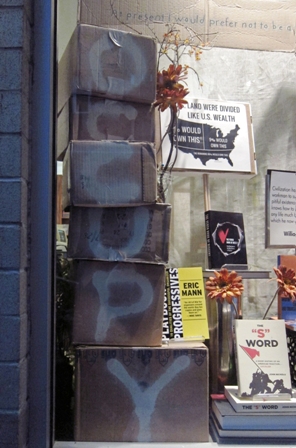 McNally Jackson Books in New York City got into the spirit of Occupy Wall Street with this window display. Among the titles: Germinal by Emile Zola, Rich People Things: Real-Life Secrets of the Predator Class by Chris Lehmann, CHAVS: The Demonization of the Working Class by Owen Jones, Debt: The First 5,000 Years by David Graeber, The 'S' Word: A Short History of an American Tradition...Socialism by John Nichols, Playbook for Progressives: 16 Qualities of the Successful Organizer by Eric Mann, Reviving the Strike: How Working People Can Regain Power and Transform America by Joe Burns, This Time Is Different: Eight Centuries of Financial Folly by Carmen M. Reinhart and Kenneth Rogoff and The Verso Book of Dissent: From Spartacus to the Shoe-Thrower of Baghdad by Andrew Hsiao, Audrea Lim and Tariq Ali.
Photographs: Yvonne Brooks


Notes
Bookseller Ann Patchett at Parnassus's Opening

At the much-anticipated opening of Parnassus Books, Nashville, Tenn., this past Saturday night, co-owner Ann Patchett gave a heartfelt speech: "The difference between ordering a book on Amazon and buying a book at Parnassus are these smart, kind, overqualified readers that we have in the store who can tell you what to read. ... I love you all."


Neil Van Uum: 'There's Always Going to be a Market for Books'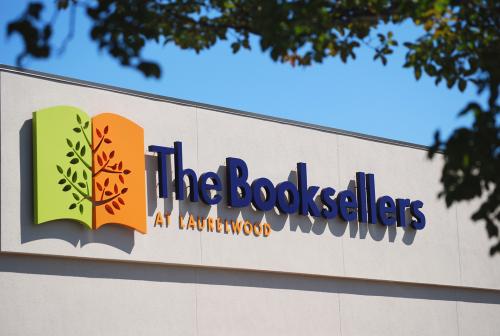 Seven months after acquiring the Davis-Kidd location in Memphis, Tenn., part of the bankrupt Joseph Beth stores (Shelf Awareness, April 27, 2011), former Joseph Beth president Neil Van Uum "has invested about $500,000 renovating and reorganizing" the Booksellers at Laurelwood and the Booksellers Bistro, the Commercial Appeal reported.

"It's definitely been a challenge," said Van Uum. "Everything turned on a dime over three days back then and the Memphis store was obviously going to close. I just took a leap and said that's not really right. To say we had a plan together would be a stretch. I just felt that with 25 years of experience I could figure it out."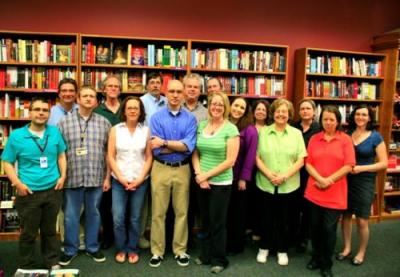 He chose the name the Booksellers at Laurelwood to emphasize the store's biggest strengths--experienced staff and customer service. In addition to making substantial upgrades in the restaurant, which had become "very tired," Van Uum expanded the children's section substantially. "It's now 50% larger, and much more active with programming," he said. "It's almost like an independent children's store.''

Van Uum expressed optimism: "There's always going to be a market for books. Frankly, we need the support of the Memphis reading community to come in and look at books and buy them.... I feel we invested and created a place that's even more entertaining and interesting. We'll just count on the support of our community to continue to keep the store viable."



ABFFE Honored for Free Speech Work
The American Booksellers Foundation for Free Expression has won the New York Public Library's SirsiDynix Intellectual Freedom Award, which "recognizes the value of intellectual freedom and honors those individuals or organizations that stand on guard in its defense."
At the NYLA convention, ABFFE president Chris Finan noted that in the battle for free speech, booksellers and librarians "have been fighting side by side for many years now, and it is tremendously encouraging to know that we can count on your support in the battles ahead."


Authors Celebrate Library's 10th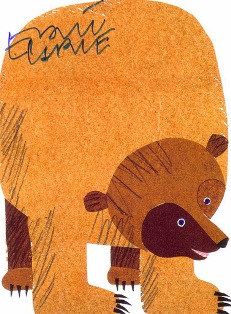 To help celebrate the 10th anniversary of the Tantallon Public Library in Nova Scotia, youth librarian Lucas Maxwell wrote to authors "asking them to write a letter back, addressed to the youth of this area outlining the benefits of reading and libraries in general." More than 50 authors responded with letters that range from long and thoughtful narratives to some pithy cards, including our favorites, a note from Mo Willems, reading, "Libraries rock! They are the 'free' in Freedom!" and a note from Bill Thomson: "Libraries are magical places. The more time you spend in them, the smarter you get!"


Pannell Awards: Call for Nominations

The Women's National Book Association is seeking nominations for the WNBA Pannell Awards, honoring bookstores that excel at inspiring children's interest in reading and at creatively bringing books and young people together. One Pannell Award goes to a general bookstore, and one goes to a children's specialty bookstore. Awards will be presented at BEA next June; each winner receives a $1,000 prize and a piece of original art by a children's book illustrator.

Deadline for nominations is January 15. Stores may nominate themselves. Send name and location of store, contact person at the store, category, statement about why the store deserves the award, and name and affiliation to Valerie Tomaselli, chair of the award committee, at vtomaselli@mtmpublishing.com.




Cool Idea of the Day: Hotel Book Club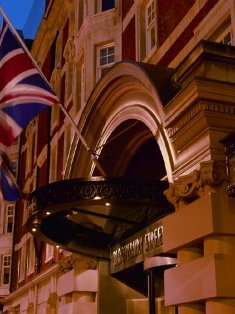 The Radisson Edwardian chain, which has hotels in London, Manchester and Guildford, England, is milking the literary connection of its Bloomsbury hotel, which has a wall of art tied to Virginia Woolf's Mrs. Dalloway and has had a book club for the past year. According to Book Trade, guests may take complimentary copies of the hotel's monthly pick. The November pick is The Poison Diaries Nightshade by Mayrose Wood, and December's is Christmas at Tiffany's by Karen Swan. The hotel has posted trailers of featured authors.


Book Trailer of the Day: Enjoy Every Sandwich
Enjoy Every Sandwich: Living Each Day as if It Were Your Last by Lee Lipsenthal, M.D. (Crown Archetype).


Media and Movies
Media Heat: Betty White & Friends
This morning on the Today Show: Betty White, author of Betty & Friends: My Life at the Zoo (Putnam, $26.95, 9780399157547).

---

This morning on NPR's Morning Edition: Susan Hertog, author of Dangerous Ambition: Rebecca West and Dorothy Thompson: New Women in Search of Love and Power (Ballantine, $30, 9780345459862).

----

Today on Glenn Beck: Peter Schweizer, author of Throw Them All Out (Houghton Mifflin, $26, 9780547573144). He will also appear on MSNBC's Dylan Ratigan.

---

Today on NPR's Diane Rehm Show: Ha Jin, author of Nanjing Requiem (Pantheon, $26.95, 9780307379764).

---

Today on the View: Nick Katsoris, co-author of Loukoumi's Celebrity Cookbook (NK Publications, $19.95, 9780984161010).

---

Tonight on the Tonight Show with Jay Leno: Brad Paisley, co-author of Diary of a Player: How My Musical Heroes Made a Guitar Man Out of Me (Howard, $25, 9781451625523).

---

Tonight on a repeat of the Daily Show: Bill Clinton, author of Back to Work: Why We Need Smart Government for a Strong Economy (Knopf, $23.95, 9780307959751).

---

Tomorrow on Tavis Smiley: Darren Hardy, author of The Compound Effect (Vanguard, $19.99, 9781593157135).

---

Tomorrow on MSNBC's Daily Rundown: Chris Matthews, author of Jack Kennedy: Elusive Hero (Simon & Schuster, $27.50, 9781451635089). He will also appear on a repeat of the Colbert Report.

---

Tomorrow on Ellen DeGeneres: Mark Kelly, co-author of Gabby: A Story of Courage and Hope (Scribner, $26.99, 9781451661064).

---

Tomorrow and airing through the weekend on PRI's Living on Earth: Didi Emmons, author of Wild Flavors: One Chef's Transformative Year Cooking from Eva's Farm (Chelsea Green Publishing, $34.95, 9781603582858).

---

Tomorrow night on an OWN special with Diane Sawyer: Caroline Kennedy, co-author of Jacqueline Kennedy: Historic Conversations on Life with John F. Kennedy (Hyperion, $60, 9781401324254).




Movies: Hugo and A Dangerous Method
Hugo, starring Jude Law, Christopher Lee, Sacha Baron Cohen and Ben Kingsley, opens this Wednesday, November 23. Martin Scorsese directs this adaptation of Brian Selznick's The Invention of Hugo Cabret, in which an orphan boy, living in the walls of a train station in 1930s Paris, becomes involved in the mystery of an automaton. Related title: The Hugo Movie Companion (Scholastic, $19.99, 9780545331555).
---
A Dangerous Method, based on A Most Dangerous Method: The Story of Jung, Freud, and Sabina Spielrein by John Kerr, also opens this Wednesday. David Cronenberg directs this exploration of early psychoanalysis starring Viggo Mortensen, Keira Knightley and Michael Fassbender.


Series Trailer: Game of Thrones, Season Two
Via deadline.com, a trailer for the second season of HBO's Game of Thrones, based on the Song of Ice and Fire series by George R.R. Martin, which includes footage and interviews with writers and executive producers David Benioff and D.B. Weiss. A return to Westeros and regions east of the Narrow Sea begins next April.


Books & Authors
Awards: Irish Book Awards
The 2011 Bord Gáis Energy Irish Book Award winners included Neil Jordan, who won the Hughes & Hughes Irish Novel of the Year for Mistaken. Nobel Laureate Seamus Heaney was given the Bob Hughes lifetime achievement award and Crannóg Bookshop, Cavan, was named the Bord Gáis Energy Irish Bookshop of the Year. Approximately 33,000 members of the Irish reading public voted for their favorite titles. You can find a complete list iof Irish Book Award winners here.



IndieBound: Other Indie Favorites
From last week's Indie bestseller lists, available at IndieBound.org, here are the recommended titles, which are also Indie Next Great Reads:

Hardcover

Ed King: A Novel by David Guterson (Knopf, $26.95, 9780307271068). "A rollicking modern-day version of the classic tragedy Oedipus Rex, this wickedly funny story will leave you in stitches. It has the cynicism of Tom Wolfe mixed with the absurdity of Carl Hiassen. The novel begins with a slow and dangerous seduction, and then picks up speed as each new character is introduced. Guterson fearlessly takes on contemporary societal themes as his novel builds to a thrill-ride climax. Highly recommended!" --Jane, Eagle Harbor Book Company, Bainbridge Island, Wash.

Midnight Rising: John Brown and the Raid That Sparked the Civil War by Tony Horwitz (Holt, $28, 9780805091533). "The Civil War had its origins long before Fort Sumter, but possibly the biggest spark was provided by one extremely intense, driven man, John Brown. Brown's raid on Harpers Ferry in 1859 not only provided a frightening specter to nervous Southern slave owners, it was also a moral slap in the face to the rest of the country, especially during his trial. The long-range effects of one man and his moral passion are superbly rendered by the award-winning Horwitz." --Bill Cusumano, Nicola's Books, Ann Arbor, Mich.

Paperback

After the Falls: Coming of Age in the Sixties by Catherine Gildiner (Penguin, $16, 9780143119852). "Continuing her memoirs in the same frank and funny tone as her previous book, Too Close to the Falls, Gildiner recounts her experience coming of age in the 1960s. She copes with an unhappy move to Buffalo with her family, vandalizes neighborhood houses in a misguided attempt to bring about social change, goes off to college, and deals with a tragedy at home. Her personal narrative is a tour through the 1960s, revealing the political unrest and social movements that defined the era." --Erica Caldwell, Present Tense, Batavia, N.Y.

For Ages 8 to 12

Wild Wings by Gill Lewis (Atheneum, $15.99, 9781442414457). "This heartwarming, lovely, and suspenseful story begins in Scotland on the farm of Callum McGregor where his neighbor, Iona, discovers an osprey nest. The protection of the nest and the eventual long migration of the female is the foundation of a tale that spans continents and cultures, and brings communities together." --Carol Stoltz, Porter Square Books, Cambridge, Mass.

[Many thanks to IndieBound and the ABA!




YA Novelist Barry Lyga Goes Graphic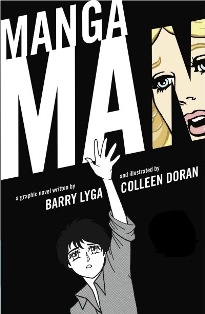 The intrigue in the graphic novel Mangaman (Houghton Mifflin Books for Children, $19.99, 9780547423159), written by Barry Lyga and illustrated by Colleen Doran, begins even before the story starts. Lyga's cryptic dedication reads: "To Kuo-Yu Liang, who inspired it without knowing."
(In our review last week, we called Mangaman "a combination of manga and comics that converges in a wholly original YA graphic novel starring engaging characters from different realities.")
A decade ago, Lyga and Liang, then colleagues at Diamond Book Distributors, were discussing Japanese manga versus Western-style comics, the different audiences for each and why comic book stores weren't selling manga at the time even though it was doing well in bookstores. "I said that in my experience people who were raised on Western comics really have this visceral anti-reaction to manga, and vice versa," Lyga recalled.
The discussion "got the wheels turning" for Lyga. "I thought it would be cool if someday someone did a comic that brought those groups together; something that both kinds of fans could enjoy." His initial thought was to have a character from a manga universe turn up in a Western comic. "I started riffing on all the humorous things you could do with that. It wasn't a story at that point. It was just an idea."
Years went by, during which Lyga went on to publish several YA novels, including his debut, The Astonishing Adventures of Fanboy and Goth Girl. When his editor asked if he would consider writing a graphic novel, he recalled his long-ago exchange with Liang (who is v-p of sales and marketing at Diamond). "That's why I dedicated it to him," Lyga said. "If not for that conversation, I never would have thought of the idea on my own. It's not something that would have popped into my head."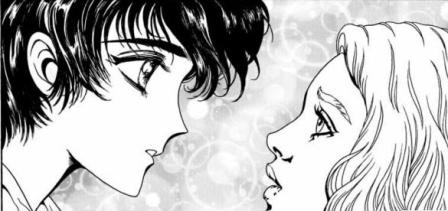 In Mangaman, sci-fi adventure meets love story when manga character Ryoko falls through a Rip into the "real" world--and straight into the role of the ultimate outsider at an American high school, where he deals with the unfamiliar culture, clashes with other kids and falls for popular, quirky Marissa Montaigne. Especially appealing to Lyga about combining Eastern and Western comic book styles was the notion of having these "two radically different things co-existing and seeing how they play off of each other."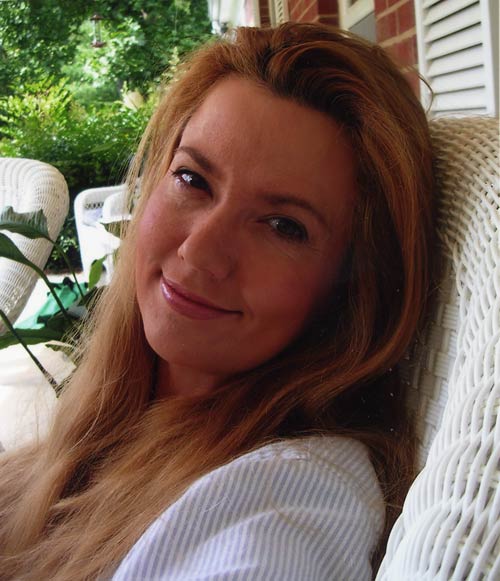 Another blast from Lyga's past happened when teaming up with an artist for Mangaman. His first choice to illustrate the story was Colleen Doran, who has worked on iconic comic book characters like Superman, Spider-Man and Wonder Woman, but he didn't think the popular artist would have time to take on the project. She did sign on and, what's more, even remembered Lyga from a comic book fanzine they had both belonged to more than two decades ago.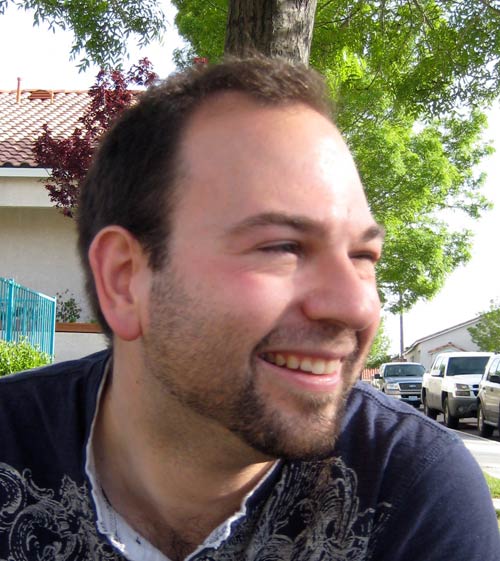 Mangaman is Lyga's first foray into graphic novels. (He did pen some "really terrible" single issue comic books in the 1990s and encourages people "not to seek them out.") The biggest challenge he encountered between writing prose and graphic novels was the need for a change in mindset. "It's a whole different way of thinking," he said. The common advice for writers to "show, don't tell" doesn't apply when writing a graphic novel. "You have to think in terms of tell, don't show because it's not your job to show. It's the artist's job to show. You're telling one story to the artist so the artist can tell a story to the reader."
For example, some early readers of Mangaman thought Ryoko's love interest, Marissa, wasn't distinct enough and didn't convey enough personality. "All of the ways I wanted to fix that involved more story, which is fine when you're writing a novel because nobody cares how many paragraphs there are in a novel," explained Lyga. "But in a graphic novel you only have a certain number of pages and a certain number of panels on each one. I had to think visually instead." Now, Marissa's proclivity for unusual outfits wordlessly conveys that she "feels like an outsider."
Lyga took up writing full-time after leaving Diamond in 2005. "I really don't recommend people quit their jobs before they've sold their first book," he said. "That was a very stupid thing to do on my part. I got lucky." A couple of months later he landed a book deal and has since published seven novels, with two more coming soon: The Mad Mask, the second installment in the Archvillain series, in January and I Hunt Killers in April.
Luckily for the prolific Lyga, he relishes being a writer. "It's a combination of the thing I love, the thing I do for a living, and my hobby," he said. "Other people waste their time being well-rounded individuals. I don't bother with that." --Shannon McKenna Schmidt


Book Review
Lamberto Lamberto Lamberto
Lamberto, Lamberto, Lamberto by Gianni Rodari, trans. by Antony Shugaar (Melville House, $22.95 hardcover, 9781935554615, December 6, 2011)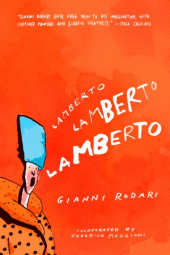 Baron Lamberto is 93 years old, owns 24 banks and suffers from 24 maladies. He lives in a villa on the island of San Giulio, in the middle of Lake Orta (a real lake near the birthplace of famed Italian children's author Gianni Rodari). Lamberto is served by his faithful butler who always carries an umbrella, and when the two of them visit Egypt, an Arab fakir in the shadow of the Sphinx confides to them a secret of the pharaohs: "The man whose name is spoken remains alive."
In light of this secret, Lamberto hires six people to continually chant his name in the attic of the villa, working in shifts, with board, lodging and all the hard candy they can eat. Tiny microphones are installed everywhere, so at any time he can hear them chanting: "Lamberto, Lamberto, Lamberto." And soon Lamberto begins to change. Two new hairs appear on the top of his bald head. The baron's wrinkles start smoothing out. Within a few weeks, he looks like a 40-year-old, straight, tall, blond and athletic, swimming around his island every morning to stay in shape.
Then 24 bandits lay siege to the villa and kidnap the baron. Inspired by the real-life kidnapping of Aldo Moro by the Red Brigade, Rodari has his terrorists demand a fortune from Lamberto, and to show they mean business, they slice off the baron's ear and send it to his bankers in an envelope. A sliced-off finger follows. Fortunately, since this is a fairytale, the severed body parts grow back, as long as the six singers in the attic keep up their chant.
The island is surrounded by the police and besieged by photographers and news reporters. Lamberto's hostage situation boosts the local economy. Restaurants stay open all night. But the bandits aren't the only enemies stalking the baron. His nephew and heir, Ottavio, has lost a fortune playing skittles, and needs funds to support his voracious soda pop habit. He's determined to get what's coming to him from his increasingly healthy old uncle, and tricks the chanters into gobbling a soup mixed with sleeping pills.
Making a comedy out of a terrorist kidnapping is tricky stuff, but this book for both children and adults is a daring high-wire act that works. In the tradition of Roald Dahl's shocking humor, this hilarious Italian fairytale is peppered with scuba-diving suits, submachine guns and custom sports cars. At times antic with goofy buffoonery, at times grisly with uncomfortable realism, Rodari has a sense of comedy that smacks of the Marx Brothers, but with a darker edge.
Before Rodari wraps up his tale, there's a nighttime escape in a hot air balloon and Boy Scouts to the rescue. The story toys with several endings before settling for a completely unconventional one, which the author then defends. Since the book was published after his death in 1980, Rodari's last words remind you that by far the most charming element of the entire story has been his delightful, gleefully chuckling, honestly childlike voice. --Nick DiMartino
Shelf Talker: An ancient Egyptian secret allows elderly Baron Lamberto to begin aging backward, until he's kidnapped by bandits in this fairytale by Italy's premier children's writer.


The Bestsellers
Top-Selling Titles in St. Louis
The following were the bestselling books at independent bookstores in and around St. Louis, Mo. During the week ended Sunday, November 13:

Adult

1. 1Q84 by Haruki Murakami
2. 11/22/63 by Stephen King
3. Death on a Platter by Elaine Viets
4. Wreck the Halls by Jen Yates
5. Blue Nights by Joan Didion
6. Steve Jobs by Walter Isaacson
7. Goodnight iPad by Ann Droyd
8. Rag and Bone by Kathryn Nuernberger
9. William Greenleaf Eliot: Conservative Radical by Earl Holt
10. Were You Born on the Wrong Continent? by Thomas Geoghegan

Children's/YA

1. Inheritance by Christopher Paolini
2. Brotherband Chronicles by John Flanagan
3. Ninth Ward by Jewell Parker Rhodes
4. The Hunger Games by Suzanne Collins
5. Powerless by Matthew Cody
6. Every Thing on It by Shel Silverstein
7. Crossed by Ally Condie
8. Miss Peregrine's Home for Peculiar Children by Ransom Riggs
9. Olivia Talks Turkey by Farrah McDoogle and Jared Osterhold
10. Lost Stories: Ranger's Apprentice #11 by John Flanagan

Reporting bookstores, all of which are members of the St. Louis Independent Bookstore Alliance: Left Bank Books, Main Street Books, Pudd'nhead Books, Subterranean Books, Sue's News.