Shelf Awareness for Tuesday, January 24, 2012

News
Amazon Building Second Fulfillment Center in S.C.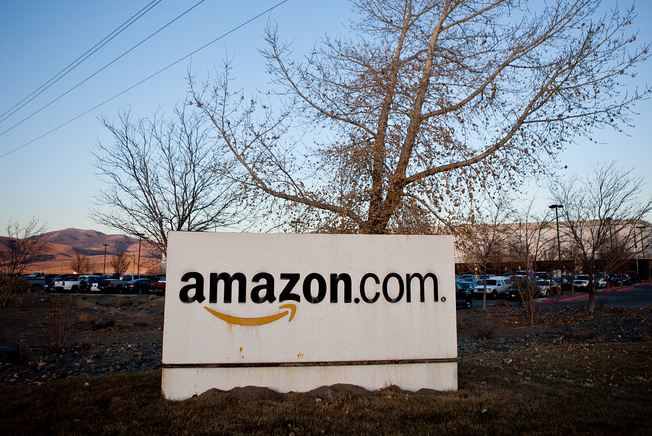 Yesterday, Amazon announced plans to open a one-million-square-foot fulfillment center next fall in South Carolina's Spartanburg County, officially confirming reports late last year that the online retailer was behind a code-named development initiative called "Project 300." The new facility will be the second warehouse in the state, joining the one in Lexington County, and involves a $50-million investment in the state, according to Amazon officials.

Earlier this year, South Carolina granted Amazon a five-year exemption from collecting sales taxes from the state's online shoppers in exchange for a promise to create full-time jobs with health benefits and invest at least $125 million through the end of 2013.




Word Up Stays Popped Up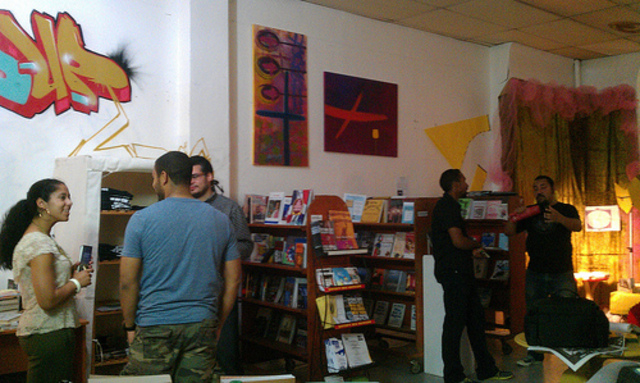 Word Up, the pop-up bookstore in Washington Heights in New York City, is starting to look semi-permanent: it now has a lease that runs through May, according to DNAinfo.com. The store opened last June and originally was going to be open for just a month.


Winter Institute 7: Working Groups; Wrapup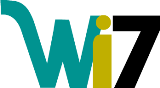 For the first time, the American Booksellers Association organized the Winter Institute attendees into working groups that concentrated on a case study of a fictional bookstore planning its future. Arranged into 22 groups with bookseller facilitators to lead the discussions, the teams took an hour and half Friday morning to brainstorm about everything from product mix to staff changes--and then presented the results to Dan Sheehan, Ingram's vice-president and general manager.

"Oren [Teicher, ABA's CEO] had to preform CPR on me within 15 minutes," said Sheehan as he began his report of the findings. "What I saw is that there was no one process in the 22 groups and everyone was going about it in a different way," said Sheehan.

"What a shock," came the response from the booksellers. "We are independent."

Still, Sheehan noted agreement about the top 10 topics that all the groups discussed: store layout, increasing children's books, refining product mix, optimizing leases, local community partnerships, effective use of co-op, payroll, events, location and store hours. Topics that did not come up at all or very little included: mission statement, digital books, e-commerce, print-on-demand, social media and closing the store. The last item brought applause. (Interestingly, the topics not discussed by the groups were all featured in WI7 sessions.)

Facilitators helped the groups conduct a SWOT analysis (focusing on the strengths, weaknesses, opportunities and threats involved in business decisions), which was a first for many booksellers. Sheehan noted that the groups reached a consensus on the three main ways to improve the store: by changing the layout, reevaluating product mix and increasing community outreach. And apparently most groups agreed that someone on staff named "Evil Evelyn" had to go. "We don't know what the heck that means, but it made the list," quipped Sheehan.

While the atmosphere was lighthearted, Sheehan said, the purpose of the working group exercise was serious: "to develop or enhance the personal relationships in this room and to learn from one another."

In that regard, most booksellers felt the exercise was a good use of time. As Chuck Robinson, co-owner of Village Books in Bellingham Wash., observed, "As in bookselling these days, the ABA isn't afraid of trying new things." In the months ahead ABA will analyze the group session feedback more scientifically.

Oren Teicher ended the Winter Institute's final session by encouraging attendees to reply in more detail about all the programs in the post-Wi7 survey they will soon receive. He thanked Ingram and all the sponsors, publishers who sent almost 70 authors to the three-day event, the ABA staff, and "most importantly, I thank each and everyone of you," he told the booksellers.

"We are leaving New Orleans with renewed energy and optimism about our future," said Teicher. "See you in Kansas City." --Bridget Kinsella
We'll have more coverage of Winter Institute sessions in the coming days.


Notes
Image of the Day: Starring The Fault in Our Stars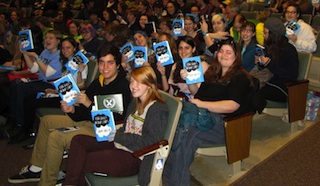 Quail Ridge Books & Music, Raleigh, N.C., provided the books at an appearance earlier this month at the Ravenscroft School Center for The Fault in Our Stars (Dutton). Author John Green and his brother Hank appeared at the event, which a staff member called one of the best ever. Here enthusiastic fans show their appreciation.


Andy Borowitz Wants to Be Taken Seriously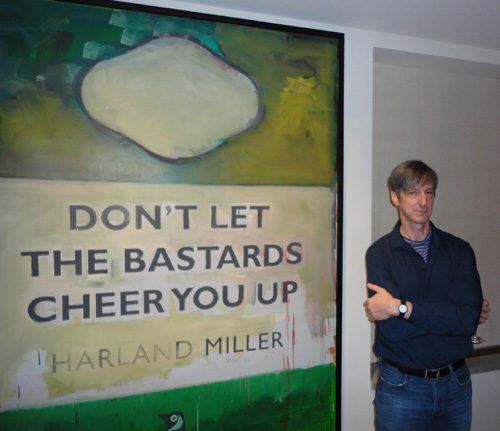 At a reception last week in hedge fund manager James Chanos's Fifth Avenue apartment celebrating The 50 Funniest American Writers*: An Anthology of Humor from Mark Twain to the Onion (*According to Andy Borowitz), Borowitz said that at first he wondered if the moment had passed for throwing a party for a book that had been published three months earlier. Then, he realized, "this is the Library of America, where the books usually come out after the authors die--so, if anything, this party is too soon!" He also outlined a plan to get more of his work included in the Library, beginning with an effort to crack the genre of the novel. "Now that I want to be taken seriously," he explained, "I use words like genre... If I write in that genre, maybe someday the Library of American will collect my oeuvre."
As partygoers admired Chanos's art collection--including a De Kooning and a Pollock in addition to Harland Miller's tribute to the classic Penguin paperback, Don't Let the Bastards Cheer You Up--and mingled with contributing humorists Jenny Allen, Nora Ephron, Calvin Trillin and Bruce McCall, Library of America associate publisher Brian McCarthy confirmed that the anthology, which was their first New York Times bestseller and also landed on the ABA's bestseller list, had replaced their first Philip K. Dick omnibus as the fastest-selling title in Library history. --Ron Hogan


First in Downtown L.A.: The Last Bookstore
The Daily Trojan, the University of Southern California's student newspaper, loves the Last Bookstore in downtown Los Angeles, "a prime example of one of L.A.'s finest literary secrets."

The store, which sells new and used books, has "a chic-vintage, one-of-a-kind interior. The store is decorated with things like elephant tusks and mannequins. Even when you go to the checkout, you will see that the counter is made up of books. It's like an Amoeba Records meets Best Buy meets Borders meets Goodwill, decorated by someone's hipster sister."




Book Trailer of the Day: Jack Robinson: On Show
Jack Robinson: On Show: Portraits 1958-72 photographs by Jack Robinson, foreword by Cybill Shepherd (Palazzo Editions).


Media and Movies
TV: The Viagra Diaries
Paul Feig (Bridesmaids) will direct HBO's comedy pilot The Viagra Diaries, based on the book by Barbara Rose Brooker. The project, created by Sex and the City creator/executive producer Darren Star, will star Goldie Hawn.



Media Heat: Fresh Air's Terry Gross on the Colbert Report
Tomorrow on NPR's Diane Rehm Show: Michael Erard, author of Babel No More: The Search for the World's Most Extraordinary Language Learners (Free Press, $25.99, 9781451628258).

---

Tomorrow on MSNBC's Last Word with Lawrence O'Donnell: Bruce Bartlett, author of The Benefit and The Burden: Tax Reform--Why We Need It and What It Will Take (Simon & Schuster, $26, 9781451646191). He will also appear on CNBC's Squawk Box.

---

Tomorrow on Tavis Smiley: Connie Rice, author of Power Concedes Nothing: One Woman's Quest for Social Justice in America, from the Courtroom to the Kill Zones (Scribner, $26, 9781416575009).

---

Tomorrow night on the Daily Show: Paula Broadwell, co-author of All In: The Education of General David Petraeus (Penguin, $29.95, 9781594203183). She is also on Imus in the Morning this morning.

---

Tomorrow night on the Colbert Report: Terry Gross, renowned book lover, book promoter and host of NPR's Fresh Air.




Books & Authors
Awards: Caldecott, Newbery Winners; T.S. Eliot Prize
Dead End in Norvelt by Jack Gantos (Farrar, Straus & Giroux) has won the 2012 Newbery Medal. The novel also won the 2012 Scott O'Dell Award for Historical Fiction, announced last week. Previously, Gantos has received a 2003 Printz Honor for his memoir Hole in My Life and a 2001 Newbery Honor for Joey Pigza Loses Control (both published by FSG).
Chris Raschka won the 2012 Caldecott Medal for his book A Ball for Daisy (Schwartz & Wade/Random House). The picture book, which he both wrote and illustrated, was also named a Best Illustrated Book of 2011 by the New York Times. Raschka won the 2006 Caldecott Medal for The Hello, Goodbye Window written by Norton Juster (Hyperion/di Capua), and a 1994 Caldecott Honor for Yo! Yes? (Orchard/Jackson), which he both wrote and illustrated.
Here is the complete list of all the American Library Association's award winners and honor books.
---
John Burnside won the £15,000 (US$23,364) T.S. Eliot Prize for Poetry for his collection Black Cat Bone. Burnside bested a reduced shortlist of eight writers, after poets Alice Oswald and John Kinsella asked not to be considered by the Poetry Book Society for the award in protest of its corporate sponsor, Aurum Funds.



IndieBound: Other Indie Favorites
From last week's Indie bestseller lists, available at IndieBound.org, here are the recommended titles, which are also Indie Next Great Reads:

Hardcover

The Invisible Ones: A Novel by Stef Penney (Putnam, $25.95, 9780399157714). "Penney delves deep into the Romany world in this story of the search for a Gypsy woman who has disappeared. As the detective who seeks her discovers, each revelation leads to even more questions. His narrative alternates with that of a young boy to provide contrasting and conflicting perspectives that increase the tension and mirror the intricacies of the unique world being portrayed. Penny succeeds in both exposing myths and crafting a compelling mystery in this satisfying read." --Bill Cusumano, Nicola's Books, Ann Arbor, Mich.

The Partnership by Philip Taubman (Harper, $27.99, 9780061744006). "Nuclear war continues to be an apocalyptic threat for America and other countries. Five men, members of the Cold War brain trust, have campaigned to challenge the United States and other nations to reconsider their strategic policies regarding nuclear arsenals. The Partnership gives us an intimate look at these men--Henry Kissinger, George Schultz, Sam Nunn, Bill Perry, and Sidney Drell--their origins, their work together, and their dealings with Barack Obama and other world leaders. Meticulously researched and compellingly told." --Sue Fleming, the King's English, Salt Lake City, Utah

Paperback

All Fall Down by Megan Hart (Mira, $14.95, 9780778313069). "Sunny and her three young children are hustled out of the Family of Superior Bliss religious compound in the middle of the night by her mother and told to run and not look back. Her mother's parting gift was a slip of paper with the name of her birth father, who has no idea he has a daughter. With nowhere else to go, Sunny arrives at his home, where his childless wife welcomes them and an uneasy peace is made. With obvious echoes of Jonestown, this will be great for book group discussions." --Patricia Worth, River Reader, Lexington, Mo.

For Ages 4 to 8

One Cool Friend by Toni Buzzeo, illustrated by David Small (Dial, $16.99, 9780803734135). "Buzzeo's text and the illustrations by Caldecott Medal-winner Small are perfectly matched in this wonderful book. A pet penguin named Magellan makes excellent sense to Elliot, but what about his father? This 'cool' book delivers fun and so much more!" --Jeanne Snyder, Books & Books, Coral Gables, Fla.

[Many thanks to IndieBound and the ABA!]




Book Review
Review: The Case of the General's Thumb
The Case of the General's Thumb by Andrei Kurkov, trans. by George Bird (Melville House, $14.95 paperback, 9781612190600, February 21, 2012)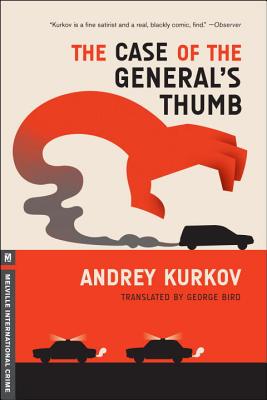 It's 1997, and a retired general has risen up into the sky over Kiev, hanging by the neck from a huge Coca-Cola balloon. The corpse mysteriously vanishes from the forensics lab, only to reappear--missing the right thumb. Though the murder of this important government official warrants a full team of investigators, it's given to the tiny office of Major Ratko, and it's the first murder case ever assigned to young Viktor Slutsky, a mere lieutenant whose usual case load consists of petty street crimes. The narrative flips back and forth between Viktor and Nik Tsensky, a young interpreter trying to earn enough money for his wife and son to join him in Kiev. Nik is hired by a mysterious old colonel to rescue a man from an arranged fake attempt on his life--a man disconcertingly dressed just like Nik.
The bodies pile up rapidly, one of them folded into the boot of Viktor's car. No sooner does Andrei Kurkov introduce a slew of secondary characters with complex Russian names before their corpses are discovered. Both protagonists receive mysterious orders over the telephone as the plot thickens, and everyone seems to know more about what's happening in The Case of the General's Thumb than the hapless pair (and the reader). The galloping pace takes a new turn every couple pages, and sheer forward momentum carries the narrative over some rather complex intricacies of spies and counterspies. One of the young heroes is hit by a lorry; the other nearly dies from an overdose of diarrhea tablets--and they're the lucky ones.
What does the general's severed thumb have to do with all this? You won't find out till the very end. For Kurkov, the ending is much less important than the fun of working his way through a world of deaf blondes driving hearses and backfiring revolvers, where bugs are planted in the walls and security cameras trained on the doors. It's a breathless dash through labyrinthine intrigues and cover-ups concealing cover-ups, where helpless puppets jerk to the pull of strings being operated by other puppets. Though the story moves much too swiftly for detailed characterization, Kurkov employs a subtle magic that pulls you in until, at one fateful moment, you realize you're actually starting to care about these helpless, violent men trapped by economic circumstances into a grim, backstabbing dance of death. --Nick DiMartino
Shelf Talker: A frenetically paced international crime novel with a touch of Russian surrealism about a military general hung from a Coca-Cola balloon and the corpse-strewn cover-up that follows.