Shelf Awareness for Friday, February 24, 2012

Quotation of the Day
The Oscars: 'Can There Be a Cinema Without Books?'
"If the publishing industry really does collapse, as some predict it will, it won't be the big houses or the independent bookstores that will be most affected, it will be Hollywood. This year's crop of Oscar contenders begs the question 'Can there be a cinema without books?' I'm skeptical."
--
Patrick Brown
in his piece for the Millions headlined "Source Material: Breaking Down the Oscar for Adapted Screenplay"


News
McLean & Eakin ❤ IPG
In a show of support for Independent Publishers Group, which is no longer selling e-books through Amazon after refusing to change its terms, McLean & Eakin Booksellers, Petoskey, Mich., has created a M&E ❤ IPG banner for its home page that links to a page of IPG books.

Matt Norcross of McLean & Eakin said that the store did something similar two years ago, when Amazon delisted Macmillan printed book titles in an effort to force Macmillan not to institute agency pricing on e-books. "We will Tweet and Facebook about IPG titles as long as this stand off continues," Norcross continued. "Indies are committed to the to the written word. M&E has never refused to sell a book based on our margin. Clearly Amazon is only committed to Amazon."
In related news, Melville House has a roundup of reaction to the Amazon decision here and abroad and from other publishers as well as authors. (For example, sci-fi author Eileen Gunn notes that the Amazon approach hurts its own Kindle customers, who no longer can easily buy IPG e-books.)


Post-Pottermania: J.K. Rowling's Next Book for Adults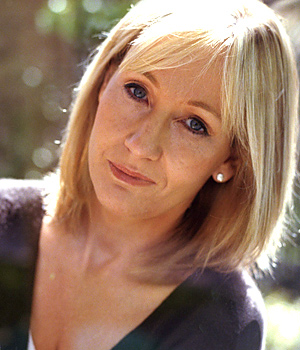 J.K. Rowling's next novel will be for adults. The Guardian noted that "booksellers up and down the country will be rejoicing" upon hearing the news that the creator of the Harry Potter empire has confirmed plans for a new work of fiction that will be "very different" from her previous books.

Rowling has signed with Little, Brown to publish her adult works in the U.S. and U.K., with other Hachette imprints handling publication elsewhere. "Unlike the Potter books, the e-book version will be available simultaneously with print," the Guardian noted, adding that the novel's title and publication date will be announced later.

"Although I've enjoyed writing it every bit as much, my next book will be very different to the Harry Potter series," Rowling said. "The freedom to explore new territory is a gift that Harry's success has brought me, and with that new territory it seemed a logical progression to have a new publisher. I am delighted to have a second publishing home in Little, Brown, and a publishing team that will be a great partner in this new phase of my writing life."



Speculation has been rampant for some time that she was working on a novel, but the Guardian reported yesterday's announcement "gives a vital clue that she's been writing a crime novel. It has the fingerprints all over it of the hugely respected editor David Shelley, a man who counts Dennis Lehane, Val McDermid, Carl Hiaasen and Mark Billingham amongst his authors and who comes from a background steeped in crime and thriller writing. And now he's going to be editing Rowling's new book."

Author Ian Rankin seemed to be ready for that possibility: "Wouldn't it be funny if J.K. Rowling's first novel for adults turned out to be a crime story set in Edinburgh? My word yes," he tweeted. "Might explain why she left the neighbourhood (me, McCall Smith, Atkinson near-neighbours) and moved across town... She's certainly a fan of the traditional whodunit."

While the general reaction to the announcement has been positive, Eoin Purcell sounded a note of skepticism that a new Rowling book "will NOT be a boost to booksellers," citing the potential impact of supermarkets, e-books, online sales and the economy. "So J.K. Rowling will do well from this but in an environment where free cash is limited the likelihood is that the book will simply change purchasing patterns in the book trade rather than expand the market."

As to the timing of the book's release, Rowling appeared to have tipped her hand regarding that on her own Twitter account, where she wrote: "As you may have heard, I have a new book out later this year. Very different to Harry, although I've enjoyed writing it every bit as much."



Office Depot Selling Nooks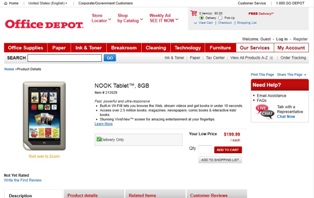 Barnes & Noble's Nook Simple Touch e-reader and Nook Tablets, as well as complementary accessories, are now available in Office Depot's stores and on the company's website. Farla Efros, executive v-p and chief merchandising officer for Office Depot, said the addition of the Nook product line "further bolsters our mission to provide our customers with the most cutting-edge products in the marketplace. We are pleased to be expanding our tablet and e-reader portfolio with offerings that are at the top of our customers' lists."




Children's Picture Books: Where's the Nature?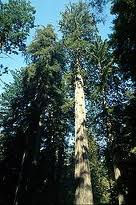 A new study reports that in recent decades, nature "has increasingly taken a back seat in award-winning children's picture books--and suggests this sobering trend is consistent with a growing isolation from the natural world," Science Codex wrote.

A group of researchers, led by University of Nebraska-Lincoln sociology professor emeritus J. Allen Williams Jr., reviewed Caldecott Medal winners and honor books from the award's inception in 1938 through 2008. They looked for depictions of natural environments, built environments or something in between, as well as whether animals--wild, domesticated or with human qualities--were in the pictures.

The results indicated a gradual decline "in illustrations of natural environments and animals, as well as humans' interactions with both. Meanwhile, images of built environments became much more common," according to Science Codex.

"I am concerned that this lack of contact may result in caring less about the natural world, less empathy for what is happening to other species and less understanding of many significant environmental problems," Williams said.



Notes
Image of the Day: Sweet Party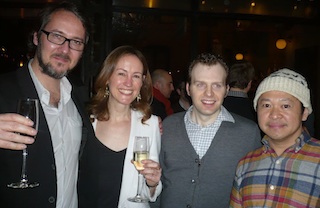 Last week, a book about a year in the City of Light was launched in the City That Never Sleeps: Bosie Tea Parlor in New York City was the setting for a party for the memoir Paris, My Sweet: A Year in the City of Light (and Dark Chocolate) by Amy Thomas (Sourcebooks). Amid servings of macarons and champagne: (from l.) Fred Bonn, creative director at Ogilvy/Paris who recruited Thomas to work à Paris; Amy Thomas; Andrew Dickinson, a friend; and pastry chef Pichet Ong.


Cool Idea of the Day: S.F. Bookstore and Chocolate Crawl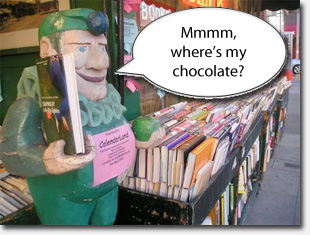 For book-lovers with a sweet tooth, this Sunday is the San Francisco Bookstore and Chocolate Crawl, "where you can spend the day exploring the city's great independent bookstores AND eating chocolate.... The crawl begins at our very own Green Apple Books at 12 noon. The event is free, but you're of course encouraged to buy some books from the participating retailers," the Richmond District blog wisely noted. Indie bookstores participating in the event that reminds us of bookstore tourism include Green Apple, the Booksmith, Books Inc., Adobe Books, Forest Books, Borderlands Books, Dog-Eared Books and Modern Times Bookstore.

On the event's Facebook page, organizers said "San Francisco is lucky to have so many amazing independent and locally owned bookstores. Our wealth of bookstores are one huge reason why San Francisco has such a strong literary culture. We wanted to take a day to celebrate this amazing resource--by bringing a ton of our friends on a big hike through the city, where we descend on some bookstores and buy tons of books. While snarfing lots of chocolate."



Joseph-Beth's Facebook Advertising Strategy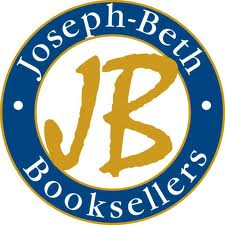 Joseph-Beth Booksellers is using paid advertising on Facebook to "promote events to a wide range of people with similar interests," Bookselling This Week reported, noting that the bookseller, which has four locations in Kentucky and Ohio, "now uses Facebook ads for more than 60% of its events and has met with great success."

The ads have "quickly become one of our primary spends," said Michael Link, Joseph-Beth's publisher relations manager. "They allow us to have outreach within our community, and in addition to what we do for every event--send newsletters, use in-store displays, and traditional media ads--things that independents already do really well, we do this to cast as broad a net as possible."

Link added that Facebook ads are ideal "for finding and identifying readers in the community outside of our immediate cities, for different topics and fan bases. We've definitely seen events where [attendance] has been incredibly, incredibly strong."



Beautiful Bookshops? Bah, Humbug!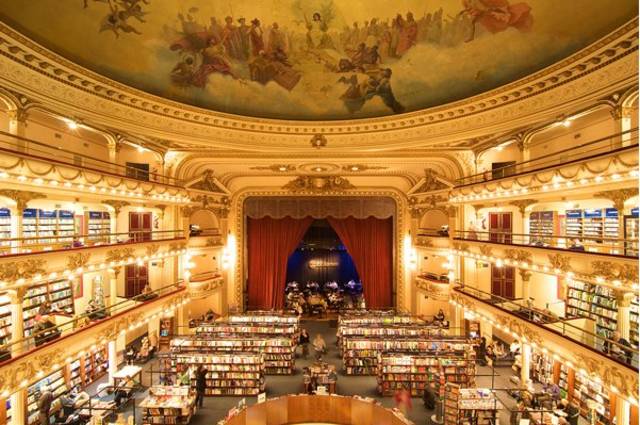 In reaction to the popular lists of "most beautiful bookshops" that appear with regularity, the Guardian's Rick Gekoski offered a dissenting opinion, noting that the concept "doesn't work for me.... This may be because I am a book dealer, and my demands on a bookshop are often specialized, but I am also an avid reader, and I buy a hell of a lot of books. And the kind of (both beautiful and useful) bookshop that has been described is frequently, in my experience, exactly the sort of place that I am disappointed, and frequently exasperated, by. (Though I find more of these in America, I can think of a good few examples in the U.K. as well.)

"The reason for my unease is that what is so lovingly created in such settings is not a bookshop, but an idea of a bookshop. It is a sentimental idea, a kind of pastoral often untouched by serious commercial consideration. The kind of bookshop you might find in a Beatrix Potter book, with browsing rabbits.... But the purpose of a bookshop is not to make its patrons sigh with pleasure, but to make them buy books. And I have seen scant evidence that, as a marketing strategy, the beautiful bookshop works very well as a selling venue. Some may succeed in spite of their beauty--through a great location or an excellent stock--but few because of it."




Book Trailer of the Day: North Carolina Craft Beer & Breweries
North Carolina Craft Beer & Breweries by Erik Lars Myers (John F. Blair, Publisher).



Media and Movies
Media Heat: Dr. Walker on African-American Healthy
Tomorrow on the Rev. Al Sharpton with Sharp Talk: Richard W. Walker, Jr., M.D., author of African-American Healthy: Tapping into the Remarkable Power of Vitamin D3 (Square One, $15.95, 9780757003615).


Documentary Trailer: Morgan Spurlock's Comic-Con
A trailer has been released for Comic-Con Episode IV: A Fan's Hope, the latest documentary by Morgan Spurlock (Super Size Me, The Greatest Movie Ever Sold). Indiewire wrote that Spurlock is "chronicling the journey of three individuals labeled the Collector, the Geek, and the Designer as they follow their respective passions, that culminate in their attending the Mecca of all geekdom known as Comic-Con." The film is set to arrive in theaters April 6.




Movie Photos: Anna Karenina
"Don't expect the usual costume drama routine from Joe Wright's experimental take on Anna Karenina," Indiewire cautioned in showcasing photos from the movie based on Leo Tolstoy's novel, with a screenplay by Tom Stoppard.

For the project--which stars Keira Knightley, Jude Law and Aaron Johnson--Wright "made the audacious decision to shoot the film nearly entirely on a single stage, in a take that has been described as being set in an 'elastic universe' that will include toy trains and dollhouses standing in for exterior locations." Anna Karenina is scheduled for a September 7 release in the U.K., though no U.S. date has been announced yet.



Books & Authors
Awards: Colby Winner; Montana & Florida Prizes
A Nightmare's Prayer by Michael "Zak" Franzak (Threshold Editions) has won the 2012 William E. Colby Award, which recognizes "a first work of fiction or non-fiction that has made a significant contribution to the public's understanding of intelligence operations, military history or international affairs."

Author W.E.B. Griffin, one of the judges, said A Nightmare's Prayer won because "it is the most compelling and vivid book yet written about aerial warfare in Afghanistan. The author's superbly written account of how a Marine airman answered the call to duty would make the late Bill Colby proud of the high quality of the recognition given annually in his name." Franzak is a former Marine Harrier pilot.

Franzak will receive the award and a $5,000 honorarium--provided through a grant from the Tawani Foundation--at Norwich University by Carlo D'Este during the 2012 Colby Military Writers' Symposium at the Meet the Authors Dinner on April 12.

---

Raptors of the West by Kate Davis, Rob Palmer and Nick Dunlop (Mountain Press) won the Montana Book Award, which recognizes literary and/or artistic excellence in a book written or illustrated by someone who lives in Montana, is set in Montana, or deals with Montana themes or issues. The authors will be honored in April during the Montana Library Association Conference at Big Sky.

---

Winners were named in seven categories for this years Florida Book Awards, which honor and celebrate the best Florida literature published the previous year. This year's recipients will be recognized at a March 21 ceremony in Tallahassee. For a complete list of Florida Book Awards honorees, check here.



Book Brahmin: Todd Grimson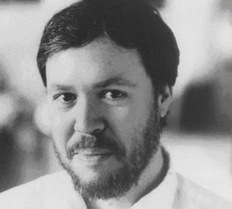 Todd Grimson's first book, Brand New Cherry Flavor: A Novel of the Occult (Schaffner Press, 2011), blends a phantasmagorical dreamscape with "cinematic realism." His follow-up, Stainless: A Modern Romance (Schaffner Press, Feb. 1, 2012), is an urban noir vampire novel set in late 1990s Los Angeles. Grimson has published short fiction online under the nom de plume "I. Fontana," appearing in such literary reviews as BOMB, Bikini Girl, Juked, New Dead Families, Spork and Lamination Colony. Schaffner Press will release Grimson's Stabs at Happiness: 13 Short Stories in fall 2012.
On your nightstand now:
The Map and the Territory by Michel Houellebecq, Rule 34 by Charles Stross and Vanished Kingdoms by Norman Davies. I read every Houellebecq. I think he has an interesting mind. Meanwhile, I've been reading science fiction and ancient history--the imaginary future and the imaginary distant past.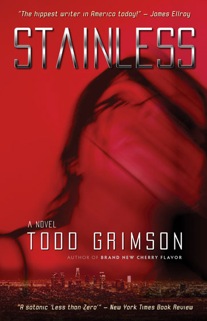 Favorite book when you were a child:
Collected Works of Edgar Allan Poe. I read this in second grade when I was home ill with the measles for two weeks. It inspired me to write my own version of the poem, "The Haunted Palace," and somehow this got noticed at school. Previously they thought I was slow, because I had a little stammer. But the stammer went away.
Your top five authors:
Of all time? Dostoyevsky, Flaubert, Anthony Powell, Saul Bellow, Marcel Proust. Dostoyevsky is what I'm always aiming for on some level. Flaubert is a different sort of ideal. There's probably more pure reading pleasure for me in Anthony Powell than in anyone else. The 12-volume A Dance to the Music of Time is worth rereading every two or three years, just like Proust. I'm not crazy about every single one of Bellow's novels, but I can reread and get something new each time out of Humboldt's Gift and Mr. Sammler's Planet.
Book you've faked reading:
The City of God by Saint Augustine.
Book you're an evangelist for:
The Devil in the Hills by Cesare Pavese.
Book that changed your life:
Crime and Punishment by Dostoyevsky. Read it when I was 12.
Book you most want to read again for the first time:
A Dance to the Music of Time by Anthony Powell.


Book Review
Review: The Grey Album: On the Blackness of Blackness
Grey Album: On the Blackness of Blackness by Kevin Young (Graywolf Press, $25 paperback, 9781555976071, March 13, 2012)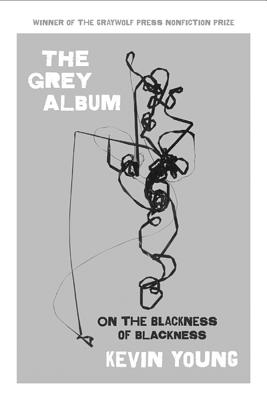 Kevin Young is full of surprises: a Midwest native who's long lived on both coasts; a classically educated scholar (Harvard, Stanford and Brown) who's fluent in field and street musical idioms from blues, jazz and soul to hip-hop, funk and DJ mixtapes; a black man whose keen interest in African-American culture and tradition steers him to their important influence on the works of Ezra Pound and T.S. Eliot. His poetry has already won several awards--as well as earning a National Book Award nomination--and his first major work of nonfiction, The Grey Album, is the winner of the 2010 Graywolf Nonfiction Prize. It's a personal, scholarly, far-reaching and innovative study of the role of "storying" in the history of American culture, particularly African-American culture.
The art of "storying," as Young describes the tradition of "black imagination conduct[ing] its escape by way of underground railroads of meaning," is central to the literature and music of an American black population struggling out of slavery, segregation and racism. It involves creating a "counterfeit" identity--switching names and nicknames ("Hell, look how many names Diddy has had in the relatively short time he has been on the scene") and crafting unique languages (slave work chants, gospel shouts, oral poetry, blues mumbling, jazz scat, soul "fa-fa-fa-fa-fa," hip-hop profanity, DJ scratch).
In building his case for the centrality of "shadows and lies" in black American culture, Young takes us through careful studies of both obscure and famous figures in black literary history--way beyond the narrow canon of Black History Month ("what it was called in my youth," he reflects, "not the awkward 'African American Identity Roundup' or whatever we call it these days"). Langston Hughes, Frederick Douglass, Gwendolyn Brooks and Ralph Ellison share the spotlight with Paul Laurence Dunbar and Bob Kaufman, but Young also pulls readers deep into the music of everyone from Bird and Miles to Otis and Aretha up to Wu-Tang and Danger Mouse (whose mashup of Jay-Z's Black Album with the Beatles White Album inspired Young's title). Even Muhammad Ali's bobbing and weaving "rope-a-dope" strategy and his flamboyant "sting like a bee" poetry become part of the storying tradition.
The pleasures in The Grey Album, however, are not just those of learning erudite details of black American history, but also those of hearing the impassioned impressions of a poet diving deep into his own personal history. Young entertains as much as he teaches and broadens our understanding of the unifying threads of America's unique cultural traditions.-- Bruce Jacobs
Shelf Talker: With a poet's flair, a musician's tone and a scholar's care, Kevin Young explores the art of "storying" in African-American culture.


Deeper Understanding
Robert Gray: Linsanity, the Book Lindustry & Lindependents
"Storybook saga" is just one of many bookish references I've noticed that attempt to describe the meteoric rise of New York Knicks point guard Jeremy Lin since February 4, when he quietly entered a National Basketball Association game against the Nets that few people outside (or even within) the New York metropolitan area cared about.

At that moment, he was just days away from possibly being released by the team, but Lin got his opportunity, was prepared to seize it and has since become arguably the most popular athlete in the world, with a mega-list of new fans that includes President Barack Obama and Taiwan's President Ma ying-jeou.

Perhaps this is just his 15 minutes, though even Andy Warhol might grant Lin an extension under the circumstances.

Many of you reading this are not basketball, or even sports, fans. Those who are already know the story. How could you miss it? So I will only mention that, in addition to his remarkable success on the court--which has revitalized a team that was going nowhere at light speed--Lin is the first American-born player of Chinese or Taiwanese descent to play in the NBA and the first Harvard grad since Ed Smith in 1954.

What does this have to do with books and reading? As I follow the Jeremy Lin phenomenon, I'm paying close attention to discussions in the media about racial identity and prejudice, as well as the role of religion in public life (Lin is a devout Christian). But I also enjoy the word play that has been sparked by his sudden rise to global prominence, along with his unanticipated impact upon the book world.

Let's start with the unique handshake Lin developed with his teammate Landry Fields. It is an elaborate mime: put on glasses, open book, flip through pages, close book, return glasses to pocket. Geeky jock chic.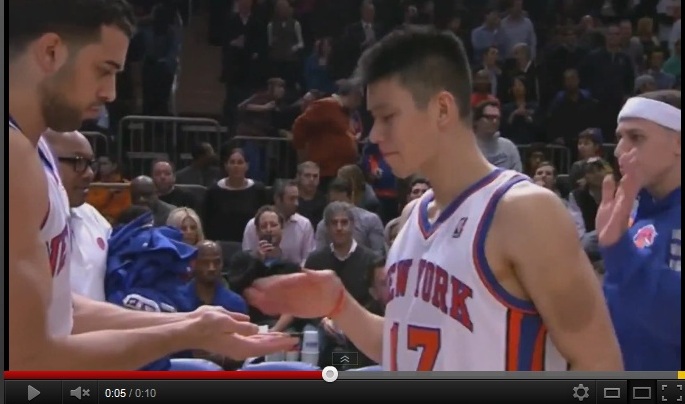 Or consider "Linsanity," a new word that could be in the running for Webster's Word of the Year. Lin is attempting to trademark the term, and the "Lin-" prefix has gotten completely out of control, inspiring an endless stream of pun-based signs, headlines and even a Jeremy Lin word generator. The New Yorker noted that on the Chinese mainland, "Linsanity has been translated to linfengkuang."

Then there are the books. In May, Hachette will publish Jeremy Lin: The Reason for the Linsanity by Timothy Dalrymple.

Richard Abate, Lin's new literary agent, was initially looking to shop a memoir that might net a $500,000-plus advance, but this project has been put on hold so Lin can concentrate on his day--um, night--job. Knopf editor Jonathan Segal expressed a measure of skepticism in Forbes magazine: "Who knows what the world's going to be like a year from now," he said. "If it were an instant book that would be published in a month, things might even change."

Funny he should say that. There are already at least seven e-books on the market, according to GalleyCat. Alan Goldsher, who wrote the 15,000-word manuscript for Linsanity: The Improbable Rise of Jeremy Lin in 72 hours, told Fast Company that "from conception to availability, we're talking just under a week."

Lin-themed articles have popped up in unexpected publications like Entrepreneur ("Finding the Jeremy Lin on Your Team"), Wired ("What Jeremy Lin Teaches Us About Talent") and Psychology Today ("LINsanity! Observations on the Worship of a New Sports Hero").

Earlier I asked what all this has to do with books and reading. A better question might be: What do we want from this young man? In Robert Harris's new novel The Fear Index, a character observes that "the rise in market volatility, in our opinion, is a function of digitalization, which is exaggerating human mood swings by the unprecedented dissemination of information via the Internet."

Lin was an economics major. He'd get that, and he may even survive it. I hope he does. I like what I've seen of his apparent humility, work ethic, focus and sense of teamwork. My college lacrosse coach was obsessed with the motto: "Success happens when preparation meets opportunity." It made us chuckle then, but I don't laugh so much at it anymore.

In fact, when I saw Ann Patchett going toe-to-toe with Stephen Colbert earlier this week, I recalled that old saying, and thought about all the great indie booksellers--new as well as old--for whom, at this moment, preparation and opportunity are beginning to show some tangible results. Perhaps we're on the cusp of a new age for Lindependent bookstores, too.--Robert Gray, contributing editor (column archives available at Fresh Eyes Now)