Friday, February 24, 2012: Kids' Maximum Shelf: Horten's Miraculous Mechanisms

Editors' Note
Maximum Shelf: Horten's Miraculous Mechanisms
In this edition of Kids' Maximum Shelf--the monthly Shelf Awareness feature that focuses on an upcoming title that we love and believe will be a great handselling opportunity for booksellers everywhere--we present Horten's Miraculous Mechanisms by Lissa Evans, which goes on sale on April 3, 2012. The review and interviews are by Jennifer M. Brown. Sterling Children's Books has helped support the issue.



Books & Authors
Children's Review: Horten's Miraculous Mechanisms
Horten's Miraculous Mechanisms by Lissa Evans, illustrated in b&w by Temujin Doran (Sterling, $14.95 hardcover/$7.99 ebook, 9781402798061/9781402798450, 272p., ages 8-12, April 3, 2012)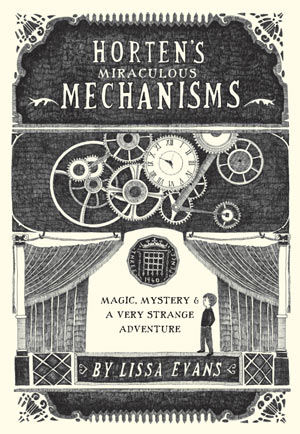 In her first book for young readers, Lissa Evans (Their Finest Hour and a Half) combines mystery, comedy and a charming hero in a page-turning middle-grade novel. Her background as a comedy show producer shines through in the impeccable timing of the well-planted clues and sudden revelations--often delivered with a dash of humor.
Ten-year-old Stuart Horten is not excited about moving away from his friends to his father's hometown to be near his mother's new job. Not to mention it's the start of summer vacation, and how will he ever meet people his own age? But things start looking up when Stuart's family history turns into a mystery for him to solve, involving his magician Great-Uncle Tony's disappearance years ago. A curious box that Great-Uncle Tony left to Stuart's dad provides a key to unlocking other parts of the puzzle. One of the novel's most charming elements is the relationship between Stuart and his preoccupied father, who designs crossword puzzles and is obsessed with finding the next great word clue and solution (his last bedtime tale for Stuart was about Samuel Johnson and the compilation of the first English dictionary). Stuart, entirely focused on the here and now, almost instantly figures out the secret of the box, which his father has carried around for decades. Yet Stuart's father shows his own talents at a later point, when he helps solve a word clue and also fills in some key facts about the Horten family for Stuart. Their skills complement one another.
On a walk with his father, Stuart learns that his family once ran a factory, Horten's Miraculous Mechanisms, which manufactured locks, safes and coin-operated machinery until it was destroyed in a bombing during World War II. He also finds Great-Uncle Tony's dilapidated dwelling, scheduled for demolition. These settings both figure prominently in Stuart's detective work. But can he shake his next-door neighbor, a girl who's hot on his trail and seems to pop up everywhere, long enough to do his sleuthing? Stuart tries to lose her by taking refuge in a vintage phone booth. The cord's been severed, but still the phone rings. It's the Beeton Public Library, about a book placed on hold for "Mister Horten." Stuart examines the book, filled with photos of the town's landmarks that supply further clues connected to his missing great-uncle. His detective work also leads Stuart to a blind woman, Leonora, the sister of his great-uncle's lovely assistant and fiancée. Leonora seems to be under the thumb of a woman called Jeannie and her sidekick Clifford, who want to find Tony Horten's workshop with all his tricks.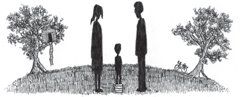 Meanwhile, the neighbor girl keeps following him! How can she be so omnipresent? Stuart soon discovers it's because she is really three--identical triplets April, May and June Kingley. And April (who distinguishes herself from her siblings by wearing glasses) turns out to be quite helpful to Stuart on his mission--especially when Stuart's parents decide to take a family camping trip the weekend before Uncle Tony's house is to be demolished.
Evans creates a winning hero in Stuart Horten, and allows readers to think through the clues right along with him. The humor and logic remain squarely in a 10-year-old mindset. One of the fun ironic twists is that the team trying to find out what happened to Teeny-Tiny Tony Horten doesn't believe in his tricks. "I don't believe in magic," says April. "Nor me," says Stuart, "But neither did Great-Uncle Tony until the night of the fire." Is it all just illusion? The Pharaoh's Cabinet? The Well of Wishes? Ultimately, readers must judge for themselves. A complete, comical and suspenseful ride... to be continued in fall 2012 with Horten's Incredible Illusions.


Lissa Evans: Magic in Real Life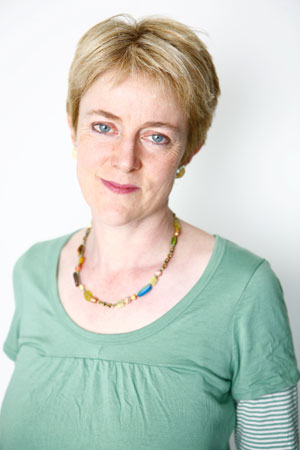 After four years of being a physician, Lissa Evans gave it up. She thought, "What do I do now?" She'd written and produced comedy in college, so she went to radio and then to television comedy as a script editor and producer. Then, "after years of running a red pencil through other people's work," she said with a laugh, she started writing at age 39.
Your first books were for adults. What made you want to write a children's book?
The books I loved best as a child were books like The Diamond in the Window by Jane Langton. I liked magic in real life rather than magical kingdoms. When I was nine, we moved house near the beginning of the summer holidays. I was the youngest by a long way. I spent a great deal of time alone, wishing desperately that something magical would happen. I started adopting objects that I thought could be magical--a grandfather clock and a little back alley with a robin in it. I wanted something to take me into a magical world. I wanted to write a book like that, a book of possibilities.
Did you conceive of this as a series, or did that evolve as you got deeper into the story?
I started with Stuart's story and just kept going. Initially I wrote a cliffhanger. I think I realized about halfway through, he'd just discovered the workshop and you can't end there. This will be two books only.
Did your background in comedy help with the pacing?
I think maybe it does. I've written books for adults, but you write those in a different way, and you certainly don't end them on cliffhangers. You can get away with a so-so description, but a joke has to be exactly right. Similarly, with the accuracy of description of suspense, you have to get the phrasing exactly right or it doesn't do what you want it to do. It's got to be tight pacing and no flabbiness.
One of the book's strong themes is the importance of paying attention. Uncle Tony originally intended to leave clues for Stuart's father, but Stuart's the one who figures them out. Yet his father gives Stuart valuable information, too.
I couldn't just have the father as a comic figure. His function is to pick up on the things Stuart wouldn't. He's often quite useful. There's teamwork, though it's not conscious on the father's part. It's classic old-married-couple comedy. There's more of it in the next book.
The clues to your mystery stay firmly planted in a child's experience. For instance, one key clue is that Stuart has to figure out what a baker's dozen is.
Children can appreciate slapstick and sarcasm, but it has to be in the realm of their experience. I think, "What wouldn't I quite have understood then, which bit would I have needed adult help for?" You have to crouch down mentally and approach it from a child's viewpoint.
Stuart enters the mystery by coincidence, by picking up the phone in the telephone booth that he later recognizes from the book of photographs.
That came as I wrote it. I'm not somebody who does all the plot in advance, which meant the natural twists and turns are quite natural because that's how I think of them. I'll write a character in and then realize how useful they might be in the future. The book of photographs came as a thought later. I do love my plots to tie up.
We loved the triplets, and how April rises to the top.
I've always been obsessed with twins, and I have 10-year-old twin girls. Not identical, they're completely different. I kind of always loved the idea of having someone always there. Two of my three adult books have twins. I never put them in deliberately, but they sort of turn up in things.
Even though April plays the larger role, you don't waste May and June--they serve a purpose later in the novel.
I didn't want to shortchange the triplets. There's much more to them in the second book. "You don't have to like them, you just have to tolerate them, that's what I do," says April in the second book. April is the kind of girl I was. If I was in the book, I would have done just what April does. I love that she's a glasses wearer but still a daredevil.
One of our favorite things about Uncle Tony is that he doesn't believe in magic per se; he believes in the mechanisms he invents that create the illusion of magic.
I love the bit where April says, "I don't believe in magic." Stuart says, "Neither do I, and neither did Uncle Tony." It's one where people stumble across it and have to embrace magic because it's there. I believed in magic so strongly as a child. This is kind of wish fulfillment.
Can you give us a hint of what's coming in the second and final book?
Each of the tricks comes into its own in the next book, and each has an adventure of its own. It's funny because I wrote the names of the tricks in passing--they're not important in the first book--but they become important in the second book.
Time travel introduces a bit of complexity, doesn't it? Do you like time loop puzzles?
There's an aspect of time travel in the next book, but perhaps not what you think. I'm a believer in the idea that "We'll never invent time travel because no one's ever come back to see us." I do like my explanations; I like to know why things have happened. If I can buy it, I enjoy it, but if it's just "I feel shivery; I'm back in Victorian times," I'll pass.


Stuart Horten: Smart, with No Apologies
Cindy Loh, editorial director of Sterling Children's Books, found a charming middle-grade novel by Lissa Evans at the Bologna Book Fair called Small Change for Stuart (published by Doubleday/Random House in the U.K.). "The cover and the feel of the book were so wonderful," Loh recalled. "I brought it home, read it right through, took it straight to Frances, and said we had to buy it." Frances Gilbert, Sterling's publisher, said, "That pretty much sums up our acquisitions process. Sometimes Cindy jumps up and down on my couch. We know in our hearts that we're onto something good."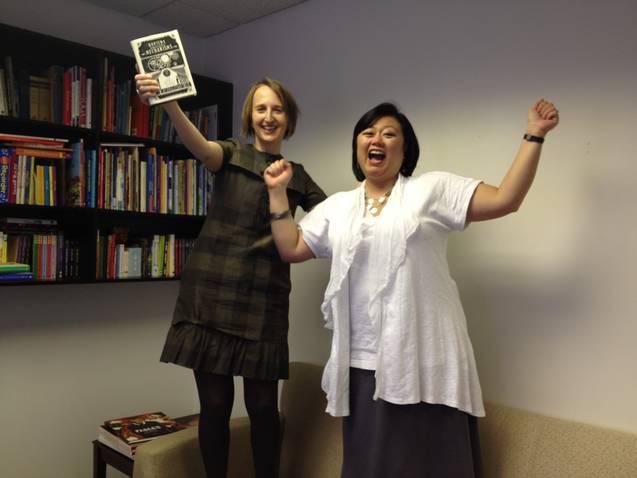 Everyone at Sterling loved the book. The only caveat was "everyone kept asking me if this were another Stuart Little book," Loh said. "When we noodled it around, we decided the crux of the book was the mechanisms, and that's how the title came about: Horten's Miraculous Mechanisms." In the next book, Horten's Incredible Illusions, each of Teeny-Tiny Tony Horten's magic tricks (named in the first book) gets its own adventure. "We think this is a book that the whole family will enjoy," said Gilbert. "Stuart's relationship with his parents is so loving and smart."
One of the main attractions Loh felt for the book is that the reader is solving the puzzle right along with Stuart, and that it puts readers in that 10-year-old mindset no matter how old they may be. "Another thing I love," Loh added, "is that Lissa takes what could be a negative--Stuart being short--and makes it a positive. It figures into the climax of the book." Gilbert also admired the way Evans created consistently smart characters: Stuart and his father and mother, and the triplets April, May and June: "No one apologizes for that," observed Gilbert. "It's not played off as geeky, and they're happy to be smart."
Gilbert said that with this first foray into middle-grade fiction, they're pulling out all the stops:
Joint promotions with e-books and print books
In-store activity kit (book club guide, activity sheets, shelf talkers, video link)
Skype events with bookstores and schools
Facebook Stuart Horten fan page (including interviews by April, May and June Kingley)
In addition to Facebook, social media marketing with blog tours and Twitter
Author video
Summer beach-read focus, with advertising in beach communities along the East Coast


Book Brahmin: Lissa Evans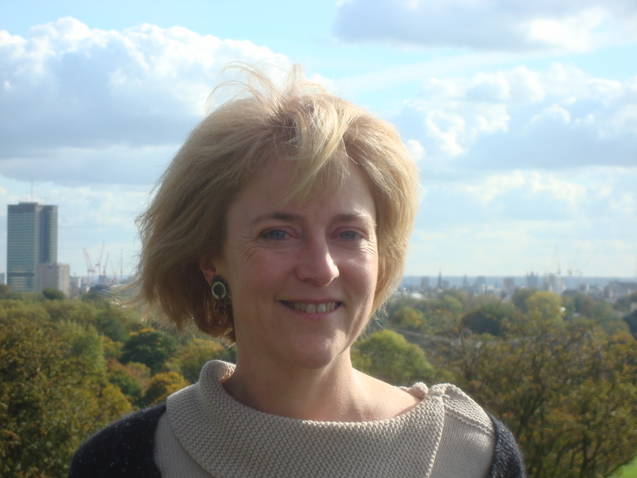 On your nightstand now:
Butcher's Crossing by John Williams (superb, and slots right into my particular love of sitting in bed while reading about people struggling through frozen wilderness).
Favorite book when you were a child:
The Diamond in the Window by Jane Langton
Your top five authors:
George Orwell, Charles Dickens, Edith Wharton, Oliver Sacks and Betty MacDonald
Book you've faked reading:
Salman Rushdie's Midnight's Children.
Book you are an evangelist for:
Anything by Betty MacDonald
Book you've bought for the cover:
A History of the World in 10 1/2 Chapters by Julian Barnes--the original cover had a marvellous illustration of a heaving sea with the Apollo 11 capsule floating foreground, and Noah's Ark in the background.
Book that changed your life:
How to Be Topp by Geoffrey Willans and Ronald Searle. The first book that made me cry with laughter.
Favorite line from a book:
"I left the room with silent dignity but caught my foot in the mat." --Diary of a Nobody, George and Weedon Grossmith
Book you most want to read again for the first time:
Gerald Durrell's My Family and Other Animals. I picked it up very early one rainy morning on a camping holiday when I was 10 and didn't stop reading until it was finished--by torchlight--late that evening.
Five favorite short stories:
I love short stories: "Jane," W. Somerset Maugham; "It's a Good Life," Jerome Bixby; "The Apple Tree," Daphne du Maurier; "Lord Emsworth and the Girlfriend," P.G. Wodehouse; "To Build a Fire," Jack London.