Shelf Awareness for Thursday, March 8, 2012

News
Justice Dept. Planning E-Price Collusion Lawsuit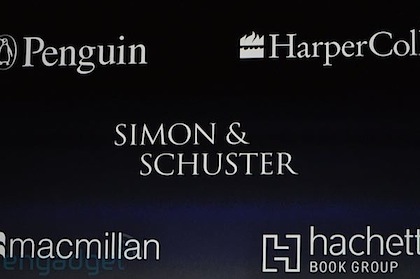 The Justice Department has warned Apple and five of the biggest U.S. publishers that it plans to sue them for allegedly colluding to raise e-book prices, the Wall Street Journal reported." The publishers named are Simon & Schuster, Hachette Book Group, Penguin Group (USA), Macmillan and HarperCollins.

Several of the parties involved have held talks to settle the antitrust case and avoid a court battle, the Journal wrote, adding: "If successful, such a settlement could have wide-ranging repercussions for the industry, potentially leading to cheaper e-books for consumers. However, not every publisher is in settlement discussions."

---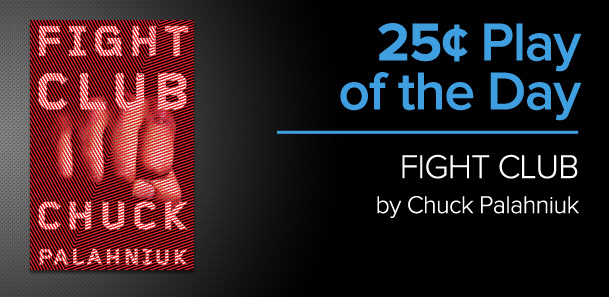 In other e-pricing news, Google Play, the "one-stop digital shopping" site that launched yesterday with a week of 25-cent specials, is offering "amazing deals on high-profile e-books and music--deals that Amazon has quietly matched," the Huffington Post reported.

"Amazon has such a huge investment in being branded as the low price provider to the customer that they don't want to let anybody steal that mantle from them. I think that's just built into their DNA," said Mike Shatzkin, founder & CEO of the Idea Logical Company. "Nothing would cheer me more than to see Google get really good at competing with Amazon," he added. "The industry desperately needs it. But I'm not going to hold my breath."



Wiley Explores Sale of Selected Assets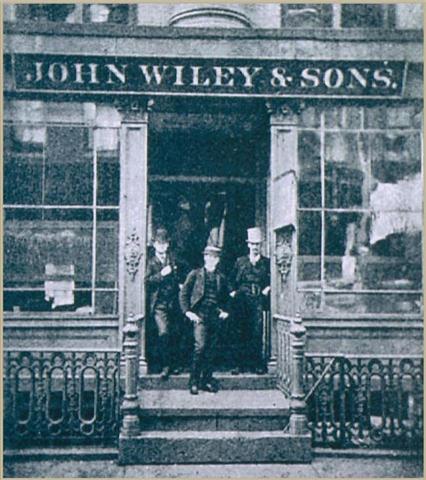 Following a strategic review of the company's Professional/Trade business portfolio, John Wiley & Sons is exploring the possibility of selling a number of its consumer print and digital publishing assets that it said no longer align with long-term strategies. Wiley has retained Allen & Company to explore the sale of assets in travel (including the Frommer's brand), culinary, general interest, nautical, pets, crafts, Webster's New World and CliffsNotes.

Stephen M. Smith, Wiley's president and CEO, said: "We plan to drive long-term growth, accelerate our digital transformation, and optimize our return on investment by investing in content and services that provide our customers in research, learning and professional practice with knowledge resources that help them to realize their professional and personal goals. As a result, Wiley will re-deploy resources in its Professional/Trade business to build on its global market-leading positions in business, finance, accounting, leadership, technology, architecture, psychology, education, and through the For Dummies brand."

In Wiley's fiscal year ending April 30, 2011, the publishing assets offered for sale generated approximately $85 million of revenue.



Amazon Tablets: One Size May Not Fit All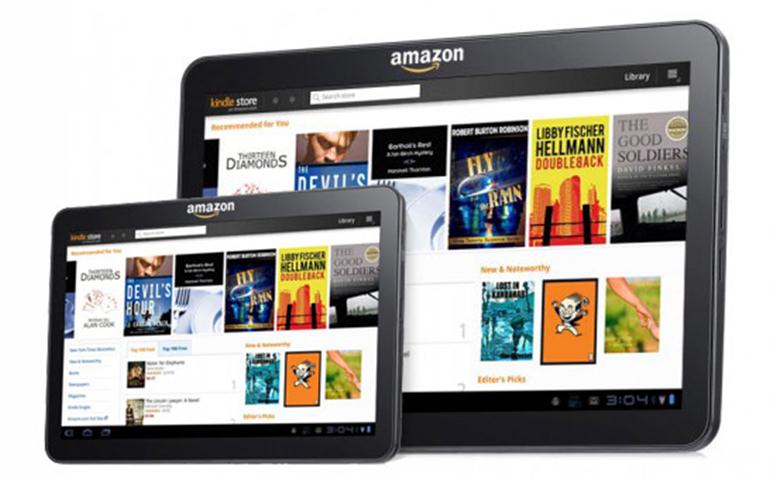 Amazon plans to launch a 7-inch and a 10-inch tablet PC later this year, according to Digitimes, which called this a move that "could cast a shadow on the future development of e-book readers."

Noting that Amazon "shipped 3.98 million Kindle Fire tablet PCs in the fourth quarter of 2011," Digitimes wrote that the company "has shifted its focus from e-book readers to tablet PCs, and so plans to launch a 10-inch model in the second half, instead of an 8.9-inch model projected previously."



Taeckens Moving to Graywolf Press from Algonquin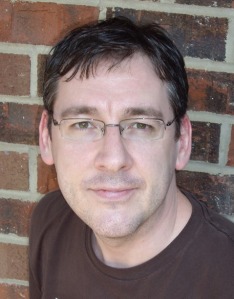 Effective April 16, Michael Taeckens is joining Graywolf Press as marketing director. He has worked at Algonquin Books for more than 11 years, first as publicity director, then as online and paperback marketing director.

At Algonquin, he headed publicity campaigns for more books and authors than we can count. He also launched the house's social media outlets, created the Lucky 7 e-book promotion and started the Algonquin Book Club series of events and webcasts pairing Algonquin authors.

If the move seems like a big one geographically--to Minneapolis, Minn., from Chapel Hill, N.C.--Graywolf noted that Taeckens is a native Midwesterner and has an MFA from the Iowa Writers' Workshop.




A Bookstore in Cape May Again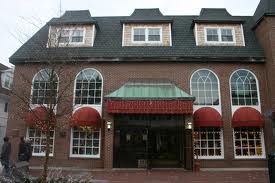 Cape May, N.J., will have a bookstore selling new titles again, thanks to a deal signed by the Hirsch Group. Cape Atlantic Books will be located in City Center Mall at 421 Washington Street, Shore Daily News reported. Last summer Cape May was one of several locations affected when Atlantic Books closed shore town stores in New Jersey and Delaware.

"We are really excited that we can bring a bookstore back into town," said Larry Hirsch, principal of Hirsch Management Group and the Montreal Inn. "We, like many in town, were sad to see the bookstore close and are looking forward to a new opening this spring."



Notes
Image of the Day: Pandemonium at Joint Launch Party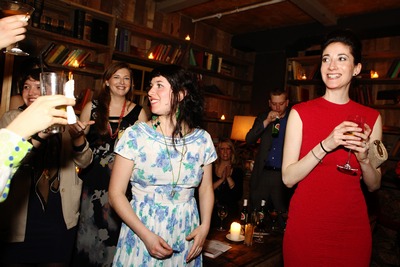 At a joint launch party Tuesday night at Freemans in New York City, the crowd toasted the guests of honor, Kate Ellison, author of The Butterfly Clues (Egmont), and Lauren Oliver, author of Pandemonium (HarperCollins).


Keeping an Indie Afloat... Literally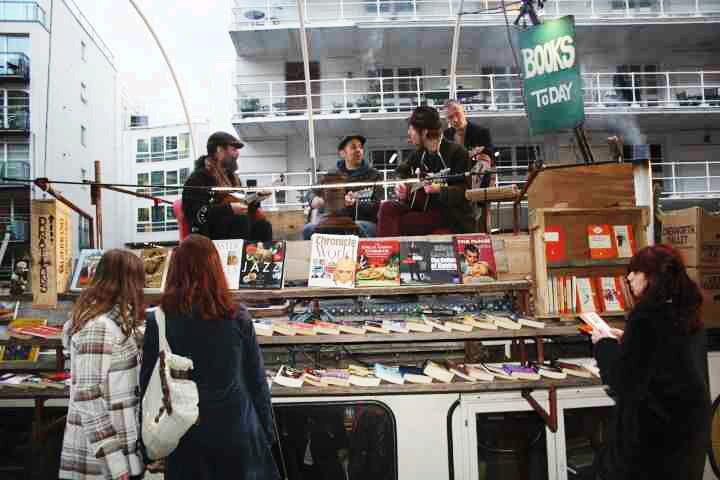 Word on the Water is a London bookbarge that "stops for two weeks at each mooring to sell books donated by the public and by charity bookshops," the Telegraph reported, noting that it is one of more than 2,300 boats on British waterways that are businesses. The bookstore is run by "The Doctor" Paddy Screech, "The Professor" John Privett, and "a mysterious Frenchman called 'The Captain,' " who owns the vessel.

Screech believes his business is drifting toward the mainstream: "We live in times where young people have Debussy mustaches, and listen to Sixties and Seventies music. They are interested in the past. I don't remember there being a youth cult before where the past was so fascinating. There's a hunger for authenticity.... Younger people are becoming interested in things that machines can't do: talent."

Operating under the motto "Quirky is the word," the owners of Word on the Water are "not aiming at what people want, we're trying to make people want what we give them, and business is going very well--we are exceeding our projections quite significantly," Screech observed. "This is a bookshop where you are taken on a journey down the shelves and keep bumping into things that you otherwise wouldn't have."



Video: Song for a New Library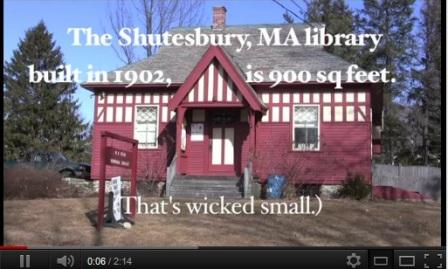 "Where would you be without your library?" That's the question readers of all ages address in a fun and lively fund-raising video created for the 900-square-foot M.N. Spear Memorial Library in Shutesbury, Mass. (population 1,800). "Our cute little library was built 110 years ago, for a town of 400 people," the organizers note, adding that currently and ironically "there's no room in our cute little library to sit and read a book!" The state Library Commission has agreed to fund 60% of the cost of a new building, and the library must raise raise $1.4 million by June 30.



Book Trailer of the Day: The Iguana Tree
The Iguana Tree by Michel Stone (Hub City Press).


Media and Movies
Media Heat: Lilly Ledbetter on Tavis Smiley
Today on Anderson Cooper 360: Laurie A. Couture, author of Instead of Medicating (Wyatt-MacKenzie, $25, 9781932279979).

---

Tomorrow on Tavis Smiley: Lilly Ledbetter, co-author of Grace and Grit: My Fight for Equal Pay and Fairness at Goodyear and Beyond (Crown Archetype, $25, 9780307887924).

---

Tomorrow on MSNBC's Hardball with Chris Matthews: Thomas Caplan, author of The Spy Who Jumped Off the Screen (Viking, $26.95, 9780670023219).

---

Tomorrow night on HBO's Real Time with Bill Maher: Catherine Crier, author of Patriot Acts: What Americans Must Do to Save the Republic (Threshold Editions, $26, 9781439194928).


Movie Openings Tomorrow: Triple Feature
John Carter, based on the John Carter of Mars series by Edgar Rice Burroughs, opens tomorrow. Taylor Kitsch plays a Civil War veteran transported to a Mars populated by giant aliens and a needy princess. The film also stars Willem Dafoe, Mark Strong, Dominic West, Lynn Collins and Bryan Cranston. A movie novelization, which includes the first John Carter story, "A Princess of Mars," is available from Disney Editions ($9.99, 9781423165583).


The Best Exotic Marigold Hotel, based on These Foolish Things by Deborah Moggach, also opens tomorrow. A group of British retirees travel to what they believe is a freshly renovated luxury hotel in India. The cast includes Maggie Smith, Bill Nighy, Judi Dench, Penelope Wilton, Tom Wilkinson and Dev Patel. The movie tie-in, which uses the film's title, is available from Random House ($15, 9780812982428).


Think Like a Man, starring Kevin Hart, Chris Brown, Michael Ealy and Romany Malco, opens tomorrow, too. Four friends decide to work together after discovering their women have been using Steve Harvey's book Act Like a Lady, Think Like a Man: What Men Really Think About Love, Relationships, Intimacy, and Commitment (Amistad, $13.99, 9780061728983) against them.




This Weekend on Book TV: Tucson Festival of Books
Book TV airs on C-Span 2 this week from 8 a.m. Saturday to 8 a.m. Monday and focuses on political and historical books as well as the book industry. The following are highlights for this coming weekend. For more information, go to Book TV's website.

Saturday, March 10

12 p.m. John Heilemann and Mark Halperin discuss the film adaptation of their book Game Change: Obama and the Clintons, McCain and Palin, and the Race of a Lifetime (Harper Perennial, $16.99, 9780061733642) with Jay Roach, Steve Schmidt and Danny Strong. (Re-airs Sunday at 10 p.m.)

1:30 p.m. BookTV offers live coverage from the Tucson Festival of Books. Featured authors include Jeffrey Rosen, Douglas Starr, Holly Tucker, Deborah Blum, Rick Perlstein, Tom Zoellner, Chris Mooney, Peter Laufer, Sylvia Longmire and Philip Caputo. (Re-airs Sunday at 12 a.m.)

8 p.m. At an event hosted by Politics & Prose Bookstore, Washington, D.C., Timothy Stanley discusses his book The Crusader: The Life and Tumultuous Times of Pat Buchanan (Thomas Dunne, $27.99, 9780312581749).

9:15 p.m. James Simon talks about his book FDR and Chief Justice Hughes: The President, the Supreme Court, and the Epic Battle Over the New Deal (S&S, $28, 9781416573289). (Re-airs Sunday at 10 a.m.)

10 p.m. After Words. Krissah Thompson interviews Maggie Anderson, author of Our Black Year: One Family's Quest to Buy Black in America's Racially Divided Economy (PublicAffairs, $25.99, 9781610390248). (Re-airs Sunday at 9 p.m., Monday at 12 a.m. and March 18 at 12 p.m.)

11 p.m. Hugh Howard, author of Mr. and Mrs. Madison's War: America's First Couple at the Second War of Independence (Bloomsbury Press, $30, 9781608190713), recounts the War of 1812 from the First Couple's perspective. (Re-airs Sunday at 9 a.m.)

Sunday, March 11

1 p.m. Book TV continues live coverage from the Tucson Festival of Books. Featured authors include William deBuys, Dyana Furmansky, Michael Hiltzik, Timothy Egan, Jimmye Hillman, Jeff Guinn, James Donovan, Joshua Foer, Paul Nussbaum, Joe Palca and Diana Henriques. (Re-airs Monday at 1 a.m.)

8 p.m. At an event hosted by Politics and Prose, Washington, D.C., Paula Broadwell and Vernon Loeb discuss their book All In: The Education of General David Petraeus (Penguin, $29.95, 9781594203183). (Re-airs Sunday at 1 a.m. and 3 p.m.)



Books & Authors
Awards: B&N New Writers; Orange Longlist; RNA; Bread & Roses
Untouchable by Scott O'Connor (fiction, Tyrus Press/F+W Media) and Kosher Chinese by Michael Levy (nonfiction, Henry Holt) were named winners of this year's Barnes & Noble Discover Great New Writers Awards, which offer a cash prize of $10,000 and a year of marketing and merchandising support from B&N.

Second place winners ($5,000) were Alice LaPlante's Turn of Mind (Grove/Atlantic) for fiction and Day of Honey by Annia Ciezadlo (Free Press) for nonfiction. Third place ($2,500) went to Volt by Alan Heathcock (Graywolf) for fiction and [sic]: a Memoir by Joshua Cody (Norton) for nonfiction.

---

The £30,000 (US$47,192) Orange Prize for Fiction longlist was released yesterday. The shortlist will be announced April 17, with the winner named May 30.

---

The U.K.'s Romantic Novelists' Association Romantic Novel of the Year named winners in five categories. These titles will now compete for the overall award, which will be announced May 17. Category winners are:
Contemporary: Summer of Love by Katie Fforde
Epic: The Kashmir Shawl by Rosie Thomas
Historical: Highland Storms by Christina Courtenay
Romantic comedy: Please Don't Stop the Music by Jane Lovering
Young adult: Dark Ride by Caroline Green

---

A shortlist has been announced for the £1,000 (about US$1,573) Bread and Roses award for radical publishing, organized by the Alliance of Radical Booksellers. The winner will be named May 1.



Book Review
Review: Reading for My Life: Writings, 1958-2008
Reading for My Life: Writings, 1958-2008 by John Leonard (Viking, $35 hardcover, 9780670023080, March 15, 2012)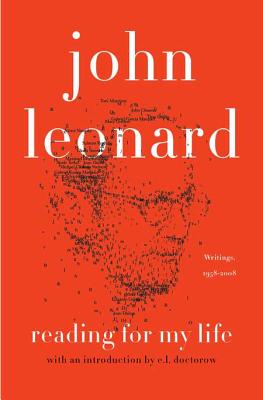 Based on Reading for My Life, an exhilarating selection of 50 John Leonard reviews, essays and speeches (culled from, by his own estimate, a five-million-word career), it's possible to believe the critic read every one of the 13,000 books Leonard once calculated, with a tinge of regret, were the most even a reader as avid as he might hope to consume in a lifetime. But his erudition on a dizzying array of subjects--flashing like fireworks in lists that sometimes stretch to 30 or more references--is never offered for its own sake. Instead, it fuels the infectious enthusiasm of Leonard's standing invitation to join him on a roller-coaster ride in the amusement park of contemporary culture.
Reading for My Life contains a healthy sampling from nearly all of the many publications that featured Leonard's work (of how many writers can it be said they wrote happily for National Review and the Nation?). There are brief reviews of novels from authors like Don DeLillo and Doris Lessing, and extended appraisals of the works of Gunter Grass, Thomas Pynchon, Norman Mailer and others, alongside reviews of nonfiction that include memoirs as diverse as Richard Nixon's Six Crises and Joan Didion's The Year of Magical Thinking. Throughout, the vitality of Leonard's prose helps his incisive criticism withstand the passage of time.
Leonard, who for 16 years had a weekly spot on CBS Sunday Morning, didn't consider it slumming to cover the world of television. Among the most engaging pieces in the book are expansive essays like "Ed Sullivan Died for Our Sins," mourning the erosion of our cultural consensus, or "Family Values, Like the House of Atreus," deploring the vapid depiction of family life on network television ("TV, like fairy tales and structuralism, is how we dream out loud about ourselves"). But Leonard didn't confine himself to cultural criticism--literary or otherwise. In his politics, he was a committed liberal, as demonstrated by his informed, passionate essays on why socialism never came to the United States and America's response to the 9/11 attacks, among others.
Reading for My Life concludes with a series of warmhearted tributes from family and friends like Toni Morrison and Victor Navasky, all paying homage to a man who married a keen intelligence to a generous spirit. "The books we love, love us back," John Leonard once wrote. There is wisdom, wit, and yes, ample helpings of love in the words gathered here--a celebratory summing up of an incomparable critic's life's work. --Harvey Freedenberg
Shelf Talker: A career-spanning collection of an eminent critic's takes on literature, culture and politics.


Deeper Understanding
The Nitty Gritty: E-Reading Habits, A Year Later
Google eBooks has partnered with IndieCommerce stores for more than a year, and those stores also now have mobile sites; both Amazon and B&N have introduced tablet e-readers; the iPad 2 is out, and 3 is rumored to be coming soon. How have e-reading habits changed over the past year? The answers, as presented by my not-terribly-scientific survey below, are heartening, at least for this bookseller.
I altered the questions a bit to help make responses clearer while still mapping with last year's data. This past January, I asked:
Where do you get your e-books?
Which device or devices do you use to read your e-books?
Which dedicated e-reader or e-readers do you own?
What is your favorite thing about e-books and e-reading?
What is your least favorite thing about e-books and e-reading?
The survey went out via Twitter, tumblr and Facebook and netted 345 anonymous responses. There were "other" options not included in the first two charts below, since they don't map nicely. Because the data was so interesting, and there were so many potential ways to parse it that I didn't have either the time or the know-how to take advantage of, I'm making the raw data available. If anyone does play with it, I hope you'll e-mail me and let me know what you find!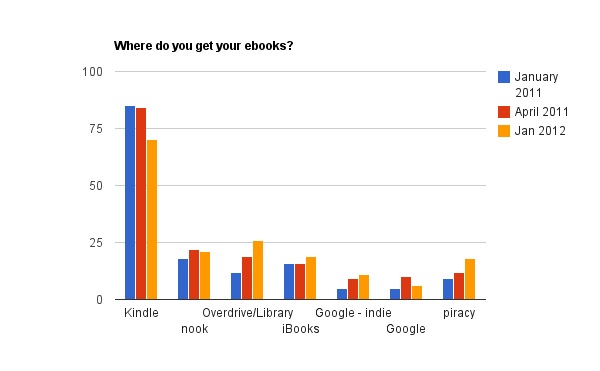 Don't get too excited about Kindle being down--the device itself has actually increased as respondents' e-reader of choice. The shift might be due to the change in wording, or perhaps an increasing awareness of the alternatives (just about every other source is up). OverDrive is now the second highest source for e-books, next to Kindle--as a fan, too, I hope that the morass that publishers, OverDrive and libraries seem trapped in can be resolved in a way that works for everyone. If, as Sherman Alexie maintained in 2009, e-books are fundamentally elitist, then library lending is the silver lining. Google eBooks from indies continued to grow--as did reported piracy. It would be interesting to find out the rationale behind pirated e-books; are they of titles not otherwise available? Is it a price issue? Geographic DRM-induced rage? If someone has done a study on this, I couldn't find it, although many people have expressed opinions.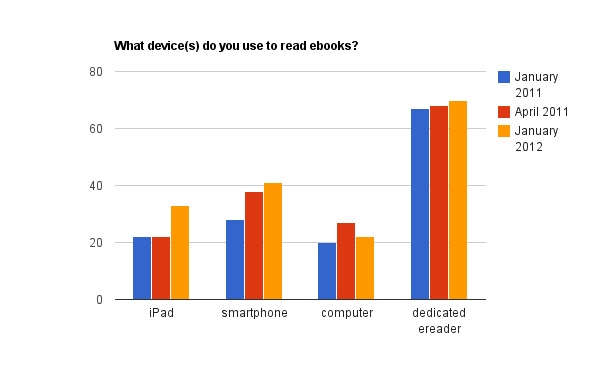 I was curious if people were reading primarily on dedicated devices or multi-use devices, and you can see the answer above: about 70% of all respondents for all three years have a dedicated e-reader of some sort. Smartphone and iPad use both went up, while computer/laptop use has stayed relatively stationary.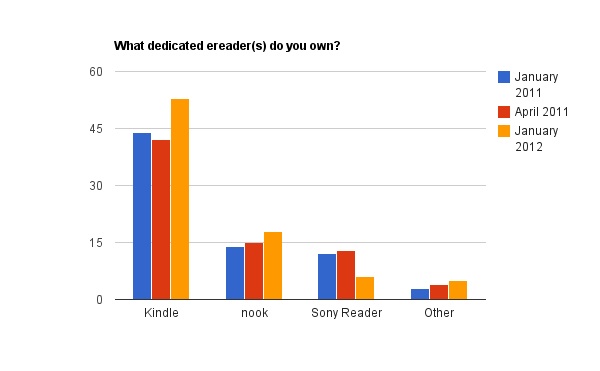 Kindles and Nooks continue to dominate the e-readers, but Sony was down by half. One possible reason is that both Amazon and B&N have introduced tablet readers; Sony does make a tablet computer, but they aren't marketing it alongside their readers in the same way as the other companies.
In terms of reader favorites, convenience and portability continue to be number one, at more than 60% for all three surveys. Immediate access also stayed even at 20% across the board. The "wonders of technology" camp (those who love resizing, reading in bed or one-handed, that kind of thing) had a resurgence to 12%, up from 5% in April of 2011 and comparable to January 2011.
Least favorites also held relatively steady. Format and feature frustrations--lending, cover and pagination issues in particular--were in the lead at 30%; the inevitable limitations of technology (battery, back-lit screens, can't get it wet, etc.) came in at 20%, up slightly from 17% and 18% in January and April of last year. 23% of readers miss the physical object or benefits thereof, up from 18% and 20%. DRM, pricing and selection/availability were 6% each--a drop for DRM, down from 11% and 18%, but a hold for pricing.
My personal favorite part of the survey continues to be the last optional question: define DRM in your own words. 61% answered, 80% of them with a genuine--or attempted--definition. 17% of those who did answer admitted that they had no idea. (My favorite of the non-definitions was "doodle rat muffin.") The answers are definitely worth taking a look through, as they betray a wide range of emotional responses to digital rights management, as well as confusion on who controls it and whom it is supposed to benefit.
While it's tempting to indulge in speculation about the ups and downs shown above, there are a few interesting things that came out in this year's survey that deserve note. If we look at the data from 2012 in a slightly different way, we see that 53% of respondents are reading on a Kindle device, 41% on a smartphone, 33% on an iPad, 18% on a Nook, and 6% on a Sony Reader. That means that basically half the playing field is open for readers to get their e-books from an indie bookstore, since the Google eBooks app is compatible with phones and iPads.
The Verso Digital survey notes that "readers of all kinds split purchases between a variety of retailers," and this is true of e-book buying as well. Thirty percent of respondents in 2012 are getting their e-books from more than one source. Five percent of respondents are reading on more than one device, and 7% of respondents who have an e-reader have more than one. While these percentages may seem small, they represent an opportunity for indies. How many of your customers who own Kindles or Nooks are also reading on their phone or their laptop? At least a few, and possibly more, and each of them is a reminder to us not to assume that because someone has a Kindle they can no longer be your customer. If ever there was an invitation to try and get that "next sale," this is it. --Jenn Northington