Shelf Awareness for Thursday, March 29, 2012

Quotation of the Day
Learning to Read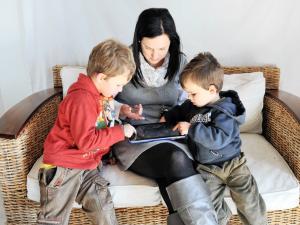 "The most important thing is sitting and talking with your children. Whether you're reading a book, whether you're reading an e-book, whether you're watching a video. Co-interacting, co-viewing, is the best way for them to learn."


News
AAP January Sales: Gains in Print and Digital
The Association of American Publishers has revamped its monthly sales report, increasing the number of reporting publishers to 1,149 this month from an average of 75-90 in the past, and adding several categories, including children/YA e-books and identifying religious book sales by format. The new report is called AAP Monthly StatShot. Among the highlights of January results:

Net sales of all reporting publishers rose 11.5%, to $1,033 billion. The AAP said that publishers attributed "the near-total across-the-board percentage increases in both print and digital formats to general economic improvement, particularly evident during the holiday season and for brick-and-mortar booksellers. This period also saw a number of successful new titles released by publishers for the adult and youth markets. Several also noted that the overall growth in revenue for print-format books in January 2012 was partly due to the returns from the Borders chain that had occurred last January."

Total trade net revenue grew 27.1%, to $503.5 million. Adult trade grew 16.4%, to $323 million (only sales of mass market books, affected by e-book growth, were down, dropping 22.5%, to $30.4 million).

Total children's/YA sales rose 80.5%, to $128.2 million, driven in part by the big growth of 475.1% in children's/YA e-books to $22.6 million, which, the AAP said, "some publishers have attributed... to the availability of more options for devices aimed at those demographics as well as a number of popular new releases."

Religious book sales rose 9.9%, to $52.4 million, and religious e-book sales jumped 150.7%, to $6.7 million. The AAP said some reporting publishers said the results reflect "that segment's more recent transition into e-formats."

Category gains and losses:


| | | |
| --- | --- | --- |
| CATEGORY | SALES | % CHANGE |
| Children's/YA e-books | $22.6 million | 475.1% |
| Religious e-books | $6.7 million | 150.7% |
| University press e-books | $900,000 | 90.9% |
| Children's/YA hardcovers | $57.4 million | 68.9% |
| Children's/YA paperbacks | $38 million | 61.9% |
| Adult e-books | $99.5 million | 49.4% |
| Adult hardcover | $69.8 million | 21.6% |
| Downloadable audiobooks | $8.4 million | 29.4% |
| University press hardcovers | $6.9 million | 11.5% |
| University press paperbacks | $10.1 million | 8.8% |
| Professional publishing | $55 million | 6.3% |
| Adult paperback | $105.1 million | 6.1% |
| Religious hardcovers | $39.6 million | 2.9% |
| Physical audiobooks | $6.8 million | 0.8% |
| | | |
| Religious paperbacks | $5.3 million | -10.3% |
| Children's board books | $5.7 million | -11.5% |
| Adult mass market | $30.4 million | -22.5% |


Obituary Note: Adrienne Rich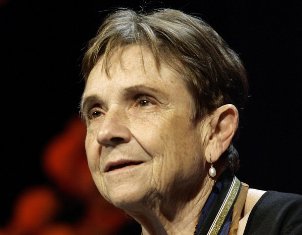 Adrienne Rich, "a poet of towering reputation and towering rage, whose work--distinguished by an unswerving progressive vision and a dazzling, empathic ferocity--brought the oppression of women and lesbians to the forefront of poetic discourse and kept it there for nearly a half-century," died Tuesday, the New York Times reported. She was 82.



Barnes und Noble: Bookseller Incorporates in Germany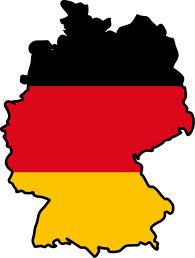 Two weeks ago, Barnes & Noble incorporated a German subsidiary, Barnes & Noble Digital Media GmbH, with an address on Potsdamer Platz in Berlin, Buchreport reported. The head of the subsidiary is listed as Eugene DeFelice, B&N's v-p, general counsel and corporate secretary, who, Buchreport noted, speaks some German as the result of studying in Switzerland.

The move in Germany is being seen as another indication that B&N intends to launch the Nook in Europe. Earlier this month, the company hosted a software developer conference in London, and rumors continue to swirl that it will sell Nooks through Waterstones and sell e-books with Dutch wholesaler Central Book House.

Buchreport noted that B&N faces stiff competition in the U.K., the Netherlands and Germany, where Amazon and Apple have already gained large shares of the digital book market.




Amazon: Three New Kindle Fires; Skybridges in Seattle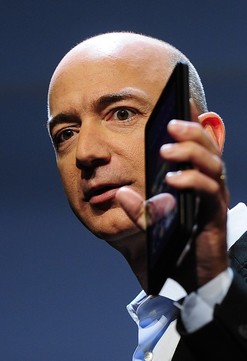 Amazon is working on three new Kindle Fire models, according to the China Economic News Service, which cited reports from suppliers that the online retailer's new models will include "a low-end 7-inch, 1,024-by-600 model; a midrange, 7-inch model with a higher 1,280-by-800 resolution; and a high-end, 8.9 inch tablet with a 1,920-by-1,200 display," PC Magazine reported.

CENS also suggested that expanding its growing partnership with Taiwanese suppliers could lead to lower costs. "Amazon sells the Kindle Fire at a loss of between $3 to $18, depending on whether you believe RBC Capital Markets or an In-Stat teardown report. Lowering the costs further could mean that Amazon would recognize some profit on sales of the device, rather than making it up through sales of apps and media," PC Magazine wrote.

---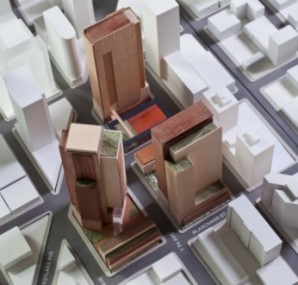 Calling the 3.3 million-square-foot project "the largest development ever proposed downtown," the Seattle Times reported that Amazon's proposed three-block high-rise project could take eight years to complete, according to the architects, who met with the city's Downtown Design Review Board Tuesday night.

Even though most of the attention thus far has been focused on the 37-story office tower that will be the centerpiece of the project, each block will also "have shorter buildings--up to six stories--that would be linked to the tower on that block by one or two skybridges. On the block likely to be developed first, a small bridge would link the tower to a 40,000-square-foot auditorium-like building seating 2,000 that Amazon plans to build along Lenora Street," the Seattle Times wrote.

All Things Digital called the plans "fairly shocking, given the company's rapid growth over the past few years. Clearly, the company's leader Jeff Bezos has a lot more surprises in store that may push the company beyond its core online retail and digital businesses, including the Kindle."



The Hunger Games Juggernaut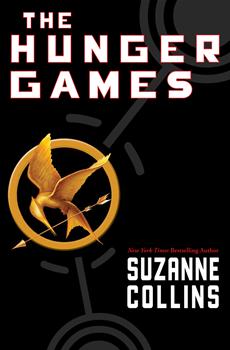 Suzanne Collins's Hunger Games trilogy has more than 36.5 million books in print in the U.S., Scholastic said yesterday, the first sales update since January 2012, before the box-office-record-breaking weekend of its movie incarnation.
Since the September 2008 publication of The Hunger Games, the launch title in the series, sales have climbed steadily, crossing over to adult readers and gathering fans as the trilogy grew. The Hunger Games has appeared on the New York Times bestseller list for three consecutive years. There are more than 17.5 million copies of The Hunger Games in print; more than 10 million copies of Catching Fire; and more than nine million copies of Mockingjay, the final book in the trilogy. The three books have occupied the top three spots on the USA Today bestseller list for 10 of the last 11 weeks (and this week, Collins sweeps the top four slots, as the boxed set moved into the #4 position). Foreign publishing rights for the Hunger Games trilogy have been sold into 47 territories.
In 2010 Collins was named to Time magazine's 100 list and the Entertainment Weekly Entertainers of the Year list. In 2011 Fast Company named her one of the 100 Most Creative People in Business. We challenge you to try taking a form of public transportation without finding at least one copy of one of Collins's trilogy in someone's hands.


Harry Potter and the Launch Glitches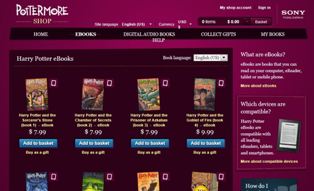 Paidcontent enumerates complaints about the e-book versions of the Harry Potter books that are now available on Pottermore.com--including a tedious downloading process, territorial restrictions and DRM complications. But, Laura Hazard Owen wrote: "I don't believe any of the above will be particularly problematic for everyday readers."


Dutch Chain Selexyz 'On Brink of Collapse'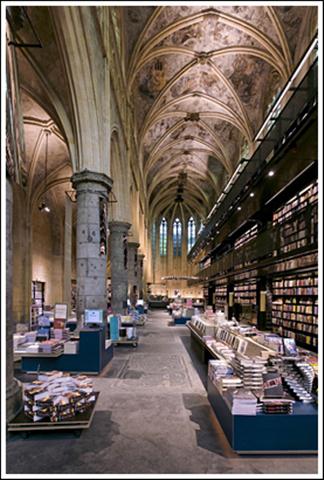 Noted for having one of the most beautiful bookstores in the world and for pioneering RFID technology, Dutch bookselling chain Selexyz is "on the brink of financial collapse" following its holding company's bankruptcy filing on Tuesday, the Bookseller reported.

Selexyz has 16 bookstores, including the well-known one in an old church in Maastricht and the Rotterdam store that has nearly 65,000 square feet of space.

There is some hope that the administrator may be able to sell the bookstores to De Slegte, which has 26 antiquarian and discount bookshops in the Netherlands and Belgium.

The Bookseller said that the downfall of Selexyz began in 2009 with sale of the company by private equity company NPM to managers and retailer Audax. Those managers were unable to turn the company around and in 2011 were dismissed "temporarily" by the bank ABN Amro, which brought in crisis managers who were also unable to turn the company around.




BEA: Editors Buzz Panels Title Lineup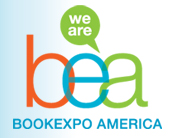 BEA has announced its lineup of titles for this year's BookExpo Editors Buzz Panels. The featured books will be:

Adult Editors Buzz
The People of Forever Are Not Afraid by Shani Boianjiu (Crown)
The Unlikely Pilgrimage of Harold Fry by Rachel Joyce (Random House)
In the Shadow of the Banyan by Vaddey Ratner (S&S)
Brain on Fire by Susannah Cahalan (Free Press)
Panorama City by Antoine Wilson (Houghton Mifflin Harcourt)
A Million Heavens by John Brandon (McSweeney's Publishing)

Young Adult Editors Buzz
Crewel by Gennifer Albin (Macmillan Children's Publishing Group)
Skinny by Donna Cooner (Scholastic)
Colin Fischer by Ashley Edward Miller and Zack Stentz (Penguin Young Readers Group)
What's Left of Me by Kat Zhang (HarperCollins Children's Book)
Skylark by Meagan Spooner (Lerner)

Middle Grade Editors Buzz
Malcolm at Midnight by Brian Lies (Houghton Mifflin Harcourt Children's Book Group)
The Peculiar by Stefan Bachmann (HarperCollins Children's Books)
Starry River of the Sky by Grace Lin (Little, Brown Books for Young Readers)
Tales from Lovecraft Middle School #1: Professor Gargoyle by Charles Gilman (Quirk Books)
With Love From Paris: Mira's Sketchbook by Marissa Moss (Sourcebooks)



Notes
Image of the Day: Sailor Sets Sail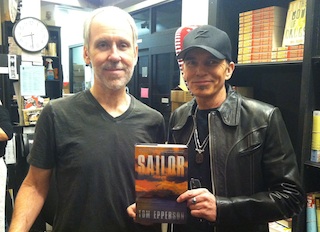 On Tuesday night, Book Soup, West Hollywood, Calif., hosted a launch party for Sailor (Tor/Forge), the second novel by Tom Epperson. The party--where 100 books were sold--featured a reading with actors from the audience playing different parts from the book. One of the readers was Billy Bob Thornton, Epperson's boyhood friend from Arkansas and longtime screenwriting partner (One False Move). Here are Epperson (l.) with Thornton.


Skylight Books' Steven Salardino Rocks
The latest in Algonquin's Booksellers Rock! series focuses on Steven Salardino, manager of Skylight Books, Los Angeles, Calif. Our two favorite questions and answers: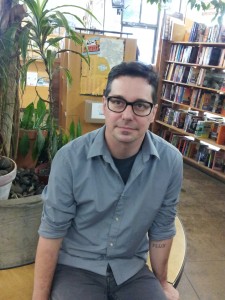 Why our store kicks ass:
Poets have been trying to figure out or describe Love since the invention of poetry, probably before. Is it trust? Is it pheromones? Is it lust? It's kind of the same with something like Skylight Books. It is a special equation, a precise and organic mix of our friendly and freaky staff, our selection of literary big names and tiny zines, our bricks and wood, the tree growing in the middle of the store.... What it comes down to is that when you walk into Skylight Books, there is a tangible feeling of belief in the written word.

If I weren't selling books I'd be:
...titling them. A customer of Skylight Books since we opened, Cecil Castellucci, was writing a book and I told her, "You should call it Boyproof." She sold it and I have named or at least helped in naming all her books since then--9 books! The Year of the Beasts comes out in May!




Book Trailer of the Day: Jumped In
Jumped In: What Gangs Taught Me About Violence, Love, and Redemption by Jorja Leap (Beacon Press)


Media and Movies
Media Heat: Triggered: A Memoir of Obsessive-Compulsive Disorder
Today on NPR's Talk of the Nation: Fletcher Wortmann, author of Triggered: A Memoir of Obsessive-Compulsive Disorder (Thomas Dunne, $24.99, 9780312622107).
---
Tomorrow on ABC's the Chew: Michael Ian Black, author of You're Not Doing It Right: Tales of Marriage, Sex, Death, and Other Humiliations (Gallery, $23.99, 9781439167854).
---
Tomorrow on Fox's Hannity: Paula Broadwell, author of All In: The Education of General David Petraeus (Penguin, $29.95, 9781594203183).


This Weekend on Book TV: Alain de Botton
Book TV airs on C-Span 2 this week from 8 a.m. Saturday to 8 a.m. Monday and focuses on political and historical books as well as the book industry. The following are highlights for this coming weekend. For more information, go to Book TV's website.

Saturday, March 31

9:15 a.m. David Campbell, author of American Grace: How Religion Divides and Unites Us (S&S, $19.99, 9781416566731), examines the current state of religion in the U.S. (Re-airs Sunday at 4:30 p.m.)

1 p.m. John Lott, Jr. and Grover Norquist discuss their book, Debacle: Obama's War on Jobs and Growth and What We Can Do Now to Regain Our Future (Wiley, $27.95, 9781118186176).

2:15 p.m. David Corn talks about his book Showdown: The Inside Story of How Obama Fought Back Against Boehner, Cantor, and the Tea Party (Morrow, $26.99, 9780062107992). (Re-airs Sunday at 8:15 p.m.)

3 p.m. Charles Sykes presents his book A Nation of Moochers: America's Addiction to Getting Something for Nothing (St. Martin's, $25.99, 9780312547707). (Re-airs Sunday at 7 p.m.)

4:15 p.m. Tracie McMillan talks about her book The American Way of Eating: Undercover at Walmart, Applebee's, Farm Fields and the Dinner Table (Scribner, $25, 9781439171950). (Re-airs Monday at 4 a.m.)

7 p.m. Neil deGrasse Tyson, author of Space Chronicles: Facing the Ultimate Frontier (Norton, $26.95, 9780393082104), examines the history and future of NASA. (Re-airs Sunday at 8:30 a.m.)

9:15 p.m. Carla Killough McClafferty discusses her book The Many Faces of George Washington: Remaking a Presidential Icon (Carolrhoda Books, $20.95, 9780761356080). (Re-airs Sunday at 11:15 p.m.)

10 p.m. After Words. Chris Hedges interviews Alain de Botton, author of Religion for Atheists: A Non-Believer's Guide to the Uses of Religion (Pantheon, $26.95, 9780307379108). (Re-airs Sunday at 9 p.m., Monday at 3 a.m. and April 8 at 12 p.m.)

11 p.m. Nonie Darwish talks about her book The Devil We Don't Know: The Dark Side of Revolutions in the Middle East (Wiley, $25.95, 9781118133392). (Re-airs Monday at 5:45 a.m.)

Sunday, April 1

12:45 a.m. Rebecca MacKinnon, author of Consent of the Networked: The Worldwide Struggle For Internet Freedom (Basic Books, $26.99, 9780465024421), argues that Internet users' rights are being infringed upon by governments and corporations. (Re-airs Sunday at 10 p.m.)

12 p.m. In Depth. Richard Brookhiser, senior editor at the National Review and author most recently of James Madison (Basic Books, $26.99, 9780465019830), joins Book TV for a live interview. Viewers can participate in the discussion by calling in during the program or submitting questions to booktv@c-span.org or via Twitter (@BookTV). (Re-airs Monday at 12 a.m.)



Books & Authors
Awards: NCIBA Winners; Christian Book Finalists
The winners of the 2012 Northern California Independent Booksellers Book of the Year Awards, voted by NCIBA booksellers and featuring books written by local authors, are:
Fiction:
Turn of Mind
by Alice LaPlante (Atlantic Monthly)
Nonfiction:
A Thousand Lives: The Untold Story of Hope, Deception and Survival at Jonestown
by Julia Scheeres (Free Press)
Food Writing:
Mourad: New Moroccan
by Mourad Lahlou (Artisan)
Poetry:
Of Indigo and Saffron: New and Selected Poems
by Michael McClure (University of California)
Regional:
The Left Coast: California on the Edge
by Philip L. Fradkin (University of California)
Children's Picture Book:
The Astonishing Secret of Awesome Man
by Michael Chabon and Jake Parker (Balzer & Bray)
Middle Grade Readers:
One Day and One Amazing Morning on Orange Street
by Joanne Rocklin (Amulet)
Teen Lit:
Why We Broke Up
by Daniel Handler (Little, Brown)
---
The Evangelical Christian Publishers Association has announced finalists for the 2012 Christian Book Awards, honoring "Christian publishing's finest books and Bibles." The seven categories include a new category, "new author."


Book Review
Review: Beastly Things
Beastly Things: A Commissario Guido Brunetti Mystery by Donna Leon (Atlantic Monthly Press, $25 hardcover, 9780802120236, April 17, 2012)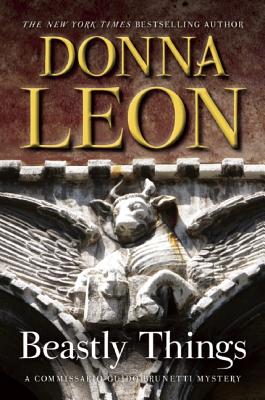 It is a pleasure for a reader to settle in to one of Donna Leon's Commissario Guido Brunetti mysteries, once again to have one of those glorious Italian lunches with his wife, Paola, and their children, Raffi and Chiara, and to learn, as we do in Beastly Things, which part of the seamy underside of Venetian life Brunetti will now uncover.
Brunetti is intelligent, compassionate, bordering on cynical because he has seen too much, and a very capable police commissioner. He serves under the vain and self-serving buffoon, Vice-Questore Patta, while Sergente Vianello and the all-knowing and well-connected Signorina Elettra, Patta's secretary, assist him. Signorina Elettra is a computer whiz; no one can escape her cyberspace dragnet for long.
This time, a body is found in one of the canals. It is eventually identified as a local veterinarian, Dottore Nava, well-loved by his patients and their owners. He is recently separated from his wife, and she tells Brunetti that she asked him to leave after he told her he was having an affair.
To increase his income, Nava had taken a part-time job at a local slaughterhouse, where he met Giulia Borelli, his eventual downfall. His duties were limited to certifying that animals were well enough to be slaughtered and their meat fit for human consumption. Lots of room for corruption here, and eventually Brunetti uncovered all of it.
There are two set pieces in the novel that are absolutely brilliant writing: the visit of Brunetti and Vianello to the slaughterhouse and Dottore Nava's funeral. In the former, with no florid adjectives or sensational setups, Leon manages to portray the horror of what the men are led into and the effect it has on them. In the latter, Brunetti notices strange noises in the church and looks around to discover that many of Dottore Nava's patients are in attendance: a green parrot, a Great Dane, a one-eared rabbit, a mournful dachshund and a cat or two.
The juxtaposition of these two realities, the presiding over the killing of the beasts and Dottore Nava's tender care of the animals brought to him all underpin much of the story, making it ineffably sad that Nava suffers for the greed of others.
The way Brunetti figures out what happened and who killed Nava is first-rate Donna Leon plotting: Venice is a full-on character and the now well-known graft and political chicanery and connections are once again in full evidence. --Valerie Ryan
Shelf Talker: Donna Leon's star sleuth navigates the underside of Venice to find a beloved veterinarian's killer.