Shelf Awareness for Wednesday, May 23, 2012

News
In the Black: Fifty Shades Trilogy Hits 10 Million Sales Mark
In the past six weeks, E.L. James's erotic trilogy (Fifty Shades of Grey, Fifty Shades Darker and Fifty Shades Freed) has sold more than 10 million copies in the U.S. as Vintage trade paperback and e-book, as well as Random House Audio, editions. According to the publisher, Vintage now has more than 9.5 million copies of the books in print.

Anthony Chirico, president, Knopf Doubleday Publishing Group, called the sales figure "an astonishing number. The sales velocity for Fifty Shades of Grey is unprecedented, with reader demand still growing. BookScan data indicates that the trilogy has captured 25% of the adult fiction market in recent weeks. As we head into the heart of the summer reading season, sales are likely to continue exceeding even our most optimistic forecasts."

The books have seen more than 60 printings and are currently available through a distribution network of almost 15,000 physical retail outlets. "We have had to reprint the books on a weekly basis since publication," Chirico noted, "with some daily reprints topping 900,000 copies."

---

In other Grey news, the spring semester has not ended for students attending a class inspired by the Fifty Shades trilogy that is being held at Babeland, a New York City sex shop. One woman told the New Yorker's Page-Turner blog that the class had "made me more curious about the S & M lifestyle. But I learned more from the book."



BAM First Quarter: Hunger Games, Fifty Shades Lift Results
In the first quarter ended April 28, net sales at Books-A-Million rose 10.5% to $113.1 million and the net loss was $1.9 million, an improvement compared to the net loss of $3.4 million in the same quarter a year earlier. Sales at stores open at least a year fell 4.2%.

BAM CEO and president Terrance G. Finley said that results "reflect an improving trend in comparable store sales and the contribution from our new stores that opened in the fourth quarter [many of which were former Borders stores]. The core book business stabilized in the face of slower growth than expected in the digital business. Sales of Hunger Games books and merchandise were a highlight for the quarter. This performance along with the current phenomenal success of the Fifty Shades series and the continued strong performance in toys, games, gifts and electronics demonstrate that consumers are responding to our integrated merchandising offerings."

Books-A-Million now operates 255 stores in 31 states and the District of Columbia.




BISG Survey: Students E-Attitudes Continue to Shift
Nearly 48% of students say that integrated learning systems help with studying, more than a printed textbook (45%) or an e-textbook (37%), according to the second installment in the second volume of the Book Industry Study Group's Student Attitudes Toward Content in Higher Education survey, powered by Bowker Market Research.

Other findings: textbook rentals rose to 11% from 8% last year while textbooks purchases slipped to 55% from 59%. Those students buying textbooks are buying them more online, with Amazon's share rising to 31% from 25%, while purchases in college stores fell to 46% from 52%.

Although only 16% of students have tablets, 19% are "very interested" in buying one and 28% are "somewhat interested." Currently 76% of respondents own laptops. Many of the students said they were interested in tablets so long as e-textbooks cost at least 25% less than a used printed version of the same text.

"Our research shows that students are looking for greater value from their textbook-purchasing dollar," said Angela Bole, deputy executive director of BISG. "How they define 'value' is rapidly evolving as they're exposed to new services and products."

Results are based on a semi-annual online survey of representative college students. Full findings are available from BISG. For information and to order a copy, visit http://bit.ly/dsUn3i.




Orange No More: Fiction Prize Sponsorship to End

Mobile services company Orange, which has sponsored the £30,000 (US$47,348) prize for women's fiction since it was launched 17 years ago, will cease its sponsorship deal after this year's ceremony May 30, the Bookseller reported.

Kate Mosse, co-founder and honorary director of the award, is "in active discussions with a number of potential new sponsors" and hopes to announce a replacement by the end of the summer.

"It sounds daft but we're very excited about the future of the prize going forward," she said. "It is very, very unusual for a massive arts sponsorship like this to come onto the market, it has great value, and this is a moment to be looking to the future, that's how the business community has reacted. Orange has put millions into the book market, not just the prize, but also in literacy and library projects, and for that they deserve a massive pat on the back. Now our aim is to grow the prize and we're looking for a sponsor interested in engaging not just in the U.K. but internationally."

Steven Day, chief of brand and communications for Everything Everywhere, said: "While relinquishing sponsorship of the prize is tinged with sadness, we're hugely proud of what Orange and the Women's Prize for Fiction have achieved over the past 17 years.... The partnership has significantly raised the presence of international literature written by women in bookstores and on bookshelves across the country, and has played a key part in Orange's success over the past decade and a half, taking our brand into areas that were traditionally harder to reach."

The Guardian called the development "one of the biggest upsets in literary prize history."



Kepler's 2020: Community Fundraising Drive Launched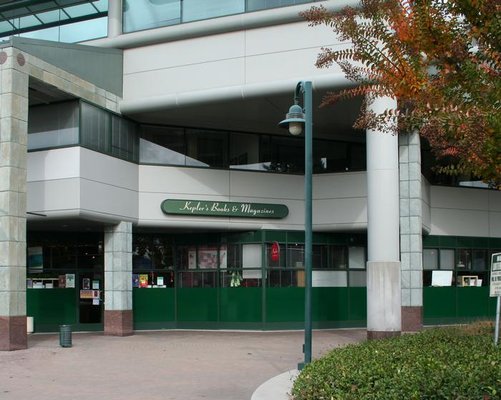 The Kepler's 2020 Project transition team has launched a public fund-raising campaign, calling it "the critical next step in its plan to reinvent the iconic Peninsula bookstore and develop a new cultural center." The campaign has thus far received commitments of about $400,000, but an additional $250,000 is required by June 15 to keep Kepler's open and proceed with revitalization. The transition team's goal is to raise more than $1 million by the end of summer.

"Everyone loves Kepler's," said Praveen Madan, co-owner of the Booksmith in San Francisco and leader of the Kepler's 2020 Project. "In the last few months, we have heard from thousands of people in our community and they are nearly unanimous that Kepler's occupies a unique place as the intellectual and cultural hub of our community. Now we're asking the community's support to make the new Kepler's a reality."

Since forming in January, the transition team said it has renegotiated and paid off a large majority of Kepler's old debt without any external funding, and streamlined the store's operations to return it to profitability. The next step is to wind down the current company and then restart it under the hybrid legal structure, invest in new inventory, technology, a new lease and renovations to complete the bookstore's transition.

"We're delighted to see our community getting involved to support the Kepler's 2020 transition," said Menlo Park Mayor Kirsten Keith. "Kepler's has always been a dynamic gathering place for Menlo Park, as well as a destination bookstore for people from across the Peninsula. I fully support these efforts."



BEA: Free Things to Do in New York City, Part 1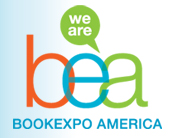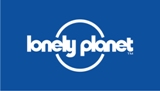 For the budget-conscious and anyone who wants to see some great New York City sights, we offer 20 of the best free attractions. Also keep in mind that some popular ticket-admission spots have free times, e.g., the American Museum of Natural History (free in its last hour), the Museum of Modern Art (free 4-8 p.m. on Fridays) and the Brooklyn Museum (free on the first Saturday of the month, i.e., the Saturday before BookExpo America). Here with the help of Lonely Planet and its U.S. editor Robert Reid we offer the first 10 recommendations. Look for the other 10 soon!
1. African Burial Ground
One of Lower Manhattan's most fascinating, and controversial, stories of recent years has to do with the new African Burial Ground National Monument site. It began when a construction project in 1991 uncovered a burial ground of slaves--more than 400 caskets were found--from an age when New York had more slaves than any American city outside Charleston, S.C. Outside you can see part of the site now enveloped by buildings, and the compact visitors center does a masterful job at retelling African-American history in the city. 290 Broadway between Duane & Elk Sts., Lower Manhattan.
2. Brooklyn Brewery tours
Free tours of Williamsburg's Brooklyn Brewery run on the hour from 1-5 p.m., Saturday, 1-4 p.m. Sunday. 79 N 11th St., Williamsburg, Brooklyn.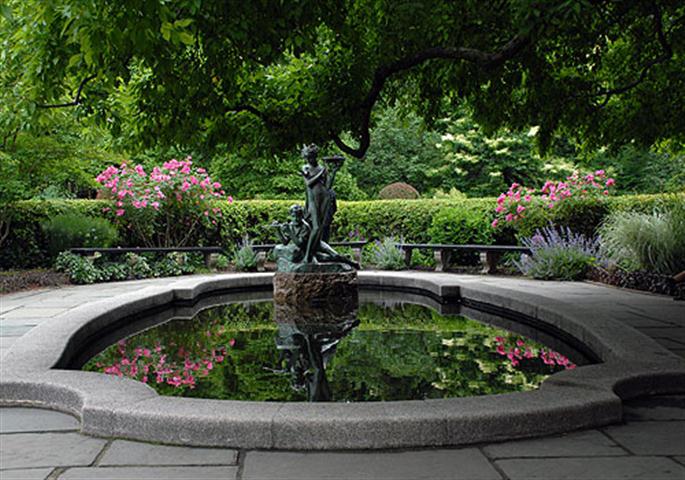 3. Central Park
Central Park is Manhattan's famed claim to thinking ahead (even if it was designed in the 1860s to boost real-estate value uptown). It's filled with free events, statues, people-watching and sites like Strawberry Fields, an "Imagine" mosaic near the Dakota, where John Lennon was killed in 1980. Another site is "the Pond," at the southeastern corner, where Holden Caulfield kept turning to in The Catcher in the Rye, wondering where those ducks go when it's cold. Uptown.
4. Chelsea galleries
New York's best area for a gallery crawl is in Chelsea, where there are many galleries in the 20s between 10th and 11th Avenues. Check westchelseaarts.com or Gallery Guide for listings. All are free, with no pressure to buy. And try timing for wine-and-cheese openings on Thursday evenings.
5. City Hall
Home to New York City's government since 1812, City Hall has tours that take in its cupola-topped marble hall, the governor's room as well as the spot where Abraham Lincoln's coffin lay in state briefly in 1865. Tours must be reserved in advance. City Hall Park, facing the Brooklyn Bridge, Lower Manhattan.
6. Fashion Institute of Technology (FIT) Museum
It's always Fashion Week in the FIT Museum, which features rotating exhibits by students and a surprisingly interesting and detailed collection of the country's first gallery of fashion, picked from a collection of 50,000 garments dating from the 18th century. Seventh Ave & 27th St. Garment District, Midtown West.
7. Federal Hall
Two presidents were inaugurated in New York City, beginning with the first "Dubya," George Washington, who took the oath in Federal Hall in 1789, when New York was the capital. (Chester A. Arthur was the second.) There's a nice statue outside, overlooking the New York Stock Exchange across Wall Street, and a small, recently renovated museum on post-colonial New York inside. 26 Wall St., Lower Manhattan.
8. General Ulysses S. Grant National Memorial
Also called Grant's Tomb, the $600,000 granite structure that holds the remains of the Civil War hero and 18th president (and his wife Julia) is the largest mausoleum in the U.S. and is patterned after Mausolus' tomb at Halicarnassus, making it a plagiarized version of one of the Seven Wonders of the World. Riverside Dr. at 122nd St., Morningside Heights.
9. Governor's Island
The ferry to Governor's Island is free, as is access to the 172-acre island, which opened to the public in 2003. There's a 2.2-mile bike path, mini golf, a picnic area, plus military sites such as Admiral's House and a "ghost town" of sorts at Nolan Park. Ferries leave from Battery Maritime Building, Slip 7, Lower Manhattan.
10. Green-Wood Cemetery
Once the nation's most visited tourist attraction outside Niagara Falls, the gorgeous Green-Wood Cemetery was founded in 1838 and is the eternal home to some 600,000 people (or about 530 miles of bodies, head to toe). It's leafy and lovely, features Brooklyn's highest point at Battle Hill, a site from the Revolutionary War, now marked with a seven-foot statue of the Roman goddess of wisdom, Minerva. Watch for the squawking green parakeets at the cemetery's Gothic entry--these are runaways from a Kennedy Airport mishap in 1980 and have lived here since. 500 25th St. Sunset Park, Brooklyn.


Notes
Image of the Day: Happy Life on Earth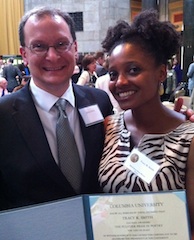 After Monday's luncheon at Columbia University's Low Library for Pulitzer Prize winners, poetry laureate Tracy K. Smith (r.), who won for Life on Mars, and Graywolf Press senior editor Jeffrey Shotts were beaming.


Paris Bookshop for Sale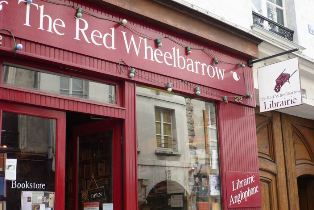 Does owning an English-language bookshop in the Marais district of Paris sound irresistible to you? Here's your chance. Penelope Fletcher, owner of The Red Wheelbarrow, has put her shop up for sale "fonds de commerce (the location, the lease, the goodwill, the clientele and the name, but excluding debts). Inventory available on consignment or at one-third value. 38/40 square meters."

Fletcher noted that "a location on a much-traveled street in the heart of one of Paris' trendiest and liveliest quartiers, a clientele of alert (or lucky) tourists and of branché and interesting expatriates have made The Red Wheelbarrow a joy of a bookstore and a local institution. More than simply a shop from which to sell books in English, it has been a center for readings by authors as they swing through Paris, and a magnet for conversation between old friends encountering each other by design or fortune, and between strangers who find themselves talking with each other about Paris and, of course, books. It has become the bookstore in Paris we have all--at one time or another of our lives--dreamed of owning. Unfortunately, as Keats too learned, nothing lasts forever."

Because "circumstances are demanding a rapid sale," Fletcher said she would consider "a very low" sale price to "fulfill a dream of your own." Inquiries can be made to Penelope Fletcher, The Red Wheelbarrow Bookstore, 22 rue Saint Paul, 75004 Paris; 33 (0) 1 48 04 75 08.



Young Bookseller Focus: Jenn Witte
This is the third in an occasional series of interviews of young, smart booksellers who are both the present and the future of bookselling--and whose enthusiasm and presence are encouraging many older folks in the industry who feared they might be a dying breed. Our intrepid reporter is George Carroll, an independent publishers rep and principal of Redsides Publishing Services.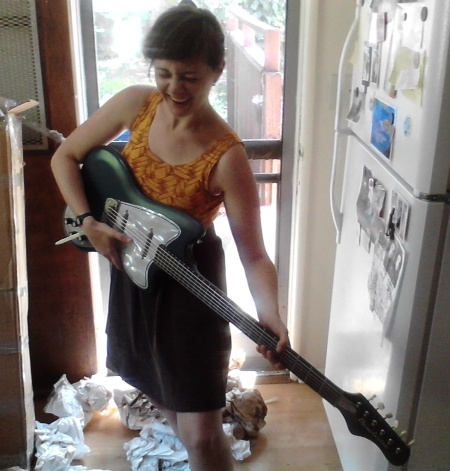 Jenn Witte, 29, works at Skylight Books in Los Angeles, where she co-manages children's books and curates several other sections. She's also a talented artist, and examples of her work can be found on her blog.
You have uncanny good fortune landing bookstore jobs.
The day I moved to San Francisco, I walked into the nearest bookstore, Books Inc., to find a Muni map. Everybody was laughing behind the counter, and I thought it looked like a fun place to work, so I asked if they were hiring and I got a job within the week.
After two years, I thought the place I would most love to work in the Bay Area was Green Apple, so I typed up a résumé, dropped it off, flew to Hawaii. When I landed, there was a message on my phone saying I was hired.
When I moved to Los Angeles, I was catching a ride with my boyfriend's mom, and Skylight Books called to ask if I wanted to come in for an interview the next day. At the interview, the only question I felt I failed was "Everybody here does something else, and we love to encourage your talents. What do you do besides sell books, Jenn?" I answered, "I don't know... I like cats."
Your boyfriend is bookstore-famous, yes?
He's one of the stars of the infamous Green Apple videos, maybe most recognizable as the creep in "Little Bee."
And you've had your screen time as well.
I'm in a few videos, too. You may remember me as the girl who skips through a field for Toussaint's Running Away.
You have kids from a local middle school write reviews of forthcoming YA titles for display in the store.
Sometimes their reviews help me decide what to order (and what not to--I keep trying to remind them that it is okay to send me a negative review).
You've worked in the world literature sections for both Green Apple and Skylight. And erotica as well.
I stepped in for Stephen Sparks at Green Apple when he was interning at Dalkey Archive. I was asked to create their world literature section from scratch. That was deep. I walked up and down the new fiction section asking myself, "What is World Literature?" for a few days, and came up with a pretty inclusive, gnarly looking section.
Skylight has a really incredible section for translated literature that was perfectly curated by Monica Carter. She left not long after I started working here, and I've been in charge of keeping it healthy ever since. I am really fortunate that she and I were mostly on the same page about what the section is and what it should do.
Do people just love to give the young female employee the erotica section?
When you were recommended to me, everyone told me I had to check out your Tumblr, which is really wonderful.
Living in Los Angeles, I've begun to value my odd creative compulsions, partially because I am surrounded by millions of people who make their living in creative ways. I took a couple of amazing book arts classes in San Francisco, but you would never know by looking at things I make now. The small books I copy are for display in the store, they indicate when a book is sold out and mostly spend their time hiding behind the last copy of a book. Since I've started blogging, I've had requests to make signs for coffee shops, possibly curate a gallery, participate in group shows... it's pretty wild.
I think I should ask you what you're reading.
I'm reading the new translation of Agua Viva by Clarice Lispector, and I'm falling deeply in love with it. I think she broke through language and was able to use it in an otherworldly way. I wish I could do the same.
What's your take on the future of independent bookstores?
The demographic in Los Angeles is inclined to value the book-as-object, which really is what I hold onto when I think about the scary future. I'm particularly excited about the zine section I put up; zines are kind of a beautiful example. I believe that independents maintain their humanness with handmade objects.
Stephen Sparks, the last interview, gets to ask the last question: "One of the best things about indie bookstores is our ability (our desire!) to curate sections of locally produced literature/zines/ephemera. Are there particular items you're excited about having at Skylight?"
My brother shocked me recently with a handmade poetry-slash-graffiti chapbook for consignment. I knew he had poetic sympathies, but had no idea that he has secretly been writing for who knows how long. Whenever I see strangers in the big city pick up his chapbook I levitate a little.


Book Trailer of the Day: Man Made
Man Made: A Stupid Quest for Masculinity by Joel Stein (Grand Central), which includes a theme song for the book.


Media and Movies
Media Heat: Hari Kunzru on KCRW's Bookworm
This morning on MSNBC's Morning Joe: James Fallows, author of China Airborne (Pantheon, $25.95, 9780375422119).

Also on Morning Joe: Colin Powell, author of It Worked for Me: In Life and Leadership (Harper, $27.99, 9780062135124).


---

Tomorrow morning on the Today Show: Tyler Florence, author of Tyler Makes Pancakes! (HarperCollins, $16.99, 9780062047526).

---

Tomorrow on KCRW's Bookworm: Hari Kunzru, author of Gods Without Men (Knopf, $26.95, 9780307957115). As the show put it: "Hari Kunzru situates his novel Gods Without Men in Joshua Tree in the California Mojave Desert where a child is lost. He weaves together multiple stories from 1775 to 2009 that explore loss, sacrifice and spiritual reconnection. Various divinities, including the Native American Coyote, materialize as human characters. Because the millennium is always deferred, we live in the hope that it is still coming."

---

Tomorrow on NPR's Diane Rehm Show: Richard Ford, author of Canada (Ecco, $27.99, 9780061692048).
---
Tomorrow night on Sirius XM Radio's Book Report with JJK, Jeannie Birdsall, author of The Penderwicks at Point Mouette (Yearling/Random House, $7.99, 9780375851353).





Movies: On the Road Clip & Pics; Great Gatsby Trailer
The latest clip from Walter Salles's adaptation of Jack Kerouac's On the Road has been released, featuring Marylou and Sal conversing. Indiewire also featured some "new, vibrant, sun-kissed images" from the movie.

---


The trailer for Baz Luhrmann's 3D film version of F. Scott Fitzgerald's The Great Gatsby has debuted. Indiewire noted that "you can tell that this is clearly not going to be set in anything like the real world... Visuals aside, Leonardo DiCaprio looks like he's got the role he was born to play, and we like what we see of both Carey Mulligan and Joel Edgerton, but we're not yet sold on Tobey Maguire, who seems bland, even for a reasonably bland character. The film also stars Isla Fisher, Jason Clarke, Bollywood megastar Amitabh Bachchan (whose cameo figures more than most of the other cast members) and newcomers Elizabeth Debicki (she's the one in the Louise Brooks wig who looks like Cate Blanchett & Mia Wasikowska had a baby) and Callan MacAuliffe."



Books & Authors
Awards: Amazon Breakthrough Shortlist
Finalists for the Amazon Breakthrough Novel Award, sponsored by Amazon, Penguin Group and Amazon-owned CreateSpace, have been named. The two grand prize winners, who will receive a publishing contract from Penguin Group that includes a $15,000 advance, will be announced June 16. This year's shortlisted titles are:

General fiction
The Beautiful Land by Alan Averill
Grace Humiston and the Vanishing by Charles Kelly
A Chant of Love and Lamentation by Brian Reeves

Young adult fiction
Dreamcatchers by Cassandra Griffin
Out of Nowhere by Rebecca Phillips
On Little Wings by Regina Sirois



IndieBound: Other Indie Favorites
From last week's Indie bestseller lists, available at IndieBound.org, here are the recommended titles, which are also Indie Next Great Reads:

Hardcover

Boleto: A Novel by Alyson Hagy (Graywolf Press, $24, 9781555976125). "Will Testerman is a horse whisperer who journeys from rodeo to dude ranch to the polo fields searching for his niche in the world. That sounds simple and classic, but this story of a young cowboy and his horse brings the currents that roil beneath the surface of Western calm into the light of dawn. Original and beautifully told." --Laura DeLaney, the Rediscovered Bookshop, Boise, Idaho

The Uninvited Guests: A Novel by Sadie Jones (Harper, $24.99, 9780062116505). "This is a comedy of manners in an Edwardian family manor in the English countryside that quickly spins into a zany tale of people who are not who they appear to be or even who they think they are. Its many twists and turns keep the reader amused and completely intrigued. A delightful romp!" --Karen T. Harris, Bunch of Grapes Bookstore, Vineyard Haven, Mass.

Paperback

The Book Lover: A Novel by Maryann McFadden (Three Women Press, $14.99, 9780984867103). "This is the story of small-town bookseller Ruth Hardaway, who's done everything possible to hold onto her store, from pawning her dead mother's jewelry to selling books at the local prison. When she discovers unknown novelist Lucy Barrett, the women forge a fast friendship and inspire each other to hang onto their dreams. When a secret manuscript is discovered, both their friendship and their dreams are put to the ultimate test. The Book Lover takes you into the heart and soul of the book world with characters you will come to love. It is the most honest story about the world of books that I have ever read." --Rob Dougherty, Clinton Book Shop, Clinton, N.J.

For Teen Readers

I Hunt Killers by Barry Lyga (Little, Brown Young Readers, $17.99, 9780316125840). "Growing up the son of one of the country's most notorious serial killers, 17-year-old Jasper 'Jazz' Dent has an intimate understanding of how killers think, and sometimes it scares him just how much he knows. Determined to use his knowledge for good, Jazz tries--uninvited--to help the local police solve a murder. When the bodies start to pile up, and it becomes clear that the town has another serial killer on its hands, Jazz realizes he has put himself and his friends in harm's way. Fast-paced, funny, and utterly original, I Hunt Killers marks the start of an electric new teen series." --David Mallmann, Next Chapter Bookshop, Mequon, Wis.

[Many thanks to IndieBound and the ABA!]




Book Brahmin: Peter Farris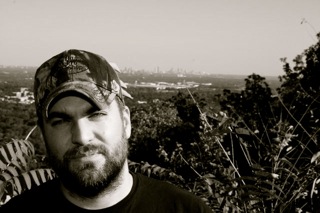 Peter Farris is a graduate of Yale University and lives in Cobb County, Ga. His first novel, the Southern noir thriller Last Call for the Living, is just out from Forge Books.
On your nightstand now:
A holstered Springfield XD 9mm, an alarm clock and a cat that goes by the name of Icky.
On the floor of your office now:
The To-Be-Read stacks are making it hard to walk in here. From where I'm sitting I can see UpGunned by David J. Schow--a superhumanly good postmodern gun porn satire with a wink and a nod to Donald Westlake's Parker series. One of the best novels I've read this year. I can also see nature writer/TV show host Steven Rinella's American Buffalo: In Search of a Lost Icon; the Dorothy Allison memoir, Two or Three Things I Know for Sure; A Single Shot by Matthew F. Jones; The Damage Done by Hilary Davidson; The Night Train by Clyde Edgerton; Into the Web by Thomas H. Cook; and Satan Is Real: The Ballad of the Louvin Brothers by Charlie Louvin with Benjamin Whitmer... which my old man finally returned to me.
Favorite book when you were a child:
Has to be a tie between I Am Legend by Richard Matheson and The Call of the Wild by Jack London. Although I can remember being real young and thinking it didn't get any better than Nancy McArthur's The Plant That Ate Dirty Socks.
Your top five authors:
Flannery O'Connor, Harry Crews, Larry Brown, Cormac McCarthy and Jack London.
Top five authors you'd want to get drunk with:
James Crumley, Joseph Wambaugh, Eudora Welty, Barry Hannah and William Gay.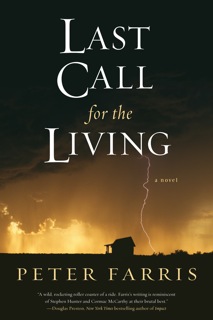 Book you've faked reading:
The Bible.
Book you're an evangelist for:
I consider At the End of the Road by Grant Jerkins not only a fantastic literary thriller but one of the finest novels ever set in the state of Georgia. Thanks, praise and a strychnine toast should also go to John Rector, Frank Bill, Duane Swierczynski, Tom Franklin and Ron Rash for delivering truly inspired fiction upon us over the past few years.
Book you've bought for the cover:
Back in my thrash metal skater punk middle school days, I asked my Dad to get me Brian Lumley's Necroscope because the cover said: "You will like this." And I absolutely did.
Book that changed your life:
Without a doubt: Joe by Larry Brown. That novel showed me the possibilities. If I can write publishable fiction half as good as Joe, I'll be one satisfied author.
Favorite line from a book:
"I can understand why people jump off bridges."--from Facing the Music by Larry Brown.
Book you most want to read again for the first time:
Feast of Snakes by Harry Crews had about the same impact on me that Joe did. My paperback copy is underlined all to hell. I just flipped to the last page and saw this marked: "He fell into the boiling snakes, went under and came up, like a swimmer breaking water. For the briefest instant, he gained his feet. Snakes hung from his face." I don't think there are words to describe how I felt when I finished Feast of Snakes, other than the despair of knowing there is absolutely no way you can write something as good. But you've got to try anyway.


Book Review
Children's Review: Rocket Writes a Story
Rocket Writes a Story by Tad Hills (Schwartz & Wade/Random House, $17.99 hardcover, 40p., ages 4-up, 9780375870866, July 24, 2012)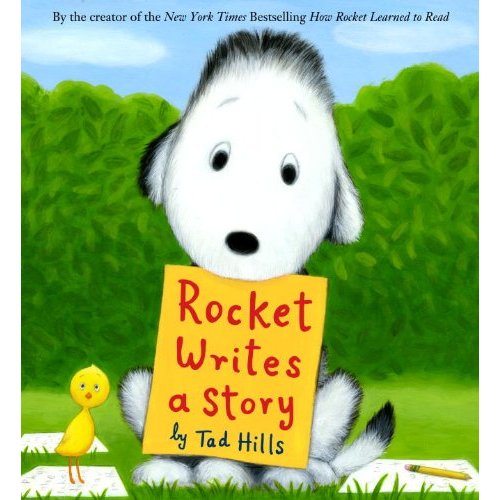 In this terrific follow-up to How Rocket Learned to Read, Hills delivers another gently humorous story about mastering a skill and making a friend.
Readers first met the winsome Wheaton terrier as a dog who loved to play. ("He loved to chase leaves and chew sticks. He loved to listen to the birds sing.") In his new adventure, Rocket is a dog who loves to read: "Rocket loved books. He loved to read them to himself or to sit quietly by his teacher, the little yellow bird, as she read them aloud." He loves the way a new book smells, "like a place he'd never been to, like a friend he'd never met." Rocket has also become a word collector. He brings back to the little yellow bird words like "buttercup," "bug" and "feather." A trio of vignettes depicts Rocket's moments of discovery. Then a full-bleed, full-page illustration depicts a "nest" that sits very high in a pine tree that's perfectly symmetrical except for one low branch with very few needles.
Parents and teachers will seize the teachable moments here: Rocket writes down words such as "leaf," "bush" and "dog" (nouns), while the bird adds other words that provide a perfect launch point for parts of speech discussions, such as "for," "by" and "the" ("This one is small, but I promise it'll come in handy," she says while holding the word "up" between her wings). "What shall we do with all these splendid words?" the little yellow bird asks Rocket, harking back to her hymn to the ABCs ("Ah, the wondrous, mighty, gorgeous alphabet.... Where it all begins"). Fred the Dachshund and Emma the terrier, introduced in the previous book, reappear here, along with cantankerous Mr. Barker, and they all get to hear Rocket's plans. His nose leads him back to that tree with the nest, and its scent of pine and feathers--and the nest dweller, who introduces herself as "Owl." ("Only three letters, but what a word!" the little yellow bird chirps with encouragement.)
But a subject does not a story make. Writers young and old will recognize Rocket's plight: "He looked down at the blank page and the blank page looked up at him. But no story would come." He wags when things go well, growls when he is blocked, draws pictures for his story, and takes walks for inspiration, as if to say, "Try this!" His teacher's questions about the owl help to break his block.
Just as Rocket's wish for more of his teacher's story about Buster ("the lucky dog") leads him to read, here as Rocket reads to the owl, she asks, "Then what happened?" And each day, lured by the tale, the owl (with a beak "the color of a buttercup") moves down the branches of the pine tree, until she's on the lowest one, providing more fodder for his story as a friendship blossoms. Once again, Hills delivers a double dose of smart tips on learning while also illustrating how to be a good friend. More please! --Jennifer M. Brown
Shelf Talker: In this companion volume to How Rocket Learns to Read, the winsome pup pens his own story, which leads to a new friend.