Shelf Awareness for Monday, June 4, 2012

Quotation of the Day
Jeanette Winterson: 'Renaissance for the Independents'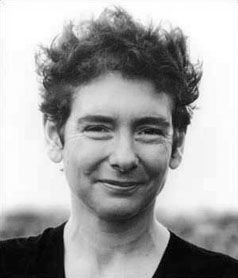 ''I just did a 10-city tour of the States and the big shops have been closing, just as they have in Australia, and yet over and over, small booksellers kept saying to me, 'we're doing better.' I'm wondering if the problem has not been in the retail or the independent niche bookstores, but in fact the big leviathans in the middle that have just been sucking up everything the way whales suck up plankton... they were never interested in books anyway. This may be a renaissance for the independents.''
--
Jeanette Winterson
, author most recently of
Why Be Happy When You Could Be Normal?
in an interview with the
Brisbane Times
.


News
Book Club Return: Oprah Goes Wild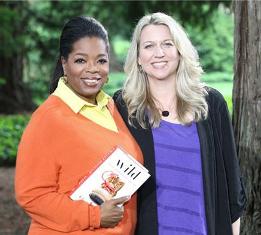 Oprah is back. Or at least her book club will be, the New York Times reported.

At one time the world's most effective bookseller, Oprah is going to resurrect her book club, which she shut down in 2010, as she prepared to end her show and shift to OWN, her cable network. The first pick of Oprah's Book Club 2.0 is Wild by Cheryl Strayed (Knopf), about the author's hike of the Pacific Crest Trail, published earlier this year. (See Shelf Awareness's March 27, 2012, interview with Strayed and March 13, 2012, review of Wild.)

Oprah wrote in O, The Oprah Magazine: "I love this book. I want to shout it from the mountaintop. I want to shout it from the Web. In fact, I love this book so much and want to talk about it so much, I knew I had to reinvent my book club."

The book will get the usual Oprah Book Club treatment, including stickered copies from the publisher, and, the Times noted, "in a nod to the millions of readers who have abandoned print books for e-books, Ms. Winfrey has updated the club with digital and social-media elements. The e-book versions of the selected book, for instance, will include margin notes from Ms. Winfrey highlighting her favorite passages."

An open question is whether Oprah will have the same overwhelming sales effect she used to have. OWN has struggled, and Oprah's weekly show, Oprah's Next Chapter, draws only between 500,000 and 2 million viewers a week while her old daily network show drew 6-8 million viewers.




Waterstones' CEO: Kindle Deal 'Isn't an Exclusive Arrangement'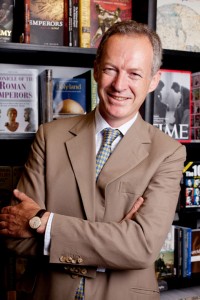 Speaking at a Hay Festival Business Breakfast panel yesterday, James Daunt, CEO of U.K. bookstore chain Waterstones, said, referring to the company's recent announcement it will sell Amazon Kindles, "We are not selling other devices but if there was another device that we thought was better then we would."

Daunt told the Bookseller Waterstones would consider selling other e-readers "in the future" if there was sufficient customer demand. "As you know, we were selling other devices when I arrived, and I kicked them out because, frankly, it was embarrassing. I mean they do sell multiple devices in places like John Lewis, there are all these Kindles lining up alongside one Kobo. For the moment, we are keeping it sensible. We will see how it evolves."

During the Hay Festival panel, Daunt observed that selling products from "our deadliest foe in all other respects" had created "a certain amount of disquiet among publishing colleagues and booksellers, to a much lesser degree, and the general public.... Amazon is the dominant force, it has cut a swathe and transformed our industry.... It has a basic monopoly on digital reading and this will increase it and indeed perpetuate it and all of us have our doubts about it. In meeting our customers' needs, we felt we had very little choice but to do it. Our view is that people are choosing to read digitally, our job is to sell reading and if they want to do so digitally we need to provide that to them and above all else keep bookshops relevant."




Amazon Update: Breinigsville Has a Cool Warehouse Staff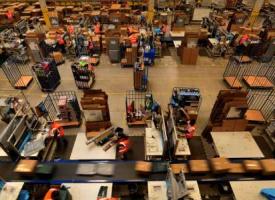 A year after a report harsh summer working conditions at Amazon's Breinigsville, Pa., fulfillment center, where ambulances were sometimes parked outside on hot days, "warehouse workers say the facility is refreshingly cool when it's hot and muggy outside. The company recently installed 40 roof-top air conditioners in its 615,000-square-foot warehouse, part of a $52 million investment in cooling its warehouses around the country," the Morning Call reported.

"I didn't even break a sweat today," said a worker last week, when Lehigh Valley temperatures topped 90 degrees. "It was really nice. I noticed the difference as soon as I walked in the door."

Larry Wiersch, CEO of Cetronia Ambulance Corps, told the Morning Call he does not expect to deploy ambulances and paramedics to the warehouse's parking lot this year: "I am very pleased to share that there does not appear to be a need to do so as they seem to have resolved any issue with intense heat to the best of our knowledge. It's nice to see them working to resolve concerns for the safety of their employees that work with them."



Indie E-Book Sales: Copia to the Rescue?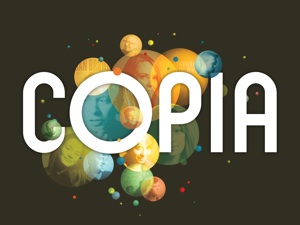 With Google eBooks ending its role as the main source for independent booksellers to sell e-books online, effective at the end of January, one of the companies stepping up to provide an option for indies to sell e-books is Copia. Its platform, which bookstores brand as their own, offers retailers e-commerce for books and other media (including music and magazines) and product information, all with a social networking emphasis. The company already provides website platforms for some 900 college stores, including Stanford University and the University of Kansas, and, through the Australian Publishers Association, is rolling out a platform for independent bookstores Down Under in August. Copia sells some five million book titles in all formats.

"We offer a totally turnkey operation," said Joann Spyker, v-p, field sales and higher education at Copia. "And our platform is built around the concept of communities, which is the role and mission of independents. The platform is built and branded with their name, and it's an extension of their existing business and bricks-and-more stores, a social center for books and other media and will enhance the ways independents already service their customers."

"We're the biggest white-label solution out there," Seth Kaufman, v-p of marketing and merchandising, added. "With Google dropping out, we feel we're part of the solution, not part of the problem."

On Copia, readers can share their views on books and what they like to read. E-books can be read on devices like the Nook and Kobo, and Copia has a free app that, among other things, allows readers to make notes in margins that can be shared.

For bookstores, Copia offers what Spyker called "a simple net revenue share model. On every transaction for e-books or e-content, we share a portion of revenue with the bookstore." There is no initial cost to bookstores for Copia, and whether a customer comes into Copia through the bookstore or returns directly to Copia, Copia tracks the customer as that store's customer and shares revenue from his or her purchases.

Copia is talking with major independent bookstores and the ABA about possible cooperation, Spyker said. Already one indie is using Copia to sell e-books.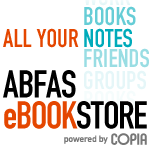 On the website for A Book for All Seasons, Leavenworth, Wash., there is a box for the "ABFAS eBookstore powered by Copia," which links to an A Book for All Seasons version of Copia. There, under the tagline, "We Just Got a Little Bigger," owner Pat Rutledge says, "Our new site gives you access to millions of titles--including eBooks you can read on almost any device--plus our usual great book choices. So browse the bookstore, take your bookclubs and reading groups online in Community, and download the best free eReader app."




Rare Original Edition of The Book of Mormon Stolen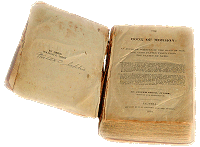 A rare original edition of The Book of Mormon was stolen sometime during Memorial Day weekend from Helen Spencer Schlie's rare and out-of-print bookshop in Mesa, Ariz. The Republic reported that the edition, valued at $100,000, was one of 5,000 printed in 1830. Schlie discovered the theft Monday.

The Republic noted that in 2005, Schlie "became somewhat of a controversial figure among members of the Church of Jesus Christ of Latter-day Saints when she announced plans to sell pages from the book for $2,500 to $4,000 apiece. She estimated she has sold 40 of the book's 588 pages, each mounted in a wooden frame." She said the LDS Church "gave its blessing to the project, viewing it as a way of strengthening people's faith."



Notes
Image of the Day: E.L. James's Lives of the Saints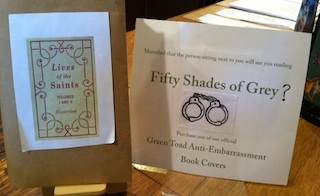 "Mortified that the person sitting next to you will see you reading Fifty Shades of Grey?" reads this display at Green Toad Bookstore, Oneonta, N.Y., which offers a solution: one of the store's "anti-embarrassment" book covers, in this case, Lives of the Saints, Volumes I and II. The display was the brainchild of "staff comedienne" Anne Van Deusen, said owner Michele Barry Pondolfino, who added, "Customers have loved it."


Politics and Prose Bookstore: A Year in Review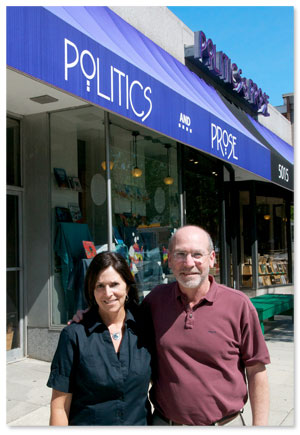 Bradley Graham and Lissa Muscatine, who purchased Politics and Prose Bookstore last June, spoke with Bookselling This Week about their first year as owners of the Washington, D.C., literary institution.

"Both of us had careers in the world of ideas and words, so it didn't seem like that much of a stretch to get involved in the running of a bookstore, even though we didn't have retail experience," said Graham. "What I found among booksellers was this great sense of collegiality, a sense of inventiveness and dedication to this business that was inspiring. People were very open to sharing their thoughts and experiences. I learned a lot that way."

"The store is a landmark in Washington, with extremely devoted customers," Muscatine observed. "We certainly didn't want to do anything to undermine that. It's always been a gathering spot, a place that is a forum for discourse.... The other thing we didn't want to change was the quality of the staff. They are curators, and that's what really sets us apart from online competitors. We kept the staff as it was, as much as we could. They have followings in the community, too."

Graham and Muscatine are pleased that a year after the transition, revenues are up. "The downturn that we feared might happen suddenly, or immediately, hasn't occurred just the opposite," said Graham. "Our customers have been buying physical books in greater numbers, and more have been coming to our events. We've been able to launch several new projects successfully that promise to add fresh revenue streams to the store's bottom line."



Resistencia Bookstore: 'Historical Haven for the Oppressed'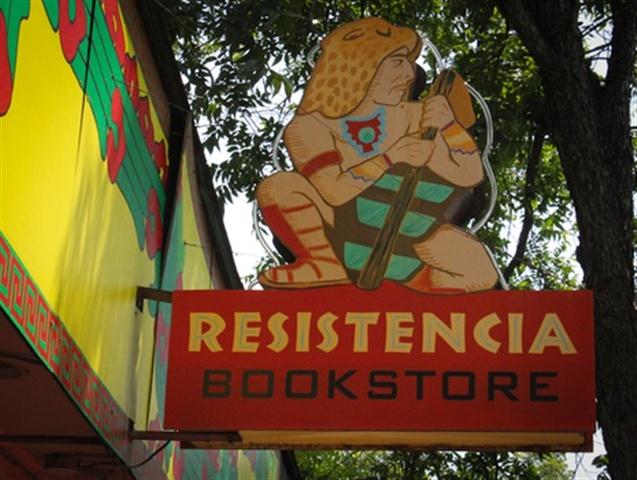 Describing the shop as a "historical haven for the oppressed," CultureMap showcased Resistencia Bookstore, Austin, Tex., "the go-to place for Chicano literature, poetry readings and revolutionary, social justice and human rights texts. It is also a space where intellectual exchanges are encouraged and where finding the right book is a way of life."

Founded in 1981 by Raúl R. Salinas, who died in 2008, the bookstore "has two decades of history in Austin and has managed to remain significant despite the demise of larger bookstores, a financial crisis, the growing popularity of digital books among readers and the diminishing interest in reading by younger generations," CultureMap wrote.

"When Salinas came to Austin, he found himself surround by important movements," said Lilia Rosas, who works with Resistencia and Red Salmon Arts. "The idea behind Resistencia is, if you don't see yourself reflected in the bookshelves, make it happen, build a space for what you think should be available.

"There was the student movement, the gay movement, the women's rights movement and many others. There was also a strong spirit of do-it-yourself at the time, and that's in part responsible for the creation of this space. The idea behind Resistencia is, if you don't see yourself reflected in the bookshelves, make it happen, build a space for what you think should be available."

Rosas also noted there is "something that I like to say when people enter the store, something like a paraphrase of what Raúl used to say: 'For those of you who have been here before, we're glad you're back. For those of you who have not been here before, we've been waiting for you: this is your home.'"



Cool Idea of the Day: BookBreeze Summer Literary Festival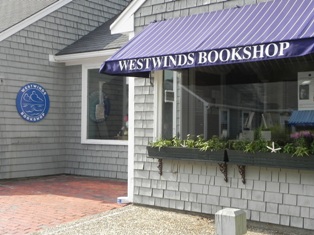 Westwinds Bookshop, Duxbury, Mass., and the Duxbury Free Library have launched a summer literary festival called BookBreeze that will feature events with a range of authors. All events will be free and held at the library or bookstore.
BookBreeze kicks off June 21 with J. Courtney Sullivan, author of Maine. Other writers appearing include Boston Herald columnist and talk show host Howie Carr, whose new novel is Hard Knocks (June 23); William Landay, author of Defending Jacob (July 25); Nichole Bernier, author of The Unfinished Life of Elizabeth D (August 7), Taylor Polites, author of Rebel Wife (September 6); and Emily Sweeny, author of Boston Organized Crime (September19).


PGW Signs Four Publishers
PGW has signed the following new clients:

Entangled Publishing, Fort Collins, Colo. PGW will handle all distribution of titles published under the Entangled Select and Entangled Teen imprints, with the first titles shipping in May. Launched in 2010, Entangled focuses on romance and YA.

Night Shade Books, San Francisco, Calif., which publishes science fiction and whose list includes the 2010 Hugo and Nebula winner The Windup Girl by Paolo Bacigalupi. PGW and Constellation has handled the company's digital distribution since late last year, and PGW began global print distribution in May.

Cameron + Company and its imprint Roundtree Press, San Francisco, Calif., founded by photographer and publisher Robert W. Cameron in 1964. Effective this month, PGW will distribute the company's books and calendars, which focus on photography, art, architecture and publications of regional interest.

Yosemite Conservancy, which is dedicated to the protection and preservation of Yosemite National Park. In July PGW will begin distributing its books.


Book Trailer of the Day: A Good Man
A Good Man: Rediscovering My Father, Sargent Shriver by Mark Shriver (Holt). The clip features the author in the studio narrating the title's audiobook version (Macmillan Audio).


Media and Movies
Media Heat: First Lady, Second Lady Tout Their Books
This morning on Good Morning America: Drew Manning, author of Fit2Fat2Fit: The Unexpected Lessons from Gaining and Losing 75 Lbs. on Purpose (HarperOne, $25.99, 9780062194206). Tomorrow he will be on the View and Nightline.

---

This morning on the Today Show: Mark K. Shriver, author of A Good Man: Rediscovering My Father, Sargent Shriver (Holt, $24, 9780805095302). He will also appear on Charlie Rose.

---

This morning on Imus in the Morning: Doug Brinkley, author of Cronkite (Harper, $34.99, 9780061374265).

---

This morning on Fox & Friends: Fred Gill and Lisa Wysocky, authors of Two Foot Fred: How My Life Has Come Full Circle (Howard Books, $22.99, 9781451636215). They are also on Imus in the Morning tomorrow.

---

Today on Hannity: M. Zuhdi Jasser, author of A Battle for the Soul of Islam: An American Muslim Patriot's Fight to Save His Faith (Threshold Editions, $26, 9781451657944).

---

Today on NPR's Diane Rehm Show: Jordan Smoller, author of The Other Side of Normal: How Biology Is Providing the Clues to Unlock the Secrets of Normal and Abnormal Behavior (Morrow, $27.99, 9780061492198).

---

Today on PBS' Newshour: Lindsey Hilsum, author of Sandstorm: Libya in the Time of Revolution (Penguin, $27.95, 9781594205064).

---

Today on Tavis Smiley: Gail Collins, author of As Texas Goes...: How the Lone Star State Hijacked the American Agenda (Liveright, $25.95, 9780871404077).

---

Tonight on the Late Show with David Letterman: Joan Rivers, author of I Have Everyone...Starting with Me (Berkley, $25.95, 9780425248300).

---

Tonight on the Daily Show: Norman J. Ornstein and Thomas E. Mann, authors of It's Even Worse Than It Looks: How the American Constitutional System Collided With the New Politics of Extremism (Basic, $26, 9780465031337).

---

Tonight on the Colbert Report: Rep. John Lewis, author of Across That Bridge: Life Lessons and a Vision for Change (Hyperion, $22.99, 9781401324117).

---

Tonight on Jimmy Kimmel Live: Adam Perry Lang, author of Charred & Scruffed (Artisan, $24.95, 9781579654658).

---

Tomorrow morning on Fox & Friends: M. Zuhdi Jasser, author of A Battle for the Soul of Islam: An American Muslim Patriot's Fight to Save His Faith (Threshold Editions, $26, 9781451657944). He will also appear on the Dennis Miller Show and the Jim Bohannon Show.

---

Tomorrow morning on the Today Show: Jill Biden, author of Don't Forget, God Bless Our Troops (Simon & Schuster, $16.99, 9781442457355). She will also appear on the View and the Colbert Report.

---

Tomorrow on NPR's Diane Rehm Show: Callum Roberts, author of The Ocean of Life: The Fate of Man and the Sea (Viking, $30, 9780670023547).

---

Tomorrow on BBC World Service's Outlook: Chade-Meng Tan, author of Search Inside Yourself: The Unexpected Path to Achieving Success, Happiness (and World Peace) (HarperOne, $26.99, 9780062116925).

---

Tomorrow on Tavis Smiley: Charles Ferguson, author of Predator Nation: Corporate Criminals, Political Corruption, and the Hijacking of America (Crown Business, $27, 9780307952554).

---

Tomorrow night on the Daily Show: Michelle Obama, author of American Grown: The Story of the White House Kitchen Garden and Gardens Across America (Crown, $30, 9780307956026).




Books & Authors
Awards: Ruth and Sylvia Schwartz Children's Book
"The kids have voted," Quillblog noted in reporting that this year's winners of the Ruth and Sylvia Schwartz Children's Book Awards are Loon by Susan Vande Griek, illustrated by Karen Reczuch (picture book) and The Whole Truth by Kit Pearson. Each of the winners, who were selected by two juries of young readers at Parkdale Junior and Senior Public School in Toronto, receives $6,000. The awards recognize artistic excellence in writing and illustration in English-language Canadian children's literature.



Book Review
Review: Tell the Wolves I'm Home
Tell the Wolves I'm Home by Carol Rifka Brunt (Dial Press, $25 hardcover, 9780679644194, June 19, 2012)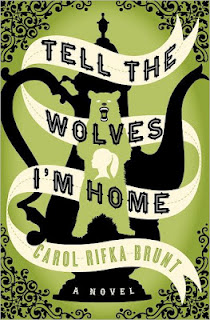 Through destruction people grow in Carol Rifka Brunt's debut novel, Tell the Wolves I'm Home. A painting meant to bring siblings together does so only after they deface it. A sister makes peace with her brother through losing him. And hearts heal by breaking.
Fourteen-year-old Junie feels like her world has ended, not because her accountant parents have again turned her into a tax season orphan, or because her big sister Greta has grown snide and aloof, but because Junie's beloved uncle Finn is the latest casualty of an epidemic sweeping mid-1980s America: AIDS. Finn, a prominent artist, introduced Junie to classical music, fostered her love of medieval history and spent long Sundays taking her for outings and sharing secrets with her. With Finn gone, Junie soon learns her uncle also kept secrets from her, like his live-in boyfriend, Toby, whom Junie's family blames for Finn's disease.
Bereft and lonely, Junie receives a surprise message from Toby suggesting they meet, that she is the only person who misses Finn as much as he does. At first, Junie is suspicious of the man her mother claims as good as murdered her uncle, not to mention jealous of his bond with Finn. However, she has no one to confide in--not her busy parents, and certainly not Greta, who has begun subtly vandalizing Finn's final painting, a portrait of the sisters entitled Tell the Wolves I'm Home. When Junie finds a last note from Finn begging her to take care of Toby, her mind is made up.
Soon she's lying to her family and sneaking out of school to meet Toby, and the two strike up a friendship as heartwarming and poignant as it is unconventional and, at times, awkward. Rather than the monster she imagined, Junie finds Toby a gentle, hapless fellow, lost without Finn. Through their meetings, Junie begins to unlock the missing pieces of her uncle's life, from his love for Toby to the root of the rift between him and Junie's mother. However, the friendship quickly grows bittersweet when Junie realizes that Toby is also dying of AIDS, and she is going to lose her newfound friend and last link to Finn.
Filled with lost opportunities and second chances, Tell the Wolves I'm Home delivers wisdom, innocence and originality with surprising sweetness. Its cast of waifs and strays will steal your heart as they show each other the way to redemption. --Jaclyn Fulwood, blogger, Infinite Reads
Shelf Talker: A fresh yet nostalgic debut novel about a 1980s teen who loses a beloved uncle to AIDS but finds herself by befriending his grieving boyfriend.


Deeper Understanding
Book World Career: Teaching an Old Dog New Tricks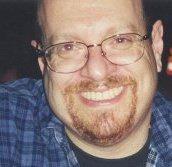 Publishing veteran Larry Dorfman reflects on a shift in his publishing path.
Nine months ago, after a successful career in publishing that spanned more than 30 years, I suddenly found myself unemployed. That moment, which remains hauntingly clear, made me question so many things, going back to the beginning of my career.
It was the early '80s. After working in the thriving record business (still vinyl back then!), and a very brief stint working for a regional department store chain (anybody remember Caldor's?), I started my book career as a road warrior for Avon Books. My territory spanned Connecticut, Rhode Island, half of Massachusetts and parts of upstate New York. A lot of miles. A lot of Red Roof Inns. A lot of very bad fast food.
I loved every minute. I met great people in the book business, many of whom remain good friends. Something new happened every day. And while there were many hours battling traffic, weather, car problems and missed appointments, I was practically my own boss and my time was basically my own. Sure, there were call reports and quotas and business levels to maintain--not to mention the occasional over-achiever regional manager who would disrupt everything and then move on to a bigger job leaving everyone else to reassemble the pieces. But it was a good life in what was once called "The Gentleman's Industry." I was a Road Rep... a Book Traveler.
Eventually, I was enticed to move to Penguin. Hardcovers! Trade paperbacks of substance! A backlist with over 20,000 titles! Classics! Remember the days when the bookstore classic departments were seas of orange Penguin spines? My territory changed, but much of it was similar and familiar. The same love of books and bookselling. Great independent bookstores. Cambridge alone had over 20! This was well before the chains began to proliferate. The warehouse clubs hadn't happened yet. And there was no Amazon.
I did that for a few years and won some sales awards. I even got my picture in the local papers for what was the beginning of the "dying breed" articles. But the writing was on the wall, so to speak, and I realized that I needed to make a change. I went to New York City to become national accounts manager at Penguin. I started calling on Barnes & Noble (B. Dalton was still the major part of that company, but the superstore concept was beginning to grow) and Ingram. Took a train every day from New Haven. Two and a half hours. Then a subway to Houston and Hudson Streets. Sold Stephen King's books and watched them dominate the bestseller lists. Suffered through the Salman Rushdie debacle (bomb scares and all). It was very exciting, and I loved it.
More changes came. I left Penguin for S&S and took on Waldenbooks when the company was still in Stamford, Conn. At S&S, I went through the "Bell Curve" hysteria and sold Stephen King's books (again). But I began to burn out on the train and the commute, so I came to Connecticut to head national sales at a very small regional publisher, which I helped turn into a medium-sized regional publisher. But the lure of New York City and the big book was strong. I took a job at Abrams and the wonderful world of beautiful art books. I moved up, became a director. Rode through the beginning of the Wimpy Kid juggernaut. Then I came back to Connecticut as a v-p. Wrote books in my "spare" time. The plan had worked (as if there had been a plan). Steady upward progression--bigger and bigger desks doing what I love to do in the business that was my life.
Then I lost my job.
During the next nine months, I applied and interviewed for at least three dozen positions in publishing. I heard the same story at most of them. "You're really overqualified." "Too high level for what we're looking for." "Not sure what the job entails yet." And so forth.
However, that all seemed to go away when the word "digital" came into play. Every day seemed to bring a new listing for an "experienced" digital sales rep. Or manager. Or director.
My first reaction? The technology as a mainstream entity is barely three years old. How much "experience" can they expect?
My second reaction? This is clearly the future. Find something that will get you into that world.
Then Jim Allen called me about Book Connect, a Canadian company that had a new platform for content management that was affordable for small publishers. We met and agreed to a freelance position: I would represent them in the U.S. Now, much of my time is spent becoming familiar with the ins and outs of the program and learning how to identify and find solutions for my customers. And given the newness of this new chapter of the publishing business, the need is great.
BEA is this week. I will attend as a representative of Book Connect. I'm excited again. Besides the opportunity to reconnect with many old friends, see the new titles (I can't help it, I still get excited) and talk with like minds in an industry I love, it's an opportunity to be part of the change in that industry. Surrounded by people that still believe the printed word is viable and important. Be it on paper or in the ether.
So, looking back at all those years, all those experiences, all those jobs--I guess they were wrong. You know, those folks who first voiced that familiar idiom.
You can teach an old dog new tricks.