Shelf Awareness for Friday, June 1, 2012

News
Google Setback: Judge Rules Authors Can Pursue Class Action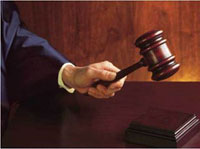 In a decision that could be a setback for Google, Judge Denny Chin ruled yesterday that groups representing authors can go forward with a class action. PaidContent reported that Chin's ruling "means the stage is now set for a trial on whether Google's decision to scan millions of books amounted to fair use under copyright law."

Last month, Chin heard arguments regarding motions by Google to deny the authors the right to proceed as a class and to dismiss the organization's case.

"This is a key ruling for all U.S. authors whose literary works have been appropriated by Google," said Paul Aiken, executive director of the Authors Guild.

A spokesman for Google observed: "As we've said all along, we are confident that Google Books is fully compliant with copyright law. Today's decision doesn't determine the underlying merits of the case, nor does it resolve the lawsuit."

In his ruling, Chin said the Authors Guild "has played an integral part in every stage of this litigation since its inception almost seven years ago.... Furthermore, given the sweeping and undiscriminating nature of Google's unauthorized copying, it would be unjust to require that each affected association member litigate his claim individually."

PaidContent also noted that Google's contention a class action was inappropriate "since a survey of authors showed that 57% 'approved' of appearing in Google's search results" was rejected by Chin, who ruled this does not disqualify other authors from suing together, adding that, "it is possible that some authors who 'approve' of Google's actions might still choose to join the class action."



General Retail Sales: May Beats Expectations
Retail sales for May at the 18 stores tracked by Thomson Reuters rose 3.9%, which was higher than the 3.6% gain analysts had predicted, though lower than the 5.4% jump last year. Reuters noted that "low prices and good deals helped wary U.S. consumers overcome their growing anxiety about the economy in May, leading to stronger-than-expected sales for top retailers."

The International Council of Shopping Centers expects same-store sales, excluding drugstores, to rise 3.5% to 4% in June, Reuters wrote, adding that the organization's chief economist Michael Niemira "warned economic worries would continue to make shoppers cautious."

The Wall Street Journal reported that "lower gas prices, a rash of store discounts and a later Mother's Day helped buoy May sales.... Still, retailers face substantial headwinds, including waning consumer confidence and global economic woes. In addition, they will have tougher sales comparisons against June of last year."

"We are back to a bit of normal in retail where consumption is at a relatively strong pace," said Joel Bines of AlixPartners.



E-Book Pricing Case: Letters to the DOJ

The public has until June 25 to comment on the Department of Justice's proposed settlement with Simon & Schuster, Hachette and HarperCollins. PaidContent, which showcased excerpts from a few of the letters filed thus far on both sides of the issue, noted that after the deadline, the "DOJ will review the letters, write a response and file everything in the public record."

"Unless the DOJ is seeking to change the very nature of property ownership in the United States and allow vendors to set prices on property they do not own nor have any commitment to purchasing, the precedent the DOJ would be setting should the DOJ win this lawsuit and go forward with its settlements could have grievous unintended consequences," wrote Peter Glassman, owner of New York City's Books of Wonder, in support of Apple and the publishers. "I'm sure there are lawyers out there already looking forward to how they will be able to twist this to the advantage of themselves and their clients."

Also writing in support of Apple and the publishers was Simon Lipskar, president of Writers House: "The short-sighted focus by the government on the price effects of agency on only a limited number of bestselling titles demonstrates the inaccuracy of its larger and counter-factual generalizations about broader price consequences; the government here is straightforwardly guilty of the hasty generalization fallacy, in which a general rule is drawn from a single case."

Author Joe Konrath was among those supporting the DOJ. "When prices of media are high, they're a barrier to entry," he wrote. "Many are avoiding buying an e-reader because the e-books they most want are $9.99--$14.99. If prices came down, more Kindles (and Kobo readers and Nooks and Sony readers) would be sold. That widens the market, which leads to more e-book sales. This is good for authors, and for readers who can get more for their money."



The Nation Magazine Explores Amazon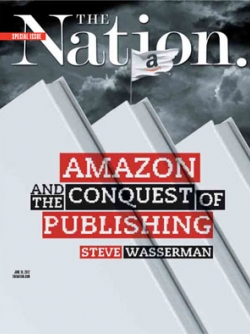 With a cover proclaiming "Amazon and the Conquest of Publishing," the latest issue of the Nation magazine focused upon the online retailing giant.

In his article "The Amazon Effect," former editor of the Los Angeles Times Book Review Steve Wasserman chronicled the history and current status of the company. He observed that from the start, Amazon CEO Jeff Bezos "understood two things. One was the way the Internet made it possible to banish geography, enabling anyone with an Internet connection and a computer to browse a seemingly limitless universe of goods with a precision never previously known and then buy them directly from the comfort of their homes. The second was how the Internet allowed merchants to gather vast amounts of personal information on individual customers."

"Why does Amazon now have customers do the search chores it used to do for them, and in innovative ways?" That question was addressed by Anthony Grafton in "Search Gets Lost."

Michael Naumann, editor-in-chief of the German magazine Cicero who headed Holt in New York City in the late 1990s before becoming Germany's culture minister for three years, examined "How Germany Keeps Amazon at Bay and Literary Culture Alive," looking at ways the country's fixed-price laws "curtail the power of retail chains and help to sustain a vibrant literary culture."

Introducing its slide show "Ten Reasons to Avoid Doing Business with Amazon," the Nation asked "what's at stake in the battle over e-commerce and why should you avoid doing business with Amazon.com?"



Local Bookseller Seeks Kindle Ban at Hay Festival
The 25th annual Hay Festival of Literature and the Arts began yesterday and organizers "are facing a revolt from traders who want a ban on Kindles, which they describe as 'the enemy of books,' " the Daily Mail reported.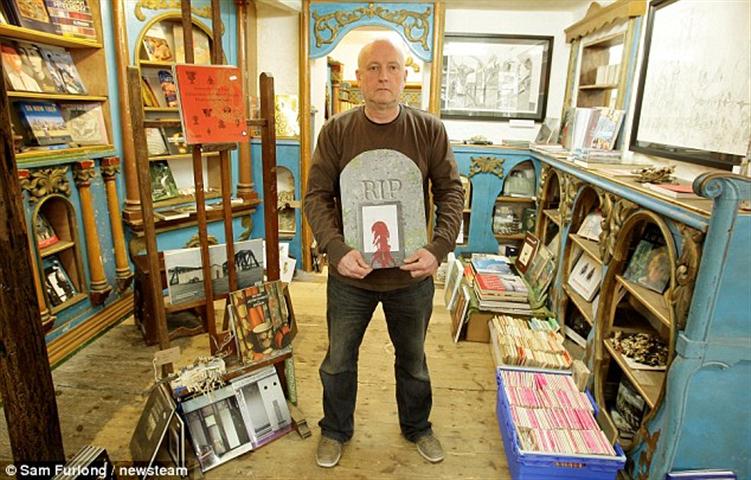 "Kindles have no soul, they're not sexy, it is just a toy and the best place for it is the bin," said Derek Addyman, a Hay-on-Wye bookseller who led a march with a town crier proclaiming the evils of e-books. "We have seen half a dozen book shops go out of business this year. Without the support of people going into these shops, we won't have any independent sellers left in a few years. Kindles have no place at this festival which is supposed to be a celebration of the written word--and books."

Addyman "has built a bizarre cemetery scene in one of his three book shop windows showing a gravestone next to a picture of one of the e-book readers," The Mail wrote.

The Bookseller noted that Hay Festival director Peter Florence also weighed in on the issue, saying: "There will be a footfall of 250,000 readers in Hay over the next 10 days and these people buy books in all formats. Anything that encourages people to read in any format is fantastic."



Obituary Note: Dudley Clendinen
Dudley Clendinen, "a courtly Southern journalist and author who wrote lyrically about civil rights, aging in America, the poignancy of ordinary lives and his own approaching death as a gay alcoholic victim of Lou Gehrig's disease," died Wednesday, the New York Times reported. He was 67.



Notes
Image of the Day: A Night on Drugs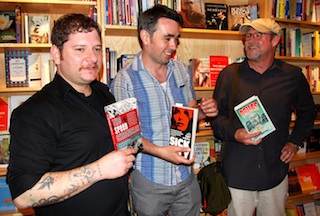 Tuesday night, BookCourt, Brooklyn, N.Y., hosted "A Night on Drugs," an event that featured (from l. to r.): Joseph Mattson, editor of The Speed Chronicles (Akashic Books); Tony O'Neil, author of Sick City (Harper Perennial); and J.R. Helton, author of Drugs: A Novel (Seven Stories Press).


Cool Idea of the Day: A Wonder-ful Campaign to "Choose Kind"

Yesterday, Random House Children's Books launched Choose Kind, a campaign to curtail the nationwide rise in bullying by using the antidote of everyday acts of kindness.
Chip Gibson, president and publisher of the division, said the initiative was inspired by Wonder (Knopf), the debut novel by R.J. Palacio. The hero at its center, fifth-grader Auggie Pullman, is attending school for the first time. His cranial and facial abnormalities force his fellow students and teachers to come face to face with themselves. "The outpouring of enthusiasm from book lovers and educators moved us to share the poignant message of this novel with a wider audience," Gibson said. "I am proud to give them, and anyone around the world, the opportunity to discover the story and to pledge with us to Choose Kind."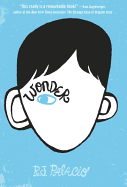 The Choose Kind tumblr site encourages readers and their families to contribute a post--either their own experiences of being bullied or moments that they wished they had acted differently when witnessing acts of bullying. The site also culls additional ways of experiencing the book, such as a book trailer, an author bio, how to connect with the author, reviews and links to other anti-bullying efforts. Fans can also join the Twitter conversaion with the hashtag #thewonderofwonder.
The campaign goes global on June 6, 2012, with the publication of a U.K. edition of Wonder aimed at adults (the U.K. children's edition was published in March). "Kindness is a virtue whose ripple effects can literally change the world," said Palacio.


Wimpy Kid in The Third Wheel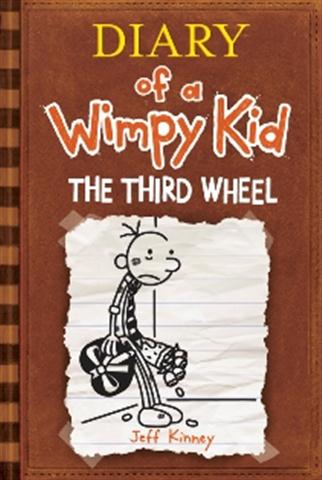 On November 13, Abrams will release the seventh Diary of a Wimpy Kid title, The Third Wheel, with a first printing of more than 6.5 million copies and a chocolate brown cover color intended to complement the red, blue, green, yellow, purple, and ice blue of the first six books.
Kinney said writing The Third Wheel was a lot of fun because there's so much humor to be mined in the world of middle school romance. "When the dust settles at the end of the seventh book, the Wimpy universe will be changed in a way that will surprise fans of the series," added Kinney.
The kickoff begins with Kinney's appearance at BEA, featuring giveaways (such as chocolate bars featuring the cover on Tuesday, June 5), two oversize billboards on the street outside the convention center, and a chance to win a trip (at the ABFFE/ABC auction on Wednesday, June 6) to New York to walk in the Macy's Thanksgiving Day Parade with the Wimpy Kid Giant Helium Balloon. The momentum continues with next month's release of the new edition of the Wimpy Kid Movie Diary and the August 3 release of the next Diary of a Wimpy Kid major motion picture, Dog Days.


Caroline Casey Joining Coffee House Press
Effective July 2, Caroline Casey is joining Coffee House Press as marketing and sales director. She is currently director of marketing and development at Sarabande Books. Earlier she was a publicist at Red Hen Press and worked in acquisitions, research and publicity at Stanford University Press, the Smithsonian Institutional Press and the University of Iowa, among others.
She replaces Tricia O'Reilly, the interim marketing director who had served as the press's publicist since 2010. She is leaving to pursue opportunities in the Pittsburgh area and can be reached at patricia.e.oreilly@gmail.com.


Book Trailer of the Day: A Long Way from You
A Long Way from You by Gwendolyn Heasley (HarperTeen).


Media and Movies
Media Heat: Brad Paisley on Good Morning America
This morning on Good Morning America: Brad Paisley, author of Diary of a Player (Simon & Schuster, $30, 9781451640632).

---

Today on NPR's Fresh Air: Mira Bartok, author of The Memory Palace (Free Press, $15, 9781439183328).

---

Sunday on Piers Morgan Tonight: Philippa Gregory, author of Changeling (Simon Pulse, $18.99, 9781442453449).




Books & Authors
Book Brahmin: Lizzie Stark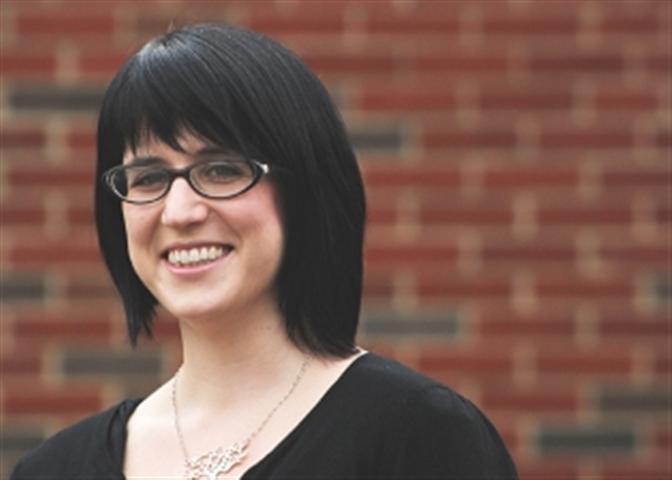 Lizzie Stark is a journalist whose work has appeared on the Today Show website, io9.com and the Daily Beast. She is the founder and editor of the literary journal Fringe. Her first book is Leaving Mundania: Inside the Transformative World of Live Action Role-Playing Games, published on May 1, 2012, by Chicago Review Press.
On your nightstand now:
America Pacifica by Anna North, The Hero with a Thousand Faces by Joseph Campbell and Deadlocked by Charlaine Harris.
Favorite book when you were a child:
I read and re-read the Little House books as a kid--learning how the pioneers lived from day to day fascinated me. Who wouldn't want to make snow candy, bat around an inflated pig's bladder, trap fish at the bottom of a waterfall or twist hay into logs during an epic blizzard?
Your top five authors:
Right now? Virginia Woolf, Dorothy Parker, Siddhartha Mukherjee, Jeannette Walls and Isabelle Allende. But it changes from month to month.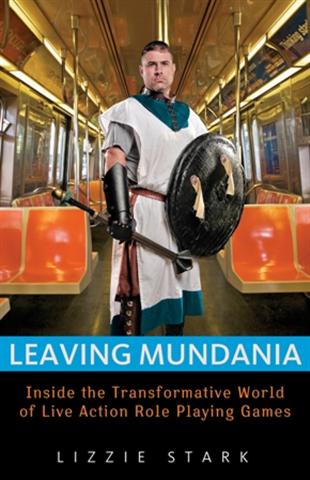 Book you've faked reading:
Blood Meridian by Cormac McCarthy. I was supposed to read it in grad school, but the novel's gender dynamics just didn't sit right with me (and made me muse on the lack of novels by women on the "Best of the year/decade/century/ages"). I got so mad I couldn't finish. I realize that McCarthy has some awesome craft going for him and that it's not fair to make a single book take the blame for the larger issue. Still, the problem gnawed at me so much that I did the only honorable thing; I faked sick on the day of the discussion and pretended to have read it for the rest of the semester.
Book you're an evangelist for:
I adore Rikki Ducornet's book The Fountains of Neptune, which is from a tetrology she wrote based on the four ancient elements. It's got everything; pirates, monkeys, comas, deep emotion, war, love and surreal imagery, all delivered to the writer in sleek, affecting prose.
Book you've bought for the cover:
Franny and Zooey by J.D. Salinger. The cover's white matte simplicity screamed LITERATURE to me, and I felt very grownup reading during lunch breaks at my first job, in high school.
Book that changed your life:
Virginia Woolf's The Waves. I could feel Woolf talking to me when I read that book, articulating things about my lived experience that I had thought were incommunicable and beyond expression.
In a profoundly personal way, that book made me feel understood; it made me feel like my innate oddities weren't strange, but merely human. I read The Waves in my early 20s, when I was struggling to figure out who I was; seeing what I perceived as my own experience represented in literature felt very powerful.
Favorite line from a book:
Here's one that stayed with me for a long time after I finished reading:
"They want me to tell them my name, my address, my social security number; they want to open me up like a package and crawl around inside and find out exactly what's wrong with me and fix it and love it and I don't know why the hell they don't lay off." --from My Date with Satan by Stacey Richter
Book you most want to read again for the first time:
Gabrielle Burton's Heartbreak Hotel. I loved that book for its feminism, its surreal premise--a half-dozen women live together in a house as curators of the metaphysical Museum of the Revolution, which features such rooms as the waiting room, which women enter when they are waiting for their hair to set, the pregnancy test to come back, their husbands to come home, their nails to dry, etc.
Plus, it's hilarious. And that's a great virtue for a book to have.


Book Review
Review: Sugarhouse: Turning the Neighborhood Crackhouse into Our Home Sweet Home
Sugarhouse: Turning the Neighborhood Crack House Into Our Home Sweet Home by Matthew Batt (Mariner Books, $14.95 paperback, 9780547634531, June 12, 2012)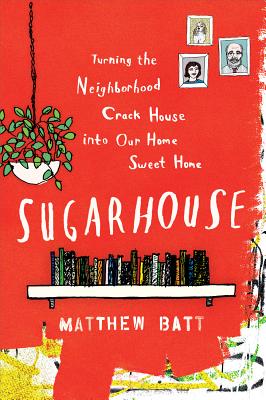 Having completed the stage of newlywed bliss, Matthew and Jenae Batt begin to discover that what lies on the other side doesn't look promising. Their best friends are divorcing, leaving them worried that a trapdoor might open under their own marriage. Their apartment in Salt Lake City is nice enough, if you ignore the constant accidents at the uncontrolled intersections in front of it; the disemboweled cat corpses that keep turning up; and the fact that Elizabeth Smart was kidnapped a few blocks away. With life looking down when it should be looking up, the couple starts to wonder about their future. Then Matt loses his dad and grandmother in quick succession and, as Jenae stands by him and his family through both losses, he realizes that he still deeply loves her. Determined to do right by her and improve their lives, Matt suggests getting out of their apartment and embarking on the path of homeownership.
After some initial disappointments, Matt finds a likely prospect in the Sugarhouse district of Salt Lake City: a dilapidated former crack house whose owner's attempts at renovation have done more harm than good. Determined to make a renovator's nightmare into the house of their dreams, Matt and Jenae buy the house and hop on the DIY ride of their lives. What follows is an uproarious journey of amateur power-tool operation, stripping floors with the equivalent of stabilized napalm, and developing a man-crush on an "artisan concrete worker."
Along the way, Matt grapples with his dysfunctional family, especially his grandfather. A wealthy and incurable womanizer, Grandpa has coped with his wife's death by openly parading his girlfriends in front of the shocked family, particularly Matt's mother. Readers will laugh and cringe at the elderly man's antics as Matt tries to strike a balance between convincing Grandpa to rein it in and not upsetting their relationship--partly because Grandpa holds the loan on their fixer-upper, but mostly out of love.
Anyone who has tackled home renovation or dysfunctional family blues will chuckle and nod knowingly at Matt's experiences. Everyone else: get out your belt sander, put on an episode of This Old House and prepare to laugh along with this witty, lighthearted memoir. --Jaclyn Fulwood, blogger, Infinite Reads
Shelf Talker: Matt Batt looks back on his adventures in home renovation and dysfunctional family relations in a hilarious memoir.


Deeper Understanding
Robert Gray: Opening Day or Groundhog Day?
"Gloom, Doom and Jittery Booksellers: Publishing: The threat of riots and thunderstorms in Miami mirrors the mood at the ABA. Industry insiders say there's a cloud hanging over the future of the book biz."--Headline of a Los Angeles Times piece on the 1993 American Booksellers Association convention in Miami.

I'd only been a bookseller for a year when I attended my first trade show. I remember an author breakfast featuring Maya Angelou, Carl Hiaasen and Betty Friedan; police roadblocks on the way to a party for Anne Rice at the Biltmore Hotel in Coral Gables; carrying my shoes and socks while walking on the hot sands of Miami Beach in a suit.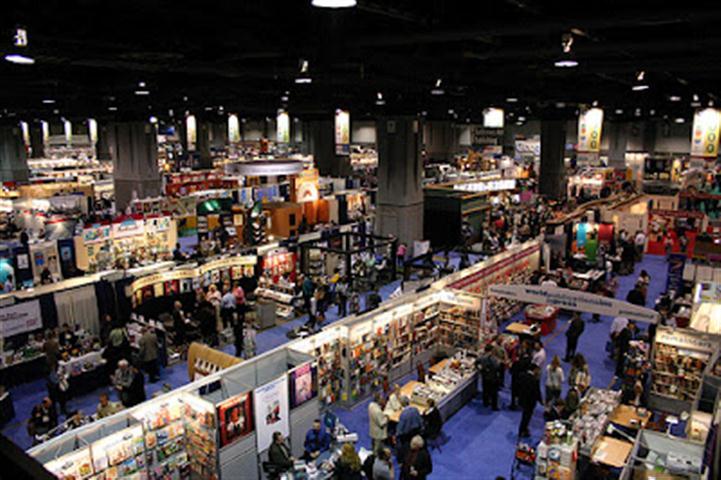 My most intense memory, however, is of the first few minutes on Opening Day at the Miami Beach Convention Center, where I was awestruck by all that bookish splendor.

Opening Days are celebratory. Think baseball, where each spring every team is undefeated as the season begins. Granted, Opening Days can also feel like Groundhog Day, the 1993 movie in which Bill Murray becomes trapped in the dense amber of an ever-repeating 24-hour nightmare (with, it must be acknowledged, a happy ending).

Scanning that L.A. Times headline almost 20 years later, I can't recall that I was even aware of any "gloom, doom and jittery booksellers" among the industry people I met in Miami, some of whom I still know and will see again next week at BookExpo America in New York City.

One of them is Chuck Robinson, owner of Village Books, Bellingham, Wash. In 1993, as president of the ABA, he told the L.A. Times: "I don't think it's gloom as much as it's anxiety. There is some anxiety over safety, but there is even more concern over the future of bookselling with the growth of mega-stores and now electronic publishing.... Selling books is like farming; what's being threatened is not just a job, but a life. So any time there is a major change in retailing, everyone gets anxious."

After BEA in 2009, Chuck wrote on his bookshop's blog: "It was, if I've counted correctly, the 28th time we've attended our national convention and trade show. So, wouldn't you think it would have become old hat? Why does my heart still race and why am I so excited each year? Well, in reflecting on who we saw and heard talk, I realize it is somewhat rarefied air we breathe at these events.... I'm always refreshed and renewed when I come home from BookExpo America. And, this year is no exception."

I love those two quotes. They exemplify a melding of common sense with sense of wonder that every great bookseller I've ever known possesses. Sorry to single you out, Chuck, but the great thing, as you know, is that you are one of many.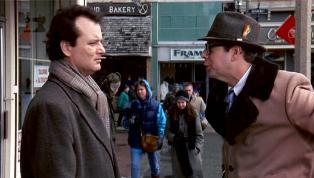 Of course, after all these years there are also moments during BEA when it will inevitably feel more like Groundhog Day than Opening Day. Not this again, I'll whine, intoning a more bookish version of Murray's Groundhog Day lament: "I was in the Virgin Islands once. Met a girl. We ate lobster and drank pina coladas. At sunset we made love like sea otters. That was a pretty good day. Why couldn't I get that day over and over and over?" But those are only flashes of exhaustion-induced weakness and I'll quickly recover because, in fact, I enjoy the whole bloody biblio-spectacle.

In 2005, I made my final trip to BEA as a bookseller before joining the Shelf Awareness team. Afterward, on my blog Fresh Eyes: A Bookseller's Journal, I wrote: "At BookExpo, my Northshire colleagues and I stayed at the Park Central Hotel, which had been designated the booksellers' hotel. If the general sense of community, energy, and focus I witnessed there was merely the delusions of a dying entity, I was certainly fooled....

"The ring is small, the punches come fast and relentlessly, the contest is a mismatch, but why shouldn't we keep swinging? Good independent booksellers are still capable of finding talented readers in quantity for great books, books that might not find their way through the valley of the shadow of remainder death without our help."

In a few days, we'll gather in New York to talk about the future of books. "Well, what if there is no tomorrow? There wasn't one today," Bill Murray said in Groundhog Day. Don't worry. Tomorrow starts next week, once again. It's a paradox we've been living with for a while. You get used to it.--Robert Gray, contributing editor (column archives available at Fresh Eyes Now)



BEA Buzz Books: Nonfiction
When it comes to pre-BEA buzz, booksellers generally talk a lot about hot fiction--even though nonfiction tends to sell better in hardcover. This year there are a few memoirs that top the list of books to grab at BEA.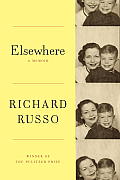 Richard Russo's Elsewhere (Knopf, November) has many booksellers buzzing. Mark Laframboise at Politics and Prose in Washington, D.C., was halfway through the book when we spoke to him about it. "I'm loving it," he said. "It's really, really personal." Mostly, Laframboise said, it is about Russo's mother, who seemed unable to live without her son and even followed him to college at the University of Arizona. "It's a wonder his marriage survived," the bookseller observed, adding that the mother in Empire Falls is reminiscent of Russo's real parent. "I love to see where all the characters in an author's fiction come from," Laframboise added.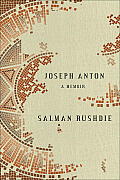 No doubt booksellers will be mining Salmon Rushdie's memoir for similar insights into his fiction. Coming from Random House in September, Rushdie's Joseph Anton (borrowing from beloved writers Conrad and Chekov for his code name) delves into his experience with the Ayatollah Khomeini's fatwa and his life since then. Robert Sindelar, managing partner at Third Place Books in Lake Forest Park, Wash., echoed what other booksellers have said about this title: "I haven't been that excited about a Salmon Rushdie book in a while, but I am definitely going to read the memoir."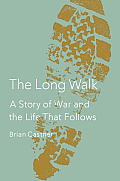 A memoir several booksellers are looking forward to placing in the hands of consumers is The Long Walk: A Story of War and the Life That Follows by Brian Castner, an Iraq war veteran whose skill at memoir is being compared with Mary Karr and Tobias Wolff. "It's astonishing to me that someone who has been through so much can write so well," said Sheryl Cotleur, head buyer at Book Passage in Corte Madera and San Francisco. "It's the closest I have come to feeling like I was in someone's Post Traumatic Stress Disorder."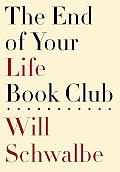 Many in the book business will recognize Will Schwalbe's name--he was an editor at Hyperion for years. This year he comes to BEA as an author, with The End of Your Life Book Club (Knopf, October), his heartfelt memoir about reading books with his mother before she died. Valerie Koehler at the Blue Willow Bookshop in Houston, Tex., is looking forward to not only selling this book, but also the books he talks about in it. "It's life affirming," she said. "By showing a way to share things [books] and that life doesn't always have to be happy."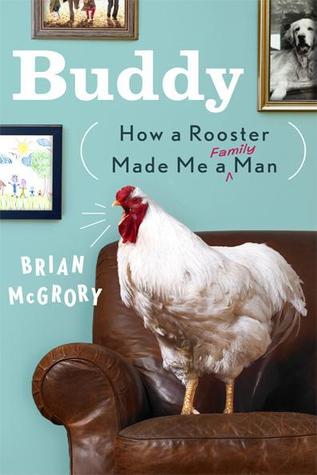 In a lighter vein, Crown is publishing Buddy: How a Rooster Made Me a Family Man by Brian McGrory in November. In this memoir, a newspaper reporter gets a ready-made family when he marries a woman who not only has daughters but also a rooster that's used to being the man of the house. So far Buddy has been compared with Marley and Me and We Bought a Zoo.
When it comes to historical nonfiction, Timothy Egan is a bookseller favorite, and Houghton Mifflin Harcourt is publishing his latest, Short Night of the Shadow Catcher: The Epic Life and Immortal Photographs of Edward Curtis, in October. "That should do really well," said Cathy Langer, buyer at the Tattered Cover in Denver, Colo.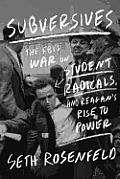 In this election year, political books will certainly get their share of attention, but one that appeals to the indie spirit is Subversives: The FBI's War on Student Radicals and Reagan's Rise to Power by Seth Rosenfeld (Farrar, Straus & Giroux, October). A veteran investigative reporter at the San Francisco Chronicle, Rosenfeld examines the FBI's secret involvement with three iconic figures in the 1960s Berkeley scene: the rising politician Ronald Reagan, activist Mario Savio and university president Clark Kerr. The FBI spent $1 million to try to prevent the information in its secret files from getting out, but Rosenfeld managed to get more than 250,000 pages from the Bureau, which form the basis of his book, which is part history, biography and police procedural.
Of course, this is just a drop in the nonfiction bucket as booksellers take to the trade show floor next week to scour for those handselling gems for the upcoming season. --Bridget Kinsella