Shelf Awareness for Monday, July 9, 2012

Quotation of the Day
Kindle's 'Physical Presence Is a Mere Avatar'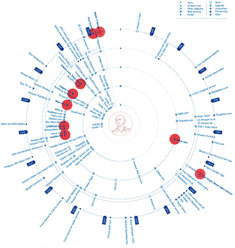 "What makes the Kindle unique is what makes Amazon unique: its physical presence is a mere avatar for a stream of digital services. In the spirit of its parent, it is more infrastructure than device. And it is as infrastructure that it disrupts, as its biblioclastic name intends."
--
James Bridle
in his
Domus
magazine "design report" exploring the "open secret" that Amazon is "not a book company, or a retail company, or an Internet company; it's an infrastructure company." Check out the cool graphics accompanying Bridle's piece, particularly the stunning circular timeline of Amazon's life.


News
García Márquez Battling Dementia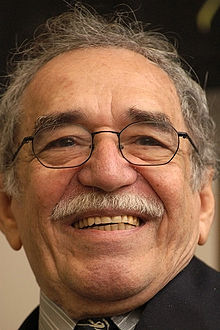 Gabriel García Márquez is suffering from senile dementia and can no longer write, his brother Jaime told the Guardian, which reported that the 85-year-old Colombian Nobel laureate "has fought a long battle against lymphatic cancer which he contracted in 1999 and it is believed that the cancer treatment has accelerated his mental decline."

"He has problems with his memory. Sometimes I cry because I feel like I'm losing him," said Jaime. "Dementia runs in our family and he's now suffering the ravages prematurely due to the cancer that put him almost on the verge of death. Chemotherapy saved his life, but it also destroyed many neurons, many defenses and cells, and accelerated the process. But he still has the humor, joy and enthusiasm that he has always had."

Although the family had attempted to keep the condition a secret "because it's his life and he's always tried to protect it," Jaime said he had come forward now because "there are lots of comments. Some are true but they're always filled with morbid details. Sometimes you get the sense they'd rather he were dead, as if his death were some great news."

He added that he was not hopeful his brother would be able to write the second volume of his autobiography, Living to Tell the Tale: "Unfortunately, I don't think that'll be possible, but I hope I'm wrong."



Fifty Shades of Profit: 20 Million Sold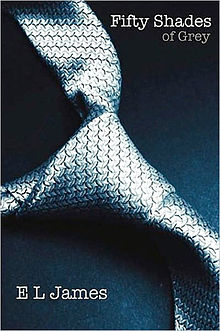 E.L. James's Fifty Shades trilogy should hit the 20 million copies sold mark in the U.S. soon. The Wall Street Journal reported that, as of July 2, the trilogy "had sold 19.4 million copies in both print and e-book form since its U.S. publication in March," with sales evenly matched between physical and digital versions (9.8 million paperbacks and 9.6 million e-books). By comparison, Stieg Larsson's The Girl with the Dragon Tattoo trilogy took more than three years to reach the 20-million sales mark in the U.S.

"It's entered the cultural conversation, which has made the trilogy much bigger than books often are," said Anne Messitte, publisher of Vintage Books.

A Vintage spokesman said 31 million copies have sold in English-language markets worldwide, including the U.S. The Guardian noted last week that the U.K. has accounted for four million of that total.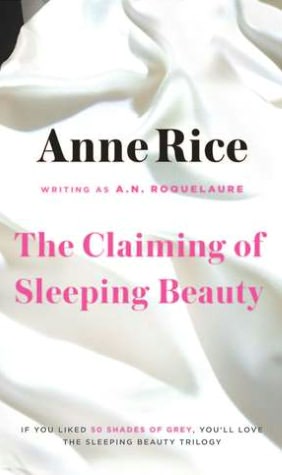 This morning's New York Times highlighted one of the collateral sales beneficiaries of the 50 Shades of Grey phenomenon: Anne Rice's 1980s Sleeping Beauty trilogy (The Claiming of Sleeping Beauty, Beauty's Release and Beauty's Punishment), which she wrote under the pen name A.N. Roquelaure. A spokesman for Plume said sales during the first six months of this year doubled 2011 totals. The publisher is releasing new and redesigned editions of the trilogy, featuring the cover message: "If you liked 50 Shades of Grey, you'll love the Sleeping Beauty trilogy."


Drumming Up Support for Small Business Tax Extenders Act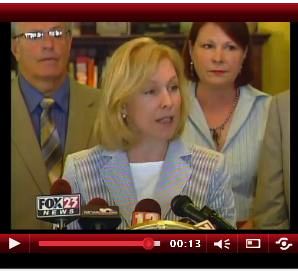 Senator Kirsten Gillibrand (D., N.Y.) stopped by Market Block Books, Troy, N.Y., last week to drum up support for the Small Business Tax Extenders Act, proposed legislation that would extend tax breaks for small businesses, FOX 23 reported.

"These are tax provisions that can provide relief for the self-employed, to small businesses in their capital investments, to encourage new investments in small businesses. Small businesses depend on cash flow, and this bill contains several provisions to improve it," said Gillibrand, adding that the bill has strong bi-partisan support in the Senate and House.

Market Block owner Susan Novotny (to the right behind Gillibrand)--who also co-owns Troy Book Makers and owns the Book House of Stuyvesant Plaza in Albany--observed: "All of us want to be able to see the light at the end of the tunnel, and the only way we're going to get there is if both sides of the aisle, Democrats and Republicans agree that small business not only has to survive, it has to thrive."



Fireside Books Bids Farewell to Olympia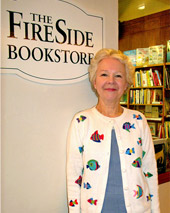 "I do know this: the public's wallets will decide if we'll continue to have independent bookstores," said Jane Laclergue, whose FireSide Bookstore in downtown Olympia, Wash., will close July 31 after 32 years in business. The Olympian reported that Laclergue, who purchased the shop in 1995, will soon turn 65 and "has more things to do in life--play with her grandchildren, spend more time with her husband, work when she wants in her garden and release the ties that bind her to the store."

"I want more freedom. I've never been away from the store for more than two weeks at a time," she said. The Olympian noted that to "rejuvenate the bookstore, she would have to enter the world of online sales, which she's not inclined to do."

Selling the business is not an option. "I've tried quietly to find a buyer ever since my husband retired more than four years ago," she said. "I have no one."



Notes
Image of the Day: Cheech & Higgs Boson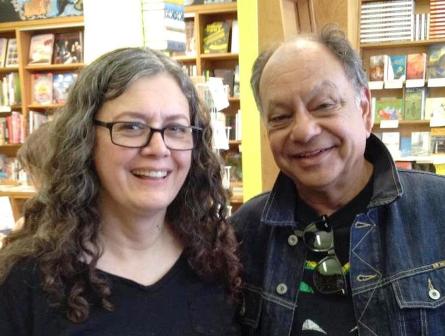 "Cheech Marin came in yesterday asking us for books about the Higgs Boson. I bet that's a sentence you never thought you'd read," noted the Booksmith, San Francisco, Calif., on the store's Facebook page. Cynthia St. John posed with Marin while helping him brush up on his knowledge of the recently discovered "God Particle."



U.K. Authors Tout the 'Local Store They Love'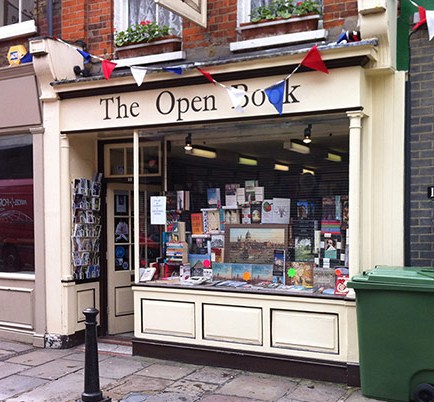 As part of Independent Booksellers Week in the U.K., the Guardian asked several British authors to talk about "the local store they love." Michael Frayn and his wife, Claire Tomalin, chose the Open Book, Richmond Upon Thames, London.

"We've lived here for nine years and the shop is one of the great amenities; wonderful, with amazing stocks," said Tomalin. "When I phone for a book it will be there, probably next day. It makes for a good life to have a place like this; English towns will become desolate without bookshops. When I was a child, my library and my local bookshop gave me a great education."

Added Frayn: "Helena Caletta's apparently tiny shop stretches way back into the hidden depths of the world, just as books do. She is as down-to-earth as a postmistress, but she knows her stock because she reads it herself. She and her partner Michael also know everyone in the district, all of whom are in and out of the shop, so everything about it breathes not dust and dullness but life and interest."



Borrow Local: Libraries Nova Scotia at Farmers' Market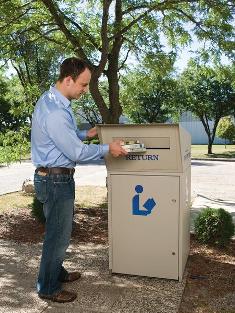 "Nova Scotia's library users and locavores have reason to rejoice," noted Quillblog in reporting that Libraries Nova Scotia has set up a drop box at the Halifax Seaport Farmers' Market. The option is part of Libraries Nova Scotia's "Borrow Anywhere, Return Anywhere" service, which allows library card holders at any of the participating university, community college and public library systems to return items to the branch of their choice.



Book Trailer of the Day: A Twist of Faith
A Twist of Faith: An American Christian's Quest to Help Orphans in Africa by John Donnelly (Beacon Press), which includes scenes from the village in Malawi where David Nixon, the subject of the book, went to build an orphanage--and came to realize that helping others requires listening to and learning from them.


Media and Movies
Media Heat: Kurt Andersen on MSNBC's Morning Joe
This morning on Good Morning America: Kristen Johnston, author of Guts: The Endless Follies and Tiny Triumphs of a Giant Disaster (Gallery, $25, 9781451635058).

---

This morning on Imus in the Morning: Linda Fairstein, author of Night Watch (Dutton, $26.95, 9780525952633).

---

This morning on MSNBC's Morning Joe: Kurt Andersen, author of True Believers (Random House, $27, 9781400067206).

---

Tonight on the Colbert Report: Anne-Marie Slaughter, author of A New World Order (Princeton University Press, $27.95, 9780691123974).

---

Tomorrow morning on Good Morning America: James Carville, co-author of It's the Middle Class, Stupid! (Blue Rider Press, $26.95, 9780399160394). He will also appear on the View, CNN's Situation Room, MSNBC's Rachel Maddow and PBS's Charlie Rose Show.

---

Tomorrow morning on the Today Show: Tana French, author of Broken Harbor: A Novel (Viking, $27.95, 9780670023653).

---

Tomorrow morning on MSNBC's Morning Joe: Kitty Pilgrim, author of The Stolen Chalice: A Novel (Scribner, $26, 9781439197288).

---

Tomorrow on CNN's Newsroom: R.A. Dickey, co-author of Wherever I Wind Up: My Quest for Truth, Authenticity and the Perfect Knuckleball (Blue Rider Press, $26.95, 9780399158155).

---

Tomorrow on NPR's Diane Rehm Show: Frank Partnoy, author of Wait: The Art and Science of Delay (PublicAffairs, $26.99, 9781610390040).

---

Tomorrow on NPR's the Takeaway: Andrew Zolli, author of Resilience: Why Things Bounce Back (Free Press, $26, 9781451683806).

---

Tomorrow night on Late Night with Jimmy Fallon: Kristen Johnston, author of Guts: The Endless Follies and Tiny Triumphs of a Giant Disaster (Gallery, $25, 9781451635058).

---

Tomorrow night on the Late Show with David Letterman: Buddy Guy, author of When I Left Home: My Story (Da Capo, $26, 9780306819575).




Movies: Trishna and Farewell, My Queen
Farewell, My Queen, based on the novel by Chantal Thomas, opens this Friday, July 13. In the film, directed by Benoit Jacquot and starring Diane Kruger, Léa Seydoux and Virginie Ledoyen, the woman who read books aloud to Marie-Antoinette remembers Bastille Day, when the precisely ordered, luxurious world of Versailles began to crumble. A tie-in edition is available from Touchstone (9781476706450, $15).
---
Trishna, a modern Indian adaptation of Thomas Hardy's Tess of the D'Urbervilles, also opens this Friday, July 13. Michael Winterbottom directs Freida Pinto as a poor hotel worker who enters a doomed relationship with her boss.


Books & Authors
Mexico Establishes $250,000 Prize to Honor Carlos Fuentes
The Mexican government has created the $250,000 Carlos Fuentes International Prize for Literary Creation in the Spanish Language, which will be awarded annually on November 11, the late author's birthday, the Latin American Herald Tribune reported. In addition to the cash award, the winner will receive a sculpture by the artist Vicente Rojo.

"It is in recognition of a man who made Mexico greater," said Consuelo Saizar, president of the National Culture and Arts Council (Conaculta). She added that the prize is part of a project "to consolidate Mexico as the intellectual platform of Spanish" in the 21st century.

The seven-person prize jury will include one member each from Spain's Royal Academy of the Spanish Language, the Mexican Spanish-language academy and another academy in Latin America or the Philippines; as well as four additional academic or literary figures from Mexico.



IndieBound: Other Indie Favorites
From last week's Indie bestseller lists, available at IndieBound.org, here are the recommended titles, which are also Indie Next Great Reads:

Hardcover
Equal of the Sun: A Novel by Anita Amirrezvani (Scribner, $26, 9781451660463). "Persia in the 16th century is rife with intrigue and danger. The Shah has died without a successor, and his daughter and protégé, Princess Pari Khan Kanoom, maneuvers to secure a position of power in a man's world. She is aided by the eunuch, Javaher, a man who loves the princess more than life. Based on historical figures, this sumptuous portrayal of the royal court of Persia is the story of a woman who took risks and made her mark on history." --Deon Stonehouse, Sunriver Books, Sunriver, Ore.

Heading Out to Wonderful: A Novel by Robert Goolrick (Algonquin, $24.95, 9781565129238). "True to what you'd expect from the author of A Reliable Wife, Goolrick's characters are enigmatic, imperfect, and do not behave according to society's dictates. The romance that erupts between Sylvan Glass, an unschooled country girl with dreams of Hollywood, and Charlie Beale, a newcomer to town, will change everyone in town in unexpected ways, most of all young Sam, who bears witness to their fiery, ill-fated affair. A great read!" --Connie Brooks, Battenkill Books, Cambridge, N.Y.

Paperback
Growing Up Dead in Texas: A Novel by Stephen Graham Jones (MP Publishing, $14.95, 9781849821544). "If Quentin Tarantino and Cormac McCarthy crossed paths in a rundown whiskey bar just north of the Rio Grande, this is the book that connection would produce. It's a novel wrapped in a mystery and dipped in autobiography with a dash of investigative journalism about Jones' return to his hometown and the unintended consequences of a fire from his childhood that ripped the community apart. The story of truth being brought to light and ancient skeletons finally being given their proper burial, this remarkable novelized memoir will stay with you." --Matt Falvey, Next Chapter Bookshop, Mequon, Wis.

For Ages 4 to 8
Mommy, Daddy, I Had a Bad Dream! by Martha Heineman Pieper, illustrated by Jo Gershman (Smart Love Press, $18.99, 9780983866404). "This delightfully illustrated book is a wonderful aid for children who are frightened by nightmares. Joey, a young kangaroo, wakes and runs to his parents' bed to tell them of his bad dream. Each time he does so, his parents reassure him and walk him through a logical process that focuses on remembering what he may have done or experienced earlier that could have caused the bad dream. This process gives a child much more control over his life." --Bob Spear, the Book Barn, Leavenworth, Kan.

[Many thanks to IndieBound and the ABA!]




Book Review
Review: Tigers in Red Weather
Tigers in Red Weather by Liza Klaussmann (Little, Brown, $25.99 hardcover, 9780316211338, July 17, 2012)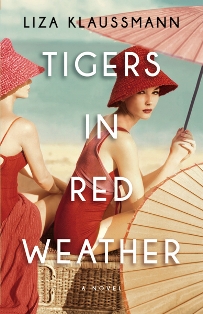 Family secrets and secrets of the heart are the driving force of Liza Klausmann's Tigers in Red Weather, a multilayered debut novel tracing the lives of two women over three decades. As World War II draws to a close, Bostonian cousins Nick and Helena--two very different women--are parting ways to get married. Nick marries her longtime love and war hero Hughes, while Helena marries Avery, an aspiring filmmaker in Hollywood. Yet the women remain bound together by shared memories of the Tiger House, the family cottage in Martha's Vineyard where they spent childhood summers before the war. As their lives begin to unravel, the Tiger House comes to represent their only place of refuge--until a brutal murder illustrates just how fragile that refuge truly is.
Tigers in Red Weather is structured like an onion, an exercise in controlled revelation. It is only through Klaussmann's gradual unfolding that the reader learns the reason for Hughes's emotional withdrawal from Nick soon after they were married and the twisted contours of Helena's marriage to a man who manipulates her through pill addiction. And while Nick gives every appearance of being the perfect wife, she, too, is concealing her share of secrets. Each character views the same occurrences through the lens of their own individual experience and psyche--highlighting the intense subjectivity of experience, and how difficult it can be to see the world from someone else's perspective. It is through this difficulty that relationships in the novel become tangled, even mutilated past recognition.
As Nick's daughter Daisy and Helena's son Ed mature and take their places in the drama, they become caught up in the dark secrets of their parents, suffering irrevocable damage as a result. When Daisy and Ed discover the body of a murdered woman, the incident is symbolic of the inability of the adults in their lives to shield them from the ugliness that lurks beneath their mannered façade. Not even the idyllic beauty of Martha's Vineyard can protect the family from the choices that will be their undoing.
Klaussman has produced a suspenseful story that is by turns a mystery, an examination of a marriage and an exploration of the possibly fatal consequences of self-deception. --Ilana Teitelbaum, book reviewer at the Huffington Post
Shelf Talker: A suspenseful debut novel set partially in Martha's Vineyard and centered on dark family secrets, a brutal murder and the effects of both on the next generation.


The Bestsellers
Top-Selling Titles on AbeBooks.com in June
The bestselling books on AbeBooks.com during June were:

1. Fifty Shades of Grey by E.L. James
2. The Great Gatsby by F. Scott Fitzgerald
3. Life of Pi by Yann Martel
4. East of Eden by John Steinbeck
5. The Hangman's Daughter by Oliver Pötzsch
6. Fifty Shades Darker by E.L. James
7. The Martian Chronicles by Ray Bradbury
8. Lord of the Flies by William Golding
9. Fahrenheit 451 by Ray Bradbury
10. 1984 by George Orwell

The bestselling signed books on AbeBooks.com during June were:

1. Canada by Richard Ford
2. Gone Girl by Gillian Flynn
3. The Martian Chronicles by Ray Bradbury
4. Bring Up the Bodies by Hilary Mantel
5. Death Is a Lonely Business by Ray Bradbury
6. My Cross to Bear by Gregg Allman
7. In One Person by John Irving
8. Fun Home: A Family Tragicomic by Alison Bechdel
9. 15 Miles by Rob Scott
10. Fifty Shades of Grey by E.L. James

[Many thanks to AbeBooks.com!]