Shelf Awareness for Friday, July 6, 2012

News
Finally Found Books Fully Open Tomorrow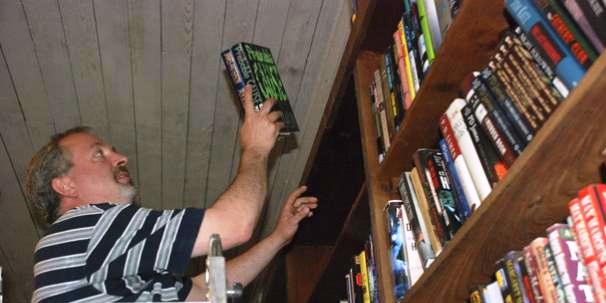 Todd Hulbert is opening Finally Found Books, a used and new bookstore, in Black Diamond, Wash., tomorrow, according to the Maple Valley Reporter.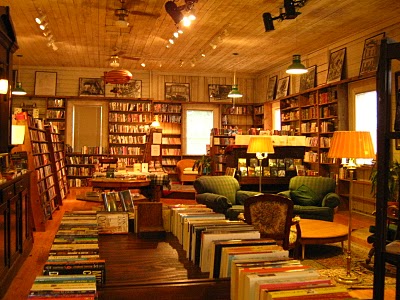 Hulbert bought Baker Street Books earlier this year (Shelf Awareness, April 27, 2012) and closed it April 30 to install new shelving, reconfigure the store and absorb some 100,000 volumes that he had in storage. The new store has added categories and subcategories of fiction, increased sections with textbooks, religion, self-help, parenting, travel, how-to, home improvement and biography as well as added more children's, teen and YA titles.
Photos: maplevalleyreporter.com


General Retail Sales in June: Up--but Disappointing
General retail sales inched up only slightly in June, held back by "wavering consumer confidence and unemployment," according to the New York Times. Other factors: fewer tourists from abroad "willing to spend amid a global economic slowdown" and "early" summer spending because of the generally mild winter.

The International Council of Shopping Centers' survey showed that "apparel, department and discount stores and wholesale clubs posted significantly weaker gains in June than in May, while luxury stores showed stronger gains," the Times wrote.

The Wall Street Journal observed: "Mid-tier department stores such as Macy's and Kohl's fared particularly badly, suggesting that middle-class consumers are losing confidence in the economy and turning to discounters like Wal-Mart and Dollar General as they did in the recession years of 2008 and 2009."

In June sales at stores open at least a year at 18 retailers, as tracked by Thomson Reuters, rose 2.5% compared to June 2011, when sales were up 7.7% over June 2010.




Showrooming: How Major Retailers Are Dealing
In an article called "Luring Online Shoppers Offline," the New York Times surveyed large retailers that are dealing with the showrooming problem--customers who come into the store and find products that they then buy from Amazon and other online-only retailers--by "transforming their stores into extensions of their own online operations."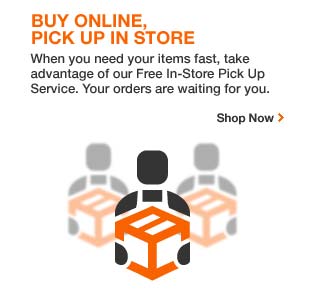 Walmart, Macy's, Best Buy, Sears, the Container Store, Apple, Nordstrom and J.C. Penney are among the companies "stepping up efforts to add Web return centers, pickup locations, free shipping outlets, payment booths and even drive-through customer service centers for online sales to their bricks-and-mortar buildings," the Times wrote.

The linking of online and bricks-and-mortar appeals to customers who don't want to pay for shipping (especially on expensive items that don't qualify for free freight), want their items quickly, don't want to give financial information on the Internet and prefer to pay in cash. (Walmart allows online orders with cash payment in-store; 40% of such customers wind up using debit cards or checks.)

Walmart.com CEO Joel Anderson commented: "We are living in the age of the customer, and you can either fight these trends that are happening--showrooming is one--or you can embrace them. We have a lot of assets, but they're only assets if you embrace the trends of the customers."

At the Container Store, online orders for in-store pickup "tend to be much larger than typical in-store purchases" and customers who pick up orders in-store visit "about 50% more often than customers who shopped only in stores.

Macy's and Nordstrom have integrated the inventory of their online stores and bricks-and-mortar stores, allowing online customers to search across the companies for items.

Best Buy also tries to deal with the showrooming problem by putting its own bar codes over standard bar codes on "big-ticket items" so they can't be compared online.




Gardners Xmas Catalogue Goes Indie
U.K. book wholesaler Gardners will back the Bookseller Association's magazine for indies rather than publish its own consumer-oriented Christmas catalogue this year, in a move intended to "support independent booksellers," the Bookseller reported.

"After working closely with the Booksellers Association, customers and publishers to assess how best to support independent booksellers, we have decided not to produce a consumer-facing Gardners Christmas catalogue for 2012, as we have in recent years," Gardners said in a notice to customers. "Instead we will be focusing on fully supporting the BA Christmas Books catalogue and IndieBound campaign."



Notes
Images of the Day: Timepiece for Night Circus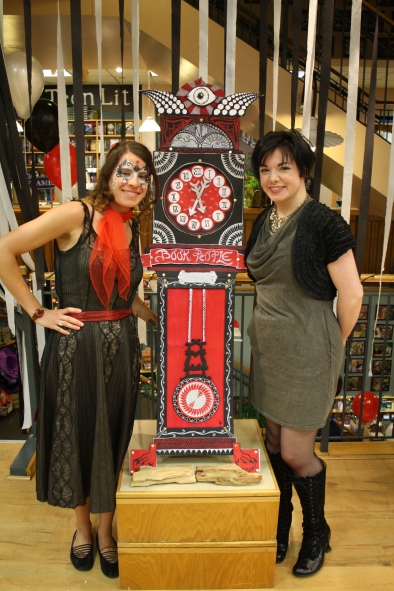 Last year Stephanya Tyler (l.), a bookseller at BookPeople, Austin, Tex., created by hand a clock based on the timepiece featured in The Night Circus for a big event to welcome Erin Morgenstern (r.) to the store. Anchor Books has now made a smaller version of the Night Circus clock, inspired by Tyler's original design, as a display for bookstores across the country to promote the paperback edition.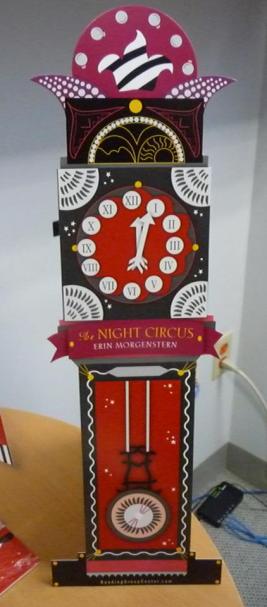 Learned Owl Book Shop: Best of Akron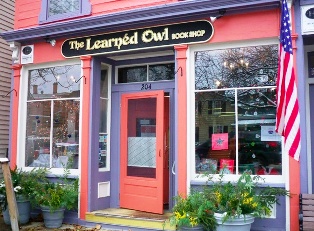 Congratulations to the Learned Owl Book Shop, Hudson, Ohio, named best independent bookstore in Akron Life's best of the city.


Song of the Day: 'A Shop with Books in It'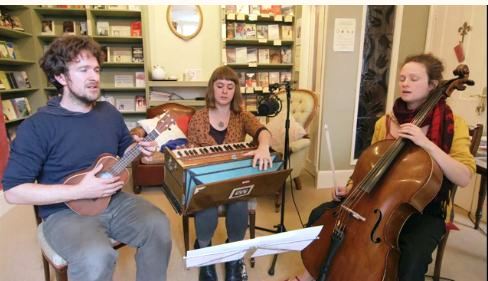 In honor of the U.K.'s Independent Booksellers' Week, which ends tomorrow, the Bookshop Band composed "A Shop With Books in It" and has been touring various indies this week. Sing along here.


Bookend Café: Browsing for Beach Reads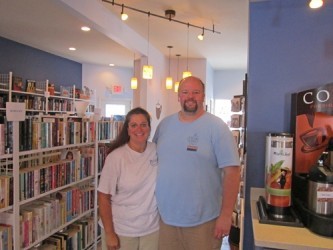 The Bookend Café, Fenwick Island, Del., "does not reflect the traditional used book store," the Ocean City Dispatch noted in a profile of the shop that "contains at least 10,000 books and aims to allow customers to easily browse, pick a book and get to the beach in that order." The store also carries a selection of new and popular titles. "It is against our model but we understand that there are no new book stores now in the area," co-owner Janilyn Elias said.

Elias said she and co-owner Jeff Fetterman opened the bookstore in the fall of 2010 because they saw a niche that needed to be filled: "Someone could really do it and that someone was us.... We always try to look at our store in thirds. Books, gifts and coffee, and that is what comes in. In the morning you get your coffee, mid-morning you get books, and then after dinner their gift shopping. You see that third happen throughout the day."

Fetterman added: "We wanted to have an open feeling so you can easily walk around, very well lit, very organized, and people can find what they want quickly because let's be honest people walk around book stores browsing and then there is a lot of people that just want to get to the beach so we wanted to meet both needs."

Elias and Fetterman specialize in used books "since visitors are usually looking for a beach read where it can be weathered down and not break the bank," the Dispatch noted.



The Uni: A 'Portable Reading Room'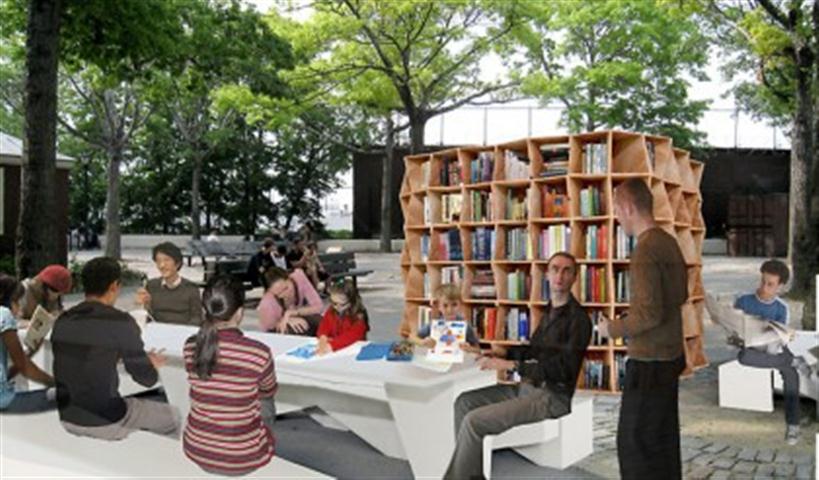 Calling the invention "a potential replacement for bookmobile services, which have been phased out in many communities," Quillblog showcased Street Lab's Uni, a portable open-air reading room for any location that features "a series of 144 stackable shelves and waterproof covers that do double-duty as benches and tables."

The Uni is staffed by volunteer librarians and educators, who oversee the collection of donated books. Street Lab operates a moving library in New York City, and "has shipped a second one to Almaty, Kazakhstan, in a collaboration between the U.S. Embassy and a local children's library," Quillblog wrote.



Book Trailer of the Day: Year Zero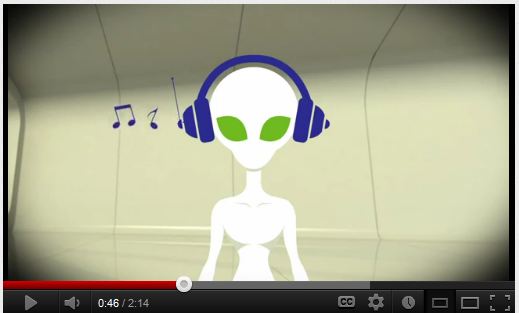 Year Zero: A Novel by Rob Reid (Del Rey).


Media and Movies
Media Heat: Nancy Mullane on Life After Murder
Tomorrow on NPR's Weekend Edition: Nancy Mullane, author of Life After Murder: Five Men in Search of Redemption (PublicAffairs, $26.99, 9781610390293). PRI's This American Life will air Mullane's Long Shot, her profile of Don Cronk that inspired the book.


Visuals: Silver Linings Playbook Trailer; The Hobbit Pics
The Weinstein Co. released a trailer for David O. Russell's Silver Linings Playbook, based on the novel by Matthew Quick, Deadline.com reported. The film, which stars Bradley Cooper, Jennifer Lawrence, Robert De Niro and Chris Tucker, will be released November 21.

---

Entertainment Weekly featured 10 new photos from Peter Jackson's The Hobbit: An Unexpected Journey, the adaptation of J.R.R. Tolkien's novel that hits theaters December 14.




Books & Authors
Awards: Global Ebook; Theakston's Crime Shortlist; Caine Prize
Finalists for the 2012 Global Ebook Awards may be viewed here. Winners will be announced at a ceremony and dinner in Santa Barbara, Calif., on August 18.
---
Finalists have been named for the £3,000 (US$4,659) Theakston's Old Peculier Crime Novel of the Year Award. The winner will be announced July 19 and receive, in addition to the cash prize, a handmade, engraved beer barrel provided by Theakstons brewery. Colin Dexter will be honored with the Theakstons Old Peculier Outstanding Contribution to Crime Fiction Award. This year's shortlisted titles are:

Now You See Me by S.J. Bolton
Where the Bodies are Buried by Chris Brookmyre
The Burning Soul by John Connolly
The End of the Wasp Season by Denise Mina
Black Flowers by Steve Mosby
Before I Go to Sleep by S.J. Watson

---

Rotimi Babatunde won the Caine Prize for African Writing for his short story "Bombay's Republic," which appeared in the Mirabilia Review (Vol. 3.9, Lagos, 2011). In addition to the £10,000 (US$15,530) prize, Babatunde will receive a month's residence at Georgetown University, as a Writer-in-Residence at the Lannan Center for Poetics and Social Practice.




Book Brahmin: Benjamin Wood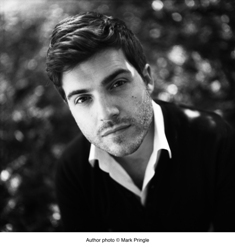 Benjamin Wood was born in 1981 and grew up in a small coastal town in northwest England. He completed an MFA in Creative Writing at the University of British Columbia, Canada, where he served as the fiction editor of the literary journal PRISM international. His debut novel, The Bellwether Revivals, centers on a gifted young organist at Cambridge University who believes he can heal people with his music. It was published by Viking Penguin on June 14, 2012, and is a Barnes & Noble Discover Great New Writers selection.
On your nightstand now:
I'm halfway through Donald Sturrock's excellent Storyteller: The Authorised Biography of Roald Dahl. This is partly character research for my next book, as I find the lives of inordinately talented people fascinating and I like to see how personal experiences can sometimes inform or steer their creative output. Beyond that, Roald Dahl was a childhood hero of mine--I'm sure I wouldn't be the first author to say that his books inspired me to write my own rhyming poems and strange tales when I was a kid. It's an absorbing exercise to go back as an adult and learn about the man's flaws and eccentricities, his creative process, and comprehend something of the mind which created those beloved stories.
Favorite book when you were a child:
The Thief of Always by Clive Barker. I read this on a family holiday when I was 12. It is a wonderful, dark, creepy adventure story about a kid called Harvey Swick who gets lured into the mysterious house of a man known as Mr. Hood. The house has been standing for thousands of years and, of course, very strange things begin to happen to Harvey the longer he stays there. In the end, he has to battle to extricate himself from the place by defeating the evils of Mr. Hood. It's sort of a fable about not wishing your life away, being grateful for what you have, and it was really one of the first novels I remember being utterly captivated by--a children's book that didn't patronize or insult my intelligence, but which evoked something sinister and adult without being in any way sensational. And I remember the day I finished reading it on the beach: my parents and my brother were swimming in the sea and they kept calling me over, but I just couldn't leave Harvey alone with Mr. Hood. That's the mark of an exceptional story, I think.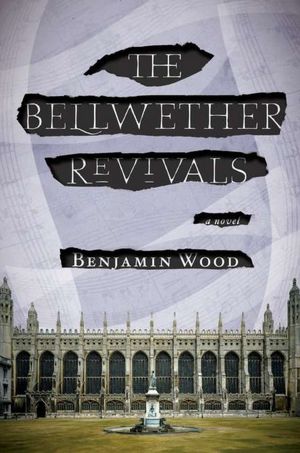 Your top five authors:
Oh, heck--only five? I'll have to be ruthless about this: Richard Yates, Tobias Wolff, Truman Capote, Sylvia Plath and Graham Greene. Four of those are American. Only one is still alive. That says a lot about my reading tastes, I think.
Book you've faked reading:
The Hobbit by J.R.R. Tolkien. I was implored to read this at school, as it was mandatory reading for English Literature. In the end, I hated it too much to get beyond a few chapters, and it dawned on me that I could just pretend to have read it, because it wasn't going to be part of the final exam. I have never gotten on very well with Tolkien. Sorry. I know I'm in a very small minority, but his work makes my brain itchy. All that questing and resting. The fact that Tolkien can't even whittle down his own initials tells you a lot about the economy of his prose style.
Book you're an evangelist for:
I sermonize yearly on the sheer elegance and skill of Carson McCullers's writing in The Member of the Wedding. To my mind, it would be hard to better the way she handles the third-person point of view of the book's protagonist, Frankie, as she graduates into adolescence and becomes "F. Jasmine." Also, I keep telling my students about Eric Puchner's Music Through the Floor, but it's not available here in the U.K, so they just shrug back at me. Maybe some clever publisher will bring it out one day, so people can enjoy the brilliance of his story "Essay #3: Leda and the Swan."
Book you've bought for the cover:
Of course, I would never do this. Cough. But, let's pretend--cough--in a moment of weakness--cough--I were to stumble upon a first edition of William Styron's Darkness Visible in a used book store--cough--I might find its cover so alluring that I part with over 30 pounds for it. But that wouldn't happen. Honest. And it would probably turn out to be a thoroughly interesting book anyway, and money well spent.
Book that changed your life:
The New York Trilogy by Paul Auster. I read this when I was an unemployed 20-year-old musician, stuck in the disheartening pursuit of a record deal, and I would say that reading the first novel in the trilogy, City of Glass, made me realize something vital about myself--that some of the things I wanted to say, most of the stories I wanted to tell, could not be contained in the songs I was writing. That novel made me feel seasick with creative possibilities. I had written a lot of fiction as a child, but I'd sort of fallen out of the habit in my teens. That year, I started writing a novel--it was a bad one, but it was a start. If I hadn't read the New York Trilogy when I had, I doubt I would be a novelist today.
Favorite line from a book:
From the short story "Reunion" by John Cheever:
"I knew that when I was grown I would be something like him; I would have to plan my campaigns within his limitations." Still makes me teary.
Book you most want to read again for the first time:
I would love to read William Golding's Lord of the Flies again for the first time, without it being a prescribed text on a school reading list. That way, I could really enjoy it for the wonderful book it is, rather than feel a simmering enmity towards it, and dismiss it to my friends as "a stupid story about some fat kids and a conch." What an idiot.


Book Review
Review: Homesick
Homesick by Roshi Fernando (Knopf, $24.95 hardcover, 9780307958105, July 17, 2012)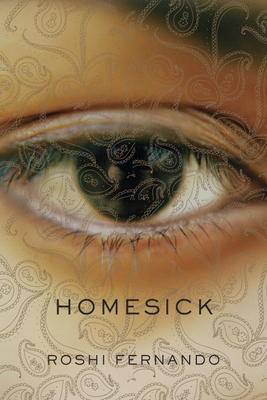 In 17 linked stories, Roshi Fernando's Homesick explores the dynamic of family, the meaning of home, the wrench of displacement and the many ills which flesh is heir to--no matter one's nationality or heritage.
It all begins with the title story, at a 1982 New Year's Eve party at the London home of Sri Lankans Victor and Nandini. From there, the stories move back and forth in time and place, from Sri Lanka to London to Sri Lanka, from the 1970s to the present. We follow the lives of Victor and Nandini's children, especially Preethi, their funny and forward daughter, and other friends and relatives on the periphery.
Preethi's story is one we've read before; the one about a young girl from somewhere else eager to assimilate, to take on new ways, pilfer wine, learn to smoke, try to suss out just how much sex is enough to make her popular but not promiscuous. Fernando has upped the ante, however: Preethi witnesses something she shouldn't have seen, tells the wrong person--a person she longed to love and trust--and finds she has made an egregious error with near-tragic consequences.
In a particularly poignant story, "Nil's Wedding," Fernando lays out a dreadful scenario in which the young bride is sari-clad, led around by her father, toasted, fed sweets like a caged animal and, through it all, wonders at what she is giving up. She is caught between two worlds: one of her birth and one of her choosing. Does she love this man enough to abandon her life for him, because that's what this marriage amounts to? Is there a way out?
Two stories center on Mumtaz Chaplin, a boy struck dumb by the traumatic event he witnessed, who goes through life walking the "Chaplin" walk, swinging an imaginary cane. His voice sounds like his father's to him, so he will not speak. The second story is also not benign, involving terrorism on London's streets and underground. The final story, "The Funeral," has a coincidence in it too far-fetched to take in, but that is the only false step in Fernando's interweaving series of stories of lives and longing, trials and failures, hope and despair. --Valerie Ryan
Shelf Talker: A debut collection of 17 connected stories about an extended Sri Lankan family learning--or not--how to belong in a new place.


Deeper Understanding
Robert Gray: 'Working at an Extreme of Intensity with Language'
The relationship between poetry and the Olympics "goes back to the very origins of the Games" in Ancient Greece, Tony Perrottet observed recently in the New York Times. He also noted that for much of the 20th century, poetry was an official, medal-winning Olympic competition until it was dropped in 1952 after organizers "began to doubt the quality of the offerings, as the gulf between the sports-related entries and contemporary poetry grew ever wider."

But a variation on the theme of Olympian verse has been rekindled this year with the debut of Poetry Parnassus, which was held from June 26 to July 1 as part of an ambitious "Cultural Olympiad" organized by the Southbank Centre in London.

"Are there any ways in which poetry is like a sport?" the Observer asked Simon Armitage, whose "idea on the back of an envelope" became the inspiration for Poetry Parnassus.

"You are working at an extreme of intensity with language, a pitch you can't manage all the time," he replied. Sounds like the Olympic poetic spirit to me.

More than 200 poets, rappers, spoken word artists, singers and storytellers--representing the competing Olympic nations--gathered for the six days and 100-plus events, activities and workshops. Podcasts from Poetry Parnassus continue to be released on the website.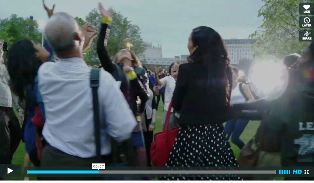 Chilean collective Casagrande's "Rain of Poems over London" helped launch the celebration, dropping 100,000 poems printed on bookmarks from a helicopter over Jubilee Gardens.

The World Record: International Voices from Poetry Parnassus, edited by Neil Astley and Anna Selby, was published by Bloodaxe Books and the Southbank Centre. There is also an interactive map featuring poems from the anthology. Click Ireland, for example, and you find Seamus Heaney's "The Underground," which starts:

There we were in the vaulted tunnel running,
You in your going-away coat speeding ahead
And me, me then like a fleet god gaining
Upon you before you turned to a reed

Click Laos, and there is Bryan Thao Worra's poem "No Regrets," beginning:

Maybe one day,
A page will be found,
A song will be heard,
A stroke will be drawn
Filled with explanations.

Poems about love and poems about political struggle; there was room for both, and more, at Poetry Parnassus.

"This Olympic framework excites the opportunity to speak out," said Armitage beforehand. "We should expect as many protest songs as songs of praise. This is not an anti-Olympic event but when I watch the Olympics, it sickens me that people are gagged and labeled and everybody has to stand up, drape themselves in a flag and stamp to their national anthem in front of the official fizzy drink. That is not the way most people feel about their country. This is an opportunity to address some of those issues."

PEN International hosted a series of discussions "surrounding the literary themes of exile and conflict," the International Herald Tribune reported, noting that after one of the talks, Nicaraguan poet Gioconda Belli, "whose political activism and writing has attracted the attention of such writers as Harold Pinter and Salman Rushdie, said that an event like Poetry Parnassus 'widens your understanding of life and of humanity,' enabling poets to 'relativize what is happening' in their own lives and country and 'to feel part of this global chorus.'"

In an interview, spoken word poet T.J. Dema of Botswana considered the possibilities inherent in a project like Poetry Parnassus: "I don't think poetry is ever going to singlehandedly save the world but it can introduce ideas into individuals' lives. I think at some point on the event's ambition gradient we would need to acknowledge that gatherings like this also function on a personal level--a large group of people agreeing that something, whatever it is, is important enough to gather over is heady symbolism and if this gets a little girl who hasn't had a poem read to her to experience that or someone who hasn't picked up a book in a long time to do so then I think that's prize enough and to start with we should take what we can get and trust the words to do their magic."

"People aren't satisfied by language they don't understand," wrote Abdullahi Botan Hassan--who was born in Somalia but has lived in London since 1998--in his poem "Central London." He also counseled: "The key to what you are ignorant of is to learn."

To learn, to discuss, to hear, to read, to gather. For excellence in the "working at an extreme of intensity with language" marathon, Poetry Parnassus earned Olympic gold.--Robert Gray, contributing editor (column archives available at Fresh Eyes Now)