Shelf Awareness for Friday, July 20, 2012

Quotation of the Day
Tim Waterstone: New Authors 'Need Physical Bookshops'
"It's actually as simple as this. New authors, building their customer base, need physical bookshops. Physical bookshops are lovely tactile, friendly, expert, welcoming places. Physical books, which can only be seen and handled in physical bookshops, are lovely, tactile things. Destroy those bookshops, and the very commercial and cultural base to the book industry is destroyed. Once and for all. Like Humpty Dumpty, it can never be put together again."
--Tim Waterstone in his
Daily Beast
post headlined "
How We Lost Bookshops Thanks to Amazon and Publishers
." Waterstone founded the eponymous British bookstore chain in 1982, sold the company to WH Smith in 1993, then bought it back in 1998 when he was chairman of HMV. He retired in 2001.


News
The Hunger Games Trilogy Hits 50 Million Mark in U.S.
As of yesterday, Scholastic now has more than 50 million copies of Suzanne Collins's bestselling the Hunger Games trilogy of books in print and digital formats in the U.S.: The Hunger Games (23 million-plus copies), Catching Fire (14 million-plus) and Mockingjay (13 million-plus).

"Readers across the nation are captivated by the rich world and strong characters Suzanne Collins has created," said Scholastic president Ellie Berger.



For Sale: Indie Bookstore, Cat Included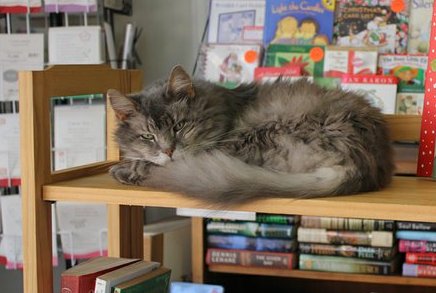 Kathryn Wade, owner of Jinx Books, Fulton, Mo., is selling her 12-year-old shop, which includes the inventory as well as J.J., the Jinx Books cat. The storefront itself is rented, the Sun reported. After owning the downtown shop for more than four years and working there for nine, Wade is ready to retire.

"It's been good, it's been fun, we've enjoyed it, but I'm tired," she said. "It's fun to say I own a book store... but I have other things I want to do." She added that the shop has "a base of regular customers, and we know them well and they know us."

Wade recalled that before any discussion of selling the store began, "I starting telling people the cat was for sale for $25,000. I really, really hope we can get a buyer for it. If we don't have a buyer by Labor Day we'll start doing the clearance sale."



Obituary Note: Robert W. Creamer
Robert W. Creamer, a sportswriter and author whose books about Babe Ruth and Casey Stengel were praised as two of the best sports biographies of all time, died Wednesday. He was 90



Notes
Image of the Day: Gary Snyder Reads Lew Welch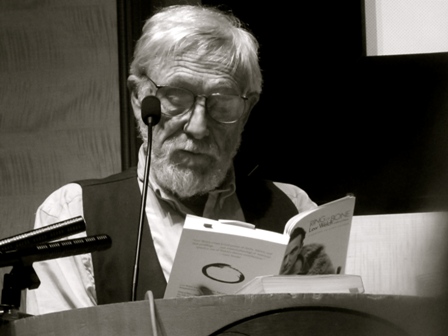 Gary Snyder read from a newly expanded edition of Beat icon Lew Welch's Ring of Bone (City Lights) last week. Snyder brought Joanne Kyger, Tom Killion, David Meltzer, Peter Coyote, Jerry Martien, Steve Sanfield and Huey Lewis (who was Lew Welch's stepson) together for a standing-room only event at the San Francisco Library to celebrate the book's release.




Szczerban Wins Second Annual Ashmead Award
Michael Szczerban, associate editor at Simon and Schuster, has won the Ashmead Award, the prize honoring legendary book editor Larry Ashmead, who died in 2010. As part of the prize, he will attend the Yale Publishing Course: Book Publishing: Print and Digital next week and will have access to an advisory committee of preeminent editors in the publishing community.
Szczerban graduated from Carnegie Mellon in 2007 with degrees in digital information systems and creative writing, started at Simon and Schuster in 2007 as an assistant managing editor and moved to editorial in 2009.
Speaking for the selection committee, Jason Kaufman, executive editor at Doubleday, said, "Michael has all the qualities that Larry loved. He is the sort of whip-smart and eager young editor that Larry so admired, and he has already shown the great acumen and passion for book publishing that is the hallmark of a great editor."


An Ode to Libraries Large, Small & in Unlikely Places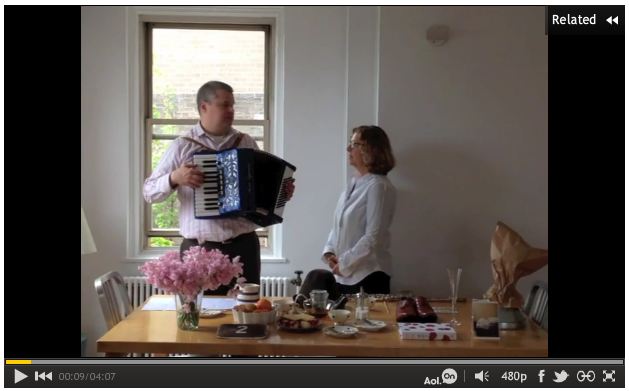 "Without libraries, we'd be dumb," sang Daniel Handler and Maira Kalman (co-authors of Why We Broke Up) in their ode to libraries, which they performed during the American Library Association's convention last month.

A perfect introduction to this brief tour of libraries that range from large to small, and are sometimes located in unlikely spaces:

Searching for "libraries that were born from unused and abandoned structures, from the large (drill halls and supermarkets) to the small (phone booths and shipping containers)," Flavorwire highlighted "10 wonderful libraries repurposed from unused structures."

In Bolton, Vt., the "prettily painted boxes on posts look like oversized birdhouses--except they have glass doors that allow passersby to see they are filled with books." The Burlington Free Press noted that the project is an outgrowth of the Little Free Library movement that started in Wisconsin.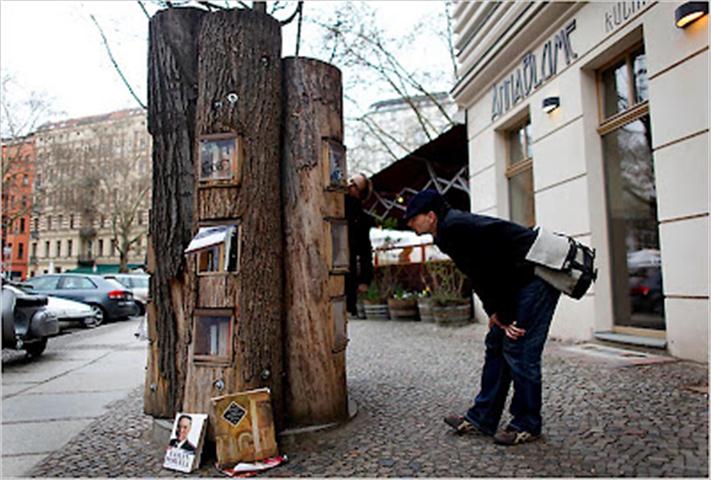 Book forest is the "first public bookcase in Berlin," the Bookshelf reported.

Libri & Dintorni's Facebook page featured a Chevy Bookmobile Survivor (1949).

Bookyard, a vineyard-turned-outdoor-library by Italian artist Massimo Bartolini in Ghent, Belgium, was also showcased by Flavorwire.



Video Spoof of the Day: 'Amazon.com Yesterday'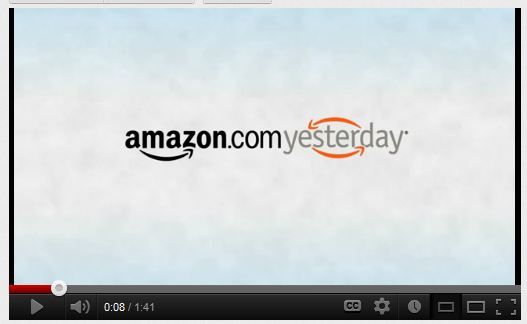 "Tired of waiting for packages to arrive?" asked the creators of a clever video introducing "Amazon's newest shipping option," Amazon.com Yesterday, which "delivers your package a day before it's ordered."



Naples and Ballenger Join Zola Books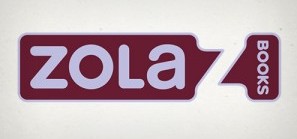 Zola Books, a new company that aims to sell all e-books from all publishers on all devices and offer "a more open, mobile and social book-buying experience" and whose launch is on hold because of the Justice Department suit against Apple and five publishers, has made the following appointments:
Mary Ann Naples has joined Zola Books as chief of business development and will head development of exclusive e-book partnerships with major authors. She was formerly v-p of business development at OpenSky.
Seale Ballenger has joined Zola Books as head of marketing and publicity. He was formerly a v-p and group publicity director at HarperCollins, which he joined in 2004. He has worked in book and magazine publishing for 24 years, including stints at Simon & Schuster and Random House.


Book Trailer of the Day: The Book of Gardening Projects for Kids
The Book of Gardening Projects for Kids: 101 Ways to Get Kids Outside, Dirty, and Having Fun by Whitney Cohen and John Fisher (Timber Press).


Media and Movies
Media Heat: Paul Ingrassia on CBS's Sunday Morning
Tomorrow on NPR's To the Best of Our Knowledge: David Maraniss, author of Barack Obama: The Story (Simon & Schuster, $32.50, 9781439160404).
---
On CBS's Sunday Morning: Paul Ingrassia, author Engines of Change: A History of the American Dream in Fifteen Cars (Simon & Schuster, $30, 9781451640632).
---
Sunday on CBS's Face the Nation: Neil Barofsky, author of Bailout: An Inside Account of How Washington Abandoned Main Street While Rescuing Wall Street (Free Press, $26, 9781451684933).


TV: Outlander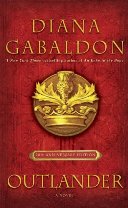 Sony Pictures TV, which has acquired the rights to Diana Gabaldon's bestselling Outlander series of novels, announced that Ron Moore, Battlestar Galactica's developer and executive producer, is writing the adaptation.

Deadline.com noted that "Star Trek veteran Moore, repped by CAA, started his writing career on Next Generation and also spent five years on Deep Space Nine. He then served as co-executive producer/co-showrunner on the WB's Roswell and as executive producer/showrunner on HBO's Carnivale before segueing to Battlestar Galactica."



Books & Authors
GBO Picks A Hand Full of Stars
The German Book Office has chosen A Hand Full of Stars by Rafik Schami, translated by Rika Lesser (Interlink Publishing, $15, 9781566568401) as its July Book of the Month.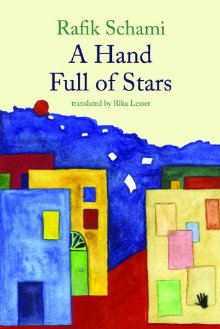 The GBO described A Hand Full of Stars this way: "Amid the turmoil of modern Damascus, one teenage boy finds his political voice in a message of rebellion that echoes throughout Syria and as far away as Western Europe. Inspired by his dearest friend, old Uncle Salim, he begins a journal to record his thoughts and impressions of family, friends, life at school, and his growing feelings for his girlfriend, Nadia. Soon the hidden diary becomes more than just a way to remember his daily adventures; on its pages he explores his frustration with the government injustices he witnesses. His courage and ingenuity finally find an outlet when he and his friends begin a subversive underground newspaper. Warmed by a fine sense of humor, this novel is at once a moving love story and a passionate testimony to the difficult and committed actions being taken by young people around the world. This book is not only suited for teenagers, it is also quite exciting to read for adults!"

Born in Damascus in 1946, Schami came to Germany in 1971 and studied chemistry in Heidelberg. Today he is the most successful German-speaking Arabic writer with novels, including The Dark Side of Love and The Calligrapher's Secret, translated into 21 languages. Among awards he has won are the Hermann Hesse Prize (1994), the Hans Erich Nossak Prize (1997), the Mildred L. Batchelder Award (1991), the Smelik-Kiggen Prize (1989) and the Prix de Lecture (1996). He has also written plays, stories, essays and children's books.




Book Brahmin: Amy Krouse Rosenthal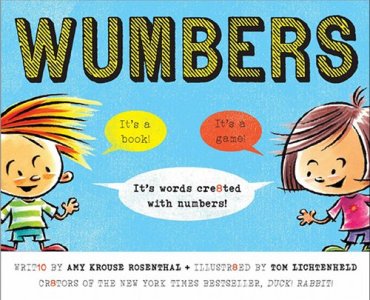 Amy Krouse Rosenthal prompts her readers to look at things from a different perspective. Her book with Tom Lichtenheld, Duck! Rabbit! pointed out that two people can be looking at the same thing and see entirely different things. Now this same team's Wumbers, just released by Chronicle, reveals that numbers secretly hide inside many of our daily phrases. Here Rosenthal responds to our Book Brahmin questions in an, um, unusual way. She and Lichtenheld started their "2ur" this week.
On your nightstand now:
Okay, wow, that's kind of a weird command--"ON YOUR NIGHTSTAND NOW!"--but I'll do it.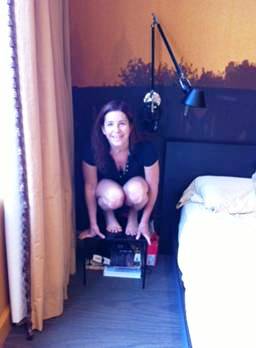 Favorite book when you were a child: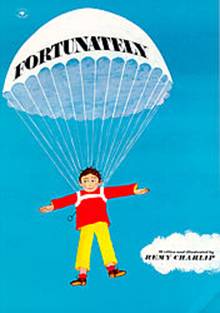 Your top five authors:
Jonathan Eig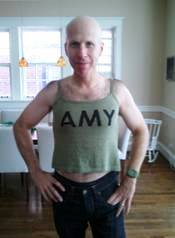 Tom Lichtenheld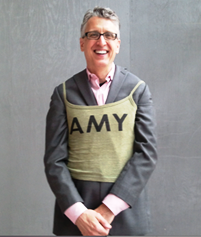 Esme Raji Codell
Ellis Weiner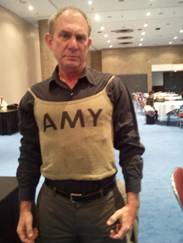 Mark Twain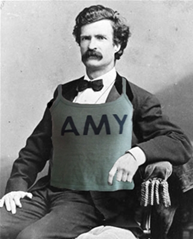 Oh, I'm sorry--I thought you said, "Your top, ON five authors."
Book you've faked reading:
Reading (and other things one might do in bed) is, um, not something I fake.
Book you're an evangelist for:
I tend to rave and preach about whatever book I'm reading/loving/obsessed with at the moment. And happily, there have been countless such books/moments. So it's more like an "evange-reallylonglist."
Book you've bought for the cover:
This is a book I would for sure buy for the covers!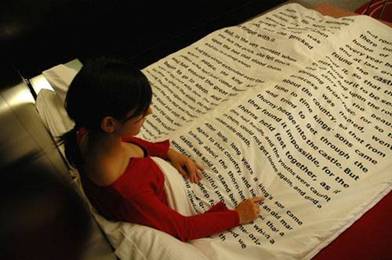 Book that changed your life: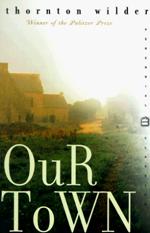 Favorite line from a book:
From Our Town:
Emily (In a loud voice to the stage manager)
I can't. I can't go on. It goes so fast. We don't have time to look at one another.
I didn't realize. So all that was going on and we never noticed. Take me back--up the hill--to my grave. But first: Wait! One more look.
Good-by, Good-by, world. Good-by, Grover's Corners... Mama and Papa. Good by to clocks ticking... and Mama's sunflowers. And food and coffee. And new-ironed dresses and hot baths... and sleeping and waking up. Oh, earth, you're too wonderful for anybody to realize you.
Do any human beings ever realize life while they live it?-- every, every minute?
Book you most want to read again for the first time:
Our Town.


Book Review
Review: A Cupboard Full of Coats
Cupboard Full of Coats by Yvvette Edwards (Amistad Press, $14.99 paperback, 9780062183736, July 31, 2012)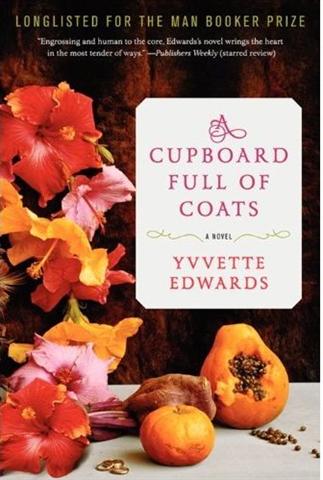 A Cupboard Full of Coats is a slow-burning heartbreaker of a story, rich with the cadence and flavor of Caribbean immigrants in London's East End as the 14-year-old mystery at the core of Yvette Edwards's debut novel is revealed over the course of a long weekend.
Jinx Jackson lives alone in the house where her mother was murdered by an abusive boyfriend. Haunted by guilt for her own role in the crime, Jinx has withdrawn from her life. She has no friends, she is unable to connect with her young son or his father, and her only solace--the only time she feels "pride, vanity, grief, sadness, loss, something"--is in her work as an embalmer. Just 16 at the time of her mother's death, Jinx has spent her adult life barricaded with her secrets and sufferings.
But then Lemon, once a friend of her mother, knocks on her door. Still handsome, sharply dressed, smelling of rum and tobacco, Lemon bears upsetting news: Berris, her mother's killer, has been released from prison. Bound by their mutual complicated love for Jinx's tragic, beautiful mother and a shared burden of guilt over the events that led to her death, Jinx and Lemon begin the slow work of unraveling their painful history.
Before her mother died, Jinx--traumatized by the violence that moved into her home when Berris did--was moved to tears by Lemon's simple affection. "Most things, all they want is a little gentle handling," he said to her once. Fourteen years later, Jinx still desperately needs some tender care. Lemon once again provides, melting her icy defenses with captivating stories, foot massages and powerfully nostalgic West Indian food.
The food works on the reader, too; in fact, Edwards's sumptuous descriptions may be the best thing about the book. There is pumpkin soup, "saffron-colored and bursting with flavor"; lamb that falls from the bone; gravy "so spicy and compelling I found myself... sucking out every crevice of the bones, using my mouth like a bottom-feeder, my tongue like a young girl French-kissing an orange." These sensuous descriptions rival only those of the luxurious coats that hang untouched in Jinx's closet--the consolation gifts Berris gave her mother after every beating.
With elegant restraint and a sensitivity uncommon in debut novels, Edwards slowly unfolds two stories--the circumstances of Jinx's mother's brutal murder and her redemption and release 14 years later--while nudging them toward the same emotional conclusion. --Hannah Calkins
Shelf Talker: The psychological skeletons in Jinx's closet bear witness to the same grief as the coats in her cupboard, but it's time to finally confront the past in Yvette Edwards's elegant, heartbreaking debut.


Deeper Understanding
Robert Gray: Open Endings--The Art of the Unfinished Read
We're finished! I know we had fewer than a hundred pages remaining until The End, but I can't go on like this. You were a fine book, with fully developed major characters, engaging minor ones, a setting that enveloped me in a deeply resonant sense of place and a plot that unfolded dramatically. It's not you; it's me.

After a couple of decades in the book trade, I've become resigned to the unfortunate reality that I often "bail out" of books--even those I'm enjoying--for reasons rational and irrational. Maybe I lose a little reader's momentum in the early chapters, or a potentially more intriguing book comes along to tempt me; maybe the protagonist says something that ticks me off or my to-be-read pile nags me into looking for any excuse to head for the exit at intermission. Buffet reading was part of the job description when I was a bookseller. It was a survival tool. And yes, sometimes I even told a customer "I'm reading it" when I had bailed long before.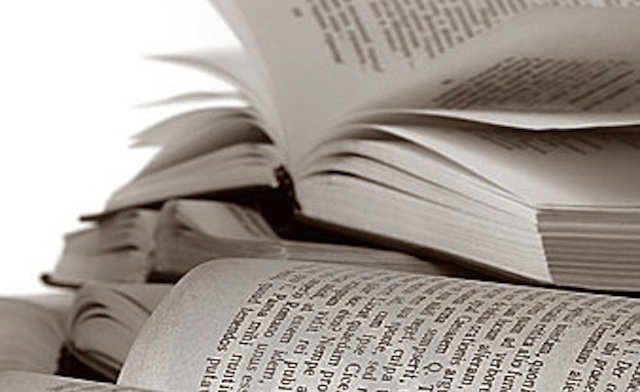 An "unfinished" book is a different thing altogether because a much more substantial commitment is required to reach the unfinishing point. If bailing is a rational decision, unfinishing is subconscious and often inconclusive.

"There are lots of books I've never finished," Roddy Doyle has said. "But there's only very few I've said I'm never going to finish, and a pile of books I'm going to get around to finishing."

As I write this, signs of my tendency toward unfinished books can be found nearby. A novel (whose title shall remain nameless to protect the innocent author) has a marker tucked between pages 348 and 349. Though I have fond memories of the book, I don't know how it ends because 62 pages remain unread. I invested several hours of my reading life in it, yet at some point I simply looked away.

"Is a good book by definition one that we did finish? Or are there occasions when we might choose to leave off a book before the end, or even only half way through, and nevertheless feel that it was good, even excellent, that we were glad we read what we read, but don't feel the need to finish it?" asked Tim Parks earlier this year in the New York Review of Books, where he concluded: "There is a tyranny about our thrall to endings. I don't doubt I would have a lower opinion of many of the novels I haven't finished if I had."

In Jess Walter's Beautiful Ruins, the failed novelist says: "Do you remember, in Italy, you said you liked my book and I said I was having trouble finishing it? Do you remember what you said--'Maybe it's finished. Maybe that's all there is?' "

A quick perusal of my bookshelves reveals more evidence that I'm a chronic unfinisher. Someone (Paul Valery is often cited) once said that a work of art is never finished, only abandoned. For readers, it's not quite so simple. We know there is an end in sight when we begin. Our abandonment isn't a surrender to the whims of creative fate, but a judgment rendered. Maybe I should begin a pilgrimage during which I read the last 50 pages of all these abandoned tomes in my collection.

The highlight of my unfinished library is probably Fyodor Dostoevsky's The Idiot, which I've been reading for more than 40 years and in numerous editions, yet I'm still no more than three-quarters of the way through. It isn't that I don't love the book. I do. After all this time, however, I've become a little superstitious. I'm almost afraid to finish, as if it is somehow tied umbilically to my lifespan.

Parks wondered "if it isn't perhaps time that I learned, in my own novels, to drop readers a hint or two that, from this or that moment on, they have my permission to let the book go just as and when they choose." Now there's an author who understands, even anticipates, my fondness for a broader definition of the open ending.

So here's to the art of the unfinished read. May your eyes leave the page with all the electric grace of Glenn Gould's final arm movement as he plays the "end" of Bach's incomplete Fuga a 3 Soggetti, snatching his fingers from the keyboard as if shocked by the sudden realization of a musical precipice.

The End. --Robert Gray, contributing editor (column archives available at Fresh Eyes Now)

image: http://idlermag.com