Shelf Awareness for Friday, October 26, 2012

News
Penguin House? Random Penguin?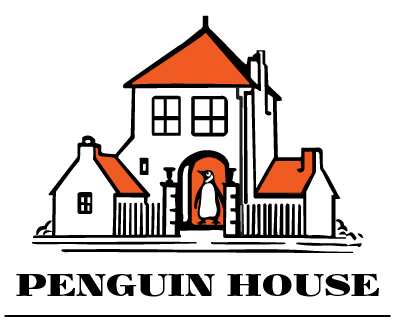 Pearson and Bertelsmann are discussing "a possible combination of Penguin and Random House," Pearson confirmed yesterday, adding, "The two companies have not reached agreement and there is no certainty that the discussions will lead to a transaction."

Manager Magazin in Germany first reported the talks on Monday, saying that the parties envisioned majority ownership by Bertelsmann and that they were in detailed discussions with regulators in the U.S. and Brussels about antitrust issues. In its widely quoted story yesterday, the Financial Times, also owned by Pearson, estimated that the Random House-Penguin combination would control as much as a quarter of book sales in the U.S. and U.K.

In a message to staff today, Penguin's chairman and CEO John Makinson wrote that he couldn't elaborate beyond the Pearson statement and said, "I appreciate that this will be unsettling but please be assured that, in all these discussions, we are thinking first and foremost about the best long-term interests of our company and the people who work here."

Speculation about the future of Penguin began in earnest earlier this month when Pearson CEO Marjorie Scardino announced she would be leaving in January and several observers noted that the change put into question Pearson's ownership of the Financial Times Group and Penguin. (Pearson is expected to emphasize the educational side of its business even more in the future.) The Wall Street Journal said that talks began before Scardino's announcement.

Concerning reasons for the merger talks, James McQuivey of Forrester Research told the Journal: "The large publishers maintain a very expensive infrastructure, including warehousing, printing and marketing, and many of those costs could be collapsed. In the digital era, these can't be sustained."
A publishing executive noted, too, that besides allowing the companies to cut costs, a merger would give the new entity "more clout to stand up to retailers like Amazon."
illustration: Amber Elbon/Shelf Awareness


Amazon Has First Quarterly Loss in Nine Years

In the third quarter ended September 30, net sales at Amazon.com rose 27%, to $13.8 billion, and the company had a net loss of $274 million, compared to net income of $63 million in the same period in 2011.

The net loss in the third quarter was the company's first quarterly net loss since 2003. Part of the loss stemmed from a $169-million writeoff of Amazon's 2010 investment in LivingSocial, the daily coupon website whose business has declined. Much of the rest of the loss came from Amazon's major investments in new warehouses, new employees and new products.

Sucharita Mulpuru, an analyst at Forrester Research, spoke for some skeptical analysts, telling Bloomberg, "Amazon is spending a lot to gain market share. They're obviously, as they call it, investing in the business--everyone else would call it losing money."

Besides the loss, some analysts expressed concern about Amazon's sales. Although sales were up 27% in the quarter, that figure was below consensus estimates, and the company's forecast of fourth-quarter sales in the range of $20.25 billion-$22.75 billion is similarly below estimates.

Colin Gillis of BGC Partners told the Wall Street Journal: "It's a slowing revenue-growth story. They'll need to get those sales back up."

There was also concerns that getting sales back up may be difficult this holiday season, when Amazon likely will face more competition from major bricks-and-mortar retailers like Wal-Mart and Target that are planning variously to match Amazon prices and are testing same-day delivery.

R.J. Hottovy, an equity analyst at Morningstar, told Reuters: "There's a lot of competition this holiday, and it's not clear how this will play out, even for smart operators like Amazon."

But the company has many fans, who yesterday kept the stock's price up in spite of the so-so news. As the Wall Street Journal wrote: "Despite persistently razor-thin margins and heavy spending, Amazon has maintained the faith of investors by promising greater profits down the road as its investments in new hand-held devices, fulfillment centers, cloud storage and other projects pay dividends."

A major indicator of some investors' faith is that Amazon stock is trading near an all-time high and is valued, Bloomberg said, at 254.5 times earnings, the highest of any in the Standard and Poor's 500 Index.

Among the high points of Amazon's quarterly report, which emphasized the theme of growth, in a variety of ways:
Operating expenses rose 28%, to $13.8 billion, in part because spending on technology and content increased 55%, to $1.2 billion; on fulfillment was up 35%, to $1.5 billion; and on marketing rose 46%, to $540 million.
Amazon has more than 80,000 employees, a jump of almost 60%. The company said it will hire 50,000 part-time workers at its warehouses in the U.S. this holiday season and said that it pays full-time, permanent warehouse workers "30% more than what traditional retail store employees earn." It did not, however, indicate how many staff are full-time and permanent and what their pay is.
Sales in North America were 57% of total company sales and, with a gain of 33%, grew faster than international sales, which increased 20%.


Busboys and Poets Opening Bookstore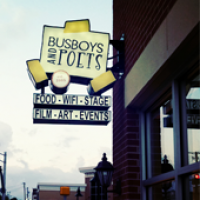 Busboys and Poets, which has four locations--gathering places to encourage dialogue on social and political issues--in the Washington, D.C., area, is opening a bookstore in its Hyattsville, Md., location this weekend, the Hyattsville Patch reported.

The bookstore is the first that Busboys and Poets plans to open in three of its four locations. The original Busboys and Poets on 14th and V Streets in Washington, D.C., has a bookstore owned by Teaching for Change, which the nonprofit will continue to operate. Teaching for Change is not involved in the other Busboys and Poets bookstores but will continue to coordinate with Busboys and Poets on author events.

Rodrigo Rioja, who previously managed the Barnes & Noble at Union Station, Washington, D.C., is manager of the Busboys and Poets bookstores. He told the Patch that he had already sold some books while setting up the book area. "Basically, we don't want to say no to a customer. So if you want to get it now, you can get it now."
The store is emphasizing books about politics, LGBT, African American and Hispanic studies and titles by authors from the Washington area.


Obituary Note: Jacques Barzun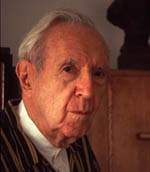 Jacques Barzun, "the distinguished historian, essayist, cultural gadfly and educator who helped establish the modern discipline of cultural history and came to see the West as sliding toward decadence," died last night, the New York Times reported. He was 104.
Born and raised in France, Barzun was a longtime professor at Columbia University, wrote many books on a range of intellectual, historical and cultural subjects, was an adviser to Charles Scribner's Sons and, with Lionel Trilling, for years ran Columbia's Great Books course.


Notes
Happy 30th Birthday, Books & Books!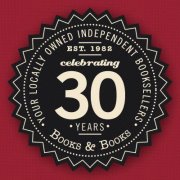 To celebrate Books & Books' 30th anniversary, founder and owner Mitchell Kaplan is hosting a daylong party on Saturday, November 3, at the Coral Gables, Fla., store. Dedicated to "South Florida's Readers & Writers, those whose support has allowed the bookstore to do business and stay open for 30 years," the event will showcase a range of Miami chef-authors (and their signature dishes), including Allen Susser, Bernie Matz, Michelle Bernstein, Norman Van Aken, Douglas Rodriguez, Thomas Buckley, Abe Ng, Steve Haas and Cindy Hutson. Café manager Irving Fields will co-host and help coordinate the effort.

Children's and family activities take place from 11 a.m. to 2 p.m. The evening street party with food from the chefs, drinks on the house and live music takes place 7-9 p.m. The events are free and open to the public.

In addition, there will be a 30% sale all day at the Coral Gables store.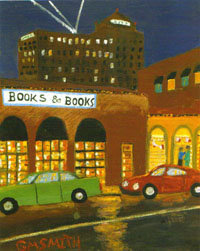 Books & Books was founded in Coral Gables; the store expanded to its present location in 2000. Over the years, the bookstore opened other locations, including in 1989, in Miami Beach; in 2005 in the Bal Harbour Shops Mall; in 2007, in the Cayman Islands; in 2010, an affiliate store in Westhampton Beach, N.Y.; and last year at the Museum of Art in Fort Lauderdale. Books & Books also has a store at the Miami International Airport.

As if he isn't busy enough, Kaplan is also a co-founder and board member of Miami Book Fair International, is a former president of the American Booksellers Association and has launched several businesses, including B&B Press, Books & Books's publishing imprint, and the Mazur/Kaplan Company, a movie production company.

Congratulations, Mitchell!




On Junot Diaz's NYC Tour: La Casa Azul Bookstore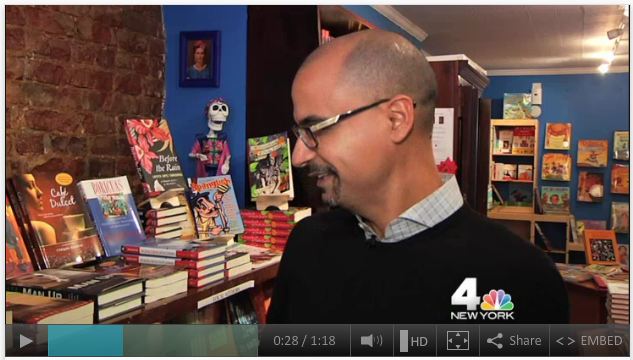 Where does Junot Díaz "go for books, pizza and the perfect view" in New York? The author took NBC4's My New York on a quick tour of "his favorite stops in East Harlem and Washington Heights, including La Casa Azul Bookstore.



Pop-Up Starbucks in Tokyo Features Library Theme
Starbucks Espresso Journey is a new library-themed pop-up store in Tokyo. Book Patrol noted that Japanese firm nendo designed the store focusing "on educating the public on the various coffee offerings of Starbucks."

According to nendo, "We designed the space to be like a library, with bookshelves. On the shelves, we positioned books with covers in nine different colors. Each color of book corresponds to a different espresso drink. Visitors can stroll around the space, freely pulling books off the shelves to read and choose the drink that best suits them.... Books and coffee are both important parts of everyday life, so we created a link between favorite books and favorite coffees."




Book Trailer of the Day: Iced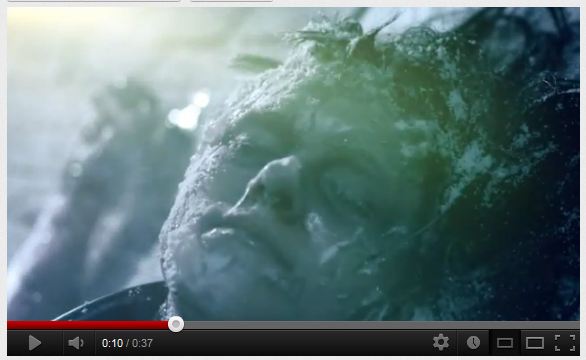 Iced by Karen Marie Moning (Delacorte), the followup to Shadowfever, introduced in a CGI video.


Media and Movies
TV: Dean Koontz's Frankenstein
TNT has put in development a drama series from Lionsgate Television and 1019 Entertainment based on Dean Koontz's bestselling five-book revisionist take on Mary Shelley's classic Frankenstein, Deadline.com reported. James V. Hart (Bram Stoker's Dracula) and Jake Hart will write the script.




Movie Visuals: Breaking Dawn Part 2 Clip, Featurette & Poster
Calling it a "good day to twihard" for Twilight: Breaking Dawn Part 2 fans, Indiewie featured a new clip, "showcasing the literal strengths of Bella (Stewart) now that she's *OMG SPOILER ALERT* been turned into a vampire"; a featurette "possibly appealing to even those who aren't entirely on board with Twilight"; and a new poster "showcasing the bunch, with leader Aro (Michael Sheen) most visible, and a tagline offering that this will be 'The Epic Finale That Will Live Forever.' " The film opens November 16.



Books & Authors
Awards: T.S. Eliot Prize Shortlist
Finalists have been named for the £15,000 (US$24,046) T.S. Eliot prize for poetry. The winner will be announced January 14. Chair of judges Carol Ann Duffy said the shortlist "sparkles with energy, passion and freshness and which demonstrates the range and variety of poetry being published in the U.K." This year's finalists are:

The Death of King Arthur by Simon Armitage
Bee Journal by Sean Borodale
Ice by Gillian Clarke
The World's Two Smallest Humans by Julia Copus
The Dark Film by Paul Farley
P L A C E by Jorie Graham
The Overhaul by Kathleen Jamie
Olds Stag's Leap by Sharon
The Havocs by Jacob Polley
Burying the Wren by Deryn Rees-Jones



Book Brahmin: Danny Wallace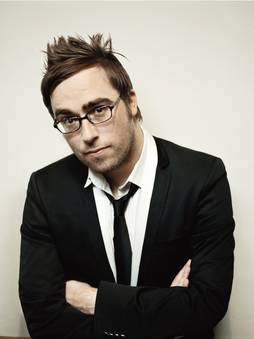 Danny Wallace is a British filmmaker, comedian, journalist, actor and TV and radio presenter. His past books include Random Acts of Kindness, Join Me and Yes Man, which was made into a movie starring Jim Carrey. He lives in London. Wallace's debut novel, Charlotte Street (Morrow, October 23, 2012), has been optioned by Working Title Films.
On your nightstand now:
Kill Your Friends by John Niven. I'm reading it for a second time. Bleak, harrowing, nasty, compulsive and hilarious. Niven's prose grabs you by the neck and drags you along, spitting and swearing in your ear, whether you like it or not. And though you'd rather be somewhere safer, you also really want to go along for the ride. It's great.
Favorite book when you were a child:
Anything by Roald Dahl.
Your top five authors:
P.G. Wodehouse, George and Weedon Grossmith, Roald Dahl, William Boyd and definitely Salman Rushdie.
Book you've faked reading:
The books of Salman Rushdie.
Book you're an evangelist for:
Diary of a Nobody by George and Weedon Grossmith. I never thought a book written in the 19th century could make me laugh as much as this did, but that's the power of strong comic writing... you see yourself, your friends, your whole world in it. This is the story of a pompous "nobody" who's certain he's a somebody... or, at least, is desperate to be. I make people read this book all the time.
Book you've bought for the cover:
I've bought a lot of books for their covers. Some people are a bit snobby about that. I don't know why. It's all part of the process. The last one I bought for its cover was Casino Royale by Ian Fleming. I felt cool just knowing it was in my bag.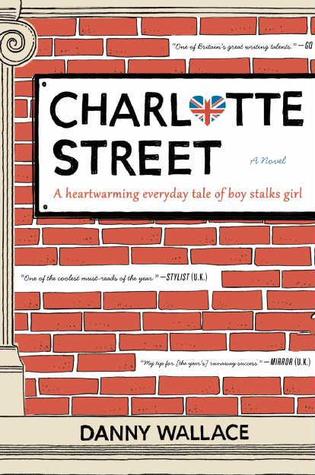 Book that changed your life:
This Book Will Change Your Life. Not really. In all honesty, probably Join Me by Danny Wallace. It changed my life in that it was my first book and meant I'd found my thing and established me. I'm sorry my answer isn't more worthy, but it's the truth. A highlight was a month-long tour of U.S. bookshops, picking up weird books I'd never before seen.
Favorite line from a book:
"THE END" (from Fifty Shades of Grey).
Book you most want to read again for the first time:
The Dice Man by Luke Rhinehart. I had the pleasure of meeting the author recently, and re-read it, but how great would it be to read something like that for the first time again? To be surprised and delighted and made to laugh, or wince or near-choke? The Dice Man is a weirdly underappreciated classic.
Why aren't you wearing any clothes?
I just got up.


Book Review
Review: Kurt Vonnegut: Letters
Kurt Vonnegut: Letters by Kurt Vonnegut (Delacorte, $35 hardcover, 9780385343756, October 30, 2012)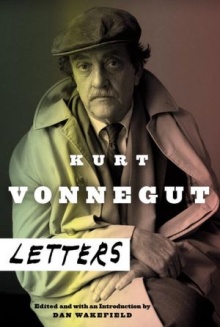 In 2007, Kurt Vonnegut died of head injuries sustained falling down his home staircase. He probably would have had an amusing story to tell about his fate. The acclaimed author left behind a bookshelf of novels, stories, essays and political screeds that entertained and touched a large audience--an audience that encompassed a literary generation raised on magazine fiction, the free-love, antiwar baby boomers who followed and the thumb-typing, always-connected readers of Generations X and Y. To this bibliography, we can now add a collection of letters edited by Vonnegut's longtime friend Dan Wakefield. In Kurt Vonnegut: Letters, we discover a man who was not only a celebrity writer with serious political positions, but also a loyal friend, a generous natural and adoptive father, a tireless writer, a humanist with an eye for the absurd and an always amused observer of the world around him.
In addition to his personal introduction, Wakefield does an admirable job organizing the correspondence and establishing their contextual relationship to Vonnegut's personal and publishing activities. The helpful notes on those who are addressed and mentioned in each letter not only clarify the content, they also give us a sense of Vonnegut's broad network of family, friends and business associates.
Vonnegut's life had as many troubles as it had successes. He was a starved POW during World War II; he was often short of money; his books were frequently misunderstood, banned or ignored; his long first marriage unhappily dissolved... "and so it goes," as he wrote in his most famous novel, Slaughterhouse Five. However, throughout his long life, he maintained a sense of humor that disarmed his critics and warmed his family and friends.
He spent two of his happiest years teaching in Iowa's creative writing program. Small-town life, surrounded by adoring, talented students and smart faculty, agreed with him, and a letter to his second daughter perhaps best exemplifies his contentment, humor and understanding: "I write a lot, and teach a lot," he wrote. "Most of my students have already graduated from college, but they keep on going to college anyway. I guess they are comfortable in college... They are practically all men... and the few girls are very nervous and unattractive, the way girls get if they go to college too long." Vonnegut now lives on for us not only in his fiction, but also in his letters. --Bruce Jacobs
Shelf Talker: Vonnegut's letters reveal many subtle details of his long life with the humor and quirky perspective for which his novels are famous.


Deeper Understanding
Robert Gray: Trick or Books
It's not the book ghosts; you're never afraid of them, even when the shelves are full and all those authors, living and dead, whisper: "Read us... Read us... Read us..."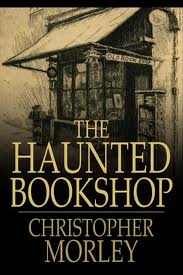 "Did you ever notice how books track you down and hunt you out?" Christopher Morley wrote. "They follow you like the hound in Francis Thompson's poem. They know their quarry!... That's why I call this place the Haunted Bookshop. Haunted by the ghosts of the books I haven't read. Poor uneasy spirits, they walk and walk around me. There's only one way to lay the ghost of a book, and that is to read it."

A reader practically from birth and a bookseller for years, you've been chased by those ghosts all your life. Now they're just something Tim Burton might create--scary looking, yet also funny and even mildly annoying. The real terror lurks elsewhere, in the familiar places and objects that take on a spectral air this time of year.

Imagine your bookshop at twilight on Halloween.

You're getting ready to close. A few customers linger. Maybe the pale girls in the children's section look a bit too much like The Shining's twins. Maybe that local author furtively turning his book face-out makes you think the text within repeats "All work and no play makes Jack a dull boy."

Everything poses a threat. The hand-scrawled "Out of Order" sign on the public rest room door seems as terrifying as "REDRUM" written in blood on another door--The Shining again. You really don't want to know what's behind that portal now, do you?

And those eerie, flickering lights moving up and down the aisles, dancing across the covers of books? Demons! No, just customers showrooming your books with smartphones so they can buy online. Okay, yes, demons.

It's all getting weird. You should do a walk-through inspection to allay your fears. Watch your step. Did you hear that? Never mind. Just the wind, you suspect. The front door always groans a little, and these ancient wooden floors creak only as much as they should.

In the staff break room, the sink is heaped with food-encrusted dishes, and on a nearby table, the hardened remains of a birthday cake invoke the musty scent of Miss Havisham. Next to the lethal-looking steampunk microwave oven, a sagging bookcase predicts the future through ARCs lined up like headstones. You pluck one and read the back cover. So this is what will happen on February 11, 2013. Terrifying. You replace it quickly, as if trying to clamp the lid down on Pandora's Box.

Stay out of your office! You can't. What's that paper on the desk? A warning? Don't look! You did. Publisher's invoice. Payment due! Second notice! It awakens frightening memories of a phone call hours earlier. Your landlord. It's about the lease. Again!

You careen through the back room, stumble and fall across a stack of old sealed cartons hidden in a seldom-used, cobwebbed corner. Just boxes, you think, but suddenly you remember that bargain book show in Chicago four years ago, and a few too many drinks and a number tossed out in a moment of ill-chosen buying bravado mixed with the certainty that you could handsell anything, even a New England diet crockpot cookbook--"600 copies? I'll take all of them." You've sold 53. Now they will be here... forever and ever.

Seeking a moment's solace in the events space proves futile. Those skeletal chairs remind you of too many nights when their emptiness was its own brand of horror. And this memory calls up the image of a shriveled hand reaching once again into the air, as if from the grave, beckoning for attention. It's the lady who attends every author event, sits in the front row, asks embarrassing questions and never buys the book. Try not to meet her stare. She'll turn you to stone.

Something bumps against your leg. The bookstore cat. Tonight even his stare is malevolent. You close your eyes, call upon Titiana, Morley's patron saint of practical, no-nonsense booksellers ("I'm not afraid of ghosts.") for protection.

And then, quite suddenly, you're safe again in the knowledge that, while being a bookseller can have its nightmarish aspects, not being one is an unimaginable fate.

What was that noise? Legions of stumbling, glazed-eyed zombies are lurking outside your front door, pounding on the glass and demanding entry. No, wait, that's just a vision of the Black Friday crowd next month. They can't get in... for now. Happy bookish Halloween! --Robert Gray, contributing editor (column archives available at Fresh Eyes Now).