Shelf Awareness for Wednesday, November 7, 2012

Quotation of the Day
Greenlight Bookstore: Profound Loss & the Power of Books
"We just got a long, handwritten thank you letter from a woman who was staying at the shelter down the street from the bookstore. She was thanking us for the books we donated, said they got her through the bad experience of staying in the shelter. She left there because she felt unsafe and went home to her ruined house, which she described in her letter. She also included some details about the horrific conditions in Sea Gate (no heat or power, looting, police everywhere) but she also notes that she hears the sounds of hammers and hope.

"This letter. It's enough to break your heart but it's also a reminder about how it's important never to lose your humanity, even in the face of it all."


News
BEA Opens Show Further to General Public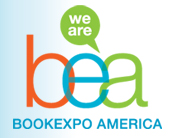 BookExpo America is expanding its program of opening the show to the general public, allowing exhibitors to sell books to those attendees and by promoting the show to them directly.

As outlined by show director Steve Rosato on the Bean, his BEA blog, "power readers" will be allowed onto the trade show floor on Saturday, June 1, which is the final day of the show. (BEA's conference day is Wednesday, May 29, and the trade show floor opens Thursday, May 30.) Exhibitors will be able to sell books to the "power readers" so long as the exhibitors are registered with the state of New York and collect sales tax. Rosato added that BEA is working on "a solution to sell books through an approved vendor."

Although he emphasized that BEA will remain at its core a trade show, the presence of the public will make BEA "a pop culture event" that is complementary to the trade show and offer "new promotional opportunities" for publishers, Rosato wrote. The program will also "change how media covers BEA, bringing more focus and attention on the latest titles and highest profile authors. Publishers will be able to connect directly with consumers and consumers will have access to their favorite authors on a scale that was never been available to them in one place at one time."

BEA had experimented this year with allowing the public onto the show floor for the first time, allowing the public to sign up through local bookstores and the New York Public Library. The "power readers" had been capped at 1,000, they attended only on the last day and exhibitors were not allowed to sell books to them.


EU to Accept Antitrust Concessions from Apple, Four Publishers
European Union regulators will accept an offer by Apple and four publishers--Simon & Schuster, HarperCollins, Hachette and Holtzbrinck, parent company of Macmillan--to end an antitrust probe into e-book pricing, Reuters reported, citing two sources. The European Commission, which asked for comments from rivals and consumers in September, did not request more concessions and "is likely to accept the offer and announce its decision next month," according to one of the sources.

Under the agreement, Apple and the publishers would allow retailers such as Amazon to sell e-books at a discount for two years to let retailers set their own prices or discounts for a period of two years "and also to suspend 'most-favored nation' contracts for five years," Reuters wrote. Penguin Group did not take part in the offer.

"It's certainly another win for Amazon," said Mark Coker, founder of Smashwords. "I have not seen the terms of the final settlement, but my initial reaction is that it places restrictions on what publishers can do, slowing them down just when they need to be more nimble."



Staples U.S. Stores Installing 'Amazon Lockers'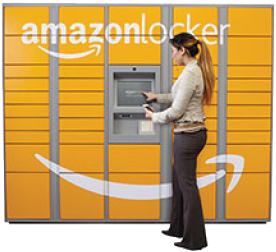 Staples is installing "Amazon Lockers"--where Amazon customers can pick up orders--in its more than 1,500 U.S. stores, Reuters reported. Amazon has opened lockers in groceries, convenience stores and drugstores in major markets.

Customers who opt to use the lockers are e-mailed a code when the package arrives that opens that locker. They have several days to pick up the package.
---
In other company news, Amazon is experimenting with a $7.99 monthly option for its Amazon Prime service, TechCrunch reported. Customers would receive the usual Prime benefits, including free two-day shipping and a free book monthly from the Kindle "lending library." Amazon continues to offer Prime for $79 a year.


Notes
Image of the Day: Voter Appreciation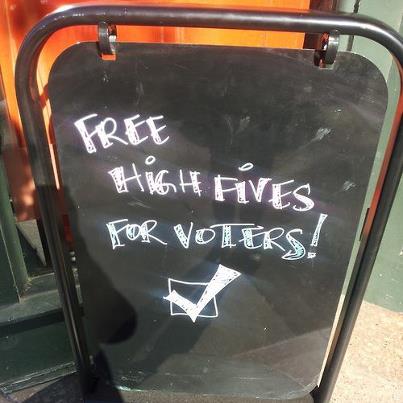 Our favorite election-related bookstore sign: outside WORD in Brooklyn, N.Y. And this was before the results came in!


Bookstore Video of the Day: Ferlinghetti Reads Joyce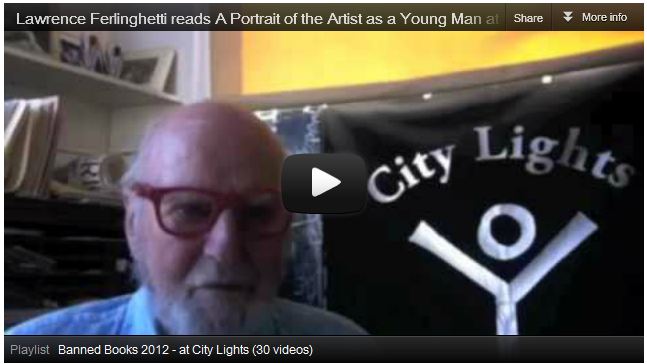 City Lights Booksellers & Publishers' blog described it as a "fitting way to close the banned books celebration: with a reading from Lawrence Ferlinghetti." The legendary founder of City Lights capped an ambitious Banned Books video series of guest readings with some final words from James Joyce's Portrait of the Artist as a Young Man, which he read from a copy he'd bought in Paris in 1950. City Lights also featured an amazing archival video of Lawrence setting up the window display for HOWL at the bookstore in 1957.



Book Trailer of the Day: Aida Mollenkamp's Keys to the Kitchen
Aida Mollenkamp's Keys to the Kitchen: The Essential Reference for Becoming a More Accomplished, Adventurous Cook by Aida Mollenkamp (Chronicle).


Media and Movies
Media Heat: Barbara Kingsolver on Diane Rehm
Tomorrow morning on the Today Show: Andrew Solomon, author of Far From the Tree: Parents, Children and the Search for Identity (Scribner, $37.50, 9780743236713). He will also appear on NBC's Rock Center and NPR's All Things Considered.

---

Tomorrow on the Wendy Williams Show: Carla Hall, author of Cooking with Love: Comfort Food that Hugs You (Atria, $30, 9781451662191).

---

Tomorrow on KCRW's Bookworm: Chris Ware, author of Building Stories (Pantheon, $50, 9780375424335).

---

Tomorrow on NPR's Diane Rehm Show: Barbara Kingsolver, author of Flight Behavior (Harper, $28.99, 9780062124265).

---

Tomorrow on Tavis Smiley: Amy Goodman, co-author of The Silenced Majority: Stories of Uprisings, Occupations, Resistance, and Hope (Haymarket Books, $16, 9781608462315).

---

Tomorrow night on the Tonight Show with Jay Leno: Richard M. Cohen, author of I Want to Kill the Dog (Blue Rider, $21.95, 9780399162039).




Film Teasers: Lincoln Trailer; Silver Linings Playbook Clip
Deadline.con featured a new international trailer for Steven Spielberg's Lincoln, which hits theaters Friday. The film stars Daniel Day-Lewis, Joseph Gordon-Levitt, Tommy Lee Jones, James Spader, Jared Harris, John Hawkes, Sally Field and David Strathairn.

---

The Weinstein Company released a new clip and TV spot for David O. Russell's Silver Linings Playbook, adapted from the novel by Matthew Quick. Indiewire called the clip "a nice serving from the movie," which won the Audience Award at the Toronto International Film Festival. Silver Linings Playbook opens November 21.




Books & Authors
Awards: CILIP Carnegie & Kate Greenaway Longlists
The Chartered Institute of Library and Information Professionals has released longlists for the 2013 Carnegie Medal (author of a book for children and young people) and the Kate Greenaway Medal (illustrator of a book for children and young people). You can find the complete CILIP Carnegie and Kate Greenaway longlists here. The shortlist will be announced March 19 and winners named June 19 in London.

"This fantastic longlist--the largest ever--represents the high quality of children's publishing that we have here in the U.K. and is a testament to the enthusiasm of children's librarians across the country," said Karen Robinson, chair of the judging panel.



Book Brahmin: Martha Moody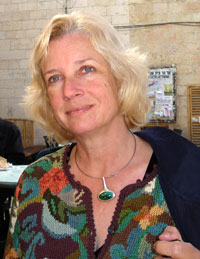 Martha Moody is the author of Sharp and Dangerous Virtues (just published by Swallow Press) and three previous novels: Best Friends, The Office of Desire and Sometimes Mine, which together have sold close to one million copies. She retired after 15 years of practicing medicine to spend more time writing and with her husband and four sons. She also volunteers as a physician in a clinic for the working poor, as a writing teacher for schools and arts centers, in the Dayton Jewish community and as an organizer of a long-term project to teach English to Arab-Israeli students in the Galilee. Moody lives in Dayton, Ohio.
On your nightstand now:
The Art of Fielding by Chad Harbach; My One Square Inch of Alaska by Sharon Short (novel, advance copy); Ultima Thule by Davis McCombs (poems); Hebrew Ulpan 6 (textbook).
Favorite book when you were a child:
Younger child: A Wrinkle in Time by Madeline L'Engle.
Teenager: Titus Groan by Mervyn Peake.
Your top five authors:
Alice Munro, William Trevor, Tomas Transtromer, A.B Yehoshua, Carol Shields. Shields is gone now, but the others are veteran (I mean, old!) writers whose past and present works both thrill and comfort me.
Book you've faked reading:
I have never finished anything by Don DeLillo, but I think I've said I did.
Book you're an evangelist for:
Disgrace by J.M. Coetzee. The perfect novel, in my opinion. Two of my sons have written high school papers on it, and both of them found things that surprised me.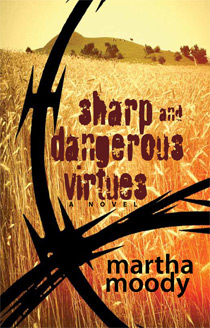 Book you've bought for the cover:
The Magician's Assistant by Ann Patchett (the '98 edition, with a white rabbit sitting on an armchair). Glad I bought it, too.
Book that changed your life:
Conversation in the Cathedral by Mario Vargas-Llosa. I read this in college when I was writing poetry and thought: wow, this is amazing and complicated and I sort of understand how Vargas Llosa did it. I should write fiction.
Favorite line from a book:
"Live all you can--it's a mistake not to." --From The Ambassadors by Henry James.
"Experience, its beautiful slag." --From The Half-Finished Heaven by Tomas Transtromer, translated by Robert Bly.
Book you most want to read again for the first time:
Feather Crowns by Bobbie Ann Mason. I read it knowing nothing about it, and that was a wonderful thing.
What three things can always be found in your refrigerator?
I've always wanted someone to ask that question! Coffee yogurt, red pepper hummus and white wine.


Book Review
Children's Review: Unusual Creatures
Unusual Creatures by Michael Hearst, illus. by Jelmer Noordeman; design by Arjen Noordeman and Christie Wright, and (Chronicle, $16.99 hardcover, 112p., ages 8-12, 9781452104676, October 2012)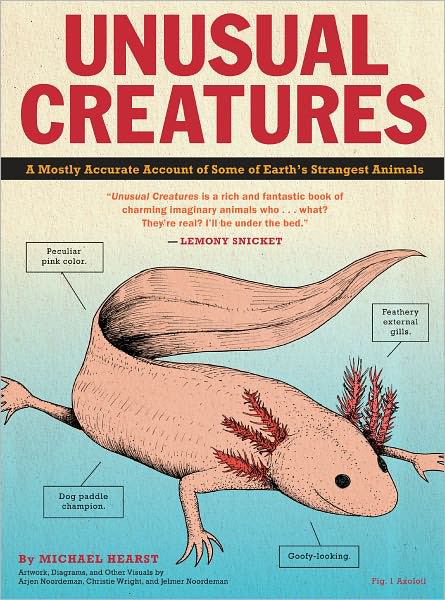 Young animal lovers and science fans will glom onto this paper-over-board information book brimming with facts and humor. An inviting design allows readers to dip in and out or read straight through the profiles of 50 fascinating creatures, which appear in alphabetical order.
Michael Hearst, a composer and musician, begins with an introduction that explains biological classifications, plus a mnemonic device (Kids Place Candles On Foot Gravy Sausage = Kingdom, Phylum, Class, Order, Family, Genus, Species). Then he plunges in, from axolotl (featured on the cover) to yeti crab. Each one-page or full-spread treatment gives the scientific name, the Kingdom, Phylum, Class, etc., a map of its habitat, a brief description and fun factoid, plus a picture of the creature with a scale of inches or feet, to get a sense of its size.
The factoids might be his "short poem" tributes to half a dozen of these animals of land, sea and sky (the bilby, blobfish, dugong, etc.), or it might be more visual--such as mapping out an odd process unique to the creature. A series of images depicts the regeneration of the axolotl's tail and, for the humpback anglerfish, its unusual process of procreating. For the Chinese giant salamander, which can measure up to six feet, Hearst delivers a playful "Pop Quiz." The first question: "The female Chinese giant salamander makes..."; among the answers are "up to 500 eggs," "friends, which last a lifetime" and "the perfect pet!" Hearst lists "Platyfacts" for the platypus (e.g., "The platypus bill is rubbery and flexible. It is not recyclable"). Jelmer Noordeman's artwork illustrates each animal with scientific accuracy, selecting the perspective that will play up its unique feature best, such as the blobfish at rest on land, when gravity pulls its jellylike features into a decrepit-old-man grimace.
Hearst brings extreme situations into a child's realm. For instance, he likens the bee hummingbird drinking eight times its total body mass daily to being "sort of like if you or I drank four bathtubs full of water every day." He compares a pair of male giraffe-necked weevils fighting to win over a female to "two excavator construction vehicles at war." The author's enthusiasm will infect readers, too. With its quirky facts and creatures and the sense of a world waiting to be revealed, this book may well inspire a new generation of budding scientists. --Jennifer M. Brown
Shelf Talker: In this invitingly designed volume featuring 50 eclectic creatures of the land, sea and air, Michael Hearst will infect young readers with his enthusiasm for the natural world.


Ooops
How to Donate to Bank Square Books
Unfortunately, a link posted yesterday to a PayPal account allowing people to donate to Bank Square Books, Mystic, Conn., which was flooded by Hurricane Sandy and is rebuilding, did not work properly. The account can be found here or on Bank Square Books's website.


The Bestsellers
Top-Selling Titles on AbeBooks.com in October
The bestselling books on AbeBooks.com during October:

1. The 7 Habits of Highly Effective People by Stephen R. Covey
2. Cloud Atlas by David Mitchell
3. Life of Pi by Yann Martel
4. The Awakening by Kate Chopin
5. Bring Up the Bodies by Hilary Mantel
6. The Giver by Louis Lowry
7. Man's Search for Meaning by Viktor E. Frankl
8. How to Win Friends and Influence People by Dale Carnegie
9. The Secret Life of Bees by Sue Monk Kidd
10. The Help by Kathryn Stockett

The bestselling signed books at AbeBooks.com during October:

1. Bring up the Bodies by Hilary Mantel
2. The Yellow Birds by Kevin Powers
3. This Is How You Lose Her by Junot Díaz
4. The Twelve by Justin Cronin
5. The Passage by Justin Cronin
6. Joseph Anton by Salman Rushdie
7. Who I Am: A Memoir by Pete Townshend
8. Back to Blood by Tom Wolfe
9. The Round House by Louise Erdrich
10. Telegraph Avenue by Michael Chabon

[Many thanks to AbeBooks.com!]