Shelf Awareness for Thursday, November 8, 2012

News
Indigo's Second Quarter: Sales Slip, Net Loss Improves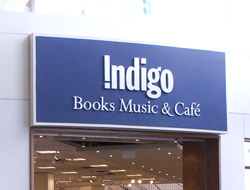 In the second quarter ended September 29, net revenue at Indigo Books & Music fell 5.95% to C$185.6 million (about US$189.5 million) and the net loss was $4 million (about US$4.1 million), a major improvement over the net loss of C$40.4 million (about US$41.2 million) in the same period a year earlier.

The company attributed the revenue decline primarily to "a delay in the planned launch of the new Kobo devices" as well as the closing of seven Coles stores. Book sales were down only modestly "owing to strong titles as well as effective efforts to drive book sales both in store and online."

The company attributed the improvement in net results to "improvements in margin and productivity" as well as the writedown a year ago of $25.4 million of goodwill allocated to Indigo.

Sales at Indigo and Chapters superstores open at least a year fell 6.5% while sales at Coles and IndigoSpirit small-format stores open at least a year slipped 2.2%.

Indigo CEO Heather Reisman commented: "We are focused on driving significant margin and productivity improvements and are pleased that our on-going efforts are reflected in our results. We will continue to broaden our assortment in our key growth categories to drive higher top line sales to offset the decline in physical books. We're also pleased to have the newest Kobo eReaders now in store as top gift picks for the upcoming holiday season."




World Book Night U.S.: Honorary Chairpeople & Book Picks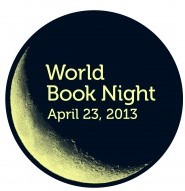 Authors Ann Patchett and James Patterson have been named honorary national chairpeople for World Book Night U.S., which also announced the WBN 2013 U.S. book picks and opened the online application process for those wishing to become volunteer book givers next spring.

"In my experience, when people like what they are doing, they do more of it," said Patterson. "This is the genius of World Book Night--it gets people reading by connecting them with amazing, enjoyable books. I'm honored to be a part of it."

Patchett, who also owns Parnassus Books, Nashville, Tenn., observed: "I'm very proud to be a part of World Book Night. As both a writer and a bookseller, I'm all in favor of getting books into the hands of people who might not otherwise have access to them."

Regarding the book picks, WBN U.S. executive director Carl Lennertz said he was "over the moon with happiness that Jim and Ann have agreed to join our wonderful cause! I know that booksellers, librarians, and our volunteer book givers will be thrilled to have these two beloved authors support our reading and literacy effort in the United States in our second year."

The books were chosen by an independent panel of booksellers and librarians. Thousands of copies of each title will be printed as special, not-for-resale paperbacks. Lennertz noted that this is not meant to be "a best-books-of-all-time list; these are contemporary or classic books that appeal to a wide range of new readers. We looked for diversity and variety in all things: subject matter, age level, gender, as well as ethnic and geographic considerations. Last year's givers also got to nominate books. This is a beautiful mix with, I hope, some old friends and nice surprises! And we thank the authors, who have agreed to waive royalties on the World Book Night editions."

One notable title this year is a classic SF novel. The Ray Bradbury Estate told WBN organizers the because the late author "always encouraged and promoted reading books, his family is honored that Fahrenheit 451 will be part of such a wonderful event as World Book Night."

The 30 World Book Night U.S. titles for 2013, alphabetical by author, are:

The Handmaid's Tale by Margaret Atwood (Anchor)
City of Thieves by David Benioff (Plume)
Fahrenheit 451 by Ray Bradbury (S&S)
My Antonia by Willa Cather
Girl with a Pearl Earring by Tracy Chevalier (Plume)
The House on Mango Street by Sandra Cisneros (Vintage)--also in Spanish
The Alchemist by Paulo Coelho (HarperOne)--also in Spanish
The Language of Flowers by Vanessa Diffenbaugh (Ballantine)
The Worst Hard Time by Timothy Egan (Mariner)
Bossypants by Tina Fey (Reagan Arthur)
Still Alice by Lisa Genova (Gallery Books)
Looking for Alaska by John Green (Speak/Penguin)
Playing for Pizza by John Grisham (Dell)
Mudbound by Hillary Jordan (Algonquin)
The Phantom Tollbooth by Norton Juster (Yearling)
Moneyball by Michael Lewis (Norton)
The Tender Bar by J.R. Moehringer (Hyperion)
Devil in a Blue Dress by Walter Mosley (Washington Square Press)
Middle School: The Worst Years of My Life by James Patterson (Little, Brown Books for Young Readers)
Population: 485 by Michael Perry (HarperPerennial)
Good Omens by Terry Pratchett and Neil Gaiman (HarperTorch)
The Lightning Thief by Rick Riordan (Disney)
Montana Sky by Nora Roberts (Jove/Penguin)
Look Again by Lisa Scottoline (St. Martin's)
Me Talk Pretty One Day by David Sedaris (Back Bay)
The No. 1 Ladies' Detective Agency by Alexander McCall Smith (Anchor)
Glaciers by Alexis M. Smith (Tin House)
A Connecticut Yankee in King Arthur's Court by Mark Twain
Salvage the Bones by Jesmyn Ward (Bloomsbury)
Favorite American Poems, large print edition (Dover)



Bertelsmann Acquires 100% Stake in RH Mondadori
Bertelsmann is acquiring Mondadori's equity stake in Random House Mondadori, and will own 100% of shares in the Spanish and Latin American trade book publisher, which is based in Barcelona. As part of the newly established Penguin Random House, RH Mondadori's "corporate name will be changed in the 'near future' to reflect the new ownership structure, though Núria Cabutí will continue as its chief executive officer," the Bookseller wrote.



Amazon: Help Wanted in Brazil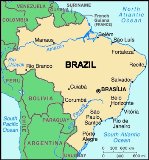 Rumors that Amazon plans to create a digital bookstore in Brazil have gained momentum this week with reports that the company has "posted a number of new job listings for Brazil and now have a total of 16 positions open," the Digital Reader reported, adding: "In addition to hiring managers for the retail website and AWS, Amazon is also looking for a tax expert and managers for the warehousing and shipping parts of the operation."



Nate Silver: Predicting Election Garners Landslide Book Sales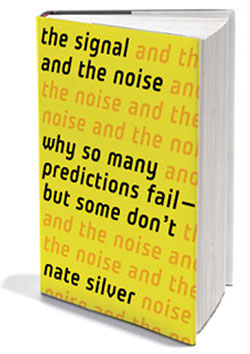 President Obama may have garnered the most votes Tuesday night, but "polling data guru" Nate Silver appears to be the early victor in post-Election Day book sales. CNN reported that Silver, who runs the FiveThirtyEight blog for the New York Times, beat numerous political pundits as he "predicted the 49 states called by the networks Tuesday, and estimated that Florida would be essentially tied with Obama having a very slight edge."

Yesterday, sales of the book, The Signal and the Noise: Why So Many Predictions Fail--but Some Don't, increased 850% at Amazon. It is currently the #2 book on the online retailer's top-100 list, behind Jeff Kinney's upcoming The Third Wheel, Diary of a Wimpy Kid Book 7.



Notes
Image of the Day: Devil, Ouija Board & Cake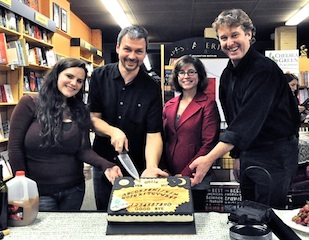 Last weekend, Water Street Bookstore, Exeter, N.H., hosted a launch party for The Devil of Echo Lake by Douglas Wynne (JournalStone), which won JournalStone's $2,000 prize for best horror fiction. The party included a Ouija board cake made by Wild Orchid Baking Company. (Cutting the cake, events coordinator Stefanie Kiper Schmidt borrowed the huge knife from a nearby restaurant and carried it to the store, making her, she said, look "like a really guilty, very nervous criminal.") Behind the cake (from l.): Schmidt; author Douglas Wynne; Wynne friend and party planner Jill Sweeney-Bosa; and Water Street Bookstore owner Dan Chartrand.
Photo: Jennifer Salt


Wimpy Kid's Third Wheel Rolls Out Next Week


Next week, Jeff Kinney will visit seven Midwest bookstores per day for seven days to celebrate the publication of his seventh book, Diary of a Wimpy Kid: The Third Wheel. Starting on the release date, November 13, he will sign books for 49 booksellers in a mix of large party events and smaller meet-and-greets in Kansas City, Mo., Minneapolis, Milwaukee, Chicago, Cincinnati, Detroit and Grand Rapids, Mich. The tour culminates in the third appearance of the Greg Heffley giant helium balloon in the Macy's Thanksgiving Day Parade in New York on November 22.
"It's my goal to visit as many stores as possible in order to express my thanks, and to meet as many fans as I can along the way," Kinney said. Two kinds of events were offered to booksellers. The largest, for up to 1,200 people, comes with a custom "Wimpy Kid Rolling Party" experience, complete with DJ and dance floor, food and photo ops with characters. Seven stores will take advantage of the large event style: Rainy Day Books in Kansas City; Barnes & Noble at the Mall of America, Bloomington, Minn.; Books & Co, Oconomowoc, Wis; Anderson's Bookshop, Naperville, Ill; Joseph Beth, Cincinnati; and Nicola's Books, Ann Arbor, Mich. Dozens of independent stores will feature a more intimate meet-and-greet event; many of these are already sold out.
More than 75 million Diary of a Wimpy Kid books are in print in 41 languages in more than 44 countries. Three movies based on the books have grossed more than $200 million worldwide.


Charlotte Gill Promoted to Director, Retail Field Sales at S&S
Charlotte Gill has been promoted to director, retail field sales, in Simon & Schuster's sales and distribution division, and will manage the company's retail field, telemarketing and telesales teams servicing independent retailers, educational jobbers and wholesale accounts. She will also sell adult, audio and adult distribution client lists to Hastings Entertainment.
Gill was formerly national accounts manager. Before that, she was sales director at Yale University Press, where she began as a field rep. Earlier she managed Book Haven, the New Haven, Conn., bookstore that was bought by Labyrinth Books.


PGW to Distribute Bilingual Books
Effective January 1, Bilingual Books will be distributed by Publishers Group West.
Bilingual Books, Seattle, Wash., publishes 40 titles in three language learning product lines for 20 languages: the 10 Minutes a Day Book Series, the 10 Minutes a Day Audio CD Series and the Language Map Series.


Book Trailer of the Day: Madly in Love with Me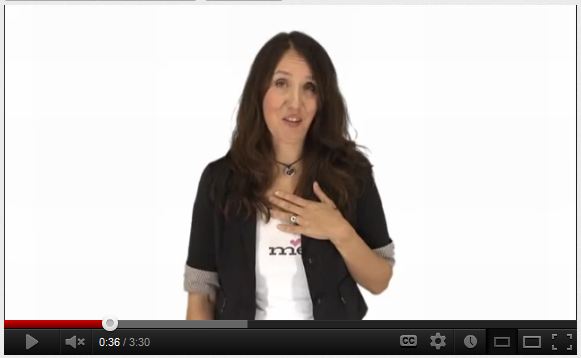 Madly in Love with Me: The Daring Adventure of Becoming Your Own Best Friend by Christine Arylo (New World Library).


Media and Movies
Media Heat: Paul Bracken on NPR's Talk of the Nation
This morning on Imus in the Morning: Mick Foley, author of A Most Mizerable Christmas (Brady Games, $16.99, 9781465403452).

---

Today on NPR's Talk of the Nation: Paul Bracken, author of The Second Nuclear Age: Strategy, Danger, and the New Power Politics (Times Books, $29, 9780805094305).




TV: Tao of Martha; Amazon's Browsers
Martha Stewart will executive produce Tao of Martha, a new comedy series for Fox based on upcoming memoir The Tao of Martha: My Year of LIVING; Or, Why I'm Never Getting All That Glitter Off of the Dog (NAL, June 2013). Deadline.com reported that the sitcom "centers on a highly disorganized, scattered former party girl who decides she needs to grow up after her husband leaves her because he can't handle her chaotic lifestyle anymore. She decides to kill two birds with one stone: become a better role model for her daughter and write a new book about changing her life according to the 'teachings' of Martha Stewart."

Austin Winsberg (Jake In Progress) will write the script and serve as showrunner, Deadline.com noted. He joins Stewart and Imagine's Brian Grazer and Francie Calfo as executive producers of the project.

---

Looking to compete with on-demand competitors Hulu and Netflix, which both offer original programming, Amazon "is close to greenlighting a musical comedy series" called Browsers, Variety reported.

Originally developed by David Javerbaum and 3 Arts Entertainment at CBS, the show "didn't get beyond the script stage" there. Browsers "revolves around four interns working at a Huffington Post-esque website, with musical elements woven into the narrative," Variety wrote, calling the project "a sign that Amazon is getting serious about fielding original programming."

Deadline.com observed that Amazon "is staying closer to the traditional network development process than fellow content streaming service Netflix, which opted to go straight to series with its first original series. Additionally, Browsers hails from a professional TV writer and a Hollywood production/management company. That is not the strategy Amazon laid out in May, which involved going after projects uploaded to Amazon Studios' site by aspiring creators."



This Weekend on Book TV: Tom Wolfe Live at Miami Book Fair
Book TV airs on C-Span 2 this week from 8 a.m. Saturday to 8 a.m. Monday and focuses on political and historical books as well as the book industry. The following are highlights for this coming weekend. For more information, go to Book TV's website.

Saturday, November 10
2:30 p.m. Gene Robinson presents his book God Believes in Love: Straight Talk About Gay Marriage (Knopf, $24, 9780307957887). (Re-airs Sunday at 10:45 p.m.)

3:45 p.m. Mary Brennan discusses her book Pat Nixon: Embattled First Lady (University Press of Kansas, $34.95, 9780700617715). (Re-airs Sunday at 8 p.m.)

4:45 p.m. Larry Schweikart talks about his book A Patriot's History of the Modern World: From America's Exceptional Ascent to the Atomic Bomb: 1898-1945 (Sentinel, $25, 9781595230324). (Re-airs Sunday at 10 p.m. and November 18 at 9:30 a.m.)

5:30 p.m. Ken Budd presents The Voluntourist: A Six-Country Tale of Love, Loss, Fatherhood, Fate, and Singing Bon Jovi in Bethlehem (Morrow, $15.99, 9780061946462).

7 p.m. Wayne Karlin discusses his book Wandering Souls: Journeys with the Dead and the Living in Viet Nam (Nation Books, $25.95, 9781568584058).

7:30 p.m. Beatrix Hoffman talks about her book Health Care For Some: Rights and Rationing in the United States Since 1930 (University of Chicago Press, $30, 9780226348032). (Re-airs Sunday at 11 a.m.)

8:30 p.m. Thomas Stanton presents his book Why Some Firms Thrive While Others Fail: Governance and Management Lessons from the Crisis (Oxford University Press, $45, 9780199915996). (Re-airs Monday at 5 a.m.)

10 p.m. After Words. USA Today's money reporter Jayne O'Donnell interviews David Cay Johnston, author of The Fine Print: How Big Companies Use 'Plain English' to Rob You Blind (Portfolio, $27.95, 9781591843580). (Re-airs Sunday at 9 p.m. Monday at 12 a.m. & 3 a.m., and November 18 at 11 a.m.)

11 p.m. Diana Furchtgott-Roth discusses her book Regulating to Disaster: How Green Jobs Policies Are Damaging America's Economy (Encounter, $23.99, 9781594036163). (Re-airs Monday at 2 a.m. and November 17 at 9:15 a.m.)

Sunday, November 11
9 a.m. John Turner talks about his book Brigham Young: Pioneer Prophet (Belknap Press, $35, 9780674049673).

6 p.m. From the Miami Book Fair International, Book TV features live coverage of Tom Wolfe, author most recently of Back to Blood (Little, Brown, $30, 9780316036313). Wolfe will speak and take questions from the audience. (Re-airs November 18 at 5:30 p.m. and November 19 at 6:30 a.m.)



Books & Authors
Awards: Roald Dahl Funny Prize; Wellcome Trust Book Prize
Winners of the 2012 Roald Dahl Funny Prize are My Big Shouting Day by Rebecca Patterson (six-and-under category) and Dark Lord: Teenage Years by Jamie Thomson (seven-to-fourteen category). Each received a check for £2,500 (US$3,994).

Chair of judges Michael Rosen commented: "I'm very proud of the fact that this is the fifth year of the Roald Dahl Funny Prize, an award I cooked up when I was Children's Laureate in order to celebrate books that make children laugh. That's five years worth of books which are written with fun and enjoyment in mind. We know that reading for pleasure is an engine for attainment and achievement in all walks of life. Children, parents, teachers, librarians and all concerned with reading can find a rich vein of books for all ages in the back lists of this Prize, and this year's shortlists and winners are engaging, fascinating and above all, very funny."

---

Thomas Wright won the £25,000 (US$39,961) Wellcome Trust Book Prize, which honors a work of fiction or nonfiction a health or medical theme, for Circulation: William Harvey's Revolutionary Idea, the Associated Press (via the Washington Post) reported.

Mark Lawson, who chaired the judging panel, said the book "combines scholarly science with such narrative excitement that it will be a great surprise if we do not eventually see Circulation: The Movie."



GBO Picks The Island of Second Sight
For its November Book of the Month, the German Book Office has chosen The Island of Second Sight by Albert Vigoleis Thelen, translated by Donald White, published September 13 by Overlook Press ($29.95, 9781468301168).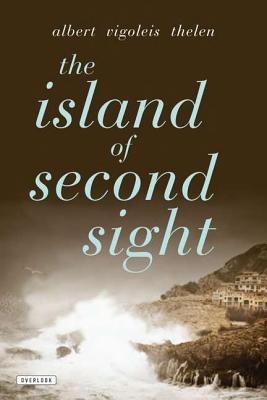 The GBO wrote: "Unavailable to English readers for more than 50 years, The Island of Second Sight is a literary tour de force, a Bolaño-esque sage of World War II. First published in Germany in 1953, it became a bestseller and has never been out of print. It is the fictionalized autobiography of the author and his wife's years on Mallorca in the early 1930s. Low on money, they seek shelter in a brothel for bullfighters. Narrator Vigoleis is an inventor who doubles as a writer-secretary, and as the couple befriends literary figures and Jews, they make enemies of the Nazis, and then the Spanish Civil War erupts, presenting new challenges to their escape plan.

"Thelen is a wonderfully gifted narrator, with burlesque humor and a delightful cynicism. The Island of Second Sight, often compared to Don Quixote, is a vivacious, furious, and funny book that will enrich and surprise."

Albert Vigoleis Thelen (1903-1989) was a German writer and translator. During the rise of the Nazi regime, he lived on Mallorca with Beatrice Bruckner, whom he married in 1934. The Island of Second Sight won the Fontane Prize when it was published.

Translator Donald O. White is a Professor of German at Amherst College.




Book Review
Review: The Inexplicables
The Inexplicables by Cherie Priest (Tor, $14.99 paperback, 9780765329479, November 13, 2012)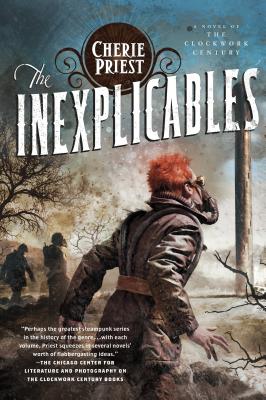 Cherie Priest's 2009 novel Boneshaker introduced readers to the "Clockwork Century," a steampunk-flavored alternate 19th-century where the Civil War went on for decades and downtown Seattle had been decimated by the release of a subterraneous gas, known as "the Blight," that turned victims into zombie-like "rotters." While the sequels Dreadnought and Ganymede expanded the fictional territory across much of North America, Priest circles back to the Pacific Northwest in The Inexplicables, subtly pivoting her story in a new direction.
She begins by picking up a small thread from Boneshaker: when one of that novel's central characters, Zeke Wilkes, wanted to get into the walled-off ground zero of downtown Seattle, he was shown the way in by a teenage orphan named Rector. Six months later, Rector assumes Zeke must be dead; an addiction to sap, a drug distilled from the blight gas, does nothing to ease his guilty feelings. Thrown out of the orphanage on his 18th birthday, and cut off by his sap connection, Rector decides to break into the walled city to find his friend's corpse. He soon realizes Zeke is not only not dead, but thriving among the outcast society that chooses to live in Seattle's underground tunnels--but that discovery comes only after Rector is nearly killed by a creature too big (and too cunning) to be just another rotter.
Priest uses Rector's status as a new arrival to introduce new readers to the cast of characters she's built up over the previous three novels, but in a way that won't bore longtime fans. (Just about everybody's gone through a few personal changes since we've seen them last.) Rector falls into a mildly combative friendship with Zeke and his mechanically inclined pal Houjin as they introduce him to his new community, then help him when he's recruited by the local crime lord to investigate a possible incursion by rival gangs. Instead of the breakneck action of her most recent novels, in The Inexplicables Priest employs a more measured, exploratory pace. (There is action, to be sure, but it's much more contained.) Just as Rector and his friends roam up to the edges of their territory, she's probing the world that she's created, teasing out new aspects of the familiar landmarks, then laying out early signs of the next direction--because it's very clear that there's at least one more installment of the Clockwork Century yet to come. --Ron Hogan
Shelf Talker: Newcomers can pick up The Inexplicables without any substantial difficulty, but there's an extra layer of enjoyment if you know the backstory--and its three predecessors are just such fun, anyhow.