Shelf Awareness for Thursday, November 15, 2012

News
National Book Awards Survive the Storm
"Do you want to see the National Book Foundation's new phone system?" executive director Harold Augenbraum said as guests began arriving at Cipriani Wall Street for last night's National Book Awards ceremony. He pulled his cell phone out of his jacket pocket: "Here it is." The Foundation's office building in lower Manhattan was hit especially hard by Hurricane Sandy, leaving the staff just two weeks to organize the annual production from desks and kitchen tables at home.
NBA winners Alexander, Boo, Erdrich, Ferry.
You wouldn't have known it from the evening's flawless execution: NPR's Faith Salie gave her all as master of ceremonies, joking about recent press reports about attempts to glam up the show. "From where I stand," she quipped, "looking out at your sexy, sexy faces, you are all post-dowdy." New York Times chairman and publisher Arthur O. Sulzberger, Jr., accepted the Literarian Award for outstanding service to the American literary community, taking the opportunity to reflect on the enduring appeal of literature. "When our laptops and iPads and e-readers ran out of life" in the chaos after the hurricane, he reflected, "we turned to books, reading them by candlelight." (He also assured the audience that "books will remain, and will always be, part of the conversation at the Times.") Martin Amis introduced Elmore Leonard, the recipient of the medal for distinguished contribution to American letters, calling his writing "as American as jazz" and observing that "the [thriller] genre cannot hold him anymore than science fiction could hold Kurt Vonnegut or J.G. Ballard." Leonard himself cheerfully noted that "my books aren't exactly plot-driven. They're about people, with guns, in dire situations." He also tipped his hat to George V. Higgins as an author who pointed him in the direction of his distinctive voice; after reading The Friends of Eddie Coyle, Leonard said, "I stopped trying to tell what was going on in my books and began to show it."
After an intermission for dinner, the main awards were presented. William Alexander won the young people's literature award for Goblin Secrets (Margaret K. McElderry/S&S), while David Ferry took the poetry prize for Bewilderment (University of Chicago Press). As he presented the nonfiction award to Katherine Boo, judge Woody Holton praised Behind the Beautiful Forevers (Random House) as the debut of "a new genre of nonfiction," rooted in immersive observation and interviewing in a slum community in India over an extended period of time that reminds readers that "good listening is an ethical act." Finally, Louise Erdrich won the fiction prize for The Round House (Harper), literally speechless as she came to the podium. Finally, tears in her eyes, she offered a greeting in Ojibwe "for all of the Native people watching this on livestream," and thanked her publishers and family before also expressing her gratitude to the judges for selecting her novel about an Ojibwe family's search for justice after a traumatic attack: "Thank you," she concluded, "for giving [this book] a wider audience." --Ron Hogan


Jennifer Bigelow Resigning as SCIBA Executive Director
Effective December 31, Jennifer Bigelow is resigning as executive director of the Southern California Independent Booksellers Association after 13 years, saying that her focus needs to be on her family.

"I have had the most amazing professional experience and opportunities helping to build a regional association that Southern California independent booksellers can benefit from and be proud to be a part of," Bigelow said. "I want to especially thank the SCIBA presidents I have served under, as well as my colleagues from SCIBA's sister regional associations. The executive directors of the regional associations and staff at the American Booksellers Association have mentored and guided me and SCIBA these past 13 years."

SCIBA president Mary Williams of Skylight Books, Los Angeles, thanked Bigelow for her service and said, "Her work has built SCIBA into the organization it is today, and has raised the profile of Southern California's literary community nationwide. Her imprint on Southern California bookselling will never be forgotten, and we wish her the very best. On a personal note, it has been an absolute pleasure working with her as a member of the SCIBA board for these past two years, and I will greatly miss her insights and guidance as we move forward."

During Bigelow's tenure, SCIBA's annual fall authors dinner has expanded to include seminars and a trade show. The organization also has added an annual children's books & literary brunch, added several literary prizes, and more.

At Shelf Awareness, we've always found Jennifer a joy to work with and we're sorry to see her leave.


Bookstore Sales Drop 8.3% in September
September bookstore sales fell 8.3%, to $1.396 billion, compared to September 2011, according to preliminary estimates from the Census Bureau. For the year to date, bookstore sales have fallen 1.6%, to $11.642 billion. The month-to-month comparison was likely hurt because the last Borders stores closed at the end of September 2011 and held huge, discounted closure sales.

In January, bookstore sales were even with the same period in the previous year, while in February and March, bookstore sales dropped 4% and 3.8%, respectively, then rebounded in April by 3.8%, in May by 5.7%, in June by 3.8% and in July by 1.2%. In August, sales fell by 0.8%, the first drop in bookstore sales since March.

Total retail sales in September rose 3.1%, to $391.2 billion, compared to September 2011. For the year to date, total retail sales have risen 5.6%, to $3,600 billion.

Note: under Census Bureau definitions, bookstore sales are of new books and do not include "electronic home shopping, mail-order, or direct sale" or used book sales.




Sandy Update: R.J. Julia's Truckload of Relief Supplies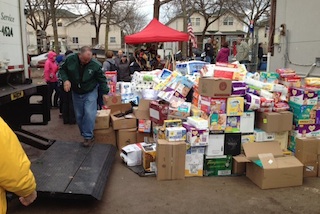 R.J. Julia Booksellers, Madison, Conn., wound up with so many items for its Fill-A-Truck donation drive to benefit victims of Hurricane Sandy in Staten Island, N.Y., that it had to shift from a 15-ft. truck to a 24-ft. truck, lent by O'Neill & Sons moving company. (Another co-sponsor for the relief effort was First Niagara Bank.) Contributions, from a list requested by the Unitarian Church of Staten Island, included brooms, crowbars, contractor bags, personal toiletries and more. The full truck was driven to Staten Island by a volunteer and Kevin Coady, husband of R.J. Julia owner Roxanne Coady. Here the truck is unloaded in Staten Island.


Wesleyan University Considering Bookstore Move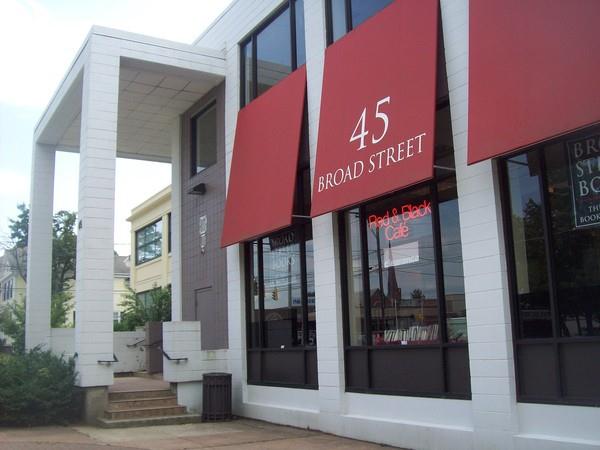 Wesleyan University, Middletown, Conn., is considering moving Broad Street Books, its bookstore, to a possible development off campus, the Hartford Courant wrote. The store would be the anchor tenant. It was unclear if the Red and Black Café, which is in the bookstore but owned separately, would move with the bookstore.

The main developer said the project is "in the discussion phase."

A Wesleyan blog post commented: "The potential benefits to Wesleyan would be a long-term reduction in our overhead costs for our current model of the bookstore, and we hope the new businesses would enhance connections between the campus and downtown."

Some students aren't happy about the proposed move, saying that the store is too far from the center of campus already, according to the Wesleyan Argus. One student told that paper, "I think it's a poor idea to have the bookstore moved. We should be looking to move it closer to campus."




Quail Ridge Books & Music for Sale
Nancy Olson, owner and founder of Quail Ridge Books & Music, Raleigh, N.C., is putting the bookstore up for sale. At 71, Olson said, she wants to retire and spend more time with her husband, Jim. The couple plans to travel and spend time with friends and family. She is also looking forward reading more, saying, "I'll always be Quail Ridge's No. 1 customer. I still expect a discount." Olson is willing to serve in an advisory role to the store to help the new owner make a smooth transition.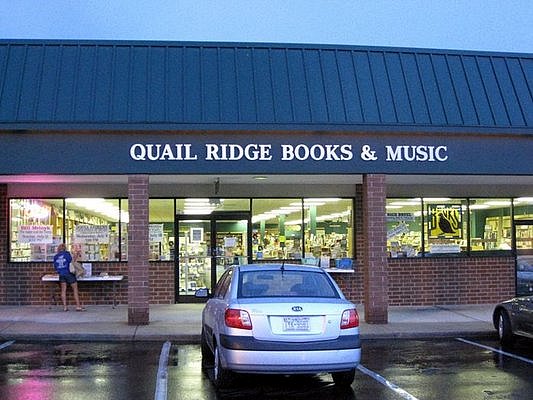 Founded in 1984, Quail Ridge had sales of $3 million last year. The 9,400-sq.-ft. store sells books, CDs, stationery, calendars and gift items. It stocks about 70,000 titles.

Quail Ridge has been named Publishers Weekly's Bookseller of the Year and won the Pannell Award for Excellence in Children's Bookselling and the Haslam Award for Excellence in Bookselling.

Quail Ridge is known for an extensive events program and has nurtured many local writers, including Lee Smith, Kaye Gibbons, Jill McCorkle and Charles Frazier. Some 17,500 households belong to the store's loyalty program.

The Bookstore Training Group of Paz & Associates is handling the sale of the store. Mark Kaufman can be reached at MKaufman@PazBookBiz.com or 904-277-2664.




Notes
Image of the Day: Dancers Among Elliott Bay Book Company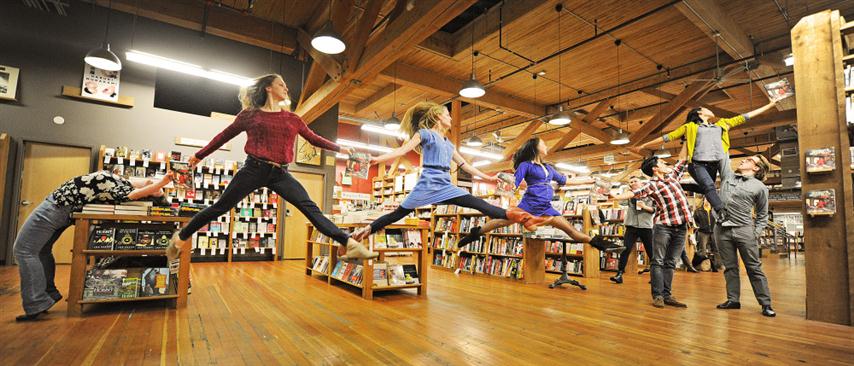 On Monday, photographer Jordan Matter gave Elliott Bay Book Company, Seattle, Wash., a behind-the-scenes look at his latest photo collection, Dancers Among Us (Workman). Then, as everyone looked on, he did an impromptu shoot with members of the Pacific Northwest Ballet. As bookseller Karen Maeda Allman commented: "I've done some shelving in my time but it never looked quite like this." (If you haven't seen it, check out the wonderful book trailer.)


Executive Changes at Abrams
Abrams has made the following changes:
Steve Tager has been named senior v-p, chief marketing and business development officer, responsible for marketing and publicity as well as new business initiatives, including digital. He was formerly senior v-p and publisher.
Deborah Aaronson has been promoted to v-p, publisher for the adult trade group. She has been with the company since 2000, most recently as associate publisher for the adult trade group.
Mary Wowk, v-p of sales, who is responsible for sales in North American, will broaden her focus to include the rest of the world, working to expand English-language sales with the help of Abrams & Chronicle Books in London and seeking out opportunities to expand Abrams's business internationally.
Elisa Urbanelli has returned to Abrams as associate publisher for the adult trade group and will acquire several categories with a focus on art and museum publications. She first worked for Abrams in 1994, has been a managing editor for the Fine Arts Museums of San Francisco and was most recently a freelance editor.




Book Trailer of the Day: The Night Santa Got Lost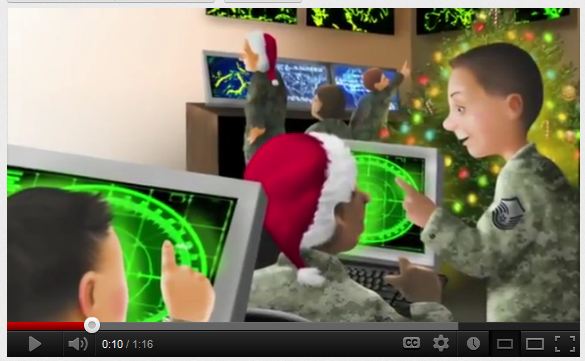 The Night Santa Got Lost: How NORAD Saved Christmas by Michael Keane and Michael Garland (Regnery Kids).


Media and Movies
Media Heat: Jon Ronson Lost at Sea on the Cycle
This morning on Imus in the Morning: Greg Gutfeld, author of The Joy of Hate: How to Triumph Over Whiners in the Age of Phony Outrage (Crown Forum, $26, 9780307986962).
---
Tomorrow on the View: Oliver Stone and Peter Kuznick, authors of The Untold History of the United States (Gallery, $30, 9781451613513).

---

Tomorrow on MSNBC's the Cycle: Jon Ronson, author of Lost at Sea: The Jon Ronson Mysteries (Riverhead, $26.95, 9781594631375).

---

Tomorrow on NPR's Science Friday: Sean Carroll, author of The Particle at the End of the Universe: How the Hunt for the Higgs Boson Leads Us to the Edge of a New World (Dutton, $27.95, 9780525953593).

Also on Science Friday: James Watson, Alexander Gann and Jan Witkowski, authors of The Annotated and Illustrated Double Helix (Simon & Schuster, $30, 9781476715490).




This Weekend on Book TV: Mark Bowden
Book TV airs on C-Span 2 this week from 8 a.m. Saturday to 8 a.m. Monday and focuses on political and historical books as well as the book industry. The following are highlights for this coming weekend. For more information, go to Book TV's website.

Saturday, November 17
8 a.m. John Fonte, author of Sovereignty or Submission, speaks at the 2012 Paolucci/Bagehot Book Award Dinner, where he was honored as this year's winner. (Re-airs Sunday at 6:45 p.m.)

10 a.m. Book TV's live coverage of the Miami Book Fair International continues with more than 14 hours of coverage, including 10 author talks/panel discussions and 8 author interview segments with viewer participation (via Facebook, tweets, calls and e-mails). (Re-airs Sunday at 12 a.m.)

10 p.m. After Words. Daryl Scott interviews James T. Patterson, author of The Eve of Destruction: How 1965 Transformed America (Basic Books, $28.99, 9780465013586). (Re-airs Sunday at 9 p.m. Monday at 12 a.m. and 3 a.m., and November 25 at 12 p.m.)

11 p.m. Greg Lukianoff discusses his book Unlearning Liberty: Campus Censorship and the End of American Debate (Encounter Books , $25.99, 9781594036354).

Sunday, November 18
10 a.m. Book TV's live coverage of the Miami Book Fair International continues.

8 p.m. Mark Bowden presents his book The Finish: The Killing of Osama Bin Laden (Atlantic Monthly Press, $26, 9780802120342).

10 p.m. David Mamet talks about his book The Secret Knowledge on the Dismantling of American Culture (Sentinel Trade, $16, 9781595230973).

11:15 p.m. Alfred Zacher discusses his book Presidential Power in Troubled Second Terms: A Historical Look at the Second Term (Telemachus Press, $14.99, 9781937698386).



Books & Authors
Awards: National Outdoor Book Awards
The winners of the National Outdoor Book Awards, sponsored by the National Outdoor Book Awards Foundation, Idaho State University and the Association of Outdoor Recreation and Education, are:

Outdoor Literature winners:
Almost Somewhere: Twenty-Eight Days on the John Muir Trail by Suzanne Roberts (University of Nebraska Press)
The Ledge: An Adventure Story of Friendship and Survival on Mount Rainier by Jim Davidson and Kevin Vaughan (Ballantine)

Outdoor Literature honorable mention: Before They're Gone: A Family's Year-Long Quest to Explore America's Most Endangered National Parks by Michael Lanza (Beacon Press)

Natural History Literature winner: The Forest Unseen: A Year's Watch in Nature by David George Haskell (Viking)

History/Biography winners:
Buried in the Sky: The Extraordinary Story of the Sherpa Climbers on K2's Deadliest Day by Peter Zuckerman and Amanda Padoan (Norton)
Anything Worth Doing: A True Story of Friendship and Tragedy on the Last of the West's Great Rivers by Jo Deurbrouck (Sundog Book Publishing)

Design and Artistic Merit winner: Beneath the Cold Seas: The Underwater Wilderness of the Pacific Northwest by David Hall (University of Washington Press)

Children's winner: For the Birds: The Life of Roger Tory Peterson by Peggy Thomas, illustrated by Laura Jacques (Calkins Creek).

Nature and the Environment winner: The Melting Edge: Alaska at the Frontier of Climate Change by Michael Collier (Alaska Geographic Association)

Nature and the Environment honorable mentions:

Spring Wildflowers of the Northeast: A Natural History by Carol Gracie (Princeton University Press)
Polar Bears: A Complete Guide to Their Biology and Behavior by Andrew E. Derocher. photographs by Wayne Lynch (John Hopkins University Press)

Instructional/How-to winners:

AMC Guide to Outdoor Digital Photography: Creating Great Nature and Adventure Photos by Jerry Monkman (Appalachian Mountain Club)
Backpacker Magazine's Complete Guide to Outdoor Gear Maintenance and Repair: Step by Step Techniques to Maximize Performance and Save Money by Kristin Hostetter (Falcon Guides)

Outdoor Adventure Guidebooks winner: Grand Canyoneering: Exploring the Rugged Gorges and Secret Slots of the Grand Canyon by Todd Martin (Todd's Desert Hiking Guide)

Nature Guidebooks winner: A Field Guide to the Southeast Coast & Gulf of Mexico by Noble S. Proctor and Patrick J. Lynch (Yale University Press)




IndieBound: Other Indie Favorites
From last week's Indie bestseller lists, available at IndieBound.org, here are the recommended titles, which are also Indie Next Great Reads:

Hardcover
Mrs. Queen Takes the Train: A Novel by William Kuhn (Harper, $25.99, 9780062208286). "The Queen has tried to stay up to date, practicing yoga and learning to surf the Internet, but decades of pomp and circumstance have taken their toll and Her Majesty needs a break. She sets off alone--well-disguised in a skull-motif hoodie--on a train to Scotland, only to be pursued by a motley crew of royal attendants determined to bring her home before she creates a royal scandal. This debut novel is thoroughly fresh and charming, an imaginative story about the most famous woman who almost no one really knows." --Jody Misner Chwatun, Saturn Booksellers, Gaylord, Mich.

The Middlesteins: A Novel by Jami Attenberg (Grand Central, $24.99, 9781455507214). "Just when you think you're done reading about dysfunctional American families, a novel like The Middlesteins comes along and blows you away. You will become deeply invested in the loves and longings of the eponymous, semi-chaotic Jewish clan from Chicago. There's Edie, the tough, fierce matriarch who can't stop eating; Richard, the husband who leaves her; and Robin and Benny, the adult children, distracted by troubles of their own. Attenberg proves that there is still much more left to say--about family, heartache, and food--and so many fresh and funny ways to say it." --Elizabeth Sher, Politics & Prose Books and Coffee Shop, Washington, D.C.

Paperback
The Cold Cold Ground: A Detective Sean Duffy Novel by Adrian McKinty (Seventh Street Books, $15.95, 9781616147167). "McKinty drew on his own childhood in war-torn Northern Ireland to write this police procedural featuring Sean Duffy, a Roman Catholic cop stationed in a small Protestant police station outside Belfast in 1981, who is assigned to solve a gruesome murder that may be the work of a serial killer. McKinty evokes the everyday life of a community that is never too far from a bomb blast. The dry humor of the police station and the smart, complicated character of Duffy himself add extra layers of interest. A brilliant writer at the top of his already formidable game!" --Seana Graham, Bookshop Santa Cruz, Santa Cruz, Calif.

For Ages 9 to 12
Prairie Evers by Ellen Airgood (Nancy Paulsen Books, $15.99, 9780399256912). "A coming-of-age story with chickens? Prairie Evers is a girl who prefers chickens over children, dictionaries over computers, and homeschooling over classrooms. Unfortunately, she is outvoted on the last one. How does a homeschooled North Carolina mountain girl fit into an upstate New York fifth grade class? As Prairie would say, it's not all that easy to bring new chickens into the flock!" --Jeanne Snyder, Books & Books, Coral Gables, Fla.

[Many thanks to IndieBound and the ABA!]




Book Review
Review: Saul Steinberg: A Biography
Saul Steinberg: A Biography by Deirdre Bair (Nan A. Talese/Doubleday, $40 hardcover, 9780385524483, November 20, 2012)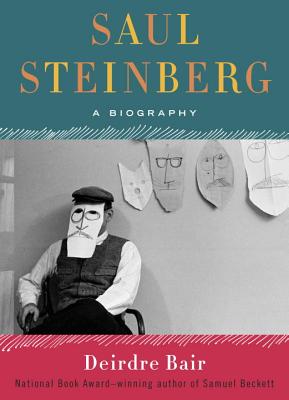 Many people may not know who Saul Steinberg is--at least not by name. Show them a few of his thousands of New Yorker illustrations, though, and they might know who you're talking about. And none of his works embodied his irony and sketchbook way of storytelling more than his endlessly reproduced and adapted New Yorker cover from 1976 "View of the World from 9th Avenue." Mention that, and everyone nods and says "Oh, that guy."
The accomplished biographer Deirdre Bair (Samuel Beckett, Anaïs Nin) admirably fleshes out the complicated life of a man who brought smiles, puzzling looks and outright laughs to so many. Saul Steinberg was an immigrant Romanian with a tyrannical mother who fell in love with his adopted United States. Although an inveterate traveler, he was considered the quintessential New York City resident. A constant reader with a fanatical devotion to Joyce's Ulysses and Finnegans Wake, he confined his own writing to letters and "doodles." After struggling in poverty as an architecture student in Milan, he leveraged a modest annual New Yorker stipend into a significant fortune by preserving the rights to his art and carefully investing the proceeds from reprints and commercial commissions. A lifetime philanderer, he nonetheless remained attached to two women for decades and financially supported them both after separation. Steinberg was a shy introvert who became a devoted and generous friend to everyone from Ionesco to Ian Frazier and conversationally dominated the frequent dinner parties in his robust social calendar.
With access to Steinberg's friends, letters and personal archives, Bair is able to weave together the subtleties of the contradictory man behind the art. She posits that it is Steinberg's own ambiguity, amusement and bemusement that permeate his drawings and make them so memorable. Whether he was "doodling" a page of personified punctuation marks, a meandering line of imaginary words, a weird architectural fantasy, or one of his slightly cockeyed maps of his travels, Steinberg was always an artist fulfilling his self-described role as the "writer who draws" and pursuing his objective to "make people jittery." Bair's study is an apt tribute to the life of an artist who defined the ambience of the New Yorker for nearly five decades. --Bruce Jacobs
Shelf Talker: A National Book Award winner for her Beckett bio, Bair digs behind the squiggly lines and quirky humor of the New Yorker's most recognizable "cartoonist."


The Bestsellers
Top-Selling Self-Published Titles
The bestselling self-published books last week as compiled by IndieReader.com.

1. The Secret of Ella & Micha by Jessica Sorensen
2. Guinness World Records 2013
3. The Science of Good Cooking by the Editors of America's Test Kitchen and Guy Crosby
4. LEGO Ninjago: Character Encyclopedia
5. Losing It by Cora Carmack
6. Checkmate by R.L. Mathewson
7. Down to You by M. Leighton
8. Fade into You by Kate Dawes
9. Fade into Me by Kate Dawes
10. The Unwanted Wife by Natasha Anders

[Many thanks to IndieReader.com!]