Shelf Awareness for Friday, December 14, 2012

News
Bookstore Sales Bounce Back in October, Up 4.6%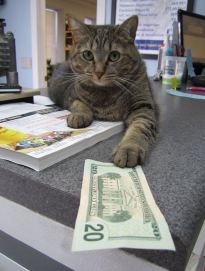 October bookstore sales rose 4.6%, to $914 million, compared to October 2011, according to preliminary estimates from the Census Bureau. For the year to date, bookstore sales have fallen 1.3%, to $12.546 billion.

In January, bookstore sales were even with the same period in the previous year, while in February and March bookstore sales dropped 4% and 3.8%, respectively, then rebounded in April by 3.8%, in May by 5.7%, in June by 3.8% and in July by 1.2%. In August, sales fell by 0.8%, the first drop in bookstore sales since March, and fell 8.3% in September (which was a boom month in bookstore sales in 2011 because of the Borders liquidation).

Total retail sales in October rose 5.2%, to $404.3 billion, compared to October 2011. For the year to date, total retail sales have risen 5.5%, to $4,004 billion.

Note: under Census Bureau definitions, bookstore sales are of new books and do not include "electronic home shopping, mail-order, or direct sale" or used book sales.
image: macsworldwide.wordpress.com


Apple, Publishers Settle EU Antitrust Probe
Apple and four publishers--Simon & Schuster, HarperCollins, Hachette and Holtzbrinck, parent company of Macmillan--officially ended a European Union antitrust investigation after regulators accepted their settlement offer to overhaul pricing for digital books, Bloomberg reported. Such settlements allow regulators to end an investigation without imposing fines or determining that the companies violated competition rules.

Under the terms of the settlement, Apple and the publishers "will avoid any agreement limiting retailers' pricing for five years and the publishers will also allow retailers to discount e-books for two years," the European Commission said.

The EU added that Penguin is "in constructive discussions" on a possible offer to end the probe, Bloomberg wrote. In a statement, Penguin said its position "has been--and remains--that we have done nothing wrong. As a practical matter, we are settling in the interests of clearing the decks before the new company is established."

Joyce Lorigan, a spokeswoman for Macmillan, said Holtzbrinck Group believes "it is in the best interests of our European business to have agreed on these settlement terms and we are pleased now to be able to move forward with developing our e-book business."

Hachette U.K. said it "is engaged in productive discussions with the e-book agents to ensure that our agreements conform to the terms of the settlement. In France there is a retail price-setting law."

London competition lawyer James Marshall told the Wall Street Journal that the time limitations on the commitments indicate "regulators don't want to take any steps that might prejudice how the e-book market will develop, while at the same time trying to facilitate effective pricing competition in the future."



Bertelsmann's Mohn on Penguin Merger, Future of Books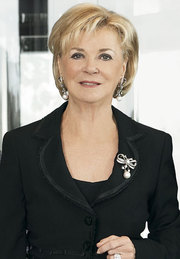 "Books do mean a lot to me: Bertelsmann grew big on books, and I myself grew up with them," Liz Mohn told the Telegraph in her first public comments since her company announced that it would merge Random House and Penguin. "We will continue to publish books for a mass public as well as works for smaller readerships. The planned combination will give authors from all genres even more publishing options for the success of their books." She also said she believed e-books will "coexist comfortably" with traditional printed books. Mohn took over the company after the death of her husband, Reinhard, in 2009.

The Telegraph noted that Bertelsmann's 53% stake in Penguin Random House "could intensify the spotlight on the Mohn family. The next big reshuffle is expected in four years' time, when Liz Mohn will pick either Christoph or Brigitte to succeed her as family spokesperson. Neither is likely to rebel against her firm ideas of what the job entails."

According to Mohn, "Bertelsmann has a unique corporate culture that extends to the aspect of social responsibility as well. As the family spokesperson, I consider it as one of my most important jobs to preserve and continually develop this culture."



Are Dedicated E-Readers Dying? Yes & No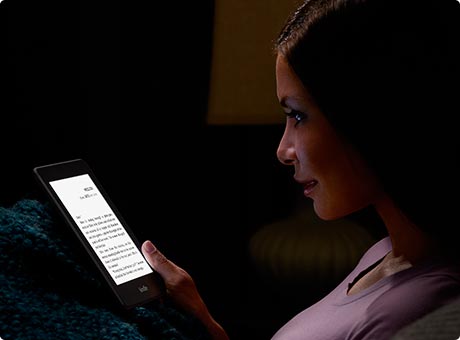 A new study by IHS iSuppli released this week suggested the "rapid rise of tablets is driving the e-book reader market to an equally rapid fall," CNET reported, citing predictions that shipments of e-book readers "will tumble 36% this year to 14.9 million units and then drop another 'drastic' 27% next year to 10.9 million units. By 2016, IHS iSuppli predicted the e-book reader market will total just 7.1 million units," down precipitously from 23.2 million in 2011.

Tablet sales will rise dramatically during this period, with the study anticipating that the "electronics industry should ship 120 million tablets this year and 340 million by 2016," CNET wrote.

But paidContent countered that while it is not surprising fewer people are buying dedicated e-readers, "it doesn't correlate that e-readers are going extinct. E-readers also have major benefits over tablets. They weigh a lot less, their battery life is much better and their screens are easier to read on. For avid readers, those are major benefits. Front-lit e-readers--the Kindle Paperwhite, Nook with GlowLight and Kobo Glo--are an evolution and an example of how e-readers can continue to get better without adding tablet-like functions. That said, it's not essential to replace an e-reader that often.... It's also clear (and obvious) that, for people who don't read much, a tablet is a better choice than an e-reader. But just as professional photographers aren't throwing out their SLRs for an iPhone, heavy readers won't swap their e-reader for a tablet--though they might own both."



New Owners for Morgan Hill Bookstore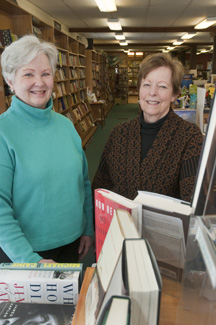 Connie Appel and Peggy Holliday, co-owners of the Morgan Hill Bookstore, New London, N.H., have found a prospective buyer for their 2,000-square-foot store. Holliday told the Washington Post's book critic Ron Charles, whose family owns a home in the area, that they have a verbal agreement with "a wonderful young couple" and expect the new owners to take over in July.

Charles confessed to fantasizing about living the bookseller's life himself when he first heard the bookshop was for sale. "My family and I have been patrons of Morgan Hill since it opened in 1995, and it was fun to imagine my younger daughter running the little cafe we'd add in the back," he wrote. "My wife and I would host readings with Molly Ivins and John Updike (yes, part of the fantasy involves bringing authors back from the grave). Alas, it's not to be.... Congrats, wonderful young couple. You're living our dream."




Amazon Kindle Store Launches in China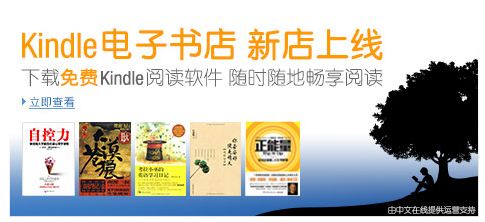 Amazon has launched a Kindle store for China, featuring Chinese e-books "for the mobile Kindle application, in a move that could soon see the device launched in China," Reuters reported, noting that the Kindle has already received authorization from China's radio regulator.

Although Hanwang Technology e-readers and Shanda Cloudary's Bambook currently dominate the country's digital reader market, many Chinese buy Kindles from overseas.

"It seems like there is pent-up demand for Amazon's Kindle," said Mark Natkin of Marbridge Consulting in Beijing. "Amazon is a well-regarded brand both in terms of quality of its products and in terms of its service."



Notes
Image of the Day: Rocking Billboards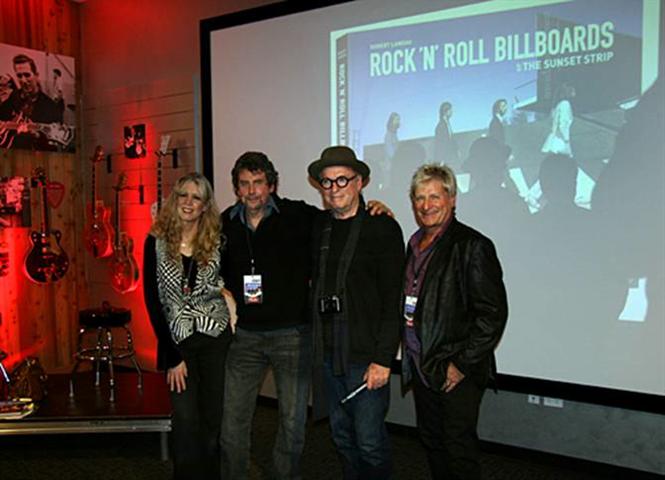 Photographer Robert Landau discussed and signed Rock 'n' Roll Billboards of the Sunset Strip (Angel City Press) at the Fender Visitor Center in Corona, Calif., last week. A panel discussion followed with (from l.) Cynthia Fox (KLOS Radio), author Robert Landau, artist John Van Hamersveld and Del Breckenfeld from Fender. A portion of the proceeds benefited the Fender Music Foundation, which helps put music education in schools.


Happy 10th Birthday, Book Oasis!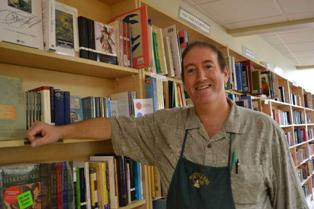 Congratulations to Dan and Deb Sullivan, co-owners the Book Oasis, Stoneham, Mass., which is celebrating 10 years in business this week. Yesterday, the Boston Globe profiled the Book Oasis, along with Bestsellers Café in Medford, as examples of indies looking for ways to thrive in a challenging economy.

"The story of these two small booksellers is not an uncommon one, I'm sure," the Globe noted. "Any number of cities and towns north of Boston have an independent bookstore in their midst that steps up to the mark in similar fashion.... Within walking distance of your front door--or perhaps a short drive away should the weather acquire a wintry edge--there's a local bookseller you should meet, face to face, who's better than any Internet site at guiding you to an interesting title."



Personnel Changes at Little, Brown
Little, Brown has made the following changes:
Heather Fain has been promoted to v-p, associate publisher and marketing director. She had been v-p, marketing director, since 2008.
Nicole Dewey has been promoted to v-p, executive director of publicity. She was formerly executive director of publicity.
Sabrina Callahan has been promoted to director of publicity, James Patterson. She joined Little, Brown in 2007 and last year became publicist for James Patterson.
Theresa Giacopasi has been promoted to online publicity manager. She was formerly online senior publicist.
Alexis Gilbert has been promoted to coordinator, James Patterson. She was formerly sales and marketing assistant for the Patterson brand.


Book Trailer of the Day: A Kiss Before You Go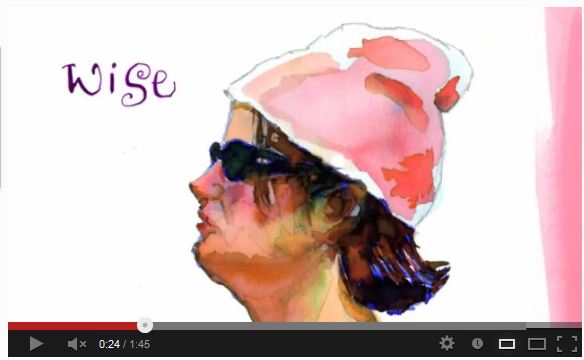 A Kiss Before You Go: An Illustrated Memoir of Love and Loss by Danny Gregory (Chronicle Books).


Media and Movies
Media Heat: Mike Isabella on CBS This Morning
Tomorrow on CBS This Morning: Mike Isabella, author of Mike Isabella's Crazy Good Italian: Big Flavors, Small Plates (Da Capo Lifelong Books, $35, 9780738215662).


Movies: Harry Potter Mini Movie; Les Misérables Featurettes
A Harry Potter "mini movie" is being filmed at the Harry Potter studios in Hertfordshire, England, according to Entertainment Weekly, which said the film "will appear exclusively at the Wizarding World of Harry Potter themed area at Universal Orlando's Islands of Adventure in Florida, as well as Potter-themed areas under construction at Universal Studios Japan and Universal Studios Hollywood."

---

Universal has released four featurettes for Tom Hooper's Les Misérables, "highlighting Eve Stewart's production design, Paco Delgado's costume design, the hair & make-up, as well as the new original song 'Suddenly,' " the Film Stage reported, noting that it "wouldn't be award season without studios clamoring to remind voters of the many categories they want their contenders to be considered for." The film, based on the stage musical adaptation of Victor Hugo's novel, hits theaters Christmas day.


Books & Authors
Awards: Marsh Children's Lit in Translation; GBO Translation Prize
Finalists have been named for the biannual £2,000 (US$3,209) Marsh Award for Children's Literature in Translation, which celebrates the "high quality and diversity of translated fiction for young readers." The winner will be announced January 23, the Bookseller reported. The shortlisted translators are:


Lucia Grave: The Midnight Train by Carlos Ruiz Zafron (translated from the Spanish)
Fatima Sharafeddini: My Own Special Way by Mithaa Akhayyat, retold by Vivian French (Arabic)
Howard Curtis: In the Sea There Are Crocodiles by Fabio Geda (Italian)
Ros and Chloe Schwartz: The Little Prince by Antoine de Saint-Exupéry (French)
Karin Chubb: Themba by Lutz van Dijk (German).
---
Kurt Beals has won the first German Book Office Translation Prize, an unusual competition in which participants were asked to translate a 700-word extract of a German novel not yet published in English. Beals won a $600 commission to translate the first 15 pages of the novel, Gesellschaft mit beschraenkter Haftung by Nora Bossong. Elizabeth Janik was the runner up, and both translators will be added to the GBO and Goethe Institute translator databases.
Submissions for the prize were limited to translators who had no more than one translated book published in English and live in the U.S. Beals is a Ph.D. candidate in German literature and culture at the University of California at Berkeley.
The first round of judging was done by three American editors: Jenna Johnson from Houghton Mifflin Harcourt, John Siciliano from Penguin and Lexy Bloom of Random House. The shortlist of nine was judged by three veteran translators: Susan Bernofsky, Burton Pike and Ross Benjamin.


Book Brahmin: Ellen Forney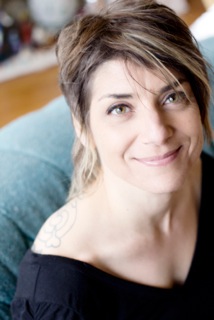 Cartoonist Ellen Forney grew up in Philadelphia and has lived in Seattle since 1989. She created the Eisner-nominated comic books I Love Led Zeppelin and Monkey Food, and collaborated with Sherman Alexie on the National Book Award-winning novel The Absolutely True Diary of a Part-Time Indian. She has been teaching comics at Cornish College of the Arts since 2002. Forney swims, does yoga and fixes things with rubber bands and paper clips. Marbles: Mania, Depression, Michelangelo & Me: A Graphic Memoir (Gotham Books, November 2012) is her most recent book.
On your nightstand now: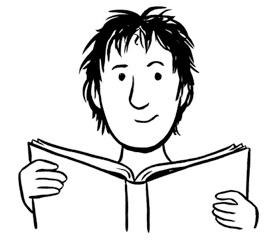 Assuming that means the general area within arm's length of my pillow, including under the nightstand, on the radiator and on the floor: Swimming Studies by Leanne Shapton (as a swimmer and artist myself, I am LOVING this book), Petals and Thorns: 18 Fairy Tales by Bret Fetzer (my partner and I read these to each other in bed), No Straight Lines: Four Decades of Queer Comics edited by Justin Hall, Nancy Is Happy by Ernie Bushmiller, Bunch of Amateurs by Jack Hitt, several New Yorkers and my journal for my 3 a.m. brainstorms.
Favorite book when you were a child:
McElligot's Pool by Dr. Seuss. I was fascinated by the idea that a tiny puddle could open into a fantastic hidden underground universe, and the fish down there just blew my mind.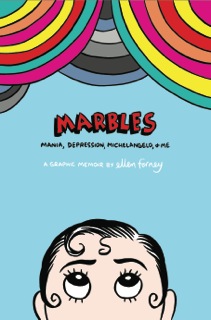 Your top five authors (/cartoonists):
Alison Bechdel, Jim Woodring, Bill Watterson, Kaz, Harvey Kurtzman. The list goes on, of course, of mostly smart and funny authors.
Book you've faked reading:
Apple's iTunes "Terms and Conditions."
Book you're an evangelist for:
I assign Understanding Comics by Scott McCloud in all of my classes. I recommend it to anyone who tells me they find reading comics difficult. McCloud is a total comics geek, charming and enthusiastic, and he explains clearly how comics work. This book is brilliant. (I recommend watching his TED talk--you'll be inspired!)
Book you've bought for the cover:
Big Book of Breasts 3D, edited by Dian Hanson. I also bought this for the spine. (It rocks the bookshelf!)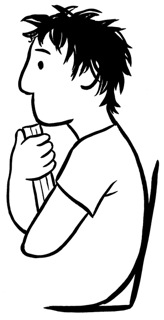 Book that changed your life:
Comics that made me want to be a cartoonist: Life in Hell by Matt Groening, Dykes to Watch Out For by Alison Bechdel, East Texas by Michael Dougan. Books that took me through the toughest times after my bipolar diagnosis and helped inspire my own book: An Unquiet Mind by Kay Redfield Jamison and Darkness Visible by William Styron.
Favorite line from a book:
I often start my workday with writing warm-ups from Naming the World, edited by Bret Anthony Johnson, so I'd say I have many favorite lines. I love even just reading the prompts--each one is like a little puzzle.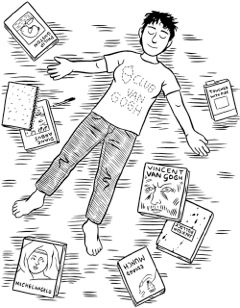 "Spend five minutes listing verbs that have to do with the ocean."
"Spend ten minutes describing the worst gift you've ever received."
"Spend twenty minutes writing a scene that involves a doughnut for dinner."
Book you most want to read again for the first time:
A Visit from the Goon Squad by Jennifer Egan. I loved the experience of reading it. I felt like I had a crush on this book.


Book Review
Review: Kind of Kin
Kind of Kin by Rilla Askew (Ecco, $25.99 hardcover, 9780062198792, January 8, 2013)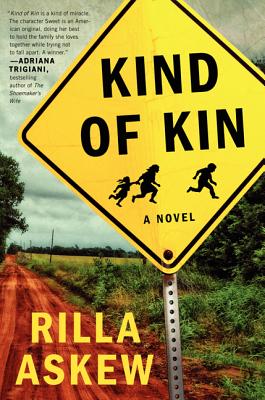 Oklahoma's best-kept secret is at it again, as Rilla Askew steps out of her usual historical fiction with Kind of Kin, a novel that touches on both the timeless theme of family bonds and the timely theme of illegal immigration regulation.
Bob Brown's arrest shocks the citizens of tiny Cedar, Okla. In Bob's estimation, he's "a felon because he's a Christian." In an exercise in radical discipleship, Bob agreed to hide a handful of frightened illegal Mexican immigrants in his barn, only to find himself betrayed to the law by someone close to him. In his absence, his daughter, Sweet, takes over the care of her orphaned nephew, Dustin, one more worry for her overtaxed nerves. Sweet's already dealing with a tight household budget, her husband Terry's bedridden great-grandpa, Terry's constant out of town trips for his job with the gas company and a son even she admits is turning into a bully. When Dustin runs away, Sweet finds herself in the middle of a media circus involving a rabidly ambitious state representative just as Dustin's older sister comes to her seeking shelter for her husband, an illegal alien who has returned to the U.S. after his deportation to Mexico. The center cannot hold, and Sweet's life spirals out of control--straight into a standoff involving a vicious sheriff and Sweet's pastor and church congregation.
Oklahomans will recognize the Sooner State on a deep level in Kind of Kin; this is much more than a few mentions of Oklahoma City's Penn Square Mall or the Choctaw Nation to set the scene. Vividly authentic, Askew's portrayal of small-town, working-class Oklahoma encompasses its gossipmongering and fear of the unknown without mockery, as well as renders its core values, tenacious spirit and bone-deep sense of hospitality without becoming trite or twee. Rather than make a simple political statement, Askew has crafted an uncannily real cast of characters whose attempts to go about their daily lives and care for their families intersect with issues of church and state, conservative versus liberal politics and the choice between the right way and the easy way. A winner for book clubs, Askew's foray into contemporary fiction is the perfect vehicle to introduce new readers to this talented and under-recognized voice. Her sensitive and humanizing treatment of this hot-button issue is sure to provoke thought and discussion no matter what readers' political leanings may be. --Jaclyn Fulwood
Shelf Talker: Askew (Harpsong) presents an authentic and endearing portrait of modern-day Oklahoma in her thought-provoking examination of the effects of illegal immigration laws on ordinary citizens.


Deeper Understanding
Robert Gray: 'Tis the Season to Be Bookish
"We're here and wearing our Holiday Present Recommendation hat. It's invisible, yet effective." That invitation was posted last week on the Facebook page for Fountain Bookstore, Richmond, Va.

There are some things I don't miss about working as a bookseller during holiday season crunch time. For example, I don't miss this conversation:

"I need to find a book for my uncle."
"What kinds of books does he like?
"Oh, he doesn't read."

But I do miss the many people who really did want to find perfect books for the readers in their lives. Those were the conversations that de-Scrooged my Christmas 'tude every year, and I was more than happy to wear the bookishly traditional HPR hat then.

This week I've been monitoring bookseller Facebook pages--like NORAD tracks Santa on Christmas Eve--for signs of holiday spirit. Here are just a few that sparked my interest: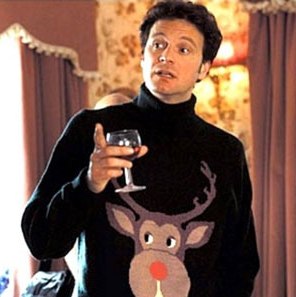 Nightbird Books, Fayetteville, Ark., is hosting an Xmas Sweater party tonight. The shop has been asking patrons to stop in and "have your sweater photographed. Even if you can't join us at the party, your sweater could be a winner! Prizes awarded for the best/worst Sweater!"

Throughout the month, Book Passage Bookstore & Cafe, Corte Madera, Calif., is posting Book-a-Day Holiday Gift List recommendations on its Facebook page.

Changing Hands Bookstore, Tempe, Ariz., creates Kids Book Baskets, the "perfect gift for kids from infant to teen! Also ideal for new parents, grandparents or anyone who wants to encourage reading and imagination through every stage of a child's life."

The spirit of giving is in the air, of course. On November 24, Sparta Books, Sparta, N.J., posted: "What I love about the holidays. Someone paid for a book to be given to the next child who came into the bookstore... the next 4 customers 'paid it forward' and did the same. LOVE my customers."

Customers participating in the sixth annual Families Helping Families Holiday Book Drive at Maria's Bookshop, Durango, Colo., can "stop in the shop to select a card off the holiday book drive tree; each card features information about a child served by the Family Development Program of the Family Center of Durango."

At Eight Cousins Books, Falmouth, Mass., the "name tags on our Giving Tree are climbing higher and higher. Thanks to all who have donated books this year. You've kept us busy wrapping!"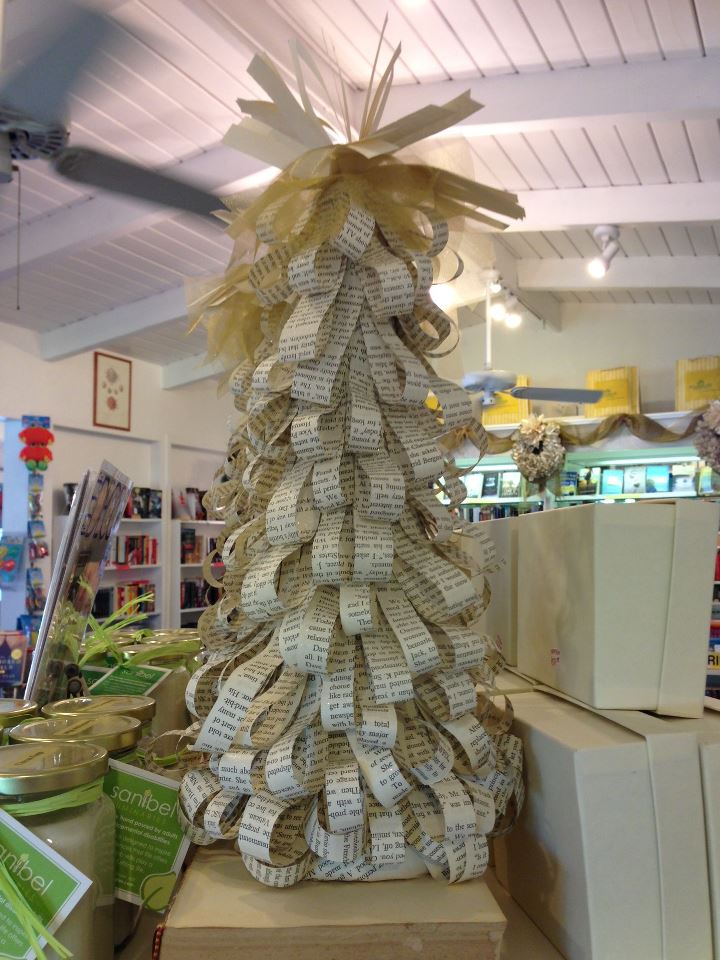 Speaking of trees, they are once again sprouting temporarily in bookshops nationwide, including book Christmas trees in the front window of Learned Owl Bookshop, Hudson, Ohio, and at Politics & Prose Bookstore, Washington, D.C. I also noticed a tree made from pages shaped like ribbons that was created for Macintosh Books, Sanibel, Fla. And Clinton Book Shop, Clinton N.J., won the "Best Wreath" prize in this year's Red Mill Village Festival of Trees.

How about a menorah made from books, you ask? Bookshop Santa Cruz shared a link to Juniper Books and designer Thatcher Wine's book-themed menorah.

Ack! It's the "Little Drummer Boy" again. On Monday Idlewild Bookshop, New York, N.Y., responded to a Times article on the ubiquitous holiday soundtrack everywhere you shop with a promise: "You won't hear any Christmas music here! Right now, we're playing some Oscar Peterson..."

The shop local movement is also trending seasonally. Earlier this month, Pelican Bookstore, Sunset Beach, N.C., participated in a downtown Christmas Stroll, during which people could "shop and eat locally at participating stores (Including Pelican Bookstore) and receive discounts and win prizes, all while benefiting local animal rescue groups and animal causes that affect our community!"

Yesterday the Vermont Bookshop helped celebrate "Stag & Doe Night in Middlebury, brought to you by the BMP [Better Middlebury Partnership] and your local merchants. Our doors will stay open until 8 p.m. and there will be festivities all over town. SHOP LOCAL--BE SOCIAL!"

And even though Women & Women First bookshop is just a figment of Portlandia's imagination, the IFC show's Facebook page does feature a sign with a seasonally appropriate retail cautionary note: "SHOP LOCAL OR WE'LL TELL SANTA." --Robert Gray, contributing editor (column archives available at Fresh Eyes Now).