Shelf Awareness for Tuesday, January 8, 2013

News
A Tale of Two Mystery Bookstores: One Thriving, One Threatened
Murder By the Book, the Portland, Ore., mystery bookstore founded 30 years ago, will close in April unless a buyer is found, the Oregonian reported.
photo: Mickey Ronningen
In a letter posted on the store's website, the owners--Barbara Tom and Carolyn Lane--and staff wrote in part: "These past few years have been difficult financially for many reasons, including the general depressed economic climate, growth of e-books, and elevation in the price of printed books. In addition, Barbara and Carolyn are ready to really retire. So far we have not found others who want to take on the labor of love that an independent bookstore represents. We will be making a concerted effort to find some kind of successor in the next few weeks and months."

In the meantime, the store will operate normally although it will run selected sales and various programs, such as its rentals and gift certificates, will be slowly wound down.
---
As noted in Shelf Awareness last week, Mystery Lovers Bookshop, Oakmont, Pa., had a "great" December, the first holiday season for new owner Laurie Stephens, who bought the store from Richard Goldman and Mary Alice Gorman last April.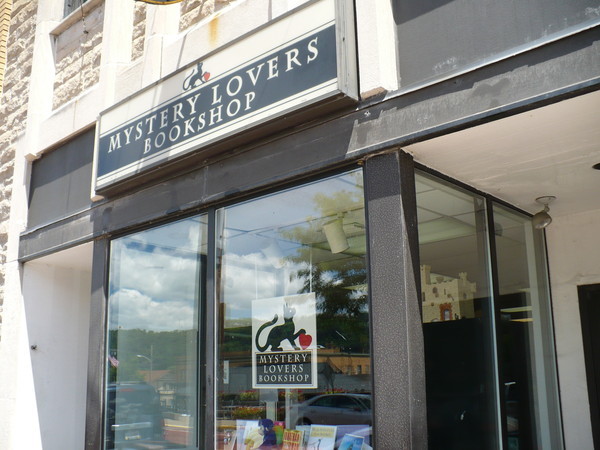 In a profile of the store by the Pittsburgh Post-Gazette, Stephens recalled the path that led to buying the store. A librarian who had also worked in bookstores, she spent a summer cataloguing a woman's collection of books that included an extensive mystery section. "Doing that, I read the canon of mysteries," she commented.

Then she decided to "move to where one of our kids was for the last chapter of our lives. I'd always wanted to own a bookstore, so I canvassed Pittsburgh and, four months later, read that this store was for sale. It was on my daughter's birthday, when we came up here to be with her. We met Mary Alice and Richard then. Fate."

The former owners helped Stephens with the transition, and Goldman continues to assist in maintaining the store's website. Goldman told the paper that departing the store "was easier than we thought it would be. We miss the regular customers and the staff, but we're really enjoying the freedom. Mary Alice is busy with the Carnegie Library board. I'm learning Italian, and we're planning a trip to Italy."


Chester County Book & Music Looking at New Sites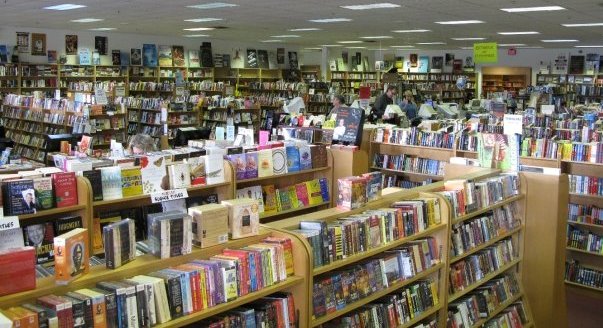 More on Chester County Book & Music Co., West Chester, Pa., which is vacating its longtime space by February 4:
Owner Kathy Simoneaux told Daily Local News: "We are looking at a couple of locations, but nothing is signed yet, so I can't really say much. If we relocate, it'll probably be later in the year, maybe in a few months. So we're currently trying to sell down our inventory so we don't have to store it, and we're running a sale until the end."
Last year, when Chester County could no longer afford its current space, the store had planned on closing, but was encouraged by customers to move to a smaller location instead. For the past year, it has had a month-by-month lease.
Speaking of the community reaction, Simoneaux said, "It totally turned my head around. I had pretty much decided that when we closed the doors here that there was no future in it, but the response was just so heartfelt and overwhelming. I had to reconsider. After crunching the numbers with my accountant, it looks like we can make a go of it, but it has to be much smaller."


Amazon: Range of Predictions

Amazon.com closed at an all-time high of $268.46 a share yesterday, up 3.6%, in part because Morgan Stanley upgraded the company stock. Analyst Scott Devitt said that Amazon should increase its share of worldwide e-commerce because of its expanding network of distribution centers and because it benefits from having no competitor that operates in all the countries in which it operates.

As quoted by Bloomberg, Devitt wrote: "Amazon.com's fulfillment network is an under appreciated, strategic asset. Companies, such as Amazon.com, that have the ability to decrease variable unit costs in exchange for fixed-costs will have the opportunity to expand margins and take share."
---
Although the Discover BCS National Championship football game between Notre Dame and the University of Alabama had not been played yet, some fans of both schools "woke up to a strange message Monday morning" when they received an e-mail from Amazon congratulating their team on winning the bowl game, ESPN reported.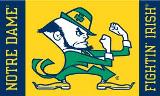 "Dear Amazon.com Customer," the e-mail sent to Notre Dame fans read. "Congratulations to the Notre Dame Fighting Irish, NCAA National Football Champions. Customers who have shown an interest in the Notre Dame Fighting Irish might like to see NCAA championship merchandise and additional team fan gear."

Amazon sent an apology later in the day, noting: "Well, this is really embarrassing.... we completely fumbled our congratulation (sic) email for tonight's game. We admit that we can't tell the future. We congratulate Alabama and Notre Dame for making it to the NCAA Football National Championship. We hope you enjoy the game." For the record, Alabama won 42-14. Watch for that e-mail again today, 'Bama fans.


Obituaries: Ada Louise Huxtable, Richard Ben Cramer, Sol Yurick
Pulitzer-winning architecture critic and author Ada Louise Huxtable died yesterday. She was 91. As the New York Times wrote, "Gracefully poised in person, she did not shy in print from comparing the worst of contemporary American architecture to the totalitarian excesses of Hitler, Mussolini and Stalin." Huxtable wrote 10 books on architecture, including a 2004 biography of Frank Lloyd Wright for the Penguin Lives series.
---
Reporter Richard Ben Cramer, winner of a Pulitzer for his Middle East coverage, died yesterday. He was 62. According to the New York Times, "Cramer will be most remembered for What It Takes, a 1,000-page, vigorously researched tome that delved into the passions, idiosyncrasies and flaws of George H.W. Bush, Bob Dole, Michael Dukakis, Joseph R. Biden Jr. and other candidates as they fought for the presidency in 1988."
---
Sol Yurick, whose novels included The Warriors, died last weekend, the Guardian reported, noting that he "was too radical, too extreme and too violent for the respectable literary establishment of New York, yet no writer more fully embodied the city's anguished spirit in the 1960s." Yurick was 87.


ReaderLink & txtr in U.S. Partnership

ReaderLink Digital and txtr GmbH have reached an agreement to make ReaderLink the exclusive partner of txtr's e-book solution in the U.S. for major retail chains Safeway, Stop & Shop, Walmart, Target, Rite Aid, Walgreen's and more. The two companies also have plans to offer an "affordable dedicated e-reader or tablet" that retailers can sell to consumers, who will be able to store their e-books in one common library, no matter which ReaderLink-associated retailer they purchase a particular e-book from.



"This partnership opens up an entirely new sales channel for our retail partners," said David Barker, president of ReaderLink. "Whether they are mass merchants, warehouse clubs, grocery chains, drug stores or department stores, they can quickly and easily begin offering e-books to their customers."

Thomas Leliveld, txtr's chief commercial officer, noted that "ReaderLink's differentiator comes from the opportunity to convert consumers from physical to digital in-store: nearly 2,000 merchandisers have the ability to tie physical and digital offers together and to educate consumers about the most suitable reading devices at the point of sale."


Notes
Image of the Day: Dream Display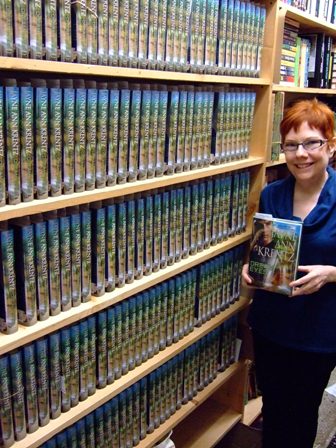 Tonight the Seattle Mystery Bookshop hosts Jayne Ann Krentz for the launch of her new title, Dream Eyes (Putnam), which comes out today. As of yesterday, the store had already sold nearly 200 copies of the 240 copies on hand. Here Krentz poses with some of those copies.


Cool Idea of the Day: BookCourt All-Day Sandy Relief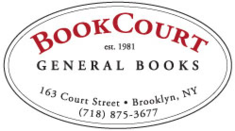 This coming Saturday, January 12, BookCourt, Brooklyn, N.Y., is holding an all-day benefit for Sandy relief. Seven "favorite local" authors--Tad Hills, Jennifer Cody Epstein, Nick Flynn, Arthur Phillips, Emma Straub, Todd Colby and Jonathan Ames--will read and sign books, and 15% of the day's proceeds will be donated to relief efforts.


Nancy Pearl, Book Ambassador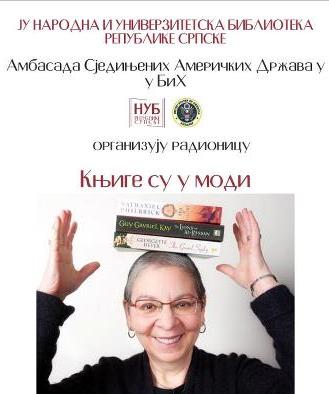 Nancy Pearl has embarked on an adventure involving snow, ice, boots, fleece--and books. The U.S. embassy in Sarajevo, Bosnia, is sponsoring an "If All Bosnia-Herzegovina Read the Same Book" program for students throughout the country. The novel chosen is Sherman Alexie's The Absolutely True Diary of a Part-Time Indian (which we think is a remarkable and brilliant choice). Pearl will be training the book discussion leaders, who include the coordinators of the nine American Corners in Bosnia-Herzegovina. (American Corners are partnerships that the embassy has with libraries around the country. The embassy purchases a collection of American books and other resources and provides funding for programs and upkeep, while the libraries cover the cost of the Bosnian American Corner coordinator.) The trainings will take place in Sarajevo as well as other cities, such as Banja Luka and Tuzla.

Of course, Pearl has been reading (and rereading) before her trip:

Olivia Manning's The Balkan Trilogy
Peter Maass's Love Thy Neighbor: A Story of War
Robert Kaplan's Balkan Ghosts: A Journey Through History
Misha Glenny's The Fall of Yugoslavia: The Third Balkan War
Rebecca West's Black Lamb and Grey Falcon: A Journey Through Yugoslavia
Aleksander Hemon's Nowhere Man and the forthcoming The Book of My Lives
Slavenka Drajulic's How We Survived Communism & Even Laughed


NSFW Audio Clip of the Day: Actor Michael Keaton Talks Books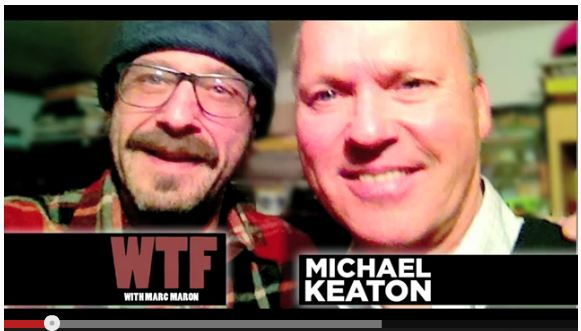 On its Facebook page, Books & Books, Coral Gables, Fla., shared an audio clip (accompanied by this cautionary note: "Not for the faint hearted, language wise, but really good...") from "a close friend of the store: Marc Maron, impressario of the WTF podcast," who talked about the irresistible perils of a reading life with actor Michael Keaton (complete interview here).


Book Trailer of the Day: The Blood Gospel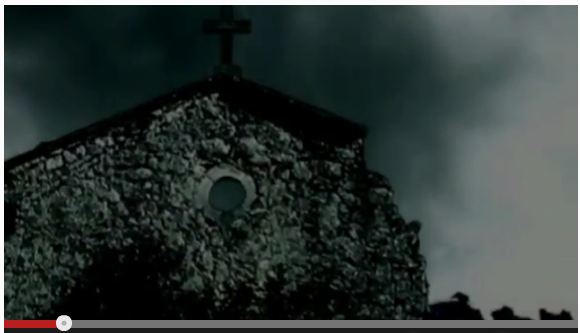 The Blood Gospel by James Rollins and Rebecca Cantrell (Morrow).


Media and Movies
Media Heat: The Dude on the Daily Show
This morning on MSNBC's Morning Joe: Robert Lustig, author of Fat Chance: Beating the Odds Against Sugar, Processed Food, Obesity, and Disease (Hudson Street, $25.95, 9781594631009).
---
Tomorrow morning on Imus in the Morning: Eben Alexander III, author of Proof of Heaven: A Neurosurgeon's Near-Death Experience and Journey into the Afterlife (Simon & Schuster, $21.99, 9781451695182).

---

Tomorrow on the View: Stanley McChrystal, author of My Share of the Task: A Memoir (Portfolio, $29.95, 9781591844754). He will also appear on CNBC's Squawk on the Street and CNN's Anderson Cooper 360.

---

Tomorrow on NPR's Diane Rehm Show: Susan Crawford, author of Captive Audience: The Telecom Industry and Monopoly Power in the New Gilded Age (Yale University Press, $30, 9780300153132).

---

Tomorrow night on the Daily Show: Jeff Bridges, co-author of The Dude and the Zen Master (Blue Rider, $26.95, 9780399161643).

---

Tomorrow night on the Colbert Report: Neil Shubin, author of The Universe Within: Discovering the Common History of Rocks, Planets, and People (Pantheon, $25.95, 9780307378439).




Movies: Big Sur Trailer
A trailer has been released for Big Sur, adapted from Jack Kerouac's novel and showcasing "some beautiful imagery and expectedly, a great deal of Kerouac dialogue," Film & Stage reported. The movie, directed by Michael Polish (The Astronaut Farmer), stars Jean-Marc Barr, Kate Bosworth, Josh Lucas, Radha Mitchell, Anthony Edwards and Henry Thomas.


Books & Authors
Awards: PNBA Winners
The winners of the 2013 Pacific Northwest Book Awards, sponsored by the Pacific Northwest Booksellers Association, are:

Blasphemy by Sherman Alexie (Grove)
The Revised Fundamentals of Caregiving by Jonathan Evison (Algonquin Books)
The Snow Child by Eowyn Ivey (Reagan Arthur Books)
On the Spectrum of Possible Deaths by Lucia Perillo (Copper Canyon Press)
Wild by Cheryl Strayed (Knopf)
Alif the Unseen by G. Willow Wilson (Grove)


IndieBound: Other Indie Favorites
From last week's Indie bestseller lists, available at IndieBound.org, here are the recommended titles, which are also Indie Next Great Reads:

Hardcovers
Life Among Giants: A Novel by Bill Roorbach (Algonquin, $24.95, 9781616200763). "Roorbach has given readers a totally unique family saga that is infused with love, sex, and murder. This is the kind of story that takes you on a journey from the very first page and races right along to the unforgettable conclusion. I was drawn in by the characters, both sympathetic and despicable. This is a great book to recommend to everyone." --Barbara Kelly, Portland Bookstore, University of Southern Maine, Portland, Me.

A Possible Life: A Novel in Five Parts by Sebastian Faulks (Holt, $25, 9780805097306). "This incredible novel traces the separate trajectories of five unforgettable lives in five different time periods. Each life story is expertly etched by Faulks, and each could stand alone, but the stories become even more compelling as they join to form a provocative whole." --Jenny Lyons, the King's English, Salt Lake City, Utah

Paperback
Angelmaker: A Novel by Nick Harkaway (Vintage, $15.95, 9780307743626). "It's hard for me to use my words, rather than just gush inarticulately about how good Angelmaker is, but I'll try. Not just any author could build a thriller out of some gears, a forgotten Victorian art critic, and a son's dissatisfaction with his father, much less a thriller of these proportions. And very few authors can boast the combination of smarts and heart that defines Harkaway's work. Harkaway has a singular voice, brilliant comic timing, and a deep feeling for the myriad ways the world is broken." --Jenn Northington, WORD, Brooklyn, N.Y.

For Ages 4 to 8
A Flower in the Snow by Tracey Corderoy, illustrated by Sophie Allsopp (Sourcebooks Jabberwocky, $16.99, 9781402277405). "This is the wonderful little story of two best friends, Luna and Bear, and their special relationship. Bear thinks he needs to search to find the perfect gift for his friend, but when he returns he discovers that the best gift of all is the special friendship that he shares with Luna. The illustrations are warm and inviting and add to the special feeling of the story. This is perfect to recommend as a special quiet-time book for young children." --Judith Lafitte, Octavia Books, New Orleans, La.

[Many thanks to IndieBound and the ABA!]


Book Review
Review: The Good House
The Good House by Ann Leary (St. Martin's Press, $24.99 hardcover, 9781250015549, January 15, 2013)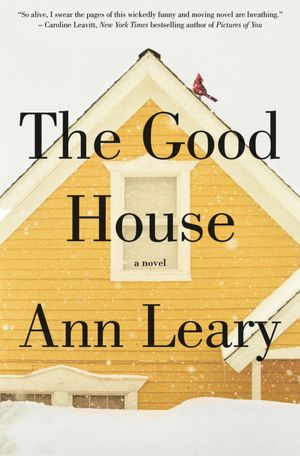 Ann Leary knows well the worlds of the wealthy and of small towns north of Boston (she lived in Marblehead during her high school years). Her second novel, The Good House, is set in Wendover, a coastal town where real estate has replaced lobstering as the biggest business and new McMansions are zoned to be quaint. Leary tells her story through Hildy Good, a successful real estate broker privy to all that goes on behind the wrought iron gates and faux gables. She is delightfully frank: "I know everything that happens in this town," she says. "I'm an old townie; the eighth-great-granddaughter of Sarah Good, one of the accused witches tried and hanged in Salem.... I live alone; my daughters are grown and my husband is no longer my husband. I talk to animals."
Hildy has her own secrets: the recession has hurt her business, and firms like Sotheby's are moving on to her turf. Her daughters are in and out of therapy and financially dependent on her, but not so dependent that they don't orchestrate an "intervention" and withhold access to her beloved grandchild unless she spends a month at Hazelden to address her alcoholism. After 20 years of marriage and fatherhood, her ex-husband finally accepted his homosexuality, only to be abandoned by his romantic partner. Her childhood friend, the town's only psychiatrist, is having an affair with a wealthy horsewoman and former patient who has become madly obsessive and threatens his exposure to the licensing board. Is it any wonder that Hildy still drinks--secretly, in her mouse-infested cellar, so that her daughters don't find out? As her surreptitious, lonely drinking grows out of control, another childhood friend, Frankie--the town's garbage man, handyman and snow removal tycoon--takes her under his wing with a love and tolerance she has never quite experienced before.
When we think of literature arising from small New England towns, we might imagine the spare simplicity of Thornton Wilder's Grover's Corners or Richard Russo's economically destitute mill town of Empire Falls. In Ann Leary's able hands, the modern New England town of today can be found just north of Boston. It's the voice of Hildy, though, that makes Leary's new novel work so well. Her irreverent observations and sharp chatterbox tongue are balanced by a vulnerability that makes her the perfect ironic but all too human commentator on a world too much like it really is. --Bruce Jacobs
Shelf Talker: Hildy Good, the narrator of Leary's second novel, is a fresh and vulnerable observer as the rich take over the simple traditional world of her New England coastal town.


The Bestsellers
Top Book Club Picks of 2012
The top book club titles of 2012, voted by the members of Bookmovement.com:

1. Unbroken: A World War II Story of Survival, Resilience & Redemption by Laura Hillenbrand
2. The Paris Wife by Paula McLain
3. The Immortal Life of Henrietta Lacks by Rebecca Skloot
4. Cutting for Stone by Abraham Verghese
5. Before I Go to Sleep by S.J. Watson
6. Hotel on the Corner of Bitter and Sweet by Jamie Ford
7. The Book Thief by Markus Zusak
8. Room by Emma Donoghue
9. Defending Jacob by William Landay
10. Sarah's Key by Tatiana de Rosnay

[Many thanks to Bookmovement.com!]