Shelf Awareness for Monday, January 14, 2013

News
WORD Opening Second Store, in Jersey City, N.J.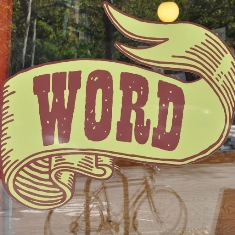 WORD in Brooklyn, N.Y., is opening a second location, in Jersey City, N.J., by the summer. The new store will be about 2,500 square feet--larger than the Brooklyn store--and have a café. It's located on Newark Avenue, near the Grove Street PATH station, and will be called either WORD or WORD Books & Café.

The new store's inventory will be "very similar" to the Brooklyn store but with an expanded kids section, owner Christine Onorati said. The café will also be used as an event space, allowing the Jersey City WORD to hold "a thriving literary event calendar as we do in Brooklyn," Onorati continued. "I have very high hopes for this new store, and I'm excited to help foster the vibrant, literary, community-focused spirit of Jersey City."

Onorati explained her decision to open a store on the other side of the Hudson River: "We have family in Jersey City whom we have visited often for the last 10 years or so. While opening a second store was never really my plan, I have watched the neighborhood change and grow in recent years, and when my cousin opened a small Italian eatery in downtown Jersey City late last year, I was finally convinced that the area needed a bookstore and community hub. I think Jersey City is the perfect place to bring WORD, and I have been incredibly excited by the response we've received in just the last few months we've been talking about it."

The second-largest city in New Jersey, Jersey City is much like Brooklyn: it has a large office building district, a beautiful historic downtown, many residents in the arts and many residents who are refugees from Manhattan, which is easily accessible.

Onorati opened WORD in the Greenpoint section of Brooklyn in 2007.


Voulez-Vous une Librairie Française dans New York?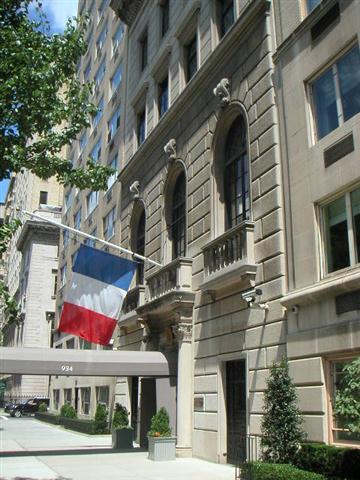 The cultural services division of the French embassy in the U.S. is considering opening a French bookstore in New York City--on the Upper East Side, bien sûr--this fall.

"The goal of this new French bookstore would be to offer a vast range of French books and works in English translation, both in paper and digital format, at low prices and available for purchase at the store and online," the embassy said.

To gauge interest, the embassy is surveying consumers and teachers in English and French. Many questions are about readers' buying habits and preferences for the bookstore.


'Once Upon a Time... The End' for Black Forest Books & Toys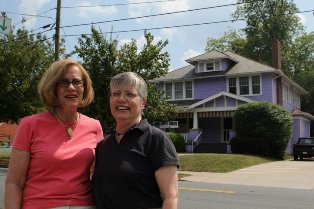 Former librarians June Hargrove and Pat Siegfried purchased Black Forest in 2008.
After 34 years in business, Black Forest Books and Toys, Charlotte, NC.--one of the oldest continuously operating children's bookstores in the country--will close sometime between January 23 and 26, "once they sell through their inventory," WBTV reported. Co-owner Pat Siegfried blamed a sluggish economy and online competition for the decision.

"With much sadness," the store's website commented: "Once Upon a Time... The End."


That Third Place Destination in Blytheville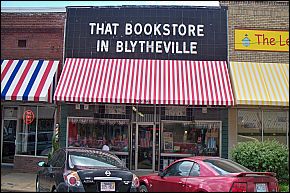 Grant Hill, the enthusiastic, 22-year-old new owner of That Bookstore in Blytheville, Ark., has "a Moleskin full of ideas" that include emphasizing the bookstore as a "third place" and destination as well as expanding its customer base to "new groups of people, particularly the young adult crowd," the AP (via the Aiken Standard) reported. Toward those ends, he's added tables and provided free wi-fi access, and he plans to serve coffee in the near future.
The efforts are requiring a balancing act. "One of the biggest challenges I'm grappling with is how to keep from alienating people from either side--you know, how to keep from making it so much of a college-age place that the older demographic doesn't want to come here anymore, but also make sure it's not so stuffy it's not intriguing to a younger crowd," Hill said. "I'd like to see a new crowd of people start coming in, but I definitely don't want to run off any of our familiar faces."


Key West Island Books: Still Sailing
Despite its rich literary history, Key West, Fla., now has just one bookstore, Key West Island Books, which has an eclectic, somewhat traditional approach to bookselling, the Tampa Bay Times reported.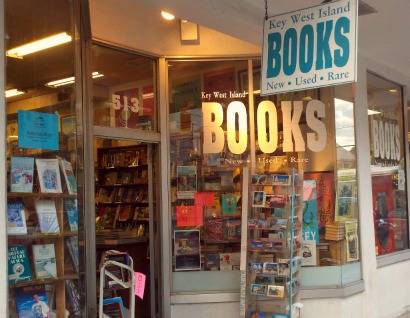 "To walk into Key West Island Books is to see what most bookstores used to be like," the paper wrote. "There are no comfy chairs tempting patrons to sit a spell. There's no coffee shop with free Wi-Fi. There are a few racks of used DVDs, but mostly there are books of every shape, size and subject matter--and clerks who know all about them."

"That's the secret to that store," said Tom Corcoran, who writes mysteries set in Key West. "There are people there who care about books."

Store co-owner Scott Shaffer agreed, saying, "We've got very capable employees who are literature nuts."

The store sells a mix of new, used, remainder and collectible titles, a legacy of various owners. One loved antique books; another specialized in remainders. Now many customers want new books, Shaffer said. (His father-in-law, the landlord for the store, bought it in 2010 from the estate of the previous owner because no buyer had been found and the store was in danger of being closed.)

Befitting his previous career in real estate, Shaffer said he thought of the store "as a property that needed to be rehabbed," removing cartons of remainders and updating inventory.


Notes
Image of the Day: Teaching for Drug Law Change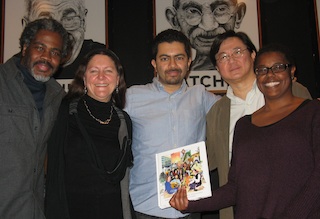 Last Wednesday, the Teaching for Change Bookstore at Busboys and Poets in Washington, D.C., hosted Ricardo Cortés, illustrator of Go the F**k to Sleep, and held a panel discussion about Cortés's new book, A Secret History of Coffee, Coca & Cola (Akashic Books), a serious study of unfair drug treaties and hypocritical policies for who and who cannot use plant derivatives. Here (from l.): Netfa Freeman of the Institute for Policy Studies, co-sponsor of the event; panelist Coletta Youngers; Cortés; panelist Sanho Tree; and bookstore manager LaTissia Mitchell.


Personnel Changes at HMH, Hachette, Chronicle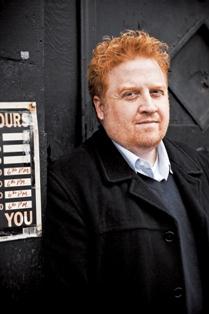 Brad Parsons
photo: Ed Anderson
Effective January 28, Brad Parsons is joining Houghton Mifflin Harcourt as director of culinary marketing, a new position at the company, which bought Wiley's culinary program in November. Parsons was formerly associate director, online marketing, at Grand Central and earlier was senior books editor at Amazon.com. He is also the author of Bitters: A Spirited History of a Classic Cure-All.

"I've hoped to find the right opportunity to work with Brad for many years and the greatly enlarged HMH cookbook list is tailor made," said Laurie Brown, senior v-p of sales and marketing at Houghton Mifflin Harcourt.
---
David Epstein has joined Hachette Book Group as v-p of sales, young readers. He has 25 years of bookselling experience, mostly as director of national accounts for Disney and earlier as a national account manager at Simon & Schuster and a sales rep at Penguin.

Hachette chief marketing and sales officer Evan Schnittman said Epstein's hiring is "the final piece in the restructuring of sales that began on the fall. We are now 100% focused on each of our core segments, with spectacular talent behind each and every category."

---

Kristina Jutzi is joining Chronicle Books as digital sales and distribution manager. She formerly headed e-book operations at Bloomsbury U.K. and earlier held online marketing positions at Bloomsbury/Walker Books and HarperCollins.


Micro-History of Books: From 1940s Printing to E Ink Screens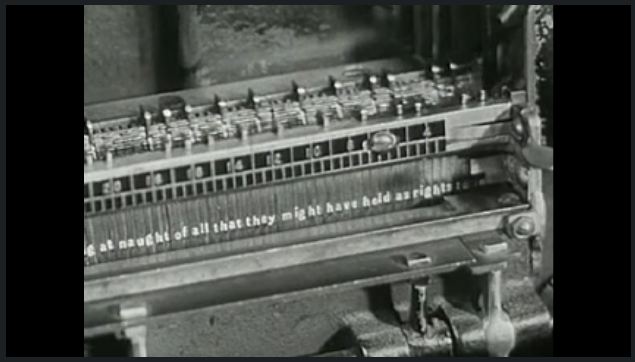 The Atlantic magazine featured archival documentary footage from Encyclopaedia Britannica Films revealing "letter by letter, line by line, page by page... how a manuscript becomes a book. Clunky machines mold words out of molten metal, stamp out pages, and trim paper. All the while a team of humans shuttle materials from machine to machine."

---

"How E Ink matrix and segmented displays are built." In this video, Sriram Peruvemba, CMO of E Ink, "gives an overview of E Ink's matrix and segmented display products at CES 2013."


Book Trailer of the Day: American Isis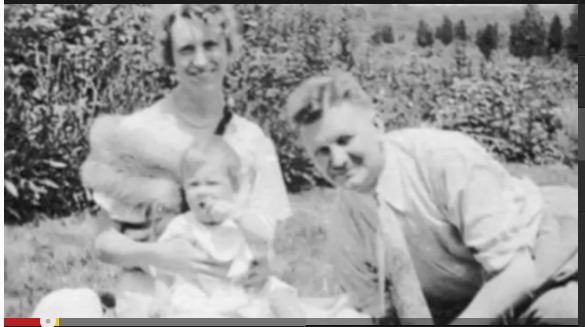 American Isis: The Life and Art of Sylvia Plath by Carl Rollyson (St. Martin's).


Media and Movies
Golden Globe Book Winners
Books made their mark at last night's Golden Globe Awards, including a strong showing by Les Misérables (based on Victor Hugo's novel), which won for best movie, actor (Hugh Jackman) and supporting actress (Anne Hathaway) in the movie comedy or musical category. Other winners involving films and series that began with books were:

Best movie drama: Argo, inspired by events recounted in the book by Antonio Mendez and Matt Baglio
Director: Ben Affleck for Argo
Actor in a movie drama: Daniel Day-Lewis for Lincoln, based in part on the book Team of Rivals by Doris Kearns Goodwin
Actress in a movie musical or comedy: Jennifer Lawrence for Silver Linings Playbook, based on the novel by Matthew Quick
Original score for a movie: Mychael Danna for Life of Pi, based on Yann Martel's novel
Best miniseries or TV movie: Game Change, based on the book by John Heilemann and Mark Halperin
Actress in a miniseries or TV movie: Julianne Moore for Game Change
Actor in a TV series comedy: Don Cheadle for House of Lies, based on the book by Martin Kihn
Supporting actor in a series, miniseries or TV movie: Ed Harris for Game Change


Media Heat: Justice Sonia Sotomayor on Today
This morning on the Today Show: Sonia Sotomayor, author of My Beloved World (Knopf, $27.95, 9780307594884).

---

This morning on Good Morning America: Valerie Harper, author of I, Rhoda (Gallery, $26, 9781451699463). She will also appear today on Katie, CBS's Insider and Current's Joy Behar: Say Anything and tomorrow on NBC's Jeff Probst Show and NBC's New York Live.

---

Today on NPR's Diane Rehm Show: Gregory Stone, author of Underwater Eden: Saving the Last Coral Wilderness on Earth (University of Chicago Press, $40, 9780226775609).

---

Today on MSNBC's Andrea Mitchell: Stanley A. McChrystal, author of My Share of the Task: A Memoir (Portfolio, $29.95, 9781591844754). He will also appear on Geraldo Rivera.

---

Tonight on the Colbert Report: Jared Diamond, author of The World Until Yesterday: What Can We Learn from Traditional Societies? (Viking, $36, 9780670024810).
---
Tomorrow morning on MSNBC's Morning Joe: Michael Hastings, author of Panic 2012: The Sublime and Terrifying Inside Story of Obama's Final Campaign (BuzzFeed/Blue Rider Press, $4.99 e-book, 9781101600894).
---
Tomorrow morning on the Today Show: Hoda Kotb, author of Ten Years Later: Six People Who Faced Adversity and Transformed Their Lives (Simon & Schuster, $25, 9781451656039).

---

Tomorrow morning on Good Morning America: Homaro Cantu, author of The Miracle Berry Diet Cookbook (Gallery, $27, 9781451625585).

---

Tomorrow on NPR's Diane Rehm Show: Alexandra Horowitz, author of On Looking: Eleven Walks with Expert Eyes (Scribner, $27, 9781439191255).


Books & Authors
Awards: Booktrust Blue Peter Children's Book Shortlist
Finalists have been named for the Booktrust Blue Peter Book of the Year Awards, "recognizing and celebrating the best children's authors, the most fascinating fact books and the greatest reads for children." The shortlisted books will be judged by more than 200 young Blue Peter viewers drawn from 10 schools across the U.K., with the winners announced March 7 to coincide with World Book Day. The 2013 shortlist includes:

Best story
The Boy Who Swam With Piranhas by David Almond, illustrated by Oliver Jeffers
Hero on a Bicycle by Shirley Hughes
Tom Gates--Genius Ideas (Mostly) by Liz Pichon

Best book with facts
Horrible Science: House of Horrors by Nick Arnold and Tony De Saulles
Walter Tull's Scrapbook by Michaela Morgan
Fantastic Mr. Dahl by Michael Rosen, illustrated by Quentin Blake


GBO Picks The Beggar King
The German Book Office in New York has chosen The Beggar King: A Hangman's Daughter Tale by Oliver Pötzsch, translated by Lee Chadeayne (Mariner Books, $18, 9780547992198) as its January Book of the Month.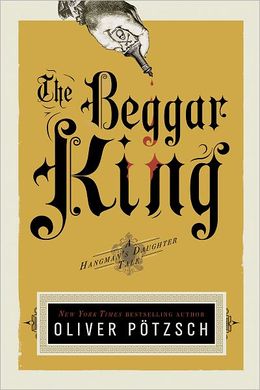 The GBO wrote: "Filled with fascinating historical detail, The Beggar King brings to vibrant life another tremendous tale of an unlikely hangman and his tough-as-nails daughter, confirming Pötzsch's mettle as a storyteller at the height of his powers. The third installment in the internationally best-selling Hangman's Daughter series, the author returns once again to the thrilling mysteries of 17th-century Bavaria and the hangman Jakob Kuisl.
"The Beggar King takes readers back to 1662, in the sultriest summer in recent memory, when Jakob Kuisl, the cranky yet sympathetic hangman of a village in the Alps, is summoned north to Regensburg by a letter from his sick sister. A gruesome sight awaits him: his sister and brother-in-law lie in pools of their own blood, their throats slit. When he is discovered alongside the corpses, Kuisl is locked in a dungeon where he will experience first-hand the torture which he has expertly performed for years. Kuisl's steely daughter, Magdalena, and her young doctor paramour, Simon, rush to Regensburg and try to save Jakob. Navigating the labyrinthine city, they learn there is much more behind the false accusation than a personal vendetta: there is a plan that will endanger the entire German Empire."

For years, Pötzsch was a radio personality for Bavarian radio and a screenwriter for Bavarian Public Television. He is a descendant of the Kuisls, the well-known line of Bavarian executioners who inspired his novels.

Chadeayne is a former classical musician and college professor who was a charter member of the American Literary Translators Association. He is editor in chief of the ALTA Newsletter.
Incidentally, the GBO has a video of New Books in German highlights from 2012 that makes for a short literary journey from Berlin to Zurich and includes a special take on the winner of the German Book Prize.


Book Review
Review: Sugar in the Blood: A Family's Story of Slavery and Empire
Sugar in the Blood: A Family's Story of Slavery and Empire by Andrea Stuart (Knopf, $27.95 hardcover, 9780307272836, January 22, 2013)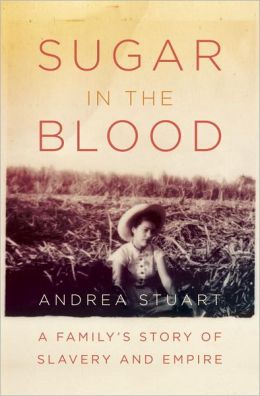 In Sugar in the Blood, an absorbing, evocative history of slavery in Barbados, Andrea Stuart passionately and cogently argues that sugar--"more than any other commodity in human history"--has "shaped our tastes, transformed our landscape and influenced our politics."
Such language could signal a remote industrial history, a book heavy on economic analysis and lacking a real human story. But for Stuart, the story of sugar is complex, painful and profoundly personal: like many others with Caribbean roots, she is descended from a wealthy sugar plantation owner and a female slave.
"Genealogical research has its limitations; it yields a skeleton, not the body," she explains of her project to unearth this history. "But between the bones I had, nonetheless, glimpsed something intriguing: a story of migration, settlement, survival, slavery and the making of the Atlantic world."
Stuart's convincing speculations, made credible by impeccable research, begin by following her first identifiable ancestor, George Ashby, on the harrowing voyage to Barbados from England in the 1630s. Once there, he tamed a small patch of wild jungle and, eventually, his great-great-great grandson, Robert Cooper, married well and became a powerful and moneyed plantation owner. It is from Cooper and one of his slaves--her name isn't known--that Stuart is descended.
Rather than limit her scope to her own ancestors, Stuart uses them to tell the story of Barbados's unfolding from untamed wilderness to cultivated colony to floundering society devastated by violent rebellion and the fatal pitfalls of empire. Her history of the island's slaves is, necessarily, upsetting but vital--from the horrific atrocities of the Middle Passage to appalling labor conditions and the ubiquitous rape and exploitation of female slaves. Like the other Atlantic colonies, Barbados owes its fortunes to slave labor, and Stuart writes with damning clarity about the "soul-corroding" effect of having absolute power over another human being.
Stuart has a historian's respect for truth, an economist's skill for incisive analyses and a novelist's flair for color and detail. Having published two biographies prior to this book, she has expertly applied her skill and sensitivity to this "biography" of Barbados. Her deeply personal connection to the subject--the "sugar in her blood"--makes this history all the more urgent and engrossing. --Hannah Calkins
Shelf Talker: An Afro-Caribbean writer applies her biographer's skills to her family tree, in which the history of sugar, slavery and empire are carved.