Shelf Awareness for Monday, February 25, 2013

News
B&N: Riggio Exploring Buyout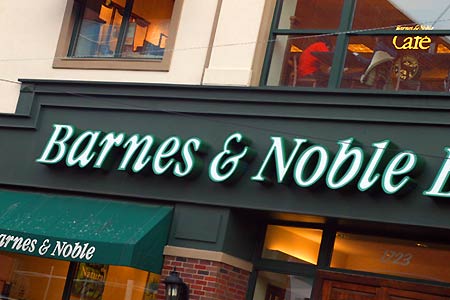 Leonard Riggio, Barnes & Noble's chairman and largest shareholder, with 30% of the company's common stock, is exploring the possibility of buying out B&N's bookstore chain.


In a filing with the SEC today, Riggio notified B&N's board of directors that he "plans to propose to purchase all of the assets of the retail business of the Company. The retail business would include, among other things, Barnes & Noble Booksellers, Inc. and barnesandnoble.com; and would exclude NOOK Media LLC (comprising the digital and College businesses)."

According to the filing, the purpose of the proposal is "to facilitate the company's evaluation of its previously announced review of strategic options for the separation of its investment in NOOK Media LLC."

In its initial response, B&N's board of directors said the process of evaluating the proposal and negotiation of any transaction will be overseen by a strategic committee of independent directors: David G. Golden, David A. Wilson and Patricia L. Higgins, who is chair of the strategic committee. Evercore Partners will serve as its financial adviser and Paul, Weiss, Rifkind, Wharton & Garrison LLP as legal adviser.

The board also cautioned that "there can be no assurance that the review of Mr. Riggio's proposal or the consideration of any transaction will result in a sale of the retail business or in any other transaction. There is no timetable for the strategic committee's review."

---

Additionally, an unnamed source told the New York Times Barnes & Noble is considering a move away from engineering and building devices and toward a focus on licensing content to other device makers.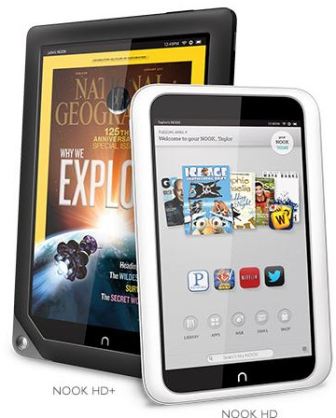 "They are not completely getting out of the hardware business, but they are going to lean a lot more on the comprehensive digital catalog of content," said this person, who asked not to be identified, discussing corporate strategy.

B&N's executives "are working hard to determine a strategy that focuses on core strengths like content distribution. Its content is its 'crown jewel,' said the person familiar with the company's strategy, 'and where the profitable income stream lies,' " the Times wrote.


Bookish Oscar Winners: Argo, Life of Pi
As many of you know by now, Argo took the Academy Award for best picture last night, continuing an extraordinary prize-winning streak this winter for director Ben Affleck, who was snubbed in Oscar's best director category. There were several bookish movies among the winners, including: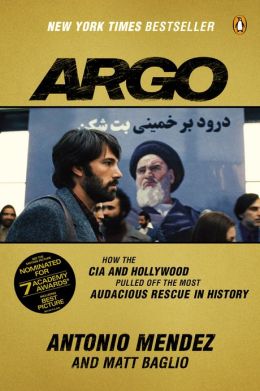 Argo, based in part on The Master of Disguise: My Secret Life in the CIA by Antonio Mendez and events chronicled in Argo: How the CIA and Hollywood Pulled Off the Most Audacious Rescue in History by Antonio Mendez and Matt Baglio, won Oscars for best picture, editing and adapted screenplay (Chris Terrio).

Life of Pi, adapted from Yann Martel's novel, won for director (Ang Lee), cinematography, visual effects and original score.

Lincoln, based in part on Doris Kearns Goodwin's Team of Rivals, earned awards for best actor (Daniel Day-Lewis) and production design.

Other winners included Silver Linings Playbook, based on the novel by Matthew Quick, for best actress (Jennifer Lawrence); Les Misérables for supporting actress (Anne Hathaway), sound mixing and makeup & hairstyling; and Anna Karenina for costume design.


WI8: 'It Just Gets Better'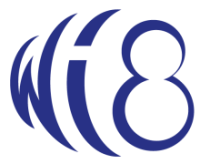 The snowstorm that dropped nearly 10 inches of snow in Kansas City, Mo., the day before Winter Institute 8 began caused many people to arrive late--and a few to miss the event entirely. But for most, the weather problems just added to the traditional spirit, energy and camaraderie of the Winter Institute, one of the most popular book world gatherings, launched by the American Booksellers Association in 2006. Independent booksellers are a hardy bunch, and the feeling seemed to be that after successfully handling so many other challenges, what was a few hours' delay in travel or a flight rerouting or an unexpected overnight in Houston or Chicago? To add to the fun, another snowstorm is predicted for today and tomorrow.

Speaking Saturday morning as the programming began, ABA president Becky Anderson recalled that as the storm hit, the ABA board and staff had a "different scenario" of what might happen. Looking out at the nearly 500 booksellers in attendance, she said, "You guys look beautiful."

The mood among booksellers was perhaps even more optimistic than at previous Winter Institutes as many booksellers reported several years in a row of record sales. ABA v-p Steve Bercu commented, "It's a great time to be independent booksellers. I keep saying it, and it just gets better."

ABA CEO Oren Teicher noted that the booksellers at WI8 ranged from long-established ones to many new stores, "which is incredibly encouraging to us," and all of them were sharing knowledge and helping one another. In addition, some new owners of established stores were in attendance, including Grant Hill, owner of That Bookstore in Blytheville, Ark., and Kate Schlademan, owner of the Learned Owl Book Shop, Hudson, Ohio.

Major speakers the first two days included Daniel Pink (see story below), making his third Winter Institute appearance, and Malcolm Gladwell, both of whom spoke at large breakfasts, tailoring the subjects of their current books to bookselling.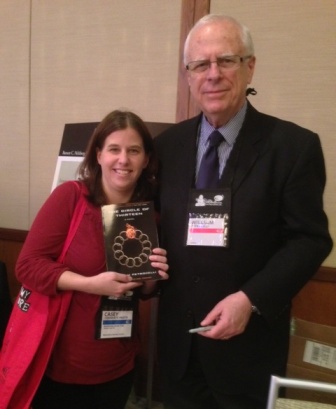 Bill Petrocelli with Casey Coonerty Protti, owner of Bookshop Santa Cruz, Santa Cruz, Calif.
Established authors appearing at the Winter Institute included Sherman Alexie, Laurie Halse Anderson, Lidia Bastianich, Dave Eggers, Philip Kerr, Laurie Lippman, Jill McCorkle, Cathie Pelletier, Cathleen Schine and Jeannette Walls. Among the many debut authors was Bill Petrocelli, the longtime co-owner of Book Passage, Corte Madera and San Francisco, Calif., author of the novel The Circle of Thirteen (Turner Publishing). Petrocelli said he had been nervous beforehand, but was having fun at the event.

This year's Winter Institute had several new features, including a series of publisher/bookseller focus groups, where sponsoring publishers met with small groups of booksellers for detailed discussions. Several publishers attending the Winter Institute for the first time liked what they saw and said they would return.

This year's Winter Institute was held concurrently with the National Association of College Stores meeting and CAMEX trade show. Many WI8 attendees went to CAMEX yesterday afternoon to scout for sidelines; they received a $100 rebate on orders. Several booksellers who went to CAMEX yesterday afternoon reported placing orders for a variety of products, notably pens, jewelry and products from one of our old favorites: the Unemployed Philosophers Guild.
Despite the weather, Kansas City was a welcoming city, and many non-vegetarians dived into steakhouses and BBQ spots. At least a few people were up all hours at jazz clubs.
And the big news for next year was greeted warmly yesterday: WI9 will be held in early 2014 in Seattle, Wash., a city not known for major snowstorms.

We'll have more reporting on the Winter Institute tomorrow and the rest of the week. --John Mutter


WI8: Daniel Pink on the New ABCs of Sales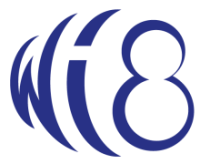 ABA president Becky Anderson called Daniel Pink, whose new book is To Sell Is Human: The Surprising Truth About Moving Others (Riverhead), a "Winter Institute superstar" as she opened the first plenary session at the event in Kansas City.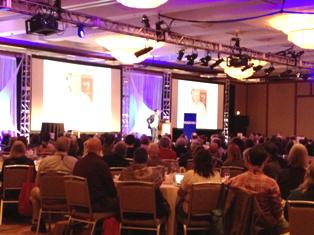 photo: Steve Rosato
When the ABA asked him to return to the Winter Institute as a speaker, Pink said he set a few conditions: that the Winter Institute be held in Kansas City in February; his session take place in a windowless room; and that it start at 8 a.m. on a Saturday. Despite bad weather, a lack of windows and the early hour, booksellers packed the event to hear what the author who last wrote about drive and motivation in the business world had to say about sales.

"Like it or not, we are all in sales now," said Pink. Even the eight out of nine workers who say sales is not part of their jobs spend much of their time convincing others to do things, he explained. Booksellers, for instance, sell more than just books; they also sell their stores to their community.

He discussed the public's traditional attitude about sales. A survey of 7,000 people asked the respondents to use one word to describe sales. Among the top answers: pushy, sleazy, slimy and cheesy. ("To me, they always sound like the dwarves who didn't make the cut," Pink said.) Booksellers have similar feelings about sales.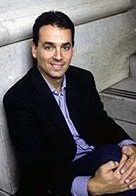 Daniel Pink
But in a new world where sellers no longer have the monopoly on information, said Pink, the "buyer beware model," which conjures up the image of a used car salesman, is no longer the norm. Buyers now have vast amounts of information at their fingertips. For example, most car buyers now know the dealer invoice price of cars, which once was so secret even dealer salespeople didn't know. The ABCs of selling--"Always Be Closing"--touted by Alec Baldwin's character in Glengarry Glen Ross, the movie version of David Mamet's play--need to be replaced with "Attunement, Buoyancy and Clarity," Pink said.

Attunement, Pink said, involves not only being able to take in another's perspective but also mimicking it back to them. Buoyancy is about "facing an ocean of rejection" and figuring out what to do before, during and after each interaction with customers. And, clarity, Pink said, means shifting from a "problem solving" approach with customers to a "problem finding" approach.

"If you can identify problems people don't even know they have, that's where all the action is," Pink said. "And that's where all the margins are."

Contrary to popular belief, research shows that extroverts are not measurably better at sales than their introverted counterparts, Pink said. Instead, the ideal salesperson is an "ambivert": a person who is a balance of introvert and extrovert, a person who "knows when to talk and when to listen."

The lesson for booksellers, Pink said, is that "changing people's minds matters less than giving them an easy off ramp." He suggested that bookstore sales might go up if staff members had an iPhone with a Square credit card payment attachment that gives consumers an easy off-ramp to purchase. Particularly with e-book purchases at independent bookstores, he observed, "it's too hard to act" and take the off ramp.

Noting that sometimes it's difficult in a bookstore to tell who is a bookseller, he also suggested booksellers wear T-shirts identifying them as staff. The T-shirts could be designed by the booksellers.

Pink also shared advice he solicited from other bestselling business writers and leaders he collected specifically for his Winter Institute audience. David Allen, author of Getting Things Done: The Art of Stress-Free Productivity, suggested bookstore staff might wear "Ask me what I am reading T-shirts," much as employees at an upscale clothing stores wear the merchandise. Some, like Seth Godin, author of The Icarus Deception: How High Will You Fly?, pointed out that a curated experience is better than a search experience in retail.

Brothers Chris and Dan Heath, authors of Made to Stick: Why Some Ideas Survive and Others Die, suggested having "guest curators" create book playlists. As Pink explained, a store in Kansas City might ask what the CEO of its corporate neighbor Hallmark is reading. Tom Rath author of Strengths Finder 2.0, said booksellers should practice "extreme curation," presenting the next book a customer needs, not hundreds.

The common theme with the advice--and what Pink said will distinguish bricks-and-mortar booksellers from any retailer that uses an algorithm--is to switch from giving customers a "search experience" to a "discovery experience."

Going back to the distaste people have for sales and selling, Pink said, "We are now in a world of servant sellership." It is a world in which independent booksellers can do really well, if they create easy off ramps.

Quoting Godin, Pink said, "Maybe it's less important to be efficient than to be brave." --Bridget Kinsella


NACS Buying Connect2One, Creating indiCo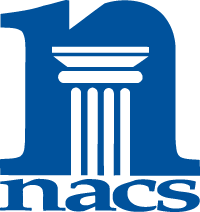 The big news at the National Association of College Stores annual meeting and CAMEX trade show being held in Kansas City, Mo., was the association's announcement that it is purchasing Connect2One, a division of Nebraska Book Company that is a buying group for some 625 college stores--the largest such buying group in the country.

In connection with the purchase, which is expected to be completed April 1, NACS is combining its NACS Media Solutions, OnCampus Research and NACS Business Development operations into a new subsidiary called indiCo, which will also include Connect2One.

indiCo will focus on retail innovation, merchandising strategy, data analytics, partnerships, research and more--all with an emphasis on helping institutional and independent college stores evolve and thrive.

Speaking at the NACS annual business meeting last Friday, NACS CEO Brian Cartier called the purchase and creation of indiCo "a bold step" that will have many benefits for independent college stores.

For his part, Neebo Inc. and Nebraska Book Company president and CEO Steve Clemente said, "For 25 years, Connect2One has helped its more than 625 college store members fill their shelves with items that appeal to the college crowd. Our company shares a very important goal with NACS--the long-term success of independent college stores."

Nebraska Book Company operates some 250 college stores, sells six million textbooks annually and has more than 1,600 technology platforms and e-commerce sites at more than 2,500 bookstores. The company recently donated $200,000 to the NACS Foundation, which was used to create the NACS Leadership Institute to train future college store leaders.

Nebraska Book Company filed for "pre-packaged" bankruptcy in 2011, restructured and emerged from bankruptcy last year.


Alan Van Ongevalle New President, COO of Hastings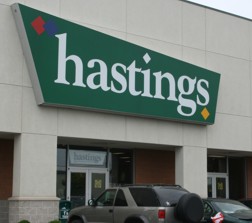 Alan Van Ongevalle has been promoted to president and chief operating officer of Hastings Entertainment. He was formerly executive v-p of merchandising and has held a variety of positions, involving, among other things, managing stores, opening stores, marketing and advertising. He is a great example of someone rising through the ranks: he joined the company in 1992 as an intern.
CEO John Marmaduke, who stepped aside as president in favor of Van Ongevalle, said that Van Ongevalle "has done an outstanding job in each position he has held during his career with Hastings. I am very excited for Alan and I strongly believe he will excel in his new position and continue to play a valuable role in the future success of Hastings."
The same day Van Ongevalle was promoted, Hastings let go 14 "mid-level to executive employees," reducing its support center staff to 240 "to cut administrative costs," CFO Dan Crow told the Amarillo Globe-News. He also said that the change at the top will allow Marmaduke to focus on a strategy for "navigating a changing digital landscape." Digital delivery of entertainment and movie-rental kiosks have eroded the company's movie rental and CD sales.
"We're being impacted by the digital world that we live in, and we're changing our business model to put in [stores] other products that are not affected by what goes in the digital world," Crow said.


Queen Anne Book Company Sets Grand Opening
Queen Anne Book Company will host its grand opening this coming weekend in Seattle's Queen Anne neighborhood. The new bookstore is the creation of a neighborhood coalition led by owners and longtime Queen Anne residents Judy and Krijn de Jonge, along with owner-manager Janis Segress (formerly of Eagle Harbor Book Company).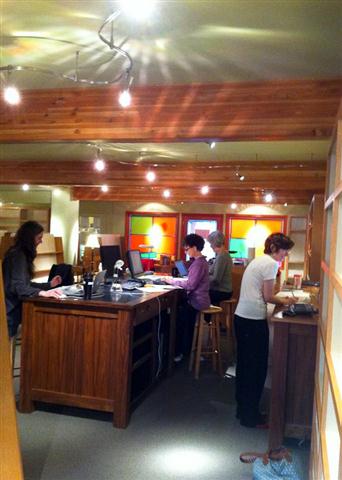 Staffers preparing for the store's opening.
Queen Anne Book Company is in the former location of Queen Anne Books, which won the WNBA's Pannell Award in the general bookstore category in 2011 but abruptly closed at the end of October.

Grand opening festivities will run from Friday, when Queen Anne Book Company opens its doors to the neighborhood, through Sunday, with many events as well as appearances by several Northwest authors, including Sherman Alexie, Maria Semple, Jim Lynch, Jonathan Evison, Erica Bauermeister and Jennie Shortridge.

"We anticipate a weekend of high-energy book fun," said Segress. "We're returning to warm traditions of personal service and neighborliness over books, while introducing an exciting new literary center for the neighborhood."

Author Debra Dean (The Mirrored World; Madonnas of Leningrad) was enthusiastic about the new bookstore's opening: "When I talk with friends in other cities and learn that they have only big box stores left to choose from, I am freshly grateful to be here and to have a bookstore I can call my own, a place run by smart, independent people who are fighting the good fight, one book at a time. We are all so lucky to have you."

Queen Anne Book Company is located at 1811 Queen Anne Ave. N., Seattle, Wash. 98109; 206-284-2427 or e-mail at qabc2013@gmail.com.


Notes
Image of the Day: Oh, Baby!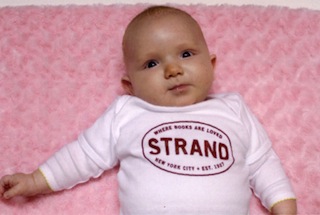 Last week, Scarlett Willa Bass-Wyden, who was born in November to Nancy Bass Wyden, owner of the Strand Bookstore, New York City, and her husband, Senator Ron Wyden (D.-Ore.), visited the Strand for the first time. A third-generation bookseller, she was immediately put to work modeling the store's new line of Strand children's wear.


'Find Any Book Imaginable' at NYC Indie Bookstores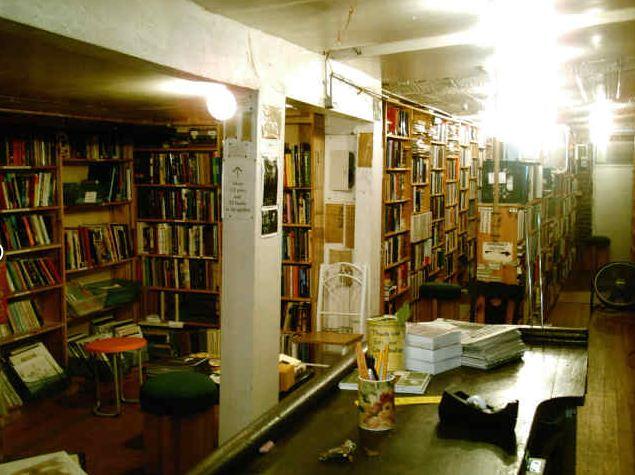 Racked New York suggested that readers could "find any book imaginable" at the 15 bookstores on its list, adding that "now is definitely the time to support New York City's best local, independent bookstores."


Book Trailer of the Day: The Demonologist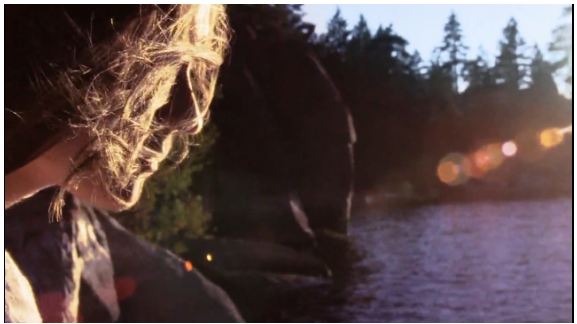 The Demonologist: A Novel by Andrew Pyper (Simon & Schuster), in which a Columbia professor--the Demonologist--searches for his daughter who has been taken by "the forces of darkness."


Media and Movies
Media Heat: Clive Davis on MSNBC's Morning Joe
This morning on MSNBC's Morning Joe: Clive Davis, author of The Soundtrack of My Life (Simon & Schuster, $30, 9781476714783).

---

Today on Hallmark Channel's Home and Family: Chloe Coscarelli, author of Chloe's Vegan Desserts (Atria, $19.99, 9781451636765).

---

Today on NPR's Diane Rehm Show: Ernest Freeberg, author of The Age of Edison: Electric Light and the Invention of Modern America (Penguin Press, $27.95, 9781594204265). Tomorrow he's on NPR's the Takeaway.

---

Today on NPR's Fresh Air: Kevin Cullen and Shelley Murphy, authors of Whitey Bulger: America's Most Wanted Gangster and the Manhunt That Brought Him to Justice (Norton, $26.95, 9780393087727).

Also on Fresh Air: Mike Piazza, author of Long Shot (Simon & Schuster, $27, 9781439150221).

---

Today on Tavis Smiley: Gavin Newsom, author of Citizenville: How to Take the Town Square Digital and Reinvent Government (Penguin Press, $25.95, 9781594204722).

---

Tonight on the Colbert Report: Simon Garfield, author of On the Map: A Mind-Expanding Exploration of the Way the World Looks (Gotham, $27.50, 9781592407798).

---

Tomorrow morning on the Today Show: Sam Parnia, co-author of Erasing Death: The Science That Is Rewriting the Boundaries Between Life and Death (HarperOne, $25.99, 9780062080608). He will also appear on Dateline.

---

Tomorrow on Katie: Andrew Solomon, author of Far From the Tree: Parents, Children and the Search for Identity (Scribner, $37.50, 9780743236713).

---

Tomorrow night on Fox's Lou Dobbs Tonight: Alan S. Blinder, author of After the Music Stopped: The Financial Crisis, the Response, and the Work Ahead (Penguin Press, $29.95, 9781594205309).

---

Tomorrow night on Jimmy Kimmel Live: Willie and Korie Robertson, authors of The Duck Commander Family: How Faith, Family, and Ducks Built a Dynasty (Howard, $23.99, 9781476703541). Season 3 of Duck Dynasty returns February 27 to A&E.


TV: Game of Thrones: Deleted Scenes; Full Trailer
Four deleted scenes from the second season of HBO's Game of Thrones leaked online after the DVD went on sale this week, Entertainment Weekly reported, noting that the "cut scenes that were 'dragon's eggs' on the seven-disc set. The show's first season didn't have any deleted scenes, so this is the first time material like this has been available for the HBO fantasy hit."

---


In other news from the Seven Kingdoms, the first full trailer for the third season of Game of Thrones debuted Friday on ABC's Jimmy Kimmel Live before being posted on the show's YouTube channel. "I am so excited about this trailer, even I might watch my show," Kimmel quipped.


Books & Authors
Awards: Bram Stoker; Diagram Oddest Book Title
The Horror Writers Association has announced nominees in 11 categories for the Bram Stoker Awards, which recognize superior achievement in horror writing. Winners will be honored June 15 during the World Horror Convention in New Orleans.

---

Six finalists were named for the Diagram Prize for Oddest Book Title of the Year, the Bookseller reported. "People might think this prize is just a bit of fun, but I think it draws welcome attention to an undervalued art," said prize coordinator Philip Stone. "Publishers and booksellers know only too well that a title can make all the difference to the sales of a book." The winner will be chosen by a public vote on welovethisbook.com and announced March 22. This year's Diagram Prize shortlist:

Was Hitler Ill? by Hans-Joachim Neumann and Henrik Eberle
Lofts of North America: Pigeon Lofts by Jerry Gagne
God's Doodle: The Life and Times of the Penis by Tom Hickman
Goblinproofing One's Chicken Coop by Reginald Bakeley
How Tea Cosies Changed the World by Loani Prior
How to Sharpen Pencils by David Rees


Book Review
Review: The Mongoliad: Book Three
The Mongoliad: Book Three by Neal Stephenson, Erik Bear, Greg Bear, Joseph Brassey, Nicole Galland, Mark Teppo, Cooper Moo (47north, $14.95 paperback, 9781612182384, February 26, 2013)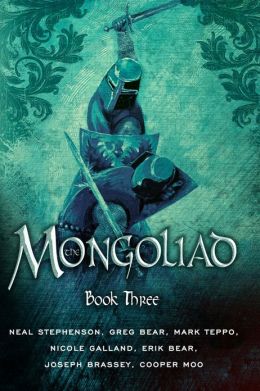 In our review of The Mongoliad: Book One in the spring of 2012, we noted that it ended on a frustratingly abrupt cliffhanger. Now, after the publication of two more revised, "definitive" volumes of the online serial spearheaded by Neal Stephenson (Reamde), it's become clear this was never really a trilogy, but rather a single novel spanning more than 1,500 pages.
At that length, it's exactly the sprawling epic you might expect. Its 13th-century setting is similar to ours, with a few additions such as the Knights of the Virgin Defender, or Shield Brethren, an order of holy warriors similar to the Templars or the Hospitalers, save that their origins are rumored to stretch back into pagan antiquity. Over the course of the novel, a small band of Shield Brethren makes its way deep into Asia in order to assassinate Ögedei Khan, who succeeded his father Genghis as the head of the Mongol Empire. Meanwhile, some of Ögedei's closest advisers are attempting to pull him back from the brink of an alcoholic decline, but in doing so they must deal with rivalries within their own camp.
The history in The Mongoliad tracks pretty well with our timeline--offering "enhanced" explanations for how things turned out as they did. There's yet another plotline about a priest who escapes a massacre of Christian troops at the Battle of Mohi and makes his way to Rome, believing himself possessed of a divine vision (based, in fact, on a famous anonymous text that circulated throughout medieval Europe). There, he is thrust into a key role in the election of a new pope; as events unfold, we still end up with the real-life Celestine IV, but we've possibly uncovered the Holy Grail along the way, too.
The Mongoliad was inspired in part by the authors' interest in medieval combat techniques, and the meticulously choreographed fight scenes are among the story's greatest highlights. Another band of Shield Brethren, stationed at the Polish village of Hünern, are involved in a plot to overthrow the Mongol general there; the uprising they orchestrate with Japanese and Korean prisoners of war plays out like a dazzling action movie.
And yet, despite all the story crammed into the three books of The Mongoliad, the writing team still can't quite reach the finish line; there are enough loose ends dangling in the final chapters that another sequel seems inevitable. At least it's likely to be entertaining. --Ron Hogan, founder of Beatrice.com
Shelf Talker: In addition to sci-fi icons Neal Stephenson and Greg Bear, The Mongoliad's writing team includes "E.D. deBirmingham," who eventually unmasked herself as historical novelist Nicole Galland.