Shelf Awareness for Friday, March 1, 2013

Quotation of the Day
'Why Reading for a Living Is Like Herding Cats'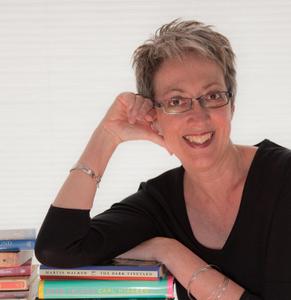 "It often seems like a cross between herding cats and changing clothes in a small mummy bag. But I love the anticipation and discovery. It's like Christmas every day--galleys come in constantly, and there's always one more good book waiting to be discovered."
--From
Crosscut's recent interview
with our own Marilyn Dahl,
Shelf Awareness Pro
's adult book review editor and the editor of
Shelf Awareness for Readers
.


News
B&N: E-Book Growth, Print Cannibalization Slowing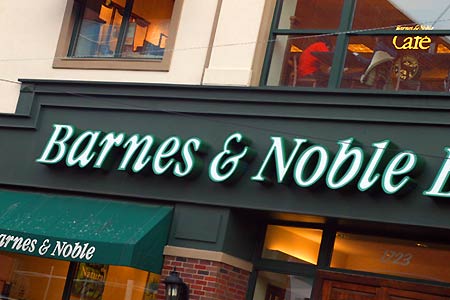 During its conference call with stock analysts yesterday, Barnes & Noble executives extrapolated on third-quarter results that had been announced earlier in the morning and made the following points, as transcribed by Seeking Alpha:

"E-book market growth has slowed and digital cannibalization of physical book sales has slowed as well," based in part on publisher data about sales, CEO William Lynch said. "After the hyper-growth in e-books over the last few years, consumers have settled into their book formats of choice. And while e-books will continue to drive growth in the book category in the future, physical book sales will have a longer tail than previously anticipated. As the country's only remaining national bookseller, our retail stores will benefit from this flattening of the slope of the physical book decline."

B&N's e-book sales come primarily from existing Nook customers, who have remained very loyal, Lynch said, as well as new customers, many from retail partners, most notably Walmart and Target. Customers from those partners, Lynch noted, buy "slightly less content" than "core" Nook owners who bought Nooks through stores, who are "readers and hard-core readers."

Concerning the January 28 Wall Street Journal article in which he said that B&N would close 20 stores a year the next 10 years, Mitchell Klipper, CEO of B&N retail, said that "recent news reports that we may be accelerating our store closings" were inaccurate. "We have historically closed 12 to 20 stores each year over the last 10 years, averaging 15 stores a year," he said. "That will not change." He emphasized that "over 95% of our stores are profitable" and the company has no plans to close them. B&N also expects to open three to five stores in the next fiscal year, including "new store prototypes."

As for chairman Len Riggio's bid for the company, announced on Monday, Lynch confirmed only "ongoing discussions between Len and the Strategic Committee of the board." B&N executives disputed assertions by several analysts who questioned why Riggio remains chairman while seeking to buy the company--"pursuing his own interest over that of shareholders." They also wondered why the company would sell the stores, which generate a healthy amount of cash, and leave shareholders with Nook Media, whose sales have slumped and whose future is uncertain.


ABA Names Board Candidates

The American Booksellers Association board has nominated three director candidates to stand for election to three-year terms (2013-2016) on the board, Bookselling This Week reported. Nominees for the upcoming elections are Sarah Bagby of Watermark Books and Café, Wichita, Kan.; Annie Philbrick of Bank Square Books, Mystic, Conn.; and Robert Sindelar of Third Place Books, Lake Forest Park, Wash. Bagby is coming to the end of her first three-year term as a director and is eligible for a second three-year term.

ABA vice-president Steve Bercu of BookPeople, Austin, Tex., will serve a two-year term as ABA president, replacing Becky Anderson of Anderson's Bookshops, Naperville, Ill., who is coming to the end of her two-year term. Betsy Burton of the King's English Bookshop, Salt Lake City, Utah, will become ABA v-p/secretary.


BEA: More Author Breakfast & Tea Speakers Named

Ishmael Beah, whose next book is titled The Radiance of Tomorrow, will speak at this year's BookExpo America author breakfast on Thursday, May 30, joining previously announced guests Wally Lamb, Doris Kearns Goodwin and emcee Chelsea Handler.

The lineup for Friday afternoon's Audio Publishers Association Author Tea will include Janis Ian (Society's Child: My Autobiography), Bill Bryson (One Summer: America, 1927), Louise Penny (How the Light Gets In) and Brandon Sanderson (The Rithmatist & Stormlight Archive Book Two).


WI8: Increasing Sales of Romance, Science Fiction, Mystery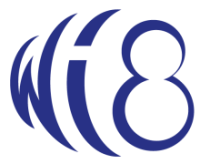 "Sometimes [booksellers] can be dismissive," said Dan Cullen, the ABA's content officer, at the Winter Institute panel on best practices for increasing sales of romance, science fiction and mystery titles. "But genre sales can very positively affect your bottom line."


All three panelists--Jason Kennedy of Boswell Book Company, Milwaukee, Wis.; Cheri LeBlond of Mysteryscape, Overland Park, Kan.; and Kit Little of Towne Book Center, Collegeville, Pa.--emphasized the importance of carefully curating genre sections and the role that genre fiction can have in forming an in-store community.

Kennedy, who has overseen the sci-fi section of Boswell Book Company for the past few years, detailed how he split the collection into subgenres--putting space operas and speculative fiction with their own kind, for example--and started a sci-fi book club. "I thought it would last two months, but it's been going strong for two years."

Little noted that eccentric, creative displays can work wonders for drawing attention to genre titles. She suggested having staff picks, using displays to highlight sub-genres and tying displays in with current and upcoming movies. She also related some of her favorite display titles, including "Books You Didn't Know You Wanted" and "Cheap Thrills," which consisted of romance and mystery titles priced below $5.99.

LeBlond recommended "extreme curation" and splitting things down into sub-genres, and noted that genre readers are the sorts of customers who frequently "step up to the counter with an armful of books." She also extolled the benefits of author events, themed book clubs and somewhat more unusual events, such as putting on "radio plays" with customers and employees as cast members.

During the q&a session, a bookseller asked about effective first steps for creating genre sections. All three panelists emphasized the importance of not only having a staff member who is passionate about the given genre, but also using genre-knowledgeable customers as a resource.

"The first place to look is your staff," said Little. "Then turn to your customers. Use them to make ties between genres and build your inventory."

Kennedy noted that many successful ideas have come from members of his sci-fi book club, while LeBlond suggested putting clipboards in genre sections on which customers can suggest titles.

"Listen to your customers," encouraged LeBlond. "I learn new things from my customers every single day."

Little added: "Word of mouth is our number-one everything." --Alex Mutter


WI8: Going Beyond the Traditional Author Event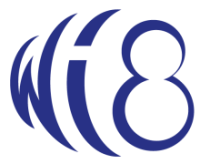 At the Winter Institute 8 panel on "going beyond" the traditional author event, Sweet Pea Flaherty, King's Books, Tacoma, Wash., talked about the great "media play" generated by events like adult spelling bees and Scrabble tournaments, and the benefits of bringing in local artists, artisans and vendors for activities such as art fairs and craft classes. Although such events help foster a create sense of community and can bring in a lot of money, Flaherty acknowledged that planning and running them constituted a lot of extra hard work. He suggested: "Find someone in your community with contacts, who can seek out artists on your behalf."
Lauren Savage of the Reading Bug, San Carlos, Calif., focused on events targeted toward children and families, including dance and exercise classes, costumed character events and game nights. She, too, emphasized the need to forge partnerships in the community; the Reading Bug has done events with classes from local schools, children's theater groups and artists and writers who live in the area. Savage also advised booksellers not to miss opportunities for cross promotion and creating events that center on both a particular title and particular sideline.
Lacey Dunham of Politics & Prose, Washington, D.C., noted the potential for events to expand a bookstore's audience and bring in new customers. She told the audience about a trivia night conducted in the cafe in the basement of Politics & Prose; although it did not generate any book sales, it brought in lots of potential new book buyers. Further, she encouraged booksellers to think of creative ways to promote events, offering the example of a best-dressed competition used to promote an event involving a famous fashion photographer.
Given the time and energy required to plan, organize and run events, smaller stores can run the risk of being overextended. When asked how booksellers should handle these challenges, Dunham answered: "Sometimes you have to do the somewhat brutal assessment of asking, 'What's in it for us?' " --Alex Mutter


Audible Establishes New Literary Award in Honor of Employee
Audible has created a literary award in honor of Audible employee Christopher Doheny, who suffered from cystic fibrosis and died earlier this year. The Center for Fiction will administer and confer the Christopher Doheny Award annually for "excellence in fiction or nonfiction on the topic of serious illness." Winners receive a $10,000 prize, along with publication and book and audiobook promotion.

Manuscripts both completed and in progress will be eligible for the award. Winners will be chosen who "demonstrate high literary standards while exploring the impact of illness on the patient, family and friends, and others."

At the age of seven months, Doheny was diagnosed with cystic fibrosis. He worked for Audible as an intern in the summer of 2002, and returned as an employee after graduating from Georgetown University in 2003. In 2010, he underwent a double lung transplant, and died this year on February 20.

"We hope that his prize will help talented writers who may be battling chronic or fatal disease tell their important stories," said Doheny's mother, Dana Dohery.

More information on the Christopher Doheny Award, including how to donate, can be found here.


Obituary Note: Stéphane Hessel
Stéphane Hessel, "a hero of the French Resistance who, more than 60 years later as a nonagenarian, marshaled the same defiant spirit in a manifesto that inspired social protesters in Europe and the United States and became an international publishing phenomenon," died Tuesday, the New York Times reported. He was 95. Although he wrote or contributed to several other books, his 2010 pamphlet Indignez-Vous! (Time for Outrage!) was "translated into more than a dozen languages and sold more than three million copies in Europe in less than a year," the Times noted, adding that the English edition "became a hand-around for participants in the Occupy Wall Street movement."


Notes
Image of the Day: Avid Bookshop's Winning Ways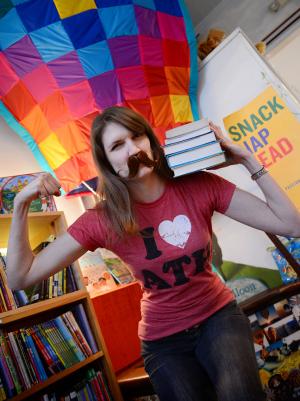 photo: Porter McLeod for Flagpole magazine
Congratulations to Avid Bookshop, which was chosen the #1 Favorite Local Business in Athens, Ga., in the annual Flagpole Magazine Readers Favorites awards. Owner Janet Geddis noted that "Flagpole readers far and wide voted in many, many categories, and we're thrilled to have won in this category. (We were runner-up in the 'Favorite Place to Buy a Gift for Him' category as well!)."

Last month, Avid competed in Athens Business Rocks, an annual musical competition fundraiser for Nuci's Space, a nonprofit the bookstore often works with. "Our band, Book You!, was chosen as Judges' Favorite (and we were the only band of the 17 competitors to earn a perfect score from the judges, which took us by complete surprise--we're still not quite sure how that happened)," she added. If you'd like to see "what sort of crazy antics we were up to at the famous 40 Watt Club," Geddis shared three Youtube videos featuring Book You!


Great Group Reads Sought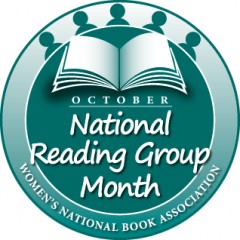 The organizers of National Reading Group Month, sponsored by the Women's National Book Association, have called for publishers to submit titles for inclusion in the 2013 Great Group Reads program. The program, currently in its fourth year, provides book clubs, reading groups, libraries and bookstores with a valuable resource for book selections and recommendations.

The GGR Selection Committee is looking for literary fiction and memoir published in the U.S. between October 1, 2012, and September 30, 2013, with a bent toward titles from small presses and midlist releases of larger houses that may have gone overlooked. The Selection Committee's reading period will stretch from April to July. Final selections will be made in August, with the formal announcement coming in September.

Titles should be submitted no later than March 22, and submissions are limited to two per publisher or imprint. More information on National Reading Group Month and the Great Group Reads program can be found here.


Bookseller Music Video of the Day: Gollum Sings Les Miz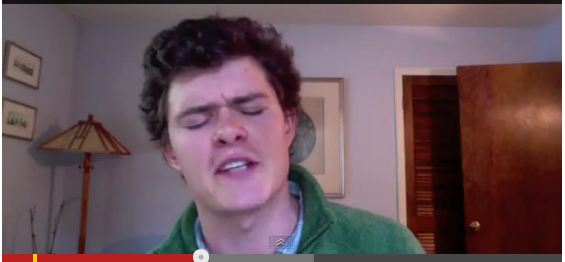 Bookseller meets Les Miz meets J.R.R. Tolkien. "Did you see this video of Diesel bookseller, Ian, singing 'I Dreamed A Dream' as Gollum?" asked DIESEL, a Bookstore, Oakland, Calif., adding "We're very proud." The YouTube video has gone viral with more than a million views.


Book Trailer of the Day: Eighty Days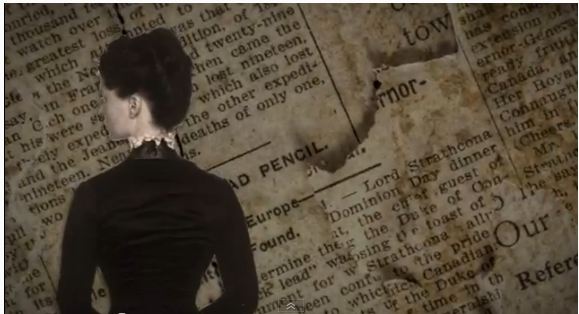 Eighty Days: Nellie Bly and Elizabeth Bisland's History-Making Race Around the World by Matthew Goodman (Ballantine), about journalists who in 1889 tried separately to set a new record for shortest time traveling around the world.


Media and Movies
Media Heat: Clive Davis on CNBC's On the Money with Maria Bartiromo
Tomorrow on CNN's Weekend: Robert H. Lustig, author of Fat Chance: Beating the Odds Against Sugar, Processed Food, Obesity, and Disease (Hudson Street, $25.95, 9781594631009).
---
Sunday on CNBC's On the Money with Maria Bartiromo: Clive Davis, author of The Soundtrack of My Life (Simon & Schuster, $30, 9781476714783).
---
Sunday on NPR's Weekend Edition: Denise Kiernan, author of Girls of Atomic City: The Untold Story of the Women Who Helped Win World War II (Touchstone, $24.99, 9781451617528).


Books & Authors
Awards: National Book Critics Circle Winners
Winners of the National Book Critics Circle Awards, who were honored last night, include:

Fiction: Billy Lynn's Long Halftime Walk by Ben Fountain (Ecco)
Nonfiction: Far From the Tree: Parents, Children, and the Search for Identity by Andrew Solomon (Scribner)
Biography: The Passage of Power: The Years of Lyndon Johnson by Robert A. Caro (Knopf)
Poetry: Useless Landscape, or A Guide for Boys by D.A. Powell (Graywolf)
Autobiography: Swimming Studies by Leanne Shapton (Blue Rider Press)
Criticism: Stranger Magic: Charmed States and the Arabian Nights by Marina Warner (Belknap Press; Harvard University Press)

The Nona Balakian Citation for Excellence in Reviewing was presented to William Deresiewicz. Sandra Gilbert and Susan Gubar received the Ivan Sandrof Lifetime Achievement Award "for their trailblazing work in feminist criticism."


Book Brahmin: Nihad Sirees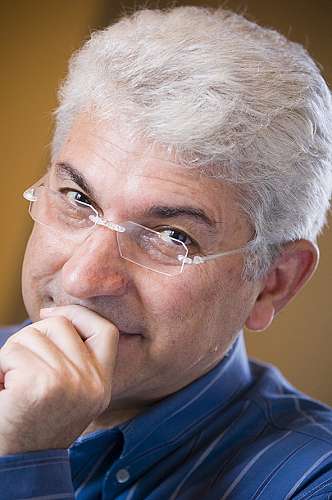 photo: Tom Longdon
Nihad Sirees is a civil engineer, novelist, playwright and screenwriter who was born in Aleppo, Syria, in 1950. He has written TV dramas and six novels, including Cancer, The North Winds and A Case of Passion. His TV series The Silk Markereceived widespread acclaim across the Middle East and remains popular today. His novel The Silence and the Roar--which was penned in 2004 during a period of "internal exile"--is banned in Syria. It's been translated by Max Weiss, and Other Press is publishing it here on March 5, 2013. After increasing surveillance and pressure from the Syrian government, Sireees was forced to leave his home in Syria for Cairo in January 2012. In the fall of 2012 he accepted a five-month International Writers Fellowship at Brown University, and he now lives in Providence, R.I. His children and extended family remain in Aleppo.
On your nightstand now:
The White Tiger by Aravind Adiga and Foucault's Pendulum by Umberto Eco.
Favorite book when you were a child:
The Arabian Nights.
Your top five authors:
Haruki Murakami, especially Norwegian Wood, Kafka on the Shore and South of the Border, West of the Sun. Mario Vargas Llosa, the author of Death in the Andes, The Feast of the Goat and In Praise of the Stepmother, which I particularly liked. Orhan Pamuk, most of whose novels I like, such as the The Black Book, Istanbul, The White Castle and, above all, My Name Is Red, which I will not ever forget. Paul Auster for his wonderful New York Trilogy, also In the Country of Last Things. José Saramago, the author of many of my favorite novels, including The Year of the Death of Ricardo Reis, Blindness, All the Names and The History of the Siege of Lisbon, which I finished reading again last summer.
Book you've faked reading:
Cat and Mouse by Günter Grass. Reading his novel The Tin Drum was such an incredible experience that I decided to keep reading his trilogy but just couldn't finish it. Anyway, I'm keeping it on my shelf to go back to later and know I'll finish it someday soon.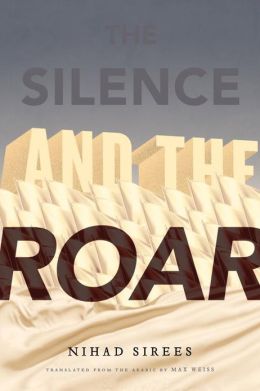 Book you're an evangelist for:
Gabriela, Clove and Cinnamon by Jorge Amado. Such an intriguing read. It's one of those books you wish would never end. Even after you turn the last page, you're still desperate to devour more. It's a great conversation piece. Talking about it is almost as interesting as the read. I'd love to write something similar.
Book you've bought for the cover:
None, this has never happened.
Book that changed your life:
And Quiet Flows the Don by Mikhail Sholokhov inspired me to sit and write my first novel. At the time I had a dream of writing a novel like it.
Favorite line from a book:
"The devil can cite scripture for his purpose." --from William Shakespeare's The Merchant of Venice.
Book you most want to read again for the first time:
Gabriela, Clove and Cinnamon by Jorge Amado.


Book Review
Review: How to Get Filthy Rich in Rising Asia
How to Get Filthy Rich in Rising Asia by Mohsin Hamid (Riverhead, $26.95 hardcover, 9781594487293, March 5, 2013)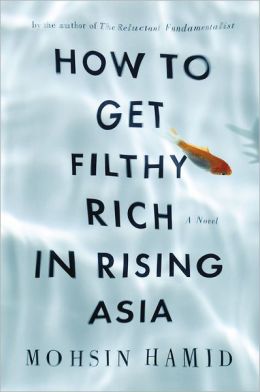 As in his fiendishly clever and biting The Reluctant Fundamentalist, Mohsin Hamid's How to Get Filthy Rich in Rising Asia combines extremely lean prose and a wry sense of irony to create a dramatic monologue with a wickedly satirical vision of modern times.
None of the characters are named. The central character--who's writing a business self-help book called How to Get Filthy Rich in Rising Asia--refers to himself as "you" as he tells his story and gives the other figures in his story simple labels such as pretty girl, leader, matriarch, master. His rags-to-riches, how-to-succeed guide turns out to be exceptionally rich in the savage ironies of poverty. The narrator's brother is slowly killing himself working without a mask as an assistant to a spray painter, while his schoolteacher really wants to be an electricity meter reader, because of the greater prestige, graft opportunities and higher wages.
Starting with a night job as a DVD delivery boy, the narrator makes his way up the vicious economic ladder while courting the girl of his dreams with movie rentals. Hamid can be a biting satirist, but he also knows how to infuse his characters with genuine warmth and pathos, and never reduces them to mere symbols in a brutal capitalist fable. He makes his characters complex human creations with telling little touches.
An illegal water-bottling franchise is the foundation that transforms the narrator into a powerful water industrialist who soon has blood on his hands in the ruthless expansion of opportunistic schemes. Soon he is protected by constant guard surveillance, with barred windows and motion sensors, alarm systems and security cameras, not to mention his military-backed security measure of rooftop snipers.
Hamid's novel is a vision of a new, very modern kind of civilization designed for the have-plentys, where the have-nothings survive amid electrical outages and contaminated water in a society that accepts hugely divergent inequality as normal and the defense of possessions against all comers as a right beyond all laws. Hamid has a vast compassion for the wretched, and his story, horrifying in its casual description of abject lives, is a cry for compassion cloaked in a savage smile. --Nick DiMartino
Shelf Talker: Hamid's satire may be fiendishly clever, but he always manages to give his characters telling little touches of humanity, even when none of them have names.


Deeper Understanding
Robert Gray: Lady Banks & the Art of 'Front Porch Literary Gossip'
Dearest readers,
Winter days, her ladyship has decided, exist solely for the purpose of being able to curl up in one's favorite chair with a hot cup of coffee and a very good book.

Where do you turn for "front porch literary gossip" about all things Southern and bookish? One of my favorite destinations is Lady Banks' Commonplace Book, a weekly e-newsletter created by Nicki Leone, website administrator and newsletter editor for the Southern Independent Booksellers Alliance.

The voice of "her ladyship, the editor" is amusing and informative, suitably civilized with just the appropriate dash of feistiness. I asked Nicki recently about Lady Banks's distinctive place in the SIBA family.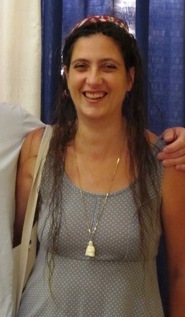 When did you first decide to channel (if that's an appropriate term; I know L.B. speaks for herself) the irresistible voice of her ladyship?

The idea for Lady Banks actually came into being on a warm spring day back in 2007. SIBA had just begun to focus its efforts toward promoting its member stores to the reading public--what we call the 'consumer' market. We had created a calendar of store events for all our stores, and a website, 'ReaderMeetWriter.com,' to reach out to people who loved Southern literature. So we wanted a newsletter to go along with that, one that would highlight what was going on at our stores, and what books our booksellers were excited about.

I remember [SIBA executive director] Wanda Jewell and I were talking on the phone about how to do this newsletter. It was high spring here in Wilmington, N.C. where I live, and I happened to be looking out the window and saw the profusion of roses growing along my neighbor's fence. They were an old-fashioned heirloom climbing variety, thornless and heavy with small pale yellow blooms, called 'Lady Banks.' Hey, I said to Wanda, I've got an idea.... That idea really seemed to take off. It used to be a monthly newsletter, but the response was so good that we made it a weekly publication.

How would you describe her?

Physically? Oh, she's a "woman of a certain age," I guess. Not young. Not elderly. When I first started writing her I had this mental image of a proper lady in a long skirt, sensible shoes, and her hair in a perpetual bun--possibly held up with a pencil. Someone who would eventually become Maggie Smith when she was older! But she's evolved a bit since then, although on the whole I don't think becoming Maggie Smith is too terrible a goal. I would love to find a "gentleman friend" for her though.

Most importantly, she is someone who is interested in all kinds of writing, and all kinds of writers, in the literary life of the South.

Acknowledging that she is ever so real herself, was there a "real world" model for Lady Banks in your life? A literary one?

Like any fiction writer (which I am emphatically NOT), I could tell you that Lady Banks is a composite of many different people--real and fictional. Of the real, she comes a little bit from many of the women I've admired: Doris Betts, Eudora Welty, Elizabeth Lawrence, my mother. Of the fictional, I'd say she's a combination of every feisty lady you ever met in a Southern novel, from Nora Bonesteel to Miss Julia.

But the tone of voice, believe it or not, is Jane Austen. In fact, when I have to sit down to write the newsletter, I usually read a bit of Persuasion or Pride and Prejudice first just to get style of it into my head... that lovely, semi-formal, dryly amused attitude that Austen does so devastatingly well.

Would she ever consider attending a SIBA conference?

She would! Early on I believe she did once or twice. But it is extremely difficult to stay in character. Her ladyship is, on the whole, much more polite and patient than I am. She is also inclined to be better-dressed.

What is the borderline between Nicki Leone and Lady Banks?

Fuzzy! We all know how important a personal, real connection is in the bookselling world. Recommending books to people is an intimate business that demands a lot of trust. We wanted Lady Banks to be a 'real' person to her readers, so naturally she's a lot like me in what she likes to read (everything but diet books); in what she likes to do, such as gardening and cooking; and what is going on in her life, such as adopting a new puppy or deciding what books to buy her nephews for Christmas.

Indie booksellers and avid readers both know that books and stories integrate themselves into our lives. 'A reading life' is not just about what you read, but about how books fit into your idea of a good life. So Lady Banks writes about how they have done so for her. What she writes usually goes for me as well.

Next week, Lady Banks speaks for herself. --Robert Gray, contributing editor (column archives available at Fresh Eyes Now).