Shelf Awareness for Friday, March 22, 2013

News
Kindle E-Reader Shipments Fade in First Half '13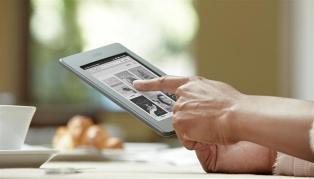 Shipments of panels for Amazon's Kindle e-reader have fallen from approximately 750,000 units in January to 420,000 in February, with only 20,000 units projected for March and April, reports Digitimes. Although shipments are expected to increase in the second half of 2013, a year-over-year decrease in e-reader shipments, most likely attributable to rising demands for tablets, is also expected.
Because Amazon doesn't divulge unit sales figures for Kindles (or for much of anything), shipments from manufacturers to Amazon are the best way of estimating sales of hardware.


Gantos, Myracle to Host ABFFE's Children's Book Art Auction

Authors Jack Gantos and Lauren Myracle will host the American Booksellers Foundation for Free Expression's annual Children's Book Art Auction at BEA. Gantos is the author of the Newbery Award-winning children's book Dead End in Norvelt, while Myracle has written many YA titles, including the Internet Girls and Winnie Years series. Both authors' books "top the list of the country's most challenged titles," ABFFE said. Gantos and Myracle will lead a session of live bidding during the mostly silent auction.
"ABFFE is a passionate advocate for freedom of speech, and it's an honor to help raise funds to support these booksellers in their fight against censorship," Myracle said. "Books matter. Kids matter. And, bonus, Jack is one cool dude!"
Proceeds from the auction of original artwork by artists and illustrators will go to supporting the ABFFE's anti-censorship efforts. The auction will take place on Wednesday, May 29, at the River Pavilion in the Javits Center. This year's auction will feature pieces created in honor of the late Maurice Sendak, who mentored and inspired so many artists and fought vigorously against efforts to censor In the Night Kitchen.


BAM Closing Roanoke Store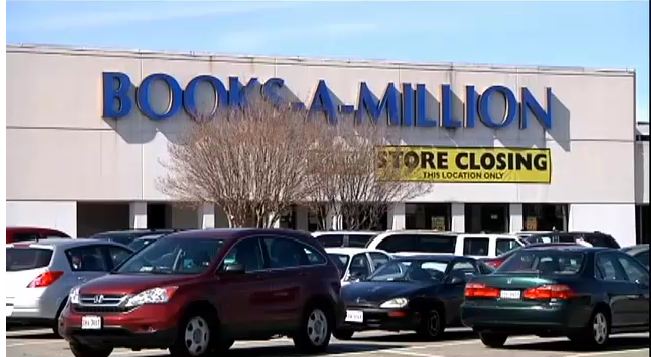 Books-a-Million is in the process of closing its store in Roanoka, Va., WSLS-TV reported, noting that while a clearance sale is underway, there is "no word on when the store is closing."


Frommer's Travels Away from Print Editions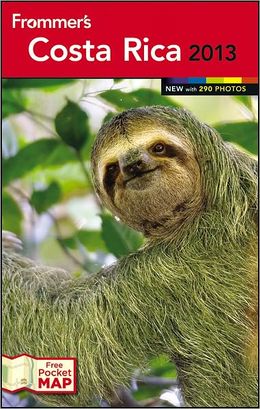 Google has "ceased production and publication of printed guidebooks bearing the Frommer's brand name," Skift reported, confirming a move to digital that had been anticipated last August when Google purchased the "travel assets" of John Wiley & Sons, including the Frommer's brand. The exception to this development is the Unofficial Guide to Walt Disney World series, "one of the best-selling guidebooks in the U.S.," which will continue in print, Skift noted.


Pullman Is New U.K. SoA President
Philip Pullman has been elected president of the U.K.'s Society of Authors, replacing P.D. James, who is retiring in August. The Bookseller reported that "the role of president is a lifetime position, but the SoA constitution is currently under review and it is thought likely the timespan of the role will be reduced to between five and seven years."

"P.D. James has been a magnificent president, whose knowledge and wit and wisdom will be very hard to follow," said Pullman. "The Society of Authors has been representing and supporting the work of writers for 130 years, and now that we're in the middle of one of the greatest revolutions in printing and publishing and reading there has ever been, the society's experience will be needed more than ever. I am both honored and excited to be taking on the role of president."

James said Pullman would "face a far more complex and challenging world for writers than did I when I was elected" but "no one could be better qualified for the task."


Obituary Notes: Chinua Achebe ; Henry Bromell
Nigerian author Chinua Achebe, whose novel Things Fall Apart "has sold over 12 million copies and been translated into 50 different languages, making it one of the most widely read books in modern African literature," died this morning, Premium Times reported. He was 82. The Independent noted that Nelson Mandela had called Achebe "the writer in whose company the prison walls came down", and credited him as the author who "brought Africa to the rest of the world."

---

Henry Bromell, who published three books, "wrote short stories for the New Yorker 40 years ago and later stumbled into a career writing, directing and producing television shows" (Northern Exposure, Homicide: Life on the Street, Homeland), died Monday, the New York Times reported. He was 65.


Notes
Image of the Day: Bks Xplained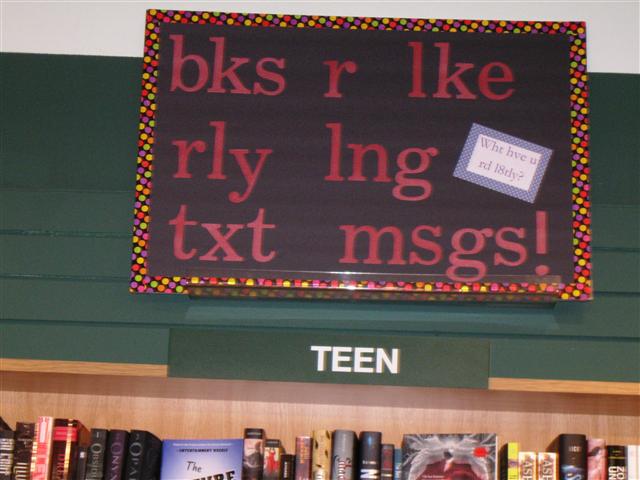 At Black Bond Books, which has 11 stores in British Columbia and celebrates its 50th anniversary this fall, this sign aimed to explain the mystery of books to modern readers.


Harlan Coben Loves Independent Bookstores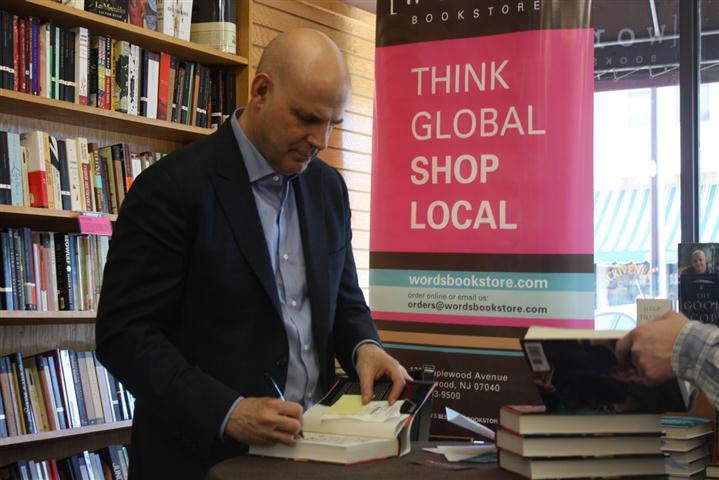 In this video, you can see author Harlan Coben talking about his love for independent bookstores during his appearance at [words] in Maplewood, N.J., yesterday. The SRO event was one of the first stops on his tour to promote his new book, Six Years (Dutton).


Stephanie Dennis Joins Running Press
Effective on Monday, Stephanie Dennis is joining Running Press as digital marketing associate, a new position. A recent graduate of the University of Dayton, she has worked for the past year and a half at Fleischman Gerber & Associates, a public relations and special events firm in Philadelphia.


Book Trailer of the Day: Goodnight Baseball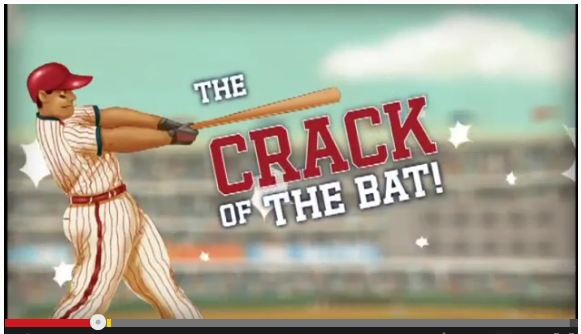 Goodnight Baseball by Michael Dahl (Capstone Press).


Media and Movies
Media Heat: The Girls of Atomic City
Today on PBS's NewsHour: Denise Kiernan, author of The Girls of Atomic City: The Untold Story of the Women Who Helped Win World War II (Touchstone, $27, 9781451617528).
---
Sunday on CBS Sunday Morning: 50 Cent, co-author of Formula 50: A 6-Week Workout and Nutrition Plan That Will Transform Your Life (Avery, $30, 9781583335024).


TV: Hemlock Grove; Undateable
Netflix released four new teasers for its upcoming Gothic horror series Hemlock Grove, based on Brian McGreevey's novel, with a script by the author and Lee Shipman. Deadline.com reported that executive producer Eli Roth directed the first episode of the show, which debuts with 13 episodes April 19. The series stars Famke Janssen, Bill Skarsgard, Landon Liboiron, Dougray Scott, Penelope Mitchell, Freya Tingley and Lili Taylor.

---

Bianca Kajlich (Rules Of Engagement) and Aly Michalka (Hellcats) have joined the cast of Undateable, NBC's comedy pilot based on the book Undateable: 311 Things Guys Do That Guarantee They Won't Be Dating or Having Sex by Ellen Rakieten and Anne Coyle, Deadline.com reported. The project, from Bill Lawrence and Warner Bros TV, is written by Adam Sztykiel and stars Chris D'Elia and Brent Morin.


Books & Authors
Awards: Oddest Book Title of the Year
Goblinproofing One's Chicken Coop by Reginald Bakeley won this year's has been named as the winner Diagram Prize for Oddest Book Title of the Year. Philip Stone, the Bookseller charts editor and Diagram Prize administrator, observed that the "kind of niche, off-beat publications that often appear on the Diagram Prize shortlist might not make their writers or publishers rich beyond their wildest dreams, but the fact writers still passionately write such works and publishers are still willing to invest in them is a marvelous thing that deserves to be celebrated."

Clint Marsh, the book's U.S. editor, accepted on behalf of the author and Conari Press, noting that the award "celebrates the playfulness that is at the heart of much of the world's best book publishing. Thank you to everyone who voted and allowed Goblinproofing to join the distinguished list of Diagram winners. Reginald and I take this as a clear sign that people have had enough of goblins in their chicken coops. Our campaign against the fairy kingdom continues."


IndieBound: Other Indie Favorites
From last week's Indie bestseller lists, available at IndieBound.org, here are the recommended titles, which are also Indie Next Great Reads:

Hardcovers
Frances and Bernard: A Novel by Carlene Bauer (Houghton Mifflin Harcourt, $23, 9780547858241). "The main characters in this lovely gem of a novel are loosely based on Flannery O'Connor and Robert Lowell. The story is told entirely in the form of letters--not an easy feat, but Bauer makes it work beautifully. Frances and Bernard meet in the late 1950s at a writer's colony, and though they don't immediately click, Bernard sends Frances a letter that begins an intense philosophical, spiritual, and physical relationship. A true treat for readers!" --Cody Morrison, Square Books, Oxford, Miss.

Her: A Memoir by Christa Parravani (Holt, $26, 9780805096538). "Whether you are a fan of memoirs, a fiction reader, or just plain love great writing, this true story of twin sisters separated first by violence and then by tragedy is a must-read. Parravani offers a deep look inside the inner life of twins and shows how addiction can tear at the very heart of a family. A mesmerizing read." --Laura Hansen, Bookin' It, Little Falls, Minn.

Paperback
The Silence of Bonaventure Arrow: A Novel by Rita Leganski (Harper, $14.99, 9780062113764). "This is storytelling that grabs your heart, mind, and soul. Love, family, secrets, betrayals, and the magical power of listening make this a book that will remain with any reader for a long time. Bonaventure is an unforgettable boy, who captures readers from the first page. Pieces of his family's mysteries unfold in the silence, yet no sound or word is ignored by this remarkable boy. Never has silence said or accomplished so much." --Becky Anderson, Anderson's Bookshop, Naperville, Ill.

For Ages 9 to 12
The Cats of Tanglewood Forest by Charles de Lint, illustrated by Charles Vess (Little, Brown Young Readers, $17.99, 9780316053570). "There are so many brilliant characters in and about Tanglewood Forest! De Lint has filled the forest to bursting, weaving a tapestry of a tale out of folklore and myth, both American and international. Set in a time when wild things still roamed on the edges of farmland and neighbors still knew each other, this is another classic from a fantasy master!" --Elizabeth Anker, Alamosa Books, Albuquerque, N.Mex.

[Many thanks to IndieBound and the ABA!]


Book Brahmin: Deborah Cloyed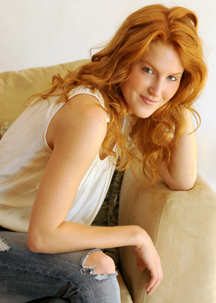 As a photographer, travel writer and contestant on CBS's Amazing Race, Deborah Cloyed has sojourned on five continents. She lives in Los Angeles, where she runs a photography school for kids. Her debut novel was The Summer We Came to Life, a multi-generational tale about best friends, life choices and parallel universes. Her new novel, What Tears Us Apart (Mira, March 26, 2013), is a nonlinear love story set against the 2008 political uprisings in Kenya.
On your nightstand now:
Thanks for the reminder--I really must buy a proper nightstand. My bedroom walls hold a thousand books I've lovingly carted in and out of storage units for 15 years. A glance at their spines and I know what I will find inside--concert ticket stubs inside Hunter S. Thompson's Fear and Loathing in Las Vegas, the bathtub page crinkles of Baudelaire's Les Fleurs de Mal, notes for college essays in Tom Robbins's Jitterbug Perfume. On my Kindle is Age of Miracles by Karen Thompson Walker, Hyperspace: A Scientific Odyssey Through Parallel Universes, Time Warps, and the 10th Dimension by Michio Kaku, How We Decide by Jonah Lehrer and 100+ screenplays my boyfriend downloaded as a birthday present, starting with Armageddon.
Favorite book when you were a child:
In elementary school, I was possessed by a book about a woman who researched orangutans in Borneo, prompting me to announce it as my intended career for a decade. Another suck-in-my-breath favorite-book moment was when I discovered choose-your-own adventure books, specifically about unicorns. Shel Silverstein's The Giving Tree was and is my favorite children's book--it turns up in a key scene in What Tears Us Apart. Ah, and My Side of the Mountain by Jean Craighead George was the Walden of my childhood--transformative, life-altering and totally got me in trouble for cooking acorn pancakes in the kitchen.
Your top five authors:
Favorite Epic Author: Gabriel García Márquez
Favorite Almost Same Age as Me Author: Chimamanda Ngozi Adichie
Favorite Science Author: Brian Greene (Sorry, Stephen & Kaku. And Lisa, you're still my girl)
Favorite Relationship Amidst Political History Author (and role model for What Tears Us Apart): Barbara Kingsolver
Favorite Author I'm-full-disclosure-madly-in-love-with: Jonathan Bird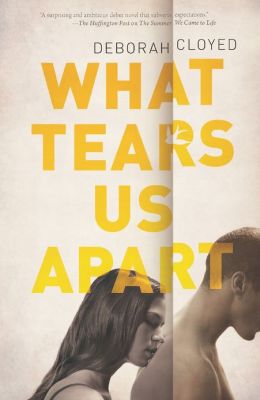 Book you've faked reading:
I spent my childhood, adolescence and teen years nose-deep in books. I can read and walk, I can read and jump rope, I can read and roller-skate. As an English major, I took down five novels a week. So it is completely nonsensical and ridiculous that I faked reading Thomas Pynchon's 152-page The Crying of Lot 49. Twice.
Book you're an evangelist for:
I wish my answer was Dostoevsky's Notes from the Underground or Albert Camus' The Plague, two books that blew my mind. But to be honest, I feel like I've expended significant effort lobbying people to read The Serpent and the Rainbow by renegade Harvard ethnobotanist Wade Davis. The book details his courageous descent into the underworld of real-life Haitian zombie doping, giving a chilling peek into both the chemistry and invisible demons of the human mind, the interplay of ritual and belief, and.... Darn, you see? I'm doing it again.
Book you've bought for the cover:
Every shining, gleaming 50-pound art photography book I've spent far too large a percentage of my personal wealth on and still struggle to find space for. And I love them all.
Book that changed your life:
Tricky because I feel like that's what books do--they alter the course of your life. Sometimes it's a nudge, sometimes it's a 180-degree turn. You finish any book filled with new knowledge or new stories or new insights about yourself. That's why I won't give away my raggedy books--they are all memories, moments that changed me, steered me and formed me. Pick one? Albert Einstein's Relativity. Novels I read to forget the author and wander the world they've created. But to read the words of a genius who changed the course of the world, his voice speaking directly to me--that brought home the power of books, the power of an individual human mind, and the miracle of writing that is the one true elixir of immortality.
Favorite line from a book:
Odd that through the years, the line that has stuck with me the firmest: "That is why we were drawn to one another.... I am going to teach you to dance and play and smile, and still not be happy. And you are going to teach me to think and to know and yet not be happy." --from Herman Hesse's Steppenwolf.
Book you most want to read again for the first time:
On the Road by Jack Kerouac, as my 14-year-old self, in my blue jeans and white T-shirt (pre goth/Nietzsche phase), devoted wholly to my heroes and endearingly clueless to their sexist, macho, racist, reckless and alcoholic underpinnings.
Books you hold controversial, unorthodox views of:
The Bible and Fifty Shades of Grey. Let's leave it at that.


Book Review
Review: Ordinary Grace
Ordinary Grace by William Kent Krueger (Atria, $24.99 hardcover, 9781451645828, March 26, 2013)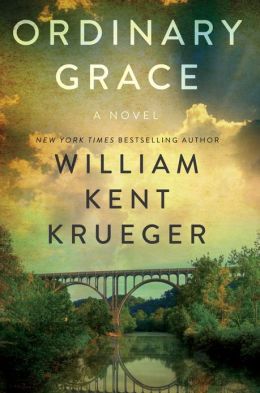 Ordinary Grace, an extraordinary coming-of-age novel set in a rural Minnesotan town in the summer of 1961, is a literary departure from William Kent Krueger, the author of the Cork O'Connor mysteries (Trickster's Point, Northwest Angle, et al.), although there are still deaths and mysteries--and even a murder.
The Washington Senators have relocated to Minnesota and are enjoying their first season as the Twins, their exploits bruited about New Bremen from the barber shop to the corner drugstore. All such talk is trumped, however, when a little boy is killed while sitting on the railroad tracks. So begins the grim summer.
Frank Drum is the 13-year-old narrator of the story. Along with his brother, Jake, two years younger and cursed with a bad stutter, they are part of the family that is central to all that takes place. Frank's father is a Methodist minister, a gentle and forgiving man. His wife is artistic, not at all thrilled that the lawyer she married decided to become a minister in a small town in the southwestern corner of Minnesota. She has cast all her thwarted hopes and dreams on their 18-year-old daughter, Ariel, a gifted musician headed for Juilliard.
The boys discover the body of an itinerant by the tracks--the second death of the summer, with more to follow. At the same time, they meet Warren Redstone, who weaves in and out of the rest of the novel, with Frank prejudging, accusing and ultimately forgiving him.
By summer's end, the family is moving to St. Paul; Ariel never does get to Juilliard; and the two boys have seen and learned too much ever to be innocent children again. In Krueger's sure hands, Frank and Jake are brought to life on the page. Frank is impetuous, not always mindful of the rules, while Jake, because he refuses to talk very much, is the quiet observer who usually gets it right.
Ordinary Grace is shot through with faith, hope and forgiveness, despite the pain endured in finding the truth about all that takes place. Krueger has written a moving story, replete with authentic characters who grow in wisdom and grace and learn to accept what they cannot change. --Valerie Ryan
Shelf Talker: A mystery writer shifts gears with a coming-of-age story set in a small Minnesota River Valley community, where a family is tested in ways they could never have imagined.


Deeper Understanding
Robert Gray: Parisian Bookshops & Quiet as Image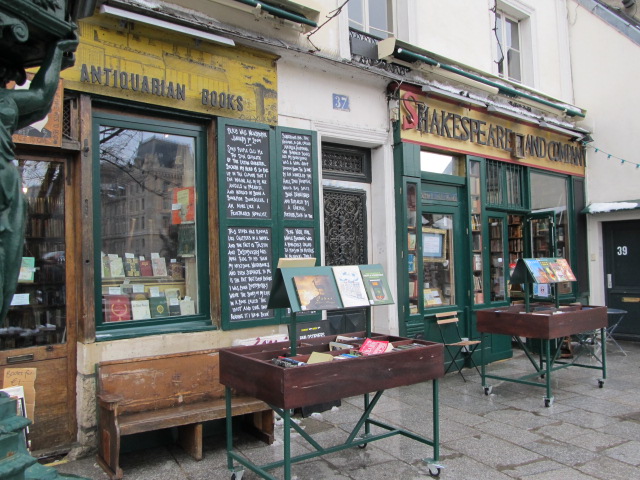 Quiet may not be the first word that occurs to most people on a trip to Paris, but it's the one that struck me early last week as I browsed the beautiful, iron-gated little poetry section at Shakespeare and Company bookstore; and the word continued to weave its way through my impressions of the city during an all-too-brief visit.

On our third day in Paris, we began the morning with innocent optimism at the Musée d'Orsay, where we discovered an enormous and noisy line of tourists and vacationing students outside, snaking around the plaza and down the street. Bundled for a mid-March snowstorm, some braced their umbrellas against a bitter wind while others negotiated with the parapluie vendors.

We declined to join the frozen queue. Since almost any postponement in Paris is an opportunity, we just kept walking along the slick sidewalks--often taking necessary and irresistible detours on narrow side streets--in the general direction of Shakespeare and Company, which would, we were certain, offer much-needed warmth and shelter from the storm to weary readers.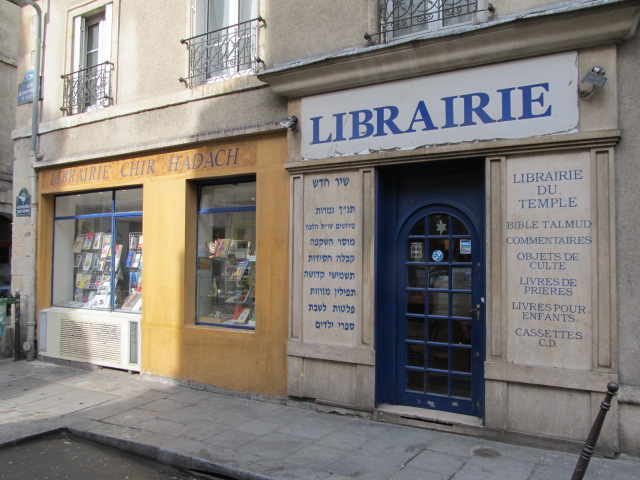 After the anxious buzz of the museum crowd, followed by traffic noise and pedestrian chatter, a near silence inside the bookshop was almost as breathtaking as the cold wind had been. We browsed for a long time, exploring the ground floor stacks as well as the library upstairs.

Because it's my business even when on holiday, I also watched the booksellers, who were young and knew their stuff, fielding questions in French from the locals; changing direction instantly for an Australian man's query about "social justice in literature"; then deftly handling an American woman's request for some Ken Follett, Nora Roberts or Pat Conroy. It was a drill most frontline booksellers would recognize: Plus ça change, plus c'est la même chose, I thought, more or less.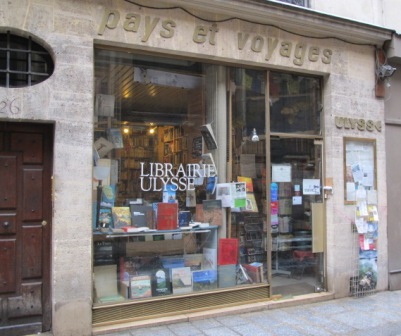 Just a day before, I'd been amazed by the high "shushing quotient" at the Louvre, which was fending off its own invasion of student and tourist groups. By contrast, the quiet in Shakespeare and Company was simply expected and natural, inspiring even an energetic band of chaperoned young Americans to tone it down a notch. Their muted conversations ranged from shocked recognition of classic novel covers on display to a report from a pair who'd strayed and then returned with breaking news of a place nearby selling "cheap little pizzas" (Croque-Monsieurs). Low volume conversations from unexpected sources are also a form of quiet, I decided.

We bought several books, of course, and then ventured back outside. It was on this wet and chilly walk across the Seine at Pont Neuf and back to our apartment that I began thinking about quiet as image.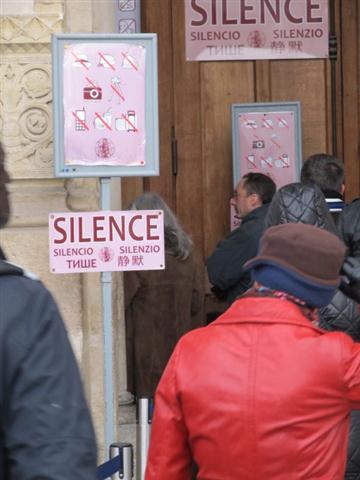 Ultimately, this notion lured me to Shakespeare and Company again a couple of days later to photograph the iconic exterior. From there, we headed to nearby Notre Dame, where my obsession with "quiet" was probably entrenched as the week's theme. Following a boisterous crowd being funneled through the cathedral's ancient entryway, we were greeted by signage that proved to be a relatively effective international commandment: SILENCE.

Quiet as image.

It stuck, even when I wasn't taking photographs. I remember visiting Flammarion's La Hune bookshop near the Boulevard Saint-Germain one night on the way to dinner and being, well, intoxicated by the distinctive sound of two wine bottles clinking gently together as a bookseller carried them upstairs, where an author event was about to take place.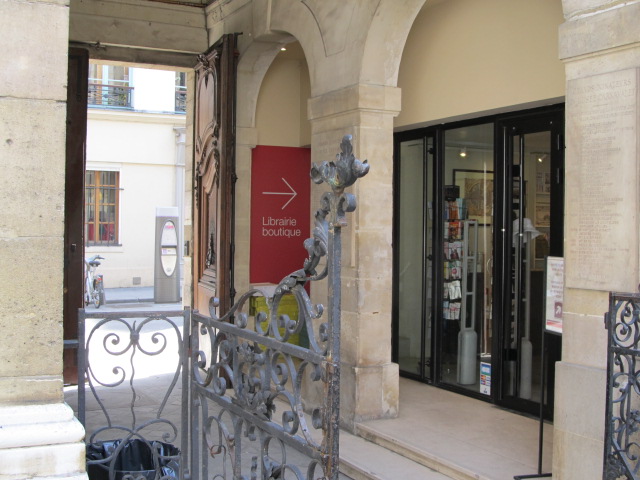 There was also a measure of visual quiet in bookstore exteriors, including the closed (Librairie Paris et son Patrimoine), the high end (Taschen Kartell), even the expat (W.H. Smith on the Rue de Rivoli).

And then there was that small but exquisite bookshop tucked within the passageway to the courtyard of the Musée Carnavalet. As the days and our endless strolls accumulated, so did all of these beautiful, bookish images. Merci, Paris, for showing us the exquisite quiet of your librairies. --Robert Gray, contributing editor (column archives available at Fresh Eyes Now).


The Bestsellers
Top-Selling Self-Published Titles
The bestselling self-published books last week as compiled by IndieReader.com.

1. Life Code by Dr. Phil McGraw
2. Wait for You by J. Lynn
3. Never Too Far by Abbi Glines
4. Fallen Too Far by Abbi Glines
5. Always on My Mind by Bella Andre
6. Fate Interrupted 2 by Kaitlyn Cross
7. Shattered Promises by Jessica Sorensen
8. Wait for Me by Elisabeth Naughton
9. Hopeless by Colleen Hoover
10. Tall, Dark and Deadly by Lisa Renee Jones

[Many thanks to IndieReader.com!]