Shelf Awareness for Tuesday, April 23, 2013

Quotation of the Day
Buying Indie 'Is in Our Own Best Interest'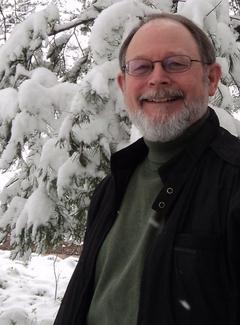 "Buying from independents is in our own best interest. It assures that no one large entity will control what's available to us as readers. Freedom--and it does come down to this--is all about choice."
--Author
William Kent Krueger
in a blog post titled "Together, We Can Save the Independent Bookstores."


News
World Book Night Arrives!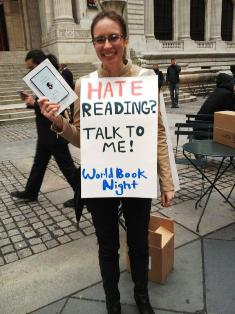 Tonight is World Book Night U.S., when more than 25,000 volunteers will give out some 500,000 free books to new or light readers. Congratulations and thanks to all givers, the 2,300 participating bookstores and libraries, authors (who waived royalties), publishers, book manufacturers, the ABA and ALA, Ingram and Federal Express!
Givers will distribute 20 copies of one of 30 titles specially printed for WBN. Among the locations where books will be given away: nursing homes, schools, VA hospitals, family shelters, Little League games, subways, firehouses, diners, ferry terminals, a hot dog stand, the Lincoln Memorial, Meals on Wheels centers, Dress for Success offices, Lackland Air Force Base, a national robotic competition, a Wii and Xbox tournament, the High Line in New York City, Boston Common and a steel mill.
WBN U.S. executive director Carl Lennertz commented: "Our volunteers are truly generous and creative people who love books and care about sharing the written word with those who perhaps lack the means or access to books, or have gotten out of the habit of reading."


Senate Votes to Move Forward with Marketplace Fairness Act

By a 74-20 margin yesterday, the U.S. Senate voted to move forward with the Marketplace Fairness Act (S. 743), which would empower states to collect online sales taxes. The Hill reported that the "strong vote to end debate suggests supporters of the bill are likely to see it win approval in the Senate this week."

"It's only fair to the businesses across America, if they are required to collect sales tax on their sales, that those competing with them ought to do the same," said Sen. Dick Durbin (D.-Ill.), a leading co-sponsor of the bill.
The debate has created some unusual alliances in the Senate, where divisions usually run in predictable lines. Amazon now supports a national law forcing online retailers to collect sales. Amazon's role as the main opponent of such a law has been taken by competitor eBay, whose CEO sent a letter over the weekend to its millions of retailers, urging them to write to Congress to protest the bill--and seeking to raise the $1 million exemption on sales tax collection to $10 million. States with no sales tax, including Oregon and New Hampshire, are against the bill, too, leading to the odd situation of Oregon Senator Ron Wyden, who is married to Nancy Bass Wyden, co-owner of the Strand in New York City, denouncing the bill. Conversely, some conservative senators are supporting the bill in a bid to help bricks-and-mortar retailers and revenue-starved state and local governments.


Portland's Murder By the Book Closes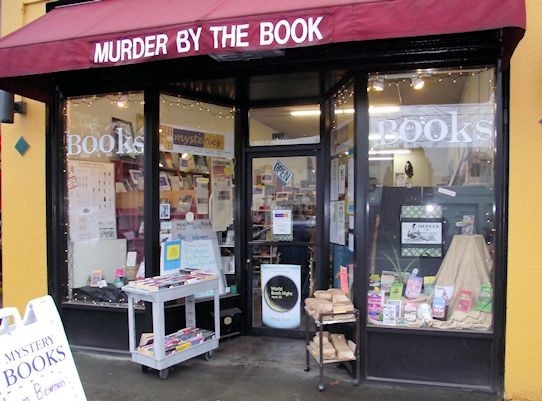 photo: Mickey Ronningen
Murder by the Book, Portland, Ore., which announced in January it would be forced to go out of business if a buyer could not be found by April, closed Saturday, the Oregonian reported. Although "several people with good hearts expressed interest," no deal was made, said co-owner Barbara Tom.

A message on the store's Facebook page Sunday thanked customers who stopped by "for the memories, the flowers, the cookies, the hugs, and the handshakes," and noted: "Although we'll just be disembodied virtual voices now instead of real people you can chat with at the store, we re-pledge our allegiance to the wonderful world of mystery books and its community."


Penguin to Distribute Perseus in India
Penguin India will begin distributing books and e-books from Perseus International in the country July 1, the Hindu reported. Chitra Bopardikar, v-p, international sales and business development for Perseus, said his company "and many of our client publishers have a powerful brand in the Indian marketplace with many sought after authors. This new arrangement with Penguin India will significantly broaden our sales and marketing capabilities and provide improved presence for all our key publishers in India."

Good E-Reader noted that "Penguin has been operating out of India since 1985 and is hoping to capitalize on the growing digital trend by bringing a number of hot titles, such as Tom Rath's StrengthsFinder 2.0, Robert Kiyosaki's Rich Dad Poor Dad, Deepak Chopra's The Seven Spiritual Laws of Success, Shakti Gawain's Creative Visualization and Kishore Mahbubani's The New Asian Hemisphere."


Politics and Prose and a 'Smooth Transition'
This is part two of a three-part series. You can read Part 1 here.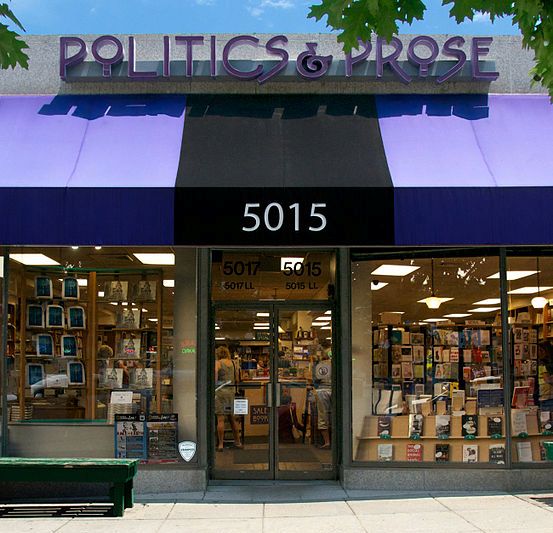 Bradley Graham and Lissa Muscatine, who bought Politics and Prose, Washington, D.C., nearly two years ago, have arguably made the most changes in the staff, creating several new positions at the director level and doing away with the general manager's position.
Muscatine praised the store's staff for being "very open minded and trying new things. They work so hard and are so good." Graham echoed her, adding, "We are fortunate at the depths of talent on staff."


The first major staff change occurred around the time of the store's sale, when the chief accounting person left. This gave the new owners a chance to "modernize and professionalize" the store's accounting, Muscatine said. "We're a big business, not a mom and pop, and our accounting requires a level of sophistication that wasn't needed when the store was founded." Ron Tucker, who is the store's longest-serving staff member and "knows everything about the store," Muscatine said, now heads the finance department. "He's the glue of the place."



Graham and Muscatine also eliminated the general manager's position because "we wanted to be hands-on ourselves and did not want another layer of management between us and the staff," Graham said. They appointed Adam Waterreus, who joined the store as a bookseller five years ago, to be director of operations, since the staff finds it helpful to have a single senior manager (a position fulfilled earlier by a "three-headed group," as Graham put it). Waterreus is responsible for day-to-day floor management as well as the remainders, children's and receiving departments.

Graham and Muscatine hired the store's first marketing director, Lacey Dunham. (In the past, Carla Cohen had been "the marketing force" for the store, Graham noted.) Dunham had worked at Politics and Prose under Cohen and Meade, then worked for a publisher in the Midwest. She had been planning to come back to the Washington area anyway--and wound up returning early for the new job at the store. "It was serendipity to get someone who has such energy and worked at a press and a bookstore," Muscatine said. "It's a huge, new job that she has had to define as she goes."

Among Dunham's responsibilities are putting together an ad budget and determining its effectiveness, something that had not been done in such a way before.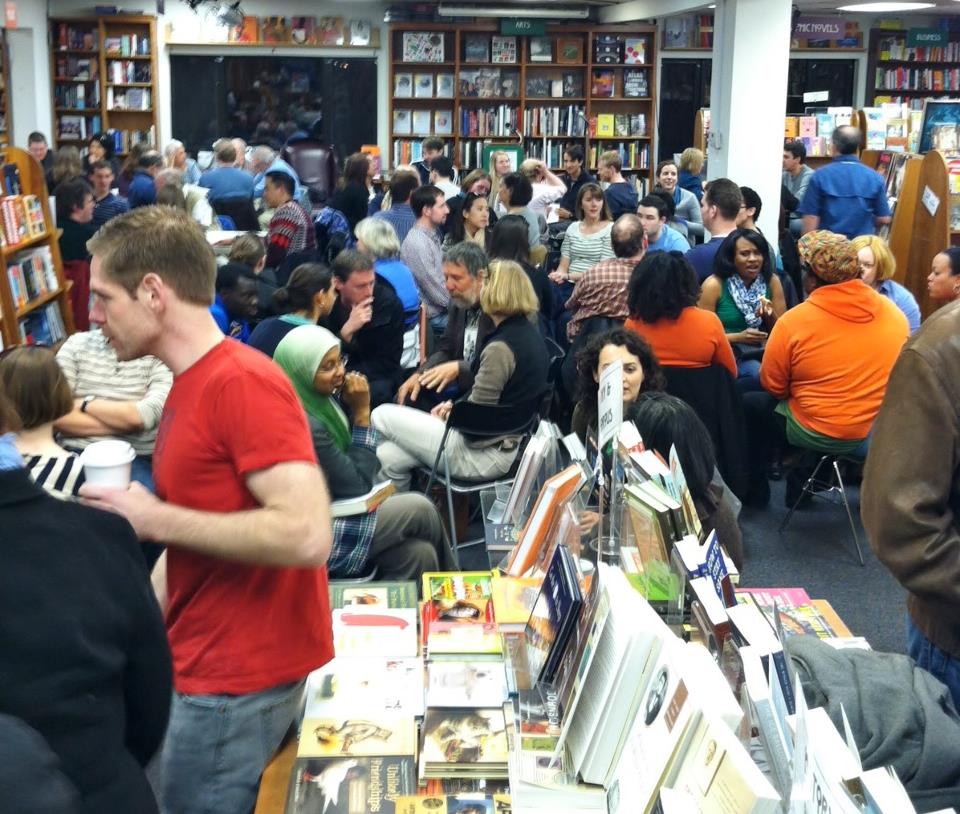 Trivia Night at Politics and Prose.
Another hire was author Susan Coll, who joined the staff as director of programs and events, with the goal of expanding classes and developing a program of trips. Politics and Prose is noted for its events, so many that "virtually every night there's something," Graham said. "And several on weekends, with the record being five." The events program had "maxed out," Graham said, "and we were turning away as many or more proposals than we accepted. It was frustrating."

So the owners and Coll have been working on finding additional venues for author talks as well as doing more with authors who come to the area for other events. (In a move that should make the author program even more attractive to some readers, Politics and Prose has obtained a liquor license allowing it to serve beer and wine at some author events, but not in its café.)

Coll has also expanded the amount of classes Politics and Prose puts on, up to 40-50 in the last 18 months. The classes range from bookstore standbys like classes on writing and on books to classes on Washington's "arboreal history," how to make photo books, conversational French and knitting. "The appetite for classes is pretty much insatiable," Muscatine said. "People want to have a place to talk about these things. There's a desire for engagement, community and interactions."

The store has revamped and expanded its program of international travel this year, sponsoring a trip to Italy as well as two visits to Paris that are "less literary, less structured and less pricey" than previous ones to the French capital, Muscatine said. The store also continues to add day trips. Destinations include Fallingwater, the home in Mill Run, Pa., designed by Frank Lloyd Wright; the Philadelphia Flower Show; and Washington Nationals baseball games.

Politics and Prose's lead IT person, "creative, hardworking and supertalented" Leeza Luncheon, came from the receiving staff, Muscatine said. Graham called her "phenomenal in technology and design." Her move occurred because before the change in ownership, Muscatine met individually with the staff and asked what else besides current work they were good at and interested in. Luncheon, the only woman in receiving at the time, had "a dream of moving into IT," Graham said.

With the sale, Sarah Baline continued as events coordinator, "hardly missing a beat." Other crucial people stayed on, too, including chief buyer Mark LaFramboise, "a genius at knowing what and how many to buy." He has also developed other buyers among staff members who are continuing in other jobs. Heidi Powell, who is "so good," stayed as children's manager. --John Mutter


Notes
Image of the Day: Moment of Silence

This was the scene outside the Houghton Mifflin Harcourt offices in Boston at the corner of Berkeley and Boylston yesterday at 2:57 p.m., during a moment of silence in honor of the victims of the Boston Marathon bombings--exactly a week after the explosions.


New York's Hudson Valley an 'Oasis for the Indies'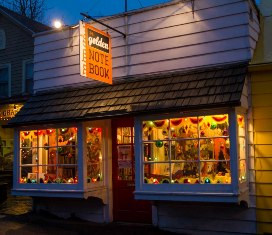 New York State's Hudson Valley, "with its representative population of readers and writers, is an oasis for the indies," Almanac Weekly reported in its survey of booksellers in the region who can "serve customers face-to-face. They can get to know what people like and anticipate local buying trends. They can create a physical space of comfort where folks can linger and browse. And they can enhance the cultural vitality of the community." Among the independent bookstores featured were the Golden Notebook, Woodstock; Oblong Books and Music, Millerton and Rhinebeck; and Merritt Bookstore, Millbrook.

"I couldn't have asked for a better family business to be brought up in," said Suzanna Hermans at Oblong Books. "I'm passionate about books and helping someone find their next favorite author.... We really do curate our selection; we're cognizant of what our customers want."


Seduce Your Customers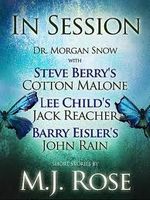 In a "seduce your customers" campaign aimed at bookstore customers, author M.J. Rose is receiving a little help from friends Lee Child, Steve Berry and Barry Eisler, who are showing again, she said, "how amazingly generous the bad boys of thriller can be. They write about assassins and explosions but they have hearts of gold."
Between now and May 9, bookstore customers who order or buy the hardcover of Rose's Seduction: A Novel of Suspense (Atria) will receive a free e-book of the short story collection In Session, as well as a limited-edition manuscript page signed by Child, Berry, Eisler and Rose. Booksellers need only collect the e-mail and snail-mail address of the customer and send it before May 10 to Rose at MJRoseWriter@gmail.com. She will handle fulfillment.


Book Trailer of the Day: Steam Train, Dream Train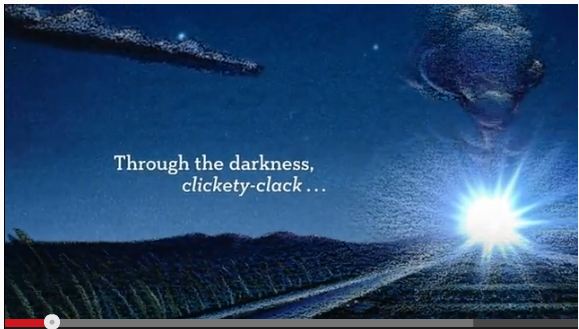 Steam Train, Dream Train by Sherri Duskey Rinker, illustrated by Tom Lichtenheld (Chronicle).


Media and Movies
Media Heat: Laura Bates on How Shakespeare Saved a Life
Today on NPR's Tell Me More: Laura Bates, author of Shakespeare Saved My Life: Ten Years in Solitary with the Bard (Sourcebooks, $14.99, 9781402273148).
---
Tomorrow on NPR's Diane Rehm Show, readers review T.S. Eliot's Four Quartets.

---

Tomorrow on CNN's Sanjay Gupta M.D.: Michael Pollan, author of Cooked: A Natural History of Transformation (Penguin Press, $27.95, 9781594204210).

---

Tomorrow on the Hallmark Channel: LaDonna Gatlin, co-author of The Song in You: Finding Your Voice, Redefining Your Life (HCI, $14.95, 9780757316227).

---

Tomorrow on the View: Richard Besser, author of Tell Me the Truth, Doctor: Easy-to-Understand Answers to Your Most Confusing and Critical Health Questions (Hyperion, $24.99, 9781401324834).

---

Tomorrow on Fox's On the Record with Greta Van Susteren: Mark Geragos, author of Mistrial: An Inside Look at How the Criminal Justice System Works...and Sometimes Doesn't (Gotham, $27, 9781592407729).


Movies: New Carrie Pics
New "drenched in blood" images have been released for Carrie, the re-telling of Stephen King's novel (and 1976 film) starring Chloe Moretz and Julianne Moore, Indiewire reported. The movie, directed by Kimberly Peirce (Boys Don't Cry), hits theaters October 18.


Books & Authors
Awards: Anisfield-Wolf Winners; Carnegie Medals Shortlist
The winners of the 78th Annual Anisfield-Wolf Book Awards, which recognize "books that have made an important contribution to society's understanding of racism and the diversity of cultures" and are sponsored by the Cleveland Foundation, are:

Fiction: Laird Hunt for Kind One (Coffee House Press)
Fiction: Kevin Powers, for The Yellow Birds (Little, Brown)
Poetry: Eugene Gloria, for My Favorite Warlord (Penguin)
Nonfiction: Andrew Solomon, for Far From the Tree (Scribner)
Lifetime Achievement: Wole Soyinka

The winners will be honored in Cleveland September 12 at a ceremony at the Ohio Theatre.

---

Finalists for Andrew Carnegie Medals for Excellence in Fiction and Nonfiction have been announced. Winners will be named June 30 during the American Library Association's annual conference in Anaheim, Calif. Authors of the two winning titles will each receive a $5,000 cash prize, with $1,500 going to each of the four remaining finalists. This year's shortlisted titles are:

Fiction
This Is How You Lose Her by Junot Díaz (Riverhead Books)
The Round House by Louise Erdrich (Harper)
Canada by Richard Ford (Ecco)

Nonfiction
Short Nights of the Shadow Catcher: The Epic Life and Immortal Photographs of Edward Curtis by Timothy Egan (Houghton Mifflin Harcourt)
The Mansion of Happiness: A History of Life and Death by Jill Lepore (Knopf)
Spillover: Animal Infections and the Next Human Pandemic by David Quammen (Norton)


Book Review
Review: The Price of Justice: A True Story of Two Lawyers' Epic Battle Against Corruption and Greed in Coal Country
Price of Justice: A True Story of Greed and Corruption by Laurence Leamer (Times Books, $30 hardcover, 9780805094718, May 7, 2013)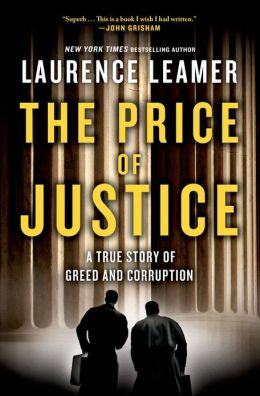 Laurence Leamer's The Price of Justice offers convincing evidence that readers don't have to turn to the fiction of John Grisham for an engrossing story about a legal battle between the forces of light and darkness. It's a fast-moving, intelligent account of the fierce struggle against a rapacious coal magnate, waged over the course of more than a decade in courtrooms from Boone County, W.Va., to the Supreme Court of the United States.
The heroes of Leamer's book are David Fawcett III and Bruce Stanley, close friends and litigators at two elite Pittsburgh firms. In 1998, they agreed to represent Hugh Caperton, the owner of the bankrupt Harman Mining Company, against the coal giant Massey Energy. In that case, which their firms undertook on a contingent fee, they alleged that the decision of Massey CEO Don Blankenship to breach a contract with Harman was intended solely to destroy the much smaller company, break its union and seize its coal reserves. While the $50-million verdict the lawyers eventually secured was on appeal to the West Virginia Supreme Court of Appeals, Blankenship contributed $3 million toward the election of a friendly justice. After Blankenship got the result he wanted, the case eventually made its way to the Supreme Court, where noted lawyer and former U.S. Solicitor General Ted Olson was enlisted to argue for a new judicial conflict of interest standard.
Leamer effectively navigates the byzantine course of the original Harman litigation and other cases spawned as a result of Fawcett and Stanley's work, including one involving the death of two miners. Whether he's writing about Hugh Caperton's emotional fight to stave off financial ruin or the singleminded effort Fawcett (whose first marriage collapsed in the midst of the litigation) and Stanley brought to their representation, he's able to breathe life into arid legal arguments about contract law and economic damages. In 1971, Leamer spent several months working in a mine, and his book is enriched by an empathy for the struggles and pride of the coal mining life.
The Price of Justice succeeds because Leamer never loses touch with the human dimension of the story, and invites favorable comparison with Jonathan Haar's 1996 classic A Civil Action. Watching two talented, committed lawyers devote themselves to a righteous cause, we can see the power of the law when mind and heart unite to seek justice. --Harvey Freedenberg
Shelf Talker: Laurence Leamer (The Kennedy Women; Sons of Camelot) follows an epic civil litigation from West Virginia's coal country to the Supreme Court.